I don't know about you, but when I travel I like to search for original and unique souvenirs to bring home. Sure I will, just like anybody else, go for dozens of cheap fridge magnets and patches, to make everybody content backhome. Even the distant aunt that I've never really liked.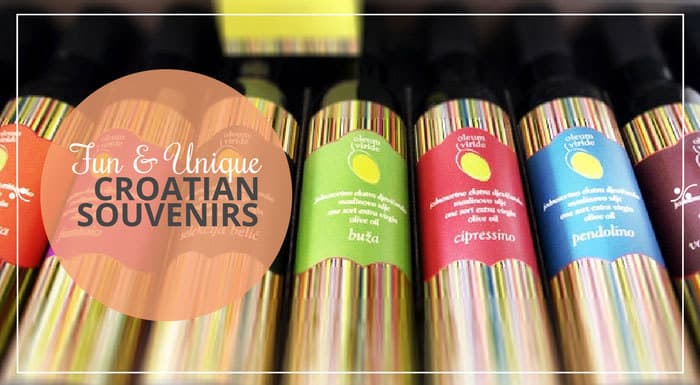 But I like to browse for real souvenirs, unique artisan products that I can only find in the country I am visiting. Most of the time I end up with spices, and other food products like local sauces, cheese, mustard, sweets, etc.
My all-time favorite souvenir I brought back home from my travels is a small box of worry dolls. My aunt used to have these dolls by her bed side for as long as I can remember. When I put my step on South American soil for the first time, and I saw the worry dolls at the street stand, I just had a flashback from my childhood. And I immediately bought two sets (yes, I tend to worry a lot; and one set of dolls just wouldn't do for me). This was over ten years ago. And they are still at my bed side. When I change country or go somewhere for an extended period of time, the dolls go with me. These dolls work harder than anybody I know.
Now, I live in Croatia, and I am not really buying souvenirs here. But I was thinking if I was a tourist in Croatia, what Croatian souvenirs would I like to bring back home? Here are my ideas.
And just to be clear, if you are wondering, I don't make any money from the products I suggest below. I just like them and think you could like them too.
Croatian souvenirs that I like (and you could probably like them too)
A Pinch of Salt is a hand chiseled stone container with a crystal glass cover. You can make your own salt with this unique souvenir. You submerge the container in sea water and then leave it in the sun until the water evaporates. Don't you find it awesome to make your own, natural sea salt?
This is definitely my favorite souvenir. My birthday is coming soon, so if anybody is wondering what to buy me, here is a hint. It's original. It's cute. And the only thing I don't like about it is its price. At 199,00 euros, this is not a souvenir you'll bring home to your distant aunt you've never really liked.
Krtz is another kitchen utensil that I like. It's a walnut opening knife. It's functional (it really works!). It's got a beautiful design. At 19,99 euro, it is still not a gift for the aunt you've never really liked, but it can be a great gift for somebody close to your heart who likes walnuts. Like me, for example.
A souvenir bag comes with a really funny Croatia-related slogans. It's the coolest souvenir bag I've seen. However at 31,70 euros, they did go a bit overboard with the price. The only original thing is the funny slogan. It's still a cool souvenir. You can wear it as a shopping bag, or a backpack. It has inside and outside pockets and a zipper. No matter how many positive things I find about this bag, and how much I like it, I still can't go over its price. Way too much.
A necktie is a kind of Croatian invention. But you know that already (and if you don't know it, check my post on random facts about Croatia). All over Croatia you'll find Kravata Croata stores specialized in ties, neckties, scarves and shawls. They don't come cheap but they do make for a nice and unique souvenir.
Sweets! Who doesn't like yummy sweet treats?! Croatia has range of its own sweets. They make an excellent and inexpensive souvenir. Here we are talking about something to bring even to the aunt you don't like. Croatian milk chocolate (brand Dorina) runs at 1 euro (100 g), as well as candies (Kiki & Bronhi are the most famous). Bajadera is probably the best Croatian chocolate. It's made of a fine nougat blended with almonds. But this one, at 3 euros for a 100 g, doesn't come cheap.
Olive oil is an awesome Croatian souvenir. There are some really great extra virgin olive oils here in Croatia. The best part is that Croatians make single sort olive oils. And each one tastes so different. The best olive oils are Oleum Viride, Ipsa, Chiavalon. But, at 50 euros per liter, they are also very expensive. For the cheaper option either buy directly from the local producers, or buy an Agrolaguna souvenir pack.
What kind of souvenirs do you usually buy on your travels? Share your souvenir habits in the comments below.