In this post, you'll find all you need to know about car rental in Croatia, from reasons to rent, recommended types of vehicles, car rental companies, and rates, to our best car rental tips and deals.
A car is definitely the best way to explore Croatia. We highly recommend renting a car in Croatia because you'll be able to take in the sights, travel off the beaten path, see more in less time, and have the freedom to stop wherever and whenever you feel.
Renting a car in Croatia can also be the most economical way to travel through the country depending on the time of year you visit, the number of people in your group, and how long in advance you book your Croatia car rental.
You generally don't need to worry about driving in Croatia as the road infrastructure is great here. A multilane motorway crosses the country from east to west, and south to north. A network of national toll-free roads usually runs parallel to the toll motorway. All roads are asphalted, and wide enough, with clear road signs.
Should I rent a car in Croatia?
The simple answer to this question is – Yes, you should rent a car in Croatia! And below are our reasons to hire a car in Croatia!
You'll absolutely need a car in Croatia if you decide to stay in any small coastal village, like our village Komarna. Although many small villages have basic facilities, like a grocery store, a bar, and a restaurant, you will need to drive to the closest town if you need an ATM machine, pharmacy, fresh meat or fish, or large supermarket. It is practical to have a car in these situations.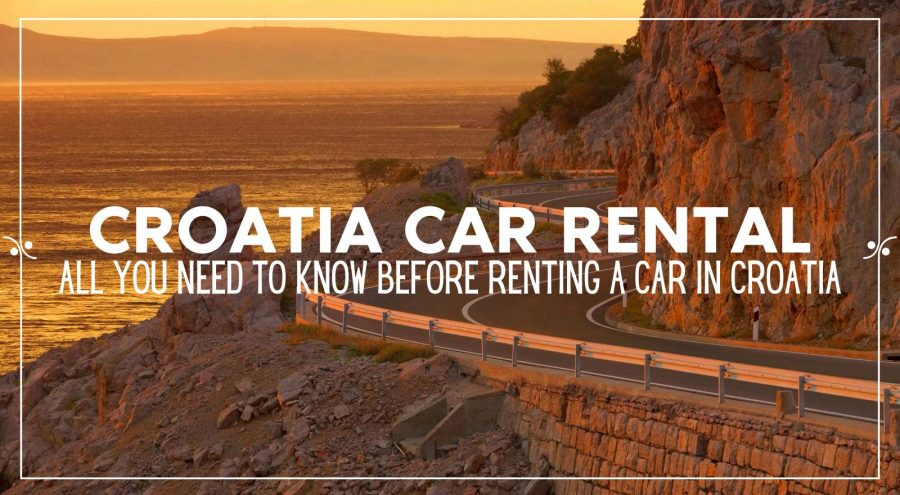 If you'd like to see many places in Croatia in a short time, you'll need a car. While Croatia is a small country, it's also pretty long. For example, the road distance from Umag, in the northwest to Dubrovnik in the southeast is over 700 km. If you decide to cover that with public transport, it will take a longer time, and sometimes travel isn't straightforward. Besides, only traveling by car allows you to make as many stops as you want in order to discover all those beautiful places along the way.
Sometimes you'll want to stay at one centrally-located place and make day trips to popular sights in the region. Again, the only way to stay in one place and explore the wider region is by car. You can't visit all the interesting sights by bus, because it is complicated and slow. Car hire in Croatia is essential in these situations.
Many guests staying in our apartment in Komarna do just this. Komarna is perfectly located to make day trips to Dubrovnik, the Peljesac peninsula, island Hvar, Brac, Korcula, and Mljet, and even a couple of sights in neighboring Bosnia, like Mostar and Kravica Waterfalls. But to experience all those places and take advantage of Komarna's awesome location, you'll need a car.
CLICK HERE FOR THE BEST CAR RENTAL DEALS IN CROATIA!
Decide what's the purpose of your trip, and how many places would you like to see during your visit, and you'll have a better idea of whether you need to rent a car in Croatia.
When not to rent a car
There are a few situations that we can think of where you'll be better off without a car.
If you only plan to stay in big towns like Zagreb, Split, or Dubrovnik, you'll probably be better off without a car. Intercity buses are a convenient, frequent, fast, and cheap way to go from one town to another. Once in the town, you can use public transport to move around, or you can simply explore a town on foot. Parking in popular destinations in Croatia can be a real hustle, and it costs money. So, again, to have your car rental sitting in a parking lot makes no sense.
If you only plan to relax at the beach 24/7 in any coastal town in Croatia, you won't need a car.
If you don't have a budget for it, you simply won't rent a car.
However, even in these situations, we would recommend that you rent a car at least for a day and explore beyond your base destination.
How much does a car rental in Croatia cost?
Just like with many other services in Croatia (accommodation, tours, activities, etc), the car rental business is very seasonal. This simply means that you'll need to secure your car well in advance if you plan on visiting Croatia in July and August. This also means that rental prices increase dramatically in these two summer months.
In high season, prices range from around 60€ a day for a mini-size car to 70€ per day for an economy-size car. In the low season, for the same cars, you'll pay 20€ and 25€ respectively. Huge difference!
Don't forget that prices change dynamically with the demand. This means that the earlier you book your car, the less you will pay. Even for the high season, you can secure a mini-size car for as low as 45€ a day if you book 6 or more months in advance.
Car rental companies also offer additional equipment to rent like GPS, WiFi hot spot packages, child and baby seats, an extra driver, etc. They all come at an additional cost.
Daily fees for extras are as follows*:
automatic: 15 €
child seat: 8 €
GPS: 8 €
mobile hot spot: 5 €
Extra fees per rental are as follows:
extra driver: 20 €
cross-border fee for EU countries, the UK, and Switzerland: 20 €
cross-border fee for Montenegro, Bosnia, and other non-EU countries: 50 €
pickup and return out of working hours: 30 €
*Prices checked in January 2023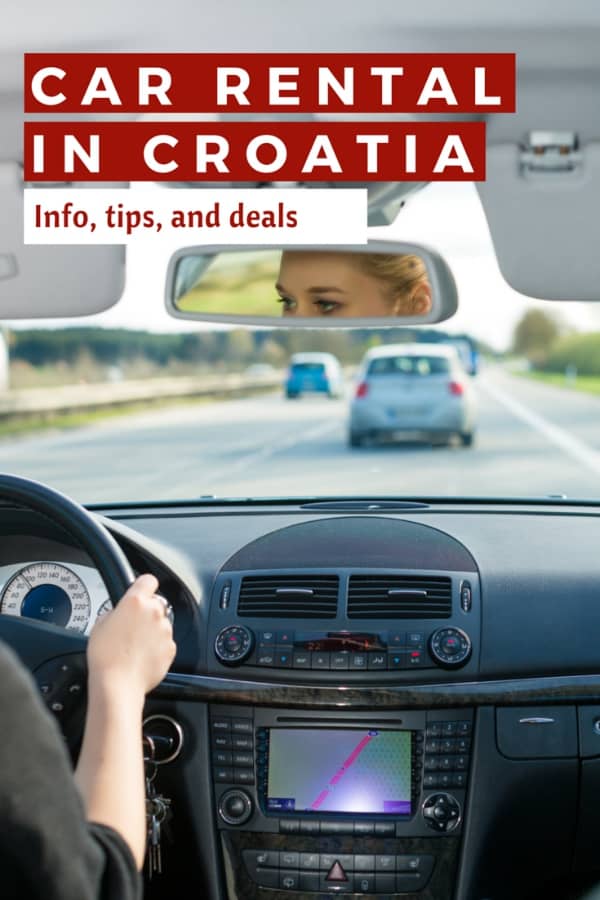 Car Rental Companies in Croatia
We always use Rentalcars.com when searching for and booking a car online, and we highly recommend using this site. They are brokers and work with all major car rental companies in Croatia. Their prices are competitive, and what's even better, you have all offers in one place, and you can easily compare them, and shop for the best car rental Croatia deal.
BOOK YOUR CAR RENTAL NOW AND SAVE!
If you prefer to book directly with a car rental company, as opposed to renting through a broker, you'll find all major international car rental companies in Croatia. We also have a couple of nationwide companies.
Sixt Croatia
Sixt Croatia is a part of the Sixt global network. The company has offices in all major Croatian towns, including Zagreb, Split, Zadar, Rijeka, Pula, and Dubrovnik. It is one of the largest car rental providers in Croatia.
Contacts (Zagreb Airport) | a: Rudolfa Fizira 21, Zagreb | t: +385 1 6219 900 | e: reservations@sixt.hr
Working hours | Daily, 7 am-7 pm
Oryx
Oryx is a company based in Zagreb but with offices all over Croatia. We use Oryx for long-term car rental, and so far we had a good experience with them.
Contacts (Split Airport Office) | t: +385 21 895 164 | e: sta@oryx-rent.hr | Website
Working hours | Mon-Sun: 7 am-9 pm
Nova
Another Croatian car rental company with offices all over Croatia. We haven't yet rented through Nova, but we see lots of their cars on the roads here. Also, Nova rent a car Croatia has been voted the best rental car company in Croatia to work for. If they treat their employees well, the employees must treat the customers well. So, Nova is definitely worth a try if you are looking to rent a car in Croatia.
Contacts | t: +385 98 983 6950 | e: info@novarentacar.hr | Website
Working hours | Mon-Sun: 7 am-9 pm
Vetura
Vetura is a regional car rental company based in Porec, and with offices in all major Istrian coastal towns. We've rented a car from Vetura a couple of times in the past and would recommend them if you are in Istria.
Central Office Contacts | a: Trg J. Rakovca 2, Porec | t: +385 52 434 700 | m: +385 91 206 3070 | e: vetura@vetura-rentacar.com | Website
Enterprise
Well-established international rent a car company with 15 branch offices all over Croatia, from Zagreb to Dubrovnik, Enterprise is a rent a car Croatia company that maintains a good review score for both, the quality of the cars and staff efficiency.
Contacts | t: ++385 99 733 0862 | Website
Working hours | Mon-Sat: 7 am-11 pm
Our best car rental in Croatia advice and tips
Some subjects we've already covered above, but nevertheless, we'll summarise our best Croatia car rental advice and tips below.
Know before booking
Is it safe to rent a car in Croatia?
It is safe to rent a car in Croatia. Car theft is rare in Croatia I wouldn't worry about that. The same is true about breaking into the car to steal your belongings. It isn't common, but be prudent and mindful, and don't leave your stuff in sight.
If you worry about car rental companies trying to screw you, well, I understand you completely. There are some businesses we don't trust and always believe that in dealing with them we'll certainly get screwed up. Car rental companies belong to this group of businesses.
They pre-charge your card for an insane amount of money and, when you return it, they always find something wrong so they can keep some of the money they've pre-charged.
It happened to us just this past winter in Spain. And we even had full insurance. But, they pre-charged 60 € for the fuel (in case we don't refill). And before you know it, they took 30 € for cleaning the vehicle?! Nobody told us that we should vacuum the car ourselves. Needless to say, our friends returned the car a day earlier in a similar condition and they have never charged them anything. The company was the Gold Car, thanks for asking! Anyways, …
In Croatia, you can encounter the same kind of situations when renting a car as you would encounter in other European countries. This is why it is so important to inspect the car before renting it and do the same on return. Never be in rush, take all the time you need, but make sure you check for any damage no matter how small it might be.
What kind of car should you rent?
The type of car that you should rent depends a lot on your own preferences. Roads in Croatia are in excellent condition, so regarding the roads, any car will do.
Another thing to consider is traffic and limited parking in the town centers. Renting a smaller, compact car is more practical.
Mid- and full-size cars make a good choice if you plan on traveling long distances, as they provide more room.
If you are four or more people traveling together, you will need to rent a full-size car with a big trunk, or even a van in order to comfortably fit you and your luggage.
A/C is a must-have as summers here are really hot.
How to find cheap car rental in Croatia?
If you look for a cheap car rental in Croatia, we recommend using brokers like Rentalcars or similar websites.
Whenever we rented a car, we always found better deals on these aggregators' websites than on car rental companies' websites. Don't even ask why this is the case, as it makes no sense to me.
Just last summer, a friend asked me to negotiate a deal on a car rental in Dubrovnik. Since my company often rents with Oryx, and I know people there, I called and asked for the best deal they could make me for a day rental. I got an offer for VW Golf for 75 € a day; only to find that same car on the Rentalcars website for 50 €. I still don't understand why this happens, but it apparently happens all the time.
For the purpose of writing this post, I've checked prices on various car rental companies' websites, and for almost all dates I randomly picked I found cheaper deals on the Rentalcars website.
Different pick-up and drop-off location for car hire in Croatia
You can arrange different pick-up and drop-off locations. This means that, for example, you can take a road trip from Zagreb to Dubrovnik, but take a plane back from Dubrovnik to Zagreb. Ask beforehand how much this will cost you as car rental companies sometimes charge extra for this service. A one-way car rental fee amounts to as much as 120 € per rental.
The same goes for picking up or dropping off the car out of office hours. It's possible to arrange it, but you'll pay extra. Expect to pay around 30 € for this service.
You can try to negotiate with a car rental company to waive these fees. It's certainly worth trying especially during the low-demand periods.
Payment requirements
A credit card is mandatory when renting a car in Croatia. The companies will authorize your credit card for a security deposit (unless you purchase full coverage insurance). Make sure you do have sufficient funds on your card, and extra money left for your trip.
The exact amount of safety deposit for car hire Croatia depends on a vehicle, and a car rental company, but the amount usually comes to anywhere between 1.000 € and 3.500 € if you don't take extra insurance. Without extra insurance, you as a customer are partly liable for any damage.
But, if you take extra insurance with a car hire company in Croatia then the amount authorized on your credit card is much lower, and usually amounts to the rental cost + 200 € for any additional costs, like for example parking tickets, late drop-off, or if the fuel tank isn't full.
Insurance: Full coverage on a credit card
If your credit card comes with full coverage for a car rental, you must wonder whether you need to purchase additional insurance when renting a car.
First, you need to check with your credit card company if you are covered for renting a car in Croatia.
If it covers it, then the procedure in the case of any damage is the following: the car rental company will charge you directly for any damage that might occur. You will then need to claim this cost with your insurer (in this case, your credit card company).
Make sure to ask for all receipts, a list of damages, police reports, photos, etc., and anything that your insurance company may require as proof before reimbursing you.
Manual or Automatic
The majority of rental cars in Croatia are manual. If you prefer an automatic transmission, you'll need to book your car well in advance, and you'll pay extra. Expect to pay anywhere between 15 € and 20 € more a day for an automatic transmission.
Car rental companies don't keep enough cars with automatic transmissions. So, book your car as soon as possible if you can't drive a manual.
Book early
While in low season you perhaps can just show up at the airport and find a car to rent, this isn't the case in high and shoulder season. You better make sure to book your car rental in Croatia well ahead. The same goes for any extra equipment you might need (like baby seats, or WiFi router).
The earlier you book your vehicle, the better rate you will have. This is especially true for periods of high demand (June through September). The rates go up as the demand increases and as the inventory decreases.
What kind of driver's license I need to rent a car in Croatia
A valid driver's license from your home country is sufficient to drive in Croatia. If you, for example, hold a US driver's license, or any other for that matter, you can drive with a US driver's license in Croatia.
An international driver's license is only mandatory in the case when your national driver's license isn't written in Latin letters (for example, if it's written in Cyrillic, or in Chinese characters).
However, if you feel like having an international driver's license, it's easy to obtain, and it costs little.
Minimum and maximum age
The minimum driving age in Croatia is 18. However, the minimum age for renting a car in Croatia is 21. If you are below 21 years of age, you'll still be able to rent a car in Croatia. But you'll need to pay a young driver's surcharge. This surcharge usually amounts to 25 € per rental.
Some companies also charge extra insurance for senior drivers above 70 years of age.
Can you drive a rental car from Croatia to Bosnia, Montenegro, or any other European country?
You can drive a rental car from Croatia to Bosnia, Montenegro, or any other European country. However, you will need to pay a cross-border fee. Or, that's what car rental companies will try to make you do.
Whether you need to purchase additional insurance for crossing the border into Bosnia and/ or Montenegro with your rental car is the biggest debate on the internet regarding car rental in Croatia.
The simple answer is No! You don't need any additional cross-border insurance for Bosnia and Montenegro. You can rent a car in Dubrovnik and drive to Montenegro, or take your car rental from Croatia to Bosnia and back. Your car should come with a green card accepted in both countries. This piece of document proves that your car has at least a minimum level of insurance required and it is recognized and accepted by different European countries.
Some All car rental companies in Croatia will insist on charging you an additional cross-border fee. However, try to be firm and insist on using the green card, and refuse to pay extra. This is really the question of hard negotiation with car rental companies, as they prefer (of course!) to charge you extra for crossing from Croatia into Bosnia or Montenegro. However, if you don't succeed, then expect to pay around 50 € per rental or 10 € per day depending on the company.
If you only intend to cross into Bosnia in Neum then you don't need to pay a cross-border fee. Neum is a coastal town in Bosnia and Herzegovina. This part of Bosnia actually separates Croatian territory into two parts, separating the Dubrovnik region from the rest of Croatia. In order to reach Dubrovnik the shortest way is actually to pass through Bosnia in Neum. So if you only plan on passing through Neum in order to reach Dubrovnik, you don't need to pay a cross-border fee.
Some companies don't charge any extras for taking a car across the border to another EU member state, as well as to Switzerland and the UK. But, some other companies have a cross-border fee even for the EU member states. It usually amounts to 20 € per rental. Shop around!
Taking a car rental Croatia on a ferry
I was surprised to find out that car rental companies charge extra for taking a car on a ferry. While the basic insurance covers you for driving on the Croatian islands, it actually doesn't cover the possible damage that can occur on the ferry itself during the crossing.
If you don't want to take a chance, this extra insurance will cost you around 20 € per rental.
Cross-country car hire
Sometimes our readers like to know if they can pick up a rental car in one country, and then drop it off in another country.
This is more difficult than it might seem. Basically, it is only possible between a limited number of countries, towns, and branch offices, usually when and where one car rental company has a partner company in another country.
For example, if renting with Oryx, you can arrange on request, a drop off of their car rental in one of the following towns outside Croatia: Budapest (Hungary), Ljubljana and Maribor in Slovenia, Belgrade in Serbia, Sarajevo, and Mostar in Bosnia & Herzegovina, and Podgorica and Tivat in Montenegro. But this service will cost you money!
Every car company has different rules when it comes to cross-country car hire, and they approach every rental individually. If you need this service, you will need to arrange this directly with the car rental company.
Picking up the car, and getting on the road
Inspect the car
Before you leave with your car rental, people at the car rental company will inspect your car for any damages, and note them on paper. Go, inspect the car along with them, and pay attention. They'll do the same when you return the car (unless you are fully covered, in which case they don't really care.). If they find any new scratches, and other damages, they'll charge you for repairs. It's extremely important that you inspect the car before picking it up, take photos, and discuss any damages you see with a car rental representative.
If you pay for full coverage directly with the car rental company, they won't even bother to check the car for possible damages. Because your insurance covers it all.
Respect road rules
Observe speed limits, don't use your phone while driving, wear a seatbelt at all times, and have dipped headlights on 24/7 during the winter (October through March).
The inner-city speed limit is 30 to 50 km/h; on open roads speed limit is up to 90 km/h (but with lots of lower speed limits in curves, and other road conditions); on all major toll roads speed limit is up to 130 km/h.
Road assistance
Croatian Auto Club (HAK) provides road assistance, should you need it. They have English-speaking operators. The telephone number is 987. They also have a free smartphone app with real-time information about road conditions, congestion, and live webcams.
Navigating roads in Croatia
Generally speaking, the roads in Croatia are in very good condition. Four- and six-lane motorways connect the country from North to South, West, and East.
Motorways are marked with the letter A, while motorway road signs are always green in color. The most important motorways include:
The A1 motorway connects Zagreb with Ploce to the south;
The A6 motorway connects Zagreb with Rijeka to the west
The A8 motorway connects Rijeka with Kanfanar in Istria (this road is mostly a 4-lane motorway although there are still a few sections with a single-carriageway road)
The A9 motorway connects Pula with the Slovenian border via Kanfanar
The A3 motorway connects the Slovenian border to the west with the Serbian border to the east via Zagreb
National roads are marked with the letter D, and the road signs are mostly yellow. D8 (ex. E65) is the most popular national road. It connects Rijeka to the northwest with Dubrovnik to the southeast. This is the most scenic road in Croatia. And if you head south you'll end up driving on this road sooner or later. Motorway A1 going south only reaches as far as Ploce. The only way to reach Dubrovnik from Ploce is to drive along national road D8, also known as Jadranska magistrala (Adriatic coastal road).
GET DETAILED INFO ABOUT DRIVING IN CROATIA HERE!
Since roads in Croatia are great, well-marked, and easy to navigate, GPS is not really necessary to have. It can come in handy in big towns, like Zagreb, Split, or Dubrovnik. But, in my opinion, Google maps are the best and the cheapest navigation solution in Croatia. And they also work offline (if previously downloaded).
If you use Google maps for navigation, don't forget to turn the roaming off if, and when traversing through Bosnia, or Montenegro. Both countries are non-EU, and roaming charges are huge.
Returning the car
Don't forget to refill your car before you drop it off. If the tank isn't full, a car rental company will charge you a fee.
Make sure you aren't in a rush when returning your car. You want to have enough time to do paperwork and inspect the car (to avoid any hidden charges for "sudden" damages).
Any questions regarding car rental in Croatia? Please let us know in the comments below.
Further reading: more Croatia car rental and other travel tips