Seeking the best beaches in Porec? In this post, we share information about where to swim in Porec including info about the best Porec beaches with photos and locations on the map.
Porec is one of the most visited towns in Croatia. It has over 60 km of coastline, including many bays, beaches, coves that stretch from Cervar to the north to Zelena Laguna in the south. A popular summer destination among camping aficionados, families with children, sports enthusiasts, particularly cyclists, and wine lovers, Porec is also one of the most visited towns in Croatia.
Porec is a real leisure destination, where families and couples alike come to spend their main yearly holidays. People don't just pass through Porec, instead they come to enjoy, relax, and recharge during their main yearly vacation.
Porec offers lots of things to do for people of all ages, world-class historical and cultural monuments, good restaurants, decent nightlife, a variety of accommodation, good value for money, and above all kilometers of coastline: from Porto Bussola to the north to the Zelena Laguna to the south.
Beaches in Porec practical info
The coast is generally rocky, with quite a difficult sea entrance at some places. Wear water shoes or jelly shoes at all times.
In tourist resorts, like Zelena Laguna or Lanterna, there are lots of man-made pebble beaches. However, since most of the pebble beaches are man-made, the entrance of the sea remains natural. Thus – rough at some places.
All designated beaches have garbage bins, changing cabins, showers, bars/restaurants, deck chairs, and sun umbrella rentals, and a variety of water activities: like jet-ski, pedal boat rental, or parachute and banana rides.
In the vicinity of many beaches, there are also small grocery stores and beachwear stores.
Public toilet facilities are not common, although some beaches have them. However, you can always use a toilet of any bar or restaurant nearby. Some charge a fee for using toilets, others keep toilets strictly for bar's guests.
You'll encounter lots of excursion bookers on the beaches. Those guys usually sell daily trips, most often boat trips to Lim Fjord, or along the Riviera. They can be annoying. If you are not interested in buying anything from them, tell them right away.
At some beaches, you'll encounter guys selling donuts, other pastry, and sometimes boiled corn. It's OK to buy it from them if you feel like having a bite.
Porec beaches are generally not overcrowded. Sure, if you go to the most popular part of the beach, you'll certainly need to deal with the crowd. But if you just move a few meters left or right, you can have lots of space for yourself.
There is lots of shade on all beaches in Porec. At many of them, pine trees almost border a shoreline. Plenty of space to hang your hammock too!
Unless you like to walk in the heat, you'll most likely need a car to reach many Porec beaches (regardless of where your accommodation is located). The good part is that there are plenty of parking spaces in the vicinity of the beaches, especially if you decide to swim in Zelena Laguna Resort.
Beach activities and water sports
The most common activities you can find on Porec beaches include:
Jet-ski rental; it costs 250 Kn for a 15-minute ride. The guys running a jet-ski rental are very attentive, and if you don't return at the agreed time, they'll go out and bring you back quickly.
Banana ride; simple, but fun, the banana ride is perhaps the most common Porec beaches activity. Expect to pay around 50 Kn for a 10-minute ride.
Crazy UFO; similar to banana ride, crazy UFO is an inflatable tube for 5-6 persons pulled by a speed boat. Prices start from 80 Kn for a 10-minute ride.
Solo tube: a tube ride with a speed boat, but as it names suggests, the speed boat pulls at the time three to four solo tubes, as opposed to one large tube for more people. Prices start from 80 Kn for a 10-minute ride.
Pedal boat rental; Prices start from 100 Kn per hour.
Motorboat rentals; motorboats can be rented with or without a skipper; the fleet usually ranges from a small leisure boat with a couple of horsepower engines; to speed boats with serious engines of 50 hp or more. Rental prices start from 1.000 Kn per day. Boats can also be rented by the hour or week.
Flyboard; at the moment it's only available at the Jet Ski Porec, at the Pical beach, right below hotel Pical. The price for a 15-minute ride is 400 Kn.
Best Porec beaches
We share a list of the best Porec beaches below. We personally like the most beaches in the Zelena Laguna Resort, particularly the swimming areas below the hotel Delfin. But, as you will see, Porec offers many beaches, and you might find another one more attractive for your taste.
Zelena Laguna Beaches
A large resort located 5 km south of Porec, Zelena Laguna consists of many bays, small peninsulas, over 10 km of coastline, eight hotels, one apartment complex, two campsites, many bars, restaurants, and activities.
Skilift
At the entrance of the resort, just before the hotel Molindrio, there is a wakeboard park Skilift, and a small beach near it.
This beach is easily accessible by car, and there is plenty of parking next to it.
Next to the wakeboard park, there is a small pebble beach. Beach is mostly used as an exit point for wake-boarders.
There isn't much shade here, but there is a nice grassy area with hammocks, a sand volleyball court, as well as a small children's playground with a sandpit, and a couple of swings.
A bar with a large terrace is a centerpiece of a wakeboard park. Public toilets are available near the bar and are free of charge.
Parentium Beach
Further south, you'll come across the Parentium beach. It's basically a coastline along the small peninsula where the hotel Parentium is located.
The coast here is mostly rocky, with cemented sunbathing areas, but also with a small pebbly part.
The beach has good amenities including changing cabins, showers, and deck chairs rental. There is also a restaurant Villa Romana as well as an ice cream parlor serving also cold drinks on the beach.
Lotosi Beach & Astra Beach
We put these two beaches together as they are basically in the same bay, and share the same facilities. They are both located in a central part of the Zelena Laguna Resort. The beach Lotosi is below the hotel Plavi, while the beach Astra is below Astra apartments.
Both beaches are pebbly with rocky and cemented areas in-between. They are set in a calm bay and are both popular among locals and tourists alike.
The beaches offer some shade but not too much. From both beaches, you can take a taxi boat to reach Porec. A one-way ticket is 20 Kn per adult and 10 Kn per child up to 12 years of age.
The whole area abounds in lots of facilities including various restaurants and snack bars, grocery store, beachwear shops, sports facilities (mini-golf, table tennis, tennis courts, motorboats rental, pedal rental, bicycle rental, etc.), showers, deck chair rental, inflatable water parks, etc.
Delfin Beach
Further south, you'll find our favorite beach in Porec – Delfin beach. This beach is located below hotel Delfin, the largest hotel in all Croatia.
The hotel is located on a hilly peninsula, with a seafront promenade encircling it. The coast here is mostly rocky, and mostly intact, without any facilities except few benches and garbage bins along the promenade. Some parts are very steep that very few people dare to swim here. Other parts consist of coves with tiny natural pebble beaches.
The whole peninsula is covered with thick pine forests, and it offers lots of natural shade.
Southwest shores of the peninsula feature a popular beach bar Saint & Sinner, a small restaurant, a children playground, a large sandpit for small children, a water slide, a sand volleyball court, a small grocery store, a beachwear shop, a stand selling French fries, chicken nuggets, and pancakes.
Beach here is partly rocky, partly cemented, and partly pebbly. There is lots of shade under the pine trees, and a large grassy area for a relaxing time at the beach. Activities offered at the Delfin beach include a jet-ski rental, a crazy UFO ride, a banana ride, parasailing, a motorboat rental, pedal boat rental, and kayak rental.
Zelena Laguna & Bijela Uvala campings' beaches
Further south starts the campsite Zelena Laguna and even further is Bijela Uvala campsite. Both campsites have an additional sports offer like mini-golf, table tennis, bicycle rental, etc.
Campsites Zelena Laguna and Bijela Uvala also offer lots of swimming and sunbathing opportunities. Beaches here are pebbly, rocky, and cemented. They have lots of amenities like showers, changing cabins, toilets, etc. Also, there are many bars and restaurants for refreshment and a bite, should you feel like having one.
Both campsites have limited access. This means that you can't access any beach here by car. Instead, you need to park your car at the entrance of the campsite and walk down to the beach.
Brulo Beach
Located just 2 km from the center of Porec, the Brulo beach is right below hotels Diamant, Crystal, and Rubin. The thick pine forest covers the entire area, and it creates a wonderful natural shade.
The beach here is mostly rocky with cemented sunbathing areas, and few pebble parts here and there. At the central part of the Brulo beach, there is a small natural pool with shallow seawater for small children, a children's playground, and a large sandpit.
Here you will find lots of beach showers, and changing cabins all along the beach. There are a number of bars and restaurants near the beach. There aren't any public toilets, but you can use toilets of nearby bars and restaurants.
At the Brulo beach, you will also find lots of sports facilities like tennis courts, table tennis, mini-golf, and fun activities for children like a trampoline, inflatable water parks, etc.
The Brulo beach is a good beach with lots of activities, natural shade, and a choice of bars and restaurants. It's close to the town, and it can get crowded.
Parking is a little bit limited since Valamar, in order to keep parking near hotels available for their guests, charges high parking fees to anybody who doesn't stay at their hotels and apartments.
Town Beach
Just next to the Brulo beach, but closer to the town, you'll find the town beach. This beach is similar to Brulo, although a bit less active. There is a big children's playground in the wood above the beach.
If you are staying in the old town, and don't feel like taking a car to the beach, then Town Beach is a good choice to spend a day swimming and sunbathing.
St. Nicola Island
A small island just a 5-minute ride from downtown Porec, St. Nicola Island has always been a popular swimming spot, especially among locals.
The sea here, especially on the west coast (opposite of the town), is very deep. You basically dip directly from head to toes. On the east coast of this small island, in front of the hotel Valamar Isabella, there is a cemented beach with a sand-filled sunbathing area. Next to it, there is a nice artificial pebble (Riviera Beach) and even sand beach (Maro Beach). The rest of the coast is rocky, with cemented sunbathing areas here and there.
You can reach an island with a small boat from the Porec seafront promenade. The ticket costs 40 Kn per person for a return trip. A bit expensive, but the hotel company on the island tries to limit the number of non-staying guests to the island with a high price of a boat ride.
Old town beach
Not too many people swim around the old town. However, the only place where you'll see people swimming (mostly locals) is on the north part of the peninsula, near the tip of the peninsula, just out of the city walls.
The beach here is, well, a boardwalk. Yes, people just put their beach towels anywhere on the boardwalk, and that's it.
Borik Beaches
Borik is a neighborhood of Porec, located to the north of the old town. Located below hotels Zagreb, and Pical, a 15-minute walk from the old town, these beaches are very popular among locals. The area is within a walking distance from the Porec neighborhoods of Mate Balota, Pical, and Finida, so it's the most convenient Porec beach if you live or stay in town.
The entire stretch of coast was improved a few years ago with the creation of artificial pebble beaches, a lovely seafront promenade, sunbathing areas, and even an outdoor gym.
The facilities include a children's playground with a big wooden ship and a sandpit, rental facilities, bars, restaurants, changing cabins, showers. One of Porec popular night bars – Tequila Bar – is set at this beach. Tequila is a Porec summer hot spot with live music and a really good atmosphere.
The Porec Jet-Ski Center is located at the far end of this beach, bordering the Spadici Beach. The center offers jet-ski rental, crazy UFO, solo tubes, and banana ride, as well as a flyboard experience.
There is a lot of natural shade, although the whole area is a bit rougher, or not as neat as Zelena Laguna Resort. The restaurant Hrast, with an awesome seafront terrace and really good food, is in the vicinity.
There is a tourist train connecting Porec with Pical Beach (it actually goes all the way to Spaidic). It costs 10 Kn per person, and a ride is 10 minutes long.
Spadici Beach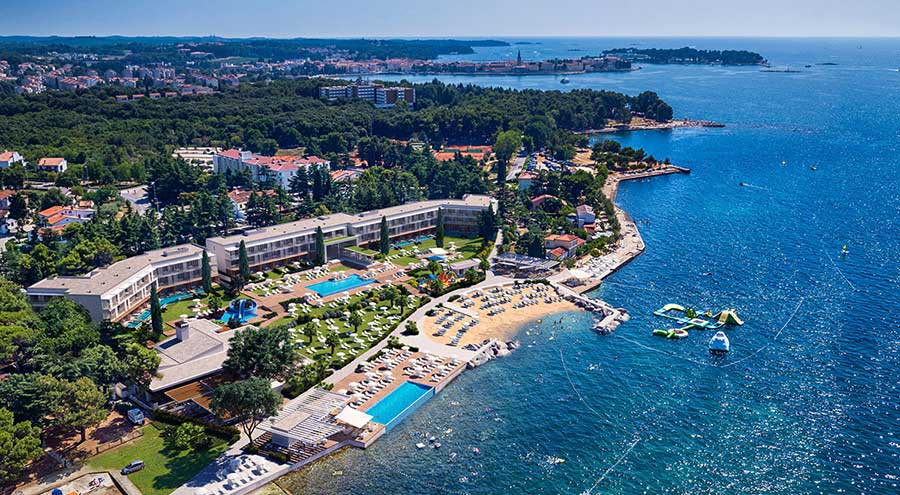 If you continue walking along the coast from Pical Beach, you'll come to Spadici Beach. The first part of this beach is cemented and rocky with a couple of bars lining the seafront.
Further north, you reach the beach below the hotel Valamar Collection Marea Suites. This beach, Val Marea Family beach is an artificial sandy beach. However, this beach is often crowded with hotel guests, and very few locals swim here. This is the reason the entire beach and the grassy area above the beach are all lined with endless deck chairs. You almost have no space to put your own towel. There is no natural shade at this beach.
There are a couple of restaurants and cafes at the beach, and along the main road, just behind the beach. Showers and changing cabins are at your disposal.
Materada Beach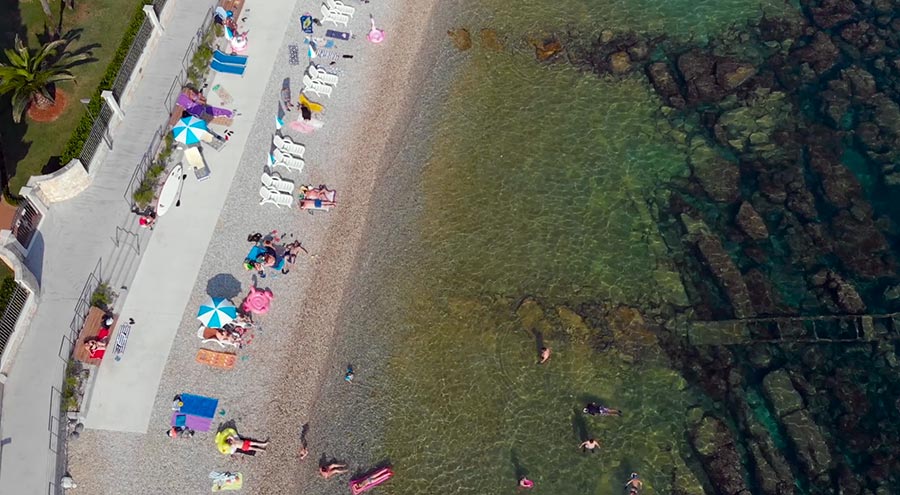 Materada beach is located in the neighborhood of the same name. It's right next to Spadici beach. The beach is cemented, but funnily enough, at its large part, the beach has a sandy seabed.
There isn't any natural shade at this beach. But there are lots of sport, and entertainment facilities, restaurants, bars, grocery stores, showers, changing cabins, etc.
At the far end of this beach, you'll find a small privately-owned campsite Materada, and further down, the Laguna Materada Hotel.
Porec Wild Beaches
When in Croatia we refer to the beach as a wild beach, it simply means that the beach doesn't have any infrastructure (no toiles, no showers, no changing cabins, no water sport activities, no bars, no restaurants, etc.).
In Porec, wild beaches start after Materada beach all the way to Cervar Porat. This entire area is intact, and uninhabited, except for a campsite Ulika that is located halfway between Materada and Cervar Porat.
The area closer to the town, just next to Materada beach is known as St. Martin Bay. Here you will find a couple of beach bars, a small improvised harbor, some basic outdoor gym equipment, and a couple of picnic tables. This beach is easily accessible by car. In the last couple of years, the municipality invested in the improvement of the beach, adding breakwaters and putting pebbles in the sea entrance to make access into the sea smoother. However, the sea here is shallow, and it stays often still, so the water sometimes tends to get dirty.
A bit further north, you'll find Porto Busola, a peninsula and a bay, where locals love to go for a picnic by sea. It's so popular among locals, that some of my friends, wake up at 4 am to secure a super private place at this beach The beaches here are rocky, with a somewhat difficult sea entrance, but there is a lot of shade and improvised BBQ facilities.
Porec Beaches Map
Further reading
If you have any questions or would like to share with us more about Porec beaches, please leave a comment below. 
For those who like swimming there is a swimming marathon every September in Porec, and it is called Porec Delfin.