I've been swimming at some of the best beaches in the Caribbean and Pacific. And I won't lie to you, those beaches are fabulous! A long stretch of beautiful, soft sand, an exotic drink in hands, lapping waves, and palm trees. Hell yeah, these beaches are as good as it gets. And I'll not even mention sandcastles.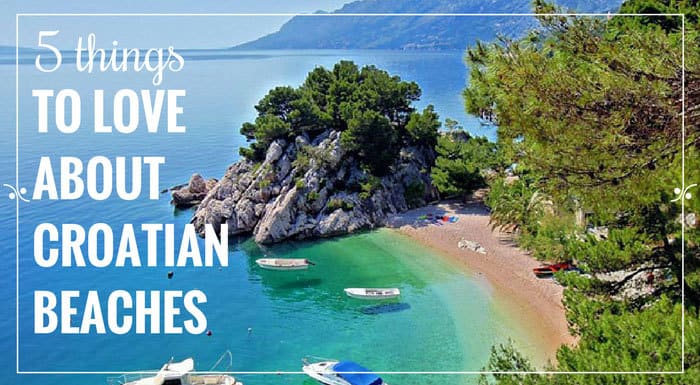 You heard the saying that every day should be a beach day. Well, we can't agree more. Wherever Vera and I travel to any beach destination, beach hopping is one of our favorite activities. We get ourselves a picnic and set up to find some of the best beaches that the place has to offer. We last felt in love with the beaches of Corsica and the beaches of Andalusia. We talk beautiful sandy beaches so remote that you can encounter wild cows roaming there.
Croatia, on the other hand, has very few sandy beaches. And they are not white sand beaches. Anyways, they are rare, and certainly not Croatian strong point. But I LOVE Croatian pebble beaches. And you know what, I love them even more than any sandy beach.
Why I Love Croatia beaches (and why you could like them too)
Beaches here are pebbly!
Croatia beaches are pebble beaches. Sand is messy, and it gets everywhere! It gets in your beach bag, your shoes, your clothes, hair, on your hands, even on your sandwich (and consequently in your mouth).
You bring it in your car. You bring it home. And it's there to stay… forever! Seriously, sand is like the best and the most annoying thing about a sand beach. Not a problem with a pebbly beach, though! And Croatia has plenty of beautiful pebble beaches.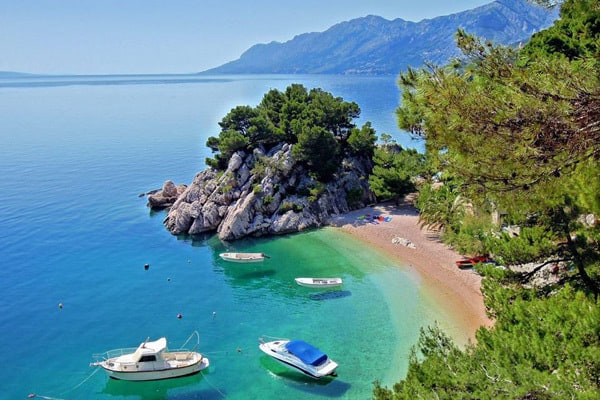 Pebbles don't make you itchy!
You know how they call a  heavy paper with an abrasive material – a SANDpaper. So after that sand gets everywhere, here comes the itchiness all over your body. Like a 20 grit sandpaper. Solution: a pebble beach! In Croatia! Seriously, pebbles are so much cleaner than the sand. You might have difficulties if your feet aren't accustomed to walking on pebbles, and you might need a pair of water shoes for this reason. But, once you are done swimming, your body won't itch and you won't need to wash like three times before all sand is gone.
Underwater visibility
Pebble beaches have excellent underwater visibility. Pebbles do not move as easily as sand, thus the sea stays clear. Good underwater visibility is really great for diving or snorkeling in Croatia. In fact, Vera's parents have a house right by the sea. And the sea is so clear that we can see the fish, sea stars, and other small sea creatures, from their third-floor apartment.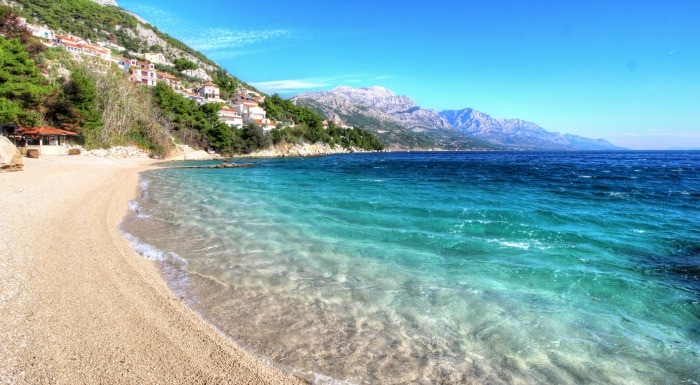 Natural shade
Come on, don't tell me that sun umbrellas can protect you from the heat… From the sun maybe, but from the heat? No way. How about lush greenery, and high pine trees growing right from the sea line! Pines are not palms, but they make much more natural shade. Worried about sunburns? Not in Croatia. You can spend the entire day at the beach, in a deep shade of the pine trees. You'll never get too hot at Croatia beaches. And if you do (that I doubt), three steps and you are soaking in a beautiful Adriatic.
Cliff jumping into the sea
In Croatia, rocky coastline alternate with pebble beaches and this means lots of opportunity for cliff jumping. Every place in Croatia has some crazy cliff diving locations. In Dubrovnik, popular places include Buza Beach in the old town and the island of Lokrum. Some of the best cliff jumping locations in Istria you will find within the Cape Kamenjak park and Galebove Stijene (Seagull's Rocks) in Pula. In Split, for awesome dives, head to Marjan Hill! And in the rest of Croatia, just ask the locals, they know!
Facilities
Many beaches in Croatian resorts are well-equipped and have all facilities needed for a comfortable beach day. You will have changing cabins, beach showers, beach bars, and restaurants, water sports rentals, sandpits, and parking in the vicinity.
Sand, pebble, shingle, rocks… what's your favorite kind of beach? Let us know in the comments below!
Further reading: