Continuing with our Croatia travel tips series we hope to help you get the best from your holidays in Croatia. Every country has its cheap but good eateries. If you want to eat cheap but good in Canada, UK, Brazil or USA you'll look for all-you-can-eat buffets. In Croatia buffets are only served in hotels. And at 10€-20€ per person (unless purchased as a half-board package along with your accommodation), they are not cheap.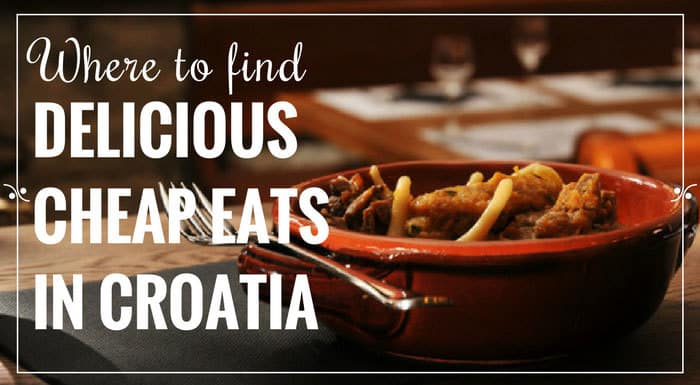 Croatia travel tips:  Types of cheap eateries in Croatia
In Croatia, there are few types of eateries where you can eat for under 6 €.
Restaurants offering marenda or gablec (fixed-price lunch menu)
Pizzerias
Bakeries
1 I Restaurants offering marenda or gablec (fixed-price lunch menu)
Here, in Croatia we've got neighborhood restaurants serving marenda, gablec or uzina (the word changes depending on the region of Croatia, but it means the same). It means a warm, cooked cheap meal. It takes a spoon or fork to eat it. It's usually served between 11am and 2pm. It costs anywhere between 20 and 40 Kn (2.7€-5.5€).
Although today many meals are called gablec or marenda (even fast food!), don't get fooled. Marenda in a real sense of the word needs to be prepared from the fresh local produce, served warm, and must be a food that's eaten using a spoon or fork (no sandwiches here either!). In Dalmatia traditional marenda is for example a cod stew, meat balls in tomato sauce, boiled veal with potatoes, or a veal risotto. In Zagreb traditional gablec is tripes, goulash, or brat sausages with sauerkraut.
Croatian take their marenda seriously. Many companies offer this kind of meal to their employees (usually free of charge or for a very small fee like 10 Kn). I love this! And sure the morning conversation is based on what there is for marenda today?
So if you want to eat tasty, but cheap quality meal while on holidays in Croatia, look for the places serving these kind of meals. They usually have chalkboard outside with a choice of three or four different daily dishes written on it.
Croatia travel tips: Where to find these cheap eats in Croatia
These days, due to the financially tough times, almost any restaurant in Croatia offers marenda or gablec. Anyway in many cases, these meals are nothing but a cut-price lunch offer from restaurant's à la carte menu. You can still get a good meal, relatively cheap (from 40 Kn – 60 Kn), and enjoy a lunch at those places. But we talk about local no-frills places where you'll eat traditional hearty Croatian dishes for under 6€.
We've put together great marenda places in the main Croatian tourist towns. Hope you'll check out some of them.
Popular cheap restaurants in Zagreb 
Vallis Aurea (Tomićeva 4; +385 1 4831 305; Sunday closed): located right downtown near the funicular, Valis Aurea offers hearty lunch dishes (gablec) for less than 40 kn. You can check their daily dishes here (Croatian only).
Marenda (Kuniščak 24): perhaps the best kept secret in Zagreb, Marenda is actually always full. Here you'll eat dishes that Dalmatian grandmas' used to prepare at home. Even doctors from the nearby hospital eat here. 'Nuff said! A full meal with a drink  you'll pay around 10€. Read Florence Lince's reflections on the sister restaurant Marenda in Šibenik to get a full idea what to expect.
Find a full list of excellent cheap restaurants in Zagreb or check our list of must-try restaurants in Zagreb.
Popular cheap restaurants in Pula 
Tratoria Vodnjanka (Vitezica 4, Pula; +385 52 210 655; Sunday closed;): A mother and son duo run this popular eatery in Pula. Open only for lunch (until 5 pm) they offer a great choice of daily marenda dishes. This place is a temple of real Istrian home cooking. Locals love it.
Popular cheap restaurants in Split 
Buffet Fife (Trumbićeva obala 11, Split; +385 21 345 223;): Buffet Fife offers traditional Dalmatian food in a casual setting. The service is a bit rough around the edges, but the food is delicious, fresh and cheap. Locals rave about Fife's cod stew.
 Tri volta – Dioklecijan ( ): You'll hardly find a more local place in Split than this one. Tavern Dioklecijan, among locals known as Tri Volta, reminds of  some other times, of old forgotten Split, Split before big cruise ships and backpackers (not that anything is wrong with that!). Don't get discouraged by its weary look, or few semi-drunk regulars. Three different dishes are on a lunch menu here, and if everything is gone by the time you made it to Tri Volta, just order a plate of prosciutto and cheese. It comes with bread, olives and dill pickles.
To find out where locals eat in Split, check our list of locals' favorite restaurants, or read about best restaurants in Split.
Popular cheap restaurants in Rovinj
Restaurant Orca (Gripole 70, Rovinj; +385 52 816 851;): Orca definitely offers the best value for money in Rovinj. Located on the main road to Rovinj, in a residential area, it doesn't have the best location or views, but the food is homemade and delicious. Their marenda  start from 40 Kn (5,5 €) onward, and includes dishes like tripes, stuffed peppers with mashed potatoes, and other Croatian classics.
If you are looking for a good place to eat in Rovinj, check our post on the best restaurants in Rovinj.
Popular cheap restaurants in Zadar
Sabunjar (Jadranska cesta 99, Zadar; +385 23 340 355;): Located in an industrial part of Zadar, near Getro, this place doesn't offer haut-cuisine, but solid homemade food. Popular among locals for their daily marenda menu.
Stomornica ( ): This place, located in the heart of old town, has always been popular for its fried smelt fish and pilchards, prosciutto, cheese and a glass of table wine. While the other dishes tend to come with a higher price tag, these simple Dalmatian treats are very affordable.
Restaurant Veseljak (Franje Tuđmana 161, Sukosan; +385 23 393 050;): Located in a small village Sukošan, 12 km south of Zadar, Veseljak is a place where locals go for marenda whenever possible, or whenever they feel like eating a good homemade meal including anything lamb. The restaurant, located on the main road, is little appealing from outside, but their marenda is delicious, and starting at 30 Kn (4 €) onward, quite cheap.
2 I Pizzerias in Croatia
Pizza in Croatia is excellent. Think large, thin crust pie, variety of toppings, and baked in a wood-burning oven. Price of pizza in Croatia range from 35 Kn to 60 Kn depending on size and a choice of toppings. The normal size pizza is big enough for two persons. Pizzerias also serve homemade bread rolls, grilled meat and veggies, salads, pasta, and rice dishes.
3 I Bakeries in Croatia
Bread in Zagreb is excellent. The smaller the town, the less good bread you'll find in town's bakeries. But lately chain bakeries started opening across the country where you can find a really good bread. One of them is Mlinar Bakery, and you absolutely have to taste their whole grain Švedski bread. But besides bread, bakeries offer all kind of delicious pastries (sweet and savory) that can keep you full for quite some time. Phyllo dough pies are extremely popular (greasy but delicious). They come with different fillings and my favorite one is potato pie. Other popular pies include burek (minced meat filled pie) and cheese pie.  Buhtla is another typical pastry sold at Croatian bakeries. It's  made of yeast dough and filled with jam, chocolate spread, or cheese.
We hope that these Croatia Travel Tips will help you better plan your holidays in Croatia.
Do you find our Croatia travel tips helpful? Do you try to cut on food expenses or you rather cut on other costs and indulge in country's specialties regardless of cost? Let us know in comments below.