A couple of weeks ago we have spent a weekend on the Brac Island. We were really looking forward to spend a weekend on Brac, because our visit included four experiences we cherish the most: beaches, food, wine and meeting people. And Brač did so well on all four!
We've stayed at the Bluesun hotel Elaphusa in Bol. This is a 4star hotel located at the seafront, 15-minute walk from the center of Bol, and only 5-minute walk from the awesome beach of Zlatni Rat (Golden Horn Beach). Our full review of the Bluesun hotel Elaphusa you can read here.
Brac Island: Location
The Brac Island is located in the central Dalmatia. With the surface of almost 400 km2, Brac is the third largest Croatian island, and the largest island in Dalmatia. Its highest peak, Vidova Gora, is at 778 m, and it makes Brac the highest of all Adriatic islands. This fact seems to make locals proud. We've visited Vidova Gora many times, and this time was no different. You can easily reach it by car if you aren't into hiking. The views from the top stretch far and wide over the Zlatni Rat Beach, the island of Hvar, and further south over Peljesac peninsula.
Why you should visit the Brac Island
1 | Tradition
First of all, islands make a huge part of Croatian geographical and national identity. If you are coming to Croatia, you should definitely visit at least one Croatian island. And why not Brac?! Tourism on Brac started in 1923 in Bol. Bol has, with Dubrovnik, and Opatija, one of the longest tourism history in Croatia. And along with few other destinations, like Rovinj, Split, Plitvice, Hvar, Korcula and Dubrovnik, Bol remains one of the most popular tourist destinations in Croatia (Don't tell me you've thought it was the off the beaten path destination).
2 | Beaches
Zlatni Rat, famed beach in Bol, is perhaps the best known and the most beautiful beach in Croatia. But as locals like to say, it isn't the only beach here. The entire south side of the island of Brac is dotted with gorgeous pebble beaches. Pebbles here are small, soft to walk on, and perfectly rounded. And the best part is that, apart of Zlatni Rat, other beaches aren't crowded at all, especially as you get out of Bol.
3 | Food
Islands seem to live at their own pace, and we always feel like stepping back in time when visiting any of Croatian islands. The veggies and fruits here taste better, their taste brings back childhood memories (yes, we kept saying to ourselves, this is what the food should taste!), olive oil is abundant here (Brac is particularly famous for its olive oil, lamb, sheep cheese, and mandarins), fresh fish is to die for.
4 | Wine
Grapes have been growing here since the ancient times. Viticulture has always been important part of the island's economy. And it's still very important today. The south slopes of the island have a terrain and orientation very similar to that of Dingac on the Peljesac peninsula. And since Plavac mali, Croatian indigenious sort, has been planted on Brac for centuries, today these grapes are replanted in bigger quantities, along with other sorts like Posip, Vugava, Chardonnay, and Merlot.
Read our full article on reasons to visit Brac.
Brac Island at a glance
Best time to visit the Brac Island is from June through September.  During this time, the ferry service is frequent, all activities and facilities are open and running, the weather is nice, and the sea is warm. August is the busiest month, and you can expect ferry queues, high accommodation prices, and generally very crowded popular beaches. So if you can avoid August, it's perhaps a good thing to do.
Accommodation on the Brac Island: The best accommodation choice on the island of Brac you'll find in Bol: from large hotel complexes, small family run B&Bs, to apartment rentals, and campsites, Bol has you covered. The other villages lack large hotels (not necessarily a bad thing), and accommodation offer is mostly based on private apartments and rooms. The prices vary according to the season, location, and type of accommodation.
Being the most popular tourist spot on the island, accommodation in Bol is also the most expensive. August and July are the most expensive months to stay on the island. And the closer to the sea your property of choice happen to be, the more you can expect to pay. When it comes to a type of accommodation, campsites are the cheapest option to stay on the island, followed by private rooms, apartment rentals, and finally hotels.
For a double room with breakfast in a 3-star hotel in Bol expect to pay 150 euro in high season (July, August), while in the shoulder season (mid-September), the same accommodation you'll pay as little as 70 euro. An one-bedroom apartment for four persons in Bol will set you back 90 euros in high season, and 50 euros in shoulder season.
Transport on the Brac island: Car ferries connecting the island with the mainland depart daily from Split and Makarska. The one-way ticket from Split to Supetar, for two adults and a car, costs 230 Kn. There is also a year round catamaran line connecting island with Split, and with the island of Hvar.
There is a small airport on the Brac island, mostly used by charter planes. There is a regular charter from Vienna to Brac during summer months. Autotrans is the main bus operator on the island. All villages on the island have a direct bus to Supetar, but the buses between other villages on the island are not always direct. Buses have different schedule for summer and winter. Detailed timetable you can find at Autotrans Website. One-way ticket from Supetar to Bol costs 40 Kn.
Food on the Brac Island: Restaurants on the island of Brac tend to be slightly more expensive than restaurants on the mainland. However, this mostly apply to meat dishes, and less to seafood. Seafood on the island is very good, and fresh from the Adriatic.
Lamb is the most popular meat on the Brac island, and it's served almost everywhere. Light lunch you'll pay around 8 euro, seafood, like a portion of scampi, expect to pay 140 Kn, Adriatic squid will set you back 120 Kn per person, while fresh fish goes by kilo, and for local white fish (like monk fish, sea bass, and alike) you'll pay at least 340 Kn per kilo. A portion of lamb meat in a restaurant will set you back 90 Kn, or 220 Kn per kilo.
Beaches on the Brac Island: The number one reason for so many people to visit the Brac Island are its beaches. The south slopes of the island are steeper, but hide some of the best beaches in all Croatia. The north shores gradually descend to the sea. The beaches here are pebble, rocky, and even sandy.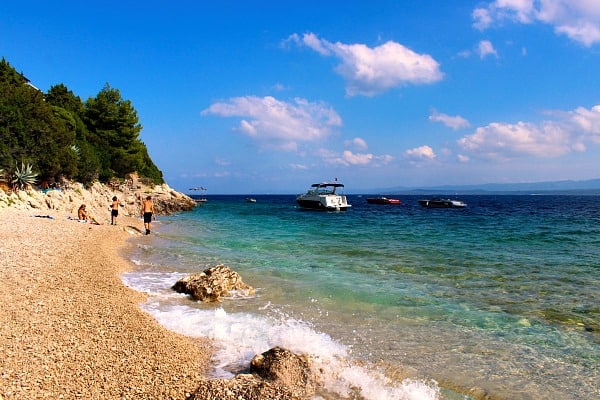 The most famous beach, not only on the Brac island, but in all Croatia, is Zlatni Rat beach located in Bol. Other popular beaches on the island inlcude: sandy beach Lovrecine, then Paklina on the east end of Bol, Murvica, and Vela Farska west of Bol, Ticja luka and Ratac in Povlja, Lucice and Osibova Bay near Milna.
Brac Island: Places
The Brac Island basically has two distinct areas: coast and inland. But locals like to make a difference between the south and north shores of the island as well. We find both shores to be equally nice (shhh! don't tell locals), but they do differ. South side of the island is more touristy, has more hotels and other facilities, and it sure has prettier, gentler beaches. North side, just twenty years ago, didn't think, live or depend on tourism, as other industries were present here (stone masonry, quarries, sardines factory, candy factory, etc…). You won't find big hotels here, but rather family-run B&Bs, apartment rentals, and generally more local feel.
1 | Bol is the largest tourist center on the island. Located at the south side of the island, Bol has wonderful beaches (Zlatni Rat is the most famous, and apparently the most photographed beach in Croatia), good restaurants, lots of accommodation choices (particularly hotels), beautiful winery, and just so many things to do.
2 | Sumartin is a small fishing village on the east side of the island. Sumartin is, after Supetar, the main entry point for Brac, as it's connected with a mainland via the ferry from Makarska. Besides that, Sumartin is pretty quiet place, with a nice Franciscan Monastery that houses some interesting baroque paintings, and scripts written in Bosancica alphabet from the 17th and 18th .
3 | Povlja is a small village located 10 km east of Sumartin. Located in a bay of the same name, Povlja is a quiet place where stone houses line the seafront, parish church is rising above the village, while the views over mainland, and steep slopes of the Biokovo Mountain never get old. The surrounding bays hide nice beaches, some rocky, some pebble. This is a perfect place to unwind, enjoy swimming, and other water sports.
4 | Pucisca is a gorgeous village on the north side of Brac. Pucisca is the center of the stone masonry on the island of Brač. The school for stonemasons is still active, with 100 students enrolled yearly. This is a relatively big settlement for Brac. It feels very local, and it can make a good base if you want to avoid crowds.
5 | Postira is another village located on the north side of the island. Postira is better known as a fishing than touristy village. One of the best Croatian pilchard producer is located in Postira. Their Adriatic Queen sardines, mackerels, and tuna  are of an excellent quality. Taste them if visiting this village. There are couple of hotels in Postira as well as many apartment rentals. The nearby beaches Prvija, Zastivanje, Mala Lozna, and the sandy beach Lovrečina are popular among locals and tourists.
6 | Splitska is located only 8 km east of Supetar. Splitska is a small village, consisting mainly of family houses. The typical Croatian coastal village, Splitska is located in a small bay, with palm trees and stone houses lining the seafront. In ancient times, Splitska used to be a loading port for stone of Brač used to build a Diocletian Palace in Split. Today, you can visit remains of ancient quarry Rasohe where the stone figure of Hercules still stands.
7 | Supetar is the main entry point for Brac, and the island's administrative center. Located on the north side of the island, Supetar is just a 50 minute ferry ride from Split. It has a seafront lined with cafes that even reminds a bit of Split Riva (not architecturally, but in a lifestyle kind of way). Supetar is the largest settlement on the island of Brač with 3.300 inhabitants. It's a birthplace of Croatian sculptor Ivan Rendic. His works are displayed in the Gallery Ivan Rendic in Supetar.
8 | Milna is a small town located on the west side of the island. The town is located in a safe bay, and not too far from Split Gate, a popular sailing route between the islands of Brac and Solta. For this reason, Milna is very popular port for sailing boats and yachts. It has the largest marina on the island. The surrounding villages of Lozisca, Bobovisc, and Bobovisce by the sea are interesting to explore.
9 | Skrip is the oldest settlement on the island, and a must-visit village on the Brac Island. It has an interesting Native Museum (and Andreja is the best curator I've experienced!), remains of old castles, and ancient city walls, and also the Museum of Olive Oil. Take a day to explore Škrip. It's tiny, but it's really interesting.
10 | Nerezisca is a small inland village, and while there isn't much to do in Nerezisca, you'll find there that famous church with 200 years old pine growing right through its chapel (you've seen it on photos, and if you haven't seen it yet,  here is one).
Brac Island: Practical info
Ferries to Brac Island leave from Split (to Supetar), and from Makarska (to Sumartin). The main ferry operator is a national company – Jadrolinija.
Ferry from Makarska is less frequent (winter or summer) and smaller (it can only take up to 25 cars)
Ferry has two schedules: winter (from October to May); and summer (June to September)
In high season (July, August) you need to arrive to the port at least 2 hours in advance to make sure you board your desired ferry (1.30 might not be enough; it did, however, worked for us but we were literally the last car to enter).
Ferry from Split takes 50 min to reach Supetar, while a ferry from Makarska takes 60 min to reach Sumartin
There is a catamaran service from Bol to Split, and to Hvar (in case you don't travel by car)
Buses on the island are infrequent and slow
Roads are good and safe; however a road going down to Bol is windy, steep, and full of serpentine (but the view is gorgeous!).
Bol is the most popular place for tourists with most facilities, and the nicest beaches. If sleepy villages aren't your cup of tea, head straight to Bol (and vice verse).
Do you plan to visit the Brač Island? Have you already visited it? Did you find the information here useful? Let us know in the comments below.