If you are heading to Brac Island and need help planning your visit, our Brac Travel Guide is here to help! It answers all common questions, concerns, and misconceptions related to visiting Brac like what to do on Brac, and the best places to stay, eat and drink. It also provides all the necessary travel information about Brac.
Brac Island is one of our favorite islands in Croatia. Vera's grandmother comes from Brac, and she has family living there. We don't visit often, but when we do, we always enjoy it.
Brac is the largest island in Dalmatia, famed for its beautiful pebble beaches, olive oil, citrus fruits, sheep cheese, roasted lamb, and quality white stone. Island's beaches are amazing, and we don't only mean the popular Zlatni rat (Golden Horn Beach), but lots of less-known and less-crowded smaller beaches, especially on the island's south shores.
The stone from Brac, which has been used for construction since Roman times, is the best and the most appreciated stone in Croatia. Many beautiful Croatian and international buildings throughout history have been built fully or partly with stone from Brac. Diocletian's Palace, the Cathedral of St. Jakov in Sibenik and the Cathedral of St. Lovre in Trogir, the House of Parliament in Vienna, and Budapest, have all been constructed using Brac stone.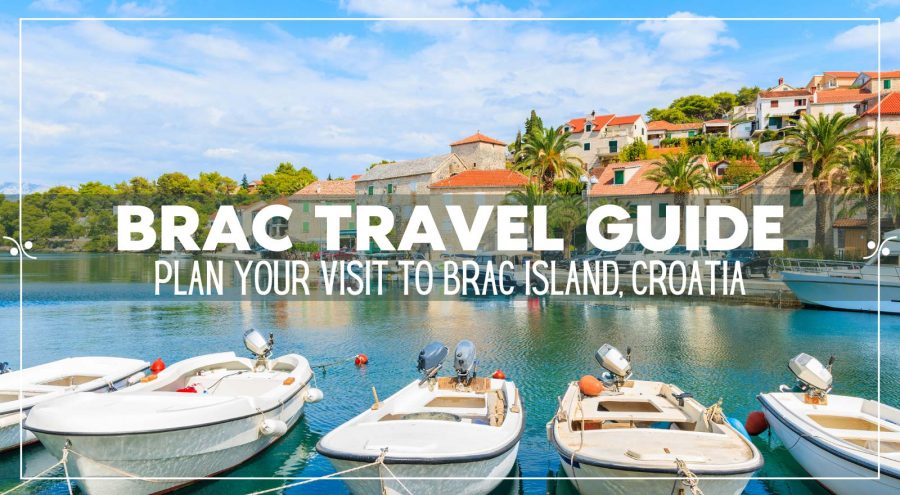 Brac Island is situated in central Dalmatia, between Split and Makarska from the mainland, while it is guarded by the island of Hvar from the seaside. Brac Island is less popular among tourists than Hvar. Nevertheless, Brac has a lot to offer to visitors: nice places to visit, great food, excellent wine and olive oil, friendly locals, and great tourist infrastructure.
Brac can be visited in a day from Split or Makarska. However, we recommend visiting Brac Island at least for 2 days. Brac is also an excellent family destination for the summer holidays. Many Europeans choose Brac Island for their main summer holidays and they stay on the island for 7 days or longer, enjoying the sea, beaches, and other fun under-the-sun activities.
Bol is the most popular destination on the island. Other popular towns and villages include Supetar, Postira, Milna, and Pucisca.
Brac Island has been continuously inhabited since the Neolithic times. Many interesting historical remains and monuments bear evidence of Brac Island's long history. Pustinja Blaca (The Blaca Hermitage), UNESCO World Heritage Tentative Site since 2007, is one of the historical places on the island not to be missed.
Anyway, for us, Brac is one of the great places to visit in Croatia, as it provides four experiences we cherish the most: beaches, food, wine, and friendly people.
Brac Island: Location
Brac Island is located in central Dalmatia. With a surface of almost 400 km2, Brac is the third-largest Croatian island and the largest island in Dalmatia. Brac is also the highest of all Adriatic Islands. Vidova Gora, Brac Island's highest peak, is 778 m high.
Its highest peak, Vidova Gora, is at 778 m, and it makes Brac the highest of all Adriatic islands. This fact seems to make locals proud.
Best time to visit Brac Island
The best time to visit Brac Island is between June and September. September is the best month to visit Brac Island.
During this time, the ferries operate frequently, all businesses are open and running, the weather is nice, and the sea is warm.
August is the busiest month, and you can expect ferry queues, high accommodation prices, and crowded beaches. If you can avoid visiting Brac in August, and visit it in September instead, in order to avoid crowds and high prices, it's perhaps a good thing to do.
In June and September, average temperatures are between 22°C / 72°F and 25°C / 77°F, with the average sea temperature in June around 22°C / 72°F and 23°C / 73°F in September.
Brac Island travel guide: Best towns and villages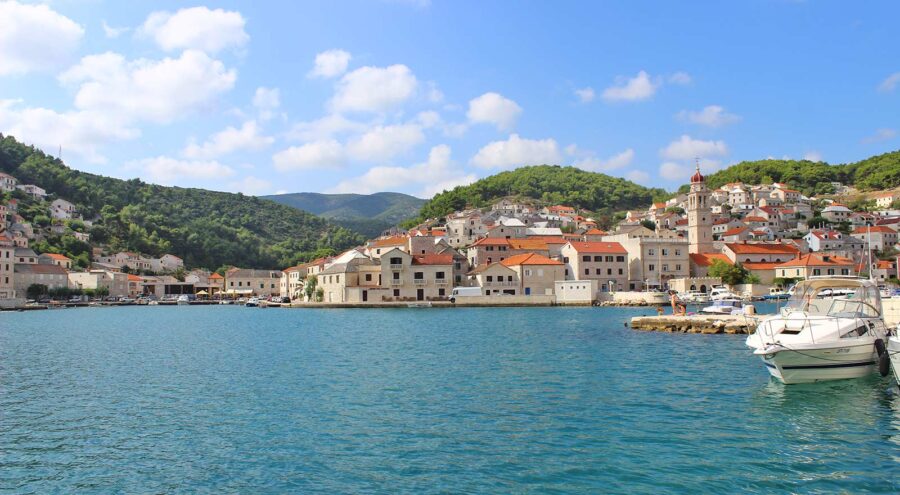 Brac Island basically has two distinct areas: coast and inland. But locals like to make a difference between the south and north shores of the island as well. We find both shores to be equally nice (shhh! Don't tell locals!), but they do differ. The south side of the island is more touristy, has more hotels and other facilities, and it sure has prettier gentler beaches. The people living on the north side, just twenty years ago, didn't think, live or depend on tourism, as they made their living in other industries like stone masonry, quarries, sardines factory, candy factory, etc… You won't find big hotels here, but rather family-run B&Bs, apartment rentals, and generally a more local feel.
Bol is s the largest tourist center on the island. Located on the south side of the island, Bol has wonderful beaches (Zlatni Rat is the most famous, and apparently the most photographed beach in Croatia), good restaurants, lots of accommodation choices (particularly hotels), a beautiful winery, and just so many things to do. Bol is the best place to stay in Brac!
Sumartin is a small fishing village on the east side of the island. Sumartin is, after Supetar, the main entry point for Brac, as it's connected with a mainland via the ferry from Makarska. Besides that, Sumartin is a pretty quiet place, with a nice Franciscan Monastery that houses some interesting baroque paintings, and scripts written in the Bosancica alphabet from the 17th and 18th.
Povlja is a small village located 10 km east of Sumartin. Located in a bay of the same name, Povlja is a quiet place where stone houses line the seafront, the parish church is rising above the village, and the views over the mainland and steep slopes of Biokovo Mountain never get old. The surrounding bays hide nice beaches, some rocky, some pebble. This is a perfect place to unwind and enjoy swimming and other water sports.
Pucisca is a gorgeous village on the north side of Brac. Pucisca is the center of the stone masonry on the island of Brač. The school for Stonemasons, which opened around 110 years ago, is still active. This is a relatively big settlement for Brac. It feels very local, and it can make a good base if you want to avoid crowds.
Postira is another village located on the north side of the island. Postira is better known as fishing than a touristy village. One of the best Croatian pilchard producers is located in Postira. Their Adriatic Queen sardines, mackerels, and tuna are of excellent quality. Taste them if visiting this village. There are a couple of hotels in Postira as well as many apartment rentals. The nearby beaches Prvija, Zastivanje, Mala Lozna, and the sandy beach Lovrečina are popular among locals and tourists.
Splitska is located only 8 km east of Supetar. Splitska is a small village, consisting mainly of family houses. The typical Croatian coastal village, Splitska is located in a small bay, with palm trees and stone houses lining the seafront. In ancient times, Splitska used to be a loading port for the stone of Brač used to build a Diocletian Palace in Split. Today, you can visit the remains of the ancient quarry Rasohe where the stone figure of Hercules still stands.
Supetar is the main entry point for Brac and the island's administrative center. Located on the north side of the island, Supetar is just a 50-minute ferry ride from Split. It has a seafront lined with cafes that even remind a bit of Split Riva (not architecturally, but in a lifestyle kind of way). Supetar is the largest settlement on the island of Brač with 3.300 inhabitants. It's the birthplace of Croatian sculptor Ivan Rendic. His works are displayed in the Gallery Ivan Rendic in Supetar.
Milna is a small town located on the west side of the island. The town is located in a safe bay, and not too far from Split Gate, a popular sailing route between the islands of Brac and Solta. For this reason, Milna is a very popular port for sailing boats and yachts. It has the largest marina on the island. The surrounding villages of Lozisca, Bobovisc, and Bobovisce by the sea are interesting to explore.
Skrip is the oldest settlement on the island and a must-visit village on Brac Island. It has an interesting Native Museum, remains of old castles, and ancient city walls, and also the Museum of Olive Oil. Take a day to explore Škrip. It's tiny, but it's really interesting.
Nerezisca is a small inland village, and while there isn't much to do in Nerezisca, you'll find there that famous church with 200 years old pine growing right through its chapel (you've seen it in photos, and if you haven't seen it yet, here is one).
Why you should visit Brac Island
First of all, the islands make up a huge part of Croatian geographical and national identity. If you are coming to Croatia, you should definitely visit at least one Croatian island. And why not Brac?!
Tourism on Brac started in 1923 in Bol. Bol has, with Dubrovnik, and Opatija, one of the longest tourism histories in Croatia. And along with a few other destinations, like Rovinj, Split, Plitvice, Hvar, Korcula, and Dubrovnik, Bol remains one of the most popular tourist destinations in Croatia (Don't tell me you've thought it was the off-the-beaten-path destination?!).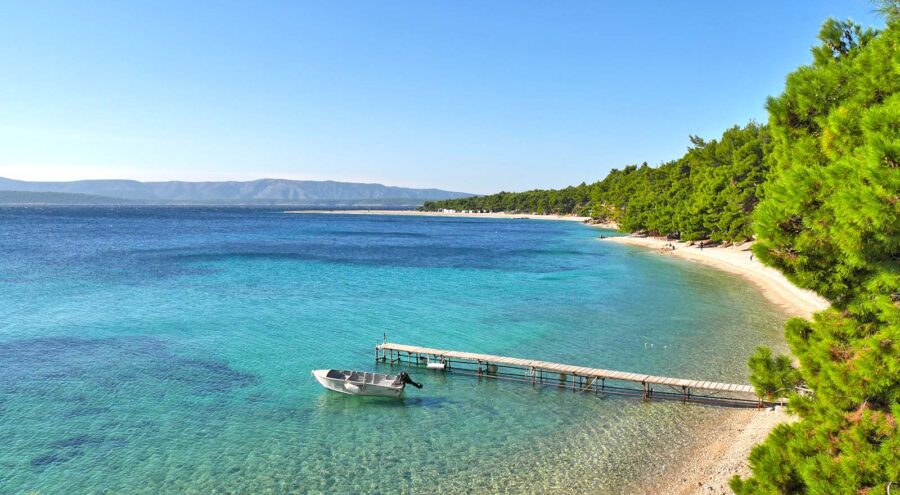 Beaches: Zlatni Rat, the famed beach in Bol, is perhaps the best-known and one of the most beautiful beaches in Croatia. But as locals like to say, it isn't the only beach here. The entire south side of the island of Brac is dotted with gorgeous pebble beaches. Pebbles here are small, soft to walk on, and perfectly rounded. And the best part is that, apart from Zlatni Rat, other beaches aren't crowded at all, especially as you get out of Bol.
Food: Islands seem to live at their own pace, and we always feel like stepping back in time when visiting any of the Croatian islands. The veggies and fruits here taste better, their taste brings back childhood memories (yes, we kept saying to ourselves, this is what the food should taste!), Olive oil is abundant here (Brac is particularly famous for its olive oil, lamb, sheep cheese, and mandarins), and fresh fish is to die for.
Wine: Grapes have been growing here since ancient times. Viticulture has always been an important part of the island's economy. And it's still very important today. The south slopes of the island have a terrain and orientation very similar to that of Dingac on the Peljesac peninsula. And since Plavac mali, a Croatian indigenous sort has been planted on Brac for centuries, today these grapes are replanted in bigger quantities, along with other sorts like Posip, Vugava, Chardonnay, and Merlot. Popular winemakers on Brac Island are Stina Winery in Bol and Vina Senjkovic in Nerezisca.
What to see on Brac Island
With a long and rich history and being blessed by Mother Nature in all aspects, Brac Island offers some of the most unique places and things to see in Croatia.
Surrounded by the crystal-clear sea and decades-old pine trees, with its particular shape, Zlatni Rat Beach (the Golden Horn Beach) is often named the most beautiful beach in Croatia, on the Mediterranean, and even in the world. The exact shape and length of this pebble beach vary and depend on the tide, current, and wind. Zlatni Rat is a pure nature work of art, and it is interesting to know that each year the beach is getting longer.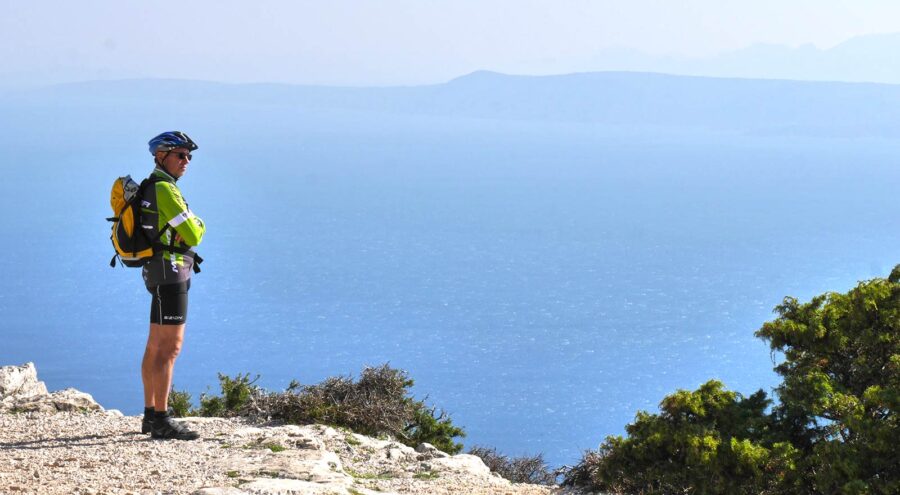 We've visited the mountain Vidova Gora many times, and every time we enjoyed it. You can easily reach it by car if you aren't into hiking. If you decide to hike, it will take you around 1,5 hours to reach the top (the hike is 5 km long). The views from the top stretch far and wide over the Zlatni Rat Beach, the island of Hvar, and further south over the Peljesac peninsula.
Pustinja Blaca is a monastery carved in the stone desert. It dates from 1551 when two priests run from the Ottoman Turks and hide in a cave. First, they lived in the cave, and with time they built rooms on the rocks of Vidova Gora. The monastery was run until 1963 and the death of the last of the monks.
The Dominican Monastery, founded in the 15th century, is located on the southern side of the island of Brač in Bol. It is surrounded by crystal clear sea and pine trees, and due to the beautiful nature and unique position, very popular for weddings. Do not miss visiting the garden as well as the Museum in the Monastery, which contains lots of historical artifacts.
Just 5 km from Bol, and 30 minutes walk from Murvica you can visit the Dragon's Cave. Inside the cave, there are carvings of angels, animals, and a gaping dragon, a mixture of Christian and pagan symbols. The cave can only be accessed on a guided tour, which lasts around 4 hours.
Lovrečina Bay is situated between Postira and Pučišće, and it is known for its beautiful sandy beach and archaeological sites. Here you can find the remaining from both the Roman period and the early Christian period. The most important are remains of the St. Lawrence Basilica from the 5th and 6th centuries.
Things to do on Brac Island
Whether you enjoy outdoor activities like hiking, swimming, snorkeling, windsurfing, relaxing, and sunbathing at the beach with a book in your hand, or a hedonistic vacation that includes good food, wine, and late-night cocktails, you'll find it on Brac Island.
The most popular hiking trails include a hiking trail to Vidova Gora, the highest peak of the island, a hiking trail to Pustinja Blaca from Nerezisca or Farska, another one from Murvica to Dragon's Cave, and from Sumartin to Planik.
Zlatni Rat Beach isn't only a popular swimming spot on the island, but it is one of the most popular windsurfing places in all of Croatia.
Olive oil, citrus food, sheep cheese, and roasted lamb from Brac are not to be missed if you are a foodie and enjoy discovering and tasting local products.
And last but not least, stonemasonry school in Pucisca. Stonemasonry is an integral part of the island's life. The stone nurtured and educated generations of islanders and enabled prosperity in difficult times.
Hike up to Vidova Gora for the best views! A hike up to Vidova Gora, the highest peak on the island, is a must-do activity on Brac. From the bottom to the top there is a 5 km distance, and the hike takes about an hour and a half. If you are starting from Bol, add 20 minutes more. Make sure to dress properly, wear comfortable shoes, and do not forget a bottle of water. As you climb to the 778 meters high peak the views become more and more interesting. Once on top, not only the entire Brac will be under your feet, but you will also see Hvar and the Croatian mainland.
Visit Zlatni Rat Beach! Even if you are not staying in Bol, Zlatni Rat Beach is a well-worth visit. This beach is a marvel of nature, its shape is due to winds, tides, and currents. When one side of the beach is calm, the other is always windy. This makes Zlatni Rat a perfect place for windsurfing aficionados. There are also windsurfing schools for beginners if you want to learn windsurfing. If not, just lay your towel on the beach and enjoy the sea and the sun. It is recommended to come a little bit earlier in the morning to make sure you have a good spot on the beach.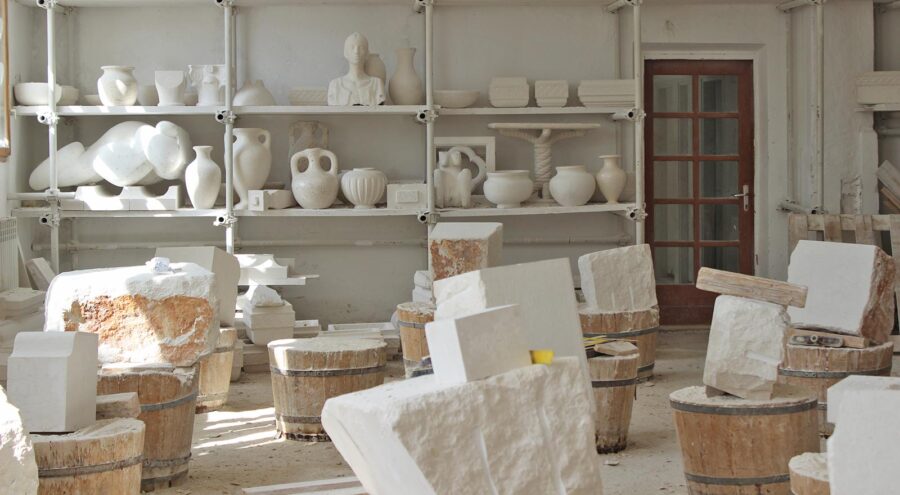 Discover Pustinja Blaca (Blaca Hermitage) and the Dragon's Cave! Both Pustinja Blaca and the Dragon's Cave offer you the possibility to see how caves on the island were used as a shelter. While in Pustinja Blaca the monastery is representing Christianity, in the Dragon's Cave you will find blended both Christian and pagan symbols. The same rule as for Vidova Gora applies when visiting these two locations – dress properly (with comfortable shoes as the most important item) and bring water.
Visit the olive oil museum! On Brac Island olives have been cultivated for centuries. There are more than a half-million trees of olives on the island, and for Brac typical variety is called buhavica. The Olive Oil Museum, located in the small village of Skrip, showcases everything about the traditional process of olive oil production on the island. It is a family-owned museum, and the tour is less than an hour long.
Tour Stina Winery! Stina Winery opened in 2009 in the center of Bol in the building where the First Dalmatian Wine Association had a winery back in 1903. At that time, the location right on the sea was chosen to simply be able to roll the barrels directly from the winery to the ship. Taste one of the most common grape varieties grown on Brac – Posip, a white wine, and Plavac Mali, a red wine.
Enjoy local cuisine! Besides the olive oil and great wine, Brac is famous for its lamb meat and sheep cheese. Some of the local specialties are baked lamb dishes, stews, seafood (fresh fish is inevitable!), and risotto. There is a great choice of good restaurants and rustic taverns, and most have amazing outdoor terraces.
Visit Pucista and Stonemasonry School! Regardless of where you will be staying, make sure to visit Pucista and Stonemasonry School. It is the only school of this kind in Croatia. On your visit, you will learn about the ancient skills of stone sculpting. Brac stone is famous for its pure white color and many important buildings were constructed using it – the Diocletian's Palace in Split, the Cathedral of St James in Sibenik, the Hous of Parliament in Budapest, etc.
Accommodation on Brac Island
Bol offers the best accommodation choice on the entire island: from large hotel complexes, and small family-run B&Bs, to apartment rentals, and campsites, Bol has it all! Some other villages, like Sutivan, Supetar, and Milna, also have hotels but the majority of the accommodation offered consists of vacation rentals and private rooms. The prices vary according to the season, location, and type of accommodation.
Being the most popular tourist spot on the island, accommodation in Bol is also the most expensive. August and July are the most expensive months to stay on the island. And the closer to the sea your property of choice happens to be, the more you can expect to pay. When it comes to a type of accommodation, campsites are the cheapest option to stay on the island, followed by private rooms, apartment rentals, and hotels.
For a double room with breakfast in Bol expect to pay between 150€ and 280€ (165$ to 310$ / 135£ to 250£/ 250AUD to 465AUD) in the high season (July, August), while in the shoulder season (mid-September), the same accommodation will set you back anywhere from 100€ to 200€ (110$ to 220$ / 90£ to 180£/ 165AUD to 330AUD), depending on the hotel. A one-bedroom apartment for four persons in Bol will set you back 130€ (145$ / 115£ / 215AUD) in high season, and 80€ (90$ / 70£ / 130AUD) in shoulder season.
The most popular booking site for accommodation in Croatia is Booking.com which offers the largest inventory and a flexible cancelation policy. You can simply cancel your booking if your plans change. Or, if the hotel runs a promotion, you'll be able to cancel your previous booking and secure a better deal.
For private apartments, besides Booking, check also Airbnb.
Best hotels on Brac Island
Hotel Lemongarden is located in Sutivan, a small village in the northwestern part of Brac, just across the channel from Split. This 5-star hotel is adult-only, taking guests of 14 years of age and more. It has a private beach, a beautiful garden with an outdoor pool, a restaurant, and a bar. There is free WiFi and the hotel also offers bike hire. Our friends stayed here back in 2020. They loved their stay and had just slight complaints about the hotel's a la carte restaurant. Rates are high even in the low season. Prices start at 500 € for a double room with breakfast. Hotel Lemongarden is the best place to stay in Brac for couples!
Located in Pucisca, Puteus Palace Heritage Hotel is a lovely small hotel with only 15 rooms and a spectacular garden. This old palace dating back to 1467 and all made of white Brac stone has been beautifully restored and preserved. The interiors are ascetic, minimalistic, and very elegant. Hotel's facilities include an outdoor swimming pool, a bar, a restaurant, a wellness, and a spa center. We haven't stayed here, but we had a drink in the hotel's bar and enjoyed its beautiful garden and chilled vibe. This 5-star luxury hotel is a great place to stay for couples. Prices range from 170 € in the low season to 450 € in the peak season for the standard double room with breakfast included.
Bluesun Hotel Elaphusa is located in Bol, 50 m from the sea and 10 minutes walk from the Zlatni Rat Beach. This is a large, full-service hotel featuring both an indoor and outdoor pool, wellness, fitness center, tennis center, and bowling alley, and offers transfer service as well as trips around the region. There are 300 rooms and 6 suites in the hotel, all renovated in 2022. We stayed more than once in Hotel Elaphusa, and our stay was always pleasant. Prices range from 170 € in the low season to 315 € in the peak season for the standard double room with breakfast included. Bluesun Hotel Elaphusa is a great place to stay for families with children.
Boutique Hotel Bol is situated close to the city center of Bol and 20 minutes walk from the Zlatni Rat Beach. The nearest beach is 500 meters from the hotel. Count on a bit of walking uphill when returning from the beach and the town. We like good-sized rooms, friendly staff, a copious breakfast, and cleanliness at this boutique hotel. Fluffy bathrobes and slippers on arrival are an additional plus! Hotel's facilities include an outdoor swimming pool, a gym, and a sauna as well as free Wi-Fi. Prices range from 150 € in the low season to 230 € in the peak season for the standard double room with the sea view and breakfast included.
Hotel Kaštil is located in the center of Bol, right at the seafront, within a baroque fortress built in the 17th century. The hotel has 32 rooms with a sea view, a restaurant, a pizzeria, and a cocktail bar. The rooms are smaller (13m2) and equipped with air-conditioned TV, a minibar, and free Wi-Fi is provided. Prices range from 100 € in the low season to 150 € in the peak season for the standard double room with breakfast. This is a great hotel to stay in Brac Island on a budget.
Hotel Lipa is located in Postira, a place on the northern side of the island. This 4-star hotel has 28 rooms with free WiFi, a restaurant, a bar, a terrace, an outdoor pool, and wellness. Not all rooms have a balcony but it is worth paying more for a room with one. Prices range from 130 € in the low season to 200 € in the peak season for the standard double room with breakfast.
Food on Brac Island
Finding a good restaurant on Brac Island is not a straightforward process as it might seem at first. Tourist traps are not always easy to spot, and you might end up in a mediocre place, eating frozen calamari. It happened to us more than once on our travels! However, we always try to find good places, frequented by locals, serving genuine food. We also prefer traditional dishes over modern interpretations. For us, good restaurants use local ingredients and make no special inventions when it comes to meals, only emphasizing the original taste of food.
Brac Island is famous for its lamb, fresh fish, olive oil, and vegetables that are locally grown. When it comes to lamb, there is a great variety of dishes – lamb under the peka (it is a slowly baked meat or fish with vegetables in the fireplace covered with the bell-shaped baking lid and ambers), then lamb soup, boiled lamb, grilled lamb, lamb chops, lamb pâté, etc… And one of the most traditional and unique lamb dishes (and for some the grossest) on Brac Island – vitalac. Vitalac is made of lamb offals cut in pieces, made in a skewer, wrapped in lamb intestines, and then roasted over an open fire until ready. It's definitely not for everybody, but it is the most traditional dish on the island, and it is a part of the Croatian intangible cultural heritage list.
Other classics include pasticada, the most popular Dalmatian dish made with stewed baby beef and served with homemade gnocchi, prosciutto, sheep cheese, octopus salad or peka, and tuna steaks when in season. Homemade pasta and risotto, as well as homemade bread, served with local olive oil, are also popular food on Brac.
Light lunch consisting of a plate of pasta, risotto, or rich salad will set you back around 12€. For seafood expect to pay around 12€ for a portion of octopus salad, fried calamari, or a plate of grilled sardines or mackerel, tuna steak, or a fish fillet will set you back around 20€, while fresh fish goes by the kilo, and for local white fish (like monkfish, sea bass, and alike) you'll pay at least 55 € per kilo. A portion of lamb meat in a restaurant will set you back 18€, steaks sell for about 30€, while various meat stews cost around 25 € a portion.
Best restaurants on Brac Island
Kastil Gospodnetic, Dol: We've eaten in this family-run tavern two times. Both times we had peka, the first time meat peka, and the other time we had an octopus peka. The tavern is set in a 16th-century house, with a stunning view of Dol and its surroundings. The owners grow grapes, olive trees, and their own veggies. The menu is rich and you can choose from meat (lamb, beef, mix) to fish (octopus, gilled fresh fish). For peka pre-order is necessary and a minimum of two portions are required.
Konoba Kopacina, Donji Humac: Located in the middle of the Island, it is considered to be the best place for lamb on Brac. Among tons of lamb dishes, here is also one of the rare places where you can taste vitalac, a traditional dish made of lamb' offals. This tavern also offers a variety of other meat and fish dishes, and they bake fresh bread every day. This tavern is on the way from Supetar to Bol, and many people plan a lunch here on their way from the ferry in Supetar to Bol. The last time we've eaten here, the place was super busy and it turned down many guests. Luckily, we had a table booked.
Vinotoka, Supetar: This family-run tavern, located close to the Supetar's harbor in a side street, offers traditional homemade Croatian food, primarily seafood (but also lamb, of course). They have their own olive oil and wine, both red and white.
Mali Raj, Bol: We've eaten in Mali Raj a couple of years ago when we visited Brac for the first time together. A small family-owned restaurant located directly above the Zlatni rat beach. The menu is full of Dalmatian specialties – sheep cheese, anchovies, prosciutto, octopus salad, seafood risotto (including the black risotto), grilled fish or meat, etc. The terrace is beautiful, and it is especially nice in the evening.
Bokuncin, Sutivan: With a seafront terrace, reasonable prices, yummy sourdough focaccia, and a well-balanced menu of seafood, meat, and vegetarian dishes, tavern Bokuncin is one of the favorite spots to eat on Brac Island for locals and tourists alike. One of the best value-for-money eateries on the island!
BioMania, Bol: With a plant-based menu, BioMania Bistro definitely has a different concept than traditional restaurants or taverns where the menu is heavily loaded with meat and fish dishes. At BioMania Bistro all meals are vegan, prepared from local, seasonal, and organic, ingredients, and served on the terrace with a stunning view. They also serve yummy and healthy breakfasts!
Beaches on the Brac Island
The number one reason for so many people to visit Brac Island is its beaches. The south slopes of the island are steeper, but hide some of the best beaches in all of Croatia. The north shores gradually descend to the sea. The beaches here are pebble, rocky, and even sandy.
The most famous Croatian beach, Zlatni Rat Beach, is located on the island of Brac. But, fortunately, it is not the only beach on the island worth visiting. Brac Island's over 180 km of coastline is dotted with smaller and larger bays and lovely pebbly beaches. Beautiful beaches are actually Brac Island's forte!
And the best part of all – all beaches in Croatia are public! No entrance fees to use the beach.
Zlatni Rat Beach owns its name to its horn-like shape, and fine, yellowish sandlike pebbles. This beach is a natural marvel, and definitely a must-visit when on the island. Zlatni Rat Beach has plenty of natural shade under the pine trees, and also plenty of bars, sports offers, long chairs, and sun umbrellas to rent.
Beautiful, yet less crowded beaches than Zlatni Rat, you will find southwest of Bol. Murvica Beach, 5 km southwest of Bol, is the best-known, and the most visited among these remote beaches. As you go more away from Brac, the beaches get more private and beautiful – Draceva, Slatina, Mali and Veliki Zagradac, Cicco, Vela Planica – seriously I can't say which one of them is the nicest. The road is narrow and unpaved, and access to these beaches is sometimes difficult as you need to walk downhill. Parking is also limited. The best way to reach those beaches is by boat.
In the sheltered cove on the southwestern side, Uvala Smrka is providing a special experience. If you want privacy, this is the right beach for you. Although it is accessible by car, the best way to reach it is by boat. Uvala Smrka is also famous for its submarine shelter from the Second World War.
Martinica Beach, a 250 m-long pebble beach, is 1.3 km east of Bol's center. It is very popular among locals, especially families with younger kids. There is no natural shade, but the monastery yard, which is next to the beach, offers shelter from the sun. Two more beaches not far from Bol are Bijela Kuca Beach and Kotlina. It is actually one pebble beach divided into these two sections, surrounded by pine trees.
The most popular sandy beach is in Lovrečina Bay, situated between Postira and Pučišće, on the northern part of the island. Lovrečina Bay is also an archaeological site, and between swimming and sunbathing you can explore a 6th-century basilica.
On the northern side, there is also Acapulco Beach, in the very center of Supetar, with a nearby beach bar. In Sutivan, Likva Beach offers shallow water with a sandy seabed, and next to it, the rocky coast for those who look for some privacy and shadow.
On the east side, in Sumartin, there is Zora Beach made of fine white sand and considered one of the best beaches on Brac. Only 10 km away from Zora Beach, there is Tičja Luka Beach, mostly frequented by locals.
Bars, clubs, and nightlife
Brac Island is not known as a place with exciting nightlife, especially when compared to Hvar. Supetar and Bol are the two biggest settlements, and thus the main locations when it comes to bars and clubs.
In Supetar, Put Vele Luke is a street with the best offer for an evening drink. It starts on the one end of the town, just opposite the ferry port, and ends at the Vela Luka Beach. At the beginning of the street, Benny's Bar and Ben Quick are both open until 2 am.
In Bol, bars are located in the harbor. During the day, in Cocktail bar Varadero you can enjoy coffee and chill in the shade of pine trees, and in the evening there are DJs, dances, and cocktails. Close by is also the popular Marinero Cafe and Bar. But, there are some great places not so far away from Bol's center, like Cocktail Bar Bolero overlooking Zlatni Rat and Auro Cocktail Bar, located at the peak of the Zlatni Rat Beach.
Traveling to Brac Island
The easiest way to reach Brac is by ferry from Split or Makarska. Even if you are coming from other parts of Croatia, like Zagreb or Dubrovnik, first you will need to reach these two cities. And then take a ferry or catamaran.
There are two ferry companies operating between Brac Island and the mainland. Jadrolinija, a large national carrier, has car ferries and fast catamarans connecting Split and Makarska with Supetar, Sumartin, Bol, and Milna on Brac Island. Kapetan Luka, a small regional carrier operates fast catamarans between Brac Island and Split, Makarska, Hvar, Korcula, Mljet, and Dubrovnik.
Besides regular ferries, you can also book a private or shared boat transfer to reach Brac Island from Split. Prices start at 250 € for a 6-person transfer from Split to Brac.
Brac also has a small airfield, close to Bol, used for commercial passenger flights (up to 100 seats) in the season. It is connected with Zagreb, Graz, and Linz (Austria), Munchen (Germany), Bolzano (Italy), and Bratislava and Kosice (Slovakia). Once at the airport, there is no organized public transportation to other towns on the island but taxis are available. It is best to arrange a pick-up in advance.
How to reach Brac Island from Split
Since Split is the largest city in Dalmatia and its economic and political center, it is best connected with all other places on the mainland and with islands. The Split Ferry port is located in the city center, a few minutes walk from the old town just across the bus and train station.
Jadrolinija is a state-owned large national carrier. Jadrolinija is the only company that runs car ferries and catamarans from Split to Brac year around. The frequency varies according to the season.
Car-ferry runs between Split and Supetar at least 6 times a day in winter, and 14 times a day in summer. From April to October, expect to pay 6.24 € per adult, and 25.06 € per car for a one-way ticket. The crossing takes 50 minutes.
You can also reach Bol and Milna on Brac Island from Split on Jadolinija's fast catamaran a year around. The catamaran from Split to Bol runs once a day. The crossing takes 1h. From June through September, the catamaran leaves Bol in the morning at 6.30 am, and it departs from Split to Bol in the afternoon, at 4.30 pm. The ticket is 9.36 € per person. A piece of extra luggage will set you back 7 €. The same catamaran, from October to June, leaves Bol at 6.25 am on weekdays, 7.25 am on Saturdays, and 1.25 pm on Sundays and Holidays. It sails out of Split to Bol at 4 pm on weekdays (except Fridays), Sundays, and holidays, while on Saturdays and Fridays, it leaves Split at 4.30 pm. The ticket costs 5.84 € per person.
In the period from the second week of June to the last week of September, you can also catch a catamaran connecting Dubrovnik with Split. It sails daily. It has a scheduled stop in Bol. It leaves Bol at 11.55 am, while it sails out from Split to Bol every day at 3.30 pm. The crossing takes 1h. The price per person is 20 €.
Jadrolinija's catamaran connecting Split and Vis has a scheduled stop in Milna on Brac Island every Wednesday. It departs Milna at 8.05 am year around, while it sails from Split to Milna at 6 pm (July, August), or at 3 pm (September through June). The ticket is 7.37 € in July and August, and 4.51 € per person for the rest of the year. The journey between Split and Milna takes 30 minutes.
Kapetan Luka also operates a catamaran service from Split to Milna and Bol once a day. Split to Milna fast catamaran operates daily from April through October and a one-way ticket costs 10 €. Split to Bol ferry operates daily from June through September and a one-way ticket costs 20 €.
How to reach Brac Island from Dubrovnik
You can also reach Brac Island from Dubrovnik from April to October. Both companies, Jadrolinija, and Kapetan Luka, operate between Brac Island and Dubrovnik seasonally.
Jadrolinija's catamaran from Dubrovnik to Brac runs daily from the second week of June until the last week of September. It leaves from Dubrovnik to Bol at 7.00 am and from Bol to Dubrovnik at 4.45 pm. The crossing takes almost 4 hours since the catamaran also stops on the islands of Korcula and Hvar. The price of the ticket is 45 € per person and a piece of extra luggage will set you back 7 €.
Kapetan Luka's fast catamaran from Dubrovnik to Bol runs daily from June through September. This catamaran also stops in Pomena on the island of Mljet, Korcula, and Makarska before arriving in Bol on Brac, and then continuing further to Split. It departs from Dubrovnik to Bol at 3.00 pm and arrives in Bol at 7.10 pm. The boat leaves Bol for Dubrovnik at 8.20 am, and it arrives in Dubrovnik at 12.40 pm. The ticket costs 45 €.
Kapetan Luka also operates a fast catamaran from Dubrovnik to Milna. It runs daily from April to October. This catamaran also stops in Pomena on the island of Mljet, Korcula, and Hvar before arriving in Milna, and then continues further to Split. It departs from Dubrovnik at 4.15 pm (Sept., Oct.: 4 pm) and arrives in Milna at 8.10 pm (Sept., Oct.: 7.50 pm). The boat leaves Milna for Dubrovnik at 7.55 am, and it arrives in Dubrovnik at 11.55 pm. A one-way ticket costs 45 € per person. You can book a seat online here!
How to reach Brac Island from Other places
Car ferry from Makarska to Sumartin operates the entire year, 3 to 5 times a day depending on the season, and the crossing takes 1h. A one-way ticket costs 5,84 € per adult and 24,53 € for a car. A car ferry between Makarska and Sumartin has a smaller capacity than one operating between Split and Supetar. For this reason, in high season, it is better to take a car ferry from Split to Brac than from Makarska to Brac. However, if traveling from southern Dalmatia, Makarska can be more convenient as it is closer to Dubrovnik and the south than Split.
Kapetan Luka also operates also a fast catamaran from Makarska to Bol. A ferry between Split or Makarska and Bol operates daily from June through September and a one-way ticket costs 20 €. Check the detailed schedule here!
You can also reach Brac from Hvar, Korcula, and Mljet islands. The detailed schedule is explained below under the Island Hopping section.
Island hopping from and to Brac Island
One of the big questions of all visitors to Croatia is if they can island hop from one island to another. While island hopping is doable in high season, it is not as straightforward as you might think. Most of the time it requires overnight on each island you manage to visit that way as there is rarely more than one ferry a day between different islands. You can island hop between Brac, Hvar, Korcula, Mljet, and Vis.
Regular ferry lines
Kapetan Luka's fast catamaran connects Bol on Brac Island with Korcula Town on Korcula Island and Pomena on Mljet Island. Sou if you want to reach one of these islands, you can do so directly, without traveling back to the mainland first. This catamaran runs daily from June through September. It leaves Bol every day at 8.30 am and arrives at Korcula Town at 10.25 am. It continues further to Mljet Island where arrives at 11.05 am. The return to Bol is scheduled from Mljet at 4.35 pm, and from Korcula at 5.15 pm. This gives you enough time to visit Korcula Town or Mljet National Park from Brac. The one-way ticket costs 25 €.
However, if you want to visit Brac on a day trip from Korcula, you will need to take Jadrolinija's catamaran. It leaves Korcula Town at 9.15 am and arrives in Bol at 11.40 am. The departure from Bol to Korcula is at 4.45 pm. This gives you enough time to explore Bol and its beautiful beaches on a self-guided day trip from Korcula. The one-way ticket costs 23 €. Brac Island can't be visited from Mljet for a day. However, you can reach Brac from Mljet and have an overnight there.
Jadrolinija's catamaran connects Bol on Brac with Jelsa on Hvar. The catamaran runs daily. From June through September, it departs from Jelsa at 6 am and arrives in Bol at 6.20 am. It leaves Bol in the afternoon at 5.50 pm and arrives in Jelsa at 6.10 pm. The one-way ticket costs 6.71 € per person.
Jadrolinija also runs a catamaran between Bol and Hvar Town seasonally, from the second week of June to the last week of September. The catamaran leaves Hvar Town at 10.50 am and arrives at Bol at 11.40 am. It departs from Bol in the afternoon at 4.45 pm and arrives at Hvar Town at 5.35 pm. A one-way ticket costs 20 € per person.
Kapetan Luka operates a catamaran between Milna on Brac and Hvar Town on Hvar Island from April through October. It leaves Milna every day at 8.00 am and arrives at Hvar at 8.30 am. The return from Hvar Town to Milna is in the afternoon at 7.40 pm (April-Aug), or 7.20 pm (Sept, Oct). A one-way ticket costs 15 € per person.
A catamaran between Milna on Brac Island and Vis Island runs once a week throughout the year. It sails every Wednesday at 7.00 am from Vis with arrival to Milna at 7.55 am. It sails from Brac Island to Vis at 6.40 pm (June-Aug), or 3.40 pm (Sept-May). A one-way ticket costs 9.36 € per person.
Check ferry schedules and buy tickest online!
Organized small-group and private tours
As we explained above, you can island hop between Brac, Hvar, Vis, Korcula, and Mljet on your own, using regular ferry lines between these islands. However, it takes lots of planning and sometimes the schedules don't fit perfectly, thus requiring an overnight in some places.
But, don't despair! There are other options! You can find small-group or private tours offering better schedules for hopping between the islands.
If you are staying in Bol, you can take the Mala Sirena catamaran to visit Hvar town. You can check availability and rates here! Another great option is to book a speedboat tour like this luxury speedboat tour to Hvar and Vis from Brac. This private luxury boat tour is an excellent option to tour between central Dalmatian islands for larger groups or families who value their privacy and want to have the entire boat for themselves.
Solta is the closest island to Split, yet it is little visited and unspoiled. Solta with its beautiful beaches and hidden bays is just a hop away from Milna on Brac Island. Rent a speedboat, and spend a day visiting beautiful Solta. Or if you are not comfortable operating a speedboat on your own, you can check this private tour from Brac to Solta and Blue Lagoon.
And if you don't feel at all to spend a night on any of the central Dalmatian islands, but would still like to visit them for a day, this Full-Day Private Hvar, Brac, and Pakleni Islands Boat Tour from Split might be the answer!
Getting around Brac island
The best way to travel around Brac Island is by car, or by scooter. Local roads are in good condition, constantly improved, and well-marked so you'll never get lost. But beware of sheep crossing the roads! Gas stations aren't many, but they are well located – there is one gas station on each side of the island, in Milna to the west, Bol to the south, Supetar to the north, and Sumartin to the east.
Sumartin, Supetar, Bol, and Postira have scooters, buggy, and quad rentals. A daily rental of a scooter starts at 35 €, quad rental costs around 80 € a day, and a price of a buggy rental is around 135 € a day.
Another way to travel around the island is by bus. In the summer season, there are between five and 10 lines between different towns. Buses are scheduled around the ferry schedule so that passengers can actually reach other villages on the island from ferry ports, mainly Supetar and Sumartin.
Supetar is the only town on Brac with the proper bus station (100m away from the ferry) while other places have simple bus stops. The one-way ticket from Supetar to Bol costs 6 € and you can buy it at the bus station or online via the Bookaway or GetByBus website. In Bol, Milna, Postira, and Pucista, local tourist offices also sell bus tickets. If you are departing from other places on the island, then buy the ticket directly from a driver.
Car rental in Brac Island
When deciding to rent a car the main question is whether you should rent a car on the island, or on the mainland, prior to crossing over.
Both options have their (dis)advantages. You can rent a car at Split Airport, or in the city, which gives you a better choice of cars to hire, cheaper rental prices, and an overall better supply of rental cars. However, car rental companies in Croatia charge a one-time fee for taking a car on ferries. Besides, ferries charge a hefty fee for the car. Also, in the season, queues for cars are inevitable and it could happen that you will miss the planned ferry and need to wait for the next one.
On the other hand, renting a car on the island is more expensive but gives you the opportunity to rent only for the days you actually plan to use it. This way you spend less money on car rental. It also gives you a chance to skip the lines on ferries or to take a catamaran. The downside of renting a car on the island is the shortage of available vehicles in the high season. Make sure to book your car on time and well in advance.
Covid testing centers on Brac Island
If for any reason you need to get tested for COV-SARS-2 while on Brac, below are details for the testing center in Supetar.
Community health center Supetar (a: Mladena Vodanovića 24, Supetar); Prices: 45.13 € for PCR test translated in English, and 6.64€ for the antigen test; no need for an appointment; results within 24h; Working hours: Tue and Thu, 7.30 am to 9.15 am for PCR; Tue and Thu, 12.30 pm to 13.00 pm for antigen.
You can also plan to take the Covid test in Split or Split airport, once you cross over to the mainland from the island. Here can find covid testing centers in Split.
Do you plan to visit Brač Island? Have you already visited it? Did you find the information here useful? Let us know in the comments below.