Are you getting ready for your Croatia trip? Make sure you read this post on what to bring and what to wear in Croatia. We cover all the essential things that should make your Croatia packing list.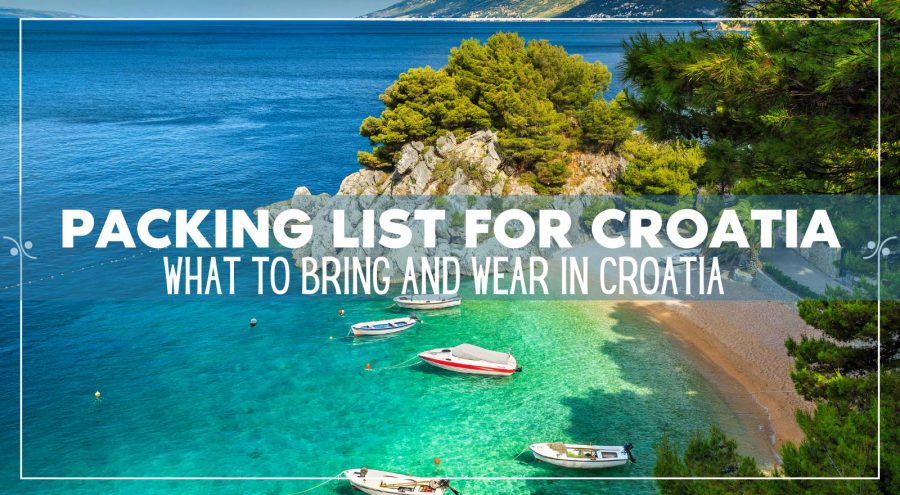 With airlines charging a fortune for an extra bag, it's essential to keep a packing list for a vacation in Croatia as short as possible. We will help you figure out what to bring and what not to bring for your vacation in Croatia.
What to bring to Croatia: A packing list for a vacation in Croatia
Suitcase
The choice of luggage depends a lot on the type of traveler you are, and also on the type of activities you are planning to do.
I've arrived in Croatia seventeen years ago with a load of 135 kg, including a container of frozen pea soup that I made a day before at my Canadian home. This is not how anybody should travel. But considering that I was permanently moving to Croatia, I think I traveled pretty lightly. Back then I traveled with a wheeled suitcase. It was a hard-sided Samsonite suitcase. This kind of suitcase is resistant yet light-weighted and has spinner wheels and a safety lock. If you like to maximize your luggage space when traveling, definitely consider buying one of Samsonite's wheeled suitcases.
We currently travel with carry-on luggage. While its volume is limited, and we need to carefully plan what we'll bring with us, we still find that in terms of comfortable travel, there isn't a better luggage option. We've got America Tourister Moonlight (ours is bright yellow!) and the LEVEL8 Elegance carry-on (ours is olive green!). Both carry-ons are amazing. We like LEVEL8's suitcase a little bit more.
We avoid traveling with a backpack, although, for a long time, it was the only luggage choice we would consider. We've got too comfortable (or too old) meanwhile. If you like traveling with a backpack, check out High Sierra Tech Series backpacks.
Day Pack
A day pack is very handy to have when traveling. Your camera, wallet, bottle of water (I don't even know how we lived without bottled water before), a snack, everything you might need for a day will fit in. Outlander's day-pack is very good and it folds into a small pouch that doesn't take up much space in your suitcase. It also comes in different colors. For me, this is a perfect day pack for people on the go.
Check here for more information and the latest prices.
Money belt
Croatia is really a safe country. I personally carry all my documents and money in my day pack. However, if you like to take all the precautions possible to avoid losing your money or important documents, you can consider buying a money travel pouch.
As for documents, all 3-star hotels and above, as well as all-new apartments to rent in Croatia, are required by law to provide a safe for the guests staying at the property. However, since we've been robbed from the apartment we were staying at in Valencia, I always keep my money and documents with me. I personally prefer the money pouch that you wear around your neck or shoulder, like this Venture 4th neck pouch.
Packing cubes
Packing cubes and compression sacs are essential for providing more space and better organization of your suitcase. We always use these Travelwise packing cubes.
Packing cubes, and other travel bags, are actually one of the travel essentials we bring on any trip. If you are interested to learn about other travel essentials for women to bring on any trip, we have a full post on that too!
Pants & jackets
We all have our own rules and tricks when it comes to clothes. And since you aren't a 5-year-old, and I'm not your mother, I won't start telling you how you should dress. We can only share a few ideas on what to wear in Croatia.
People in cities tend to dress up more than in coastal towns, although you won't see anywhere sloppy-dressed Croatians. I also noticed that guys in small towns like to put on their sports attire. So, most of the time, you can keep your Croatia dress code simple, relaxed, and casual.
Consider that Croatia has four seasons, and three distinctive climates: a Mediterranean climate along the coast, a mountain climate on its rugged mountains, and a continental climate inland. This means that if you are visiting Croatia during the summer the majority of your clothes should be light.
However to be on the safe side bring a windbreaker jacket along with a pair of long pants and long sleeves shirt or sweater. Check out this Columbia Switchback III jacket and this lovely prAna Women's Halle pants.
A denim jacket is another piece of clothing to bring. We love these Riders by Lee Indigo denim jackets in different colors, but you can also check out this Wrangler stretch denim jacket.
Bring also a pair or two of leggings. They take little space but can be handy if it gets chilly unexpectedly. Amazon has a great choice of affordable but stylish leggings.
Shorts, tops & dresses
You should bring a couple of shorts and tops. Choose ones that you can easily mix and match. Also, try to think of tops that can easily look elegant if paired with a necklace.
If you prefer casual dresses over shorts for your daily summer outfit, you can choose them instead. The Etcyy summer casual sleeveless dress, DB Moon casual summer dress, and Haomeili swing T-shirt dress are super affordable and come in numerous colors and patterns.
A maxi dress is a must for those nights when you feel dressed up. This Grecerelle short sleeve maxi dress is a perfect outfit for those occasions.
Swimming suit
A swimming suit is definitely the most important piece of clothing you will wear in Croatia. Croatia is all about the fun under the sun, and lazing at the beach by the pretty blue Adriatic sea. Bring two swimming suits 'cause nobody likes to stay wet, and it's not really healthy.
Check this Cocoship retro 50s two pieces swimming suit, Dokotoo double-up tankini, or this Cocoship backless monokini.
Swimsuit cover-up
Ladies don't forget your swimsuit cover-up in order to complete your beach look. They are stylish, add extra protection against UVA rays, and they allow you to head straight to the restaurant or bar after the swim.
This Jeasona cover-up is soft and comfortable, and it dries up quickly. And most importantly, it's stylish and comes in many different colors.
Microfiber towel
While many accommodations in Croatia, be it hotels, apartments, or rooms to rent, provide bathroom towels, beach towels aren't usually provided, at least not free of charge. However some property owners always like to provide more than the required minimum, so before you leave for Croatia, verify with the property. If there is a place in your suitcase, make sure to pack a beach towel.
We recommend the 4Monster microfiber travel towel. It's super light and it dries quickly.
Water shoes
Water shoes should be the first item on your Croatia packing list. The Croatian coast is rocky, its beaches pebbly, so everybody wears water shoes. The ones who don't are Croatian. They are used to this kind of beach. And if you don't like water shoes, check jelly shoes. While they are not perfect for walking on the Croatian rocky coast, they do a job and they are usually more stylish than water shoes. Vera has a pair of Crocs flats. She loves them (there is something about going into the sea with your working shoes on!). However, when she walks on rocks, she needs to be careful. They are a bit slippery.
Sunglasses
No visit to the beach is complete without a pair of sunglasses. We are both huge fans of Persol sunglasses for one simple reason – their lenses are made of glass. It helps that they also look great!
Sunscreen
In summer temperatures in Croatia go over 30°C and the sun can be really spicy. You should definitely wear sunscreen at all times. You can buy it also in Croatia. But in case you use a special brand, like Avon Skin-So-Soft SPF 30, bring it with you.
Walking shoes
Walking shoes will come in handy if you plan on visiting Croatian national parks, or hiking Croatian mountains. Besides, if it rains, they are always more comfortable than sandals.
Check out these Tiosebon mesh walking shoes.
Sandals
Sandals will probably be the pair of shoes you'll wear the most during your visit to Croatia. I love sandals. For me, sandals are the most comfortable type of shoes.
When it comes to sandals, I totally recommend Birkenstock sandals. Their sandals are comfortable and ergonomic (perfect for long walks!).
However, if you look for the benefits of Birkenstock but in a more stylish look, check Naot's Sabrina Sandals, Clarks T-Spangen sandals, or Crocs Literide Sandals.
Toiletries set
Bodywash, shampoo, and soap are provided in all hotels in Croatia. However, I don't know of any hotel (not even a 5-star hotel) that provides toothpaste, tweezers, shaving cream, or razors. These are things you'll need to have on your packing list for a vacation in Croatia.
If you plan on renting an apartment in Croatia, then you'll also need to bring your own body wash, and shampoo. However, some property owners are more sensitive than others, and they'll provide body wash and shampoo with your rental unit. Check with them beforehand.
Also, if you don't feel like carrying toiletries set, you can buy one in Croatia. All major towns have DM (Drogerie Markt chain store), BIPA, Kozmo, and Mueller, all stores specializing in toiletries.
Toiletries bag
We all travel with a toiletry bag where we keep all our toiletries and make-up. If you haven't already, we suggest that you get a toiletries bag that can be hung on the wall, above your bed, or in a toilet.
Check on Amazon hanging toiletry bag from D&D Wanderlust, or this Freegrace's toiletry bag.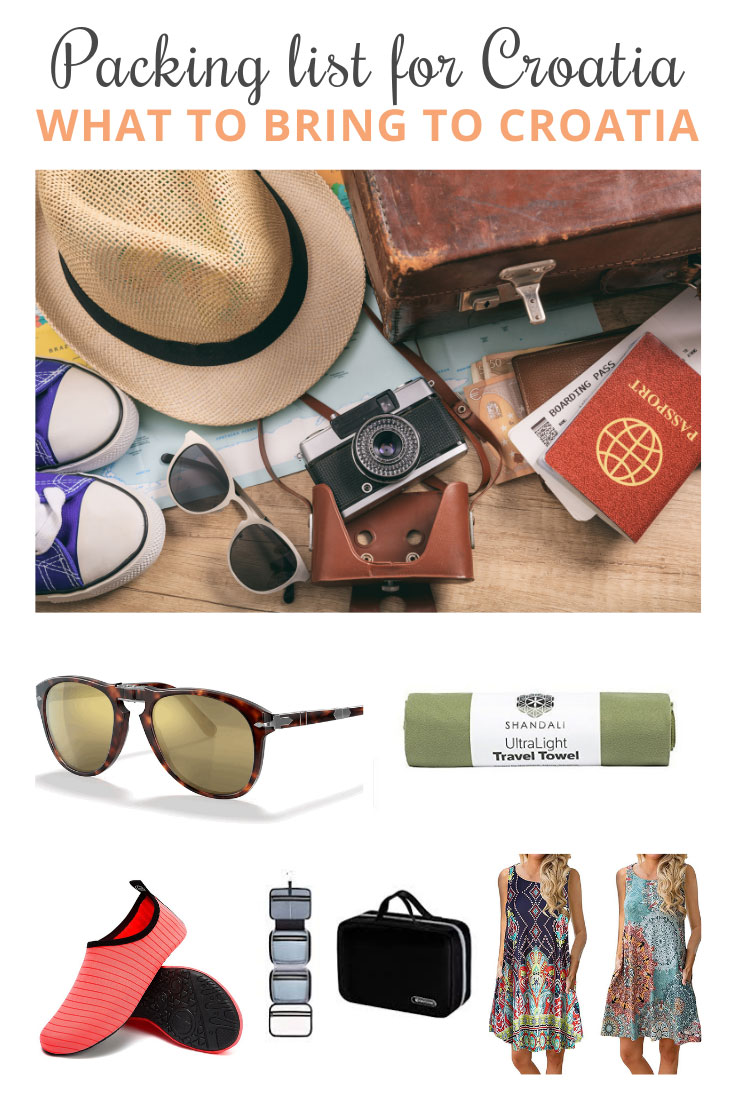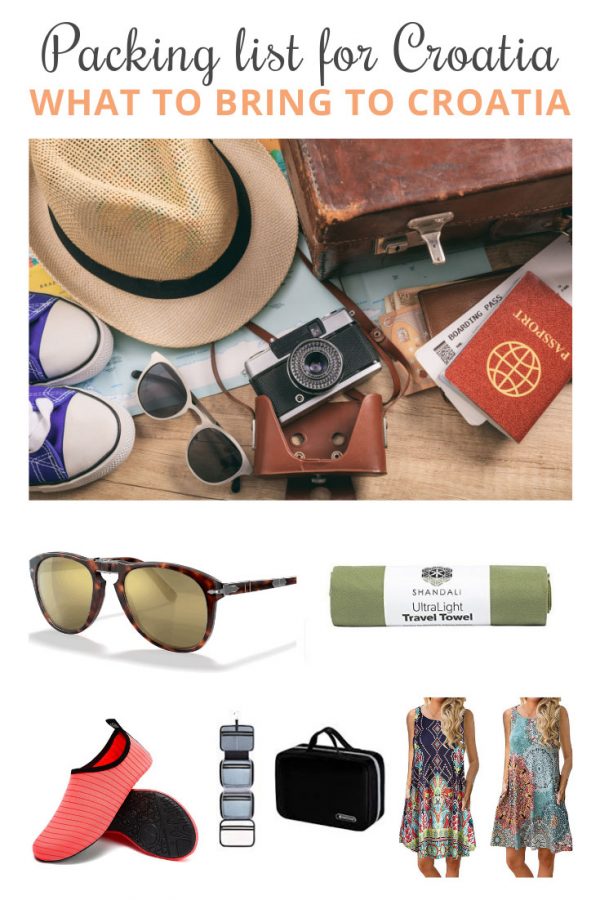 Jet lag relief
If you are coming from far on a long-haul flight, you might need jet leg relief. Even more so if you plan to stay in Croatia for a week or less. You don't want to waste this precious time sleeping or feeling tired. Bring with you this Miers Labs No Jet Lag Homeopathic Jet Lag Remedy.
Motion sickness relief
If you plan to visit one or more Croatian islands, but you often feel sick on boats, and ferries, make sure to have with you motion sickness relief. The sea bands offer the most natural way to relieve you from motion sickness. Find sea bands here.
Mosquito repellent
I cannot stand mosquitoes. And the best strategy regarding mosquitoes is to stop them from biting me in the first place. All the windows in my house have mosquito nets. But if they still find their way in, I also use mosquito repellent. I use Repel's Lemon & Eucalyptus repellent. It is natural, smells nice, repels mosquitoes quite successfully, and it's DEET-free. No matter what repellent you use, don't forget to add it to your list of things to bring to Croatia.
Point-and-shoot camera
If you are looking for a super-compact camera with great features, we recommend Canon SX620. For those who want a bit more advanced camera, and don't mind its size, a great option is Panasonic Lumix FZ80. Both cameras have RAW and manual shooting options, great optical zoom, and a WiFi connection.
However, we have our hearts set on Canon G5X Mark II. The price is a bit steep, but the performance it offers, especially considering it is a point-and-shoot camera, is beyond belief.
DSLR camera
If you want total control over your camera then you should get a DSLR camera. But bear in mind that this camera will definitely take up lots of space when traveling. With additional equipment that goes along, like extra batteries, different lenses, a tripod, and the body itself, you'll need an entire bag only for your photography equipment. We have a Canon t8i with a 24-105 mm lens and love it. We find that the 24-105 mm lens is relatively light-weighted, and a good option if you are trying to avoid carrying around too many different lenses. This one covers most of the situations you'll want to capture without compromising the quality of your shots.
Action and mirrorless cameras
GoPro HERO 11 Black is a great tech gadget everybody seems crazy about (including us!). It's small, it's compact, water-resistant, and great for video (photos as well).
Lumix Panasonic GX85 is our newest camera. It's a mirrorless camera with interchangeable lenses … it basically means that it can do everything that our big DSLR can do, but it's light-weighted, and it's small (it fits in the pocket of my jacket). It also has a great range of lenses to choose from. And these lenses are a fraction of the price (and size) compared with DSLR lenses. Total winner! If you want to have only one camera, we highly recommend checking mirrorless ones.
Waterproof phone bag
You want to take all those crazy moments you are going to experience in Croatia. And a majority of them include water, be it swimming in the Adriatic, snorkeling, sailing, or visiting gorgeous waterfalls. Make sure you have your phone camera safe at hand with these waterproof phone bags.
Adapters & Converters
Before you leave home, check if you need adapters and/ or converters to be able to use your electrical devices in Croatia. Croatia uses 220V, 50 Hz frequency, and type C & F plugs. Both are similar plugs with two round prongs with 19 mm between the two.
While adapters allow you to use different plugs, converters are needed to transform voltages from higher to smaller or vice versa.
Many hotels in Croatia, as well as private apartments, are required to provide guests with adapters. However, they don't have to have as many adapters as rooms. And they can all be taken by the time you make it to the property. So like with everything in life, it's always better to rely on yourself.
Adapters and converters aren't expensive and can easily be purchased through Amazon.
Long-Rang WiFi Network Adapter: The majority of hotels and apartment rentals in Croatia offer a free WiFi connection. It might not be the fastest network out there, but it does the job most of the time. Croatia has an average download speed of 70 Mbps and an average upload speed of 15 Mbps on the mobile network (according to speedtest.net).
Generally, if you stay in bigger towns, your internet connection will also be faster. However, if the internet is something you can't live without even on vacation, consider getting yourself the Alfa WiFi Network adapter. It will help you boost a WiFi signal, and also discover more networks.
Teas
While few tea and coffee shops started serving a selection of good quality teas, it's still rare to find real tea in Croatia. Croatians drink lots of tisanes, but black, green, oolong, or premium and delicate teas are hard to find. If you enjoy your tea, be sure it makes its way to your Croatia packing list.
Recommended travel guides
Further reading
We hope that our suggestions on what to wear in Croatia will come in handy if you plan to visit this beautiful country.
Do you have anything to add to this Croatia packing list? Did we help you better plan your Croatian holidays with our ideas on what to bring and what to wear in Croatia? Let us know in the comments below.