This Hvar Island Travel Guide will help you plan a visit to this great Croatian island whether you plan a short day trip from Split or a longer stay in Hvar, Croatia.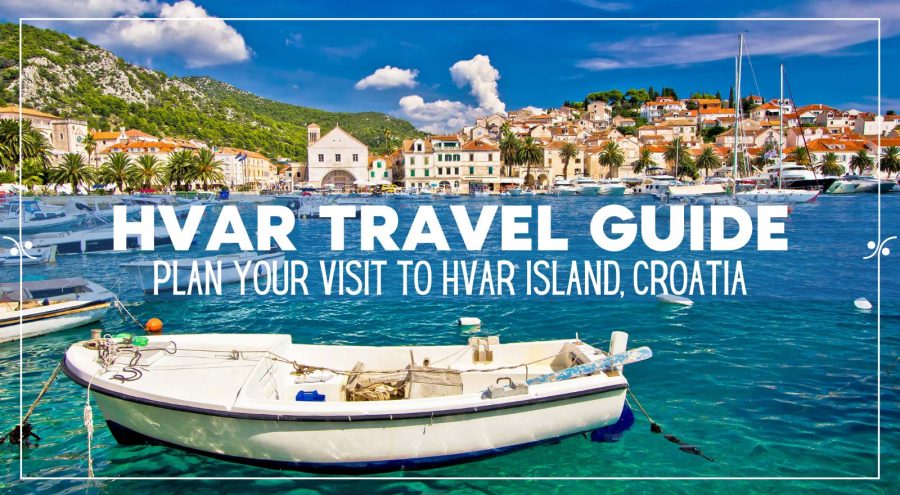 Hvar is the most famous of all Croatian islands. It is best known for its turquoise waters, lavender fields, 2.800 hours of sunshine a year, good nightlife, and as a summer refuge for the rich and famous.
We also like it for its history and culture, lovely countryside, hidden bays, tasty food, and great local wines.
With a surface of 300 m2, it is the fourth largest Croatian island.
Map & location
Hvar Island is located in central Dalmatia, off the coast of Makarska Riviera on the mainland, and between islands of Brac, Vis, Korcula, and Peljesac peninsula.
The island stretches for just over 68 km from northwest to southeast. And, it's the longest Croatian island.
Hvar Town is the largest settlement on the island and the island's administrative center.
The northwest part of the island is rich in freshwater springs, and thus fertile, while the rest of the island is rather dry.
Below you'll find a google map of the island.
Hvar Island Travel Guide: Best towns
You might wonder what is the best place to choose as your base on the island. This really depends on multiple factors, like how many days you plan to stay here, how budget-minded you are, would you travel by car, do you plan on staying in one place, or traveling around, and so on.
If you want to see and be seen and don't mind paying a premium for that pleasure, choose Hvar Town. Otherwise, choose Vrboska, Stari Grad, or Jelsa if you prefer a quieter, more laid-back vibe that is also lighter on your wallet.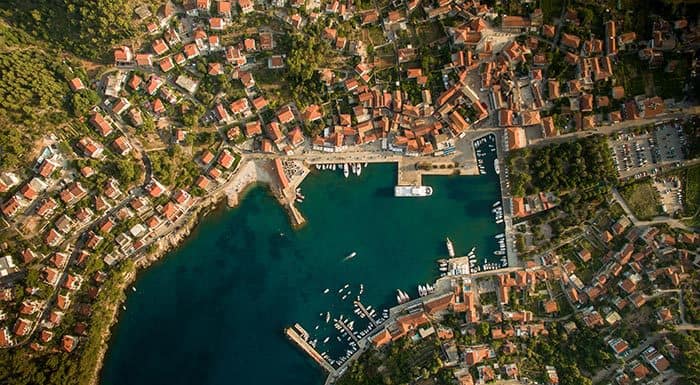 Hvar Town is the largest, best known, and most-visited town on the island. The most attractive destination on the island, it is also the most expensive place to stay. The town boasts a myriad of beaches, hotels, restaurants, historical buildings, and cultural monuments, as well as the best nightlife on the entire island.
Stari Grad is the oldest settlement on the island. The town is located along the long, deep bay with the old town at its end. The old town consists of traditional stone houses, cobblestone streets, and numerous churches. The most interesting monument is Tvrdalj Castle, a palace from the 16th century. Beaches aren't Stari Grad's forte, but nevertheless, it's a popular summer destination.
Located in the center of the island's northern shores, Jelsa has lovely beaches (some of them sandy!), a good choice of private accommodation, and a variety of sports facilities, restaurants, and bars. It's a good alternative to Hvar town for those looking for more affordable accommodations and a quieter vibe.
If you fancy quaint villages, consider Vrboska, Milna, Sveta Nedjelja, or Sućuraj.
Reasons to visit the Island
Hvar is one of the most visited Croatian islands for a reason. It's stunningly beautiful, with good tourist infrastructure, lovely beaches, tons of history, and a good nightlife.
Natural beauty
After hearing of so many celebrities visiting the island, you might imagine it all glitz and glamor, but it's far from the truth. Our number one reason to visit the island is actually its stunning nature.
The island, out of the main tourist resorts, is pretty intact. Wild herbs perfume the air wherever you go. The wild oregano left the deepest impression on us on our last visit here, back in May 2019. We even brought some home and planted it in our garden. Fingers crossed it survives Istrian winter [2020 Update: it didn't survive – *sad face*].
Beaches
If beach hopping is your kind of vacation, then Hvar might just be the right destination in Croatia to visit.
With a length of 250 km, the island's coastline offers ample possibilities for swimming, and a wide range of beaches: rocky, pebbly, and even sandy beaches.
And while the island is super-popular, and gets loads of tourists over the summer, you can still find your little (semi)private spot by the sea.
Obviously, this won't happen on the most popular beaches in and around main towns, like Jelsa, Stari Grad, and Vrboska. But take a drive east, to less popular corners of the island, and you'll discover many coves, bays, and beaches where very few fellow tourists wander.
Also, the sea here is so clean and has a special glittering color.
History & Culture
Illyrians, Greeks, Romans, Byzantines, Croatians, Venetians, Austrians, French, Italians, they all ruled the island throughout history, and they all left a trace in the island's architecture, culture, food.
Agricultural land in Stari Grad plains, UNESCO World Heritage Site, is still divided following the same pattern that Greeks laid down almost 2500 years ago.
Hvar theatre, constructed in 1612, is one of the oldest theatres in all of Europe.
So, wherever you go on the island, you'll encounter something of historical value.
Cobble-stone streets, centuries-old squares, churches, and palaces dotting major towns and villages on Hvar are all witnesses of the island's long history.
People
There is a common belief among Croatians, that people living on islands are special. Not in a bad or good way, just simply different than people living on the mainland.
However, for some reason, I found people on Hvar, to fit me perfectly. I found them warm, welcoming, open, funny, and very direct in communication.
What to see in Hvar, Croatia
Hvar Town
The most popular town on the island, Hvar is simply gorgeous and a must-see on your trip here. Dominated by a large town square that features an Arsenal building, St. Stephen Church, and a small port, the old town is encircled by protective walls from the land side, and overlooked by 16th-century Spanish Fort (Fortica). Today, Fortica is a popular tourist spot, and it offers lovely views over the town, the sea, and the Paklinski Islands. For even better views (and fewer tourists), hike or drive up to Napoljun fortress atop of the Saint Nicolas hill.
Dubovica Beach
This lovely beach is a must-visit! The parking, aside from the main road, is limited, and it's quite a hike to reach the beach from the road. However, it's well worth the effort. The beach is secluded, made of small rounded pebbles, and while it is off-the-beaten-path, it still gets quite busy. There are two beach bars/restaurants serving drinks and food. The shade is limited, but dips in clear blue Adriatic should keep you cool.
Starigrad Plains
Unesco World Heritage Site since 2008, this fertile agricultural land, east of Stari Grad, has been cultivated since ancient times. In fact, it still keeps the same layout, as set by Greeks in 4th century BC. Cycle or take a ride through this maze of plots, planted mainly with grapes, olives, and veggies, and divided by dry stone walls.
Pakleni Islands
An archipelago of twenty-something islands, Pakleni islands are a true wonder of nature and inevitable stop when in Hvar, Croatia. The islands are gorgeous, surrounded by turquoise waters, and full of hidden beaches, calm bays, and a few restaurants and bars here and there – a perfect spot to spend a day swimming, snorkeling, kayaking, or just chilling by the sea. The most popular places include Palmižana, located on St. Clement Island, Jerolim Island with its nude beaches, and Marinkovac with famed Carpe Diem Beach Club.
Stari Grad
Established in 384 BC by Greek colonists, Stari grad is not only the oldest settlement on the island, but one of the oldest continuous settlements in all Croatia, and even in all Europe. The old town is lovely, with its rich history, numerous churches, palaces, and cobblestone streets. Don't miss a visit to the Tvrdalj, a former summer residence of a renaissance poet Petar Hektorovic dating back to the 16th century.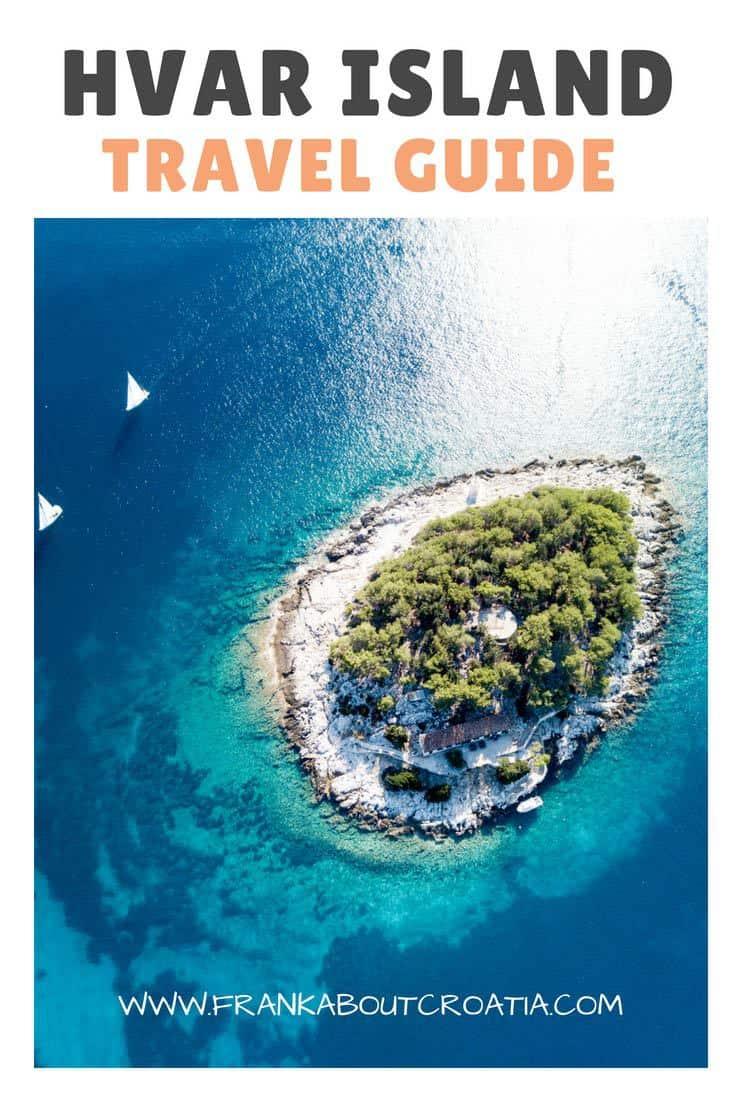 Things to do
Wine Tour
There are many ways to get to know Croatia, and one of them is to get to know it through its wines. Wine has been a major part of the island's economy and a lifestyle ever since ancient Greeks arrived on the island, back in the 4th century BC. And it's as important today, as it was back then.
Plan a half-day or full-day wine tour of the island! You can easily do it on your own, but we believe having a local guide/driver makes it so much better. A guide can give you an introductory tour, answer all your questions, and the best of all, you can indulge in wine tasting all you want as you won't need to drive. Check this 3-hour wine tasting tour!
Popular wine-producers are Zlatan Otok, Tomić Wines, PZ Svirce, Plancic Brothers, and others. Popular sorts include red Plavac mali (Zinfandel's offspring very popular in mid and southern Dalmatia), and pošip, a white grape native to the island of Korcula, but planted now all over southern and central Dalmatia.
Abandoned villages
Like in other Croatian coastal regions, seaside villages were not necessary where the locals resided back in history. Believe it or not, our ancestors preferred the safety, and coziness, of mountainous interiors. They were farmers who lived off livestock, and crops. And the villages developed around fertile interiors.
But first with phylloxera, and later with industrialization and development of the modern-day tourism industry, people started migrating to the coast (or further away), abandoning their old villages, and the old way of life.
Today, these villages, although abandoned, and for major part uninhabited, still, witness our past. When on the island, take some time to explore some of those villages. Our favorite places include Malo Grablje and Humac.
Chase authentic island scents
I've visited many Croatian islands, including Brac, Vis, Korcula, Elafiti, Mljet, Cres, Krk, Lošinj, Murter, Pag, and Lastovo, but I have never felt such wonderful scents as I did on Hvar Island. Maybe it was a time of the year we've visited that contributed to this (we've been there in May when all nature awakens), or it's really "Hvar thing", but I highly recommend everyone visiting the island to take a hike in nature immersed in the scents of rosemary, lavender, and wild oregano.
Sample local cuisine
Typical dishes here don't differ much from the rest of Dalmatia, with few exemptions, like gregada, a fish stew typical for Hvar. Island's dietary pattern is simple: based on boiled veggies, fresh fish, and everything soaked (yes, soaked. not sprinkled) in olive oil. For typical comfort food, head to konoba Kokot in Dol, Stori Komin in Malo Grablje, or tavern Kod None in Svirče.
Accommodation
Hvar is a popular tourist destination with good infrastructure and a variety of accommodation: from hotels to private apartments, villas, youth hostels, and even camping.
The main tourist season stretches from late June to early September, with the last week of July, and two weeks of August being the peak season.
Accommodation prices skyrocket at this time. So if you want to stretch your dollar, our suggestion would be to visit the island in the second half of September or early October, when the weather is still nice, the sea is warm enough for swimming, and crowds are fewer.
Another advice we can give you is to book your accommodation as early as possible. Similar to airline tickets, accommodation prices also increase with the demand, and as there is less inventory on the market. This means that the earlier you book, the cheaper price you will pay.
The most popular booking site in Croatia is Booking.com. You can search for your accommodation there, as they have the largest inventory for short-term rental and hotel accommodation in Croatia.
If you book using Booking.com, book a room with a flexible cancelation policy. This way, if your plans change, you can simply cancel your booking. Also, if for some reason, at any time, your hotel runs a promotion, you'll be able to cancel your previous booking and secure a better deal.
For private apartments, besides Booking, check also AirBnB.
Best places to stay
Food and Restaurants
If you spent some time here on our blog, you already know that we love food. Whether we eat at the top-notch fine dining restaurants or humble local eateries, they all have one thing in common: they use fresh local ingredients to turn them into divine dishes.
We find that on the island of Hvar, your best bet when it comes to food is to go with traditional-dishes, and more often than not to look for traditional eateries called "konoba"; this means grilled fish, and meat with side dishes like Swiss chard, zucchini fritters, or French fries; octopus or meat with veggies, baked in a pot covered with embers, called peka; gregada, a typical fish stew from the island.
Below you'll find a few recommended restaurants, and more to follow in a separate blog post.
Where to find the best beaches
When I think of Hvar, I can't but think of the gorgeous sea, limpid, and calm, with lovely turquoise colors that simply draw you in to take few laps or to just float endlessly.
Hvar beaches, just like elsewhere in Croatia, are mostly rocky, and pebbly. The nicest secluded bays take a boat ride to reach them or walking in the heat, but they are all worth it.
The southern side of the island is home to some of the best beaches on the Hvar island. South-east of Hvar Town, steep shores of Zaraće, Sveta Nedilja, Ivan Dolac, and Gromin Dolac, all abound in lovely pebbly beaches; some with pebbles so tiny that they almost feel like sand.
Pakleni Islands consists of many small islands and lovely bays that make for favorite swimming spots among locals and tourists alike.
Hopeless sand beach enthusiasts head either to Jelsa or to Sucuraj. Both towns have sandy beaches in the vicinity.
Bars, Clubs & Nightlife
The island has an infamous reputation for offering a restless, fun, crowded, and wild nightlife. In reality, this really only happens in Hvar Town. And it really only happens in the high season.
Carpe Diem, Hula Hula, Kiva, or Ka'Lavanda all offer day and night partying, cocktails, DJs, and good vibes. It goes without saying that they are also all really pricy.
And if your ideal holidays don't include a load of loud, overexcited alcohol-infused twenty-something-years-old, head somewhere else on the island like Jelsa or Stari Grad.
Traveling to Hvar Island
Split and Dubrovnik airports are the closest airports to Hvar island. However, regardless of the way you travel to and around Croatia, sooner or later you'll need to board a ferry or catamaran, or just a boat, to reach the island.
If you travel to Hvar from other parts of Croatia, like Zagreb, Istria, or Zadar, you'll need first to reach Split, Drvenik, or Dubrovnik to catch the ferry for the island.
There are few boat companies operating between Hvar Island and the mainland. Jadrolinija is a large national carrier, operating on almost all islands' routes. Kapetan Luka is a small regional carrier serving Split, Hvar, Korcula, Mljet, and Dubrovnik with its fast catamarans. And finally, you can book a private or shared boat transfer. For more information check the Hvar boats website, or sign up for UberBoats service.
From Split
The easiest way to reach Hvar Island is from Split. The Split ferry port is conveniently located just across the bus station, a few minutes' walk from the old town.
Jadrolinija runs a ferry from Split to Hvar year around. The frequency changes with the season.
Car-ferry runs from Split to Stari Grad at least 3 times per day in winter, and 7 times a day in summer. From June through September, expect to pay around 7 € per adult, and 42 € per car for a one-way ticket (so far for 2020, the winter rates are valid until further notice. The adult ticket costs 5 €, and a car ticket is 34 €). The crossing takes 2 hours. The ferry port is 2 km away from Stari Grad.
Jadrolinija also runs daily a catamaran between Jelsa and Split (with a stop in Bol on Brac Island). The crossing takes 1h40min. One-way ticket costs around 7,5 € per person.  The same company also runs a catamaran service between Hvar Town and Split at least once a day in winter and 4 times a day in summer. In high season one-way ticket costs 110 Kn (15 €) per person.
Kapetan Luka also operates a catamaran service from Split to Hvar. Their boats in high season run 4 times a day. A one-way ticket costs 100 Kn (13 €).
Many readers ask us if it's worth taking a day tour from Split to Hvar. The answer is Yes! You can do it on your own, especially from June through September when there are many ferry crossings between the two throughout the day. However, it might just be easier and more convenient to book a small group tour from Split. Below you can find a few boat tours that we recommend.
From Dubrovnik
In high season Dubrovnik serves as one of the main gateways to Hvar Island. The best way to reach Hvar from Dubrovnik is by catamaran that runs daily from mid-May to mid-October.
Catamarans are operated by Jadrolinija and Kapetan Luka companies, and each has a slightly different route.
Jadrolinija's catamaran runs daily from June through September. It departs from Dubrovnik at 7 am and arrives at Hvar at 10.30 pm. It also stops in Korcula, and after Hvar, it continues to Bol on Brac Island, and further to Split. The return trip departs from Hvar at 6.40 pm and arrives in Dubrovnik at 10.10 pm. A one-way ticket costs 210 Kn (30 €) per person.
Kapetan Luka's catamaran runs daily from mid-May to mid-October. It departs from Dubrovnik at 4.30 pm (Sept.-mid-Oct.: 4 pm) and arrives in Hvar at 7.40 pm (Sept.-mid-Oct.: 7.10 pm). This catamaran also stops in Pomena on the island of Mljet, and Korcula before arriving at Hvar; and then continues further to Milna on the island of Brac, and Split. The boat leaves Hvar for Dubrovnik at 8.40 am, and it arrives in Dubrovnik at 12.05 pm.
From other places
Car-ferry also connects Sucuraj on the island with Drvenik on Makarska Riviera. Car-ferry runs 6 times a day in winter and as many as 11 times a day in summer. Sucuraj is at the far end of the island compared with other towns. Jelsa is approx. 50 km away from Sucuraj, and  Hvar Town is almost 80 km away.
However, ferry crossing from the mainland takes only 35 minutes (compared with 120 minutes from Split to Stari Grad). One-way ticket costs 16 Kn (2 €) per adult, and 108 Kn (15 €) for a car.
Besides the mainland, you can also reach the Hvar from other islands, including Brac, Korcula, Lastovo, Mljet, and Vis Island. However, island hopping within one day is rarely done. If you plan to hop from one to another island, plan to spend at least an overnight in each of them.
The only international ferry line serving the island of Hvar is one from Ancona in Italy to Stari Grad. It's an overnight ferry that runs year-round from Split to Ancona, but the stop in Stari Grad is only scheduled throughout August.
Detailed info on local ferries, timetables, and prices find at Jadrolinija and Kapetan Luka website.
Getting around
The most convenient way to travel around the island is by car, or by scooter. The main island's road D116 runs from Hvar Town to Sucuraj and connects all major towns on the island, like Stari Grad, Jelsa, and Vrboska.
The western section of this road, around Hvar, Jelsa, and Stari Grad, is in good condition. However the more east you go toward Sucuraj the worse it gets. It becomes narrow, with patched asphalt at many places, a lack of safety barriers, and some curves especially once you pass Jelsa.
If you travel by car from the mainland, make sure you fill-up the gas tank prior to crossing onto the island. The island disposes of just three gas stations for motor vehicles: one in Hvar Town, and two in and out of Jelsa.
Another way to travel around the island is by bus. The island is served by Cazmatrans (t: +385 21 765 904), one of the national bus operators (don't bother trying to book through their website, or just trying to retrieve the bus timetable – it simply doesn't work). Buses connect all major towns on the island (Jelsa, Vrboska, Stari Grad, Stari Grad ferry terminal, Hvar, Sucuraj). Unfortunately, Cazmatrans doesn't sell tickets through the GetByBus website, but it's still a good place to check the bus schedule. You can also check the updated bus schedule in the image below.
Car Rental
There are few things to consider if you plan to use a rental car on the island. The main consideration is should you rent a car on the island, or on the mainland, prior to crossing over. This decision is not always evident, and more often than not it depends on personal preferences.
Car rental in Split Airport, or elsewhere on the mainland, can provide you with a better choice of cars to hire, cheaper rental price, and overall better supply of rental cars.
On the other hand, hiring a car on the island gives you the opportunity to rent only for the days you will actually use it (even if the price per day comes as more expensive; you will perhaps still spend less money in total on car rental).
It also gives you a chance to skip the lines on ferries. Queues on ferries only form for the cars, and sometimes you are so far away in a queue that you need to wait for the next car-ferry. This never happens if you cross to the island on foot.
Crossing to the island on foot will also give you a chance to travel directly to Hvar Town, as car-ferries don't dock in Hvar Town, only in Stari Grad or Sucuraj. Passenger-only catamarans dock in downtown Hvar Town.
Also, worth mentioning is the fact that the majority of car rental companies in Croatia will charge you a one-time fee for taking a car on ferries.
Further Reading
Paul Bradbury's Hvar: An Insider's Guide is perhaps the best travel book about Hvar. You can also check his other book about his life on the island entitled Lavender, Dormice, and a Donkey Named Mercedes: A Decade of Expat Living on Hvar
If you plan to visit more than Hvar while in Croatia, we highly recommend Fodor's Essential Croatia, and Lonely Planet Croatia travel guides.
If you plan to make a trip to neighboring Brac Island, read our Brac Island Travel Guide
We've also written a full post on Things to do on Brac island.
Since you'll sooner and later end up in Split if going to Hvar, you can as well check our Split Travel Guide, and Split Travel Blog