Now that you have decided to visit Croatia, you must wonder where to go in Croatia. Indeed, with so many places to visit in Croatia, this decision isn't always easy.
Croatia is a diverse country, full of charming historical towns, karst mountains, dramatic landscapes, blue Adriatic Sea, amazing waterfalls, wonderful national parks, and enticing history.
Each of the Croatian regions is unique in its own way and offers various things to do and see for the whole family. We'll give you a short overview of each region, its characteristics, and attractions in order to help you choose your destination in Croatia.
Croatian Regions
Croatia has a total of 21 administrative units: 20 counties and the city of Zagreb. However, from a traveler's point of view, we find that there are 7 distinctive regions of Croatia.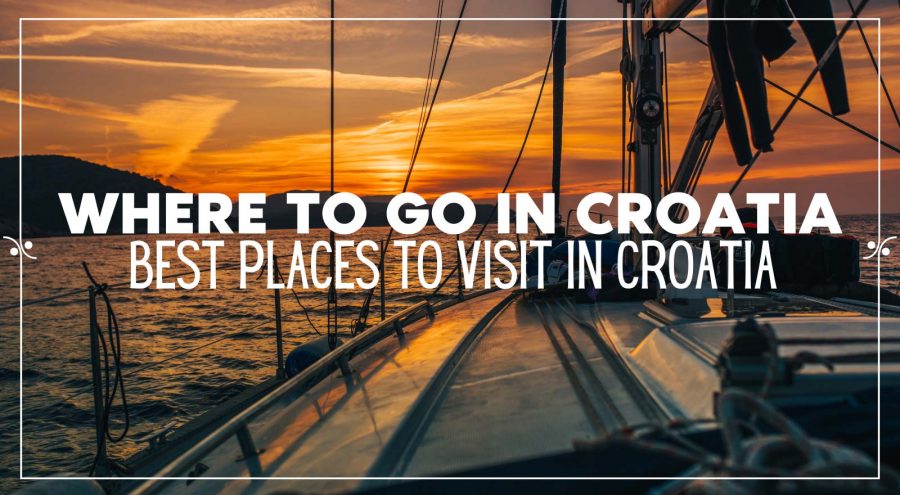 In short, these include:
Istria & Rijeka
The most visited region in Croatia, Istria is a heart-shaped peninsula located in the northern Adriatic.
Moreover, Istria is rolling hills, charming hilltop towns, colorful coastal towns, rocky coast, vineyards, and olive groves. Above all, Istria is a great place to visit in Croatia for foodies.
Many visitors compare it with Tuscany, and sometimes call it "Tuscany with colors". Istria is also a place that we call home (another reason to visit perhaps?!).
Dalmatian Coast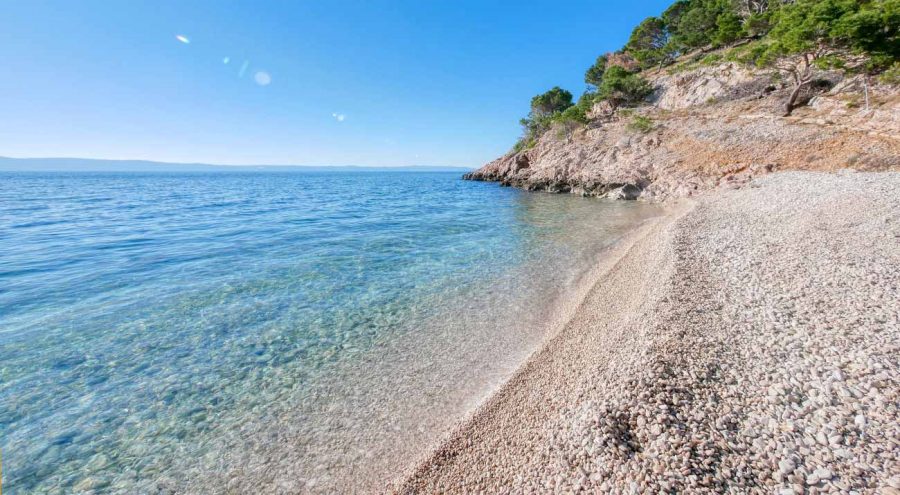 Vera comes from Dalmatia, and Dalmatia is very close to our hearts. Dalmatian Coast stretches from Zadar in the north to the Peljesac peninsula in the south.
Above all, Dalmatia is rugged mountains, pebbly beaches, hidden coves and bays, dramatic landscapes, thousands of islands, UNESCO's world heritage sites (5 out of 7 are in Dalmatia), national parks (4 out of 8 are located along the Dalmatian Coast), and ancient towns.
Croatian Islands
The Croatian side of the Adriatic is dotted with a thousand islands, islets, and reefs. However, only a small number of them are inhabited.
Moreover, when you think about Croatian islands, imagine small villages, fishing boats, wonderful, secluded beaches, terraced vineyards, sheep and goats grazing on the meadows, fresh veggies, and super tasty fruit.
But furthermore, each island is a world for itself. In other words, some islands offer a very laid-back vibe, some are perfect family destinations, some attract the young and restless.
Which island is the best island to visit in Croatia depends a lot on your style of travel, and what you are after.
Dubrovnik Riviera
The southernmost part of Croatia, Dubrovnik Riviera stretches from the Peljesac peninsula to Konavle south of Dubrovnik.
First of all, Dubrovnik Riviera is history and culture, salt pans, wonderful architecture, preserved coast, vineyards, citrus and orange orchards, scenic roads, fresh seafood, and lovely beaches.
Zagreb & surroundings
A Croatian capital town, Zagreb is the largest town in Croatia, but also an administrative, and economic center of the country.
Zagreb is above all myths and legends, river Sava, hills of Kaptol and Gric, buzzing cafes with street-side terraces, lovely restaurants, cool hostels, clubbing, its green spaces, parks, and forests.
Gorski Kotar & Lika
The least visited part of Croatia, these two continental regions are perfect for those in search of peace and quiet.
Gorski Kotar & Lika are mountains and pastures, natural wonders of Plitvice and Risnjak, emerald rivers, streams, creeks and rapids, snow-covered peaks, vast spaces, and very few crowds (except for Plitvice Lakes).
Slavonia & Baranja
Very few tourists wander to this part of Croatia. Slavonia and Baranja (the easternmost part of Croatia) are very beautiful and interesting parts of Croatia, although they still lack tourist infrastructure.
However, Slavonia and Baranja are golden plains, centuries-old forests, beautiful Danube, Drava, and Sava rivers, spicy food, folklore festivals, and becarac, a traditional song that made it to the UNESCO's list of intangible cultural heritage.
Where to go in Croatia: best places to visit in Croatia
First of all, we will cover the most popular places to visit in Croatia. If you come to Croatia for the first time, then you will perhaps want to visit the absolute highlights, the destinations everybody raves about, and the ones whose photos probably made you visit Croatia in the first place. So, they are those Croatia holiday destinations listed below.
Zagreb
We start our best of the Croatia list with the Croatian capital, Zagreb. Many visitors to Croatia, take a day or two to explore the capital.
First of all, don't expect to find in Zagreb the charm and grandeur of other big European capitals, like Paris, Rome, or London. But, nevertheless, the town has a cool vibe, interesting sights, lots of green spaces, and quirky museums. A town center is car-free and full of locals lounging at the pavement cafes.
Read more about Zagreb:
Dubrovnik
Often called "A Pearl of Adriatic", Dubrovnik is the most popular place to visit in Croatia, and one of the best-known cities in Croatia.
It's on the itinerary of every traveler to Croatia. Dubrovnik is gorgeous, with its medieval old town and two km long city walls as the town's main attractions. However, don't limit yourself to a few obvious sights. Dubrovnik also has gorgeous beaches, and lovely restaurants, and it is a great base to explore the nearby islands, wine-growing Konavle valley, or make a day trip to nearby Montenegro.
So, if you are interested in more Dubrovnik posts, find them below:
Rovinj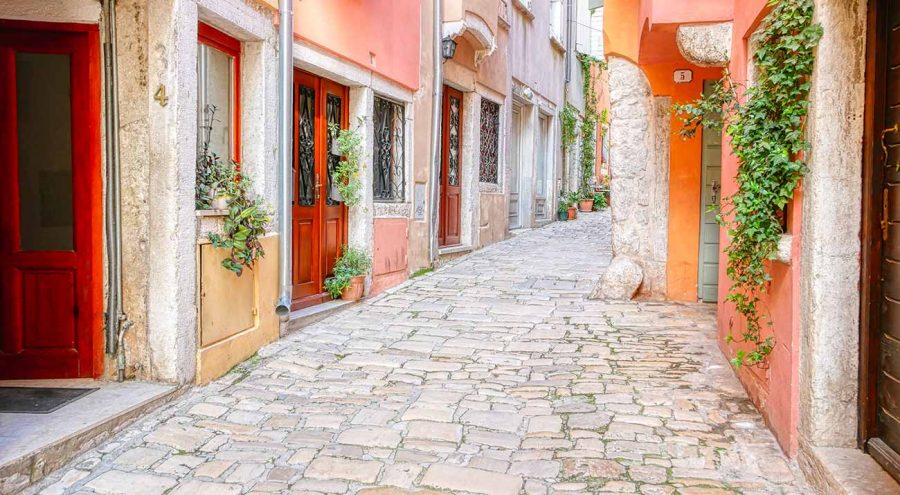 The most romantic town in Croatia, Rovinj will charm you with its narrow cobbled streets and piazzas, top-notch restaurants, hip hotels, and stunning nature. Rovinj is certainly one of the best places in Croatia and should make the Croatia bucket list of every traveler.
More about Rovinj:
Porec
Year after year, loads of tourists from all over Europe come to Porec to spend their summer holidays. Porec is a town of culture and history that are nicely blended with exciting activities, decent nightlife, and overall good value for money.
More about Porec:
Opatija
The lady got old, but she's still charming. Opatija was built in the late 19th century into one of the most fashionable resorts for the international elite, artists, writers, and the Austrian nobility.
Historical hotels, and villas, maintained gardens and parks, a 12 km long seaside promenade, and first-class gastronomy make Opatija one of the most popular destinations in Croatia.
Split
The largest town in Dalmatia, Split is a true Mediterranean city: colorful and lively, with a nice balance of tourists and locals. Over 1.700-year-old Diocletian Palace is the heart of the city, an open-air museum, a living and breathing place where you can feel Split's past and present.
Read more about Split:
Sibenik
Known more as a gateway to the Krka Waterfalls, and the Kornati Islands, Sibenik has been gaining popularity in the last years. Sibenik offers a perfect balance of city fun, beach life, and nautical wonders.
Mali Losinj
"The Island of Vitality", Mali Losinj is famed for its lush vegetation, and thick pine forests, and it has always been popular among camping aficionados, nature lovers, and those looking for a piece and quiet.
Find accommodation in Mali Losinj!
Zadar
Set on a small peninsula, and still not overrun with tourists, Zadar is famed for its two main attractions: Sea Organ, and Sun Salutation. Zadar is also a perfect base to explore nearby islands and partake in outdoor adventures like rock climbing, kayaking, rafting, and hiking.
Rabac
The largest beach resort on the east coast of Istria, Rabac is set in a bay, at the foot of the high rising mountain. Rabac is white pebbly beaches, hiking, boat tours to Cres, lounge bars, mountain biking, affordable accommodation, evening promenade, and family time.
Read more about Rabac:
Plitvice Lakes
A single most visited site in Croatia, Plitvice Lakes is a wonderful set of lakes and waterfalls. Plitvice Lakes is the first Croatian national park, founded in 1949, and they are also UNESCO World Heritage Site since 1979.
Read our ultimate travel guide to Plitvice Lakes or check our post on Plitvice Lakes accommodation.
Hvar Town
A playground for the rich and famous, the town of Hvar is located on the south side of the island, in a small bay. Hvar Town is winding cobbled streets, yachts-lined seafront, beaches, a day spent on the Pakleni Islands, restaurants, and partying until the wee hours.
Makarska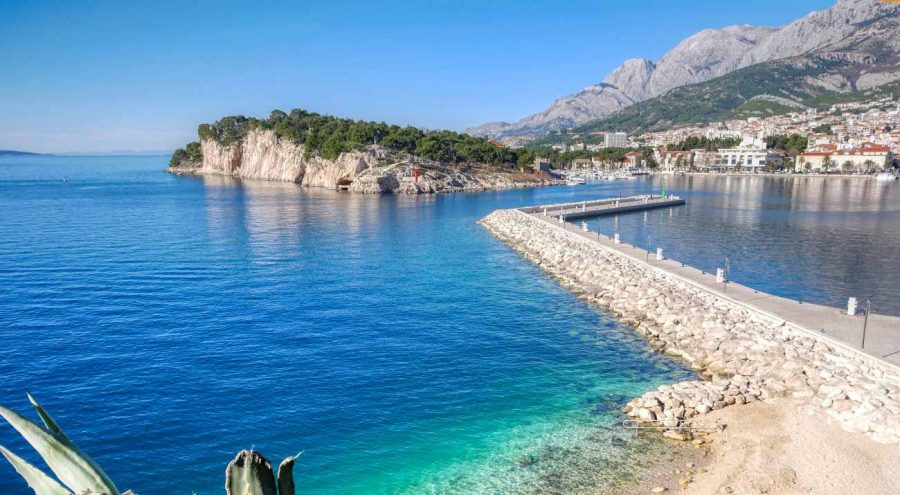 Located halfway between Split and Dubrovnik, Makarska is a small beach town with a lovely town square, a seafront promenade lined with bars, cafes, restaurants, and pebbly beaches.
Makarska boasts beautiful white pebbly beaches (beaches along Makarska Riviera are the best in all of Croatia), crystal clear sea, secluded coves, and bays, while the Biokovo Mountain creates a perfect backdrop.
Krk
The second-largest Croatian island, Krk is connected to the mainland with a bridge. And thus, easily accessible. The island of Krk has many nice secluded beaches only accessible by boat or on foot, good restaurants, and a variety of outdoor activities to enjoy.
Find your accommodation in Krk!
Brac
Located in central Dalmatia, the island of Brac is less than an hour ferry ride either from Split or Makarska. Brac Island is famed for the Zlatni Rat beach, the most photographed and the best-known beach in Croatia.
Korcula Island
A wonderful southern Croatian island, Korcula is located just a 15-minute ferry ride from the Peljesac peninsula. Terraced vineyards, olive groves, secluded beaches, pinewoods, small villages, and historical towns, good food, local white wines Posip and Grk, characterize the island of Korcula.
Croatia holiday destinations off the beaten path
We have introduced previously the most popular places to visit in Croatia. Nevertheless, below we will give you an overview of less visited but still lovely, off-the-beaten-path best places to stay in Croatia. We hope to entice you to search beyond the popular places to see in Croatia.
Peljesac peninsula
Croatia's second-largest peninsula, Peljesac is our favorite place in all of Croatia. You'll find here intact nature, wonderful coves, bays, pebbly and sandy beaches, wine-growing hills, and olive groves, the best Croatian red wine – Plavac mali, yummy seafood, particularly shellfish, windsurfing, and hiking.
Read more about the Peljesac peninsula:
Komarna
Komarna is a small coastal village, located 70 km north of Dubrovnik. The village is best suited for those in search of peace and quiet, beach time, awesome views, and daily trips to interesting nearby sites including Split, Dubrovnik, Peljesac, Korcula, Mljet island, Mostar, and alike.
Mljet
The greenest Croatian island, Mljet is a perfect place to enjoy nature and unwind. The national park covers one-third of the island, and this is where the majority of tourists wander. The southern part of the island receives very few crowds but hides some of the nicest beaches on the island.
Elaphiti Islands
Islands off Dubrovnik coast, Elaphiti is an archipelago consisting of over 12 small islands. The inhabited ones are the car-free islands of Kolocep, and Lopud, and the largest Sipan Island.
These islands are very close to Dubrovnik, yet like a world apart. They are quiet, have lovely beaches, laid back atmosphere, and a few good restaurants, like Obala in Lopud, or Villa Rose on Kolocep. Thus, these are all valid reasons to visit Elafiti.
Vis
The furthest inhabited island in Croatia, Vis is a peaceful oasis, and it feels very authentic. Vis has lots of hidden coves, pebbly beaches, and a crystal clear sea. Therefore, it's a perfect place to visit if you like hanging out on a beach, sea kayaking, chilling with a glass of local wine, untouched nature, small villages, and little crowds.
Lastovo
The small island of Lastovo is almost devoid of tourists. Certainly, it has to do with the fact that it takes 4 hours to reach the island by catamaran from Dubrovnik, and 3 hours from Split.
Lastovo is popular among sailing aficionados for its wonderful archipelago consisting of 46 small islands. Above all, you'll like it for its stunning nature, rocky coast, thick forests, and outdoor activities like cycling, swimming, and walking.
Find accommodation in Lastovo!
Solta
Just a short hop by ferry from Split, Solta Island is still overlooked by tourists who rather flock to the more popular islands of Brac and Hvar.
However, Solta is a good place to stay if you just like to relax away from the crowds, and big tourist attractions.
Sutivan
Although the island of Brac is very popular among island-hoppers, the majority of visitors to the island head either to Bol or Supetar.
Other places on the island stay pretty quiet throughout the year. A small village of Sutivan, located in the northwest part of the Brac Island, remains quiet even in high season.
Sutivan is popular for mountain biking and has lots of nice little coves perfect for swimming and snorkeling.
Find Accommodation in Sutivan!
Milna Hvar
A vacation on the island of Hvar doesn't have to be crazily expensive and crowded. In other words, this is only the case in the town of Hvar.
Hvar is a beautiful island, and we highly recommend visiting it. To escape the crowds, and spend quiet beach time on the island, head to Milna, a small bay with a gorgeous pebbly beach, and only a dozen houses or so.
Dugi Otok
If you like beaches, intact nature, small villages, very few visitors even in high season, and an authentic island lifestyle, then consider visiting Dugi Otok.
Famed for its sandy beach Sakarun, and nature park Telasica, the island of Dugi Otok has a laid-back vibe, lovely lighthouse, rocky coast, forests, and vineyard.
Find accommodation in Dugi Otok!
Popular activities in Dugi Otok:
Type of holidays
If you search for a specific type of holiday, that fact alone can narrow your choice of where to stay in Croatia.
While some activities, like water sports, are available in all holiday destinations in Croatia, rafting, canyoning, or tandem jumping, can only be found in a few places in Croatia.
We list below some of the common reasons people visit Croatia in order to make it easier for you to choose where to go on holiday in Croatia.
Croatia beach holidays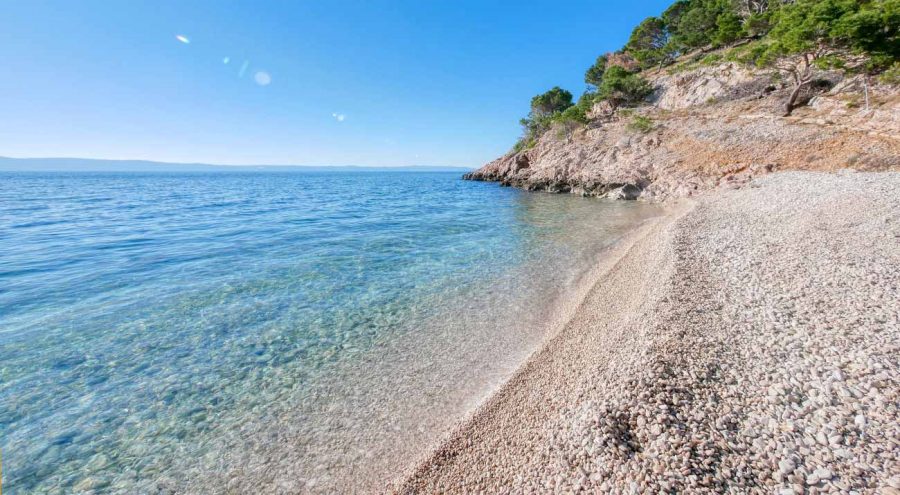 If you wonder where to go in Croatia for beaches, check Rabac in Istria, northern Croatian Islands like Krk, Cres, and Rab, and the wonderful Makarska Riviera.
Get inspired by reading the following posts:
Party
Although Croatia isn't Ibiza, in the last few years some destinations in Croatia turned into clubbing hot spots with excellent clubbing scenes, a load of music festivals, and pretty much partying 24/7.
Zrce Beach near Novalja on the island of Pag is the best-known party destination in Croatia, followed by Tisno on the island of Murter, and Pula in Istria. Tisno and Pula organize many festivals throughout the summer.
In addition, other best places to go in Croatia for nightlife include Porec, Hvar Town, and Zagreb.
Outdoor adventure
In Croatia, you'll have lots of opportunities for all kinds of outdoor activities. But when it comes to ultimate adventures, two places in Croatia stand out – Zadar and Omis.
Omis is a small town 25 km south of Split. It's a place where the river Cetina reaches the sea. As the river flows through a beautiful canyon, it makes ample possibilities for canyoning, white water rafting, canoeing, as well as rock climbing, trekking, and zip-lining, among other things.
Zadar, on the other hand, is perfectly located to enjoy ultimate rock climbing in Paklenica National Park, as well as hiking, and mountaineering. Also, the Zrmanja River Canyon, perfect for rafting and kayaking, is just a short drive from Zadar.
Away from it all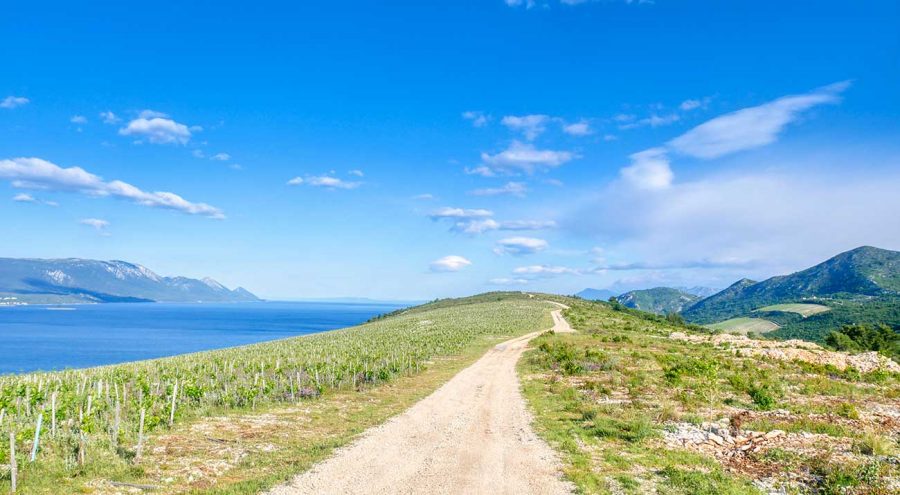 Do you like long, quiet walks, secluded beaches, mingling with locals rather than tourists, the slow pace of life, and basically not much to do except relax?
If the answer is Yes then look for places on the smaller, northern & southern Croatian Islands, like Iz, Pasman, Silba, Mljet, or Lastovo; small villages along the Dalmatian coast and the Peljesac peninsula.
Family holidays
A nice balance of beach time, activities for the whole family, family-friendly, and overall good value for money, you'll find in Porec, Rabac, Rovinj, Losinj, Zadar, Sibenik, and Bol. Thus, narrow your search down to these destinations.
All-inclusive holidays
Croatia isn't a popular all-inclusive destination. However, you will still find some all-inclusive hotels.
You will also notice that many hotels in Croatia offer all-inclusive light formula. In other words, this means that you get three meals a day, and a selection of drinks included at mealtimes. At all other times, as well as at all other hotel bars, you will need to pay for your drinks. No free snacks either.
Also, all-inclusive hotels in Croatia are mostly intended for families with children.
If you are not sure where to visit in Croatia for all-inclusive holidays, then check these Croatia destinations: Rabac, Porec, Funtana, Zadar, and Makarska Riviera.
Couples
Good destinations for couples with romantic towns, a good choice of restaurants, and cozy accommodation you'll find in Rovinj, Opatija, Zagreb, Split, Dubrovnik, and Vis Island.
Centrally located
If you would like to find a good base from where you can explore many Croatian points of interest, even by public transport, then consider staying in Split, Zadar, and Sibenik.
Recommended multi-day tours
Below you'll find a few coach and boat tours that will give you a chance to do some serious Croatia sightseeing in a relatively short time.
Best of Croatia Tour
This tour takes you to Zagreb, Plitvice Lakes, Split, Hvar and Korcula Islands, and Dubrovnik. Moreover, you can choose between 7- and 9-night tours. The 9-night tour gives you an additional two nights in Dubrovnik where you can take more time to explore this magnificent city and its surroundings. Transport between towns is with an air-conditioned coach, and all overnights are in 3- and 4-star hotels, with breakfast included.
---
7- or 10-day Authentic Croatia Private Tour
This wonderful 7- or 10-day tour gives you plenty of time to discover all corners of Croatia, including Istria, Zagreb, Plitvice, Zadar, Split, Hvar Island, Dubrovnik. And all that while indulging in top Croatian food, and other aithentic local experiences. itinerary is flexible and can be adjusted to your interests. Accommodation in luxury apartments. Breakfasts, lunches and two dinners provided. Transfer between towns is by luxury mini-van.
---
Cycle Croatia Cruise
This 7-day cruise departs from Split and it includes visits to several Croatian islands before ending up in Dubrovnik:Solta, Brac, Hvar, Vis, Korcula i Mljet. Take your bicycle along or arrange a bike rental, and you can explore Croatian islands by bike wheter on your own or as a part of the group. Accommodation is provided on-board a passenger boat with a capacity of 32 passengers. The tour also includes daily breakfast and lunch onboard a ship. All shore excursions are optional, and charges may apply.
---
Croatia & Adriatic Cruise
Combine the best of continental and the Adriatic region with this 10-day coach and boat tour. This tour will take you to 12 places in Croatia including Zagreb, even 5 Croatian islands (Vis, Korcula, Hvar, Elafiti, and Mljet islands), and Dubrovnik among other destinations in Croatia.
---
Best of Croatia and Slovenia
Packed-full of exciting destinations, this 11-day tour takes you through the most popular places in Croatia and Slovenia, including Ljubljana, Bled, Rovinj, Opatija, Plitvice, Trogir, Split, and Peljesac peninsula. A highlight of this discovery tour is one special dinner where you get a chance to eat at the local family home, a traditional meal prepared by the host family.
Recommended travel guides
Further reading:
We hope you get a better idea of where to go to Croatia after reading this post. As always, if you have any questions or suggestions leave them in the comments below.