The Croatian National Parks consist of areas perfectly illustrating the karst hydrogeology of mountainous regions of continental Croatia and the complex flora and fauna of Croatian islands.
Overview of Croatia National Parks
With 9% of its territory classified as protected natural sites, Croatia is an excellent place for nature lovers and outdoor aficionados.
Furthermore, the country's protected territory includes 8 national parks, 2 strict reserves, and 11 nature parks, among other areas.
In my opinion, all eight Croatia national parks are worth visiting and exploring. They cover a total surface of 994 km2, of which the sea makes for 235 km2.
National parks in Croatia are Brijuni Archipelago, Risnjak, famed Plitvice Lakes, Northern Velebit, Paklenica, Kornati Archipelago, Krka Waterfalls, and Mljet.
Separate institutions manage each park but are funded and overseen by the central government and the State Institute for Nature Protection.
Admission fees vary throughout the year and are usually cheaper in spring and fall. Summer is the busiest and the most expensive time to visit national parks in Croatia.
Brijuni National Park
Located along the West coast of Istria, Brijuni Archipelago is a beautiful archipelago consisting of two islands (Veliki Brijun and Mali Brijun) and 12 islets.
Brijuni Islands are a great blend of natural, cultural, and historical heritage.
The national park Brijuni is easily reachable from anywhere in Istria. There are organized boat tours from all the major Istrian towns, like Pula, Rovinj, or Porec.
You can also visit islands on your own. The Brijuni Islands National Park is just a short boat ride from Fazana.
Once there, you can take a guided tour of the island, but we highly recommend you rent a bicycle and visit the island on your own. You can even rent a golf cart if you don't fancy cycling.
The main attractions include ancient ruins, Tito's Museum, and Safari Park. But for us, the best part of Brijuni is actually the beautiful coastline, beaches, and very few people around.
When visiting Brijuni, plan to spend an entire day there. Do sightseeing, but also plan to swim and chill by the sea.
Opening hours, admission, and other info you can find here.
Risnjak National Park Croatia
National Park Risnjak is located in a hilly area of Gorski Kotar in continental Croatia.
The park stretches over the surface of 6.400 ha, including two mountain massifs: Snjeznik and Risnjak, and the Kupa River spring.
Risnjak National Park is perfect for escaping the summer heat and enjoying beautiful, intact nature, panoramic mountain views, dense forest, and various mountain trails.
Mount Risnjak is 1528 m high, and it boasts wonderful vistas over the sea, islands, and Istria, all the way to the Julian Alps in neighboring Slovenia. The hike takes anywhere from one to three hours, depending on the trail you choose.
Other attractions include the spring of the river Kupa, the 4.2 km long Leska educational trail, and the Snjeznik Mountain.
Risnjak National Park is perhaps the least visited of all national parks in Croatia. But it shouldn't be this way. Risnjak national park has magnificent natural wonders, thick forests, rivers and springs, and diverse wildlife.
Hurry up before it becomes too crowded!
Find detailed info here.
Plitvice Lakes National Park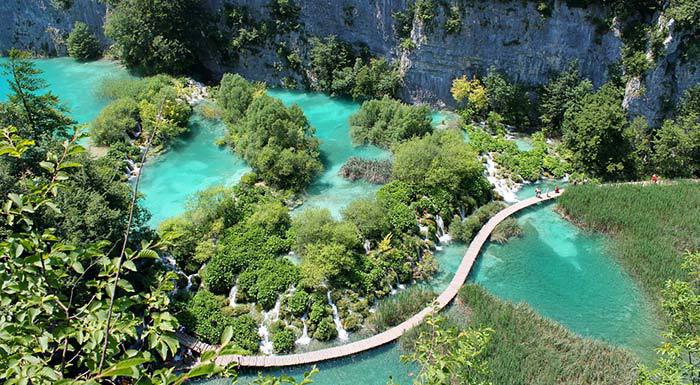 The first site in Croatia to obtain national park designation (back in 1949), and the most visited national park in Croatia, the Plitvice Lakes National Park is also one of Croatia's 7 UNESCO World Heritage sites.
Plitvice consists of 16 gorgeous interconnected lakes and waterfalls, all of the outstanding beauty. The various trails offer 2 to 8 hours of hiking.
To avoid summer crowds, plan your visit early in the morning or in the late afternoon.
You will also find plenty of accommodation options in and around Plitvice if you decide to stay overnight.
Plitvice Lakes National Park is the must-visit natural site in Croatia (regardless of the crowds).
Recommended tours:
Northern Velebit – Sjeverni Velebit National Park
Northern Velebit became one of eight national parks in Croatia back in 1999.
The national park stretches over the northern part of the Velebit mountain, covering a surface of 109 km2.
Velebit is the largest Croatian mountain, and it's a natural frontier between continental Croatia and the Adriatic Sea. This area is intact and wild, and the visit is only allowed on the designated trails.
Northern Velebit national park consists of numerous botanical reserves, high-rising stone masses, and mountaineering trails.
The park has various hiking trails ranging in difficulty level from moderate to hard. Hikes take anywhere from 2 hours to the entire day, depending on your level of fitness and interest.
The highest peak of the national park, Veliki Zavizan, is 1676 m high and it boasts outstanding views.
More info here.
Paklenica National Park
Paklenica National Park is a must-visit site for all outdoor lovers.
The park stretches over the south slopes of Velebit Mountain. Therefore, it offers awesome climbing, and mountaineering opportunities, stunning vistas, diverse wildlife, and an abundance of flora.
Furthermore, here you will find two peaks over 1700 m high, beautiful black pine, beech forests, deep canyons, underground caves, and springs with potable water.
Paklenica National Park is intended for fit hikers and rock climbers, as all trails are intense, at least in some parts.
Detailed info on Paklenica National Park you can find here.
Kornati National Park
This incredible archipelago consists of 89 islands, islets, and reefs. Kornati Islands are magnificent, truly impressive, and one of the most interesting nautical sites in all of Europe. It is also one of the Croatian national parks we highly recommend to visit.
The islands are almost completely uninhabited and, for most of the most part, devoid of any serious vegetation.
Kornati islands offer endless opportunities for sailing, swimming, and snorkeling, but also eating, as there are great restaurants in some of the many lovely bays across the archipelago. We've eaten at the Konoba Levranka (location), restaurant Festa (location) on the island of Zut, and the Konoba Zakan (location). All three places were excellent!
In fact, the best way to visit the Kornati is on your own with a private or rented boat. If that's out of reach for you, you can also arrange guided boat tours, either with a speed boat or one of the excursion boats, either from Zadar, Murter, or Sibenik.
Find more info here.
Recommended tours:
Krka National Park
Located close to Sibenik, the Krka National Park is like a smaller version of Plitvice.
In Krka National Park, attractions aren't that concentrated within one area. Instead, you need to visit a few distinct and physically separated areas of the park. And you need to do so by car, as walking would take too much time.
Main sites include Skradinski Buk, the largest waterfall in the park; Roski Slap, a 22.5 m high waterfall preceded by a series of cascades called "necklaces" and the Visovac Island, a small island featuring the Franciscan Monestry and the church, both dating back to 15th century.
The area is beautiful, walking paths are easy to navigate, and you can actually swim in the lakes. Its central location in the heart of Dalmatia also makes Krka national park one of the most visited Croatian national parks.
You can visit the Skradinski Buk by boat from the small village of Skradin, then another boat from Skradinski Buk to Visovac Island, and then later take a car to Roski Slap.
Recommended tours
Mljet National Park
Mljet Island is one of the southernmost islands in Croatia.
This beautiful, green island is home to the Mljet national park. The park is located in the northern part of the island, and it covers an area of almost 5.400 hectares.
The main attractions include the Great and Small Lakes, two sea bays so deep that they look like lakes, and the island of St. Mary, featuring the Benedictine Monastery.
Mljet National Park offers ample swimming, snorkeling, hiking, and cycling opportunities.
The island of Mljet is easily reachable by ferry either from Dubrovnik or Peljesac peninsula.
If you want to spend a few days away, Mljet is an excellent choice.
Plan your visit here.
Map of National Parks in Croatia
Below you will find a map featuring all eight Croatian national parks.
Other nature parks in Croatia worth visiting
Besides eight national parks, Croatia has 11 nature parks, 2 strict reserves, 80 monuments of nature, etc. Some well-known nature parks include Biokovo Mountain in Dalmatia, Ucka Mountain in Istria, and Medvednica Mountain in Zagreb. You can check this website for more info on all parks in Croatia.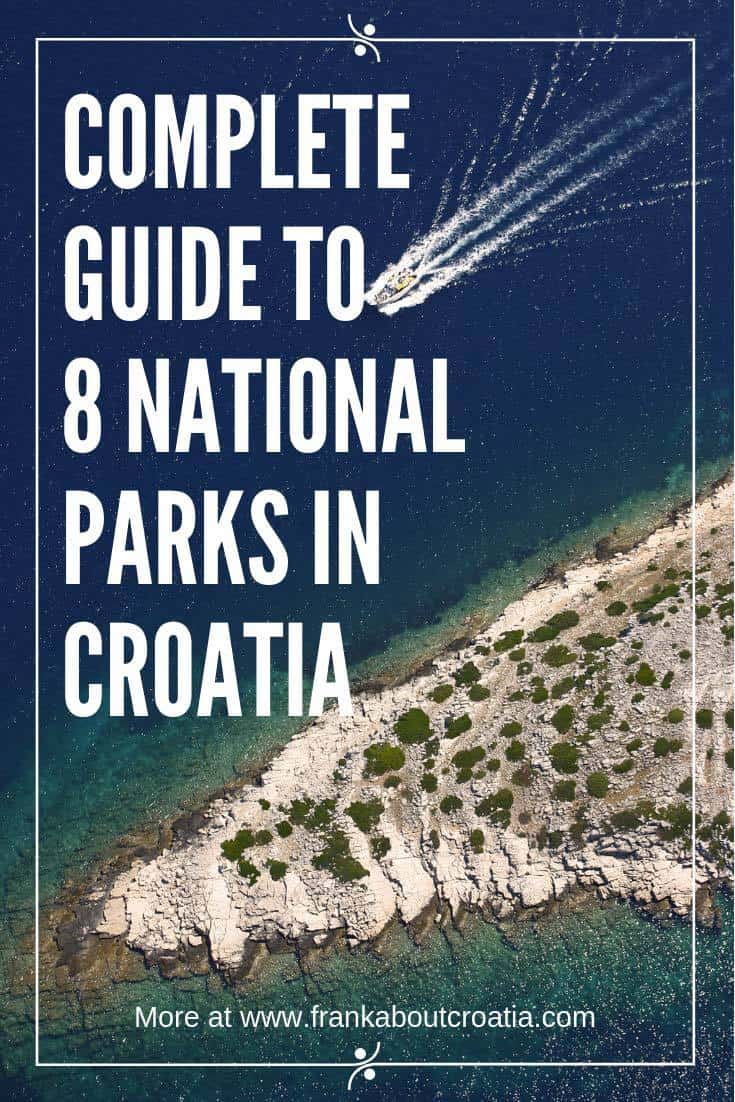 Recommended travel guides
Further reading
We hope you have enjoyed this post on Croatian national parks. If you have any questions, comments, or suggestions, leave them in the comment section below.