Peljesac peninsula has some of the best beaches in all of Croatia. And the best part is that they are, for the most part of the year, not crowded.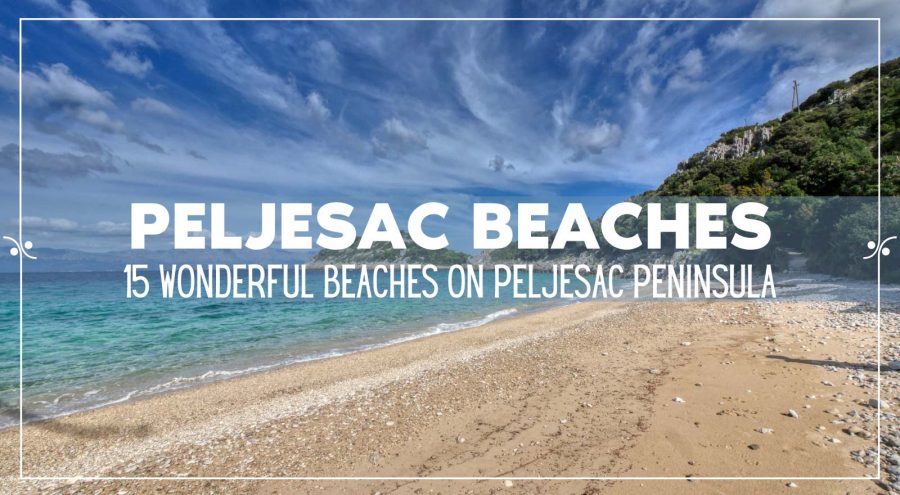 While in other places along the coast (like Makarska Riviera) you need to set up your alarm clock before the dawn in order to secure your spot at the beach, many Peljesac Peninsula beaches remain deserted even in mid-August.
That's what I'm talking about! Natural beauty, peace and quiet, and lots of privacy. All that you'll find on this awesome peninsula.
Peljesac Peninsula beaches: Overview
Peljesac peninsula is the second largest peninsula in Croatia (Istria is the largest). The beaches on the Peljesac peninsula are mostly pebbly, and some are even sandy. You will find them all along the coast, from north to south.
Beaches here aren't that crowded, not even in high season. Many people visit Peljesac on a day trip from Dubrovnik, or Korcula, or they pass through the peninsula on their way to Korcula. However, not too many stay here for the whole vacation.
Few campsites and larger hotels you will find in and around Orebic. The north coast is less popular, and thus less crowded.
Pržina Beach Ston
Pržina in a local dialect means sand; and as you can probably guess, a beach with such a name must be a sandy beach. Right! The beach is located in a bay with the same name, at the southernmost tip of the Peljesac peninsula.
This part of the peninsula is absolutely pristine, without any construction except few old houses, and mostly uninhabited. Przina beach is remote and if you plan to visit it, make sure to take with you anything you might need. The closest villages are Kobas (a wonderful bay with few good restaurants), Broce, and Ston.
You can reach Przina by car, but beware that from Kobas to Przina you'll drive on a narrow, unasphalted white road. While the beach isn't perhaps the nicest beach you've ever seen, ut certainly offers full privacy and untouched nature.
Beach Prapratno
Prapratno is a wonderful sandy beach located in the bay of the same name. This beach is easy to find. It's just a few kilometers from the place where the Peljesac peninsula joins the mainland. Prapratno is also a ferry port for the Mljet Island.
Prapratno Beach is 300 m long, u-shaped, and surrounded by rocky coast from both sides. It's well protected from winds. The water is shallow, crystal-clear, and clean. A small campsite with basic facilities, like toilets, grocery store, and a bar, is just next to the beach. Pine and olive trees provide some natural shadow, but if you plan to spend a day at the beach, we recommend you to bring a sunshade. Trees are in the back, at the campsite, and above the rocky coast aside from the beach.
Prapratno is popular among locals, and many people from nearby Ston come to Prapratno to spend a day at the beach. It can be crowded in August with all the guests from the campsite.
Vucine Beach
Vucine beach is a wonderful pebble beach close to Zuljana (see no. 4). Vucine is very popular among locals from the nearby inland villages. The beach is long, surrounded by a thick pine forest that provides lots of shadows.
This beach is also popular among divers. There are two diving centers and lots of scuba diving sites in the vicinity.
Accommodation in the nearby Zuljana consists of private rooms and apartments, and a small family-owned campsite.
Zuljana Beach
A wonderful bay and a village on the southwest slope of the Peljesac peninsula, Zuljana offers a narrow, but long sandy beach. Village houses border this pretty beach. Some of those beachfront properties offer rooms and apartments to rent. While this can be great for anybody staying in Zuljana, visitors can feel somewhat intimidated, almost like trespassing private yards.
The color of the sea is amazing: a constant play and interchange of dark blue and turquoise. The water is very shallow and warm.
At the far end of the bay, there is a long pier. We've written a full post on Zuljana.
Borak Beach
We love Borak! It's a tiny village at the bottom of the wine-growing hills of a famed Dingac region.
The village is small with just a dozen of family homes (some offering apartments and rooms to rent), and one restaurant (with a lovely seafront terrace).
There are two small shingle beaches in the village. Both beaches are fully exposed to the sun without any shadow. Both beaches are really small, so don't expect any privacy.
We've written a post about Borak where you can find more information and photos.
Podobucno Beach
Podobucno is a small village on the south slopes of the peninsula. Located among centuries-old vineyards of Postup, Podobuce is a small and safe village with just a dozen of family homes and a gorgeous beach in the center.
The beach stretches in a half-circle. It's made of fine pebbles that feel almost like sand. This beach is protected from the winds.
Bring your own water and something to protect you from the sun (no shadow at the beach). The closest grocery store is in Orebic. However, there are two simple taverns in the village where you can refresh with a drink after a day of swimming, or have a light lunch.
Mokalo Beach
Located in a village of Mokalo, 4 km southeast of Orebic, Mokalo beach is a wonderful partly-sandy and partly-shingle beach. Beach is small, and although open to the public, it's part of the campsite Adriatic.
It can get crowded with the campsite's guests. But on the other hand, the campsite provides all additional facilities, like a bar, a restaurant, toilets. Sun loungers and sunshades can be rented at the beach.
Trstenica Beach Orebic
Trstenica is the most popular beach in Orebic, if not on all Peljesac peninsula. This long pebble beach has a slow descent in the sea, with a shallow sandy seabed at the sea entrance. In the back of the beach, tall pine trees provide enough shadow from the strong summer sun.
You can rent sunbeds and sun umbrellas at the beach, as well as sports equipment like a pedalo boat, or kayaks. There is a restaurant close by where you can have lunch, a quick bite, or just a drink.
Trstenica beach is extremely popular and it gets crowded in high season.
Ponta Beach Viganj
A shingle beach between Viganj and Kucisce, Ponta beach serves as s launch site for kite surfers and windsurfers.
That said, this beach is very windy. During the summer, a strong refreshing west wind Maestral blows here every afternoon. It's a delight for all windsurfers, but maybe not so much for weak swimmers.
The village itself is nice. There are a couple of bars and restaurants, a grocery store, an interesting Dominican Monastery and the Church of Our Lady of Rosary from the 17th century. Accommodation in Viganj comprises of private rooms and apartments and few campsites.
Estravaganca Beach
Estravaganca Beach is a wonderful pebble beach located west of Loviste. This small bay and the beach is totally remote and really hard to reach. The best way to reach it is by boat, otherwise, you need to take a dirt road that can get scary at times.
There is a very little shadow at this beach, and you better take your sunshade. Since this beach is really far from it all, we also advise you to bring anything you might need, like some food and water.
There is a single house on this beach, and it features a restaurant and a few rooms to rent.
Bijela Punta Bay
Bijela Punta Bay is a remote, uninhabited bay near Loviste. Here, the beach is mostly rocky, and just partly pebble. However, the sea is crystal clear, the color is amazing, and the entrance to the sea is easy and gradual.
It's easy to reach this beach by car, or by bicycle from Loviste. There are some olive groves right above the beach, however, they don't offer enough shadow, and you'll be better off if you bring your own sun umbrella. Since the closest grocery store is in Loviste, you should also bring your own food and water.
Cesminovo Bay
Cesminovo Bay, similar to Bijela Punta Bay (see above) is a small uninhabited bay, east of Loviste. The beach is partly rocky and partly pebbly. The beach is really remote, and it can only be reached by boat. It's never crowded.
Untouched nature and wonderful turquoise sea will set you for a great day of swimming and sun-bathing. But you need to bring your provisions for a day, as at this beach you are on your own. No grocery store, nor a bar in the vicinity.
Beach Jezero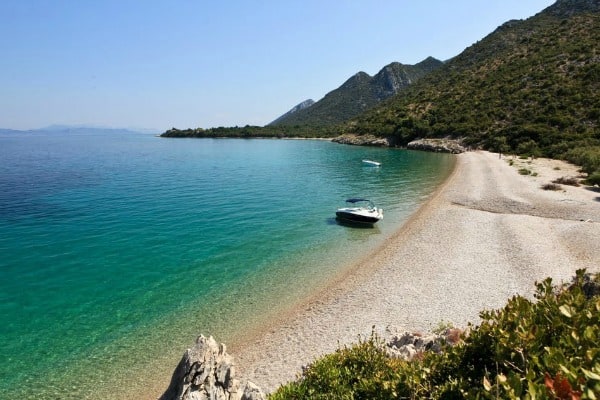 Not far from Duba, and Trpanj, Jezero Beach is a nice pebble beach with a crystal-clear sea, and shallow waters. The entrance to the sea is gradual. The best way to reach this beach is by boat or on foot (not easy) from Duba.
The name Jezero means a lake in Croatian. Its name comes from the fact that there is a small lake between the beach and the mountain in the back. This lake made also a natural stream through the beach to the sea.
Plan to spend at least a few hours at this beach. Bring your own sun umbrella, plenty of sunscreens, food, and water.
Duba Beach
Duba Beach is also located on the north shores of the peninsula, just southeast of Divna Beach. A small village of the same name is just a few meters above the beach. There are few apartment rentals in the village and one small family-run campsite, but no big hotels. As Duba is at the dead end, and there is only one road to the village and the beach, Duba is less crowded than other beaches on the peninsula.
It's a 500-meter long pebble beach, that starts just after the village's harbor. In the vicinity of Duba, you can also find smaller pebble beaches like Jezero Beach, and Blaca Bay. Bring your own food and drinks as the closest grocery store is in Trpanj.
Beach Divna
Divna, the name of this beach, means gorgeous in Croatian. This is a good sign already. And the beach is truly gorgeous. Located on the north shores of the Peljesac peninsula, 10 km south of Trpanj, the beach is set in a small cove. Divna is a 200-m long pebble beach, very popular among locals and tourists. It can get crowded in high season.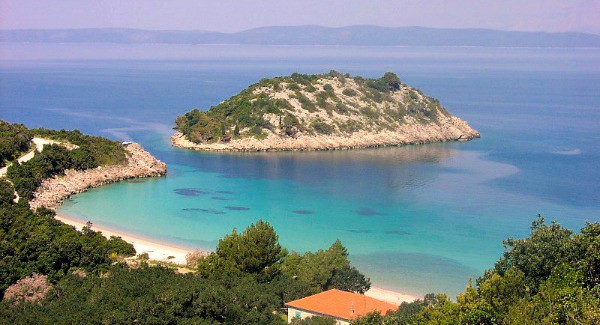 Similar to Prapratno, you'll only find a few houses and a small family-run campsite in this bay. The campsite is handy as it provides basic facilities for a small fee (toilet, bar, etc.). Parking is limited, and most of the people park along the road that is already very narrow. This makes driving a bit scary. Bring food and water with you if you plan to stay longer at the beach.
Just a few meters from the beach, there is a small uninhabited island you can actually swim to. On a clear day, views from this beach to the mainland and the Biokovo Mountain are gorgeous.
Peljesac Peninsula beaches – the location on the map
We hope that you've enjoyed discovering with us the best Peljesac peninsula beaches. If you plan to spend your holidays here, or just to visit the region, check our other posts about the peninsula. You can start with our Ultimate Guide to the Peljesac Peninsula, follow by Reasons to visit Peljesac, then continue with in-depth coverage of Things to do on the Peljesac peninsula. We've also written about Peljesac Wine Tour and we've reviewed our visits to Saints Hills and Milos Winery. Enjoy reading!
If you have any questions, please leave them in a comment section below.