Open just couple of months ago, in May 2014, the Saints Hills winery is the newest winery on the Peljesac peninsula. Located in a village of Zagruda, on the main road from Potomje to Trpanj, the winery is a bit off the beaten path, a bit away from traditional wine roads on the peninsula.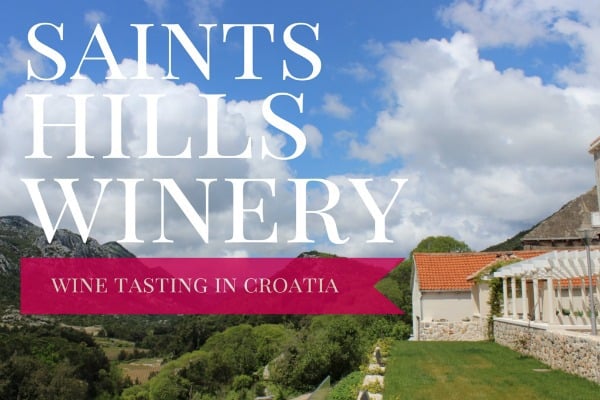 Peljesac peninsula is my favorite region in Croatia. Famed for its grapevine Plavac Mali, this wine growing region in my opinion haven't yet developed its full potential when it comes to wine and food. It still seems more like a fragmented efforts of few families than as a strategic development of the entire region. Peljesac could be for tourists and foodies a top class destination. But unfortunately it still isn't.
Good, or let's rather say exciting restaurants are still very few, and wine cellars are still basic in their look and feel, and sometimes in their attitude (except few).
The Saints Hills winery brings that missing flare to the peninsula. This winery is gorgeous. It features a wine cellar on two underground floors, a tasting room, a reception, a fine dining restaurant (only by appointment), four suites to rent with additional six being built. But it's not all roses and unicorns.
The Saints Hills wines are made for the riches. Their Dingac sells for 980 kn a bottle, their Dingac Selected Wine (only 280 bottles) goes for 4.500 kn a bottle. Wine tasting at the Saints Hills Winery costs 150 kn when other places charge 50 Kn per person (but I need to say that the Saints Hills serves a homemade prosciutto compared with salty, rubery dried ham that other places serve). However, this winery's market positioning is clear from the moment you step in: exclusive and expensive.
Our experience at the Saints Hills Winery
This imposing winery is all built of stone, while its interiors are rather modern with contemporary furniture. The cellar spreads on two underground levels, with a lower level built 30 m below the ground. All tanks are made of cement not stainless steel. Cement is apparently a better material to store wine as it doesn't influence the taste. Their aged wines are kept in French oak barrels. Long corridor on the lower floor has built-in shelves on both sides where archived wines are stored, and it takes you to the modern (although a bit sterile) tasting room.
There are two outdoor terraces with beautiful views over the countryside. Two separate buildings are connected with stone bridges on the first floor.
We've visited the Saints Hills winery at the end of September. The harvest just finished, and the estate was rather peaceful and quiet. A receptionist showed us the cellars, and shared with us information about the winery. After a cellar tour we were escorted to the restaurant and left to our host Ivan. Ivan was a great host, really knoweledgable, and extremly friendly. He was proud of what the winery achieved so far. He also turned to be an owner's cousin.
Two young cooks prepared our snacks, and they seemed particularly proud of their homemade French baguette. A 18-year old chef studied pastry in France. He turned to be an owner's brother. I don't know why I was surprised to find so many family members involved in the busines. Maybe the winery looked a bit too polished, too modern, too luxurious, and I just forget that regardless of its style, the Saints Hills Winery is still family-run, and there is a one family vision and hard work behind all that marble.
The Saints Hills Winery has vineyards on three distinctive locations: Dingac on the Peljesac peninsula, Komarna in the mainland Dalmatia, and Radovani in Istria. Vineyard in Radovani is planted with Istarska Malvazija and Chardonnay, used to make their two white wines: Mala Nevina, and Nevina. Both wines are blends of these two grape varieties: 75% Malvasija Istarska and 25% Chardonnay.
Plavac mali grape variety is planted in Komarna and Dingac vineyards. The Saints Hills produces three wines from Plavac Mali grapes: St. Heels rosé, and red wines St. Roko, and Dingac.
We've tasted all five wines. And loved them all.
Saints Hills Winery: 5 wines we've tasted
1 | Mala Nevina 2013
Mala Nevina is a dry white wine, a blend of Istrian Malvasija (70+%) and Chardonnay (20+%). It has a very harmonious taste, a straw yellow color and intense fruity aroma. The wine is full bodied and balanced. It has a very distinctive character compared with traditional Istrian Malvazija.
2 | Nevina 2012
Nevina is an older sister of Mala Nevina wine. The blend is the same in both wines: around 75% of Malvazija Istarska and around 25% of Chardonnay, Nevina goes through a longer fermentation process in oak barrels compared with Mala Nevina. Intensive on the nose, Nevina has a straw yellow color, and fruity aromas. The wine is fresh and easy to drink.
3 | St. Heels Rosé 2013
Saints Hills Rose, is made 100% of Plavac mali grapes, and it's rather complex with deep pink color, and intense aromas of berries. The wine is dry, fresh and intense.
4 | St. Roko 2012
St. Roko is maybe the best wine Saints Hills Winery produces (sorry Dingac!). It's made of Plavac Mali grapes planted in Komarna wine region. The wine is aged 12 to 24 months in French oak barrels. St. Roko has a deep red color, complex texture, and mix of pleasant aromas of vanilla, dark chocolate, and fruity aromas of berries, plums, and figs.
5 | Dingac 2010
Dingac is the most expensive wine that Saints Hills Winery produces. Dingač passes 18-24 months maturation process in French oak barrels. This full-bodied, rounded red wine has clear and bright ruby red color, while on the palate it's rich in Mediterranean spices like basil and oregano.
Saints Hills Winery Croatia: Contacts
Address: Zagruda bb, Peljesac | t: +385 20 742 113 | e: host@saintshills.com | Website
Have you heard about Saints Hills Winery? Do you usually visit a winery when traveling to wine countries? Let us know in the comments below.