Looking for the best Dubrovnik restaurants? Look no further! In this article, we show you where to eat in Dubrovnik on your next visit for all lifestyles and budgets. Whether you are after fine-dining multi-course dinner or a no-frills budget eatery, we've got you covered.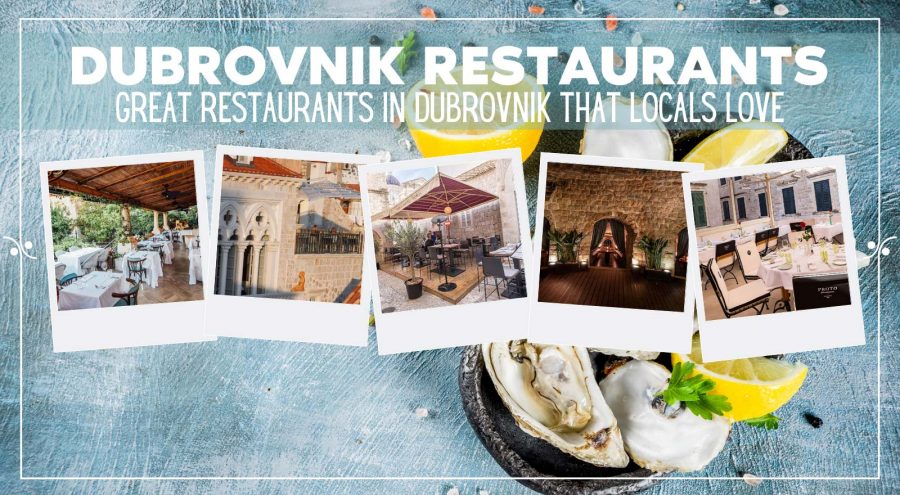 We've tried out many Dubrovnik restaurants over the years. And we know what we are talking about. We are always excited to eat out in Dubrovnik, especially in a few of our favorite restaurants in Dubrovnik (hello Bota!).
What to expect in Dubrovnik restaurants?
In Dubrovnik, you will find a variety of restaurants for all styles and budget, from fine dining restaurants, bistros, and simple taverns to fast food joints, street food stands, and pizza-cut places.
The majority of traditional Dubrovnik restaurants excel in fish and seafood. The most popular seafood dishes you can find in many restaurants in Dubrovnik include fresh shellfish, octopus salad, squid risotto with black squid ink, and grilled fish sprinkled with garlic, parsley, and olive oil.
And while the produce, especially in high-end restaurants in Dubrovnik, is usually fresh and local, in high season the demand can be so high that it asks for stocking on the farm fish or frozen fillets. Be sure to check with a waiter before ordering. Sea bass and sea bream are the most farmed fish in Croatia.
In recent years, the number of restaurants serving various international cuisines has increased. And with the influx of tourists, so did the prices in Dubrovnik restaurants!
Don't expect New York City dining scene, but compared with the rest of Croatia, in Dubrovnik you'll be able to taste different national cuisines to a certain extent. Besides Croatian cuisine, in Dubrovnik, you will find Italian, French, Japanese, Chinese, Korean, Asian fusion, Indian, Bosnian, Mexican, and even Peruvian restaurants. Not bad for a small town like Dubrovnik.
Best restaurants in Dubrovnik
It's not always easy to recommend a restaurant to someone, as we might all have a pretty different idea about what the best restaurants should serve or look alike.
However, below you will find our list of the best restaurants in Dubrovnik. If you don't have time to read the entire article, check this quick rundown of our favorite Dubrovnik restaurants.
Cost of eating out in Dubrovnik
The cost of eating out in Dubrovnik is higher than elsewhere in Croatia. Dubrovnik receives lots of tourists and the demand drives prices up. So, even when we call something cheap or budget, it is always in reference to standard Dubrovnik prices. And it can still be considered expensive by any other standard, or compared with any other destination in Croatia.
Prices of meals in Dubrovnik
Expect to pay 80 t0 130 Kn for a plate of pasta or risotto, depending on ingredients. Soups are around 50 Kn per portion.
Fish goes by the kilogram, and you can expect to pay anywhere between 350 to 400 Kn per kilogram of a quality fish. The serving portion is about 300 g, but if you are few you might choose your catch of the day and have it prepared for your party.
Calamari and shellfish are cheaper, and the portion of calamari usually goes for 140 Kn, while mussels in a white wine sauce will set you back 90 Kn.
If you are more into the meat, you can count on 200 Kn per person for the main meat dish (grilled beefsteak, beefsteak tagliata, lamb chops, and alike) with a simple side like french fries, ratatouille, or salad. Chicken is cheaper, and the portion of grilled or fried chicken breasts with a side dish costs around 100 Kn.
Pizza starts at 70 Kn for a simple Margherita, and the prices increase as the ingredients get richer. Burgers cost 40 Kn in budget places and as much as 90 Kn in fancy bars at the prime location.
Tips for eating in Dubrovnik on budget
These prices are at least 30% higher than in the rest of Croatia, and sometimes more. However, there is hope for those on the budget who still want to eat decently in Dubrovnik. If you are one of them, you can look for the local places serving marenda.
Marenda in Croatia means a light lunch served usually between 11 AM and 2 PM and eaten by laborers during a lunch break. This can be anything like a plate of risotto, boiled baby beef with tomato salsa and mash potatoes, beans with sausage, fried fish with veggies.
Pizzerias out of the old town frequented mostly by locals can be another kind of restaurant to look for a budget meal in Dubrovnik. Besides pizzas, eateries like this often serve pasta, risottos, various salads, and sometimes grilled meat like chicken breasts, cevapi and pljeskavica (local patties). Here you can get a decent meal for 100 Kn per person.
And the last idea for eating in Dubrovnik on a budget is stuffing yourself with pastries from local bakeries. Burek is a popular hangover food. But it is also tasty and filling on any day of the week. It is a phyllo dough made pie filled with cheese, potatoes, spinach, or minced meat. In the old town, you'll pay a small burek around 16 Kn (2€), but in other bakeries in town a much bigger one you can get as cheap as 12 Kn (1,6€). And it can make you full for quite some time.
Upscale and fine dining
Sushi & Oyster Bar Bota
Tucked away in a small alley next to the Cathedral, Sushi & Oyster Bar Bota has a sleek interior and a splendid terrace. This is a family-run restaurant with a long tradition.
The same family owns an oyster and shellfish farm in Ston Bay. They have also been running Bota-Sare restaurant for years, a popular fish and seafood restaurant in Mali Ston, before they open restaurants throughout the country (Ston, Dubrovnik, Split, and Zagreb).
The Oyster & Sushi Bar Bota is one of the best Dubrovnik old town restaurants.
The offer at the Oyster & Sushi Bar Bota is simple. The menu includes fresh oysters and oyster tempura, fresh sushi, sashimi, spring rolls, and few local specialties including homemade tuna prosciutto and fish carpaccio. The food here is simply divine. We could eat at the Bota every day.
The staff is warm and welcoming, the ambiance is beautiful, the food is delicious (and very fresh!). The prices are affordable considering the quality of ingredients and the location. Read our full review of Oyster and Sushi Bar Bota in Dubrovnik.
Contacts | a: Od pustjerne bb, Dubrovnik | t: +385 20 324 034 | Website | Tripadvisor
Stara Loza
Stara Loza is a fine dining restaurant located on the third floor of the boutique hotel Prijeko Palace. They are both housed in a historical Isusović – Braichi Palace constructed back in 1470 and completely restored in 2014.
Stara Loza has an inside dining area, but also two outdoor terraces; one at the street level, and the other one at the rooftop. If you want to have a truly memorable meal, you simply need to eat at the rooftop terrace. The view is unbeatable, and since the restaurant is expensive, it hurts less if you dined enjoying such a dramatic backdrop.
Food is good, based on local ingredients when and where possible, and it includes starters like tuna tartar, veggies tempura, thyme gnocchi, or basil risotto, while among main dishes fisherman's plate and lamb confit seem favored among the patrons.
Pair the ambiance, beautiful views, and friendly service with well-prepared dishes, and you will know why Stara Loza is one of the top Dubrovnik old town restaurants.
Contacts | a: Prijeko ulica 24, Dubrovnik | t: +385 20 321 145 | Website | Tripadvisor
Restaurant 360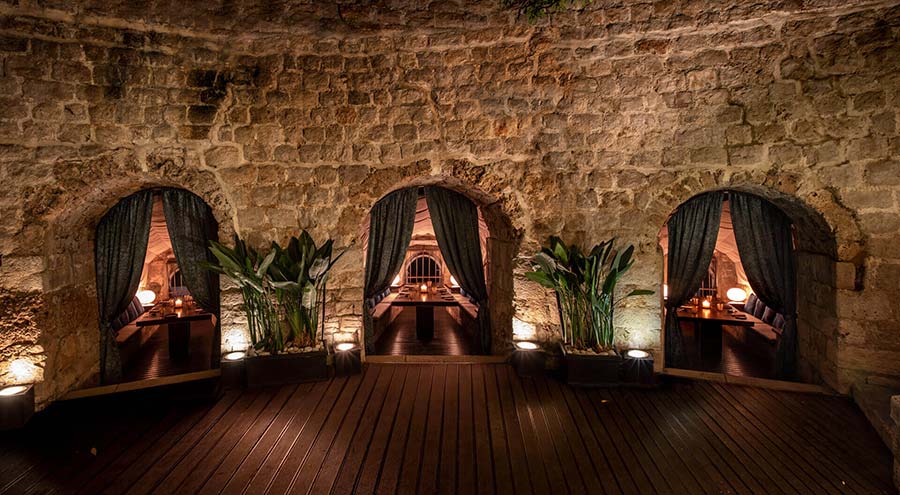 The first Michelin-starred restaurant in Dubrovnik, restaurant 360 is trendy, modernly decorated, and has an awesome location right within the Dubrovnik city walls. Eating on top of city walls and overlooking the old port -you can't beat a setting like that!
From their a la carte menu you can choose 2-course (starter + main) for about 70 € or a 3-course meal (starter + main + dessert) for about 85 €. Yes, the dessert alone costs around 15 €! Besides, the restaurant 360 offers 5-course tasting menus. The food is really good, though!
Restaurant 360 is a great place to celebrate a special occasion.
Contacts | a: Ulica Svetog Dominika bb, Dubrovnik | t: +385 20 322 222 | Website | Tripadvisor
Restaurant Proto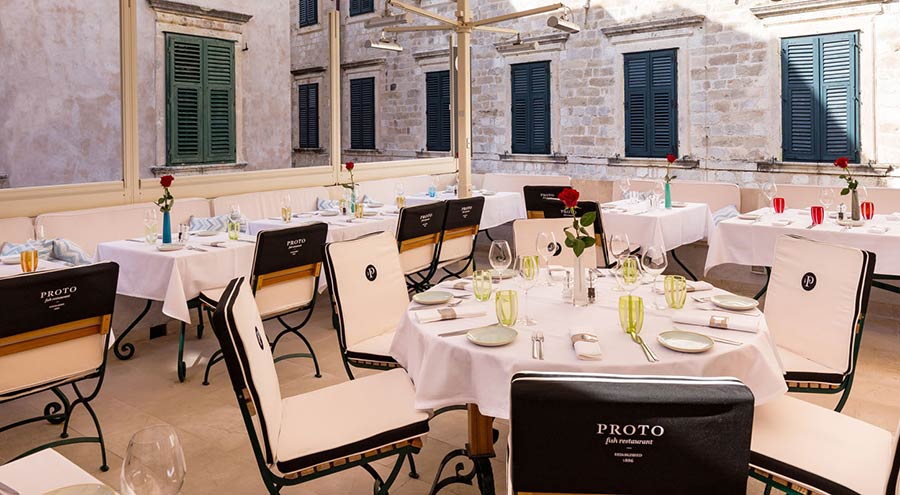 Considered one of the best fish restaurants in Dubrovnik, restaurant Proto is located in the old town, just off the main street Stradun.
Proto is one of the few Dubrovnik old town restaurants frequented by locals. It's an upscale place so the dining here doesn't come cheap. Our friends from Dubrovnik invited us to the restaurant Proto. And we went with what apparently they do the best at Proto: freshly caught dentex fish baked with veggies in the oven. Simple, and delicious!
The first-floor terrace is gorgeous. The food was excellent, and the service very attentive. Read our full review of the restaurant Proto.
Contacts | a: Siroka ulica 1, Dubrovnik | t: +385 20 323 234 | Website | Tripadvisor
Victoria
Located within a boutique hotel Villa Orsula, the Victoria restaurant offers a fine dining experience with a view over the sea and old town Dubrovnik. The restaurant's terrace is amazing and one of the most elegant of all restaurants in Dubrovnik. It is a perfect place for a romantic dinner.
The chef, Roberto Chavez, perfectly blends local ingredients with Peruvian flavors, influences, and technics.
Contacts | a: Frana Supila 14a (Villa Orsula), Dubrovnik | t: +385 20 440 555 | Website | Tripadvisor
Takenoko
A well-established Japanese restaurant in Croatia, Takenoko first open in Zagreb back in 2001. And then, 15 years later, in 2016, they open their second restaurant in Dubrovnik.
The restaurant is located in Ploce neighborhood, just steps away from the old town. The restaurant has a nice terrace with fabulous views of the town's medieval walls.
The food is sublime, and the menu is extensive. It includes everything from world-class sushi and sashimi, to gyozas, spring rolls, woks, prawn tempura, and Wagyu Kobe beefsteak.
Service is friendly, prices are high, but the experience is worth the money.
Contacts | a: Hvarska 2, Dubrovnik | t: +385 20 694 609 | Website | Tripadvisor
Mid-scale restaurants
Orsan Yacht Club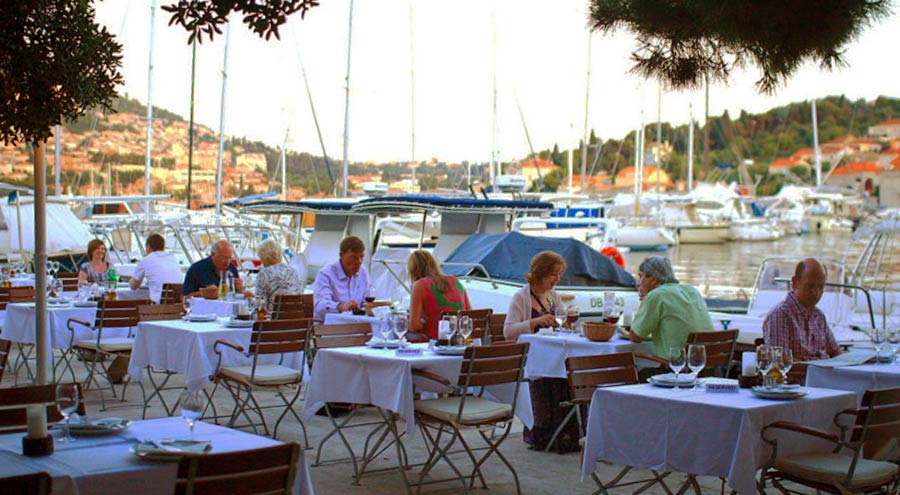 Located away from the crowds, within the Orsan Yacht Club on the Lapad peninsula, restaurant Orsan is a seafood restaurant with a superb seafront terrace and one of the best Lapad restaurants. A colleague from Dubrovnik invited us for lunch here – a good sign that the restaurant has a good reputation among locals.
If you are looking for where to eat in Dubrovnik on a budget, the restaurant also offers marenda, a light lunch, for as little as 55 Kn for a dish. Or, you can choose one soup, one main, a salad, and a cake for 75 Kn. The offer changes daily, and you can see a weekly menu on their Facebook page.  It pays to eat lunch in Dubrovnik!
Contacts | a: Ulica Ivana pl. Zajca 4, Dubrovnik | t: +385 20 436 822 | Website | Tripadvisor
Glorijet
If we had to choose only one restaurant in Dubrovnik that locals love, we would without a doubt choose the bistro Glorijet. Located next to the fish market, in Dubrovnik's Gruz neighborhood, Glorijet is the best place in Dubrovnik to eat fresh fish and seafood for an affordable price. Even local fishermen come to eat here!
Besides the extensive menu, Glorijet also offers marenda, a lunch menu based on a catch of the day, fresh produce from the market (or a butcher!), and the season.
Glorijet doesn't have a terrace. The cave-like rustic interior is cozy but relatively small. It can fit maybe 50 people at once. The place is especially popular at lunchtime. So, make sure to have a reservation.
Contacts | a: Obala Stjepana Radica 16, Dubrovnik | t: +385 20 436 822 | Website | Tripadvisor
Sesame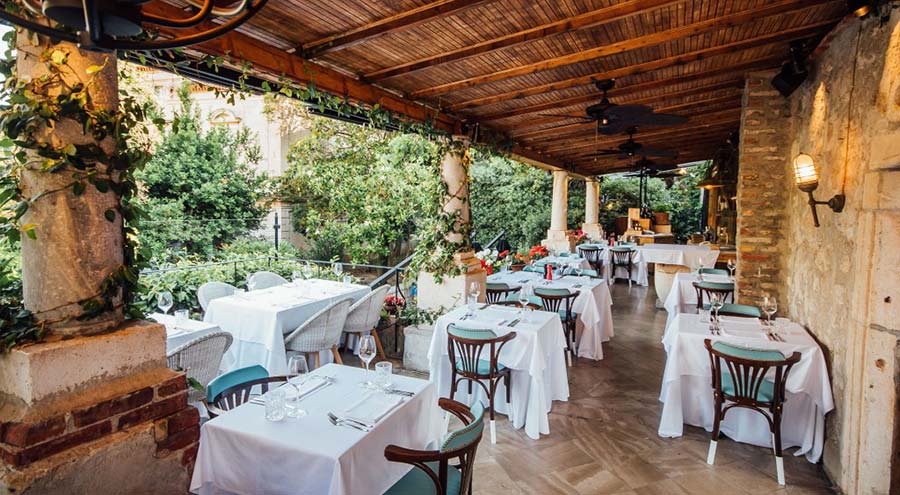 Although just a five-minute walk from the old town, and along a street busy with traffic, Sesame managed to remain a peaceful oasis away from the crowds. The restaurant has two lovely outside terraces, ground and first-floor terrace, both surrounded by greenery, grapevines, and flowers.
The menu is innovative and varied. It includes dishes like homemade pasta, cucumber gazpacho, fish en papillote, duck breasts, and even a few vegetarian choices like beetroot risotto, or crispy polenta with baba ganoush.
Contacts | a: Dante Alighieri 2, Dubrovnik | t: +385 20 412 910 | Website | Tripadvisor
Shizuku Japanese cuisine
One of our favorite Lapad restaurants, Shizuku, as its name says, serves Japanese cuisine. The interior is lovely, and so is the vibe.
Fantastic sushi rolls, nigiri, maki, and sashimi are in abundance here, and so are other Japanese classics like gyozas, takoyaki, tuna tataki, and alike.
This restaurant is worth escape from the hustle and bustle of the old town. It is also a great place to eat if you are staying in the Lapad peninsula. And also, it is more affordable than other Japanese restaurants in Dubrovnik.
Contacts | a: Ulica kneza Domagoja 1F, Dubrovnik | t: +385 20 311 493 | Website | Tripadvisor
Restaurant Taj Mahal
Despite its name, the restaurant Taj Mahal serves traditional Bosnian dishes. Tucked away in one of Dubrovnik's old town's back streets, this small restaurant is not easy to find, but it's definitely worth searching out.
The interior is small and gets busy quickly (it can accommodate maybe a maximum of 25 people). The outside terrace offers some additional seating on sunny days. Although they do have some vegetarian options (e.g. filo pastry with spinach), this is a mecca for meat lovers.
Contacts | a: Ulica Nikole Gucetica 2, Dubrovnik | t: +385 20 323 221 | Website | Tripadvisor
Cheap Dubrovnik restaurants
Kamenice
Located in the heart of the old town, right next to the green market at Gunudliceva Poljana, buffet Kamenice is not a place to go for an elaborate meal.
Kamenice, meaning oysters in Croatian, is a place to eat just that – oysters! Here you will get the freshest and most reasonably priced oysters in all of Dubrovnik. And, when available, you can also order fried smelt fish.
Forget, the rest of the menu. It simply isn't good. Besides, sitting in the shaded terrace of Kamenice, you can witness and feel the rhythm of Dubrovnik and those few remaining permanent residents of the old town.
Contacts | a: Gundulićeva poljana 8, Dubrovnik | t: +385 20 323 682 | Website | Tripadvisor
Mezzanave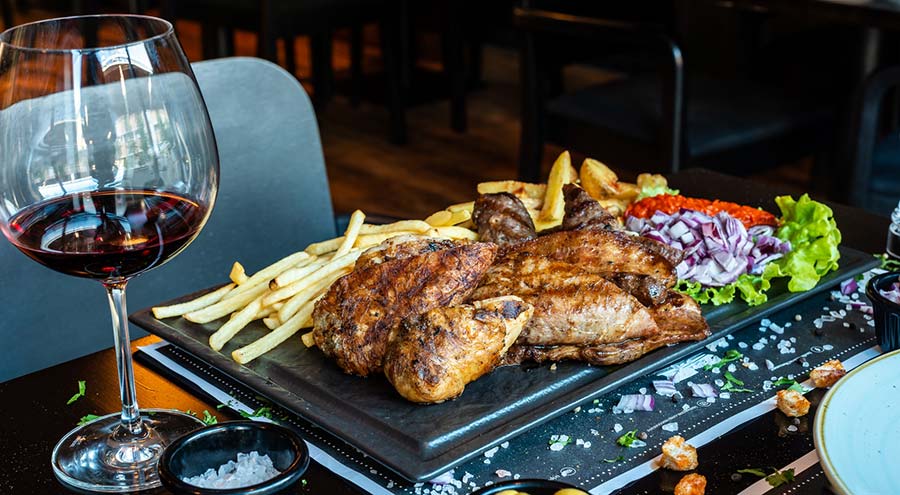 This is the most affordable restaurant in Dubrovnik. Point! Mezzanave's offer is extensive. It includes a choice of pizzas, pasta, salads, risottos, soups, burgers, and other grilled meat, as well as desserts. While pizzas at all other pizzerias start at 70 Kn (9,5 €) for a simple Margherita, at Mezzanave it costs 45 Kn (6 €). Besides, the restaurant has a daily lunch offer that is even more affordable, like from 40 to 55 Kn (5 to 7,5 €) a dish. OK, being located in a business and shopping mall Atlant, it really lacks the atmosphere, but if you just want to have something to eat for a reasonable price, it's the place to go.  The outside terrace is pleasant.
Contacts | a: Ulica dr. Ante Starčevića 24, Dubrovnik | t: +385 20 610 119 | Website | Tripadvisor
Konoba Tabak
Uh, this place is not so easy to recommend, because the service can often come as rude. But, on the other hand, they do happen to have decently cooked and tasty food for a very affordable price. So, here you are! Tabak serves daily lunches for 40 to 60 Kn a dish. They also have an a la carte menu where prices are equally reasonable. The place is more of a shack, but it is off the main roads, and it has a nice shaded terrace.
Contacts | a: Vukovarska ulica 32A, Dubrovnik | t: +385 20 357 242 | Website | Tripadvisor
Street Food Cezar
If you are looking where to eat in Dubrovnik on budget, then street food Cezar can be just the place for you. This small shack is located in Lapad peninsula, and it offers burgers, sandwiches, and kebabs. Portions are big, prices are reasonable, and it will fill you up quickly. We talk 2 to 3€ sandwiches, 5 € burgers, and a full menu for 6 €. Prices that are hard to beat!
Contacts | a: Ulica Iva Vojnovica bb, Dubrovnik | t: +385 99 837 6206 | Website | Tripadvisor
Bosancica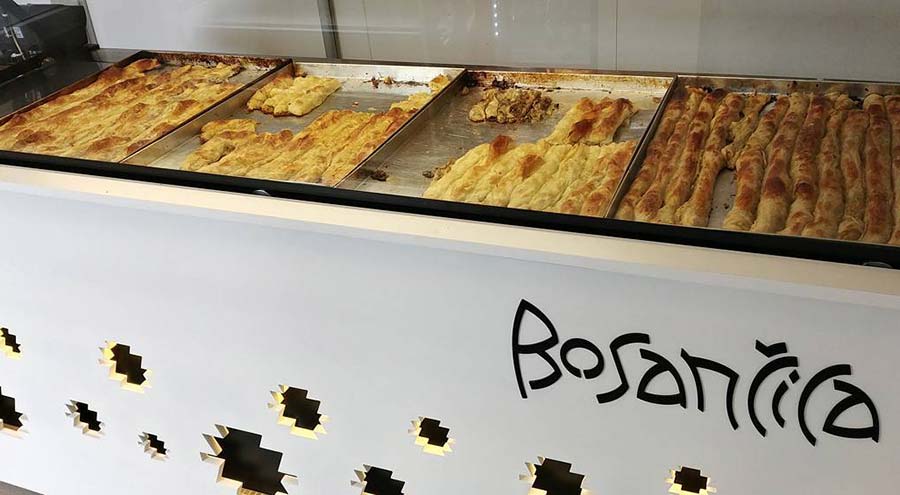 A small food joint in Lapad neighborhood, Bosancica is specialized in Bosnian-style sweet and sour pastries. Here you can buy real Bosnian burek and pies, including meat, potato, cheese, spinach, pumpkin, and apple pie. They sell them by grams, and a 100 g of phyllo dough filled pastry costs 7 to 9 Kn depending on the filling. Sometimes they add to the menu different variations of basically the same style food. Here you can also sample a couple of traditional Bosnian desserts like baklava, tulumba, hurmasice.
Contacts | a: Ulica Iva Vojnovica 75, Dubrovnik | t: +385 99 878 7287 | Website | Tripadvisor
Snogu
This corner wok bar just out of the old town, near the Ploce Gate serves yummy meals. The food is great, the service is friendly and efficient, the prices are reasonable, and the atmosphere is lively. The menu includes various wok dishes. The concept is simple, you choose whether you like to have noodles, rice, or pasta, then you choose your toppings (meat, seafood, veggies) and finally a sauce (curry, teriyaki, sweet and sour, etc.). Everything is freshly prepared in front of you. Expect to pay between 10 to 15 € per dish.
Contacts | a: Frana Supila 1, Dubrovnik | t: +385 92 364 6497 | Website | Tripadvisor
Pizzeria in Dubrovnik
There are lots of pizzerias in Dubrovnik. Or at least places serving pizza. However, we find that there is no pizzeria to highly recommend. No artisan pizza with really crunchy thin crust wood oven pizza, top-notch ingredients like the best fior di latte or burata cheese, Slavonian black pig bacon, or shiitake mushrooms.
Instead, here you will find decent but less exciting pizzerias. We personally prefer pizzeria Tabasco and Vita Bella.
Tabasco
Tabasco is located just out of the old town above the small parking in Ploce neighborhood. It's a convenient place to have a pizza if you feel like having one when exploring the old town. The outside terrace is breezy and pleasant. Tabasco makes their pizzas using the wood-burning oven. They offer a variety of toppings. The prices start at 70 Kn (9€).
Contacts | a: Hvarska 48a, Dubrovnik | t: +385 20 429 595 | Website | Tripadvisor
Vita Bella
Pizzeria Vita Bella is located in the Lapad peninsula. The pizzas are made in a wood-fired oven. They offer almost 20 different choices of toppings. The prices start at 70 Kn (9€). The pizza is good, one of the best in Dubrovnik, and the service is friendly. Besides pizza, at Vita Bella, you can order grilled meat and fish. It's grilled over a wood fire which isn't easy to find these days.
Contacts | a: Bana Josipa Jelacica 37, Dubrovnik | t: +385 20 358 713 | Website | Tripadvisor
Where to eat breakfast in Dubrovnik
Unfortunately, Dubrovnik doesn't yet have restaurants specialized in breakfast only. You won't find organic granola, or free-range eggs, protein omelet, or raw cakes. Forget it!
Breakfast in Dubrovnik is still pretty much a croissant, jam and juicy, or any combination of eggs (fried, omelet, scrambled) with ham and cheese aside. And you can eat it in all-purpose cafes. No excitement here!
If you love breakfast and don't care about the budget, we recommend going for breakfast at the restaurant Porat in the Hilton Imperial Hotel. The rich breakfast includes a buffet but also cooking stations where your eggs, pancakes, waffles, and smoothies are made on order. If you secure a place at their outside terrace, then you'll make your breakfast even more memorable.
If you are on a budget, or just looking for a quick bite, then go for the bakeries. Pick up a fresh savory or sweet pastry and sit in any coffee bar in the old town or elsewhere to have a coffee.
Vegetarian and vegan restaurants in Dubrovnik
Dubrovnik was one of the first places in Croatia to offer an all-vegetarian restaurant. Restaurant Nishta opened back in 2008 when vegan, vegetarian, gluten-free, and raw wasn't as fashionable or as mainstream as today. And they did well according to over 2000 reviews they have on Tripadvisor.
However, we have eaten in their restaurant in Zagreb (now closed), and we haven't been that impressed. But, you can't judge a place based on one meal. A bad day can happen to anyone.
So here you are, if you want to eat in a place specialized only in vegetarian and vegan dishes, Nishta is a place to go.
Besides Nishta, there are a number of restaurants offering vegetarian-friendly menus like Sesame, Amfora, Marco Polo, and not t0 forget, Incredible India, an Indian restaurant with ample vegetarian options.
If you are just looking for a vegetarian meal in a restaurant serving a little bit of everything, there are a couple of dishes that cater to vegetarians that you can expect and find almost everywhere. They include veggies-based pasta, risottos, and woks, then grilled veggies, zucchini fritters, and various salads.
Where to eat in Dubrovnik: Bakeries in Dubrovnik
Dubrovnik doesn't have artisanal bakeries like Split and Zagreb do. here you will need to make do with traditional Croatian bakeries. Nothing bad about that! But here the white flour and industrial yeast are still widely used. Their products still taste yummy. It's the health aspect that is maybe lacking a bit.
However, bakeries in Dubrovnik are great places to eat on a budget. They offer all kinds of pastries, from bread, meat, cheese or potato pies, pizza cuts, sandwiches, frankfurters in puff pastry, to apple or cheese strudel, croissants, donuts, sweet pastry sticks filled with various creams, etc.. The choice is really vast and the prices are reasonable.
However, even when it comes to bakeries, the rule is simple, bakeries in the old town can be much more expensive than in the Lapad peninsula or just outside of the city walls.
The popular bakeries include Mlinar, the national chain of bakeries present in a majority of towns in Croatia, Rusica, the oldest continuously operating bakery in Dubrovnik, and Babic, a bakery in the Ploce neighborhood at the entrance to the old town.
Food and Wine Bars in Dubrovnik
If you just feel like enjoying a glass of Croatian wine with or without accompanying snacks, then you can check out a few of Dubrovnik wine bars.
D'Vino Wine Bar
We personally like the most D'Vino Wine Bar of all wine bars in Dubrovnik. When in Dubrovnik, we always stop by for a glass of wine or two. D'Vino has a great location, a cozy atmosphere, friendly and wine-educated staff, interesting snack platters, and a great choice of Croatian wines by the glass. A glass of wine will easily set you back 60 Kn. And this is the only drawback with D'Vino.
Contacts | a: Palmoticeva 4a, Dubrovnik | t: +385 20 321 130 | Website | Tripadvisor
Malvasija Wine Bar
This little family-run wine bar in Dubrovnik's old town offers the wines they produce themself in their family vineyards in nearby Konavle Valley.  The place is inviting, and the service is warm. It's a great place to learn about local wines from the Dubrovnik region. They also serve yummy platters and bruschettas.
Contacts | a: Dopceva 4, Dubrovnik | t: +385 92 188 9704 | Website | Tripadvisor
Tavulin Wine Bar
A tranquil little bar at the end of an alleyway in the old town, Tavulin serves a good choice of wine by the glass and various nibbles. The staff is friendly and knowledgable, and they take time to guide you through all those Croatian wines the majority of guests haven't heard about. Prices are in the range of 40 to 50 Kn (5 to 6.5 €) per glass of wine.
Contacts | a: Za Rokom 11, Dubrovnik | t: +385 99 885 4197 | Website | Tripadvisor
Cakes and ice cream in Dubrovnik
If you feel like having something sweet after the meal, or as an afternoon snack, we can recommend a couple of places in Dubrovnik. In the old town, Dolce Vita is the number one place to have ice cream or crepes. Magellan in the Lapad peninsula is a restaurant famed for its yummy desserts, particularly their chocolate souffle and an apple pie. In hotel More, at the poolside, you will find the Pastry and Cocktail Bar Slatki kantun serving yummy cakes with a nice sea view. We especially like their carob and chocolate cake as well as a cheesecake.
Dubrovnik restaurants on the map
Which restaurant you are most likely to choose in Dubrovnik? Let us know in the comments below.