Restaurant Proto Dubrovnik is one of the oldest restaurants in the town. It has been in operation since 1886. Located in the heart of the old town, at the corner of Siroka Street and Vara, restaurant Proto Dubrovnik, has a superb, breezy, upper terrace. It is renowned for the seafood, but it offers popular meat dishes as well.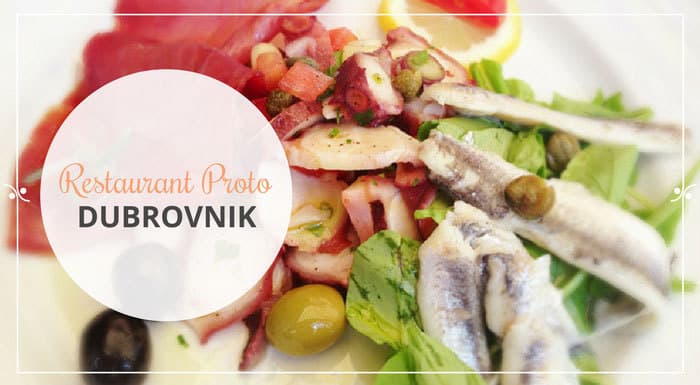 Frank was invited to Proto (thank you HMS). Everything in Dubrovnik is pricey, and this restaurant is extremely expensive even for Dubrovnik. So beware that if you decide to go to Proto, it will not be a cheap party. Regarded as one of the best seafood restaurants in Dubrovnik, restaurant Proto Dubrovnik doesn't have extensive menu.
The menu changes with the season. The best way to choose your dish is to ask waiter what's the catch of the day. That's what Frank did. Waiter offered few fish they had, suggesting the preparation method for each of them. They had fresh dentex fish and John Dory fish. Frank's party decided to go with John Dory fish. Waiter brought fresh fish at the table for Frank to check it.
Frank's meal at restaurant Proto Dubrovnik
The meal started with a couvert, on the house, that included marinated anchovy and a shrimp, served on a piece of bread and sprinkled with olive oil. Frank's party chose white wine typical for Dubrovnik region, Malvasija Dubrovacka, produced by Karaman from Konavle region.
Starter included marinated anchovies, octopus salad and tuna carpaccio, seasoned with rosemary, capers and olive oil. Fish soup was made with tomato sauce and had lots of mussels.
Soup was delicious, but very different than fish soups normally served in Croatian restaurants. Main course was John Dory fish baked in the oven with veggies (potatoes, tomatoes, zucchini, carrots). Fish and veggies were very sweet and tasty.
Dessert included Dubrovnik rozata, traditional cake similar to flan, semifreddo and almond cake.
Generally, Frank would recommend restaurant Proto Dubrovnik if you are seafood aficionado. It is not the most innovative cuisine, but the fish is fresh, prepared traditional way, very clean without fancy spices, just the way fresh fish should be. It should taste fish. And the only addition to it can be olive oil. Waiters are attentive but not intrusive. The only down side is the price. It is really expensive place. But, on the other hand, everything is expensive in Dubrovnik.