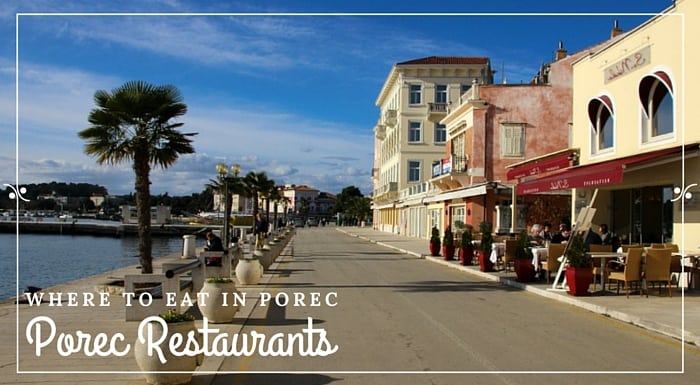 Porec restaurant scene is decent, but not super exciting. In fact, as long as we don't feel lazy to drive, we'll always rather choose a restaurant in Novigrad, Rovinj, or in any hinterland village in Istria than in Porec. However, sometimes we are lazy. So we stick to our home town for eating out.
We ate at almost all restaurants in Porec, but very few left a serious impression on us. This is the reason we included in our list of recommended Porec restaurants, not only restaurants in Porec downtown, but the ones that are in the vicinity of Porec (not too far from the downtown, but still far enough to need a car).
Recommended restaurants in Porec
1 | Pizzeria Nono
I know what you might think; pizzeria is a pizzeria and not really a restaurant. And even if we decided to list it here, we shouldn't really start with it. However, this proofs your two things: a) there is a lack of great restaurants in Porec; b) we like pizza. Yes Nono is pizzeria, and beside pizza they offer pasta and grilled dishes. They have a simple menu, but what they do, they do the best.
This is by far our favorite pizzeria in Porec. Not only that their pizzas are awesome, the owners are also very nice and hospitable. And the place is always busy (even in winter!). Expect to pay 40 kn-80 kn for a pizza, depending on a size and a choice of toppings.
Contacts | Zagrebacka ulica 4, Porec | t: +385 52 453 088 | Website
2 | Restaurant San Nicola
This is probably the only fine dining establishment in Porec. It has a superb location at the seafront, and it's a wonderful place for a special treat. Open during the winter (this is a big go, go; as some people try harder than others to cater to locals as well as tourists), it often offers fixe-price menu. However, the best way to enjoy the meal here is to go with a slow, a la carte dining option.
Contacts | Obala M. Tita 23, Porec | t: +385 52 423 018 | e: [email protected] | Website
3 | Restaurant Divino
The owner of the restaurant Divino is long time in this business, and he used to run a famous Porec spagetteria / pizzeria Barilla. A couple of years ago, he opened Divino, an upscale restaurant located at Porec seafront promenade. Location is amazing, especially if you have a chance to dine at their outdoor terrace. During the winter they offer fixe-price menus.
Contacts | Obala M. Tita 20, Porec | t: +385 52 453 030 | e: [email protected] | Website
4 | Restaurant Hrast
This is another restaurant that we can recommend in Porec. It's not that we eat here often, but few times that we did, the food was very good. The front entrance of the restaurant looks ugly, but inside is very modern, and there is a gorgeous seafront terrace in the back.
Contacts | Nikole Tesle 13, Porec | t: +385 52 433 797 | e: [email protected] | Website
5 | Restaurant Daniela, Veleniki
Yep, we are already done with the restaurants in Porec downtown. Restaurant Daniela is located in a small village Veleniki, 3 kilometer from Porec. This is a nice, family run restaurant that offers an excellent value for money. Restaurant Daniela is really popular among locals and tourists, and we highly recommend you make a reservation in advance.
Contacts | Veleniki 15a, Porec | t: +385 52 460 519 | e: [email protected] | Website
6 | Restaurant Istarska konoba Buići
This place is on the main road Pazin-Porec, few kilometers from the downtown. I've got an issue with restaurants located on the main road, and never really consider going there. The restaurant is one of the oldest in Porec, and really popular among locals especially since few years ago an ownership changed from father to son. All my friends bragged about Antonio's cooking, so we gave it a try. And although it wouldn't make my list of the top restaurants in Istria, the food is good, and it's a good place to eat in Porec.
Contacts | Buici 30, Porec | t: +385 52 460 020 | Website
Other restaurants in Porec that we've reviewed on our website are restaurants Spinnaker, and Peperoni (closed down permanently since then). While Peperoni hasn't left any impression on us, Spinnaker wasn't that bad. The only reason why we haven't included it on our list is the fact that the atmosphere is rather sad. The restaurant is part of the Hotel Valamar Riviera, and their terrace is rather empty.
Restaurants in Porec Croatia: location on map and contacts
[mappress mapid="55″ width="98%"]
Further reading about Porec Croatia:
Do you know of any other restaurant in Porec that should be included in this list? Have a question? Let us know in the comments below.
https://www.frankaboutcroatia.com/wp-content/uploads/2015/07/porec-croatia-travel-guide-1.jpg
385
700
Frank G
https://www.frankaboutcroatia.com/wp-content/uploads/2019/11/logo.png
Frank G
2014-03-06 10:07:17
2016-04-20 21:40:19
Restaurants in Porec: where to eat in Porec