Are you planning your vacation in Porec and would like to know where to eat in Porec? No worries, we are here to help! We live in Porec and in this post, we will share all the good addresses for eating out well in Porec.
From Istrian traditional dishes to 4 € roadside hamburgers and streetfood Asian fusion bars, we bring you here the best restaurants in Porec.
We will be completely honest with you, Porec isn't the best place in Istria when it comes to eating out. Northwest Istria, Rovinj, Novigrad, or Pula, all have a much better choice of restaurants than Porec has. In fact, as long as we don't feel lazy to drive, we'll always rather choose a restaurant in Novigrad, Rovinj, or in any hinterland village in Istria than in Porec.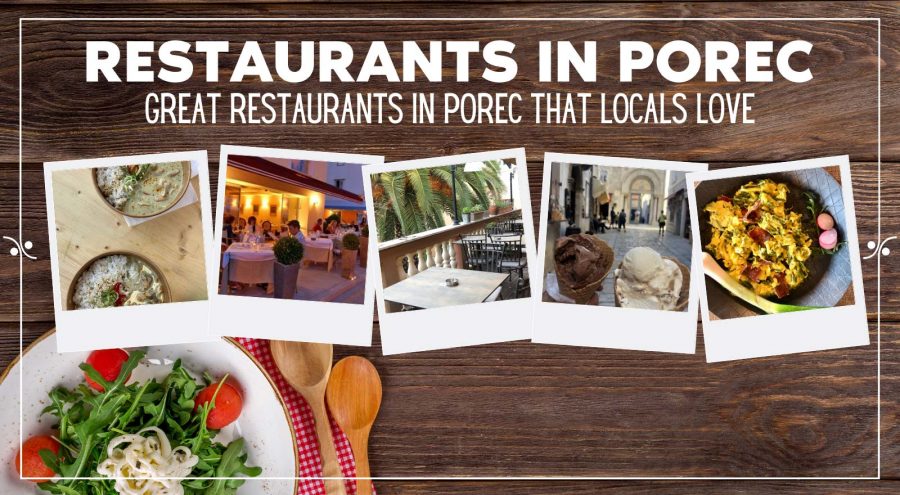 However, back in 2019, a few new places opened and the whole Porec restaurant scene magically improved.
Many of those places are open seasonally. And now we can't even wait for some of them to open. That's how good there food is!
In this list of recommended Porec restaurants, besides the downtown restaurants, we also included a couple of them in the vicinity of Porec (not too far from the downtown, but still far enough to need a car).
The top Porec restaurants
It's not always easy to recommend a restaurant to someone because we might have a pretty different idea about what the best restaurant should look like and serve.
However, we list here only restaurants that we personally have eaten in and liked. And since we are locals, we also list locals' favorite places to eat in Porec.
If you don't have time to read this entire post, we shortlisted the top 6 restaurants including vegetarian and all-day breakfast place and an ice cream parlor.
Upscale restaurants in Porec
Are you ready for a fancy meal in Porec? Sit on the terrace by the sea of ​​one of the two restaurants listed below, sip wine and enjoy views while watching yachts sailing out of the harbor.
Restaurant Sveti Nikola
This is the most popular fine dining establishment in Porec. It has a superb location at the seafront, and it's a wonderful place for a special treat.
Open even during the winter (this is a big go, go; as some people try harder than others to cater to locals as well as tourists), it often offers a fixed-price lunch menu. However, the best way to enjoy the meal here is to go with a slow, a la carte dining option.
Contacts | Obala M. Tita 23, Porec | t: +385 52 423 018 | e: info@svnikola.com | Tripadvisor | Website
Restaurant Spinnaker
Spinnaker is a good fine-dining restaurant located within Valamar Riviera Hotel & Residence. The service is impeccable, the food is good, the wine list extensive, and sommeliers know their job. The restaurant often organizes guest chef dinners where they invite some of the best Croatian chefs to cook at Spinnaker for a day or two.
The only downside of the Spinnaker is the fact that is a part of the hotel, it shares a terrace with a hotel's bar, and it lacks a bit of charm. Oh, and the prices are high. But that's always the case with the fine dining restaurants.
Contacts | Obala M. Tita 15, Porec | t: +385 52 400 804 | Tripadvisor | Website
Mid-range restaurants
The majority of restaurants falls under this category. However, this is also the category where we had the most difficulty in picking the good ones. And, as it often happens, two of the three are out of the town.
Selo Mekisi
This is the best traditional restaurant in Porec. OK, Mekisi is not quite in Porec, but rather in a village Mekisi, near Vizinada, 20 km away from Porec. But all this area used to be a part of Porec municipality, so we think of these villages like Porec, and we colloquially call them Porestina. So, we included in this guide also restaurants worth-mentioning in the surrounding villages.
Anyways, homemade pasta, gnocchi, sausages, pork loin, beef carpaccio, or grilled steaks are all on the menu here. Their cheese-stuffed homemade ravioli pasta with sage and prosciutto sauce is to die for!
The interior is small. And the two terraces, covered and garden terrace, fill up quickly. Reservation is essential.
In the winter season, from October to May, they are open only on weekends. Cash-only!
Contacts | Mekisi 10, Porec | t: +385 91 568 8635 | Tripadvisor
Papabirra
Papabirra opened in 2019, so it's still early to say if the concept will remain the same, but nevertheless we have listed it here for now. We will update if things change.
Papabirra is a trendy bistro in Porec old town serving pizza, grilled meat, fried fish, and salads. The menu is diverse but short, 2 to 5 dishes under each category.
Fries are frozen, so don't even bother. But burgers are really good and some of the best in town. Papabirra has on offer Mason burgers, the chef Ivan Zidar's prime burgers, voted among 50 best burgers in the world in 2020.
Contacts | Vladimira Nazora 9, Porec | t: +385 98 947 8163 | Tripadvisor | Website
Vela Vrata, Beram
This is one of our favorite restaurants serving traditional Istrian food. We love it as much as Selo Mekisi mentioned above, but the Vela Vrata restaurant is a bit more expensive.
The restaurant is located in a little village Beram, 28 km away from Porec. Inside is small and cozy with a lovely open fireplace where the staff also grill the meat. The outdoor terrace is superb, with beautiful views over the green Istrian hills and countryside.
The food is simple, typical for the region. It includes homemade pasta with various sauces, scrambled eggs, and grilled meat. This is the place to go for truffles! And especially in winter, when praised white truffles are in season in Istria. This little tavern serves the REAL Istrian white truffles.
Contacts | Beram 41, Pazin | t: +385 52 622 801 | Tripadvisor
Where to eat in Porec on budget
Below we bring you some of the best places to eat in Porec on budget. And the budget doesn't necessarily mean cutting corners or serving cheap frozen stuff. No, no! Actually one of our favorite restaurants in Porec, Chili Fusion Streetfood, is under this category.
Chili Fusion Streetfood
Opened in spring 2019, Chili Fusion Streetfood gained regular customers quickly. In Porec, we don't have any exotic restaurants or a choice of various international cuisines. So, this little streetfood joint was such refreshment on the traditional restaurants' scene that we felt in love immediately.
The Chili Fusion Streetfood is a small corner bar without any inside sitting and just a couple of street-side high tables and stools. Food is served in disposable paper plates, containers, and plastic cutlery.
The menu is short, featuring 10 dishes in total including dessert. Here you can taste some of Asiatic classics like green curry, katsu or satay chicken, tuna poke, or dan dan noodles.
They are only open in season, from April to October. Cash-only!
Contacts | Ribarski trg 1, Porec | t: +385 99 2132 920 | Tripadvisor | Website
Mica konoba
Located in Fuskulin, a village 4 km away from Porec, Mica konoba serves good old Istrian classics.
If you feel like having wood-grilled meat or fish, or a peka, a traditional dish where meat or fish and veggies are baked in the fireplace under a bell-shaped lid and covered in embers, then Mica konoba is right up your alley.
It's a no-frills family-run restaurant serving honest comfort food, big portions, and affordable prices.
Contacts | Fuskulini 47, Porec | t: +385 52 444 646 | Tripadvisor
Imbiss, Baderna
This roadside shack is where locals go to eat juicy big burgers for less than 4€. It is also popular among local workers who come for lunch or take out.
The service is super friendly, there is a parking next to the bar, and surprisingly nice terrace considering that the place is on the main road and basically a shack.
Imbiss is located near the gas station in Baderna, on the main road from Vizinada to Pula, 15 km away from Porec, direction Pazin.
Contacts | Baderna 1B, Baderna | t: +385 91 506 7511 | Tripadvisor
Vegan and vegetarian restaurants
If you are wondering what vegetarian and vegan eating options you will find in Porec, worry not! The choice isn't extensive but it is decent. Most importantly, there is a restaurant that caters exclusively to vegans and vegetarians.
Tucked away in a side street just across the green market, Artha restaurant serves simple but well-executed and favorable vegan and vegetarian dishes. And the prices are reasonable, and much more affordable than in Porec's non-vegetarian restaurants. The staff is friendly. Even meat lovers occasionally have a meal here.
The menu includes classics like creamy lentil, marinated tofu, naan bread with hummus, veggie tempura, various vegetarian pasta dishes, etc.
When it comes to regular restaurants catering to vegans and vegetarians the choice is quite limited. It comes down to salads, grilled veggies, and pasta dishes.
Pizzerias in Porec
When we just moved here, we used to love pizza in Porec. Unfortunately, it's not the case any longer. We find that the quality of pizza in Porec went down the hill. And the biggest culprit for that is a bad quality cheese. If that chewy stuff they put atop the pizza dough can be called cheese at all. I have my doubts!
There is now only one place in Porec to have a pizza. And it is the pizzeria La Riva. It's right at Porec seafront and it has a nice top-floor terrace. They have a great choice of toppings, some real Italian classics like gorgonzola and walnuts, or mozzarella di bufala d.o.p.. See the full menu on their website. They also have good cakes and ice cream.
Breakfast in Porec
First of all, if you are staying in a hotel in Porec, you don't need to worry about breakfast. All Porec hotels offer a buffet breakfast included in the room rate.
If you are staying in private accommodation or just like to have your breakfast out, then since the Local Hero, the only breakfast-centric restaurant in Porec, closed, your choice will be limited.
There are a handful of restaurants in the old town offering scrambled eggs and alike, but you will have more choice if you stick to the sweet and savory pastries.
Altercafe in Zagrebacka Street offers a variety of cakes, viennoiseries, paninis, and alike. Mlinar is a chain of bakeries with two shops in Porec, one near the farmer's market and another one at the beginning of the Decumanus Street.
Ice cream in Porec
Oh, my, I don't think you've seen so many ice cream parlors on a street like you can see on Decumanus Street in Porec.
But no matter how tempting all those places might look, just keep your cool and keep walking until you reach Eleuterijeva Street. Here you'll find the best ice cream in Porec.
Il Gelato di Salvatore makes yummy artisanal real Italian gelato. There is a great choice of flavors, including some unusual ones like Bura Brew gelato or Teran wine gelato. However, my favorite is Sacher and Vera loves cinnamon apple yogurt.
The bar Leggiero, located within Porec Galerija Mall, serves also excellent ice cream.
Wine bars in Porec
There are a couple of popular wine bars in Porec. However, we recommend a short hop to the village of Fuskulin and a visit to the Damjanic Wines tasting room.
We love Damjanic wines, and also a cozy atmosphere of his little bar. It's basically just a small covered patio in front of their family house, but the place is really calming and charming. You can easily lose the notion of time when wine tasting at Damjanic. And, if you decide to buy some wine, the tasting is free. Otherwise, the prices go from 50 Kn on.
If you don't feel like driving, then head to Eufrazijeva Street in the old town. A small corner at the beginning of this street is perhaps the cutes street corner in all Porec. Three wine bars, Bacchus, Wine Corner, and Fuego Wine & Bites, are one next to another. The atmosphere is always convivial, the patrons are both tourists and locals. Order a meat or cheese platter, or bruschetta, and soak up the atmosphere while enjoying a glass of local wine.
At the opposite end of the old town, in the former Istrian Parliament building, you'll find a newly opened wine bar – La Vecia Cantina. The interior is beautiful!
Porec restaurants on the map
Further reading about Porec
Do you know of any other restaurant in Porec that should be included in this list? Have a question? Let us know in the comments below.