Writing about Zagreb restaurants is challenging to say at least. The restaurant scene in the capital is way too dynamic, the restaurants keep opening, closing and changing hands too often, and thus we need to keep track on this post constantly. However, we try to do the job so you can always have an updated list of the must-try restaurants in Zagreb.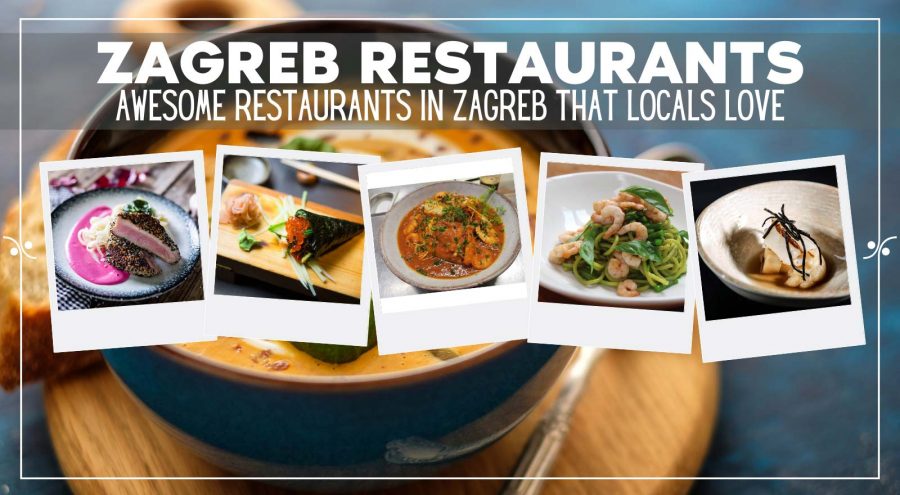 There are some classics that have been here for ages, while some others are novelty places that we hope will stay around at least for some time.
Our list of 12 incredible Zagreb restaurants
Here is the list of our favorite Zagreb restaurants, some already established landmarks when it comes to eating out in Zagreb, while others are exciting upstarts everybody wants to try out.
RougeMarin
RougeMarin is one of our favorite restaurants in Zagreb. In fact, whenever we are in Zagreb, we end up eating in Rougemarin. Rougemarin is located in Folnegoviceva Street, not far from Zagreb's business district around Radnicka Cesta. This makes it a very popular lunch spot during the week.
Housed in a former light bulb factory, the restaurant keeps a rough industrial look with an unobstructed view over the kitchen. The outdoor terrace is huge, partly shaded, and breezy – a perfect place to eat on a hot summer day. However, make sure you have a reservation especially for lunchtime.
And the food? The food in RougeMarin is sublime. The menu changes monthly, with some classics always remaining on the menu. From Tuesday through Friday they also offer a couple of daily dishes that aren't on the menu. We personally love their spring rolls, risotto, burgers, woks, and lemon pie.
Contacts: Ulica Frana Folnegovica 10, Zagreb | t: +385 1 6187 776 | Website | Tripadvisor
Mali Bar
Hidden in a small courtyard off Vlaska Street, Mali Bar is another of our all-time favorite Zagreb restaurants. Fresh and seasonal ingredients, innovative dishes, a great choice of Croatian wine by the glass, affordable prices, and good vibes make Mali Bar one of the locals' favorite restaurants in Zagreb.
The interior is small and they have a lovely rooftop terrace for dining al fresco. From pea soup in spring, fresh salads in summer, great steaks, smoked duck bruschettas, and even simple fish and chips, everything tastes great at Mali Bar. The menu changes daily!
Contacts: Vlaska 63, Zagreb | t: +385 1 5531 014 | Tripadvisor
Time
The restaurant Time is closed until the end of 2021 due to renovations! However, until then, you can taste their yummy food at the new place – a Japanese pub
Izakaya by Time
located on Selska Cesta 90.
We love eating out in the Time. This restaurant-cum-bar became popular from the moment it opened. Fantastic location just around the corner from the main square, elegant interiors, exciting sushi, and Asian fusion dishes, fine brandies, signature cocktails, and a good night out make the Time a favorite hangout for young professionals. But also for anybody who likes good food.
Don't miss their ramen, duck spring rolls, chicken gyozas, as well as sushi. Sit at the bar and watch sushi masters prepare your favorite rolls right in front of you. Recently the Time also introduced dishes prepared on the Hibachi grill like yakitori chicken, rib-eye steak, or Galician sirloin.
Contacts: Petrinjska 7, Zagreb | t: +385 91 444 4651 | Website | Tripadvisor
ManO2
ManO2 is run by popular Croatian chef, Hrvoje Kroflin. Hrvoje worked for a long time in a sister restaurant ManO, located downtown. However, in 2012 he moved to the ManO2 located in the Zagreb business district, in the Green Gold shopping center.
First of all, ManO2 is perhaps the nicest designed restaurant in Zagreb. The light wood dominates the interior from floors to the curved wooden ceiling making the place feel cozy and comfy.
The food is simply outstanding. From starters like beef tartar or king crab salad to yummy charcoal-grilled Swiss chard pie (soparnik), and black Agnus steaks, ManO2's menu isn't extensive but it's very assorted. ManO2 also offers 5- and 7-course menus that can be wine-paired.
Contacts: Radnicka cesta 50, Zagreb | t: +385 1 6430 535 | Website | Tripadvisor
Nav
When the chef Tvrtko Sokota decided to open Nav back in 2019 nobody doubted it would soon turn into one of the most exciting places to eat in Zagreb.
Tvrtko is one of the best and most popular chefs in Croatia, and he has been a driving force behind many great restaurant ventures in the last few years, like Mundoaka, RougeMarin, Xato, and Brokenships.
However, Nav is his first independent venture, where he is an owner, chef, and manager, all in one. Nav serves modern Croatian cuisine. Nav is a tiny place with only 5 tables. At lunch, you have a choice between a 5- and 7-course tasting menu, and at dinner time, they only serve a 10- or 12-course tasting menu. The service is personalized and each course is presented by the chef himself. Expect to pay around 100€ per person, but it's worth every cent.
Contacts: Masarykova Ulica 11/1, Zagreb | t: +385 1 2029 961 | Website | Tripadvisor
Pod zidom
Due to Covid-19, this restaurant will remain closed until September 2021
Located in the heart of the old town, Pod zidom is a beautifully decorated, small upscale bistro with a place for maybe 30 people.
The menu changes seasonally (and sometimes daily), and they also offer a choice of tapas to nibble with wine. The wine list is extensive, and almost all the wines can be ordered by the glass (Yay!).
Make sure you taste their beef cheeks, so tender and yummy!
Contacts: Pod zidom 5, Zagreb | t: +385 99 325 3600 | Tripadvisor
Kut
Charming but, unpretentious interior, nice courtyard terrace, laid back atmosphere, and fresh and tasty food made Kut an instant hit with locals and tourists alike.
The Kut only serves lunch from 11 am to 4 pm. The menu is simple – there isn't one! Or rather, the menu changes daily. It consists of 3 main dishes to choose from (one always adapted to vegetarians and vegans), and an interesting drinks list promoting small local producers like Lepi decki craft beer, some local brandy, or natural syrup producers. Sometimes, you can order a cake too. All their cakes are made by the pastry shop Neka jedu kolace.
The prices are super affordable, ranging from 35 Kn to 70 Kn (5€ to 10€) per dish.
Contacts: Varšavska 18, Zagreb | t: +385 95 580 7368 | Website
Soi
We can't stress enough how much we enjoyed the food at the Chili Fusion Bar in Porec this last summer, and how much we look forward to seeing it open again this coming summer.
Now, Vid Nikolic, the guy behind the success of Chili Fusion Bar, is serving a similar style of food in a newly open Soi fusion bar in Zagreb.
The menu is short, not more than 10 dishes, but it features the tastiest Asian fusion street food you can find in Zagreb. Whether you are after good ramen, green curry, katsu or satay chicken, tuna poke, or pork gyoza, Soi will blow your mind.
Soi is located within the popular Swanky Mint Hostel.
Contacts: Ilica 50, Zagreb | +385 91 916 2101 | Tripadvisor
Carpaccio
Carpaccio is definitely one of the most popular restaurants in Zagreb. As its name suggests, it serves Italian food. Guests love it for fresh, top-quality ingredients, seasonal menu, excellent execution of Italian dishes, great wine list, and cozy atmosphere of an old Italian tavern.
Carpaccio is always consistently good with very professional and friendly staff, and reasonable prices. It's not surprising that the restaurant is always full. Make sure to make a reservation if you decide to eat there.
Contacts: Teslina 14, Zagreb | t: +385 1 4822 331 | Website | Tripadvisor
Lari & Penati
The restaurant Lari & Penati is a tiny restaurant located in Petrinjska Street. It has a nice streetside terrace. The menu changes daily, and sometimes it can feel limited.
However, the food is fresh and tasty. Good choice of Croatian wines by the glass. There is small parking next to the restaurant (a big plus considering the scarce parking places in the downtown). The staff is friendly. We've enjoyed our lunch there.
Contacts: Petrinjska 42a, Zagreb | t: +385 1 4655 776 | Tripadvisor
Restaurant Tac
Located in the middle of Zagreb's residential area, the restaurant Tac, one of the best Zagreb restaurants, is located far from the main touristy routes. The restaurant serves traditional Croatian food prepared to perfection and sourced from the best local producers. A friend of mine, who is a passionate foodie, claims that he's eaten the best meal of his life at the restaurant Tac. The interior is rustic, and the atmosphere is laid back.
Contacts: Vrhovec 140, Zagreb | t: 385 1 3776 757 | Website | Tripadvisor
TheAtrium By Filho
The newest addition to the Zagreb restaurant scene, TheAtrium By Filho opened back in October 2019. Run by young but already well-known and established chef, Filip Horvat, TheAtrium inspires to showcase the best of Croatian produce (all produce is local, except, well, caviar), and reinvented traditional Croatian recipes.
As its name and location (it's located next to the Zagreb Youth Theater) suggest, the theater theme is omnipresent making eating here a playful experience. The menu isn't the menu anymore, but rather a daytime and nighttime show with proper acts, prologs, epilogs, and culmination. Some might find it pretentious, we find it fun.
But, what's most important, the food here is excellent. You can read fellow blogger Adriana's full experience at the TheAtrium.
Contacts: Teslina 7, Zagreb | t: +385 99 584 4652 | Website | Tripadvisor
Best restaurants in Zagreb map
Have you tried out any of these Zagreb restaurants? Do you have another restaurant in Zagreb to recommend? Let us know in the comments below.