We have put together this Porec Croatia Travel Guide for all of you who plan to visit Porec. This is our hometown for the last 15 years. We ended up here by pure coincidence, without ever planning it, but we have never regretted it. Indeed, many times we remind ourselves how well we are here, and what a beautiful region we live in.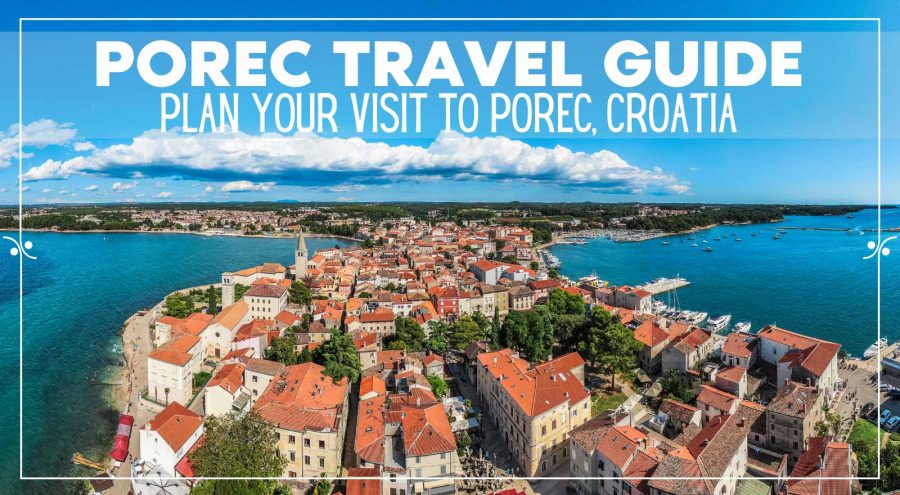 Porec Croatia is a small town on the west coast of Istria. The town has a long history dating back to Roman times. The old town still has a typical Roman street layout; it's mostly symmetrical, with two main intersecting streets – Decumanus Maximus (stretching from east to west), and Cardo Maximus (stretching from north to south).
Town's Episcopal Complex of the Basilica is Unesco World Heritage site and its oldest parts date back to the 4th century, although the basilica itself is from the 6th century. Venetian-style houses dominate the old town.
Porec is very touristy. And as a tourist destination, it has the most balanced tourist offer in all Istria. It is above all a family destination. But its nightlife offer is enough exciting to satisfy the younger crowd and party goers as well.  Porec offers a variety of accommodations to choose from (hotels, apartments, campsites), good bars and exciting nightlife, a wide range of sport and water activities, historical sites, and other attractions.
It's also one of the best-organized towns with ample parking lots, nice traffic flow (even when it's congested), and one of the cleanest towns in Istria (although all towns in Istria are pretty clean).
Where is Porec Croatia
Porec Croatia is located on the west coast of Istria, 30 km north of Rovinj, and 20 km south of Novigrad. Trieste in Italy in 70 km northwest of Porec.
Below you'll find a map of Porec Croatia.
Best time to visit Porec
Summer is the best time to visit Porec. Yes, it is busy and there are crowds everywhere, but if you want to experience the best of Porec, you'll have to bear with it. If you really cannot stand hustle and bustle, just avoid the last week of July and the first two weeks of August. For the rest, you should be fine.
Reasons to visit Porec
History & Culture
Porec has a rich history and culture. The town's main sight, the Episcopal Complex of Euphrasian Basilica, is the UNESCO World Heritage Site. Other top sights include Roman temple, medieval town walls, and fortresses, gothic, baroque and romanesque palaces.
A good choice of accommodation
Porec has the best choice of accommodation in all Istria. Two large Croatian hotel chains, Valamar and Laguna Porec operate the majority of large hotels, resorts, and campsites in Porec. Besides, there is a variety of apartment and villa rentals to choose from, and a couple of youth hostels located right downtown.
Centrally located to explore Istria
Porec is perfectly located to explore the entire peninsula. You can visit all Istrian top sights within an hour's drive from Porec.
Good value for money
Porec really offers good value for money when it comes to your holidays. While it's not the cheapest place to stay in Istria (check Rabac, or Novigrad for cheaper stays), it has a lot to offer for your money: a variety of activities, historical sights, a choice of restaurants, great bars, cafes, and night clubs. Porec hotels offer buffet breakfast and dinner included in the room rate. This fact alone can make you save lots of money.
Beaches
From north to south, Porec has over 10 km of coastline. Beaches here range from rocky, cemented, pebble to (even!) sandy. Plenty of choice for everybody. Sun and sea is still the number one reason to visit Porec.
Cycling
Porec, along with Novigrad, is the best cycling destination in all Istria. Porec has over 250 km of marked cycling trails, of various lengths and difficulty levels; it also has bike-friendly accommodation.
What to do in Porec, Croatia
Porec offers a variety of things to do while on holidays here: from various water, and motorsports, to cycling, olive oil, and wine tasting. We've already written an entire post on things to do in Porec Croatia, but below we give you a short overview of a couple of them.
Explore Porec old town
Old town Porec is located on a small peninsula. It's small, and it takes no more than two hours to visit all the sights. The Episcopal Complex of Euphrasian Basilica is the UNESCO World Heritage site and Porec's most popular landmark. Other interesting sites include remains of Roman temples, various gothic, baroque, and renaissance palaces, fortification walls, and towers.
Swim
Basking in the sun, and swimming are still activities number one in Porec. Between Cervar Porat to the north, and Zelena Laguna to the south, you have a variety of beaches to choose from: from wild beaches of Porto Bussola, to fun-filled beaches of Pical, Brulo, and Zelena Laguna resorts.
Motodrom Porec
Motodrom Porec, located a half-way between Porec and Tar, is a great high-octane adventure sports center. You can have fun with a go-kart, cross-cart, quads, off-road Segway ride, paintball, rope park, and more.
You can read our full post on Motodrom in Porec.
Olive oil tasting
Istrian olive oil is of excellent quality and absolutely yummy. Our fav olive oil producer is Chiavalon from Vodnjan. In Porec, you can visit the Agrolaguna tasting room where you will learn more about olive oil, and taste Agrolaguna's olive oils.
Aquacolors
Aquacolors, the first water park in Porec Croatia, opened in May 2015. It quickly attracted the crowds and became one of Porec's top activities. Here is our full post about the water park Aquacolors Porec.
Venice By Boat
There are two boat lines connecting Porec with Venice from May through September: Venezialines and Prince of Venice. Venezialines operate more like a typical passenger line where you choose a one-way or return ticket, the same day, or a few days apart.
On the other hand, the Prince of Venice offers round trips only with departure from Porec at 7.30 am and departure back from Venice at 4.30 pm. This gives you enough time to explore Venice.
What to see
Euphrasian Basilica
The Euphrasian Basilica is Porec's most popular landmark and a UNESCO World Heritage site. The complex dates back to the 4th century; while the basilica itself is from the 6th century. The complex consists of a church, memorial chapel, atrium, baptistery, and an episcopal palace. A must-visit sight in Porec.
Round Tower
The Round Tower is one of three remaining towers from the medieval times. The tower had an important defensive role back in middle ages, but today it houses a cozy bar with a nice terrace at the top.
Explore old town
Porec was once surrounded by defensive walls. While the south side of the peninsula serves as a port for fishing and tourist boats, with medieval and modern time buildings lined at the seafront, at the north side of the peninsula you can see the town walls and remains of the North Tower.
HERE IS POST ON POREC TOP SIGHTS!
Food and Restaurants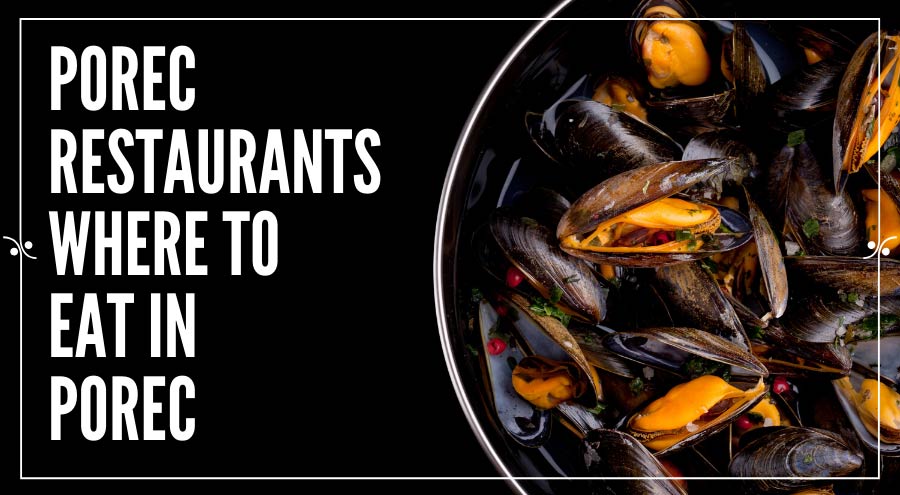 In Porec, you'll find a variety of restaurants. The majority of them are very similar in the offer: grilled meat and fish, pasta and risottos, seafood like mussels na buzaru or fried calamari. Many of those restaurants offer tourist menus consisting of main, side, and dessert for 10€ per person. While you'll get your money worth with a meal like this, it won't make for a memorable experience.
If you are looking for a budget option, we recommend a Pisinium, or Arman Grill. Pisinium, located at Porec green market, offers cheap, and a homemade cooked meal a day (marenda) for 30-50 Kn. And Arman Grill, also at the Porec green market, is an extension outlet of the famed butcher (also at the market), offering cevapcici, and other local delicacies.
Mlinar and Concentino are the best bakeries in town. They also make sandwiches, various pastries, and cakes.
We don't eat in Porec often, but when we do we like Chili Fusion Street Food; a small street food joint serving Asian dishes like green curry chicken, satay chicken, kung pao pork, or tuna poke. We can also recommend San Nicola at Porec's seafront, and Selo Mekisi in nearby Vizinada.
And before we move on, Il Gelato di Salvatore near the Basilica has the best ice cream in town.
FOODIE'S GUIDE ON THE BEST POREC RESTAURANTS!
Accommodation in Porec
Porec offers a variety of accommodation options. Valamar and Laguna, two main hotel companies in Porec, operate the majority of hotels, resorts, and campsites.
Hotels, resorts, and campsites are concentrated in few Porec neighborhoods. Along the seafront, in Porec old town, you'll find Valamar Riviera Hotel & Residence, and two small, independent hotels – hotel Mauro, and Grand Hotel Palazzo.
On a small St. Nicolas Island, just a 5-minute boat ride from the center, you can stay at the Valamar Isabella Resort.
In Porec northern neighborhoods of Pical, Spadici, and Materada, you will find three-star properties like hotel Pinia, and hotel Materada, but also 4star Laguna Park Hotel, and 5star Valamar Marea Suites.
South of the old town, and only a 15-minute walk away, you'll find Brulo neighborhood with two four-star hotels, Valamar hotel Diamant and Valamar Crystal Hotel, and three three-star properties: Valamar hotel Rubin, Valamar Diamant Residence, and Laguna Mediteran.
Plava and Zelena Laguna resorts are further south. Here you'll find a variety of hotels, and apartment complexes, as well as two large campsites – Zelena Laguna and Bijela Uvala.
Many people offer holiday rentals in and around Porec Croatia. If you are looking for a good apartment to rent in Porec, our friend Goran rents nice apartments in Porec – Urban Premium Apartments located in a quiet neighborhood. Check also our villa to rent located in a small village just outside of Porec.
FULL POST ON WHERE TO STAY IN POREC CROATIA!
Beaches
Porec Riviera spreads from Cervar to the north to Zelena Laguna to the south, and it offers many beaches to choose from.
We personally like the best beaches of Zelena Laguna.
Porto Bussola
Porto Bussola is a wild beach frequented mostly by locals. It stretches from the campsite Ulika to a town of Cervar.
Pical Beach
Just north of Porec, Pical beach is a popular beach among tourists and locals alike.
Pical beach has pebbly, rocky, cemented, and even sandy parts. The beach is bordered with a thick pine forest, and it's shaded.
At the beach there are lots of water and sports activities, children playgrounds and sandpits, deck chairs and parasols rentals, changing cabins, toilets, showers, and a couple of bars and restaurants.
Delfin Beach
Delfin Beach is in Zelena Laguna resort, just below hotel Delfin. It is a shaded pebbly beach with long pier and sea jumping platforms. Delfin beach offers lots of facilities and activities. At the far end the beach becomes rocky with a bit difficult entrances to the sea but also offering more privacy, space, and seclusion. This is our favorite beach in Porec.
HEAD HERE FOR THE FULL POST ON POREC BEACHES!
Cafes, Bars, Clubs, and Nightlife
Porec, just like the rest of Croatia, has a very strong coffee culture. Locals love hanging out in the bars, meeting friends, people watching, and even business meetings often take place in cafes and bars.
There are lots of cafes, and bars in Porec; and dozens of them are really popular among locals and tourists. Along the seafront, you'll find Habitat, a daily cafe serving yummy juices and shakes; the Saint & Sinner, a night bar popular among the young crowd; and the Epoca, a chill-out cocktail and wine bar.
At the Marafor Square, you can hang out at the Old Time, one of the oldest bars in Porec, or Comitium, a small cocktail bar with a large outdoor terrace.
Just out of the town walls, north of the main square, you'll find the Corner-LeMat, a cozy little bar with live music and stand-up comedy shows.
Other popular bars include Tequila at the Pical beach, Villa Club at the town beach, and Byblos, a night club located in Zelena Laguna Resort.
If you would like to know more about Porec bars, clubs, and nightlife, read our full post.
Popular events
The town of Porec organizes a variety of events, from sports events like cycling competitions, and swimming marathon, to food and wine festivals, and cultural events like Jazz in Lapidarij or Giostra.
These events mostly take place from May to October.
Porec Open Air – Festival of Life
This festival saw its first edition in 2016, and it's here to stay.
The program includes dance, music, theatre, and street performances at various open-air venues across the town, day and night, from June through September.
There are also many shows for kids. On various nights you can also enjoy cinema under the stars at a little park near the DM store. Free admission to many shows. See the full program here.
Vinistra
The best Istrian wine fest, Vinistra takes place in Zatika, Porec sports hall, for over 25 years.
This is the best place to taste local wines and get to know Istrian winemakers.
The admission fee is 130 Kn per person per day, and it includes as many wine tastings as you can take.
Concerts at the Basilica
This festival takes place in the atrium of Euphrasian basilica since 1962. The festival includes a series of classical music concerts from June through August. The admission fee depends on the concert, but it's generally around 50 Kn.
Jazz in Lap
A series of jazz concerts take place in the Lapidarium od Porec Heritage Museum every Wednesday throughout the summer. Admission is free.
Giostra
A baroque festival, Giostra, takes place in the streets and squares of the old town. It includes costumed plays and dances.
Traveling to Porec
Porec can be reached by bus, plane, car, and even by boat.
By plane
Pula Airport is the closest airport to Porec. It's a small and seasonal airport, with a couple of low-cost airlines (Eurowings, Jet2, Norwegian, Ryanair, Vueling) connecting Pula with dozen European cities.
You can fly into Pula airport from Berlin, Frankfurt, Hamburg, Koeln, Bruxelles, Oslo, Stockholm, Helsinki, Rome, London, Leeds, Manchester. Most flights operate from May to October.
Other airports that you can consider when planning to visit Istria are Trieste, Krk, Zagreb, Ljubljana, Venice, and Treviso.
Pula Airport is 50 km away from Porec. Shuttle service is operated by Brioni – Fils company. A one-way ticket costs 240 Kn (32€) – extremely expensive if you ask us.
Consider taking a shuttle from Pula Airport to Pula main bus station (30 Kn), and then catch a regular bus line to Porec (additional 60 Kn).
By car
Traveling by car is by far the most convenient way to reach Istria.
Roads in Istria are excellent. The motorway, called also Istrian Ypsilon because it is shaped like a letter Y, is a modern and fast road, connecting Istria with a Slovenian border, and also with Rijeka to the southeast.
From Slovenia to Pula, and to Pazin, this is a double lane road; but from Pazin to Rijeka (Ucka) it's a single carriageway.
Road tolls apply to Istrian Ypsilon. More details on the Bina Istra website.
By bus
It's easy to reach Istria by bus, from Pula, Zagreb, Rijeka, and Trieste. Buses depart throughout the day, and more frequently during the summer.
A one-way bus ticket from Pula to Porec costs 60 Kn; from Zagreb to Porec costs 150 Kn per person; from Rijeka to Porec 90 Kn; and 70 Kn from Trieste to Porec Croatia.
The most popular bus companies are Aviva, and Brioni – Fils. The Getbybus website is the best place to consult a bus timetable and buy tickets online.
The Porec bus station is located in the center of town, just 100 m away from the old town.
By boat
The Venezia lines company operates a hydro boat between Venice and Porec, from the end of April until the beginning of October. Starting in May, the boat departs three times a week, and in July and August, daily except on Wednesday.
A one-way ticket costs 85 € per person.
More info on the Venezia Lines website.
The Liberty Lines company operates a passenger ferry between Trieste in Italy and Porec. The one-way ticket costs 15€ per person. Consult their website for more information.
Transport in Porec
Porec is small, and easy to get around on foot or bicycle.
A tourist train connects the center of Porec with Brulo, Plava, and Zelena Laguna Resorts, and also to Pical, and Spadici. A one-way ticket costs 10 to 20 Kn depending on your destination.
Resorts north of Porec (Zelena & Plava Laguna, and Brulo) also have a regular boat line to the center of Porec. A one-way ticket costs 20 Kn per person. You can also use taxi boats to move between resorts, and the center.
Zelena & Plava Laguna are also connected with the center by bus. A one-way ticket costs 15 Kn.
Taxis are expensive.
Car rental in Porec
When renting a car online, we always use Rentalcars.com. They are consolidators and offer by far the largest choice of cars to rent in Croatia. Their prices are also competitive.
However, if you prefer to rent a car directly through a local company, below we listed contacts for local car rental companies.
Vetura
Vetura is a local Istrian car rental company with offices in all major Istrian towns.
Central Office Contacts | a: Trg J. Rakovca 2, Porec | t: +385 52 434 700 | m: +385 91 206 3070 | e: [email protected]
Zelena Laguna Office | a: Zelena Laguna, Porec | t:+385 52 451 391 | m: + 385 91 483 7000 | e: [email protected] | Website
Sixt
A large international car rental company, also has a branch office in Porec.
Contacts | a: Rade Koncara 1, Porec | m: +385 95 438 2416
Working hours | Mon-Sat: 8 am-8pm | Sun: 8 am-12 pm
Parking in Porec Croatia
Parking in Porec is generally easy to find. However, it doesn't come free.
The most convenient place to park is Veliko parkiraliste (The Big Parking). This parking is next to the town's farmer's market. The parking fee is 10 Kn/h.
At the Karla Hugues parking, just across the street from the bus station, the parking also costs 10 Kn. The parking at the bus station costs 9 Kn/h, and the daily ticket cost 90 Kn. However, it is a small parking.
Parking Vrtovi is just across the street from the Big parking, but it's a green space used for parking when needed. The parking fee amounts to 8 Kn/ hour.
Parking Zatika is located at the entrance of town, near the sports hall Zatika, and the town's cemetery. This parking is large, and it disposes of parking spots for cars, buses, and camping vans. It's a bit further out of the old town (10 minutes walk), and it's the cheapest parking in Porec. The parking fee is 4 Kn/ hour, or 30 Kn/ day. Camping vans can park there for 24 Kn/ hour, or 120 Kn/ day.
Parking is also available in the designated areas on the streets. Street parking is grouped in three zones, zone I and II are closer to the town, parking is limited to 2 hours at once, a parking fee is 10 Kn/ hour in zone I, and 8 Kn per hour in zone II. It costs 6 Kn/hour to park in zone III. From May, 1 to September, parking fees for street parking apply from Mon-Sun from 7 am to 10 pm. The rest of a year, parking fees apply Mon-Fri: 7 am-7 pm; Sat: 7 am-2 pm; free on Sundays and holidays.
Shopping in Porec Croatia
A grocery shopping in Porec is easy, and you've got a vast choice of supermarkets to choose from. Almost all supermarkets in Porec are located along Mate Vlasica Street, and each has a large parking lot. You'll find here two Croatian-owned supermarket chains Konzum, and Plodine, as well as large European chains – Lidl and Kaufland. Spar supermarket is located downtown, just next to the bus station.
Lidl has the fastest cashier service of all, and it is cheaper than the others. We do our groceries in Kaufland and Konzum, but we like to check Lidl for international products, as Lidl regularly has products promotion by countries like French, Spanish, or American week.
The best butcher in town is Arman with butchery in the covered part of the green market. The best fish stores are Ancora at Gaspara Kalcica 10, and a fish truck in front of the Kaufland. This truck belongs to the Istrian Fishermen Association. Both offer to clean the fish you buy, and Ancora will also grill it or fry it for you should you wish.
There are four pharmacies in Porec. Pharmacies work long hours Mon-Sat, and on Sundays and holidays, one keeps open (they rotate for Sunday shift).
There are three drugstores in Porec – Bipa, DM, and Mueller. All are located in downtown, while Mueller and Bipa also have a store in a small shopping mall just across the Kaufland.
Two stores sell camping and outdoor gear – Parens and Meridian.
Many small boutiques in Porec old town offer various clothing items. Among others, you can find Sisley, Benetton, and St. Oliver, but no high-end brands.
The Galerija Mall features Mueller, BIPA, a couple of electronic stores, clothes stores like C&M, Hermes, and New Yorker. And the Leggiero cafe serves one of the best ice creams in town.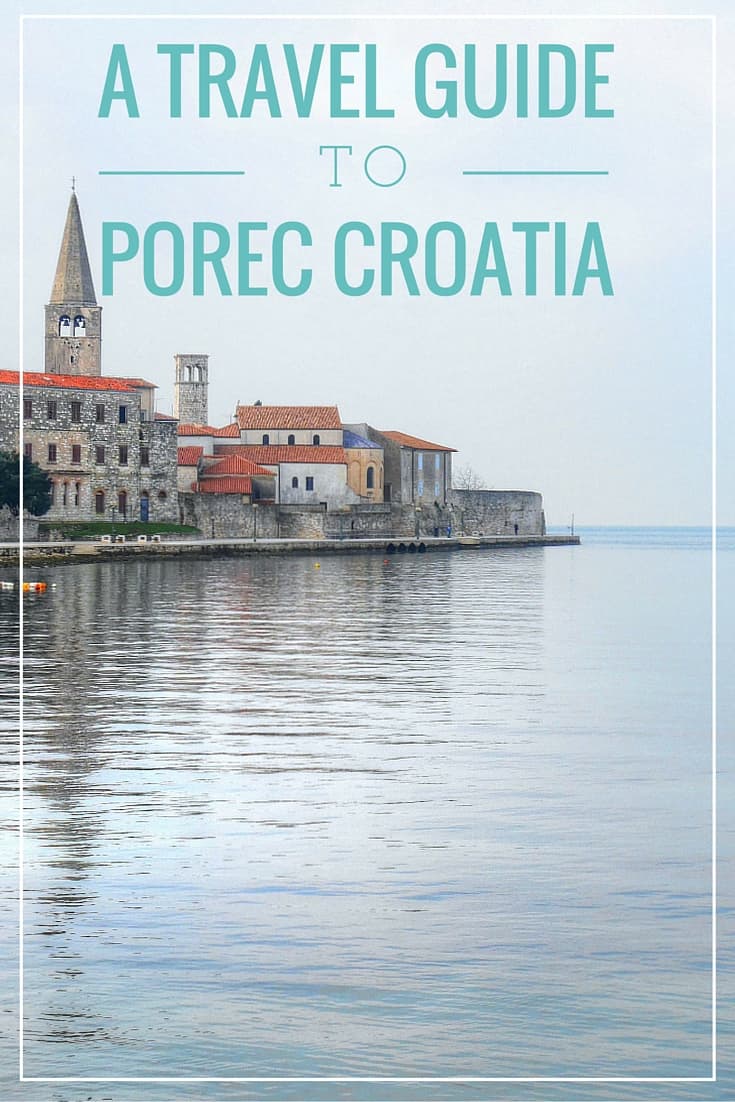 Money and ATM
Croatian currency is Kuna, although some things you can pay in Euro, like meals in restaurants, accommodation, pay tolls, and gas.
The exchange rate is around 7,4 Kn for 1 euro. You can exchange money at many places in Porec: exchange offices, banks, hotel receptions.
ATM machines are also everywhere; near every bank, at prominent places in town, and at many hotels. ATM machines have an option for different languages, so they are easy to operate.
Look for the ATM that belongs to the banks as they tend to have lower fees.
Internet in Porec Croatia
I always hear people complain that the internet in Croatia is slow. I generally don't need super-fast internet, 4 Mbps is fast enough for me.
The problem is that not all places in Croatia get a decent and stable connection. And the connection tends to get worse in summer when many people use the networks.
Where we live we can't even have a fixed internet, instead we use a mobile internet router. And the signal isn't always strong.
However the closer you stay downtown, the better the internet you should get.
Almost all accommodation comes with free WiFi internet, and you should expect a speed of at least 4 to 10 Mbps. Mobile mostly runs on 4G LTE.
Many bars and restaurants offer free WiFi for their guests, but you need to ask for a pass.
Town also offers free WiFi hot spots, but this connection, unfortunately, doesn't work most of the time.
Further reading about Porec Croatia:
Have a question? Please leave it in the comments below.