Agrolaguna is a big company from Porec. The company has 65.000 olive trees planted on 220 ha on five locations near Porec; 520 ha of vineyards, farm with 800 sheep. It produces over 100 tons of extra virgin olive oil, over 100 tons of cheese, and over 2 millions liters of wine annually.
And it is simply hard to love such a big company. Even harder to write about it. I was starting this post  few times already, but couldn't get it right. Just because it doesn't sound right. But honestly, there are few good reasons why I should write about Agrolaguna: their products are really good, their tasting room in Porec is excellent and worth visiting if you are in the area, and in the summertime they offer a free ride with a tourist train to their vineyards in Funtana.
Recently, we were invited on Agrolaguna Tour. The tour included a visit to vineyards in Funtana with a stop including wine tasting amidst wine growing fields. The tour continued with a visit to company's olive groves in Cervar near Porec. Next stop was Stancija Spin where company has its dairy farm. My feeling was that, although Agrolaguna is a big company, they try to preserve traditional farming – animals were outside grazing. Beside sheep cheese and curd, produced from their own herd, company produces hard, cow cheese and cottage cheese, as well as a mild half-sheep – half-cow cheese, and cow cheese with truffles. Agrolaguna buys cow milk from local farmers. All their cheeses are great, and my favorite is their cottage cheese and cheese with truffles. You can buy Agrolaguna cheese just outside of Porec market, where the company has its own little shop. After a tour of the farm, we were served some cheese accompanied with fresh Laguna Malvasia and Laguna Merlot.
The final stop was at Agrolaguna Winery and Olive Mill, where we were given a tour of the production line and cellars. Agrolaguna has a nice tasting room that can accommodate about 30 people. The day was completed with a wine tasting and a lunch at Agrolaguna tasting room.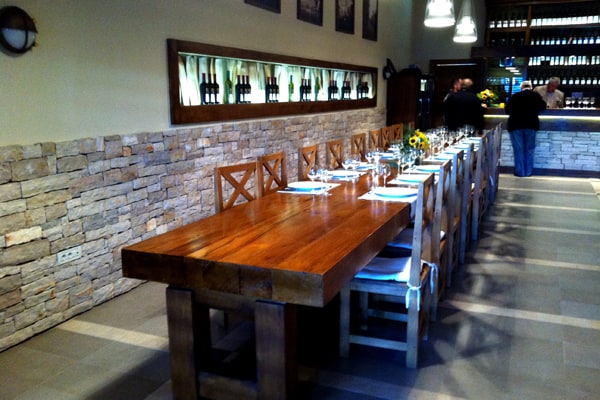 My favorite Agrolaguna wine of the day was Festigia Castello 2009, harmonious and complex wine of an excellent condition.
Beside wines, company produces extra virgin olive oil of an excellent quality under the brand Ol Istria. Olives are cold pressed within 8 hours after the fruit is picked. Oil is kept and stored in stainless steel tanks at a temperature between 15 and 18°C. There are three different single-sort Ol Istria olive oils: Ascolana (blue label) with evenly spread piquancy and bitterness; Pendolino (green label), light and fresh not very piquant or bitter; and Frank's favorite Picholino (red label), really strong and piquant olive oil.
In the summer time, Agrolaguna organizes tourist train from Funtana to their vineyards, and last year the ride was free of charge.