In this post, we share everything we know about Rovinj accommodation to help you choose where to stay in Rovinj during your visit. We cover all the important aspects you need to think about before choosing the right accommodation in Rovinj for your budget and travel style.
Rovinj is for many (us included!) the loveliest place in Istria. When we have friends visiting us, more often than not, Rovinj turns out to be the highlight of their stay in the region.
The charming old town is located on a small, hilly peninsula with narrow cobblestone streets, colorful houses, lovely bars and restaurants, and small art galleries.
The accommodation in Rovinj is better than in other Istrian towns. Rovinj is the only town in Istria that has three 5-star hotels. Besides these flagship hotels: Monte Mulini, Hotel Lone Rovinj, and Grand Park Hotel Rovinj, Rovinj also offers a wide range of accommodation for any type of traveler: from tourist resorts to boutique hotels, vacation rentals of all kinds, and even campsites.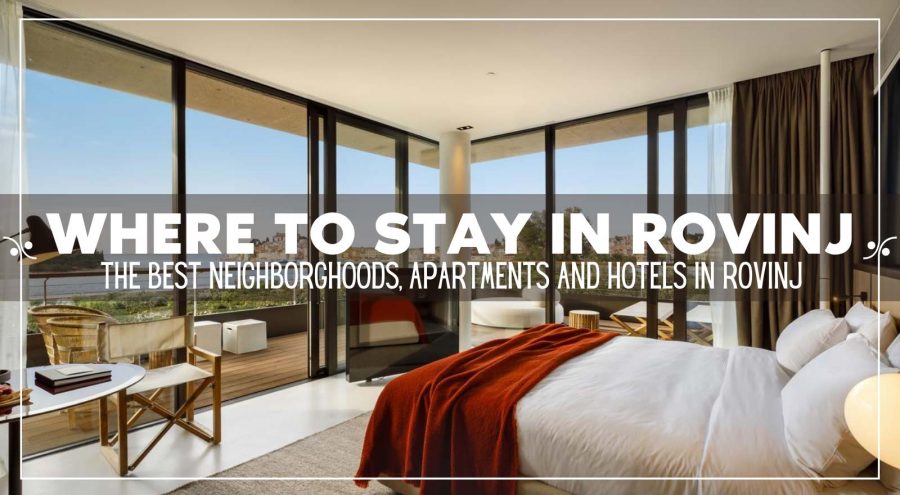 Although there are some small family-run hotels in Rovinj, the majority of hotels in Rovinj are owned and managed by the Maistra hotel chain.
Best neighborhoods to stay in Rovinj
Different people have different preferences when it comes to the location of their accommodation; some prefer to be amidst hustle and bustle, in the town's center, while others prefer peace and quiet.
Rovinj is a small town and wherever you stay you are not more than a 40-minute walk from the old town, and certainly even less from the nearest beach.
Rovinj Old Town
Rovinj old town is set on a hilly (mostly) car-free peninsula and it brings a charming array of densely packed houses, a series of narrow steps, intriguing courtyards and passages, cobbled streets, and town squares, bars, restaurants, and art galleries.
Rovinj old town is definitely the best place to stay in Rovinj if:
you don't mind some noise (from bars, restaurants, passers-by, and street cleaners),
don't travel by car, or don't mind parking away from your accommodation in Rovinj,
don't mind paying extra for prime location, and
not looking for Rovinj hotels with extra facilities (like wellness and spa, or a dedicated beach)
In Rovinj's old town you'll find lovely apartments, as well as small hotels, and B&Bs.
The Mariva Downtown Apartment, run by our friends Marina and Leara, benefits from its central yet quiet sidestreet location. The apartment is modern, comfortable, well-equipped, and it comes with private parking.
A chain of holiday rentals, Irundo offers 30 various apartments and rooms in Rovinj located throughout the old town.
The Spirito Santo Palazzo Storico is a lovely boutique hotel located in a historic building that dates back to 1920. The hotel features 7 double rooms.
Wider town area
The wider town area consists of apartment buildings and family houses of the newer dates, but in the immediate vicinity of the old town. This area is a good place because the old town and the beaches are within easy walking distance.
On the other hand, this area is a bit quieter than the old town, as it's less touristy, more residential, and has fewer bars, and restaurants where people gather and tend to become noisy.
You won't find any big hotels in this area, only apartment rentals, and a couple of small B&Bs. You will generally find two types of private apartments here: ones that are located in apartment buildings, and others that are located in private houses. Choose one that feels a better fit for your needs, and make sure that the parking place is provided if you travel by car.
Stay at the Villa Dobravac if you like a tranquil garden, friendly owners who are also winemakers and farmers, 5 comfy double rooms, and a copious breakfast.
Located halfway between the old town and the beach, hotel Delfin offers 12 contemporary rooms, a lovely onsite restaurant, free bikes, and valet parking.
A family home converted into apartments to rent, Apartments Cvek offers a quiet location within a walking distance of the old town, free bikes, a shared garden, and daily cleaning.
South of the old town
This is an excellent area to stay in Rovinj! It stretches from the former tobacco factory all the way to the Villas Rubin Resort and Camping Polari to the south.
This area is characterized by a seaside promenade that connects the old town, and Punta Corrente Forest Park – a lovely green area perfect for walking, cycling, jogging, swimming, and rock-climbing. Guests also choose it for its vicinity to the town, and to the beaches, both 10-30 min walk depending on the exact location.
You'll find here some of the landmark hotels like Grand Park Hotel Rovinj, Hotel Monte Mulini, Hotel Lone Rovinj, and hotel Eden Rovinj, as well as a few smaller independent hotels like Hotel Arupinum or B&B Damiani, and multi-story family houses many of them offering apartments to rent.
One of the most popular hotels in Rovinj, Hotel Eden features 325 rooms, an indoor swimming pool, wellness, and spa center, hotel's beach and it is open year-round.
Small bed and breakfast within walking distance to the sea, Residence Vaal has stylish interiors, friendly staff, and private onsite parking.
North of the old town
This area stretches from the old town all the way to the north to Amarin Resort and Valsaline camping. It is also popular among tourists, although when compared with the southern area, this part is rougher around the edges.
Back in time, this was an industrial part of the town (and it still partly is due to Mirna, a fish processing plant). Resorts and neighborhoods in this area that are further north, unfortunately, don't have a nice promenade connecting them to the old town.
Instead, you need either to walk along the main street (and it doesn't even have a sidewalk all the way) or take a car. Other options include buses or taxi boats, but they are mainly available in the high season.
Positive characteristics of this area include lovely views over Rovinj's old town and an interesting coastline with a few nice pebble beaches.
A lovely family-run guesthouse, Casa Alice, offers a warm friendly atmosphere, daily homemade cookies, and an outdoor swimming pool. The property is a 20-minute walk from the old town.
Amazing seafront location and magnificent views over the sea and the old town Rovinj, as well as friendly owners, make Apartments Figarola guests' preferred vacation rental in Rovinj.
East of the old town
This area consists of family homes, many of them featuring apartment rentals. The area is nicely arranged, many houses have small gardens. And it is also quiet. It spreads from the old town along Istarska Street and further in direction of Bale, and Polari campsite.
This area is a bit out of the old town and the beaches. It takes about a 20-minute walk to reach both: the closest beach, and Rovinj old town. Here you will also find big supermarkets like Lidl, and Konzum, a big DM drugstore, but also two gas stations.
This area is a bit less appealing than others, but nevertheless, it's still a nice neighborhood to stay in. It's quiet, easy to get in and out of town, close to big supermarkets, and not too far from the old town and Rovinj beaches.
Stay in one of 18 double rooms in recently open Residence Rovinj. The property is new, stylish, and modern with an onsite restaurant, free parking, and WiFi.
Best accommodation in Rovinj
If you don't have time to read the whole post, here are the 10 best places to stay in Rovinj!
Where to stay in Rovinj: Location on the map
The map below can help you get a better idea about where to stay in Rovinj. We shared all the recommended accommodations in Rovinj on this map. Click on the icon to check each accommodation.
Rovinj Hotels
In Rovinj, a majority of hotels are owned and run by Maistra Hotel Group including Grand Hotel Park Rovinj, Monte Mulini, Hotel Lone Rovinj, Hotel Eden Rovinj, Adriatic, Island Hotels Istra, and Katarina, and Family Hotel Amarin.
READ OUR GUIDE ON THE BEST HOTELS IN ROVINJ!
The same company also owns and runs Polari, Vestar, and Amarin campsites, and Amarin and Villas Rubin resorts.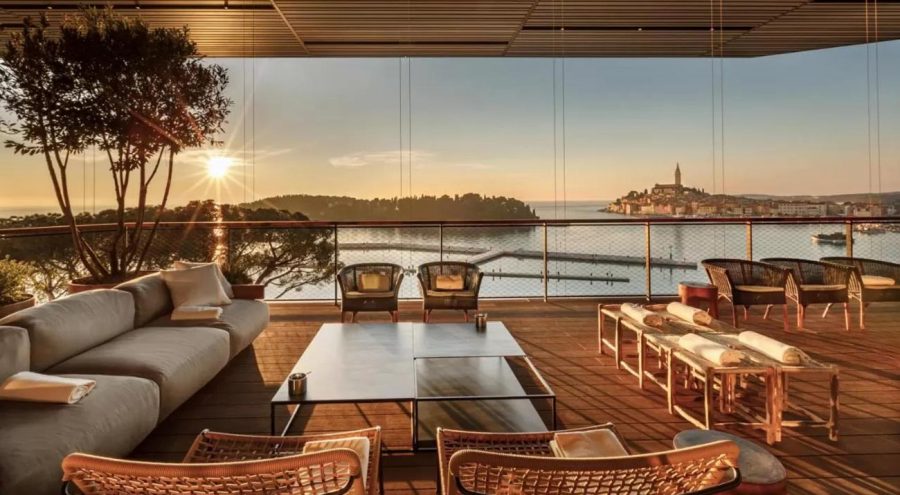 In the old town, you will find small independent Rovinj hotels and cozy B&Bs like Spirito Santo, or hotel Angelo D'Oro. Out of the old town you have Arupinum, Delfin, Villa Dobravac, etc.
Hotels in Rovinj are mostly 4* and 5* and a few 3-star properties. Rovinj hotels tend to be expensive. A rule of thumb is that hotels in Rovinj are 20% more expensive than comparable hotels in Porec or Pula.
All Rovinj hotels offer breakfast included in the price of a room. Some hotels also offer a half-board formula but the diner will set you back an additional 15€ to 20€ per person per day.
Many Rovinj hotels run an early bird discount for bookings made until mid-February. Some 5-star hotels run rolling early booking discounts: the discount applies for all bookings made at least 60 days before the arrival day.
Many hotels in Rovinj also use dynamic pricing. The fewer available rooms Rovinj hotels have, the more expensive they get. And vice versa.
Rovinj hotels also have seasonal prices. Prices are at their peak in July and August. Other seasons follow Bavarian school holidays. When the German holidays are in May, you might secure a super deal for hotels in Rovinj for stays in June. When holidays are in June, then Rovinj hotels usually run special deals for May.
Hotels in Rovinj open in March and close in November. Hotel Lone, Hotel Eden Rovinj, Grand Hotel Park, Family Amarin, and Adriatic are open all year.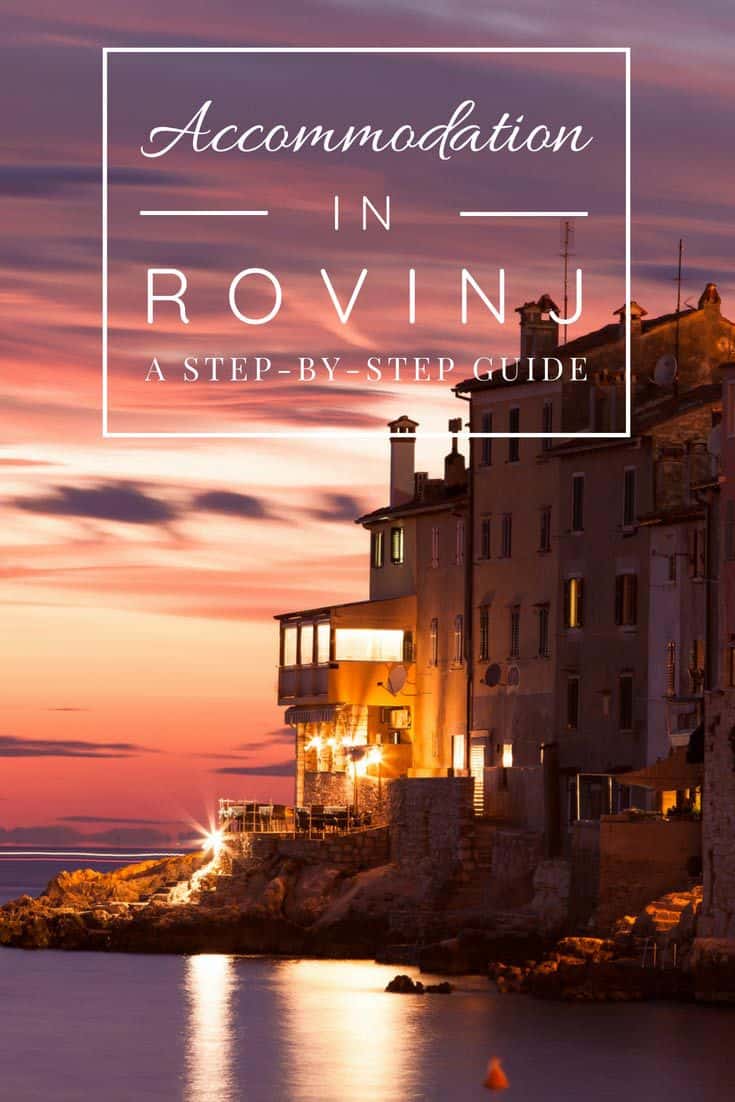 Rovinj luxury hotels
Rovinj is the only destination in Istria that offers a variety of lifestyle and luxury hotels. All these hotels are brand new and from an architectural standpoint, really impressive and beautiful.
Below you'll find the best lifestyle and Rovinj luxury hotels.
Grand Hotel Park Rovinj
Grand Park Hotel Rovinj is the new landmark hotel in Rovinj that opened in 2019. Architectural design is signed by 3LHD, and interior design by famed Italian designer Piero Lissoni, the same designer behind Conservatorium Hotel in Amsterdam.
Hotel Park Rovinj features 209 rooms and suites. The majority of rooms have wonderful views over Rovinj's old town and the sea. Rooms are spacious, beautifully appointed, and comfy with large terraces opening toward the sea and the town.
Other facilities include a 50 m long indoor swimming pool, Wellness & Spa center, 6 different bars and restaurants, a seaside promenade with 13 designer stores, a garage, and a large ACI marina in front of the hotel. The Cap Aureo restaurant is great, and it makes our list of the best restaurants in Rovinj.
CHECK THE LATEST PRICES AND AVAILABILITY!
---
Hotel Monte Mulini
Monte Mulini, a member of the Leading Hotels of the world, is not only the most luxurious hotel in Rovinj but one of the best hotels in entire Croatia (as voted on Tripadvisor for five years in a row).
Monte Mulini features 113 spacious rooms and suites. Each room has a balcony or a terrace, a well-designed bathroom with double sinks, a rain shower, a separate bathtub, and Molton Brown toiletries. In addition, suites also feature a kitchenette with a microwave, kitchen sink, and a few hob rings.
Other on-site facilities also include wonderfully maintained gardens, a heated outdoor pool, a pebble beach, two restaurants (read about our experience at Monte Mulini's restaurant), and a wellness and spa center featuring an indoor pool, saunas, gym, and treatment rooms. An indoor corridor connects the hotel Monte Mulini with the neighboring hotel Lone and guests of Monte Mulini can also use the facilities of hotel Lone (but not vice versa).
Hotel beach is just below the hotel. It's newly arranged with awesome sun loungers, great bars, showers, changing cabins, and toilets.
Breakfast is included in the room price.
CHECK THE LATEST PRICES AND AVAILABILITY!
---
Hotel Lone
The only design hotel in Croatia, Hotel Lone Rovinj is a 5-star, state-of-art property featuring 248 rooms and suites. Located in a bay of the same name, hotel Lone is set at the entrance to the Golden Cape forest park, and just a 15-minute walk from the old town.
This Rovinj hotel is modern, with comfy and spacious rooms (30 m2 at least), a large wellness and spa area featuring an indoor pool, saunas, gym and treatment rooms, awesome sushi restaurant Tekka, a large outdoor pool, and a lovely new beach area.
Some rooms feature a private hot tub on a balcony. Hotel Lone is, at the moment, the hippest and one of the most popular hotels in Croatia.
CHECK THE LATEST PRICES AND AVAILABILITY!
---
All-suite hotel Istria
Although often overlooked by the majority of visitors to Rovinj, due to its small size (only 34 suites) and off-the-radar island location, all-suite hotel Istra is actually a great small hotel to consider for your holidays in Rovinj.
This small hotel is located next to the bigger and better known Island Hotel Istra, and while it benefits from hotel Istra's facilities, like wellness & spa, and the outdoor swimming pool, all-suite hotel Istra has its own reception, and breakfast served within a historical castle.
CHECK THE LATEST PRICES AND AVAILABILITY!
---
Rovinj family hotels and 4-star hotels in Rovinj
While many Rovinj hotels are kids-friendly in the sense that they offer entertainment programs for children, family rooms, and kid-friendly meals, they don't only cater to families with kids, but rather to a wide range of clients including families with children. Hotels that kids love include Island Hotel Istra Rovinj and Hotel Lone Rovinj. But family hotel Amarin is the only true family hotel Rovinj.
There are a handful of 4-star hotels in Rovinj perhaps offering the best value for money compared with all other hotels in Rovinj. Two of them, hotel Istra Rovinj and hotel Eden Rovinj, are large full-service hotels featuring over 300 rooms, while other 4-star hotels are small boutique hotels with less than 25 rooms.
Amarin Family Hotel
Opened in 2016, Amarin family hotel Rovinj is simply the best family hotel in all Croatia. Rooms are sleek and modern, with large balconies overlooking the sea, and the rooms facing south have also a view over Rovinj. For the best views ask for the rooms on higher floors.
A full board meal plan includes breakfast, lunch, and dinner with soft drinks and water free of charge during the meals.
Kids' clubs, rich entertainment programs for children, tons of toys and games for kids, outdoor activity, and indoor swimming pools make Amarin a perfect choice for families with children, especially for kids up to 12 years of age.
Other facilities include a wellness & spa center, two beach bars, restaurants, and a small lobby bar. The hotel is open all year round.
CHECK THE LATEST PRICES AND AVAILABILITY!
---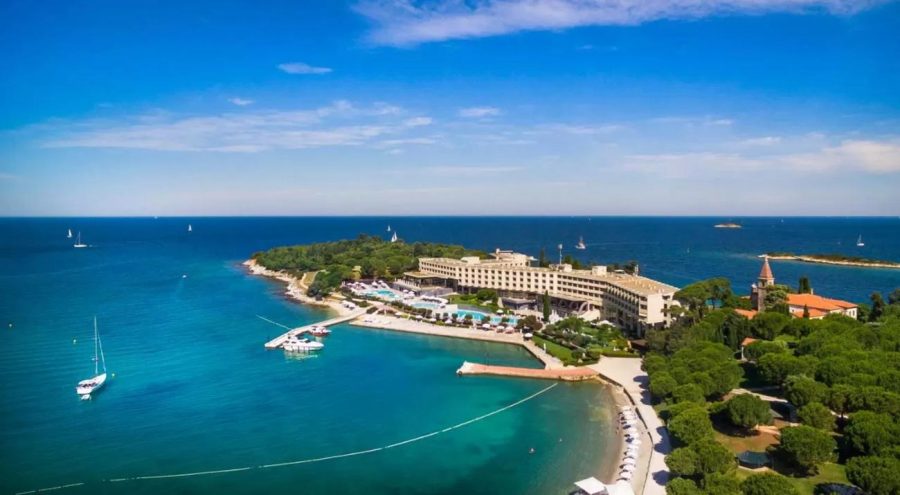 Island Hotel Istra
Families and couples cohabit happily on Rovinj's Red Island. Island Hotel Istra Rovinj is a large family-friendly hotel featuring 325 rooms. However, there is an additional small hotel, All-suite Istra, featuring 34 suites suitable for couples.
Island Hotel Istra features an indoor and outdoor pool, wellness and spa center, buffet restaurant, and a large children's playroom.
Additionally, there is a wonderful a la carte restaurant La Serra set in a 19th-century castle. A buffet restaurant in the main building is completely renovated in 2017.
The entire area where the hotel is located consists of two small islands, St. Andrew Island (Red Island) and Maskin Island. Two are connected with a causeway and a pebbly beach. Both islands are car-free.
CHECK THE LATEST PRICES AND AVAILABILITY!
---
Hotel Arupinum
This small family-run hotel features only 20 rooms. Located close to Lone Hotel, the hotel is just a 15-minute walk from the old town. Rooms are superb, very modern, and well-fitted with comfy beds, a balcony, flat-screen TV, complimentary WiFi, and bathrooms with a walk-in shower and a bathtub.
Other facilities include an outdoor swimming pool and a good on-site restaurant. Buffet breakfast is excellent and included in a room price.
CHECK THE LATEST PRICES AND AVAILABILITY!
---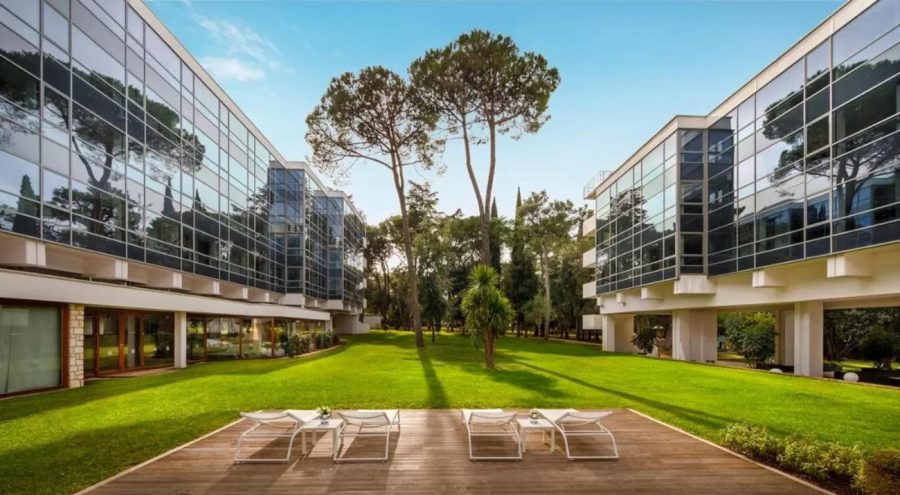 Hotel Eden
Hotel Eden is one of the most popular hotels in Rovinj, and for a long time, it has been considered the best Rovinj hotel before Maistra built three brand new 5-star properties.
However, Eden might as well still be a go-to hotel for those who search for the best value for money Rovinj hotel. Eden is open year-round, and with 325 rooms it is one of the largest hotels in Rovinj. Hotel rooms were last refurbished in 2017, giving it a light, sleek look. All rooms have balconies overlooking the greenery.
The hotel beach is just stone-throw away, while the large outdoor pool is shared with a sister hotel Lone. Eden also has a wellness & spa center, meeting facilities, gym, buffet restaurant, and a few bars.
CHECK THE LATEST PRICES AND AVAILABILITY!
---
Hotel Delfin
Hotel Delfin is conveniently located, halfway between Rovinj old town, and Lone Bay beaches. It's just across the street from the sea, and from higher floors, the hotel offers wonderful views of the old town and the sea. The staff is friendly, and the breakfast is excellent. The rooms are modern and nicely decorated. It's worth paying extra for the room with a balcony.
CHECK THE LATEST PRICES AND AVAILABILITY!
---
Budget hotels in Rovinj
As you will see when you start looking for your perfect Rovinj hotel, there are no budget hotels in Rovinj. Even three-star hotels get expensive, especially in the summer season. However, we'll present here a couple of 3-star properties that, while maybe not budget per se, are still the cheapest hotels in Rovinj.
Island hotel Katarina
This 3-star property, dating back from the early 20th century, is located on the small island of St. Catherine. The island is 600 m off the coast of Rovinj and only a 10 min boat ride from the old town.
Island Hotel Katarina is, for us, the best 3star Rovinj hotel. Lush gardens, historical buildings, a short boat ride from Rovinj, air-conditioned rooms, an outdoor swimming pool, and lovely views over Rovinj are all great reasons to choose Island Hotel Katarina for your stay in Rovinj.
The only problem is that Katarina is a very popular hotel in Rovinj which drives prices beyond what one might expect to pay for a 3star hotel.
CHECK THE LATEST PRICES AND AVAILABILITY!
---
Hotel Squero
Hotel Squero is a simple place to stay in Rovinj. Breakfast, staff, and location make it worth the money. The rooms are recently renovated and modern. Hotel Squero is a good choice for a short stay in Rovinj if you are looking for budget Rovinj accommodation.
CHECK THE LATEST PRICES AND AVAILABILITY!
---
Boutique hotels in Rovinj
You will find lots of small boutique hotels in Rovinj's old town. We list below a few boutique hotels in Rovinj worth checking out.
Hotel Adriatic
This charming hotel, located in Rovinj's old town, at the main square, is the oldest hotel in Rovinj. Built by family Löffler from Vienna, it first opened its door back in 1913.
Today, Adriatic is a wonderful art hotel with a traditional exterior, but very eclectic, urban, and cosmopolitan interiors. Although it is technically a 4-star property, the hotel Adriatic feels like a 5-star property, particularly in its looks.
Hotel Adriatic positions itself not as a hotel, but as Rovinj's living room. The entire hotel is designed by 15 renowned artists, each of its 18 rooms and suites features an original art installation.
The hotel also features a stylish bar and brasserie easily compared to hip and urban bars of New York, London, or Melbourne.
Guests can use boats free of charge to cross over to the St. Catherine's and St. Andrew's Islands, as hotel Adriatic doesn't have its own beach.
CHECK THE LATEST PRICES AND AVAILABILITY!
---
The Melegran
A lovely boutique hotel that opened in 2018, The Melgrano features 8 rooms scattered over four floors in a historical building located within the old town of Rovinj.
The hotel has an interesting contemporary design with some quirky details like an Olivetti typewriter in each room.
CHECK THE LATEST PRICES AND AVAILABILITY!
---
Hotel Angelo D'Oro
Quaint and charming, hotel Angelo D'Oro is located in the heart of the old town. The staff is very helpful, and friendly. Breakfast is served in a lovely garden. Rooms vary in size with some rooms being on the smallish side. However, they are clean, come with a comfy bed and a great shower (who really needs more?!).
If you travel by car, a public parking lot is close by, and charges apply. However, the staff can pick you up with a golf cart and bring you to the hotel.
CHECK THE LATEST PRICES AND AVAILABILITY!
---
Spirito Santo Palazzo Storico
This small boutique hotel in Rovinj's old town is housed inside a historic building dating back to 1920. The hotel has 7 double rooms. Each room is unique in its own right. They vary in size and facilities, some featuring wonderful loggia, others a terrace, or a fireplace. However, all rooms are elegantly furnished, incorporating old elements, like wooden beams and stone walls with contemporary furniture. The hotel also has an onsite wine bar and a bistro serving simple dishes like pasta, or cold cuts.
CHECK THE LATEST PRICES AND AVAILABILITY!
---
Bed and breakfast Rovinj
If you are looking for a small and intimate family-run bed and breakfast, Rovinj gets you covered. You will find an array of accommodation in Rovinj offering bed and breakfast along with other facilities like a shared garden and pool, or a wine bar. Below you will find a Rovinj bed and breakfast that we recommend.
Villa Dobravac
Just enough away from the city center to have a nice and relaxing holiday away from the hustle and bustle, but yet within a short walk from the old town, Villa Dobravac features 5 double rooms and one apartment. The rooms are modern and well-furnished. There is a nice garden in front of the property, as well as a wine bar. The owners are winemakers and farmers. So good wine and fresh produce are guaranteed when you stay at Villa Dobravac. The staff is friendly.
CHECK THE LATEST PRICES AND AVAILABILITY!
---

Residence Vaal
Residence Vaal is a brand new Rovinj bed and breakfast. A short walking distance from the sea, and from the Punta Corrente forest park makes this small bed and breakfast Rovinj a perfect choice if you visit Rovinj in summer. Friendly staff,  breakfast included in the price of a room, modern, clean rooms with balconies, and stylish interiors are the main characteristics of Residence Vaal.
CHECK THE LATEST PRICES AND AVAILABILITY!
---
Casa Alice
This lovely family-run guesthouse features spacious, and spotlessly clean double rooms, and studios. Owners produce their own wine and olive oil that you can taste and enjoy at the property. Casa Alice is a 20-minute walk from Rovinj's old town. The staff, as well as the owners, are very welcoming, helpful, and friendly. A very good breakfast often features homemade pastries and cakes (try to beat that!). The outdoor swimming pool is a great place to relax, mingle with other guests, or just enjoy a glass of wine.
CHECK THE LATEST PRICES AND AVAILABILITY!
---
Residence Rovinj&
Residence Rovinj& offers accommodation in 18 modern and stylish double rooms, and one fully-furnished two-bedroom apartment. The property is brand new, it welcomed its first guests in 2017. Continental breakfast is served in an onsite restaurant, and it is included in the price. Other facilities and services include free onsite parking and WiFi.
CHECK THE LATEST PRICES AND AVAILABILITY!
---
Rovinj Resorts
There are two seaside resorts in Rovinj: Amarin and Villas Rubin Resort. Both Rovinj resorts are owned and run by Maistra Hospitality Group.
Amarin Resort is located 4 km north, while Villas Rubin is located 2 km south of Rovinj's old town.
Both Rovinj resorts offer a variety of accommodation, entertainment, basic sports facilities, bars, and restaurants.
Although each of those two resorts in Rovinj has its own advantages and positive sides, we are generally not too crazy about this kind of accommodation. And to be completely honest, with so many beautiful Rovinj apartments we don't really understand why anybody would stay in a 300- or 400-unit resort on the outskirts of the town. Besides, the rental price of these apartments is also usually higher than the price of a similarly-sized Rovinj airbnbs.
Now when we explained all that we didn't like about resorts in Rovinj, let us tell you about a few things we do like.
The sea and the beaches are within walking distance. Both resorts are right by the sea, and you don't need to use your car to get to the beach. You simply walk from your unit to the beach. And you don't need to fight for your spot at the beach. You come, you swim, you walk back to your apartment. And then you repeat it.
All public transport options (boat, bus, or tourist train) have a scheduled stop at the resort. Again, no need to walk anywhere. They will all come directly to your resort. However, public transport is only available in the summer season. The off-season is more challenging.
An outdoor swimming pool is available in both resorts, a facility rarely available in Rovinj apartments.
As for prices, the situation is similar to hotels; seasonal prices follow German and European school holidays; prices change dynamically with the demand; an early booking discount is valid for bookings made until mid-February.
Amarin Resort
Amarin Resort is a large complex located a few kilometers from the old town. There are bus and boat shuttles to and from the town throughout the day, and you can also reach the town by bicycle.
Amarin consists of an apartment complex and campsite. An apartment complex features two-story buildings with studio, one-, and two-bedroom apartments, some of them are renovated in 2014. New, Premium one- and two-bedroom apartments are awesome; very modern, and well-equipped. The older apartments, although comfortable, aren't as nice as the new ones. If you are considering staying here, it's definitely worth paying more for the Premium apartments. You can check our full post on Amarin Resort.
The resort has everything you need for a holiday: a grocery store, restaurants (in a resort, and a couple more within a walking distance), sports facilities, and rental equipment (mini-golf, table tennis, tennis, pedal boats, bicycles, etc.), a large outdoor pool (gets crowded in high season), beaches, etc.
Besides apartment rental, the resort also offers a bed and breakfast formula.
CHECK THE LATEST PRICES AND AVAILABILITY!
---
Villas Rubin
Located 3 km south of Rovinj, Villas Rubin is a large holiday village featuring 272 apartments and 88 rooms. All apartments come with a kitchenette, a living room with a dining area, and a terrace. Some apartments are air-conditioned. Superior apartments are on the seafront.
Rooms at Villas Rubin are basic but comfortable. All rooms have a double bed and an extra sofa bed for one person. They all can accommodate 3 persons and are all air-conditioned.
WiFi is available in common areas, and it's free of charge. Free parking is available in front of each unit.
Villas Rubin facilities include a large outdoor swimming pool, buffet restaurant, a pizzeria, a couple of bars, a variety of sports facilities, like tennis courts, table tennis, and a multipurpose sports field.
CHECK THE LATEST PRICES AND AVAILABILITY!
---
Rovinj apartments
From cozy apartments in the old town to luxurious, brand new spacious apartments near the beach, Rovinj has something for everybody's budget and style.
Many Rovinj apartments have been updated in recent years, with a superb design, and amenities to make you feel like in a hotel.
If you aren't sure should you stay in an apartment in Rovinj, or a hotel, here are a few advantages of Rovinj apartments over the hotel stays.
Rovinj apartments, all come with a fully-equipped kitchen, or at least with a kitchenette. Eating out can be fun for a few days but try to do it for a week, and your stomach is set for a catastrophe. This is where the kitchen comes in handy.
Other important things to look for in a particular apartment Rovinj are parking if you travel by car, a number of bedrooms (how many people are you, do you prefer to have a separate room or stay in a studio), does the owner provides basic supplies like toilet paper, shower gel, etc. or should you bring them with you. The last time we stayed in an apartment rental, it was in Venice and we had to buy everything ourselves which was inconvenient, to say the least. I wouldn't mind paying extra for that if they just provided it.
Rovinj apartments also keep seasonal prices, with July and August being the most expensive time of the year to stay in Rovinj. But they do care less about dynamically changing the prices. This is mostly due to the fact that many owners have only one unit to rent, and once it's booked, it's kind of useless to change the price.
Check Airbnb and Booking.com for the best choice of apartments in Rovinj.
Mariva Downtown Studio
This brand new studio is located in the heart of the old town, yet in a quiet sidestreet providing a peaceful night's sleep. The studio belongs to our friend Marin. It is modern, tastefully decorated, and comes with all mod cons like large flatscreen TV, free WiFi, dishwasher, microwave, espresso coffee machine, etc… Private parking is close by and provided free of charge.
CHECK THE LATEST PRICES AND AVAILABILITY!
---

Apartments Paulino
Another great vacation rental run by our good friends Josipa and Lino. Located in a quiet, residential area of Rovinj, the house consists of four fully furnished, modern, and comfy apartments.
Three apartments are on the ground floor, each around 45 m2, and consist of one bedroom, bathroom, open-floor kitchen, dining and living room, and a terrace. Each apartment accommodates two persons. The first-floor two-bedroom apartment is spacious (120 m2), fully equipped, and can accommodate up to 4 persons.
All apartments are air-conditioned and come with free WiFi and a parking space.
CHECK THE LATEST PRICES AND AVAILABILITY!
---
Apartments Nina
Our friend Marino and his lovely wife run this wonderful property located in a residential part of Rovinj, just a 20-minute walk from the old town. The property consists of 4 apartments and one double room to rent. The owners live on the site, and they are super friendly.
Apartments are brand new, each has a terrace or a balcony. Nina apartments can accommodate 2 to 5 persons. They are comfortable, well-furnished, and can also be booked with breakfast. Free WiFi and parking are available for all guests.
CHECK THE LATEST PRICES AND AVAILABILITY!
---
Residence Porta Antica
Located at the waterfront, right downtown, Residence Porta Antica consists of seven self-catering apartments. This is a perfect choice for those who like to stay in the town's center and don't mind all hustle and bustle that comes with it. Apartments are located in a historical building, without an elevator. Thus, some people can find it difficult to climb steep, narrow stairs leading up to the apartments.
All apartments come with a kitchenette, free WiFi, flat-screen TV, an air-conditioner, and some also offer awesome sea views. The residence Porta Antica doesn't dispose of its own parking, but public parking is available nearby and charges apply.
CHECK THE LATEST PRICES AND AVAILABILITY!
---
Irundo Apartments
A popular brand of short-term apartments in Croatia, Irundo has over 200 apartments throughout Croatia, Serbia, and Austria. Irundo offers 24 Rovinj apartments and rooms scattered all around Rovinj's old town. All their Rovinj apartments are either studio or one-bedroom apartments. Apartments are completely renovated, with all mod cons, while still keeping that historical charm. Some have narrow staircases, so bear that in mind if you have difficulty climbing the stairs.
CHECK THE LATEST PRICES AND AVAILABILITY!
---
Apartments Cvek
Once a large family house, Apartments Cvek is today completely converted into Rovinj apartments and rooms to rent. The property is run professionally with reception, staff, and even bikes included in the price of the rental. Apartments are nicely decorated and spacious. Parking is provided onsite free of charge. The shared garden offers a few toys for children as well as a small above-ground swimming pool for kids.
CHECK THE LATEST PRICES AND AVAILABILITY!
---
Apartments Figarola
This family-run guesthouse is as close to the sea as it gets. But not only that you have wonderful sea views from the apartments Figarola, but you also have wonderful views over Rovinj's old town. This seafront location is hard to beat. The guesthouse features three studio apartments and one two-bedroom apartment. A distance to the town is a bit of a stretch, but you can look into renting a bike, or get a boat service or a bus from the nearby Amarin Hotel.
CHECK THE LATEST PRICES AND AVAILABILITY!
---
Rovinj Villas
You will generally find two types of Rovinj villas: newly built large holiday homes with a swimming pool located at the outskirts and outside of Rovinj, and cozy renovated historical houses in Rovinj old town.
Which type of Rovinj villa is right for you, you'll need to decide for yourself. However, the experience you will have in one or the other Rovinj villa will differ a lot.
In Rovinj's old town, holiday homes don't have the splendor of new villas with the pool, neither they have space, especially outdoor space with a garden and swimming pool. But these villas have charm, feel cozy, and give local flavor to your stay in Rovinj. You will also be in the heart of the action, and feel like a local.
Newer villas, on the other hand, give you more peace and quiet. They are often located in a quiet area, on the outskirts of Rovinj, or in the villages in the vicinity. They also provide more outdoor space, privacy, and better facilities like a swimming pool, and private parking.
Holiday Home Bo
Holiday home Bo is located in the heart of the action, in Rovinj old town, just steps away from St. Euphemia Church. The house is 120 m2 but it spreads over four floors. This spacious and modern two-bedroom, three-bathroom house has a large terrace for dining al fresco at the top floor. The owners are friendly and helpful.
CHECK THE LATEST PRICES AND AVAILABILITY!
---
Villa David Rovinj
It feels funny to call a 50 m2 one-bedroom house a villa, but hey, it's all about how we do feel about a place. And Villa David, although small in size, feels like a real villa in many ways. It's located on a large plot of land in a very remote area of Rovinj with too many neighbors. Thus, privacy is guaranteed. It has its own outdoor swimming pool. Although not too big, it's all yours, and it is great to refresh on hot summer days. The interior is very stylish, clean, and cozy.
CHECK THE LATEST PRICES AND AVAILABILITY!
---
Villa Rupeni
Our villa Rupeni can be a good choice for your holidays in Rovinj. Located in a small tranquil village of Rupeni, 30 km away from Rovinj, our house is a great base to explore Rovinj and Istria. The villa has three bedrooms, three bathrooms, a fully-equipped kitchen, open space living, and dining area, front porch, covered terrace with BBQ for dining al fresco, 30 m2 outdoor swimming pool, enclosed garden, private parking, and most importantly, it has lots of charm.
CHECK THE LATEST PRICES AND AVAILABILITY!
---
Rovinj hostels
Istria, with an exemption of Pula, isn't a place with too many hostels. I think few things contribute to that: public transport is very poor in Istria (and trains aren't a viable travel option at all), and the majority of backpackers plan their itinerary based on ease of transport (among other things) as the majority don't travel by their own car.
However, in Rovinj, you can find one real hostel and a couple of guesthouses that offer budget accommodation in Rovinj.
Roundbout Hostel
If you look for a hostel in Rovinj, you won't really have much choice, or requests, because Roundabout is the only real Rovinj hostel. The name comes from the hostel's location: this Rovinj hostel is located at the roundabout, at the eastern entrance to the town. It takes about a 15-20 minute walk to reach Rovinj bus station and the old town from the Roundabout hostel. The hostel is housed on the ground floor of a big apartment building. It has a nice shared living room and a fully-equipped kitchen. Accommodation is offered in mixed dorm rooms. Each dorm room has its own bathroom which is a huge plus. Rooms and bathrooms are cleaned daily.
CHECK THE LATEST PRICES AND AVAILABILITY!
---
Guesthouse Djaki
Although technically not a hostel, guesthouse Djaki attracts young backpackers due to its central location, clean rooms, and affordable prices (at least for Rovinj). It is a typical multi-story Rovinj home with narrow and steep stairs. The rooms are basic but very clean, and comfy. They don't come with A/C but owners provide a powerful fan in each room. En plus, owners are super friendly, and with extensive local knowledge that they happily share.
CHECK THE LATEST PRICES AND AVAILABILITY!
---
Mobile homes
Mobile homes are hugely popular in Europe, and Rovinj is no different. In Croatia, mobile homes are always found within campsites. But they are super comfy cottages with all mod cons and a great alternative to Rovinj apartments for few reasons.
While mobile homes have a relatively small surface (most often 32 m2), they are perfectly arranged to fit two or three bedrooms, two bathrooms, and a fully equipped kitchen. Besides, they come with a large covered terrace of about 20 m2. This is where you will spend most of your time.
Another advantage of a mobile home versus apartment Rovinj is that a mobile home is a detached, standalone house. This fact alone guarantees more privacy. You'll feel like renting an uber small villa.
Mobile homes in Rovinj come with different facilities. Some mobile homes have shared swimming pools, some come with a private whirlpool, some are right at the seafront, and others benefit from the tranquility of natural forests.
Since all mobile homes in Rovinj are within campsites, and all campsites here are by the sea, when staying in the mobile home you are always within a walking distance from the sea, never further than 300 m.
However, the big downside of mobile homes is their rental price. These small 32 m2 units rent as expensive as 400 € per day. You can rent many real 170 m2 villas in Istria for that price.
Mobile homes have seasonal prices just like hotels. Prices and seasons basically follow European school holidays, but even more so German (Bavarian) school holidays.
Prices dynamically change with the demand. And usually, the sooner you book the better deal you should get.
Prices also drop dramatically with the first week of September.
Vestar Mobile Homes Superior
In Vestar, there are almost 120 mobile homes of different types. However, for us, Superior mobile homes are hard to beat.
They are located in a car-free zone, on a hilly terrain, surrounded by typical Mediterranean greenery: oleanders, lavender, rosemary, immortelle, holm oak trees, and alike. Some mobile homes are in the first row above the sea, while others enjoy an elevated position and nice views. Some Superior mobile homes are two-, and others are three-bedroom houses.
Mobile homes are small, only 32 m2, but have everything one might need: two-or three-bedroom, two-bathroom with shower, well-fitted kitchen, dining room, and a really large terrace. They are enough apart from one from the other to provide privacy. Long chairs are provided, although we, as usual, rather used our hammocks.
Rovinj is a 30-minute bike ride, and the cycling trail passes by the sea.
CHECK THE LATEST PRICES AND AVAILABILITY!
---
Boutique Mobile Homes Ulika
Best known for its onsite restaurant – Barba Danilo, camping Ulika isn't only a good place to eat, but also a great place to stay in Rovinj. Camping Ulika offers accommodation in 10 stylish, yet atypical mobile homes.
Mobile homes in Ulika don't have a kitchen, they consist only of a double bedroom and ensuite bathroom, as well as a large terrace. In a way, they are nothing short of open-air hotel rooms. Breakfast is delivered in a picnic basket at your terrace at your convenience, in other words whenever you feel like having breakfast. Noon? And why not?!
CHECK THE LATEST PRICES AND AVAILABILITY!
---
Rovinj Campings
Rovinj offers accommodation in over 10 campings and mini campsites. Mini campsites are campsites with a max capacity of 200 people or approximately 65 plots.
Valalta camping is the only naturist campsite in Rovinj, while Polari camping has a naturist beach. For those who wonder, naturist has little to do with people who love nature (although they might do) but it rather means that people like to vacation naked.
Campings are open from Easter until October. Rovinj campings offer various types of pitches. Some pitches are close to the sea, and some are fully serviced with water, electric hookups, and even drainage. Distance to the sea and on-pitch services determine the type and price of the touring pitch.
Prices change with the seasons, and seasons (you guess by now!) follow European and particularly Bavarian school holidays. Prices for tent and touring pitches are fixed and don't change dynamically (only seasonally).
When calculating a daily price for Rovinj campings, you need to add a price of a person (adult, child) to the price of pitch (depends on pitch type), and additional services or charges (like a pet, extra car, additional electricity, etc.).
All campsites can be booked online, at their respective websites. Croatian camping union (KUH) runs Camping.hr website, a great place to check all Croatian campsites, Rovinj campings included, in one place. They also have a booking engine on their website, but you are better off booking your pitch directly from a campsite because campings keep full availability for all pitch types only on their website.
Today, you don't need to pitch your own tent to stay at campsites. In Croatia, like in the rest of Europe, campsites are turning into luxurious holiday parks with an amplitude of activities, facilitates, and accommodations. Rovinj's campsites are no exception.
Campsite Polari
Camping Polari is the biggest camping in Rovinj. It can accommodate over 5000 people in a single day. Accommodation options include touring pitches, mobile homes, glamping, and standard tents to rent.
Polari is a 10-minute drive from Rovinj old town, but guests can also reach Rovinj by bicycle via a cycling trail along the shore.
Camping Polari also offers a variety of activities, entertainment for kids and adults, a large outdoor swimming pool, and a spray park, sports facilities, a few restaurants, snack bars, and cafes.
---
Campsite Ulika
This small, family-run campsite shines anew as a 4-star property after some serious facility improvements it went through in winter 2017. It's also the home of Barba Danilo restaurant. The campsite also features an outdoor pool, camping pitches, and mobile homes to rent.
---
Camping Vestar
Camping Vestar is one of our favorite campsites in all of Croatia. Although it can accommodate over 2000 guests in a single day, Vestar doesn't feel that big.
Beautiful nature, many islets in the vicinity (pretty to look at, but also great to go for a swim), cycling trail to Rovinj old town, pebbly beach, large swimming pool with separate spray park and smaller but deeper diving pool, variety of accommodation, decent quality pizzeria and burger joint, beach bar, and above everything a harbor for small pleasure boats set Vestar apart from all other campsites in Rovinj.
---
Things to do in Rovinj
We've written a full post on what to do in Rovinj, but below we give you a couple of the most popular Rovinj things to do, tours, and day trips.
Rovinj Walking Food Tour gives you a great opportunity to see major Rovinj landmarks while sampling local delicacies. This tour lasts three full hours, and it includes a stop at six local eateries like Bookeria, Veli Joze, and Rovinj's green market. Read more here …
A sailing trip in Rovinj includes few highlights. First, you get to see Rovinj from the sea which is the absolute must-do while in Rovinj. Second, you get a boat ride! Third, you get some snacks onboard and you get to meet your hosts. And last but not least, you get to see the Rovinj archipelago, secluded bays, and enjoy few dips in the deep blue Adriatic. Find out more info here.
Don't miss the chance to visit Venice for a day while in Rovinj. This is one of the day trips that people book the most out of Rovinj. Venice is super popular, and you can simply visit it from Rovinj by a fast hydrofoil in a single day. This is a full-day tour that starts in the morning with a crossing of the Adriatic onboard catamaran. Once in Venice you can either take a guided tour of the town or wander the streets and channels of Venice on your own (we prefer the second option!). Check information and prices here.
Rovinj Car Rental
Renting a car in Rovinj should be simple if you follow our tips. In high season (July through the first week of September) car rental in Rovinj is scarce. There are simply more people wanting to rent a car in Rovinj than there are cars to rent in Rovinj. For this reason, we highly recommend that you rent a car in advance.
In Rovinj, you'll find a couple of car rental companies, some locals like Vetura, and Greenway, and other international like Sixt and Enterprise.
However, the best place to check all car rentals in Rovinj is the Rentalcars.com website. They are brokers and have an entire offer on their website, where you can easily compare prices, conditions, and types of vehicles, and instantly book one that fits your needs. You can compare prices and book your car rental here!
Rovinj parking
We'll share with you the ugliest truth about Rovinj :). Just kidding! Anyways, when it rains, tourists from all over Istria come either to Rovinj or to Pula. These are two top destinations to visit when the beach is not the option. Rovinj often has heavy traffic, and it's tricky to find a parking spot. But on these cloudy days, it gets almost impossible.
Rovinj's main and largest parking lots, Mala and Velika Valdibora, are to the north entrance to the old town. This is closed parking with a card system. In July and August, the parking here costs 9 Kn per hour, while in June the price drops to 7 Kn per hour. You'll pay 5 Kn per hour in April, May, September, and October, and in other times of the year (mid-Oct. through March) only 2 Kn per hour.
In this area of the town, you will also find two other, smaller parking lots: Concetta (near Mirna fish processing plant), and Boksiti.
All other parking in Rovinj is street parking, and you can find them throughout the town (except in car-free areas). A good area to try your luck with parking is near a former tobacco factory, in and around Rovinj bus station. Go down 43. Istarske brigade Street (parking is on both sides of this street), then down behind Konzum supermarket, and to the seafront near the tobacco factory and restaurant Maestral. If you don't find it here either, go up along Omladinska Street, and then left to Fontana Street. If it doesn't work, then simply make another circle.
Street parking
Street parking is divided into four zones.
In Zone 1 parking is limited to max. 180 minutes. Zone 1 has two seasons regarding parking fees and other regulations: summer (April to mid-October), and winter (mid-October to April). The first 30 min costs 1 Kn, and every consequent 30 min is 3 Kn (or 6 Kn per hour). Parking charges apply every day from 6 am to 11 pm (Apr.-Oct.); and Mon.-Sat, from 6 am to 8 pm (Oct.-Apr.).
Zone 2 and 3 have three seasons regarding parking fees and other parking regulations. In July and August, parking costs 8 Kn per hour, and parking charges apply every day from 6 am to 11 pm. From April to June, and from September to mid-Oct., parking costs 5 Kn per hour and parking charges apply every day from 6 am to 11 pm. In the winter season (mid-Oct. until April), parking costs only 2 Kn per hour, and parking charges apply Mon.-Sat, from 6 am to 8 pm.
Zone 4 is located close to the entrance to forest park Punta Corrente. Charges apply only for parking in the period from May to mid-October, from 6 am to 11 pm. It costs only 2 Kn per hour, or 15 Kn per day to park your car in Zone 4.
You can pay for parking either by coins through automatic pay stations, or by sending text messages (SMS) to the designated phone numbers. These phone numbers can be found on street signs near the parking.
Below is the map of all Rovinj parking.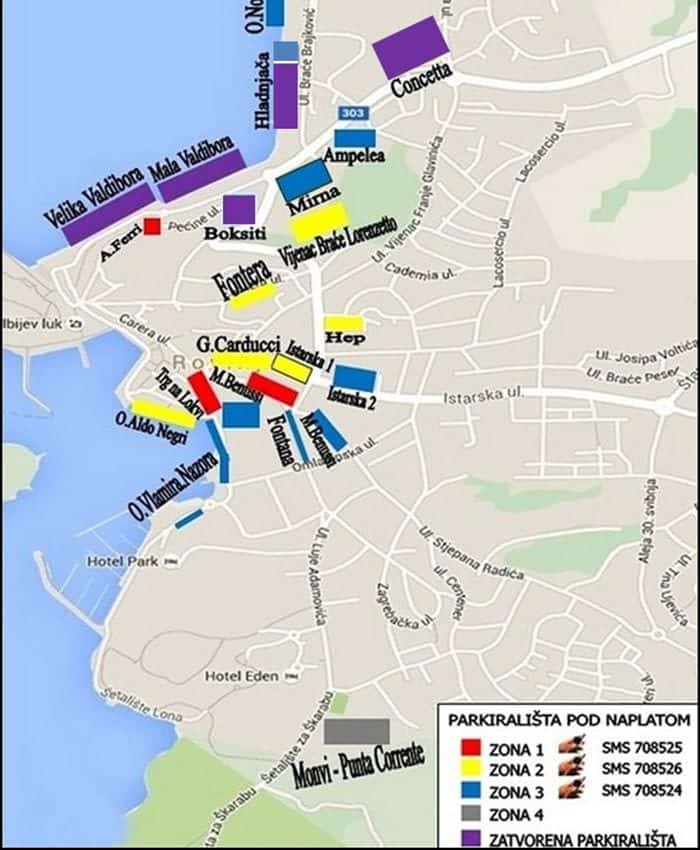 Rovinj shopping
In Rovinj, you won't find big high-end fashion stores. Instead, you will find lots of small artisanal stores, art galleries, hand-made souvenir stores, local jewelers, and some concept stores with local clothing brands, and other cute products.
Profumo di Rovigno is a small shop in Carrera Street selling perfumes and toiletries as well as home fragrances and various decorations. These souvenirs are really unique and typical for Rovinj. We love their glass diffuser with scents of lavender, rosemary, and basil that come with sticks. We always have it at home. I also use their Acqua di Rovingo body spray.
Koza Leather Bags offers handmade leather goods, primarily bags of all kinds, but also wallets, and belts. Their main shop is in Zagreb, but they have stores in various Croatian towns along the coast as well. And Rovinj is one of them. Their products make a great souvenir to bring from Croatia. They are unique, local, and handmade. Besides, they don't ship so Croatia is actually the only place you can actually get their leather goods.
Lungomare Plaza is a shopping promenade below the Grand Park Hotel. It features various stores selling art, clothes, swimwear, jewelry, sunglasses, etc. made by well-known Croatian and international designers.
Ribica Atelier has a collection of beautiful handmade arts and crafts, from jewelry, hand-painted coffee cups, and small plates, to (our favorite) "Tintorama", art in the can of sardines. The owners, two local artists from Rijeka, transfer different aspects of Rovinj past, captured on old postcards, into a used can of sardines. I know sounds weird, but just check the photos (link above), and you'll realize how beautiful and unique these souvenirs are.
Rovinj nightlife
OK, we won't pretend that Rovinj nightlife is super exciting. Because it simply isn't! Rovinj isn't a destination for late-night partying. It doesn't have proper clubs, but rather bars offering a wide range of drinks, some night entertainment like live music, and DJ nights.
Buzz Bar is a small bar tucked away in one of the alleys with a lovely seafront terrace. The bar is open year-round, and it is frequented by locals. It offers a great variety of local and international craft beers, and it often plays rock, blues, and alike.
Circolo is another bar that is open year-round. Circolo serves a wide range of drinks and prices are affordable. On weekends, especially off-season, the bar has night entertainment like a pub quiz, and live music. The raised terrace with a water well in the middle is very welcoming and a great place to chill with a glass of wine, gin, or a cocktail.
Mediterraneo is the cutest bar in town. Located at the water edge, the bar is very quirky, romantic, and relaxed. The staff is friendly, and the prices are not too high. It's open only from April to October.
Further reading
We hope to help you find the best accommodation in Rovinj. If you plan to visit Rovinj, we've got a bunch of articles about Rovinj, here at FrankAboutCroatia. Start with our Rovinj Travel Guide, or jump immediately to a list of best things to do in Rovinj. If you are looking for the best places to eat in Rovinj, we've got that covered too. Our favorite restaurant in Rovinj is Maestral, but we also like Jure, and Giannino. All about nightlife in Rovinj you can find it here. Our Rovinj photo walk is meant to inspire you to travel to Rovinj. Enjoy!
If you have any questions regarding accommodation in Rovinj, leave a comment below.