In this post, we share the best things to do in Dubrovnik including top attractions, activities, and day tours. We also list many free Dubrovnik things to do.
We've done the hard part, we've kayaked, cliff-jumped drank wine, cruised on a motor yacht, tested local restaurants, so you don't have to :).
You'll never get bored in Dubrovnik. You might run out of the money, but hey, that's a whole another story! Once that you are done exploring main Dubrovnik points of interest, go beyond the city walls and visit the surrounding area. Also, if you are staying in Dubrovnik for more than 2 days, consider taking some of these day trips from Dubrovnik.
And now it's time to discover the best of Dubrovnik.
50 incredible things to do in Dubrovnik Croatia
With its historic old town, lovely pebbly beaches, tiny islands in the vicinity, and wine-growing Konavle valley, Dubrovnik is one of the best known, and most visited towns in Croatia. It's a perfect place to visit either for a day or longer.
Our family lives near Dubrovnik, and we visit it often, at least two, three times a year.
Sometimes we are discouraged with crowds, and high prices, but all in all, we always find Dubrovnik lovely and inspiring to explore and walk. And besides, the weather down south is always better than in Istria where we live.
In this post we go beyond must do in Dubrovnik, and give you instead of a comprehensive guide on what to do in Dubrovnik.
NO TIME TO READ THE ENTIRE POST? HERE ARE THE MOST POPULAR ACTIVITIES AND DAY TOURS!
Attractions in Dubrovnik
It is called the "Pearl of Adriatic" for reason. Dubrovnik history dates back to the 7th century and the town offers a load of attractions for visitors to enjoy.
The major Dubrovnik attractions include the town's two km long city walls, Dubrovnik's Cathedral and the treasury, the main pedestrian street Placa or Stradun, Rector's Palace, Sponza Palace, Fort Lovrijenac, Lokrum island, and the mount Srd.
Tour Dubrovnik city walls
If you plan to visit only one of Dubrovnik attractions, then visit the city walls. Dubrovnik defensive walls encircle the entire old town of Dubrovnik. Two kilometers long, and consisting of 17 towers, 5 bastions, two corner fortifications, and the St. John Fortress, they are Dubrovnik's main attraction.
City walls date back to the 13th century, although the walls were also constantly reinforced in later years. The ticket costs 200 Kn per adult (18+) and 50 Kn per child.
Explore Dubrovnik old town
Dubrovnik's old town is located within the city walls.
Built entirely of the white stones, polished with ages, the old town abounds in Gothic, Renaissance, and Baroque palaces, churches, and monasteries.
Walk up and down the Placa (Stradun), Dubrovnik's main street.
Visit the Rector's Palace, once the siege of the government and the most important public building in Dubrovnik.
A former custom building, the Sponza Palace, constructed in 1520, houses today the town's archive that keeps the most important documents about Dubrovnik's history.
Get away from the crowd in the back streets of Dubrovnik, or relax watching the sea and small boats in Dubrovnik's old port.
Visit museums, churches, and the oldest operating pharmacy in Europe.
You can do a walking tour Dubrovnik on your own or you can also check guided Dubrovnik city tour.
Or take a private guided tour to learn more about the town. Find the latest prices and full itinerary here.
Catch that cable car ride!
A cable car takes you from downtown Dubrovnik 778 m up to Mount Srd. The ride takes less than 5 minutes. Views from the top over the old town are wonderful. There is a cafe/bistro where you can have a drink or a bite while enjoying the views.
A round-trip ticket costs 170 Kn for adults, and 60 Kn for kids (4 to 12 years old).
More info here. Or check this combo tour: Cable Car and Walking Tour
Lokrum, baby!
A small island, just 600 m off the coast of Dubrovnik, Lokrum is a protected natural reserve and a monument of landscape architecture. Lokrum is also the largest park in Dubrovnik.
It's a popular swimming spot and a place to spend a day away from the city, for locals and tourists alike.
Lokrum is open to the public from April through October. The boat departs from the old harbor, and the crossing takes 10 minutes.
A return ticket costs 200 Kn per adult. Children 5 to 15 years of age pay 30 Kn. You can buy a ticket on the spot.
Tip: If you purchase a Dubrovnik Card, you get a discount of 20% (3-day card), or 30% (7-day card).
Explore Dubrovnik museums
Dubrovnik is full of history, apparent at every corner of the old town. But the town also features many interesting museums worth exploring.
Our favorite museum is the Ethnographic museum Rupe. Tucked away in the back streets of the old town, and housed in the ancient granary, the Rupe museum features over 5.000 pieces showcasing Dubrovnik's social life, customs, and traditions of its people throughout the history.
A Dominican Monastery also houses important artworks from ancient Dubrovnik. A monastery has wonderful architecture, especially a cloister featuring splendid stonework, and a lovely landscaped garden.
The tower Gornji Ugao was an original cannon foundry. It spreads on over 600 m2, and it has preserved all parts of the production process. The museum is super interesting, and the guide makes a visit even more worthwhile.
A recently open Love Stories Museum attracts visitors with its unique exhibitions of love and romance. Through a series of unique items, the exhibitions tell love stories from movies and TV shows that were filmed in Dubrovnik; from the music through the people who were the inspiration for famous love songs; then local love stories and myths as well as a global collection of love stories donated by various people from all over the world.
Red History Museum brings an insight into what life was during the socialist times in ex-Yugoslavia. It does so in an interesting, interactive way combining augmented reality, interactive audio, and good old role-playing (if you wish). It does so also in a humorous way. Get more info here!
Game of Thrones tour
This walking tour of Dubrovnik takes you to many filming locations of HBO series Game of Thrones. Guides on these tours have all been extras on sets and can tell few anecdotes from behind the scene.
We highly recommend booking Game of Thrones Dubrovnik tour in advance.
Expect to pay around 53 € (60 US$, 46 £) per person, but it also includes a panoramic cruise. Save on Game of Thrones Dubrovnik Tour & Cruise by booking in advance.
Or book a simple Game of Thrones walking tour. Check availability here!
Have a thematic walk
Dubrovnik, with so many years of history, tells many different stories. You can explore the town anew every time you walk it through, always looking for some other aspect of its rich history.
Discover Dubrovnik's intriguing stories with Myths & Legends tour.
Dubrovnik has the oldest functioning Sephardic synagogue in Europe. However, life wasn't always easy for Jews in Dubrovnik, and today they remain less than 50. The community might be small, but it is strongly determined in preserving Jewish heritage in Dubrovnik. Take a private walking tour to learn more about the town's Jewish heritage.
We also like a kind of quirky ghost tour of Dubrovnik. that takes you from Dubrovnik's cemetery – Boninovo to the old town, through narrow streets, and back alleys, revealing many scary stories from Dubrovnik's past.
The most popular activities in Dubrovnik
Don't forget that Dubrovnik lies by the beautiful Adriatic Sea and, besides culture and history, it also offers a wealth of outdoor activities.
The most popular outdoor activities in Dubrovnik include sea kayaking, cyclings, cliff jumping, horseback ridings, and various water sports like diving, fishing, and jet ski.
Sea kayaking
Sea kayaking is one of the most popular ways to experience Dubrovnik from the sea. Many agencies offer half-day and full-day sea kayaking tours.
A tour usually starts at the small beach just below the Pile Gate and takes you around the city walls, and the island of Lokrum, to the small pebbly cave beach Betina.
Expect to pay around 30 € (28 US$, 25 £) for a 3-hour day tour, and around 35 € (40 US$, 32 £) for the sunset kayaking tour.
Rock climbing
Brgat is a small rock-climbing site near Dubrovnik. Here you can test your skills on 15 climbing routes. Routes have an average length of 12 m, and they are suitable for beginners.
YOU CAN BOOK THIS EXPERIENCE IN ADVANCE THROUGH OUR PARTNER.
Dubrovnik cliff jumping
Dubrovnik cliff jumping attracts many young tourists in search of some adrenalin rush. The most popular cliff jumping spot is near the Buza Bar. However, cliff jumping at Buza is also a cause of the majority of fatalities and injuries in Dubrovnik in the last years, as more tourists started taking a dive here. So, please be careful!
A perhaps less thrilling, and less convenient, but safer option for Dubrovnik cliff jumping, you'll find on the island of Lokrum. The entire coastline here is rocky, and there are lots of spots for cliff diving. Cliffs range from few meters to 20 m in height. And many have ladders to climb up from the sea.
Jet Ski
What a better way to explore the coast around Dubrovnik than riding around on a jet ski.
Jet Ski Rental is located on the Lapad peninsula, and Gari transfer just across the bridge toward Mokosica (Gari transfer, being out of the town, offers a pick-up and drop-off to your desired location).
The prices start at 500 Kn (approx. 70 € / 75 US$ / 60 £) for a 30-minute rent, to 1300 Kn (175 € / 190 US$ / 150 £) for a 4-hour rent. If renting for a half-day or full-day, count on spending an additional 500 to 750 Kn (approx. 70-100 €) for fuel.
Both companies also offer jet ski safaris. On these safaris, you join a group tour with a local guide who will show you all the highlights.
YOU CAN ALSO RENT A JET SKI OR JET SKI SAFARI TOUR THROUGH VIATOR.
Scuba diving
Caves, wrecks, walls, and reefs await divers in waters around Dubrovnik. The most popular sites include caves, walls, and house reefs in the sea near the hotel Dubrovnik Palace, Cape Bezdan, and Jabuka on the island of Kolocep, waters around Lokrum Island, and islands off the coast of Cavtat.
Blue Planet diving put together a list with a detailed description of all major diving sites in and around Dubrovnik.
You can check here 1-Day Discover Scuba Diving Course or 1 Dive for Certified Divers.
Deep-sea fishing
Deep-sea fishing is fishing that you never know how it will go. So, you even might catch something.
But, if there is one place to go deep-sea fishing in Croatia, then it must be Dubrovnik. The Adriatic Sea is generally very shallow, and it only gets deeper in the southern part of Croatia. Thus, Dubrovnik!
Guys behind Dubrovnik's deep fishing tours know the area in and out. Their local knowledge helps increase chances for successful fishing. The best time to go deep-sea fishing is from late August on, as it's tuna and bonito fishing season.
Prices start at 100 € per person (with a full capacity of 4). Check availability and prices here.
Fly board
A fly board can add some fun to your Dubrovnik trip. Few places offer fly board experience in Dubrovnik: Jet Ski Rent, and Dubrovnik Water Sports, to mention few.
Fly board propels you up to 15 m into the air, that you'll feel like flying.
Prices start at 480 Kn (65 €, 70US$) for a 20-minute fly.
SUP
Paddleboarding is fun! However, it seems that stand-up paddles still haven't hit Dubrovnik. We found SUP rentals in nearby Cavtat and Zaton. At 90 Kn (12€, 13US$) per hour, there is no excuse not to take on paddleboarding while in Dubrovnik. You should be able to easily reach Cavtat and Zaton by public transportation.
ATV-Quad Safari
There are a couple of agencies in Dubrovnik offering a quad safari tour through Dubrovnik countryside. However, we highly recommend the Kojan Koral ATV tour. Pero, the owner, used to work with us on a cruise ship prior to opening Kojan Koral in his hometown.
The tour starts at their premises, in a village of Radocici, just 30 km south of Dubrovnik (transfer is included in the price of the tour). After brief safety instructions, you embark on a 2.5-hour ride through swamp, river, hills, and meadows. A snack is served at the Kojan Koral upon return.
The price is 600 Kn (80 € / 90 US$ / 72 £) per person for two-persons quad, and 700 Kn (93 € / 105 US$ / 85 £) per person if only one person takes a quad.
Horseback riding
For horseback riding in Dubrovnik, we again recommend our friends at Kojan Koral. Their horses are beautiful, and well cared for. The tour lasts two hours. The trail is 11 km long, and it takes you through forests, and along the rocky coastline.
The tour is suitable for beginners. It's super relaxing. The price starts at 800 Kn (112 €, 122 $, 100 £) per person, and it also includes wine and snacks upon your return to the ranch, but also a transfer to and from your accommodation.
Escape Room Dubrovnik
Dubrovnik Escape Room offers two distinctive escape games. Both have similar rules: 2 to 5 players, 60-minute time slot to find clues, solve the puzzle, and get you out of the room. However, themes differ: in one you are trying to save the kingdom, and in the other, you help find the hidden treasure while learning about the history of Dubrovnik.
The prices go from 185 Kn to 230 Kn per person, depending on the number of players, and season.
Cadmos Village Adventures
In the forest near a village of Komaji, just a 30-minute drive from Dubrovnik, you'll find Cadmos Village, an adventure park offering a three-level adventure course, four zip lines, giant swing, archery, and paintball. The place is run by two friends, and they built it from scratch.
This is a great place to spend a morning or afternoon out and away from seaside crowds.
More info at their website.
Spend a night in a treehouse
You can spend a night in a real treehouse, over at the Cadmos Village. The treehouse is built on a 50 m2 wooden platform, on the oak tree. It's fully equipped and comfy with its own bathroom and kitchen. The outdoor terrace is amazing, featuring deck chairs, but also a hammock (I am a big fan of hammocks!).
It's a unique spot to spend your holidays in Dubrovnik.
Prices start at 100 € a night in high season, and the treehouse can accommodate 6 persons.
Cycling in Dubrovnik
Dubrovnik town doesn't offer lots of cycling opportunities. Dubrovnik is hilly and it also gets too much car traffic to enjoy cycling in town. The town doesn't have dedicated cycling paths. Thus, it is not easy to cycle in Dubrovnik. However, you can do some decent recreational cycling on the Lapad peninsula.
For an enjoyable ride, you'll need to get out of town. You'll find popular cycling trails on Elafiti Islands and in Konavle.
You can cycle both, Elafiti islands and Konavle, on your own. Or, you can also book a group cycling tour to Elafiti.
Jeep safari
A great way to discover Konavle Valley is by taking a jeep safari tour. This tour takes you sightseeing through the Konavle region, from the flat terrain of Konavle Valley across streams of Ljuta River to cliffs rising high above the Adriatic sea along with villages of Radovcici and Popovici.
The tour also includes an off-road demonstration ride on a polygon, a visit to old watermills on Ljuta River, and a snack and drinks in a local tavern.
Hiking in Konavli
If you like hiking, this 4-hour Konavle hiking tour can be one of the top Dubrovnik things to do.
The hike starts at the former train station in Vojski Do (today this property houses a restaurant), and takes you along the former railroad, through nature and villages beneath Snjeznica Mountain.
You'll pass through two former railroad tunnels. The tour ends in Cadmos Park Adventure Park. The views all along the paths are awesome. The hike itself is only 2-hour long. The hike is easy to moderate, as you mostly walk downhill.
CHECK PRICES AND AVAILABILITY.
If you would like to hike the Konavle region on your own, check a few hiking trails explained here.
Best things to do in Dubrovnik for foodies
Embarrassed (NOT!) to say that more often than not Vera and I travel to eat. Don't judge! We do love architecture, we do love meeting locals, we do love nature and some activities, but above all, we really love to eat.
So if you are a little bit like us, below you will find a couple of ideas on what to do in Dubrovnik for foodies.
Eat like a king
We still love eating out in Dubrovnik! However, as the prices keep increasing, and ingredients keep losing its freshness (hello, frozen potatoes!), to be honest, we are also getting more difficult to please.
Anyways, don't miss fresh and elegant seafood at the Oyster and Sushi Bar Bota, a fusion of Croatian and Asian dishes at the Azur, great value for money and friendly service at The Gaffe Pub, the classical Mediterranean at the Proto, and laid back atmosphere and simple but tasty seafood dishes at Glorijet, locals' favorite place for a marenda (light lunch).
Read our full post on the best restaurants in Dubrovnik Croatia. Or check this lovely food and wine tour of the town.
Taste local wines
Wine is super popular in all Croatia. And Dubrovnik is no exception. Wine-growing Konavle Valley lies just 20 km south of Dubrovnik, and it's famed for white wine Malvasija Dubrovacka.
Up north, 30 km from Dubrovnik, lies Peljesac peninsula, famed for its Plavac mali grape, an offspring of Zinfandel & Dobricic. The best Croatian reds are Dingac and Postup, both made of Plavac mali grapes grown on the south slopes of Peljesac.
When in Dubrovnik, you can taste local wines at Wine Bar D'Vino that has a good choice of Croatian wine by the glass. Or you can visit the wine producers in the region. We highly recommend visiting Karaman Winery in Konavle, or Milos Winery and Saints Hills Winery on Peljesac.
Check availability and prices of this great Dubrovnik wine tasting tour.
Tour the brewery
If you would like to taste local craft beer from Dubrovnik, head to the Dubrovnik Beer Company. The brewery and the taproom are both located in the former salt storage in the port of Gruz.
Here you can join their guided brewery tour. It goes without saying that the visit ends with a tasting of DBC's four craft beers: Maestral, Goa, Fortunal, and Grego.
The price per person is 240 Kn (32 €) and it includes a brewery tour (approx. 40 min), followed by craft beer sampling accompanied by a light snack (charcuterie, cheese, bread).
This tour is available daily, at 4 pm and 5 pm, from February through October. The taproom is open daily from February through December.
FIND MORE INFO AT BREWERY WEBSITE.
Have a drink at Dubrovnik cliff bar
Buza 1 and Buza 2 are two tiny bars located on the cliffs at the outer edge of the city walls. Both Dubrovnik cliff bars are extremely popular throughout the day.
Have a drink, cliff jump in blue Adriatic (or better not for your own safety), or watch the sun sets over the sea.
Have an ice cream
You'll notice ice cream parlors on every corner of the old town. But one place, in particular, is famed for its creamy ice creams, and yummy crêpes – Dolce Vita. Tucked away in a side street, just off the Stradun, Dubrovnik's main street, Dolce Vita is equally frequented by locals and tourists.
It offers 28 different flavors of ice cream, a selection of homemade cakes, and awesome pancakes with a choice of different toppings.
Visit Green Market
Dubrovnik has two open-air green markets: one is in Gruz neighborhood, and another one in the old town, at Gunduliceva Poljana, just behind the main street.
The market is open daily until 1 pm. Go early in the morning to buy fresh fruits and vegetables. This can especially be handy if you are staying at an apartment in the old town.
Day tours from Dubrovnik
Dubrovnik's main attractions can all be seen within two days, even within a day if you are pressed with time. However, if you are staying in Dubrovnik for more than two days, Dubrovnik is a great base to explore the surrounding areas.
A visit to Mostar in Bosnia, and Kotor Bay in Montenegro are two single most popular day trips from Dubrovnik.
We've also written a post on the best day trips from Dubrovnik if you would like to explore further.
Visit Peljesac
Peljesac is one of our favorite parts of Croatia. It remains still remains under the radar to many tourists, despite its vicinity to Dubrovnik, its famed red wine, wonderful beaches, and serving as the main gateway to Mljet and Korcula islands.
If you wish to visit Peljesac on your own, you'll need a car (you can rent one for a day here). Plan a full day for this visit, and two would even be better.
However, if you are short with time, or you prefer not to drink and drive, look into this small-group tour of Peljesac & Korcula.
Cross the border to Montenegro
If you stay in Dubrovnik for a couple of days, visiting Montenegro can be a good idea. Kotor town and Kotor Bay are within easy reach from Dubrovnik, and well worth a visit.
The walled old town of Kotor is full of history, and lovely medieval architecture, including churches, palaces, narrow cobbled streets, lively town squares, and cozy cafes.
You can also consider visiting Budva, the most popular seaside resort in Montenegro, and Lovcen National Park.
You can easily visit Montenegro on your own. However, if you don't fancy driving in a foreign country, through the narrow and winding roads, plus you are budget-minded, you might consider booking this GROUP TOUR TO MONTENEGRO.
Explore Korcula
Medieval architecture, laid-back vibe, beautiful nature, hidden beaches and coves, yummy food, and great wines, make Korcula Island one of the most popular, and most visited Croatian islands.
If you stay in Dubrovnik for more than two days, don't miss this lovely island!
You can reach Korcula from Dubrovnik on a catamaran (June, July, and August), by car through the Peljesac peninsula and then tasking a car ferry or a passenger boat across to Korcula.
But, the stress-free way to visit Korcula from Dubrovnik is on a guided group tour from Dubrovnik. MORE INFO HERE.
Mljet National Park
Mljet is a small, and quiet island in the southern Dalmatia. It's within an easy reach from Dubrovnik and a nice place to escape for a day or two if you enjoy nature. The national park is Mljet's main attraction.
Admission to the park is 125 Kn per adult from June through September, and 70 Kn in other periods. The boat ride will set you back an additional 30 Kn per person (return ticket). You can also rent bicycles in the park (not included in a ticket price). Hiking and swimming are popular activities in the park.
You can reach Mljet from Dubrovnik on a catamaran (July, and August), by car ferry from Prapratno on Peljesac to Sobra on Mljet Island
Book this group tour if you want to see the island's highlights, without a need to navigate the complex world of the catamaran, and ferry connections, or transfers on the island.
Discover Mostar
We love visiting Mostar. The old town is small but nicely preserved. It's full of history, interesting ottoman architecture, mosques, oriental stores, and lovely restaurants, many with river views. The central point of the old town is the old bridge, a UNESCO World Heritage Site.
Mostar is 150 km far from Dubrovnik, so a one-day visit to the town is still doable. You should take a whole day for this trip. While 150 km isn't that far, bear in mind that you need to cross the border in Bosnia – twice. First in Neum (the only coastal town in Bosnia & Herzegovina), and then again in Metkovic.
Due to the distances, and multiple border crossings, actually the best way to visit Mostar is on a guided coach tour.
CHECK AVAILABILITY AND PRICES HERE.
Neretva River Safari
Vera comes from Neretva Valley, and we absolutely love this region. It's underrated, undiscovered, mostly agricultural, and very little touristy. Yet, it's a beautiful part of Croatia, with its rugged hills, olive groves, mandarin orchards, rivers, channels, and large Neretva River estuary.
The area is famed among kite-surfers and bird-watchers. It's also popular for its distinctive regional food including frogs, and eels.
You can explore Neretva valley on a traditional boat. Many local restaurants offer a boat ride and even serve a meal aboard a boat. You can check it here.
Half-day tours and boat trips in Dubrovnik
If you don't stay in Dubrovnik long enough to take advantage of some full-day tours listed above, you can still visit interesting places, attractions, and have new experiences in and around Dubrovnik. Don't miss on boat trips in Dubrovnik! Panoramas are amazing, and so are the small islands, bays, and beaches around.
Sunset cruise
Dubrovnik is gorgeous from the sea. Whether you decide to sea kayak around the old town, rent a motorboat, or book a sunset cruise, you'll enjoy magnificent views of the old town, and the city walls.
We highly recommend a sunset dinner cruise aboard Karaka, a true replica boat, a galleon from the time of the Dubrovnik Republic, and its seafaring golden age.
The tour includes a 2.5-hour cruise around the old town, and the island of Lokrum, a glass of sparkling wine, and a buffet dinner aboard.
INTERESTED? SAVE ON THIS TOUR BY BOOKING EARLY!
Visit Dubrovnik's haunted island
Well, if you like those bizarre stories, and like to visit off-the-beaten-path locations, Daksa, a small uninhabited island off the coast of Dubrovnik can be a real find. Yet, only if you find someone willing to take you there. As very few locals do.
If you are interested in Daksa, Darmon Richter shares his experience of visiting Daksa over at The Bohemian Blog.
Cruise Elafiti Islands
Elafiti is a small archipelago off the coast of Dubrovnik. The archipelago consists of several islands, but only three of them are inhabited: Kolocep, Lopud, and Sipan.
Elafiti Islands are nice to visit if you like to escape hustle and bustle of Dubrovnik for a day, if you like sandy beaches, hiking, or if you look for a good restaurant (Kolocep's Villa Ruza and the restaurant Obala on the island of Lopud are our favorites!).
A private motor yacht tour of the islands is the best way to explore the Elafiti. We did that back in 2014!
Otherwise, check this two boat tours to Elafiti Islands: Elafiti Islands Day Trip with Lunch from Dubrovnik, and Elafiti Islands Day Cruise on a Karaka Ship.
You can also visit Elafiti on ferry from the port of Gruz.
Enjoy Dubrovnik panorama from the sea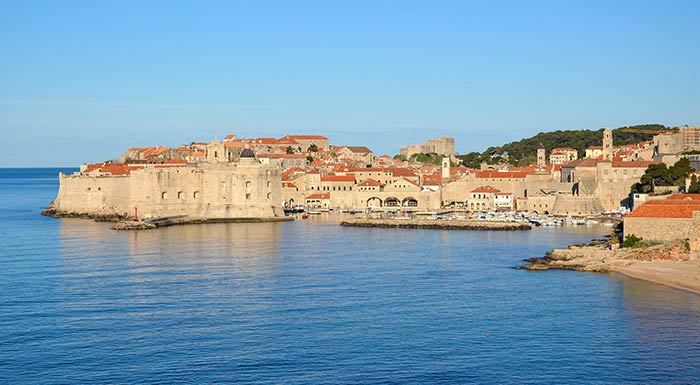 There is no view over Dubrovnik, like a view from the sea. There are few ways to take a panorama of Dubrovnik from the sea.
You can book a cruise around the old town, preferably at sunset. However, this is the most expensive option.
Another idea is to hop on big boats, exclusively for panorama, or as a part of another boat tour (like one to Elafiti islands), and then to enjoy Dubrovnik panorama as you sail away from the old port.
Third, and the cheapest option is to hop on a boat to Lokrum. This option will set you back 200 Kn, but the views are also limited, because the boat doesn't make a ride around the old town, but rather southwest toward Lokrum. This way, you'll only see the south part of the walls.
Capture the moment
Dubrovnik is a picture-perfect town, and it offers ample possibilities for photo shooting. However, with all those crowds, tricky light in the compact old town and narrow streets, taking a nice photo of you can prove difficult. You can snap photos yourself, using a selfie-pole, or you can simply make a professional do it for you.
Prices start at 250 US$ for a 30-minute photo shoot.
Find out more here.
Trsteno Arboretum
This beautiful botanical garden dates back to the late 15th century. Ship captains brought various plants from their worldwide travels and planted them in Trsteno Arboretum.
Protected as a monument of landscape architecture, Trsteno Arboretum is a peaceful oasis just 20 km north of old town Dubrovnik.
You can spend a couple of hours walking through the gardens and enjoying views.
Trsteno Arboretum also served as a filming location for HBO's Games of Thrones. It doubled as Red Keep Palace gardens in King's Landing.
You can reach Trsteno by local bus on your own, or you can visit Arboretum as a part of Game of Thrones walking tour.
Sokol Tower
A large, fortified tower, Sokol Grad lies just a 30-minute drive from Dubrovnik. It was first open to visitors in 2013 after extensive restoration works.
The site has an interesting history; some artifacts found there date back to Bronze time. However, in 1420 the site became a part of Dubrovnik Republic, and the tower was erected to today's size.
The restoration is excellent. You can really easily imagine what everyday life of the 15th-century soldiers stationed there looked like.
You can also see different weaponry including original canons.
Ticket costs 70 Kn per adult, and 30 Kn per child  (5 to 18).
Read our full post on our visit to Sokol Tower.
Explore Vjetrenica cave
Vjetrenica Cave is located in neighboring Bosnia & Herzegovina, just 40 km northeast of Dubrovnik. Full of stalactites, stalagmites, halls, galleries, and corridors, and many underground streams, and lakes, Vjeternica cave is the largest cave in this area and one of the richest caves in the world in terms of biodiversity. The adult ticket cost 15 KM (around 8 € / 9 US$ / 7 £). The tour takes 40 to 60 minutes.
You can visit the cave on your own or on a group tour to Vjetrenica Cave from Dubrovnik.
More free things to do in Dubrovnik
When it comes to food, drink, accommodation, and activities, Dubrovnik is one of the most expensive towns in Croatia. However, not all things to do Dubrovnik need to cost a lot. Sometimes it isn't even about the money. Sometimes you simply want to kick back and relax.
Whether you look for exploring Dubrovnik on a budget or you simply want to slow down and take it easy, here are few more ideas on what to do in Dubrovnik for free.
Beach time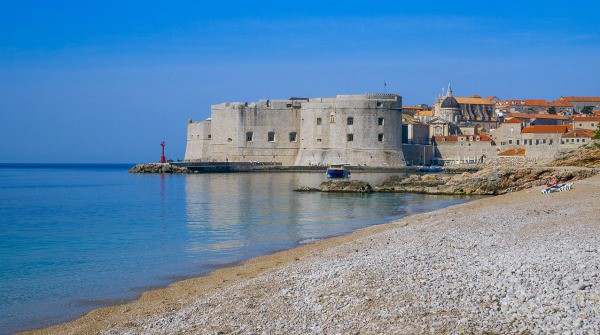 While many people visit Dubrovnik for its historical and cultural sites, don't forget that this Croatian gem is located right at the Adriatic.
Soak in the sun on many beaches in and around Dubrovnik. Here is our full post on the best beaches in Dubrovnik.
Art time with Stjepko
Among a load of shops in Dubrovnik old town selling the Game-of-Thrones-inspired t-shirts, other memorabilia, and cheap souvenirs, it's a real refreshment to stop by Stjepko Mamic's gallery. Stjepko is a sea captain, turned painter, whose paintings of fish and underwater world are vibrant, and vivid.
This little gallery is worth visiting even if you don't plan to buy any paintings.
Where to find the gallery? Address: Celestina Medovica 2, Dubrovnik | Phone: +385 95 906 1703 | Website
People watch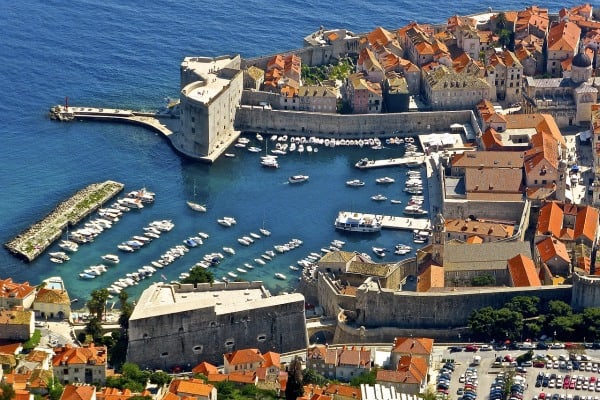 The old port is our favorite spot to chill out, and people-watch in Dubrovnik.
Located in the east part of the town, the old port is an excellent place to relax, watch the world go by, and take a walk along the Porporela breakwater.
The old port was built in the 15th century and completed in the 16th century.
Chase the views
Dubrovnik simply calls for photos. And then, it calls for some more. However, good photos require some planning. And part of the planning is to find a perfect location for a photoshoot.
City walls are perfect for taking a lovely photo of Dubrovnik's red roofs, the main street, some close-ups, and hidden spots that you normally don't see but from the bird's perspective.
Just out of the Pile Gate, past Hilton Hotel, and then up the hill, you'll find Gradac Park. This is a lovely little park and a good place to chill out from the crowds. However, from the parking next to the park, you can also snap a few nice photos of Lovrjenac Fort. This fort is doubled as the Red Keep in HBO's Game of Thrones series.
Park Orsula is our favorite place to enjoy panoramic views over Dubrovnik's old town. We recommend taking a walk along the sea, via Vlaho Bukovac Street all the way to Orsula Park. Views are spectacular all along, but this Dubrovnik neighborhood is also interesting to explore.
Also, don't forget the Srd mountain. The views from the top are spectacular. You can reach the top by walk, by car, or by cable car.
There are also a few restaurants in Dubrovnik that offer amazing views, like Stara Loza's rooftop terrace, or Prora beach restaurant at the Hotel Excelsior.
Old Napoleon's road
We love taking a small detour when driving down to Dubrovnik. In a village of Slano, we climb up the hill, to the old road built in the time of Napoleon. The road is narrow but asphalted throughout. It goes from Slano to Trsteno. It takes you up the hill where views over the sea and surrounding islands are spectacular.
Visit Konavle Valley
Despite a great number of visitors that visit Dubrovnik every year, Konavle valley manages to remain an authentic and peaceful place away from the crowds, but yet only a 30-minute drive from the old town Dubrovnik.
Here you'll find quaint villages, beautiful nature, traditional architecture (pay attention to interesting conical chimneys!), good local restaurants, and wine and olive oil producers.
Konavle is also famed for its embroidery. It can only be made of local silk that has been produced in Konavle for centuries. You can actually buy some of it in Dubrovnik from a local lady – Kate who sells and demonstrates traditional Konavle embroidery at the stairs near Dominican Monastery.
Prevlaka Nature Park
The Prevlaka peninsula is the southernmost part of Croatia. It overlooks Montenegro and a town of Herceg Novi. The area is also a protected nature reserve.
Prevlaka sees very few visitors. But, it's a lovely place to visit for nature aficionados, if you like hiking, cycling, or exploring old abandoned former military buildings and fortresses. Add to that complete peace and quiet, and wonderful views over Montenegro and you have a winning formula for a perfect day out not far from Dubrovnik.
You can reach easily Prevlaka by car from Dubrovnik. Just follow signs for the border crossing to Montenegro. As you come closer to the border you'll see multiple signs pointing to the Prevlaka peninsula.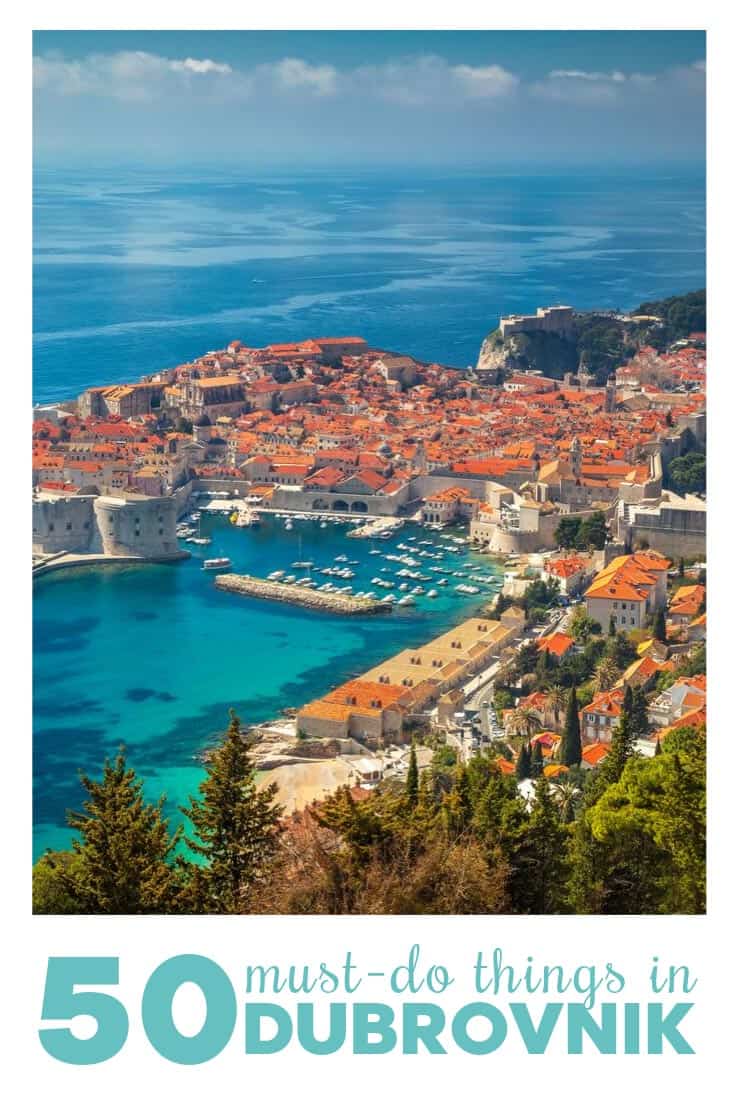 Further reading
We hope you've enjoyed our post on top things to do in Dubrovnik. As always, if you have any questions, comments, or suggestions, please leave them in the comments below.