You can take many great day trips from Dubrovnik if you are staying there for more than a day or two.
Dubrovnik is the best known and one of the most visited destinations in Croatia. The town is beautiful, well-preserved, full of history and culture, good restaurants, lovely bars, and offers loads of things to do. 
But this UNESCO World Heritage Site is also the most expensive town to visit in Croatia, and also often too crowded. We've written our farewell to Dubrovnik a couple of years ago, but we still keep coming back to Dubrovnik every year. It's a popular stop for many visitors to Croatia, and we like to see it for ourselves in order to share first-hand experiences here at our blog.
The town is small and all major sights can be visited within a day or two. When you are done with exploring the town, you'll find below fourteen interesting day tours from Dubrovnik worth your time and money.
Recommended day trips from Dubrovnik
Many people stay in Dubrovnik for a short time, a day or two, which makes it just enough time to visit the town. However, Dubrovnik is actually a great base for a longer stay whether you are interested in exploring the surrounding area or you are up for a relaxing time by the sea.
Here are some of the day trips worth taking from Dubrovnik.
Elafiti Islands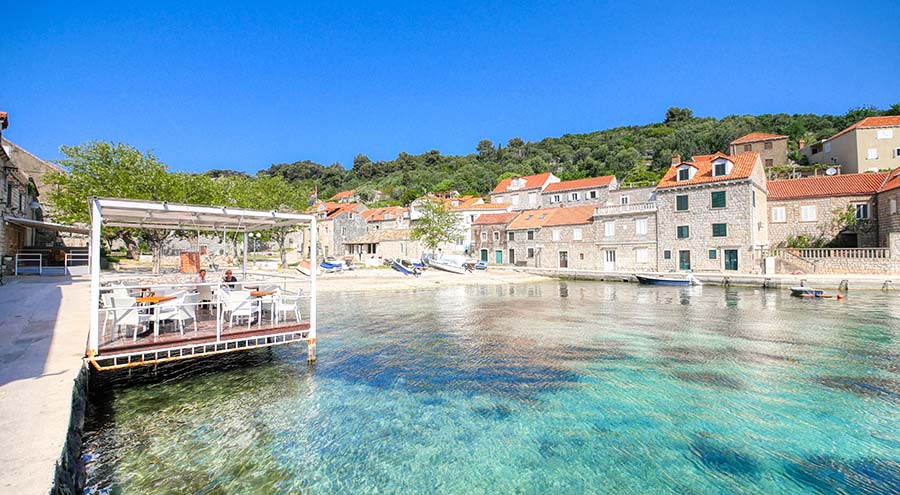 We've visited the Elafiti islands for the first time a couple of years ago. This archipelago of dozen islands located northwest of Dubrovnik is well worth a visit, and a great getaway from town's hustle and bustle. Only three islands, Kolocep, Lopud, and Sipan, are inhabited. All islands but Sipan are car-free.
Islands are tiny with just one or two settlements, beautiful unspoiled nature, gorgeous sandy and pebble beaches, and a slow pace of life. People come here to relax, swim or kayak in a crystal blue sea, and to indulge in small pleasures of life.
Ferry boats depart four times a day (June through September) from Dubrovnik port. You can find more info on the Jadrolinija website.
From June through September many small pleasure boats offer day tours to the islands. You can also book a sea kayaking tour of the islands.
CHECK AVAILABILITY AND PRICES HERE!
Montenegro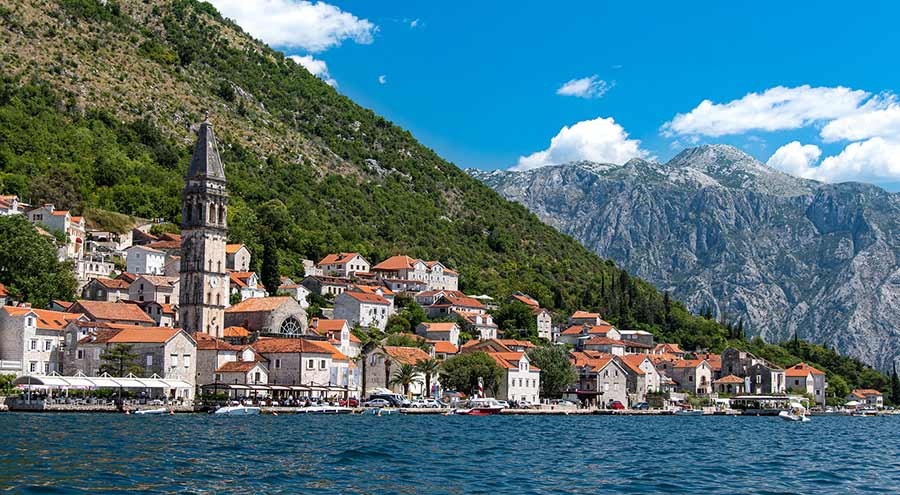 Dubrovnik is a good base to visit Montenegro. In my honest opinion, Montenegro is only worth a day trip. I don't see the need to stay there longer. The nicest part for us is Boka Kotorska, a wonderful fjord-like bay in the southwest part of Montenegro, with pretty medieval towns of Kotor and Perast. We also like a lot Sveti Stefan.
You can visit Montenegro on a self-drive trip, or you can book a small-group day trip to Montenegro. If given a chance, have lunch at the restaurant Catovica Mlini in Morinj.
CHECK HERE AVAILABILITY AND PRICES.
Peljesac peninsula
The second-largest peninsula in Croatia, Peljesac is our favorite part of the country. The peninsula is famed for its rugged coast, pebbly beaches, salt pans, wine-growing hills, sleepy villages, fortification walls, red wine, fresh oysters, and other seafood.
It takes an hour's drive to reach Peljesac from Dubrovnik. And another hour to reach Orebic, a town located at the southwest part of the peninsula, just across Korcula town.
We highly recommend a day trip to Peljesac whether you like to taste some of the best Croatian red wines, to swim at some of the nicest beaches in Croatia, or to indulge in the freshest seafood.
You can visit the peninsula on a self-drive trip. And if you decide to do so, check our post on Peljesac wine tasting, and things to do in Peljesac. Otherwise, look into this small-group tour.
Korcula Island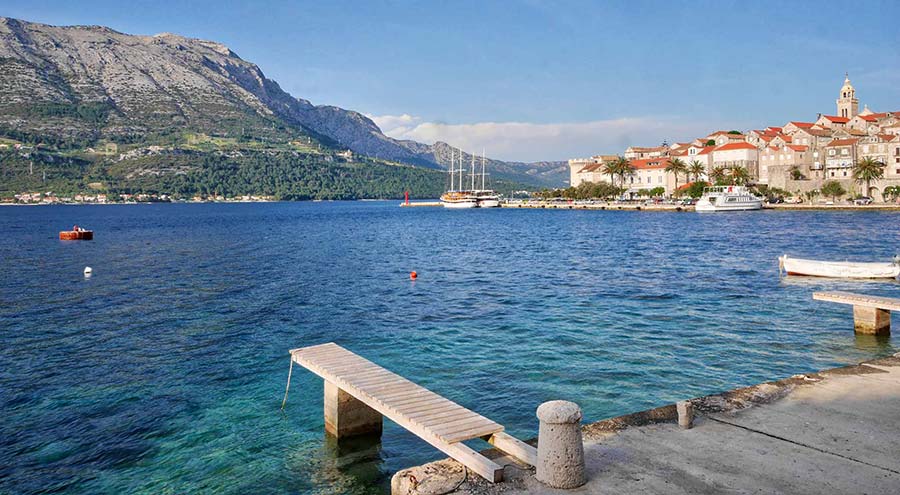 If you are dreaming of crystal clear seas, pebbly beaches, historic towns, and wonderful nature, the island of Korcula is a place to be.
Stroll historic town of Korcula, presumably a birthplace of Marco Polo, explore seaside towns, and hidden bays, have a picnic at small islands of Badija, and Proizd.
It's just two hours away from Dubrovnik by boat or by car. In July and August, a catamaran departs at 8 am from Dubrovnik, arrives in Korcula Town at 10.45, and departs again from Korcula to Dubrovnik at 4 pm. More info on G&V website.
Otherwise, we recommend you to rent a car and reach Korcula via Peljesac peninsula.
CHECK PRICES AND INFO OF THIS KORCULA ISLAND TOUR.
National park Mljet
The greenest Croatian island, half of Mljet is a protected national park since 1960. It's only an hour's drive to Prapratno, a small ferry port on the Peljesac peninsula, where you take a ferry to cross over to Sobra on the Mljet Island. The crossing takes another 45 minutes.
Go hiking or cycling at the national park, visit St.Mary's Island, explore hinterland villages, go diving, swim at the Odysseus cave, or sandy beach Saplunara, have lunch or dinner at the rural inn Franka.
If you don't like to drive yourself to the island, you can also book a group tour to Mljet Island. CHECK AVAILABILITY AND PRICES HERE!
Mostar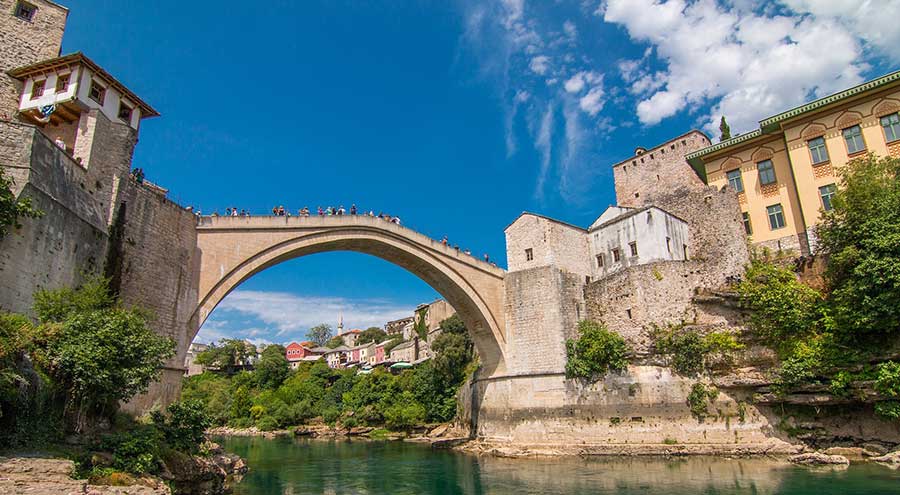 A town set on the river Neretva in Bosnia and Herzegovina, Mostar is famed for its old bridge, UNESCO's World Heritage Site. Present time town was established in the 15-century and it still boasts interesting Turkish-style architecture.
Explore the old town, enjoy its architecture, mosques, cobblestone streets, oriental shops, watch the world go buy at one of many river cafes, taste a typical Bosnian meal of savory pastry, dairy products, and cevapi at the restaurant Kuluk.
Mostar is less than a three-hour drive from Dubrovnik, and a small group tour to Mostar (with stops in Pocitelj and Medugorje) is the best way to visit it.
Konavle
Konavle has always been the "belly of Dubrovnik", a rich agricultural landscape just twenty-minute drive from Dubrovnik.
Today this region is a great getaway from Dubrovnik whether you enjoy hiking, cycling, horse-back riding, ATV safari, olive oil and wine tasting, historical sights, or exploring small coastal towns. Kojan Coral offers some great horse-back riding and ATV tours. We used to work together with Pero, an owner of Kojan Coral, on a cruise ship awhile back.
You can easily reach Konavle from Dubrovnik by car. But you can also explore Konavle on this great hiking tour.
Vjetrenica Cave
Vjetrenica Cave is located in the neighboring Bosnia & Herzegovina, and it's the largest cave found in this area.
The length of the cave isn't yet known, but once an interesting experiment was conducted within the cave with a colored substance that was later found on the island of Sipan, off the coast of Dubrovnik.
The extensive cave system has over 6.000 m of passages. The cave is just an hour's drive from Dubrovnik. More info …
Neretva River Safari
A wonderful valley located only 70 km north of Dubrovnik offers loads of things to do. From kite and windsurfing, wine tasting, hiking, harvesting mandarins to river safaris, and indulging in local specialties like frog and eel stew.
A couple of restaurants offer river safari on a traditional wooden boat called ladja (larger boat) or trupa (smaller boat).
You can arrange a safari directly with a restaurant (we recommend Djudja & Mate in the village of Vid). Neretva delta is just a 1.5-hour drive from Dubrovnik.
You can also check this river safari offer or this one.
Kravica Waterfalls
These low-key waterfalls, located near the village of Studenci in Bosnia & Herzegovina, are mostly visited by locals.
Kravica Waterfalls are two hours' drive from Dubrovnik. This part of Bosnia & Herzegovina, along the Trebizat river, abounds in underground waters, streams, rapids, and waterfalls.
We recommend you take a self-drive trip to Kravica Waterfalls. Hike, chill out and swim in freshwater, relax in a nearby cafe with a terrace overlooking the water and the waterfalls, and then head to Ceveljusa for a lunch at the Mandica Jaz restaurant. They serve mostly meat, and trouts, but benefit from an awesome location. The food here is super cheap.
You can also check this group tour to Kravica Waterfalls.
Trsteno Arboretum
Trsteno is a small village just 20 km north of Dubrovnik. The village is a home of a beautiful Trsteno Arboretum. Established in the 15th century, it's the oldest monument of garden architecture in Croatia.
Since the place was used as a set for a popular HBO series – The Game of Thrones, more and more tourists (particularly GoT fans) visit the sight. Many tour agencies offer a combo tour of city walks and arboretum for GoT fans.
However, the place is also very easy to visit from Dubrovnik by car, or even by public bus (the cheapest option). If you are a sucker for nice views, hike, mountain bike, or just drive in the hills above Trsteno toward the north. Views from the top are spectacular.
On the way back stop for at a romantic (yet pricey) lunch at the restaurants Ankora or Gverovic Orsan. For a nice homemade meal, visit local tavern – konoba Veranda.
Lokrum Island
Even if you stay in Dubrovnik for just a couple of days, we recommend you to make time to visit the island of Lokrum.
This tiny island is just a 15-minute boat ride from Dubrovnik's old harbor. During the summer season boats depart every 30 minutes. A return boat ticket costs 100 Kn (approx. 13€).
Swim in a salt-water lake, visit the Benedictine abbey and monastery, explore island's exotic gardens containing over 500 different plants from all over the world, cliff jump into the blue Adriatic just like locals do, rent a sea kayak.
More Dubrovnik day trips & other tips
We hope that we've helped you find some day trips from Dubrovnik that fit your style and budget. If you have any questions, comments, or suggestions, please leave them in the comments below.