Following our post on Things to do in Dubrovnik beyond the city walls, we've finally put together a post on Dubrovnik Wine Tour. We visited Karaman Winery few weeks ago. Located in the Konavle region, in a village of Pridvorje, 30 km southeast of Dubrovnik, a visit to this winery makes a perfect day trip from Dubrovnik, especially if you like to escape hustle and bustle of the old town, and, of course, if you like wine.
We've tasted Karaman Malvasija Dubrovacka for the very first time just couple of years ago in the restaurant Proto in Dubrovnik. And we loved it immediately. We aren't cerified sommeliers, or huge wine connoisseurs, but we are fans. We love wine.
And as much as we never really found Istrian red wine to our taste, we felt the same about Dalmatian white wines. We tasted them more than once, but nothing could compare to our favorite white wine from Istria – Malvazija Istarska. Until we tasted Karaman's Malvasija Dubrovacka.
Dubrovnik Wine Tour: Our experience at the Karaman winery
The Karaman Winery is small. Actually, Karaman family doesn't have a real wine cellar, instead they have a nicely decorated tasting room with small garden. They only plant Malvasija Dubrovacka grapes, and produce two types of wine: dry white wine and prošek, a traditional Dalmatian sweet, dessert wine. All their wine is kept in inox tanks in the back of the house (not in the cellar).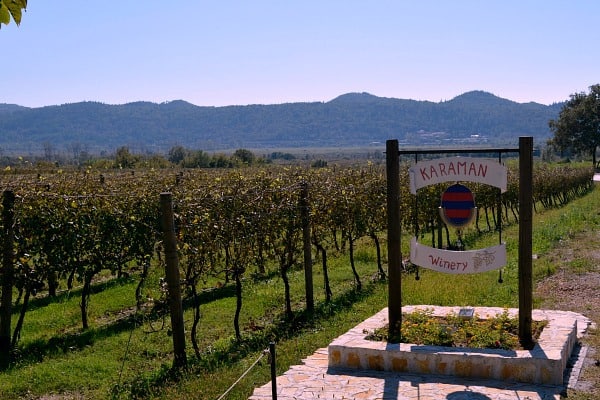 On arrival we were greeted by Anita, an owner of the winery. Anita was very friendly, and smiley, and she spent with us the next two hours explaining the history of this grape variety and indulging with us in a wine tasting. Karaman family is a small wine producer, priducing only 20.000 bottles a year. But nevertheless their Malvasija Dubrovacka as well as prošek are considered the best in all Konavle.
Prosek is an interesting sweet wine. It's made naturally without added sugars. Grapes are laid on nets to dry for two months, when half-pressed they stay for 2 weeks with skin on. After that they are filtered and stored in inox barrels for 6 months long fermentation process.
History of this grape variety is tightly connected with their family history. Her husband and oenolog, Niko, is native to Konavle region, but he studied in Zagreb where he met his wife and had various job offers. However, something draw him back to his Konavle or we can rather say Malvasija Dubrovacka draw him back to his roots. The Konavle region was badly hit during the 1990's war, and the region was partly occupied. Many vineyards were burnt, or destroyed during the war.
In 2002 Niko Karaman along with a team of oenologs from Institute of the Agronomy in Zagreb decided to try to reproduce this indigenous grape variety. Niko Karaman spent months looking for healthy grapevines only to find three single grapevines. He used them to reproduce new grapevines. Today there are 60.000 grapevines of Malvasija Dubrovacka planted in Konavle, out of them 12.500 belongs to Karaman family.
Karaman family offers two wine tasting tours: both tours include tasting of their two wines, while one also includes a finger food. The tour costs 100 kn without food, or 125 Kn per person with food. We booked the later. We nibbled on Dalmatian prosciutto, local cheese, olives and almonds while tasting Karaman's dry white wine. A homemade sponge cake accommpanied a tasting of their sweet dessert wine, prošek.
At the end of a wine tasting you can purchase their wine: 100 Kn for a 0.75 l bottle of Malvasija Dubrovacka, and 350 kn for a 0.375 l bottle of prošek.
Few interesting facts about Malvasija Dubrovacka
The oldest written document that mentions Malvasija Dubrovacka dates back to 15th century;
Back in 15th century, at the time of Dubrovnik Republic, the price of wine was determined by the government bodies: the Grand and the Small Council. Whoever tried to sell their wine for higher price than approved by the government, could be penalized.
Malvasija Dubrovnacka was very appreciated grape variety, always planted near the monasteries. While other wines where counted in liters, Malvasija Dubrovacka was always counted in bottles.
Another proof that Malvasija Dubrovacka was an exclusive wine is the fact that not everybody could buy a bottle of this wine. A consumption of this wine was limited to aristocracy.
Malvasija Dubrovacka is often mentioned in theater plays.
Malvasija Dubrovacka was regarded as medicine, and sold in small quantities in pharmacies.
If you are visiting Dubrovnik you can check our other posts on Dubrovnik to help you better plan your holidays: Things to do in Dubrovnik beyond the city walls; Best restaurants in Dubrovnik; Dubrovnik Bars, Clubs and Nightlife;  or Dubrovnik Beaches. For inspiration you can check our photo post on experiencing Dubrovnik from the sea. We've also wrote a post on things we've done in Dubrovnik during a short three-day stay. For further reading on Dubrovnik wine tour, please check Rob Lloyd's post on Konavle Wine Tours.
Have you tasted any of Croatian wines? Have you ever booked any wine tour in Croatia or elsewhere? Would you like to embark on this Dubrovnik wine tour? Let us know in the comments below.