If you are visiting Croatia for the first time, you might wonder what driving in Croatia might be like. Don't worry about it! Here in this guide, you will find all information you need if you plan to drive in Croatia.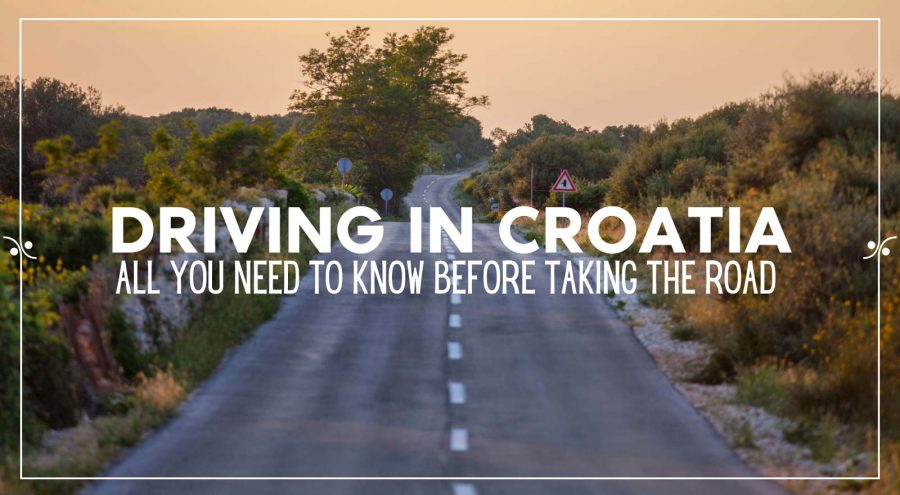 The best way to explore Croatia is by car. No doubt about that! The country is small, the roads are generally in good condition, and you can simply see so much even if you plan to visit Croatia only for a short period of time.
Driving in Croatia: FAQ
What do you need to drive in Croatia?
In order to drive in Croatia, you will need a valid driver's license from your home country, unless your driver's license is written in other letters but Latin. In that case, you will need an international driver's license.
If you get pulled over you might also be asked to show your passport or ID. Keep it somewhere handy in case this happens.
Do you need an international driver's license to drive in Croatia?
No, you don't need an international driver's license as long as your home country's driver's license is written in the Latin alphabet. In other words, if your driver's license is written in any other letter but Latin (for example, Chinese, Arab, Cyrillic, etc.), you will need an international driver's license.
Is it safe to drive in Croatia?
It is safe to drive in Croatia! The roads are in great condition, and when traveling from north to south, you can largely drive on multi-lane motorways.
Croatian drivers, especially in the south, tend to be impatient and look for the first opportunity to take over. This can sometimes make you nervous, but for the most part, you will be ok and feel safe.
On what hand side do they drive in Croatia?
In Croatia, we drive on the right side, and we follow the same common road rules as elsewhere in the world.
What are the speed limits on Croatian roads?
Generally speaking, the speed limit on Croatian motorways is 130 km/h, 90 km/h on open roads, and the inner-city speed limit is 50 km/h. There are of course exemptions to the rules on specific road sequences. Follow the signage and observe the speed limit at all times.
What are the rules regarding the headlights and winter tires?
You will need to have headlights on from November, 1st until March, 31st. A similar rule applies to winter tires (or having snow chains in the car): they are mandatory from November 15th until April, 15th on all winter road sections. In other words, you can drive in Istria and Dalmatia (from Zadar to Konavle) without winter equipment. In all other areas, you will need it. Here you can see the map of winter roads (those in blue and green).
Few other important rules
You will need to wear your seatbelt at all times. This applies to all seats in the car that feature a seatbelt, even for the backseats. A child seat is required for all children with a height of less than 135 cm. Children higher than 150 cm can use the front seat.
A hatched line means that you can take over, while a solid line means that passing isn't allowed.
You can't use a mobile phone while driving. You can use hand-free devices.
In the absence of other priority rules, follow the right-hand rule: this means that you need to give way to the traffic to your right. Observe the stop sign even when you don't think it is needed. Speed limits are posted on the signs along the roads.
Roads in Croatia
Roads in Croatia are generally in good condition and quite smooth. For most parts, they are asphalted and without potholes. However, some roads, especially on islands, and off-the-beaten-track destinations, can also be narrow, windy, and not featuring the protective fence. The Croatian government continuously invests in the improvement of road infrastructure.
The multilane motorways run from the north to the south, and from the east to the west, with only a few exceptions. Exceptions include a road section between Ploce and Dubrovnik and a road section from Rijeka to Pazin in Istria. These sections feature modern, well-maintained wide, and fast roads, but with a single carriageway.
Croatian toll roads
The multi-lane motorways now cross-connects the different parts of Croatia, except Ploce to Dubrovnik, and the tunnel Ucka to Pazin in Istria (this part is under construction now and should be finished in 2024).
All multi-lane motorways in Croatia have tolls. The motorways are always marked with the letter A preceding the number of the road. E.g., motorway A1 connects Zagreb with Dalmatia (Zadar, Split, Ploce), A6 connects Zagreb with Rijeka, A3 Zagreb with Slavonia, etc.
These roads are easy to use. At the entrance, you take a ticket from the toll booth, and you pay at the exit. You can either pay at the automatic toll booth cashier, or with a toll booth operator. Some smaller exits only have an automatic cashier.
You have also frequent rest stops and gas stations all along the motorways. Restop Zir with INA gas station and restaurant Macola is the popular rest stop traveling from Zagreb south to Split or Dubrovnik. Traveling from Zagreb to Rijeka or Istria, Ravna Gora with Crodux gas station and Marche restaurant is the most popular rest stop.
The tolls on Croatian roads can be paid in Euro, as well as by debit/ credit cards.
Here is an example of toll rates on Croatian motorways:
Zagreb to Zadar*: 16 € (17 $, 14 £)
Zagreb to Split*: 24 € (25 $, 21 £)
Zagreb to Ploce (Dubrovnik)*: 30 € (32 $, 27 £)
Zagreb to Rijeka: 9,2 € (9,7 $, 8 £)
Rijeka to Rovinj: 8,2 € (8,7 $, 5,2 £)
*From May to October, the rates increase by 10%.
Getting from Zagreb to Zadar, Split, or Dubrovnik
A1 motorway, popularly called Dalmatina, connects Zagreb with Ploce since 2011 when the construction of this motorway was finalized. This means that you can easily reach the entire Dalmatia via a nice, modern, multi-lane motorway.
From Ploce, you still have about 100 km to Dubrovnik, on a coastal state road D8 (ex E65). This road is in good condition, but it is mostly a single-carriageway road. At certain places, you will find a double lane on one side of the road (the ascending side), while a single carriageway remains on the other side (three lanes in total). This helps a lot when you are stuck behind a truck or another slow-moving vehicle.
This is also one of the most scenic roads in all Croatia. However, coastal road winds a lot, skirts along high cliff edges at some places, and passes through many villages, where you are highly advised to respect speed limits. This makes a trip a bit long and tiring.
There are other roads that you can take to reach Dalmatia from the north.
D1 road passes inland, through Plitvice Lake, and Knin, and then down to the coast where it joins the D8 road.
D8 (former E65), also called Jadranska magistrala (Adriatic coastal road), is a coastal road from Rijeka to Dubrovnik. This is perhaps the most scenic road in all of Croatia, especially popular among motorcyclists. A part of the road from Rijeka to Zadar is the most dramatic with sharp curves and susceptibly looking protective fences, but it is also the least frequented.
Which road you'll take depends on your budget and time. A1 motorway has tolls, but it's also the safest and fastest way to reach the south. Road tolls from Zagreb to Split amount to 24 € one way.
D1 and especially D8 are both good roads, and viable options to reach Dalmatia from the north. And while you'll save on tolls, you'll spend more time driving (although not so much more). Since the motorway has opened, fewer people use state roads. This makes them less busy, and faster too.
Getting from Zagreb to Rijeka, and Istria
The A6 motorway connects Zagreb and Rijeka. The distance between the two is around 150 km, and the highway costs 9,2 € in each direction.
The multi-lane motorway ends in Rijeka and further west to Istria, you drive on a single-carriageway road. To get to Istria, you'll pass through the Ucka Tunnel. After the tunnel, you continue driving through Istria on the main Istrian road called Istarski Y due to its shape. This is a partly two-lane road (until Pazin), and partly multi-lane road (from Pazin on). Istarski Y has tolls, and they amount to 8,2 € from the tunnel Ucka to Rovinj (exit Kanfanar), and to 9,4 € from the tunnel to Porec (exit Baderna).
You can also reach Rijeka and Istria from Zagreb using toll-free single-carriageway state roads. These roads first pass through Gorski Kotar, over Jelenje to Rijeka. Then further west you can take a coastal road D66. This road has been improved a couple of years ago. And while it's curvy, it also offers some wonderful scenic views. It's popular among motorcyclists.
Driving in cities and towns
Driving in towns and cities during the summer is absolutely crazy. In coastal towns, on a rainy summer day (yes, that happens sometimes) everybody seems to be heading downtown … with a car. Please don't be one of those people :)
Big cities like Zagreb, Rijeka, and Split are loaded with traffic at all times, especially Zagreb. While the real rush hour is normally from 7.30 am-9.30 am, and from 4.30 pm-6.30 pm, the rest of the day, traffic-wise, isn't much better.
Zagreb is lovely to drive around in August as the town gets devoid of people. However, in big towns, you mostly won't need a car except to get in and out of town. All the big towns have very good public transport. We advise you to use it.
Driving in the countryside
Village roads are really good everywhere in Croatia. And while they do get busier during the tourist season, they are still nice to drive on.
Roads off the beaten path are narrow, twisty, unlit, and don't have a white line in the middle, but they are also devoid of traffic.
When driving in the countryside pay attention to small and big wild animals (rabbits, deer, pheasants, hedgehogs, foxes) you are likely to encounter. On these minor roads, you can also have tractors and other farm vehicles.
On those smaller roads, you will also often encounter cyclists. Even more so now that electric bicycles became more affordable and popular, especially among the older population. This is especially the case in Istria which is heavily advertised as a bicycle-friendly destination although the dedicated cycling paths are very few. People of all ages and skills end up cycling on small country roads, and it can get dangerous. Pay attention and be patient!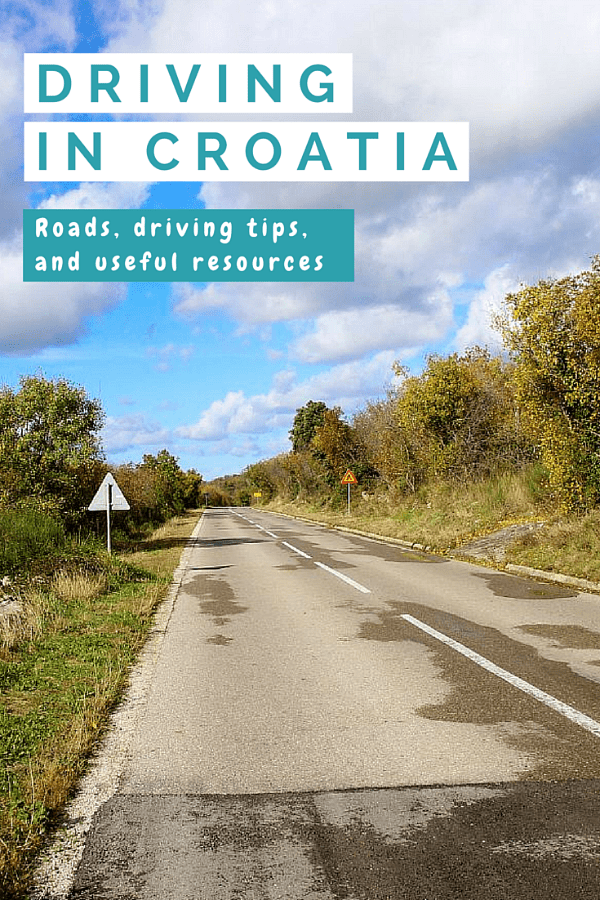 Drivers in Croatia
In Croatia, you've got two types of drivers: locals, and tourists. Although in a totally different ways, they are both equally dangerous on a road.
Croatians, especially in Dalmatia, tend to be fast, impatient drivers, who aren't shy to cut, overtake (sometimes even on blind corners), horn, and swear at you if they feel you are slowing them down. Croatians also use a horn to greet friends and acquaintances they encounter on the road.
Tourists, on the other hand, are often lost and tend to take sudden turns as soon as they see something interesting along the road.
But, things are not as bad as they might sound. Most of the time you'll have a pleasant time on Croatian roads. Just pay attention (and skip that sudden sharp turn when you see a honey stand along the road).
Tips for driving in Croatia
Observe speed limits. The inner-city speed limit is 30 to 50 km/h; on open roads speed limit is up to 90 km/h (but with lots of slower limits in curves, and other road conditions); on all major toll roads speed limit is up to 130 km/h.
Like in the rest of Europe, Croatians drive on the right side.
If possible, avoid traveling on weekends in the summer. Traffic congestion on the roads is common.
Your country driver's license will be sufficient to drive in Croatia. However, International Driving Permit, while not mandatory, is recommended.
Road rules are similar if not the same as everywhere else: observe speed limits, don't use your phone while driving, and wear a seatbelt at all times.
Dipped headlights are mandatory during the daytime from November, 1st until March, 31st.
The alcohol rule is somewhat complicated: the permitted blood alcohol limit for driving is 0.05%, as long as you don't have any road accidents. Involvement in any accident stipulates immediate zero alcohol tolerance (a mandatory breathalyzer is required for any accident).
Croatian Auto Club (HAK) provides road assistance, should you need it. They have English-speaking operators. The telephone number is: 987
Stop signs are mandatory, and the right turn is only allowed if a traffic light is green.
Traffic conditions are transmitted in Croatian, English, and German via HRT 2 (98,5 MHz), and they also have news in these languages.
Like everywhere in the world these days, the price of fuel in Croatia often changes. In Croatia, the new pricelist is published bi-weekly on Tuesday. At the moment of this writing, the price of fuel is 1,47€ per liter of diesel, and 1,33 € per liter of gasoline. Premium fuel costs more. The prices can slightly vary from gas station to gas station but in general, they are very much similar.
Useful resources about roads and driving in Croatia
Gas stations in Croatia
We recently went to Spain with our camping car and were absolutely shocked when at the gas station in France we were charged two times 125 € when we actually took only 50 € worth of fuel. This was a pre-paid automatic gas station.
So to spare you from a similar shock, here is what you need to know about gas stations in Croatia.
In Croatia, you pay for the fuel you refill. You pay at the cashier inside the gas station. There are no automatic payment machines at the pump.
There is always an attendant at the gas station. They don't fill up your tank, but they are there to help should you need them, and they are there to charge you for the fuel after you refill.
You can pay for the fuel in cash in Euro or by debit/ credit card. The cost of the fuel is about 1.33 € (1.41 $, 1.16 £) for unleaded petrol and around 1.47 € (1.56 $, 1.27 £).
Gas stations are modern and each has a small shop with everyday items like snacks, drinks, toiletries, and car items like windshield wash, AdBlue, motor oil, wipers, etc… The gas stations along the highway also have toilets, and a snack bar or restaurant attached to them. Many have a small children's playground.
Further reading
We hope you've got a good idea of what to expect on Croatian roads, and what driving in Croatia is all about. As always, if you've got any questions, please leave them in the comments below.