If you are visiting Dubrovnik, Croatia, then this Dubrovnik travel guide will help you discover things to do, the best places to stay, eat and drink as well as provide all necessary travel information about Dubrovnik.
Dubrovnik, the southernmost town in Croatia, is probably more popular than Croatia itself. Vera grew up in this region and we'll share here everything we know about Dubrovnik to help you plan your visit.
Dubrovnik is really beautiful, although at times it can feel too touristy (crowded, and expensive). However, Dubrovnik is one of its kind, and certainly a must-visit destination in Croatia.
Dubrovnik has been UNESCO listed World Heritage Site since 1979. The most popular attraction in Dubrovnik is a pedestrian-only old town and surrounding city walls.
Dubrovnik: FAQ
Below we answer some of the most common questions regarding traveling to Dubrovnik, Croatia.
Where is Dubrovnik, Croatia?
Dubrovnik is the southernmost town in Croatia, located only 50 km north of Montenegro. Below you'll find a map of Dubrovnik. You can click on the icon and read our posts about Dubrovnik landmarks, things to do, restaurants, etc.
What is the best time of year to visit Dubrovnik?
The best time to visit Dubrovnik is from April to mid-June, and mid-September to mid-October, even though there might be fewer activities and events available in Dubrovnik at that time of the year.
Dubrovnik. Is.Crazy. In.Summer. Remember that. Dubrovnik's old town is small and compact, and it can get crowded pretty soon. There can be as many as 5 cruise ships stopping in Dubrovnik on any given day in high season. This means over 10.000 visitors daily from the cruise ships alone.
There could be days when the traffic marshals stand at the town gates to direct people not cars. Anyways, if you have no choice but to visit Dubrovnik in the summer, don't worry. The town is still beautiful regardless of crowds. On a positive note, you will be able to swim in the beautiful Adriatic Sea.
HEAD HERE FOR THE FULL POST ON THE BEST TIME TO VISIT DUBROVNIK!
Is Dubrovnik safe?
Dubrovnik is a small town with just over 40.000 inhabitants where almost everybody knows everybody. The crime rate is very low.
Dubrovnik is a very safe place to visit. You don't need to worry about being robbed, or walking alone at night, as you might worry in big European cities.
But this doesn't mean you need to be careless. You should take all safety measures in order to avoid problems. Lock the door and close the windows of the accommodation in Dubrovnik where you stay. Lock the car, and keep your belongings out of sight. Get yourself a travel money belt and keep your money, cards, and documents safely stored.
Also, don't forget to keep yourself safe from unintentional self-injuries. In Dubrovnik old town, cobblestone streets can be pretty slippery. Many neighborhoods, including the part of the old town, are set on the hill. The stairs leading up to those places are sometimes very steep. And so are the steps leading up to the Walls of Dubrovnik. And finally, Dubrovnik in summer gets lots of sun and heat. Make sure you wear sunscreen, and a hat, and drink enough water throughout the day.
If you plan to go swimming in Dubrovnik, make sure you swim safely. We don't have sharks or any dangerous fish species in the Adriatic Sea, but you can encounter sea urchins or sea anemones.
Is Dubrovnik expensive?
Dubrovnik is the most expensive town in Croatia. And yes, it is generally an expensive place to stay and visit.
Dubrovnik's old town is the most expensive neighborhood in Dubrovnik.
For example, expect to pay 12 € for cheaper meals like pizza, burger, or pasta. Steak or fish will easily set you back 40 € per person. Soft drinks, like Coke or Fanta, cost around 4 €. A 0,33l beer is around 6 €, and a glass of wine goes anywhere between 4 € and 8 €. One scoop of ice cream is around 2.5 €, and a dessert in the restaurants usually costs around 7 €.
As for accommodation, expect to pay at least 180 € a night for a double room with breakfast in July or August in a 3-star hotel, 240 € in a 4-star hotel, and 380 € in a 5-star hotel. Daily rental for a studio apartment in the old town will set you back 180 €, but in the outer suburbs the same style apartment you will pay 120 € a day. Accommodation rates in June and September are at least 20% cheaper than in July and August.
Is Dubrovnik worth visiting?
Dubrovnik is a must-see destination in Croatia. You don't necessarily need to stay overnight in Dubrovnik, but if you are visiting Croatia, you have to visit Dubrovnik.
It is a wonderfully preserved medieval town with beautiful architecture, rich history, 2 km long city walls encompassing the old town, lovely beaches, good restaurants, and buzzing bars.
Reasons to visit Dubrovnik
One of its kind
Dubrovnik often makes it to all kinds of lists of places you have to visit in your lifetime. The town is simply beautiful and worth visiting. Enough said. Go, check it yourself!
History
Dubrovnik is full of history. A UNESCO World Heritage Site, the old town is perfectly preserved, and full of wonderful Renaissance, Gothic, and Baroque palaces, churches, and monasteries.
Culture
Dubrovnik is often described as a museum town, but it's also a town full of museums. In Dubrovnik, you can enjoy culture and art in all its forms: from music festivals, theater plays, and art exhibitions to its architectural wonders.
Vibe
Yes, Dubrovnik gets crowded in July and August, and it can get overwhelming. However, Dubrovnik is one of those places with a great vibe, one of those places where you feel good and where you can stay all by yourself and never feel lonely.
Road trip
If you like to take on a road in pursuit of wonderful views, Dubrovnik Croatia is the place to go. You'll enjoy winding roads, endless vistas, small villages, hidden beaches, idyllic olive groves, and vineyards.
Things to do in Dubrovnik
Whether you visit Dubrovnik for a couple of days or for an extended period of time, you'll have lots of things to do and see. We've written two posts on things to do in and around Dubrovnik: Dubrovnik beyond the city walls, and Things to do in Dubrovnik, where we give you an in-depth insight into activities and experiences in Dubrovnik. Here we list just a couple of them.
Cable car
A less than four-minute cable ride takes you up to Srd Hill where you can enjoy wonderful views over Dubrovnik. There is a panoramic bar at the top and a small museum.
The cable car operates from April and you will pay the round ticket of 26.54 € for the adult and 6.64 € for kids 4 -12 years old. All details you can find on its official website.
Explore the old town
A charming walled city, Dubrovnik is a wonderful place to stroll and enjoy the sights.
Visit museums
Often considered a museum town, Dubrovnik is also a town full of museums. Many museums are small, and dedicated to the history of Dubrovnik, and the region. We particularly like the small ethnographic museum Rupe and Gornji Ugao Tower.
Wine tasting
Wine is an integral part of life here in Dubrovnik. You can taste some of the best Croatian wines in many wine bars in Dubrovnik old town (we like D'Vino), but you can also take a half-day trip and explore vineyards in the Konavle region. We also recommend visiting the Karaman Vinery.
Sea kayaking
One of the most popular outdoor activities in Dubrovnik, sea kayaking is a half-day tour that takes you along the city walls south to the small cave beach, and off to the island of Lokrum. A fellow blogger Ashley shared her experience of sea kayaking in Dubrovnik here on our blog. You can also book a sea kayaking tour here.
What to see in Dubrovnik
The majority of the sights in Dubrovnik are within the old town. This makes sightseeing in Dubrovnik quite easy. You can explore Dubrovnik landmarks on your own, or join one of the guided city tours.
Franciscan Monastery
Constructed in 1317, the Franciscan Monastery is located right at the entrance of the city, near the Pile Gate. The monastery has two cloisters: upper and lower.
The lower cloister is built in the Romanesque-Gothic style, and it consists of 120 columns, 12 pillars, frescoes, reliefs, a statue of St. Francis, and a fountain.
The monastery also houses the old pharmacy from the 14th century.
Walls of Dubrovnik
Dubrovnik's main attraction, city walls are almost 2.000 m long, and consist of four fortresses: Minceta, Revelin, St. John, and the Bokar Fortress; two additional round towers, 12 square towers, 5 bastions, and 2 cornerstone forts. A must-see if you are in Dubrovnik.
To walk on the city walls you need to buy a ticket and the price is 35 € for the adult and 15 € for kids up to 18 years from March to October (15 € for adults and 5 € for kids from November to February). Besides the walk through the city walls, sightseeing of the fortress Lovrjenac is included in the price. You can buy tickets up in the city or on their website.
Lovrijenac Fortress
This 14-century fortress, built on a 37 m high sea rock, is often used as a stage for various theatrical plays. It was also a set of the "King's Landing" in the popular mini-series "Games of Thrones".
Admission to the fort is included in the admission fee for the city walls. Or you can buy the ticket only for the fortress and, in this case, you pay 15 € from March to October (5 € from November to February). Yet, it remains less visited and thus less crowded.
Old town port
A lovely old port is located at the southern end of the city walls. Today it harbors small, leisure boats, and it's a great place to relax and watch the world go by.
Island of Lokrum
A green oasis just a short boat hop from Dubrovnik's old town, the island of Lokrum is a nature park and a popular swimming spot among locals and tourists alike.
Boats to the island depart from the old port.
Food and restaurants in Dubrovnik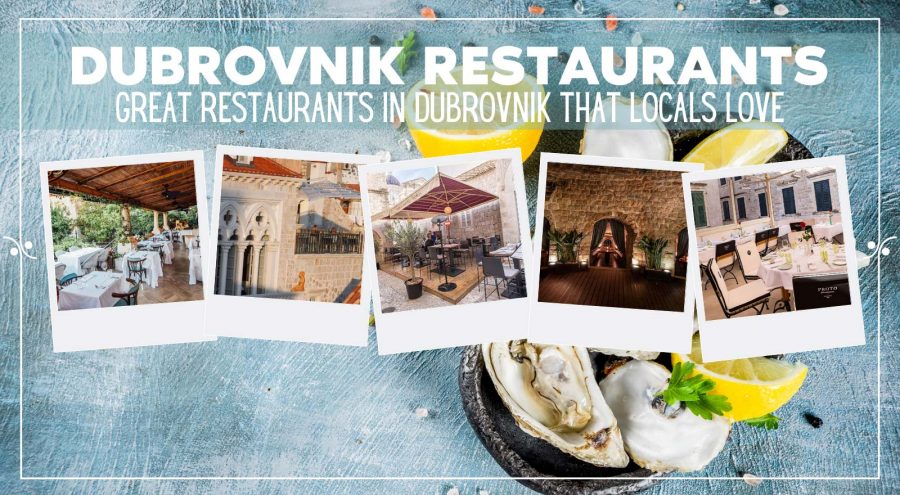 One thing you'll notice in Croatia is that the restaurant offer is very homogeneous, the menu of many restaurants resemble one another, and it can get a little bit boring after a while. Luckily, this is not the case in Dubrovnik.
While you'll still find a fair share of restaurants with grilled meat and fish plates, risottos, and pasta, you'll also have a variety of national cuisines to choose from: Japanese, Bosnian, Fusion, French, Mexican, Spanish, …
We've written a full post on the best restaurants in Dubrovnik, and here we list just a few of them.
Bota Oyster & Sushi bar
Not your standard sushi bar, but rather a modern fusion take on sushi, sashimi, and other seafood delicacies. The ingredients are as fresh as it gets, the location is central yet quiet, and the service is friendly. Read our review here.
Glorijet
Glorijet, located next to the fish and farmer's market, in the Gruz area, is well-worth seeking out for its lively atmosphere, simple but tasty traditional food, and attentive service.
A price of a fish meal starts at 15 € and meat at 12 €. The price for dessert is around 6 €. The bistro Glorijet is open from Monday through Saturday, from 10 am to 11 pm.
Proto
An upscale fish restaurant located in the heart of the old town, Proto serves classical Croatian seafood dishes. The restaurant is pricey but offers good quality and top-notch service. If you are planning to visit Dubrovnik in winter, note that the restaurant is closed from November and reopens in Spring.
Azur
A tiny restaurant, hidden in a small alley of the old town, Azur serves yummy dishes of non-traditional, and distinct Asian flavors. Their seared tuna is to die for. The price of the main course is around 20 €, and you will pay 4 € for dessert. The same as Proto, Azur is closed until Spring.
Cafes and bars in Dubrovnik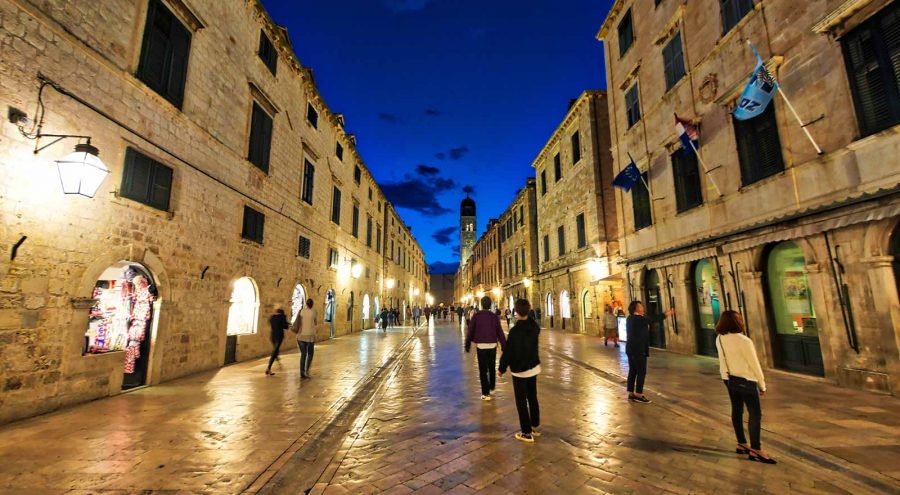 Croatians love their cafes and bars! One of the first things you'll notice when traveling through Croatia – bars are always full of locals lounging and sipping coffee for hours.
Dubrovnik is no different! Cafes and bars are everywhere. Tourists mostly hang out within the old town, while locals equally frequent bars in the old town, and in other neighborhoods, like Lapad.
Located on the cliff above the sea, and accessible only through a passage in the city walls, Buza I and Buza II (also called Bard Mala Buza) are the most popular bars among tourists. People love them for their great views and cool vibe. If you want a unique experience, go there for the sunset. Come earlier to ensure you have a good spot. Drinks are pricey.
We love D'Vino Wine Bar for its friendly staff, an extensive list of Croatian wines served by the glass, and a really cozy interior. Here you can enjoy wine tasting starting at 7.5 €. They have different options and combinations for wine tasting so check out their website's full offer.
Locals favorite bar in the old town, Galerie is located off Stradun, in one of the side streets, and it's famed for fun buckets-served drinks. It is open every day from 9 am to 1 am.
A low-key bar located just off the Stradun, Fontana serves the cheapest drinks in the old town. One of the few bars in the old town where locals still go. Very good choice of drinks!
Other popular bars and clubs include Capitano, Casablanca, Buzz Bar, and Revelin.
Read more: Bars, clubs, and nightlife in Dubrovnik.
Beaches in Dubrovnik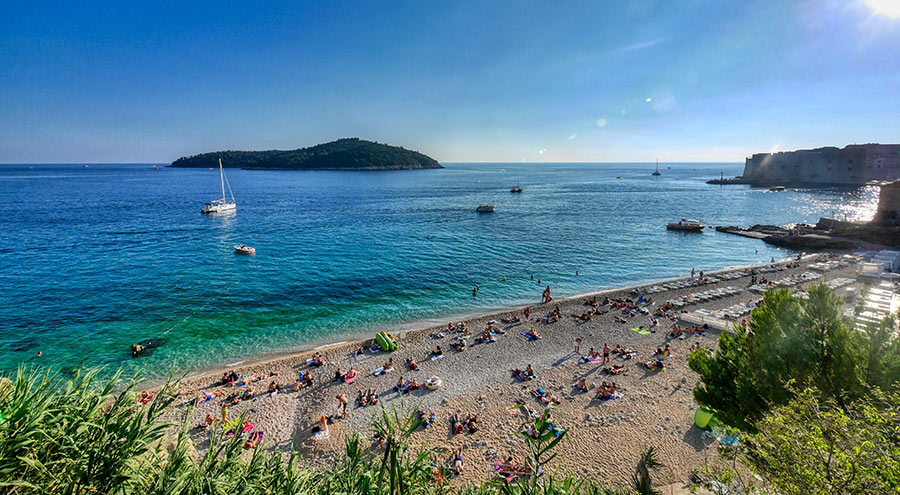 We always think of Dubrovnik in the sense of architecture, history, art, culture, and food. But Dubrovnik is also a beach town where swimming, suntanning, and just lazing in the sun is a l'ordre du jour.
Locals head to the islands of Lokrum or Lopud, but also to the Lapad peninsula for a day at the beach.
A rocky Dance beach is also popular among locals, although the sea is a bit cooler here, it is still clean and has that wonderful blue color.
Tourists mostly hang out on Banje beach for its proximity to the old town, and at Buza beach (popular for the cliff bars of the same name).
HERE IS A GUIDE TO DUBROVNIK BEACHES!
Where to stay in Dubrovnik
Dubrovnik offers a good choice of accommodation: from 5-star hotels, and vacation rentals, to hostels, and even a campsite. Generally, the closest you stay to the old town, the more expensive your accommodation will be.
If you travel by car, try to find accommodation that offers free parking. Should you pay to park separately, it will significantly increase the cost of your stay.
Hotels are more expensive than other types of accommodation but have breakfast included in the room price.
All apartment rentals come with a fully-equipped kitchen or kitchenette. This can help you to lower your cost as you'll be able to shop for groceries and cook your own meals. They are also a cheaper option if you travel with a bigger party, as the price is often set per apartment, for full occupancy.
Solitudo is the only campsite in the town, located in the Babin Kuk neighborhood.
Below you'll find a couple of recommended accommodations in Dubrovnik. Or head here to read our full post on the best places to stay in Dubrovnik.
Villa Dubrovnik
Built on a cliff, overlooking the sea, the island of Lokrum, and the old town, this boutique hotel features 56 contemporary rooms with large balconies. a spa center, a restaurant, and a private rocky beach.
The villa is located a 15-minute walk from the old town and offers a free bus or boat shuttle to the town.
Prices start from 360€ per double room with breakfast.
Hilton Dubrovnik
Located just outside the old town, a few steps from the Pile Gate, the Grand Hotel Imperial Hilton is set in a historic palace constructed in 1895.
The hotel features 147 rooms and suites, a gym, spa, indoor pool, bar, and restaurant. Views from upper floor rooms are great.
Prices start at 140 € per night for a double room with breakfast.
Argosy Hotel
A low-key 4-star property, hotel Argosy is located in the Babin Kuk neighborhood, a 10-minute drive from the old town.
The hotel is part of a popular Croatian hotel chain – Valamar Hotels & Resorts. It features 308 rooms, an indoor and outdoor pool, and a couple of pebbly and rocky beaches below the hotel. A pebbly beach Copacabana, where you can enjoy swimming and sipping cocktails, is not far from the hotel.
Prices start at 160 € for a double room with breakfast.
Festa Apartments
Comfortable, clean, and functional, with exposed stone walls, an amazing location in the heart of the old town, and lovely owners, Festa is a great choice if you are looking for a self-catering apartment for your stay in Dubrovnik.
Each apartment is air-conditioned and comes with a kitchenette, bathroom with shower, free WiFi, and a flat-screen TV. Unfortunately, apartments don't provide parking.
Prices start at 120 € for a studio for two people.
The Byron
Located in the heart of the old town, The Byron offers three spacious rooms each equipped with a kitchenette. All rooms are tastefully decorated, air-conditioned, and offer free WiFi.
Staff is super-friendly, and always eager to help with suggestions, and money-saving tips (important!).
Prices start at 280 € for a double room with breakfast.
Shopping in Dubrovnik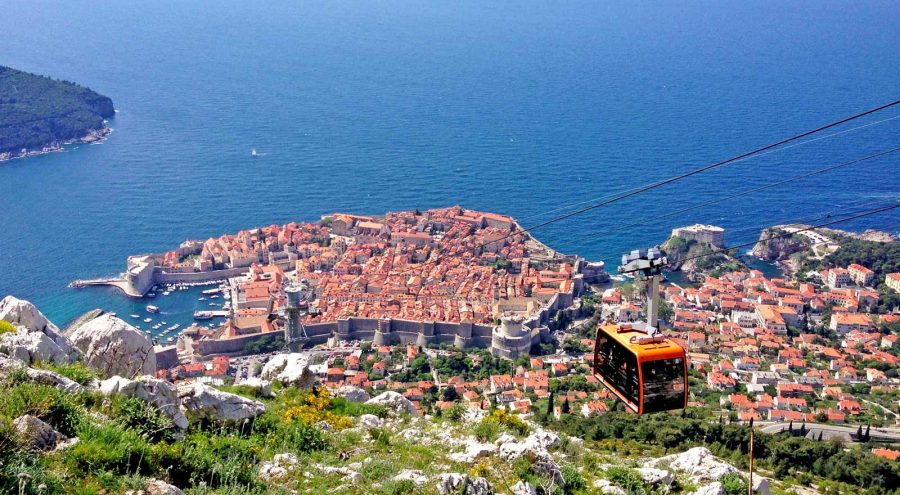 Among tacky souvenir shops in Dubrovnik lining the main street Stradun, the cool and authentic stores aren't so easy to spot.
However, there are few shops offering authentic and original locally made items.
Dubrovacka kuca is a place where you will find Croatian spirits, wines, cosmetics, sweets, postcards, ceramics, and other artworks. All products are made in Croatia by local craftsmen. It is located in the middle-aged tower of St. Dominic within the Old town and it is open every day from 9 am to 8 pm.
Atelier Peridot offers locally made and affordable accessories including necklaces made of red Adriatic corals. Although you can check their offer on the official website, this shop is definitely worth visiting. It is located in the city center, very close to the main street Stradun and is open every day from 10 am to 7 pm.
Life according to Kawa is a concept store that showcases the best of Croatian designers and artists. Here you can buy specialty beers and local delicacies, hand-roasted coffee, bags, hand-made souvenirs, jewelry, and even furniture. Just be careful – once you visit this store, it is most likely you will want to go back. Our personal record is going there three times in one day.
The House of nature offers organic and locally-made skincare products. The owner will happily help you with choosing the best product based on your preferences for herbs.
Parking in Dubrovnik
Parking around the car-free old town is a nightmare and very expensive. In this area, parking places are scarce, and expensive (expect 10 € per hour in high season).
If you plan to stay in Dubrovnik and you travel by car, make sure to book accommodation that provides free parking. The majority of hotels in Dubrovnik, located out of the old town, provide free parking, as well as many private apartments. You can also park your car on designated streets. The daily ticket costs between 30 € and 60 €.
On- and off-street parking in Dubrovnik can be paid with your cell phone, street payment machines, or at any Tisak kiosk. In Zone 1, the maximum parking time is 2 hours.
Dubrovnik's public garage is just a 5-minute walk from the old town. However, you will need to walk uphill to reach the garage from the old town. Parking in the garage costs 2.6 € per hour. A daily ticket costs 29 €, and a weekly ticket will set you back 145 €.
Parking lots and street parking are organized into five zones.
Map of parking in Dubrovnik
Parking prices
Zone 0 | Daily, 0-24 h | May-Sept: 10 €/h | April, Oct: 6.6 €/h | Nov-March: 2.7 €/h
Zone 1 | Daily, 6 am-10 pm | May-Oct: 1.3 €/h | Nov.-Apr: 0.7 €/h
Zone 2| Permit holders only
Zone 3 | Daily, 6 am-10 pm | May-Oct: 1.3 €/h | Nov-Apr: 0.7 €/h
Zone 4| Permit holders only
Traveling to Dubrovnik
Dubrovnik is the southernmost town in Croatia, and as such it's somewhat difficult to reach. Maybe not difficult, but it takes a long time to get there regardless of your mode of transport.
By plane
Traveling to Dubrovnik by plane is by far the best way to reach the town, at least from April to October when lots of low-cost carriers have direct flights to Dubrovnik from all major European destinations.
Dubrovnik Airport is located near the village of Cilipi, 20 km south of Dubrovnik. It's a small but modern regional airport.
An airport shuttle bus departs frequently, after every scheduled flight. From Dubrovnik's main bus station Gruz to the airport, a shuttle bus departs 2 hours prior to any international flight, and 90 minutes prior to any domestic flight. It takes 30 minutes each way, and a one-way ticket costs 9 € while the price of a return ticket is 12 €. The official website for the Dubrovnik airport shuttle provides details about bus stops and where to buy the ticket. You can also reach the town by public bus (the bus station is on the main road, just outside of the airport parking). One way ticket costs 3.7 €.
From April to October, lots of airlines fly into Dubrovnik from various European destinations, like London, Manchester, East Midlands, Leeds, Dublin, Vienna, Rome, Stockholm, Dublin, Amsterdam, Frankfurt, Warsaw, Barcelona, Madrid, Berlin, Edinburgh, Paris, and many more.
Skyscanner is our favorite website to check flights to and from Dubrovnik.
By bus
You can easily reach Dubrovnik by bus from many places in Croatia. The bus network is extensive, and the buses are very reliable in Croatia. Many different bus operators have a yearly connection to Dubrovnik.
The largest bus operators are Croatia Bus, Aviva, and Cazmatrans. The best way to plan your bus trip online is through the Getbybus website.
It takes about 9 hours by bus to reach Dubrovnik from Zagreb, and around 4 hours to reach Dubrovnik from Split. Expect to pay around 30€ for a one-way ticket from Zagreb to Dubrovnik, and 18€ for a one-way ticket from Split to Dubrovnik.
By car
If you travel by car to Dubrovnik, you have a few options to reach the town.
Taking highway A1 until Ploce, and a coastal road D8 (former E65) from Ploce to Dubrovnik. You can also travel all the way from Rijeka in the north to Dubrovnik in the south using the coastal road E65. Using the highway is a faster way to reach Dubrovnik. Using the coastal road is a scenic, and exciting albeit slow way to travel to Dubrovnik. The coastal road passes through many villages where you need to keep low-speed limits. It is winding, and scary at times but it sure offers breathtaking views and wonderful scenery.
Once you reach Ploce, you can only travel along the coast on a national road, comprising mainly of a single carriageway. This road, at certain places, has a double lane on one side (usually the ascending side of the road), and a single lane in the other direction.
Once you pass the village of Raba, you will need to make a choice whether you want to continue driving along the coastal road D8, and go through border controls in Neum in Bosnia and Herzegovina, or you will take a Peljesac bridge and avoid passing through Bosnia on your way to Dubrovnik.
We recommend taking the bridge.
The coastal road takes you through Neum, the only coastal town in Bosnia & Herzegovina, that divides Croatia into two parts. You'll have a border crossing to and out of Bosnia, and you'll need to drive through Bosnia for about 10 km. Don't worry, if it wasn't for the border crossing, you wouldn't even notice it. You don't need any extra insurance to drive this part of the road. The area is considered a transit zone, and car insurance for Croatia should be sufficient. But, you can have a significant waiting time at the border, especially in high season. However, if you are a holder of a Croatian visa, make sure you have a multiple-entry visa to re-enter back into Croatia.
In the summer of 2022, the Peljesac Bridge officially opened and for the first time in history connected southern and northern Croatia. The bridge is 2.5km long and you do not need to pay any fees. We definitely recommend taking this route and enjoying the unspoiled beauties of the Peljesac peninsula.
Read more: Driving in Croatia
By boat
Dubrovnik is the main ferry port for the nearby islands of Elafiti, Mljet, and Korcula. You can also reach Dubrovnik from Split by catamaran from May through October. The one-way ticket costs 45 € per person. More info here.
Dubrovnik can also be reached by ferry from Bari in Italy. The service runs from April through October. In high season, a one-way ticket costs 50 € per person. A car costs an additional 65 € per car. You can buy tickets online through the Bookaway website.
Dubrovnik Public Transport
Driving in Dubrovnik can be a mess; especially when it comes to finding (and paying for) parking.
However, the town is relatively small, and it has very good public transport. Buses run from 6 am to midnight, every 30 min or 1 hour depending on the line. The old town is car-free.
One-ride ticket costs 2 € if bought on a bus, or 1.73 € if bought on a newsstand. Daily ticket (valid for 24 hours, and for an unlimited number of rides) is 5.31 Kn.
You can also save money with a Dubrovnik Card that gives you an entrance to 6 museums, 2 galleries, an entrance to the city walls, and a number of bus rides. Dubrovnik Card is sold as a 1-day card (35 €), a 3-day card (45 €), and a week card (55 €). These prices include a 10% discount for online purchases.
Car rental in Dubrovnik
Since Dubrovnik has lots of direct flights from all over Europe, the UK, and Ireland, many visitors to Croatia fly into Dubrovnik airport. Many of them don't plan on actually spending their entire holiday in Dubrovnik, but instead, use it as their entry point for Croatia. They rent a car and travel further north. Many also stay in Dubrovnik but often rent a car for day trips to the surrounding area and nearby landmarks.
This means that Dubrovnik has a good choice of car rental companies, but it also means cars rent quickly in the high season.
We highly recommend that you rent your car well in advance if you plan to visit Dubrovnik in July and August. You can check the Rentalcars.com website for the best deals, and price comparison. The earlier you book, the better price you'll get.
Prices of car rentals vary according to car model, additional equipment, booking lead time, time of the year you're booking your car for, etc. You can expect to pay 60€ a day for a mini-size car in the high season. The same car costs as low as 25€ in the low season.
Our friends Robert & Mary, a Scottish couple who stay with my in-laws in Komarna every year, have a habit of renting the car for a consecutive year as soon as they come back home from this year's vacation. And they pay as little as 10€ a day. Just to make you realize how important is to book early.
Read more: Car rental in Croatia
Recommended travel guides
Further reading
Save it for later