So many of our readers plan a visit to Split and Dubrovnik, and they often ask us the best way to get from Split to Dubrovnik. Or vice versa, how to get from Dubrovnik to Split.
It isn't difficult to travel between the two. In fact, you have more than one travel option when it comes to the mode of transport, as well as routes.
And the following post will cover all different options that will help you learn the best ways to get from Split to Dubrovnik and to get from Dubrovnik to Split.
How to get from Split to Dubrovnik: Overview
People often like to know if they can visit Dubrovnik from Split and get back to Split in a day. In short, it's doable but it will make a long day.
Dubrovnik is 230 km southeast of Split, and you can get from Split to Dubrovnik by car, bus, ferry, and a private transfer.
The fastest way is by car. It takes anywhere from three to four hours to reach Dubrovnik from Split by car depending on the route you take, and the time of year you visit. In July and August, you can expect more traffic on the roads, but also long lines at the border crossing in Neum.
The traveling time between Split and Dubrovnik by catamaran is anywhere between 5h and 8h. Two companies operate these lines but none offers the direct line.
If you decide to travel by bus, it will take you just a bit over 4h to get from Split to Dubrovnik.
Split to Dubrovnik and Dubrovnik to Split by car
By no doubt, the best way to travel around Croatia is by car. And getting from Split to Dubrovnik is no different.
You have two main options to get from Split to Dubrovnik by car:
Taking the coastal road D8 (former E65)
Taking the motorway A1 until the town of Ploce, and then taking a coastal road D8 from Ploce to Dubrovnik
Which one you should choose depends on your budget (motorway has tolls), time of the year (in summer coastal road gets congested), your time (if in rush take the motorway), and personal preferences (some people just like driving on the smaller roads).
Driving on the coastal road D8 (E65)
Until a decade ago the coastal road D8 (E65) was the only way to reach Dubrovnik from Split.
D8, better known as Jadranska magistrala (Adriatic Highway) or simply magistrala, stretches from the Slovenian-Croatian border above Rijeka all the way south to the Croatian-Montenegrin border.
Not only that this coastal road is one of the most scenic roads in all Croatia, but it is also one of the most important roads ever built here. Before the D8 road was constructed in 1970, the only way to reach Rijeka from Split was by boat. There was no railroad nor other roads.
Nowadays, only locals and enthusiasts use this road to travel from the north to the south. However, this doesn't mean the road is voided of traffic. Quite opposite!
In fact, D8's busiest road sequence is between Split and Dubrovnik, especially the part between Split and Ploce. The road passes through many coastal villages and it gets busy with locals and tourists alike.
We drove on this road many times and if you have time, you aren't a nervous driver, and you aren't in rush, we can't but recommend taking the D8.
This sea-front drive is lovely, taking you through many cozy coastal towns, past incredible coves and beaches while offering breathtaking views all along the way.
Besides a few short parts, the D8 road is a single carriageway. The road is winding. It runs parallel to the coastline, and through scraggy cliffs. However, vistas along this road are some of the nicest you'll see anywhere.
The coastal road is toll-free.
Getting from Split to Dubrovnik by car on a motorway A1
The motorway A1 is almost 500 km long and it connects Zagreb to the north with Ploce to the south.
If you plan to drive on A1 motorway from Split to Dubrovnik, you will catch the motorway at the junction Dugopolje.
This junction is just under 20 km away from Split and it takes 15 to 20 minutes to reach it. Once you join the motorway, you will drive on this multilane road for about 100 km before joining the coastal road D8 near Ploce.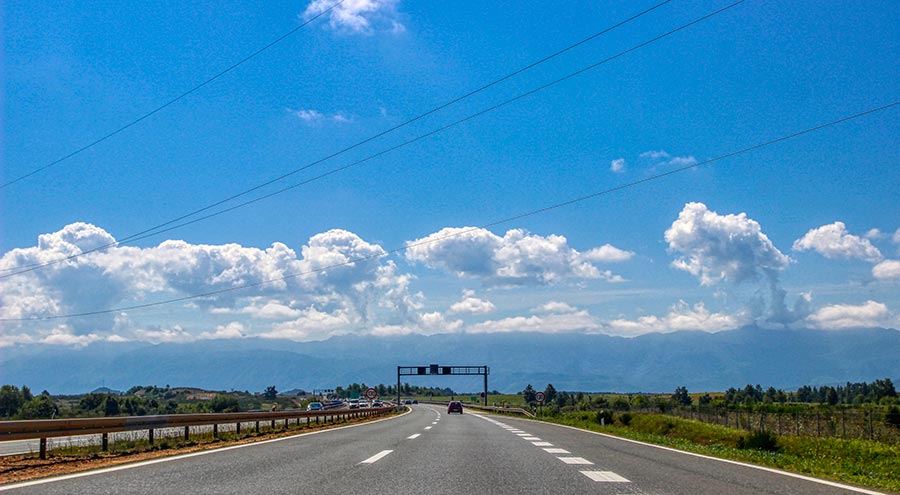 From here it takes another 100 km and about 1.30h to reach Dubrovnik. Exact traveling time depends heavily on a border crossing in Neum. In high season, especially on weekends, the queue can be quite long. To be on a safe side count in at least 20 minutes waiting time.
If you are up for an adventure, and you like to see something different, drive a part of your trajectory through Bosnia and Herzegovina.
Follow the highway A1 into Bosnia and Herzegovina, direction Medugorje. From there, take a state road through the following towns Capljina, Stolac, Bjeljina, and Trebinje before crossing the border back into Croatia, in Ivanica, 11 km south of Dubrovnik.
What to see on the way from Dubrovnik to Split (and vice versa): Recommended stops
If you are not in rush you might plan to stop along the way and enjoy some of the attractions, like zip-lining in Omis; dipping in a blue Adriatic at Pisak, Brela, or Nugal beach; or visiting Biokovo nature park.
Recommended stops along the way from Ploce to Dubrovnik include a visit to Rizman winery on the hills above Komarna, a seafood lunch in Ston, and taking a Napoleon road from Slano to Trsteno. If you are up to tasting something different, you can also plan a lunch stop at the Duda and Mate restaurant in Vid. Here you can taste Brujet od zaba i jegulja, a traditional fish stew made of frogs and eels.
If you are into kiteboarding or windsurfing, you might plan a stop at the Neretva River Estuary (Usce) where you can take on the wind and enjoy some waves. More info here or here.
Renting a car
If you don't have a car, you can always rent one. You can also pick up a car in Split, and drop it off in Dubrovnik.
Renting a car can as well prove to be the cheapest option under the following circumstances:
If you are 3 or more people, renting can be cheaper than bus, ferry or transfer.
When you book your car as much in advance as possible, you can profit from the super cheap prices.
Don't forget that bus fare stays the same regardless of the season, while car rental prices change with the demand. This means that offseason you can definitely save money on car rental compared with other options.
Parking in Dubrovnik is expensive. Check our Dubrovnik Travel Guide for more information.
Border crossing in Neum
You've probably heard by now that you need to pass through Bosnia when getting from Dubrovnik to Split.
Two parts of Croatia are separated by Bosnian Riviera in Neum. It's almost 10 km long stretch of coast that actually belongs to Bosnia. Here you will need to pass two border controls (one to get out of Croatia, and then another to get into Croatia again): Klek and Zaton Doli.
This is the shortest way to get from Dubrovnik to Split, or from Split to Dubrovnik. Another travel option is to take a car ferry in Ploce and cross to Trpanj on the Peljesac peninsula. And then continue driving along the peninsula toward Dubrovnik. However, this way is much longer than the one through Neum.
Although the majority of travelers are just in transit from one part of Croatia to another, technically, since Croatia joined the EU in 2013, it's considered as an official exit and re-entrance into the country.
For people who don't need a visa, this isn't of any importance. Like elsewhere, EU citizens, as well as Swiss, Norwegian and Lichtenstein citizens, can cross the border using only an ID. Non-EU citizens will get a stamp in the passport every time they cross the Croatian border.
If you need a visa for Croatia and plan to take this road, make sure to have a multiple-entry visa. Otherwise, once out of Croatia, you won't be able to re-enter on a single entry visa. Keep this in mind when planning your visit to Croatia.
Split to Dubrovnik, Dubrovnik to Split ferry
Boarding a ferry and cruising along Adriatic should be a great way to get from Split to Dubrovnik. Well, seemingly it is. But unfortunately in reality not so much so. First, it takes a long time. Second, if you travel off-season it can be pretty challenging if not impossible.
Two companies operate a passenger-only ferry between Split and Dubrovnik: Jadrolinija and Krilo.
Jadrolinija sails every day from June through September. The ferry departs Dubrovnik at 7 am, arriving in Split around 1 pm. It departs from Split at 4:15 pm and arrives in Dubrovnik at 10:10 pm. The one-way ticket costs 210 Kn per person. The boat also stops in Hvar, Bol, and Korcula along the way.
Krilo ferry Split Dubrovnik sails from mid-April to end-October. It leaves Split at 7.40 am and arrives in Dubrovnik at noon. It leaves Dubrovnik at 4.30 pm (4.00 pm from Sept to late Oct) and arrives to Split at 8.45 pm (8.15 pm from Sept to late Oct). It also stops in Milna (Brac Island), Hvar, Korcula, and Pomena (Mljet Island).
Krilo also has another ferry operating between the two towns from June through September with a bit different sailing route. It departs Split at 7.30 am and arrives in Dubrovnik at noon. It departs Dubrovnik at 4 pm and arrives in Split at 9 pm. The ferry also stops along the way in Bol (Brac Island), Makarska, Korcula, Sobra (Mljet Island). A one-way ticket from Split to Dubrovnik costs 210 Kn per person.
Split to Dubrovnik bus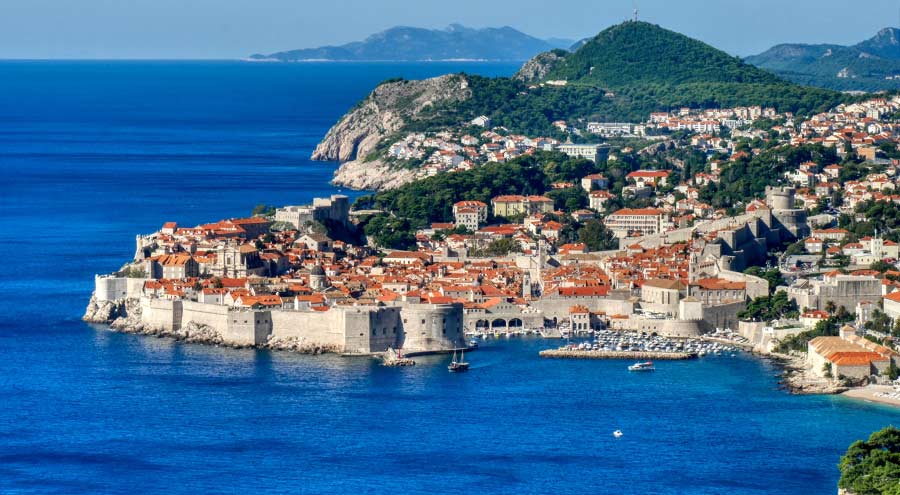 Traveling by bus in Croatia is easy, and convenient, and even more so in Dalmatia. Buses are the main public transport as trains are almost non-existent, slow, and unreliable. A network of bus lines covers many routes all over Croatia, and connections between main tourist hubs are quite frequent.
There are anywhere between 20 and 30 daily bus connections between the two, including a night bus. Different bus companies operate on this route. A one-way ticket for Split Dubrovnik bus costs anywhere between 90 Kn and 130 Kn per person. The trip takes between 4 and 5 hours depending on the route (coastal vs highway) and a number of stops along the way.
The first bus leaves Split at 1.30 am and arrives in Dubrovnik at 5.45 am. The last bus of the day leaves Split at 8.30 pm and arrives in Dubrovnik just after midnight.
The best place to check the bus schedule and buy an online bus ticket is Get By Bus website.
Split to Dubrovnik train
This paragraph is nothing but a trick paragraph. Because the Dubrovnik Split train doesn't exist. In fact, Dubrovnik doesn't have any railroads today. So, no train comes to Dubrovnik.
If you are interested in a bit of history regarding Dubrovnik train travel, here it is!
Back in time (from 1901-1976) Dubrovnik could be reached by train. Narrow-gauge railway called Ciro connected Dubrovnik hinterland with the European train network via Gabela and Sarajevo. Anyways, the railroad isn't there for over 40 years, but today the trail is revitalized and used as a cycling trail, plus the former train station in Siljeski today houses a restaurant serving traditional comfort food of Konavle region, like meat and potato peka.
Traveling by plane
I don't really understand why anyone would travel from Split to Dubrovnik by air. The two towns are, in my opinion, close enough one to another to bother taking the plane, passing through the security check, arriving at least an hour in advance, and so on…
However, if you just prefer to travel by air, or you have a single entry visa for Croatia, and can't really use Neum Corridor to get to Dubrovnik, then you have an option to take a plane from one to another.
The line is operated by Trade Air. A one-way ticket starts at 45€ per person. You can find more info on the Trade Air website.
Private transfer from Split to Dubrovnik
If you aren't comfortable driving in Croatia, but you don't feel to use public transport, hiring a private transfer from Split to Dubrovnik or Dubrovnik to Split might be a good idea.
Many companies offer a private transfer service, among others Transfers Croatia and Connecto Transfers. You can also use websites like Rideways to book your transfer online. Expect to pay around 230 € per vehicle for a one-way transfer.
You can also arrange with a transfer company a few visits along the way, turning your transfer into a day trip.
Further reading
We hoped we answered all your questions regarding getting from Split to Dubrovnik and vice versa. Should you have more questions, or suggestions, please leave them in the comments below.