Welcome to our Croatia Travel Guide where you will find all the information you need for planning a trip to Croatia.
When I think of Croatia, I associate it with small, safe, sublime, pebbles, islands, sea, countryside. The country has over a thousand islands, 8 national parks, 11 nature parks, over 6.000 km of coastline, and ten World Heritage sites.
From Paklenica climbing sites, beautiful beaches of central Dalmatia, great food of Istria, Croatia's fabulous wines, partying on the islands, sailing the Adriatic, Croatia has a lot to offer to its visitors.
We've dedicated this entire website to this wonderful country. Vera is born and raised in Croatia, and I moved here back in 2005. We've been traveling around Croatia extensively. And here at our blog, we share the best of Croatia just as we discover it.
Visitors to Croatia can find useful travel tips, in-depth destination guides, things to do, places to stay, and lots of information on Croatian food and restaurants. I also sometimes share my musings on ex-pat life in Croatia.
Where is Croatia located?
Before moving forward let's get the basic facts sorted out. Croatia is located in Europe! It is a Central European and Mediterranean country, bordered by the Adriatic Sea to the west. Croatia shares borders with Italy, Slovenia, Hungary, Serbia, Bosnia & Herzegovina, and Montenegro. The longest land border it shares with Bosnia, and the longest sea border, it shares with Italy.
Below you will find the location of Croatia on the map.
Do you need a visa?
The majority of foreign visitors don't need a visa to enter Croatia, including, but not limited to, EU countries, the UK, the USA, Australia, Canada, and New Zealand.
Foreign citizens of those countries can enter Croatia, and stay here for 90 days within 180 days period.
Citizens of EU countries can enter Croatia using only their ID card, all others need to travel with a valid passport in order to enter Croatia.
If you require a visa to enter Croatia but hold a valid Schengen visa, as well as visas for Cyprus, Romania, and Bulgaria, you don't need a separate visa for Croatia. You are free to travel to Croatia under the condition of your current visa from the above-mentioned countries.
If you require a visa for Croatia, you can print and fill out the application forms here, and submit them along with the requested documents to Croatian Embassy, Consulate, or an accredited tourist agency.
In order to apply for a Croatian visa, you'll need a valid passport issued less than 10 years ago, and with an expiry date at least three months after the intended departure date from Croatia.
All questions regarding visa you can send via vize@mvep.hr.
Weather in Croatia
Croatia has three distinct climates: the continental climate in its interior, the Mediterranean climate along the coast, and the mountain climate above 1200 m.
Along the coast, you can expect dry, hot, and sunny summers, and mild, although sometimes wet, winters. Weather along the south Adriatic region of Dalmatia is generally drier and sunnier than in the northern Adriatic region of Istria. Daily temperatures can differ up to 5°C (40°F).
Although the average summer temperatures are around 22°C (72°F), in July and August you can expect over 40 days with daily temperatures of over 30°C (86°F). Average winter temperatures are around 10°C, with January being the coldest month with daily average temperatures of less than 10°C (50°F). The average sea temperature varies from 12°C (54°F) in winter to 25°C (77°F) in summer.
Croatia's interior has a moderate continental climate. Winters are cold and wet, with lots of fog, while summers get hot and dry. Average winter temperatures are around 4°C (40°F), while the average summer temperature is around 22°C (72°F).
Money in Croatia
Croatian currency
The Croatian currency is Euro, a common European currency, as of January 1, 2023. At the time of writing this article, for 1 $ you get almost 1 € (0,94 to be exact), for 1 £ you get 1,13 €, for 1 CAD you get 0,70 €, and 1 AUD will get you 0,64 €.
Exchanging the money in Croatia
The majority of the exchange offices advertise a "no commission policy". While it is true that they don't charge the typical commission, they do set their own exchange rates. These rates can vary significantly. Beware of these discrepancies, and shop around for the best rate.
ATM machines in Croatia
When withdrawing money from an ATM, try to use official banks' ATM machines (they should have a sign of one of the Croatian banks like Zagrebacka, Privredna OTP, Erste, or Adikko Bank). These ATM machines are usually near the bank's branch offices.
In resorts and hotels, you'll more often find Euronet (blue and yellow) or Auro Domus ATM machines (yellow and black), or any other non-bank ATM machine. While they are often located at more prominent spots in towns, hotels, and resorts, and thus more convenient to use, they are also more expensive to use. However, if convenience is more important to you than a few euros here and there, go ahead and use these machines as well. I personally never use them.
Credit cards in Croatia
Although credit cards are widely accepted in Croatia, they aren't accepted everywhere. One of the first things you will notice in Croatia is the abundance of ATM machines wherever you go. Smaller businesses, as well as some restaurants and bars, prefer cash. A general rule of thumb is that if you see a credit card sticker at the door or near the cashier, then you should be able to pay by credit card. But, the only safe way to know, is to actually ask.
Another thing regarding money that you need to be aware of is the so-called dynamic currency conversion. This basically means that the amount of your credit card transaction is converted to your home currency at the point of sale (rather than by the card issuer).
In hotels or restaurants, or just about anywhere where you intend to pay by credit card, the staff will ask you if you prefer the charge in local currency (Euro), or in your own currency. While theoretically, you might profit sometimes from being charged in your own currency by a merchant on the spot, it rarely happens in reality. You will just end up paying more than you otherwise would. So always choose to pay in local currency. Or ask for the exchange rate and compare it with the one you find that day on the internet.
When is the high season in Croatia?
The high season in Croatia is from mid-June to mid-September. The peak travel time includes the last week of July and the first two weeks of August.
However, the busiest time is not always the best time to visit Croatia.
Best time to visit Croatia
The best time of the year to visit Croatia is in June and September. There are far fewer people around (definitely no queues, traffic jams, or crowded beaches), the weather is still warm and sunny, prices are more affordable, and the sea is warm enough to swim in. Another tip: Sea is usually warmer in September than in June.
Also, keep in mind that Croatia is extremely popular among Germans, and Austrians, especially the northern Adriatic regions of Istria, and Kvarner. So, crowds (and accommodation prices) tend to increase around German school holidays (like Corpus Christi – it's either in mid-May to early June or late May to mid-June; it changes from year to year). Ha, but this also means that in the year when German school holidays are in May, hotels often offer special discounts for June. And vice versa.
What to bring to Croatia
We all have our own rules and tricks when it comes to packing. However, we'll give you a few ideas on what to bring to, and what to wear in Croatia.
Croatia has four seasons, and three distinctive climates: a Mediterranean climate along the coast, a mountain climate on its rugged mountains, and a continental climate inland.
This means that if you are visiting Croatia during the summer the majority of your clothes should be light. Nevertheless, a windbreaker jacket, a pair of long pants, and leggings always come in handy. For the rest, take a couple of shorts and tops that you can mix and match, or a few casual summer dresses. Don't forget your beachwear including swimsuits and cover-ups, water shoes, sunglasses, and a microfiber towel. A pair of sandals and a pair of walking shoes are also a must, as well as a travel money belt.
Also, with luggage restrictions and weight limits, it's worth investing in lightweight luggage for your travel to Croatia.
As for the rest, don't forget your photo equipment (with plenty of extra batteries); waterproof phone bag; adapters, converters, and other small things you will find indispensable in Croatia. Croatia uses 220V, 50 Hz frequency, and type C & F plugs. Both are similar plugs with two round prongs with 19 mm between the two.
Here is our full post on what to bring to, and what to wear in Croatia.
Getting to Croatia
Traveling to Croatia from anywhere in Europe is quite easy. From April through September, many airlines have direct flights from all over Europe to all major Croatian towns. Besides, Split and Zagreb are connected by plane with the rest of Europe throughout the year. For detailed information on flights scheduled to Croatia consult the CheapOAir website.
We've also recently found out about Scott's cheap flights program. They basically search for airline mistakes or intentionally great deals and email them to you. We haven't used it ourselves, but it seems worth a try (they have a free plan too).
You can also travel to Croatia from other European towns by bus. Bus schedules are a bit harder to search for as there are many different bus companies running the service. However, if you would like to travel by bus, we highly recommend using the GetByBus website to check and book intercity buses in Croatia and beyond.
You can also check with a local bus station once you are at your destination and you can physically walk there. Getting information over the phone, or email can be impractical, and expensive (yes, they still use automated phone machines that make you wait forever, and charge you a fortune for waiting!).
Find out more here:
Train connection to and around Croatia is quite limited, and we generally don't recommend traveling by train to Croatia. However, if you really have to, you can find more information on the Croatian Railways website.
International ferries connect Croatia and Italy. Directferries' website is the best place to check ferries schedules and book a ticket online. Jadrolinija operates Bari to Dubrovnik, Split to Ancona, Split to Bari, and Zadar to Ancona car ferry lines, while Venezialines passenger ferry connects Porec, Rovinj, and Pula with Venice.
Our favorite way to travel around Europe, and to Croatia as well, is by car. Whether it's your own car or a rental car, it's the most convenient way to move around Europe.
Getting around Croatia
The best way to travel around Croatia is by car. Croatia is a small country with great roads and lots of nice little villages totally worth a detour. The only way to really discover the country is to travel by car. We've written a full post about driving in Croatia as well as about car rental in Croatia.
Another excellent way to travel around Croatia is by bus. Buses are modern, fast, affordable, and frequent. The only places we wouldn't recommend bus traveling are the islands and Istria. For the rest, if you can't travel by car for whatever reason, hop on the bus and enjoy the ride. Use GetByBus to check lines, and schedules, and to book your bus ticket online.
Ferries are still the most popular, and sometimes the only way to get to the islands. The main ferry ports include Rijeka, Zadar, and Split, but ferries also depart from smaller coastal towns like Brsecine, Makarska, Drvenik, Orebic, Ploce, and Prapratno. Jadrolinija is the largest ferry operator in Croatia, and its ferries cover the majority of the routes. You can also book your ferry tickets for some routes online through the Bookaway website.
Public transportation in bigger towns is reliable and efficient. Split, Rijeka, Zadar, Pula, and Dubrovnik use city buses, while Zagreb has an extensive network of electric trams along with city buses. Public transport costs around 2€ per ride.
Taxis are generally pricey (except in Zagreb and Rijeka), but since Uber entered the market back in 2015, cab rides started getting more affordable. UberX is available in the majority of popular tourist towns like Zagreb, Split, Rovinj, Dubrovnik, Zadar, etc… Uber and Cammeo Taxi are the cheapest taxi options in Croatia. However, both companies also dynamically adjust their rates to demand, and rates generally increase during the main tourist season.
Croatia holiday destinations
One of the most common questions we get is where to go in Croatia. Many visitors who travel to Croatia for the first time tend to visit the main tourist towns and attractions, like Zagreb, Split, Plitvice, Hvar, and Dubrovnik. However, Croatia is full of hidden gems, charming villages, wonderful natural sites, and beautiful beaches.
Where to go depends heavily on the type of traveler you are, the things you want to do, the time you plan to spend in Croatia, and your budget.
We have written extensive travel guides on the following holiday destinations in Croatia:
National parks
With a surface of just over 56.000 m2, Croatia is rather a small country. However, due to its geographical location, geomorphological and ecological conditions, as well as to its climate, in terms of biodiversity, Croatia is one of the richest countries in Europe.
The nature here is divine: from the Adriatic sea, and high-rising mountains, to the plains of Slavonia, and the rolling hills of Istria and Zagorje.
The country has eight national parks, ten nature parks, and two strict reserves. Almost 10% of the country's territory is protected. The national parks of Kornati, Brijuni, and Mljet are located on the islands and are characterized by rich marine life. The Risnjak, Northern Velebit, and Paklenica national parks cover mountainous areas. They all feature interesting limestone rocks, meadows, and vast forests.
Plitvice Lakes, Croatia's most visited national park, as well as Krka national park, are both famed for their lakes, streams, rapids, and waterfalls.
Unesco World Heritage Sites
Croatia doesn't lack cultural and historical sites. Even ten of them made it to the Unesco World Heritage Sites list.
These sites include The Euphrasian Basilica in Porec, St. James Cathedral in Sibenik, the old town of Trogir, Diocletian Palace in Split, Dubrovnik old town, Stari grad planes on the island of Hvar, Plitvice Lakes, the Venetian Works of Defence from the 16th and 17th centuries in Zadar and Sibenik, Stećci Medieval Tombstone Graveyards in Cista Provo and Konavle, and Ancient and Primeval Beech Forests in national parks Paklenica and Northern Velebit.
With the exception of the Plitvice Lakes, all other sights are located along the coast. Here is our list of 10 Unesco World Heritage Sites in Croatia not to be missed.
Accommodation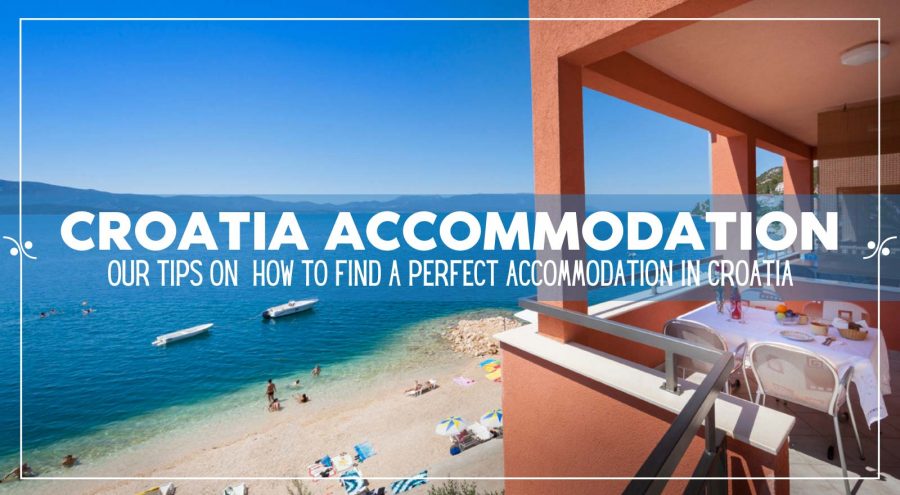 We often get asked about the best type of accommodation in Croatia. For this reason, we've written a full post on different types of accommodation in Croatia, with all pros and cons of each of them.
Croatia offers a variety of accommodations to choose from: hotels, hostels, apartments, villa rentals, and campsites. Which one is right for you depends heavily on your travel style and your budget.
Croatia is mostly seen as a 4-star family destination. However, some destinations are fancier than others. This is particularly true for Dubrovnik, Hvar Town, and partially Rovinj.
We've written extensive guides on accommodation in the following destinations in Croatia:
Hotels in Croatia
A good choice of 5-star hotels you'll find in Zagreb, Dubrovnik, Rovinj, and Losinj Island. All-inclusive resorts aren't popular in Croatia, although some hotels offer all-inclusive formula. All-inclusive Croatia mostly refers to a full board meal plan with unlimited selected drinks at mealtimes. Many hotels in Croatia offer a half-board meal plan, and dinner often comes cheap when purchased as a part of a room rate.
Booking.com is by far the most popular website for browsing and booking hotels in Croatia. They offer the largest choice of properties and have the most flexible booking policy. You can also check the hotel's official website. Sometimes hotels offer special deals available only through their website.
Apartments in Croatia
Many Croatians rent apartments to tourists. Apartments are a good alternative to hotels. They are cheaper, offer more space, and come with a fully-equipped kitchen.
Apartment rentals, just like hotels, need to be licensed and get an official star rating. The most popular websites for apartment rentals in Croatia are Booking.com and Airbnb.
Villas in Croatia
Another popular and emerging type of accommodation is villa rentals. Mostly located off the big tourist resorts, these villas offer peace and quiet, and lots of privacy. Besides, villas come with a pool where you can chill all day long.
Campsites
Croatia is also a very popular camping destination. There are lots of campsites all along the coast, and just a few of them are in continental Croatia.
Popular campsites in Croatia include Lanterna in Porec, Valkanela in Vrsar, Polari in Rovinj, Park Umag, and Zaton near Zadar. The best place to make yourself familiar with Croatian campsites is the Camping.hr website, an official website of the Croatian Camping Association.
Driving
Many of our readers reach out to us with a question about driving in Croatia, road condition, and safety on Croatian roads. Croatian roads are in very good condition. A fairly new multi-lane motorway connects Zagreb to the north and Rijeka to the northwest with Ploce in the south.
Tolls apply on all multi-lane motorways named with the letter A, as well as on some tunnels (eg. Ucka tunnel between Rijeka & Istria), etc. A one-way fee from Zagreb to Split (approx. 400 km) costs 24 € (25 $)*.
Besides motorways, you can also travel on toll-free state roads. These roads are also in good condition, but a single carriageway road, with a single lane for each direction, and some of them, particularly a coastal road D1, are winding.
*prices checked in January 2023
Renting a car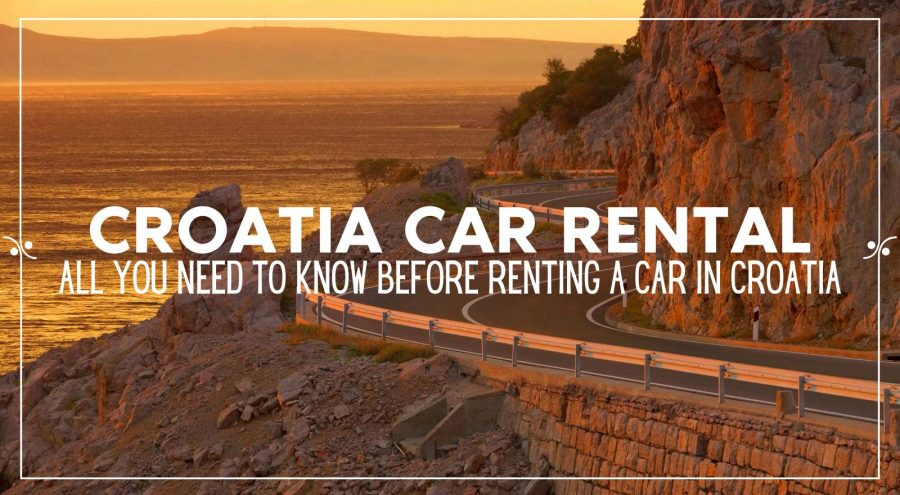 The best way to explore Croatia is by car. And if you don't travel in your own car, don't shy away from renting a car in Croatia. You'll be able to take in the sights; travel off the beaten path; see more in less time, and have the freedom to stop wherever and whenever you feel.
Car rental in Croatia is very seasonal. This simply means that you'll need to secure your car rental well in advance if you plan on visiting Croatia in July and August. This also means that rental prices increase dramatically in these two summer months. We recommend using Rentalcars.com for your car rental in Croatia.
Tourist registration
All tourists staying in Croatia need to be registered at a local tourist office. And non-EU citizens will also be automatically registered with the police.
This is the reason why during the check-in process at any hotel, private accommodation, or campsite, you'll be requested to show (and often leave until the next morning) your passport or an ID card.
Food
We love food in Croatia. It's varied, fresh, local, and tasty. In continental Croatia, people eat lots of meat, while a diet in coastal regions is heavily based on fish, other seafood, and green veggies.
As a traveler, you might also make some false assumptions based on food offered in touristy restaurants along the coast. These restaurants often offer what tourists ask for, and not necessarily typical Croatian dishes.
One of the most popular posts on our blog is our post on must-try Croatian dishes. Make sure to read it so you don't miss some of the local specialties.
We also give a couple of tips on where to find local, delicious, and cheap eats in Croatia.
And don't miss our ultimate list of the best places to eat in Croatia. Istrian restaurants rank the highest on this list.
Drinking
Tap water is safe to drink in Croatia. However, if you still prefer to drink bottled water, bear in mind that bottled water is extremely expensive here. For instance, a 1.5 L bottle of natural water costs around 0.9 € in a supermarket, three times more expensive than in Italy. You can find cheaper bottled water in Lidl, and Eurospin supermarkets.
The legal drinking age in Croatia is 18. Among alcoholic drinks, wines, beer, and spirits are very popular in Croatia.
Drinking usually takes place at cafe bars, serving any kind of drinks, from coffee, and tea, to wine, beer, and any alcoholic drinks. Cafes work all day, opening as early as 6 am, and closing usually around midnight. Nightclubs, pubs, and some bars work until 4 am.
Local wines are good. In the last two decades, many small, family-run wineries have set high standards in the production of quality wines made of indigenous grape varieties, like Malvazija, a dry white wine produced in Istria, or Plavac Mali, a red variety dominating vineyards of the southern Dalmatia.
Croatians also drink lots of beer, but you'll hardly find an exciting choice of beers here in Croatia (not the case any longer, the craft beer scene in Croatia is now super exciting!). The most popular mass-produced local beers are Karlovacko and Ozujsko, both light-lager types. In recent years many microbreweries started putting on the market a more appealing craft beer, like San Servolo, LAB, or Zmajska Pivovara.
Spirits are very popular in Croatia, and they come in a variety of flavors. Here they are called rakija. The basic one is most often produced from grapes (called Loza), but then they are flavored with different ingredients. The most popular are travarica (herb brandy), medica (honey brandy), orahovaca (walnut brandy), visnja (cherry brandy), mirta (myrtle brandy), and rogac (carob brandy).
Travel Insurance
Travel insurance covers all kinds of situations if things go wrong: from luggage loss, to trip cancellation, to medical assistance.
If you are an EU citizen then your European Medical Insurance Card covers your basic medical needs and emergency medical care. However, it doesn't cover emergency transport to your home country.
Non-EU citizens are advised to check with their embassies for what level of medical care they are covered in Croatia, as it heavily depends on the bilateral and reciprocal agreement between the countries.
For other damages like document and baggage loss, loss of belongings, and trip cancellation, you'll definitely need to purchase travel insurance. There are many travel insurance companies offering different insurance options and packages. You can compare all your options using a website like Travel Insurance Review.
We recommend buying travel insurance from Safety Wing. Available to people from the majority of countries (only sanctioned countries are exempt) it's designed for all kinds of travelers. And it covers overseas medical, evacuation, baggage, and a range of travel misadventures and delays. And, one child up to 10 years of age is included in an adult's policy free of charge. You can buy it and claim it online, even after you've left home.
Tours and activities
Croatia offers a lot of activities to do for all ages and all year round. The country is rich in history, natural beauty, ancient towns, wonderful architecture, pristine beaches, and rugged mountains.
Foodies will enjoy exploring restaurants in Croatia, especially in Istria, Zagreb, Dubrovnik, and Split. Croatia produces some of the world's best extra virgin olive oils (if you wonder why you should care, read Tom Mueller's book Extra Virginity: the sublime and scandalous world of olive oil). There are lots of places where you can go for an olive oil tasting, and learn how to distinguish the real stuff from the crap. A visit to a winery is a must in Croatia, particularly in Istria.
Tisno on the island of Murter, Novalja on the island of Pag, and the town of Hvar offer 24 h partying for the young and restless.
Outdoor enthusiasts will love Omis, Paklenica, and Cicarija. They all offer an endless choice of adventures to enjoy.
We've written a full post on things to do in Croatia. You can also check the Get Your Guide website for a full list of tours and activities in Croatia.
Itineraries
We are often asked to suggest or revise a proposed itinerary for Croatia. So here are a few things to bear in mind when planning your Croatian itinerary.
Although the country is relatively small, it's long (from Umag in the northwest to Dubrovnik in the south there is over 700 km), and it's not that quick to travel from north or west to the south.
If you plan to visit Croatia for less than a week, we highly recommend you pick up one destination and stick to it. Do day trips from there, but don't pretend to visit the entire country in less than a week. Also, in July and August, you need to take into account possible traffic jams, and congestion on the roads, as well as queues for ferries.
If you stay a week or ten days, you can include a few highlights in your itinerary, like Zagreb, Plitvice, Split, and Dubrovnik.
Suggested week itineraries
a | Zagreb – Plitvice Lakes – Split – Hvar – Dubrovnik
b | Dubrovnik – Peljesac Peninsula – Korcula – Split – Zagreb
c | Zagreb – Plitvice Lakes – Istria
Suggested two-week itineraries
a | Zagreb – Opatija – Istria – Plitvice Lakes – Zadar – Krka Waterfalls – Split – Brac Island – Korcula – Peljesac – Dubrovnik
If you prefer to join a group tour, we highly recommend checking tours proposed via Tour Radar. They have a classical coach and boat tours, but they also have a great choice of adventure, cycling, and various themed tours.
Here are a few suggested group tours found on Tour Radar:
Croatia & Adriatic Cruise
This 11-day tour gives you the best of continental Croatia and the Adriatic. The tour starts in Zagreb, and ends in Split, with a visit to 10 other destinations in between. We like that this tour takes you to the Peljesac Peninsula, one of our favorite regions in Croatia. You also get to see Korcula, Hvar, Elafiti Islands and Mljet islands. The small cruise ship can fit 30 passengers in air-conditioned cabins.
Check availability and prices!
---
Best of Croatia and Slovenia
This 11-day discovery coach tour starts in Zagreb and ends in Dubrovnik. However, it's packed full of exciting destinations in Croatia, and neighboring Slovenia including Ljubljana, Bled, Rovinj, Opatija, Plitvice, Trogir, Split, and Peljesac peninsula. You will get to see many great destinations in a short period of time, while still having ample time on your own. The tour also includes one special "Be my guest" dinner where you get a chance to experience a traditional meal with a local family.
Check availability and prices!
---
Croatia Island Hopper from Split
This 8-day island hopping tour operated by G Adventures is one of the most popular tours in Croatia on Tour Radar. The boat tour starts and ends in Dubrovnik with stops in Hvar, Mljet, Korcula, Brac, and Solta.
Check availability and prices!
---
Cycling the Dalmatian Coast
A small group tour takes you from Split to Dubrovnik in 8 days on your bicycle. The tour provides accommodation, meals, and transportation. You'll get a chance to test your cycling abilities in Hvar and Korcula Island, along the Peljesac peninsula and Dubrovnik. The tour is intended for all levels of cyclists. The scenery along the route is lovely.
Shopping
When you think of shopping, Croatia doesn't necessarily come to mind. However, there are a couple of awesome things to buy in Croatia.
Croatian artisan olive oils are some of the best in the world. Croatian design and concept stores are also making momentum; check the Take Me Home store in Zagreb or Prostoria in Rovinj for some original souvenirs, accessories, unique clothes, bags, and jewelry.
We've written a full post on the subject: Croatian souvenirs: fun, cool, and authentic. Don't forget a high-end tie store – Kravata Croata.
Open markets, where you can buy fresh produce, are popular in Croatia. The largest national supermarket chain is Konzum. Other popular supermarkets in Croatia include Lidl, Kaufland, Plodine, and Spar.
Supermarkets are open throughout the day, Monday to Saturday. On Sunday some shops are open all day, particularly in shopping centers, while downtown shops often close at 1 pm or 3 pm. In summer, along the coast, shops are open seven days a week, and often as late as midnight.
Is Croatia a safe place?
Croatia is a very safe country with very little street crime and almost no violence. However, as everywhere, take care of your belongings, especially when using public transport.
Land mines are still present but in remote areas where tourists rarely visit anyway.
Croatia travel guide: Internet
The Internet in Croatia is widely available. WiFi coverage is pretty good, with many towns offering free wifi hot spots at prominent places in a town. Most of the private accommodations, as well as hotels, and even campsites, offer a free WiFi internet connection.
However, the broadband internet in Croatia isn't as fast as you are perhaps used to. At least it's not as fast everywhere in Croatia. In bigger towns, the internet is fast, easily available, and reliable. According to Speedtest.net, Croatia has the 22nd fastest download speed for mobile internet in the whole world. But, the fixed broadband is pretty slow (Croatia takes 89th place on the global scale).
The average internet download speed in Croatia in March 2023 was 71,16 Mbps for mobile, and 45,61 Mbps for fixed broadband.
Roaming charges
Since the summer of 2017, roaming surcharges within EU countries don't exist longer. This means that, if you are with any EU mobile provider, you will pay the same prices for data, calls, and SMS as you would pay back home.
How free is free? You need to check with your provider what's the amount of roaming data within the EU. For example, we have a flat rate for internet data in our mobile phone rate package. But, when we spent two months in Spain in the winter of 2022, we realized that we have only 10 GB of data free of charge in other EU countries.
So while the roaming data is free in the EU, the free data isn't unlimited. Anyways, 10 GB is pretty enough, unless you are binge-watching Netflix shows for hours at times. I hope you don't do that on vacation!
However, roaming charges for other countries are still pretty high. You can purchase some of the mobile operators' packages either in your home country or in Croatia.
In Croatia, Telemach sells 10-days unlimited surfing for less than 11 € while T-com sells 7-days unlimited surfing for 11€. It includes nano, micro, or SMS card. You can buy these packages at gas stations, newsstands, T-com or Telemach centers, and Croatian post offices.
Is Croatia part of the EU & Schengen visa regiment
As of January 1, 2023, Croatia is a member of Schengen, and thus it is a part of the Schengen visa regiment. This means that there aren't border or customs controls between Croatia and other Schengen member countries for people crossing the borders by road, rail, or water. However, border and customs controls at the airports will stay in place until March 2023.
If you have a valid Schengen visa, you don't need a separate visa to visit Croatia and vice versa. This also means that visiting Croatia and the days spent here will count toward 90 days maximum stay within 180 days for your Schengen visa.
When crossing into and out of the non-EU, and non-Schengen countries, you'll still need to show your documents at the border, and vice versa. These include Bosnia and Herzegovina, Serbia, and Montenegro.
Beaches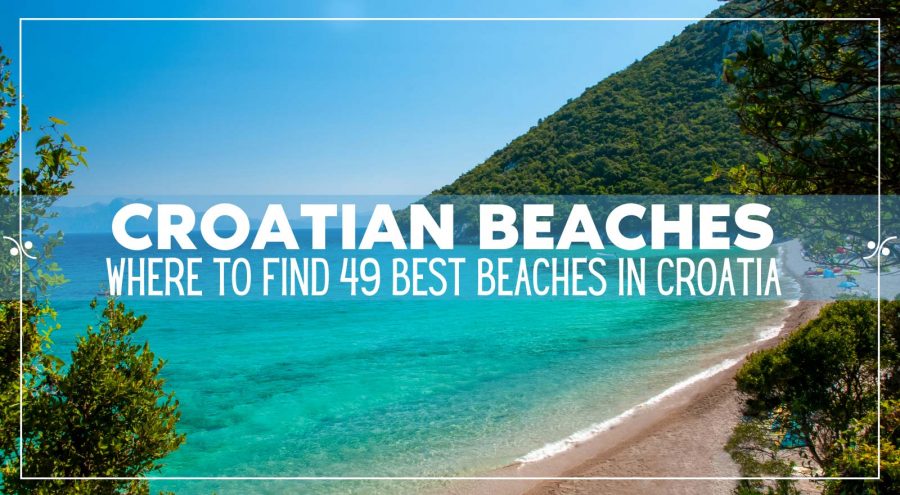 The sea and sun are still two main reasons for so many people to visit Croatia. Croatia has over 6.000 km of coastline and over 1.000 islands. The two most popular coastal regions are Istria to the north and Dalmatia to the south.
The Croatian coast is mostly rocky with pebble beaches mostly formed in coves and bays. Makarska Riviera, located in central Dalmatia, offers the most beautiful beaches in all of Croatia. Perfectly round and small pebbles that feel almost like sand but that don't stick on you forever.
The sea is limpid and clear, you can often see the seabed from far away. My in-laws have a seafront property in Komarna, in southern Dalmatia, and I can see the fish swim in the sea from the third floor of their house.
So, if you search for that perfect sandy beach, you might get disappointed with the beaches in Croatia. Although there are some sandy beaches here too, they are simply not a Croatian thing.
In Istria, the coast is a bit rougher than in Dalmatia, and pebbles are rare to find. However, the beaches here feel less crowded, due to the well-preserved coastline.
Parking in Croatia
If you travel to and around Croatia by car, you might wonder about the parking situation in Croatia. Generally speaking the majority of hotels and private accommodations offer a parking spot free of charge.
However, bear in mind that city centers are usually car-free zones or have limited car traffic. If your accommodation is within the city center enquire about parking before booking.
There are three types of parking: garage parking, open-air parking lots, and street parking. Expect to pay around 1.1 € to 1.6 € per hour in town centers. However, some parking is more expensive, like parking at Riva in Split which cost 4 € an hour; then, in Dubrovnik, where you will pay for an hour of parking in Zone 0 as much as 10 €.
We talk more in-depth about parking in our destination guides. Don't forget to check them once you decide on your destination.
Do people speak English in Croatia?
You don't speak Croatian? No worries, most Croatians speak at least some English, and many speak at least another foreign language. Besides English, German and Italian are the most widely spoken languages in Croatia.
Is Croatia expensive to travel to?
Croatia isn't a cheap place to visit. It's more expensive than the neighboring countries, like Bosnia & Herzegovina, Serbia, or Hungary.
Generally speaking, continental Croatia and Zagreb, in particular, keep prices moderate to, I would dare to say, even cheap. However, the coast is mostly expensive, and the prices tend to increase year after year.
That said, if you travel on a tight budget, you can still keep it under control. Stay away from top destinations (visit them but sleep somewhere else), come in the off-season, explore places off-the-beaten-path, forget hotels, choose instead an apartment with a fully-equipped kitchen and prepare your own meals, ask locals for good value restaurants, etc.
Check our budget tips for traveling in Croatia, and also a post on the total Croatia trip cost.
Tipping in Croatia
People often ask us what's tipping etiquette in Croatia. In short, tipping isn't necessary but it is widely appreciated and accepted.
The majority of Croatians, in bars and restaurants, simply round up the bill. We on the other hand, out of habit, always leave around 10%, and only if we are satisfied with the service.
If you are taking a group bus tour, someone will usually collect the tips for the driver and the guide at the end of the tour. Here, usually, people chip in on what they feel is appropriate.
What time zone Croatia is in?
Croatia belongs to the Central European Time Zone, meaning it is one hour ahead of GMT (Greenwich Mean Time), and two hours ahead of GMT when daylight saving time is observed.
Daylight saving time makes us move our watches one hour ahead. It takes place from the last Sunday in March until the last Sunday in October.
Find here the time differences between some major towns when compared to Croatia:
Barcelona: 0
London: – 1 hour
Montreal: – 6 hours
New York City: -6 hours
L.A.: -9 hours
Chicago: -7 hours
Tokyo: +7 hours
Sydney: +8 hours
If you are traveling from overseas, you will certainly experience jet lag when visiting Croatia. You can check this no-jet lag homeopathic remedy to ease your symptoms.
How much is VAT in Croatia and is it refundable?
At the moment, VAT in Croatia is 25% for the majority of products. If you are a foreigner without permanent or temporary residence in Croatia, you can ask for a tax refund for all purchases above 100 €.
Ask the salesperson for the tax-free form at the moment of purchase. Fill it up, get it stamped right there, and then again at the airport, or at the border by a customs officer. You have six months from the purchase date to claim your VAT return by mailing it back to the shop where you originally bought the item.
Another way to achieve a VAT tax refund is to look for shops that are part of the Global Blue Tax-Free service. They all have a sign displayed in the window along with the working hours, and credit cards that they accept. The procedure is similar (fill up the tax-free form and get it stamped at the shop, and at the airport), but the refund is quicker and can be obtained already at the airport, in Global Blue's office.
Croatia plugs, adapters, and converters
Croatia uses 220V, 50 Hz frequency, and standard European type C & F plugs. Both are similar plugs with two round prongs with 19 mm between the two.
If the plugs of your devices are different, you will certainly need an adapter in order to charge them. You can find one here.
While adapters will help you use your plugs in Croatia, converters will help transform voltages from higher to smaller or vice versa. If you need a converter you can easily buy one on Amazon.
Recommended travel guides
Further reading from our Croatia travel guide
We hope you've found our Croatia Travel Guide useful. Is there anything else you'd like to know? Let us know in the comments below.