Croatian beer has just become way more exciting! The craft beer has arrived in Croatia through the side door not so long ago, but now it totally took off. Craft beer momentum is shaking the country.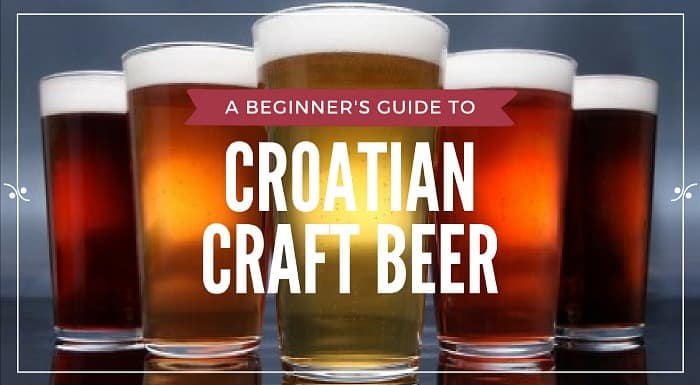 Once a land of industrial beers, like Karlovacko and Ozujsko, today in 2020, the Croatian beer scene is really booming. There are already over 70 microbreweries opened in the country.
Best Croatian beers and breweries
The craft beer revolution has started in Croatia, my friend, and nothing will ever be the same. New guys are waking up every day in Croatia, adding yet another craft beer on market. We'll perhaps never be able to keep track of all of them, but we'll try to introduce to you the most popular breweries and beers.
The most popular brew in Croatia is s pale ale, but other brews, like India pale ale, porter, stout, and Dunkel follow on.
Here we go!
Zmajska Pivovara
As soon as Andrej Capka bottled his first beer, back in September 20014, his microbrewery Zmajska Pivovara was named the 9th best new brewery in the world by Ratebeer. Not a bad start when we know that the competition included 3800 new breweries. On the same site, their stout – imperial RIS is consequently voted among the 10 best Croatian craft beers.
Zmajska Pivovara produces many types of craft beer, many of them seasonally or as a part of a collaboration with other brewers. Their permanent crafts include American Pale Ale, Porter, India Pale Ale, and American Wheat Ale, and German Pils. They all come in 0,33 l bottles, and they are also available on tap.
They also have a taproom where you can taste all their beers including seasonal and the limited series beers.
Contacts | a: Kreše Golika 3A, Zagreb | t: +385 91 5577 666 | Website | Ratebeer
Nova runda
Two longtime friends and beer aficionados, Marko Filipin and Miroslav Suvak, after years of home-brewing, decided to put on the market their craft beer. They established their brewery – Nova Runda – back in 2014. They don't bottle their beers, and you can only find it on tap or in a can.
Their most popular beers are their American Pale Ale Nova Runda, and IPA C4. They also produce the other three IPAs, but also Session, Imperial, New England, and Brut Indian Pale Ale, as well as Brown Ale.
Three of their beers are among the 10 best Croatian beers on Ratebeer: Nova Runda C4 IPA, ThroaTTwister IIPA DIPA, and Fireball IPA RED.
Contacts | a: Trg Josipa Jurja Strossmayera 17, Jaska | Website | Ratebeer
Varionica
Matija Mrazek and Davor Simicic established Varionica Brewery in 2014. Today they produce various labels, including many collaborative beers. Their most popular beers are APA Varionica, and Varionica Neon Stout.
Contacts | a:  Sajmišna ulica 7, Pisarovina | Website | Ratebeer
Medvedgrad
The oldest microbrewery in Croatia, Medvedgrad has been brewing their beer for 20 years. Medvedgrad beer for years was only served as a draft beer in their pubs in Zagreb, and it wasn't until 2013 that they bottled their first quantities of dark lager – Gricka vjestica.
Today the company runs three pubs in Zagreb: Mali medo in Tkalciceva Street, Medvedgrad in Ilica Street, and in Samoborska cesta. Their labels include Fakin IPA, a bock Gricka vjestica, pilsner Zlatni medvjed, dark lager Crna kraljica and Mrki medvjed, hoppy lager Baltazar, and a wheat beer Dva klasa. Besides these labels, they also brew many seasonal beers. The most popular seasonal beers are Agram Stout, Belgian White Ale Ljeto u Zagrebu, and black IPA Crni Jack.
Contacts | a: Samoborska cesta 217, Zagreb | Website | Ratebeer
San Servolo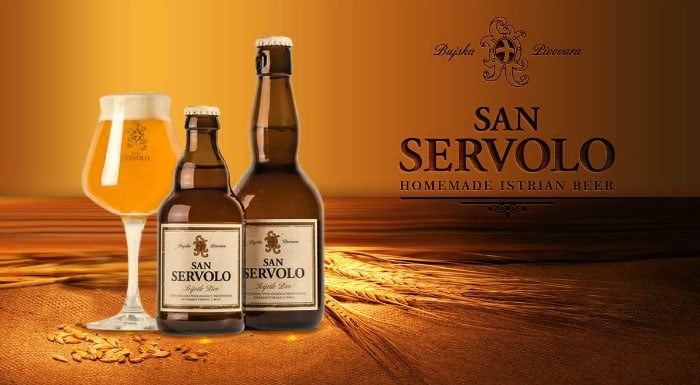 Back in 2013, brothers Grbac from Istria, open their brewery and launched their first craft beer label – San Servolo.
San Servolo beers are non-filtered, and they have a second fermentation in the bottle. We also love the design of their bottle. They produce two types of pale ale beer: APA, and IPA, and four types of lager beer: Gold Classic, Red, Black, and Light Lager.
Contacts | a: Momjanska 7, Buje | Website | Ratebeer
Bura Brew
Another Istrian microbrewery, Bura Brew was established in 2014 in Porec. Today their labels include gold ale Optimist, amber ale Redsand, Indian pale ale Tornado, and Hurrican. They also brew two limited-edition beers – Istrian Belgian Ale (IBA) and a Belgian style beer Trippin' Triple.
Contacts | a: Mate Vlasica 26/19, Porec | Website | Ratebeer
Eco Beer Kampanjola
The youngest Istrian microbrewery, Kampanjola's beers are unpasteurized, unfiltered beers and 100% organic. Established in 2018 in Svetivencent, this small brewery today produces four craft beers Organic Ale Svitla, Blonde Ale Bionda, Organic Porter Skura, and Red Ale Crvena.
The people behind the brewery also produce organic dairy products and veggies.
Contacts | a: Svetivincenat 3, Svetivincenat | t: +385 99 699 2177 | Website | Ratebeer
Visibaba
Established by two Belgians in Croatia, Visibaba brewery produces three beers: Indian pale ale – Janis Hoplin, Belgian witbier – John Lemon, and a porter – Bob Barley.
Vunetovo
The first craft beer from the island of Hvar, Vunetovo brewery is run by a husband-wife duo, Anna & Josko. Their brewery is set in their family house in the west part of Hvar Town. Their most popular beer is black IPA Aljaski Mrgud. Vunetovo also produces stout, Dunkelweizen, wheat beer, and Saison. At the moment their beer is only available at the brewery.
Contacts | a: Put Podstina 13, Hvar | Website | Ratebeer
Garden Brewery
One of the latest breweries to open in Zagreb, Garden Brewery produces five core range labels including APA, IPA, Stout, Citrus IPA, and Pilsner. They also have a large number of seasonal and collaborative beers. Their seasonal Christmas special The Garden Vanilla & Chocolate Porter is especially popular.
The brewery is located in the industrial red-brick building, in the eastern part of Zagreb. Besides production facilities, Garden also features an on-site taproom, where you can taste their beer straight from the source.
They also have a late license, and often organize DJ and live music events. The Garden also teamed up with local burger joint, Submarine BBQ, who offer yummy, gourmet burgers to go with the beer. And, yes, the garden brewery ships their beers in over 25 European countries.
Contacts | a: Slavonska Avenija 22F, Zagreb | Website | Ratebeer
LAB Split
LAB Split is the first Dalmatian craft brewery. They produce two APAs – Barba and Chinook, Blond Ale Punica, English Ale Englez, and Barba Imperial IPA.
Their Barba Imperial IPA is named the best Croatian beer in 2018 and 2019.
Contacts | a: Stinice 25A, Split | Website | Ratebeer
---
We've just scratched the surface. There are so many more craft breweries on the market already, like the 5th Element, Pulfer, Lepi decki, Brlog, and certainly many, many more to come. Once in Croatia ask for what's brewing at the moment.
Best pubs in Croatia to taste local craft beer
Tolkien's House, Zagreb
Located at Opatovina 49, just next to Opatovina Park, Tolkien's House has been THE place to go in Zagreb when it comes to beer since 1996. Waiters there know their craft and take their time to suggest, educate, and introduce to you every of 90 labels they serve at Tolkien's.
Contacts | a: Opatovina 49, Zagreb | Facebook
Craft Room, Zagreb
Open in 2015 Craft Room is a true taproom, with over 13 beers on tap. Interior is a bit funky with green-painted walls and hunter's lodge decor, but a choice of over 100 Croatian and international craft beers makes it all good. Craft Room also serves beer-accompanying dishes, like burgers, sausages, onion rings, and alike. The staff is friendly.
Contacts | a: Opatovina 35, Zagreb | Facebook
Read a full list of best places for beer in Zagreb.
Sanctuary Bar, Split
Good coffee, finest Croatian craft beers, fresh cocktails and live music at night time, are all to be found at this lively local bar in Split's old town. Sanctuary is especially popular among tourists.
Contacts | a: Poljana Stare Gimnazije 1, Split | Facebook
Leopold's Delicatessen Bar, Split
Leopold's is a lovely bar in Split's downtown offering an extensive selection of Croatian beers (including 4 on taps) and some international labels. Leo's is a center of the craft beer scene in Split.
Contacts | a: Poljana Tina Ujevića 3, Split | Facebook
To je to, Split
The To je to was one of the first bars in Split serving craft beer, and it is still one of the best addresses in Split for craft beer enthusiasts. Besides the beer, it's one of the few places in Split serving a hand-roasted coffee. Live music and cocktails at nighttime!
Contacts | a: Pistura ulica 3, Split | Facebook
Plan B, Split
This bar is located out of the downtown, in Gripe neighborhood. And as far as locals are concerned, that means it's still quite central.
Plan B has a great choice of Croatian beer but also serves good food for affordable prices, including yummy burgers, pizzas, sandwiches, omelets, and wraps.
Contacts | a: Ulica Matice hrvatske 1, Split | Facebook
Glam Café, Dubrovnik
A teeny tiny bar, just up north of Stradun, in one of the alleyways, Glam Café is a great place to taste a variety of Croatian craft beer in Dubrovnik. Glam has an outstanding selection of Croatian craft beers (from Zmajska, Visibaba, San Servolo, Medvedgrad, Fortunal, Garden, etc.), Serbian craft beer from Kabinet Brewery, and few international labels from Mikkeller, and BrewDog. Must-visit bar in Dubrovnik for beer aficionados.
Contacts | a: Palmoticeva 5, Dubrovnik | Facebook
Buzz Bar, Dubrovnik
Friendly staff, good atmosphere, a mix of locals and tourists, a good selection of craft beers, and affordable prices, you'll find that all in Buzz Bar in Dubrovnik. Away from the crowds, one street up from Stradun, Buzz is a nice place to chill out, sipping local beer, coffee, or a shot of Croatian spirit.
Contacts | a: Prijeko 21, Dubrovnik | Facebook
Beer & Steakhouse San Servolo, Buje
San Servolo was the first craft beer produced in Istria, a land of wine. The brewery runs their own beer & steakhouse, just outside of Buje, on the road to Momjan. With their extensive menu, it's actually more than a steakhouse. They serve their beer, but also local wines, and bio juices. A great place to visit if you are in Istria. The summer terrace is awesome and offers lovely views over the countryside and Piran Bay.
Contacts | a: Momjanska 7, Buje | Tripadvisor
Habitat, Porec
Despite its location, just across the seaside promenade in downtown Porec, Habitat has remained mostly bar where locals hang out. It's rather a small bar, inside and outside, but it serves great coffee, a good selection of freshly squeezed juices, and a selection of Croatian craft beers.
Contacts | a: Obala maršala Tita 4, Porec | Facebook
Potaman Taproom and Eatery, Pula
This newly open taproom in Pula has on offer over 100 local and international craft beers, as well as eight rotating beer taps. They also stock a great selection of craft gins. The atmosphere is nice!
Contacts | a: Verudela 8, Pula | Facebook
Prices of Croatian beer
The 0,33 l bottle of a craft beer in Croatia costs anywhere from 12 to 18 Kn in when bought in a grocery store or through the webshop. In bars, prices are higher. So you can expect to pay anywhere from 21 Kn to 40 Kn for a 0,33 l bottled Croatian craft beer.
A 0,5 l bottle of a mass-produced lager you'll pay around 6 Kn in a supermarket, or around 15 Kn in a bar.
Where to buy craft beer in Croatia
You can find many Croatian beers today in all big supermarkets like Konzum, Spar, or Kaufland. However, there are a couple of specialized beers shops throughout Croatia. They all have a great selection of local and international beers.
The Beershop
The Beershop opened back in 2004, as the first Croatian online beer shop. A few years later, it opened its brick-and-mortar store on Ljubljanica 5 where it's still today. The Beershop, besides over 200 beer labels from all over the world, sells also beer brewing ingredients, but it also regularly hosts home-brewing courses. Website (Croatian only)
Mali Ducan (The little beer shop)
This is perhaps the coolest beer store in Croatia, and the best one in Split. The Mali Ducan is nothing more than the neighborhood's corner store that at a certain time started offering a selection of over 200 beer labels. The store is open from early morning to late night (until 1 AM, except on Sunday). It's next to a small park where locals and tourists alike often sample Mali Ducan's offer.
Contacts | a: Trumbiceva 7, Split | Facebook
Craft beer to go
This specialty beer store in Zagreb stocks over 140 Croatian beers. More info here!
Spicy Days
A great shop in Zagreb's Ilica Street, Spicy Days offering a good selection of Croatian and international beers, as well as hot and BBQ sauces, spices, spreads, and snacks.
Craft beer events
Opatovina Beer Fest
Opatovina Beer Fest takes place in Opatovina Street and Kerempuh Square every year in summer (July or August). Opatovina Street is home to some of the best pubs in Zagreb & Croatia like Tolkien's, Craft Beer Room, Harat's, Kvazar, etc..
Zagreb Beer Fest
This open-air beer festival takes place in Zagreb's Franjo Tudman Square. This festival brings together great brewers and excellent concerts. Past lineups included Morcheeba, Psihomodo pop, Urban & 4, Electric Octopus, etc..
Beerfest Sjever
This beer festival, held in Cakovec at the beginning of October, is the longest-lasting craft beer festival in Croatia. The festival is a place to taste some of the best Croatian craft beers, learn how to become a homebrewer, meet many homebrewers, craft beer producers, and enjoy good food and good music.
Medulin Craft Beer Festival
This festival takes place in Medulin near Pula at the beginning of September. This is one of the best and most popular beer festivals in Croatia.
Zadar Craft Beer Festival
Zadar Craft Beer Festival takes place in Zadar's Petar Kresimir Square every September. With good music, food, and over 100 different types of beers, beer aficionados don't need much convincing to join in.
We hope our guide to the best Croatian beer helps you find local beers worth tasting while on holiday in Croatia. If you have any suggestions, questions, or just want to drop us a line, please do so in the comments section below. Cheers!