If you are visiting Plitvice Lakes National Park and need some help with travel planning, our Plitvice Lakes Travel Guide is here to help! We share here all you need to know to plan a perfect visit to Plitvice.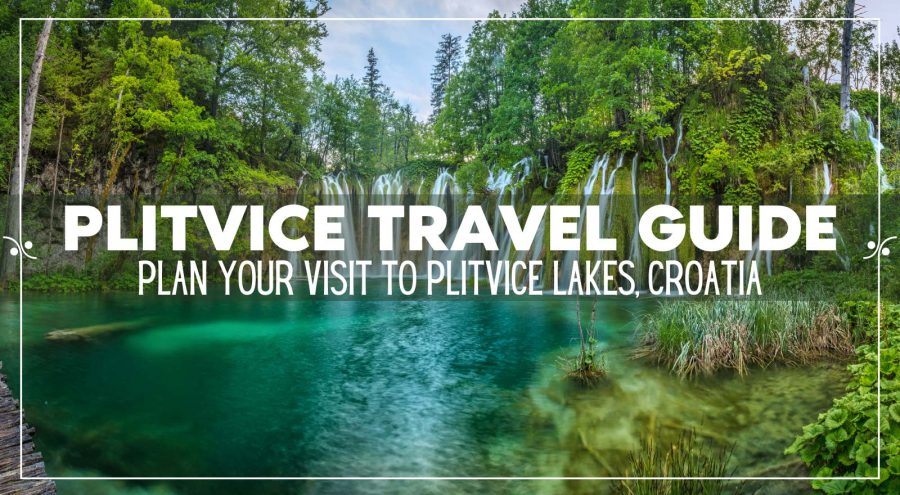 Nested in the mountainous Lika region, halfway between the coast and the capital Zagreb, Plitvice is, along with Dubrovnik, the single most visited site in Croatia. The lakes became a protected national park back in 1949, and since 1979 the place is also listed as UNESCO World Heritage Site.
This wonderful natural phenomenon consists of 16 interconnected lakes and over 90 waterfalls of different sizes.
Plitvice Lakes Park, for us, is one of the most wonderful places we've ever visited. The color of the water, changing from emerald green to aqua blue, is simply mesmerizing. And it's so clear that you can easily see through the water, and spot small fish.
Where is Plitvice?
Located in the mountainous Lika region, in central Croatia, halfway between Zagreb and Zadar, Plitvice National Park is a perfect stop for anybody traveling from north to south or vice versa.
Zagreb and Zadar are the closest towns to Plitvice Lakes. Below are the distances from the park to different Croatian towns, as well as the driving time between Plitvice Entrance 1 and each of these towns:
Zagreb: 135 km, 2 hours
Split: 270 km, 3 hours
Zadar: 160 km, 2 hours
Rovinj: 260 km, 3.5 hours
Dubrovnik: 465 km, 5 hours
Below is the location of the lakes on Google Maps.
How to get to Plitvice Lakes?
Many people visit the lakes for a day either from Zagreb, Zadar, or Split. However, we recommend staying at least 2 days in Plitvice Lakes. Staying in Plitvice overnight gives you a chance for easy and early access to the lakes and more time to explore the national park.
You can easily visit Plitvice Lakes on your own. You can rent a car, or take an intercity bus.
However, we suggest visiting Plitvice Lakes with a guide, as a part of an organized group tour, or on your own but hiring the guide to take you around the park. The first time we visited Plitvice Lakes, we ended up taking the wrong trail and exhausting ourselves on the hike that didn't lead anywhere (just through the woods).
Travel to Plitvice Lakes from Zagreb
If you travel from Zagreb by car head to Karlovac, a town 40 km southeast of Zagreb. From Karlovac take a state road D1 direction Slunj, Grabovac, Plitvice. The park is about 80 km south of Karlovac. The highway fees amount to 2.5 €, and the ride is less than 2 hours.
If you prefer to travel by bus from Zagreb to the lakes it's super easy. Many buses leave throughout the day from Zagreb's main bus station. The trip takes about 2.30 hours and the ticket costs 14 €.
Travel to Plitvice Lakes from Zadar or Split
From Zadar or Split, drive on Highway A1, and take the exit of Gornja Ploca. Then, continue along state road D522 to Udbina. From Udbina take the D1 road to Plitvice Lakes Park. One-way highway fees from Zadar cost 3.20 €, and from Split, the highway fees will set you back 11.20 €. The drive from Split takes a bit less than 3 hours and from Zadar a bit less than 2 hours.
A bus from Zadar to the national park departs throughout the day and the ticket costs about 14 €. The ride takes around 2.30 hours.
A bus from Split costs 22 €. It takes about 4h 30 min, and it departs many times a day in high season.
Buy bus tickets to and from Plitvice Lakes through Bookaway's website.
Day tours to Plitvice
In case you don't feel to do this visit on your own, below you will find some of the popular coach tours to the lakes.
The best time to visit Plitvice Falls
Plitvice Falls are worth visiting at any time of the year because they change with every season.
Summer is the most popular time to visit Plitvice Lakes. However, due to various reasons, it is not the best time to visit. In summer, especially in July and August, there are too many people on the trails that it is impossible to walk normally. It is also very difficult to take pictures without other people on them and to take pictures without waiting for other people to do the same. Also, in summer, weeks without rain make the level of water lower than in spring or autumn, and the cascades and waterfalls are less attractive.
Spring and autumn are the best time to visit the park. In spring, you'll benefit from high water levels, and witness the waterfalls and streams running wildly. Autumn is also a good time to visit the park as there aren't many people around, and trees start changing colors.
In winter, when covered in snow, the waterfalls look like a scene from a fairy tale.
How to plan a visit to Plitvice Lakes National Park
In the following chapters, you will find everything you need to know to plan your perfect visit to the lakes. The National Park covers an area of almost 73.000 acres. It consists of 16 lakes, over 90 waterfalls, many caves, caverns, and forests. Lakes are divided into two groups: 12 Upper Lakes and 4 Lower Lakes. The Upper lakes are larger than the Lower lakes.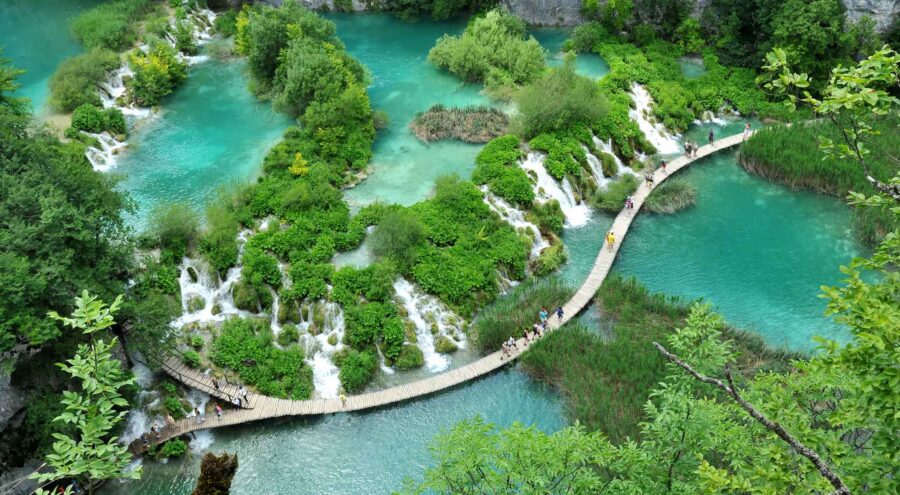 Plitvice Lakes National Park is accessible on foot via dirt paths and walkways. Shuttle buses run every 20 minutes through the designated areas of the park. A visit also includes a boat ride.
The highest point of the park is Seliski Vrh (1279 m), and the lowest point is the Korana Canyon (367 m). Lakes lie at an altitude between 503 m and 636 m.
Map of the park
Below you will find the map of the park with both entrances marked as well as all bus and boat stops, and most importantly lakes and waterfalls.
The free map you get with the ticket isn't very useful. On our last trip there we didn't have a map and we did regret it later. We ended up walking around without an idea where we were going.
While trails are well-marked most of the time, unfortunately, it's not all the time. At certain fork roads, you need to use your own judgment. You can always consult google maps, or get yourself familiar with the trails using the park's app (found on the Park's own website).
Entrances to the park
The waterfalls can be accessed through two main entrances open to the public, and the third auxiliary entrance Flora. The north entrance, known as Plitvice lakes entrance 1, is just above the lower lakes, while the south entrance, Plitvice lakes entrance 2, is next to the Upper Lakes.
If you travel by car, you will like to know that parking spaces are abundant even in the high season. However, in high season you'll perhaps have to park a bit further from the entrance.
An auxiliary entrance – entrance Flora – is close to the hotels Bellevue and Plitvice.
In order to better protect this fragile natural environment, the park's management decided to limit the number of visitors to the park, and hence, they introduced the online ticketing system. You have to purchase the tickets at least one day prior to your visit via
THIS LINK
.
And in the high season, we highly encourage you to purchase them well in advance due to the high demand.
You can still buy tickets at the ticket booths in the park if there is any slot available for the desired time. To check the number of available tickets for a current day, you can consult this
webpage
.
Bear in mind that in the wintertime, from November through March, you can access the park through Entrance 1, and Entrance Flora. Entrance 2 remains closed in winter.
Trails
There are as many as 8 different hiking routes (actually four different hiking trails for each of the two main entrances). The shortest route takes 2 to 3 hours and the longest up to 8 hours. Although the routes are marked, they aren't always easy to follow. Sometimes the marks aren't clear.
The best route depends really on how fit you are, how much time you have, and how much you enjoy hiking. But if you ask us, then the best route is route C.
Route A
This route starts at the north entrance to the park (Entrance 1), descending down to lower lakes, and leading to the Great Waterfall. You return a bit and then continue along lower lakes to the Kozjaka Bridge. From here you walk uphill back to the Entrance 1. You can also take a shuttle back. This route is 3,5 km long, it takes 2 to 3 hours, and it isn't physically demanding. However, you only get to see the lower lakes.
Route B
Similar to the route A, but it continues across Kozjaka Bridge where you take a boat across the Kozjaka Lake. Once you get off the boat, you can walk back to the Entrance 1, or take a shuttle back. This route is 4 km long, it takes 3 to 4 hours, and a hike is easy.
Route C
The trail C is actually extended route B. The first part is the same, but instead to return to the Entrance 1 after the boat crosses the Kozjak Lake, you continue the hike along the other three lakes to the southernmost Proscansko Lake. Route C is 8 km long, it takes 4 to 6 hours, and a hike is moderate.
Route K1
The longest route to take starting at Entrance 1, route K includes also a hike around the Proscansko Jezero. The route K is 18,3 km long, it takes 6 to 8 hours, and a hike is demanding.
Route E
The shortest route of all starting at the south gate – Entrance 2, route E takes you along the Upper Lakes, all the way to the Proscansko Jezero. You start a visit with a short boat ride across the Kozjak Lake. You can come back by a shuttle bus or on foot. The route is 5,2 km long, and it takes 2 to 3 hours.
Route F
Route F takes a different direction than the route E. You start a visit with a long boat ride across the Kozjak Lake. From there you continue a visit across the Kozjak bridge and along the lower lakes to the Great Waterfalls. On return, you'll need to walk up to arrive at the shuttle bus stop. The route is 4,6 km long, and it takes 3 to 4 hours.
Route H
Route H includes a bus ride to the Studovac site near the Proscansko Lake. Here you start your hike along the Upper Lakes to the Kozjak Lake that you cross by boat. After a boat ride, you continue walking along the lower lakes all the way to the Great Waterfall. You return to your starting point by shuttle bus. The route is 8,9 km long, and it takes 4 to 6 hours.
Route K2
Similar to route K1, the K2 route gives you an opportunity to explore the entire lakes' section of the park. The hike starts at the south entrance – Entrance 2. The route is 18,3 km long, and it takes 6 to 8 hours.
Entrance fee
Nov.-March | Adults: 10 € | Children (7 to 18): 4.5 € | Students: 6.5 €
April, May, Oct | Adults: 23.5 € | Children (7 to 18): 6.5 € | Students: 14.50 €
June-Sept for visits until 4 pm | Adults: 39.80 € | Children (7 to 18): 15.90 € | Students: 26.50 €
June-Sept for visits after 4 pm | Adults: 26.50 € | Children (7 to 18): 9 € | Students: 16.50 €
Parking costs 1.30 € per hour from June through September and 1 € per hour for the rest of the year. In wintertime, sometimes, the management allows free parking. Children below 7 years of age are free of charge. Students need to show a valid student ID to obtain a discount. There is also a discount for groups of 15 people or more.
The park's management introduced an online ticketing system in 2019. There is a limited number of visitors per hour who can enter the park. So, if you want to make it in, you are highly encouraged to purchase your ticket in advance through the park's website.
Working hours & contacts
Park is open year-round but certain parts of the park can have limited access due to the weather conditions. Electric boat runs every 30 min, from 8 am to the closing time. The shuttle bus runs every 30 min from 8.15 am to closing time.
Entrance 1 & auxilary entrance Flora| Nov.-March: daily, 8 am-3 pm (entering the park until 1 pm, visits allowed until 3 pm) | April, May, September, October: daily, 8 am-6 pm (entering the park until 4 pm) | June-August: daily, 8 am-7 pm (entering the park until 4 pm)
Entrance 2 is closed from November through March. In other periods it has the same working hours as entrance 1.
Parking | Daily, 7 am-8 pm
Contacts | t: +385 0 53 751 026 | e: info@np-plitvicka-jezera.hr | Website
Tips for visiting Plitvice Croatia
With a ticket in hand, try to enter the park through entrance 3. It's much quieter, and the boat stop is very close by.
Go to the toilets before entering the park. You'll find toilets along the trails, at certain stops, but maybe not when you really need them.
Take plenty of water and enjoy it at your own pace.
Take a look at the boards to decide which route to take but expect it to take a little longer than stated.
Get there early in order to avoid crowds. Crowds also tend to go down after 3 pm.
If visiting in summer, be patient. Some trails are narrow. People of all ages visit the park. Some people move very slowly. And people do stop to take photos.
Further parts of the park are less crowded even in summer (from Burgeti station further away).
Swimming isn't permitted in any of the lakes here, but you can hire a small rowboat for only 7 € per hour. You will find these rowboats on Lake Kozjak near the electric boat stop P1.
Dogs are allowed in the park but must be kept on a leash at all times.
If you travel by bus and wonder where to leave your luggage while visiting the lakes, you'll like to know that at each entrance you'll find a designated luggage area. It's free of charge but go early as storage space might be limited.
Swimming in the lakes is strictly forbidden. However, if you feel like cooling down in cool river waters, head to the village of Korana. Here you can swim. You can also swim a bit further north in Slunj.
Accommodation
The accommodation in the vicinity of the park consists of vacation homes and apartments. There are also a couple of hotels near entrance 2 (walking distance to the lakes) and in nearby villages.
Conveniently located near the south entrance to the park, hotel Jezero gives you a head start to visit the lakes. A small family-run 4-star hotel Degenija, located only 4 km from entrance 1, is modern and clean with spacious rooms, a good buffet breakfast, free parking, and two on-site restaurants.
If you like seclusion, peace and quiet, and beautiful natural settings, and if you don't mind driving a bit to reach the park, then ranch Jelov Klanac is an excellent place to stay.
A wonderful detached wooden cottage, a holiday home Fairy Land is warm and cozy with a nice fireplace, a small kitchen, and a porch. The cottage can accommodate up to four people.
This villa Verde offers modern and spacious guest rooms with en-suite bathrooms, easy access to the lakes, attentive owners, and copious breakfast, which even includes farm fresh eggs from their own backyard.
Where to eat
If you're a foodie, you might be disappointed with a food offer in this area. Many restaurants here are big, adapted to receive large coach tours and they only work from April to October. The food is heavily based on meat, often fried or roasted.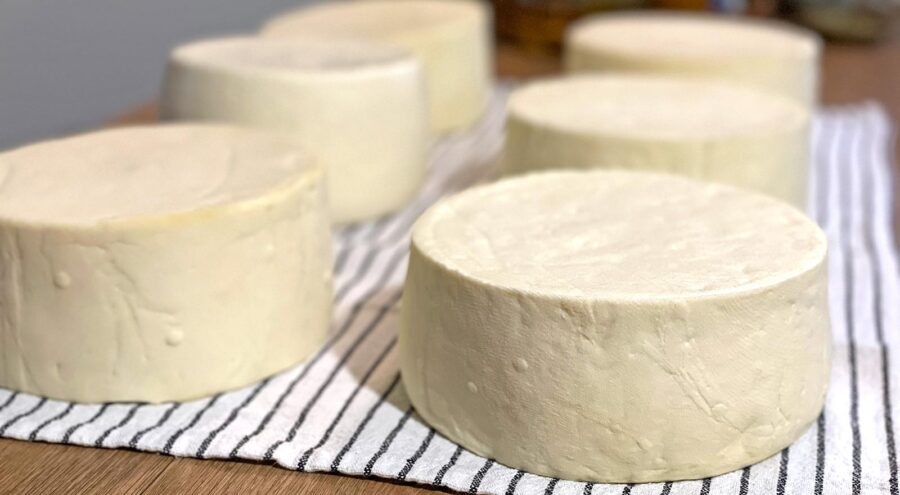 If you drive around a bit, along the road you'll encounter locals selling cheeses, and typical pastries from the area, like cheese or apple strudel. If you like cheese, head to a village of Smiljan, where you can also visit Nikola Tesla's birthhouse and memorial museum. Here, look for OPG Ana Milkovic (just google it!), and buy the mnost divine traditional squeeky cheese you can find in all Croatia. We make a detour to this place every time we travel from Istria to Dalmatia and vice versa. A must-try for all cheese lovers!
If you stay overnight in the park, you can arrange with a host family to prepare your meals. This can be a hit-and-miss game because the food depends on the culinary expertise of your host family, but more often than not you'll eat better than in any restaurant around. Such a meal usually costs around 30€ per person, and it consists of a starter, a main, a side dish, a salad, a dessert, and a 1/2 l of table wine and water.
As for the restaurants, here are our few suggestions.
Restaurant Ambar in Rastoke has modern interiors, beautiful outdoor terrace for eating al fresco on warm days, and tasty food. It's not cheap but portions are big.
The restaurant Licka Kuca is located right at the north entrance to the park. The restaurant is run by a state-owned company that is also in charge of the entire park, so the service can be a bit grumpy. The food is good, and the ambiance is convivial.
Located within the hotel Degenija, a restaurant Degenija serves everything: grilled meat, pasta, trouts, pizza, you name it, they've got it. This is a decent place to have a meal in the area.
A cafe/ bistro Plum also belongs to the hotel Degenija, but it offers a simplified menu featuring burgers, club sandwiches, risottos, tortillas, and like.
What to do
Besides a visit to the national park, there are a couple of other interesting activities to do in this area.
Horseback riding
Many places in the area offer horseback riding experiences, including half-day and full-day horseback riding tours, and riding school. You can also book entire horseback riding holidays around the Lakes.
Expect to pay around 25 € per hour for a field ride with a guide.
Ranch Terra | a: Irinovac 156, Rakovica | m: +385 97 629 3343 | e: ranchterra156@gmail.com | Website
Ranch Equus Igni | a: Jelov klanac 244b, Rakovica | m: +385 91 7322 702 | e: equus.igni@gmail.com | Website
A visit to Rastoke
At the entrance of Slunj, just 15 km north of the park, you'll find an old village of Rastoke. It consists of well-preserved mills surrounded by lovely waterfalls, and rapids. Bring sandwiches and have a picnic while enjoying the beauty of Rastoke. There are also a couple of restaurants and cafes with terraces above and at the edge of the water.
White water rafting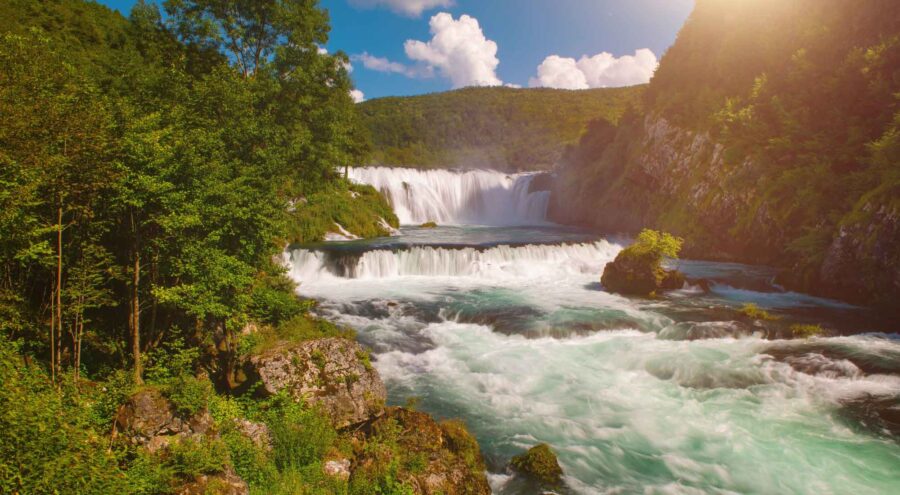 With so many rivers, streams, and rapids going through this karst region, white water rafting is, besides hiking, one of the most popular activities in the region. The best rafting here is on rivers Korana and Una (in Bosnia).
Expect to pay anywhere between 25€ and 45€ per person depending on the route.
Mirjana & Rastoke | a: Donji Niksic 101, Slunj | t: +385 47 787 205 | m: +385 98 214 658 | e:info@mirjana-rastoke.com | Website
Bijeli Sport | a: Kokot – Pecikovici, Bihac (BiH) | t: +387 61 138 853 | e: raftbeli@bih.net.ba | Website
Read our full post on white water rafting in Croatia.
Tesla Museum
Tesla Museum is located in the village of Smiljan. The museum, or rather a park, consists of an inventor's birth house, a Serbian Orthodox Church, a multimedia center, an old barn, and a children's playground.
Try to schedule your visit with the start of a guided tour (every two hours). The tour shows a couple of experiments and a video about Tesla.
Working hours | Apr-Oct.: Tue-Sat, 8 am-7 pm; Sun, 10 am-3 pm; Monday closed | Nov-March: Tue-Sat, 8 am-2 pm; Sun, 10 am-2 pm; Monday closed
Prices | adults: 7 € | children, students, seniors: 3 €
Contacts | t: +385 53 746 530 | e: mcnikolatesla@mcnikolatesla.hr | Website
Cycling
Unfortunately cycling within a national park isn't allowed any longer, but it's extremely popular in the area surrounding the park.
If you plan to cycle in this area, we highly recommend that you book an organized cycling tour with some of the local companies.
These guys know the area inside-out and will provide the best sightseeing and routes you might otherwise not be able to access yourself. Expect to pay around 40€ per person for a guided tour. For more info check the Huck Finn website.
If you would like to do it on your own, check cycling routes in the area at Lika-Senj County Tourist Board website.
Hiking
Besides hiking within well-known national park routes, you can spend days in this area hiking.
Check trekking and hiking routes within the park here.
Zip-line
At the western edge of the national park, there is a zip line with one of Europe's longest lines. The line is 1.700 m long and picks up speeds of up to 120 km/h (when pushed by the north wind from the back).
The price starts at 35 € per person.
Head to Pazi Medo's website for more information. Alternatively, check another zipline in the vicinity – Adrenalin Park Plitvice.
Barac Caves
Located in the village of Nova Krslja, just a few kilometers from the lakes, the Barac caves were first open to visitors back in 1893 but soon forgotten following WWII.
A 45-minute guided tour takes you through this underground world.
Prices | March-May, October: adults: 9.95 €, children (7-18): 5.31 € | June-September: adults: 11.28 €, children (7-18): 5.97 €
Working hours | Nov.-Feb.: closed | March: Fri-Sun, 10 am-5 pm | April, May, Sept.: Daily, 10 am-6 pm | June – Aug: Daily, 9 am-7 pm | October: Daily, 10 am-5 pm
Contacts | a: Nova Krslja bb, Rakovica | t: +385 47 782 007 | e: info@baraceve-spilje.hr | Website
We hope that our travel guide to Plitvice Lakes National Park was handy in planning your visit to this wonderful natural site. If you have any questions or suggestions, please leave them in the comments below.