Popular accommodation options, especially among families and groups of friends, villas in Croatia offer ample space, tons of privacy, luxury, and overall great value for money.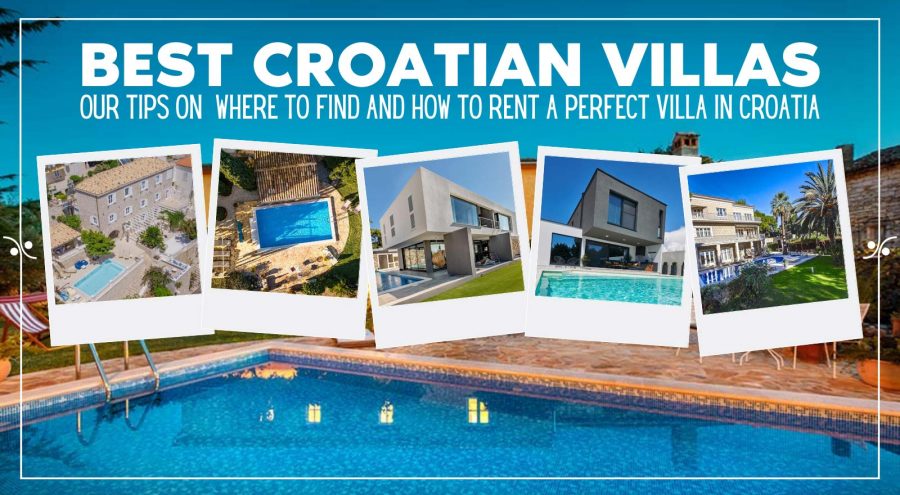 The 12 great Croatian villas to rent
Set in the scenic countryside, right at the beachfront, or hidden in alleyways of ancient towns, you will find a large number of holiday villas in Croatia to choose from. Villas for rent in Croatia differ in style, from rustic charmers to contemporary villas with clean lines, minimalist furnishing, and floor-to-ceiling windows.
Find below the 12 incredible villas in Croatia!
Villa Contessa, Novigrad
How about spending your holidays chilling in the outdoor pool of gorgeous modern villa Contessa in Novigrad? The 200 m2 house offers ample space, comfort, and privacy. Situated just a 2-minute drive from Novigrad and the beaches, the villa features 4 bedrooms, each with an en-suite bathroom, open space kitchen, living room, and dining area that opens to the beautiful outdoor pool. The owners are very accommodating.
Villa Rupeni, Porec
Ha! Full nepotism here, as we recommend our own villa in Istria first. We dedicated lots of love to make this house a perfect getaway for anybody seeking tranquility, privacy, and a place to recharge your energy.
Our villa is set on 1.000 m2 of landscaped land. Its lovely location, at the edge of a tiny village, gives our guests plenty of privacy, and peace and quiet.
The two-story, three-bedroom, three-bath house has a surface of 170 m2. It features a fully-equipped kitchen, open space living and dining area, covered terrace with BBQ, tables, and chairs for dining al fresco, two patios, 32 m2 swimming pool, with a sun-bathing area, and a pool house. It can accommodate up to 6 people.
Villa Matija, Fazana
Located in the village of Fazana, within walking distance from the sea, and also from the center of Fazana, this four-bedroom, four-bath villa belongs to our friend Vedran. Villa Matija is set on 1500 m2 of land. It features an outdoor pool, sauna, fully-equipped kitchen, and open space living room with a fireplace.
Villa Ulmus, Karojba
Vera's colleague Martina owns this beautiful villa, located in a quiet village in central Istria. The 2-bedroom, 2-bathroom villa Ulmus is a modern, one-story home with a lovely interior full of thoughtful details. The 36 m2 outdoor pool is heated! The property can accommodate up to 6 people.
Villa Calma, Starigrad-Paklenica
Guests love Villa Calma for its superb location, just 30 m away from the sea, contemporary design, lovely sea views from the bedrooms, a 40 m2 swimming pool, a jacuzzi on the balcony, and luxury services. The house has 4 bedrooms and 4 bathrooms, and a surface of 240 m2.
Villa Diocletian, Split
Built over 100 years ago, villa Diocletian is a protected cultural monument, but also a stunning property to rent during your stay in Split. It's located in Meje, a posh neighborhood of Split, with a lovely landscaped garden facing the sea. Almost every room in the house boasts wonderful sea views. It features 5 bedrooms, 3 full bathrooms, a spacious living room fitted with designer furniture, and Murano chandeliers, a modern kitchen with all amenities, and an outdoor swimming pool.
Villa Dvori Sv. Jurja, Hvar Island
This traditional Hvar villa was recently restored to its full glory. Despite its rural location, in the heart of Hvar island, and its traditional looks, the villa features all the modern cons a traveler might need: air-conditioner, WiFi, outdoor infinity pool, and a flat-screen TV. The house accommodates a max of 10 people, in its 4-bedrooms, 4-bathroom interior. It also features a fully-equipped kitchen, a beautiful living room with a large window giving out to the Mediterranean garden, and even a tennis court.
Villa Petra, Sutivan
Close to the beach and within walking distance from the restaurants, bars, and the center of this resort town on the Brac island, lovely modern villa Petra features great amenities like an air-conditioner, sea-water swimming pool, outdoor BBQ. It also has lovely sea views. The house accommodates a max of 8 people, in its 4-bedrooms, 4-bathrooms interior.
Villa Palma, Korcula Island
Dreaming about stylish beach holidays? Check the luxurious waterfront Villa Palma. Literally just steps away from the beach, this villa offers a modern design, top-notch amenities, and lovely surroundings. Say no more – pack your beach gear and head to Korcula Island!
Villa Mediteran, Dubrovnik
Constructed in 1930 by a wealthy Dubrovnik family, this stone villa features 5 bedrooms, 5-bathrooms, a large, fully-equipped kitchen, a living room, a gym, a sauna, and three terraces. It also features many original details from the time it was built. The villa is just a 10-minute walk from the old town.
Villa Mey's Place On The Beach
This 4-bedroom, 3-bath villa is built into a hillside, in Lozica, a residential neighborhood north of Dubrovnik, less than a 10-minute drive from the town. The villa stands directly above the sea, and it also has its own private beach. The interior is modern, with a nautical theme throughout the house. The large terrace opens out to the sea offering lovely views over the nearby Elaphiti islands.
Villa Beba, Dubrovnik
Are you a sucker for awesome views? No other place offers such incredible views over the sea and Dubrovnik's old town as the villa Beba does. Add to that a bit of history, superb location, thoughtfully chosen decorations, amenities of the highest standard, and friendly and caring hosts and you will understand why this is one of the most stunning villas in Croatia.
Find villas on the map
Reasons to rent a villa
Villas offer so many advantages over all other types of accommodation. They are a great fit for large families or groups of friends. They come with luxury furnishings, quality fixtures, and ample amenities. Besides, they are spacious, and they offer safety, privacy, and serenity.
We have a villa in Istria that we rent to tourists. But, during COVID-19 in Croatia, we were self-isolating in our villa. That was the best two months we have spent in a long time. A quiet village, singing birds, a blooming garden, a private swimming pool, and nobody in sight for days. Seriously, that's what we call a quality life.
Villas offer lots of space, inside and outside. Rooms are spacious and often come with en-suite bathrooms. Outdoor space usually includes covered terraces and a garden. And many also come with a private pool.
Many villas also offer tons of privacy. Properties are often surrounded by stone walls and protected from curious views of neighbors and passers-by.
The majority of Croatia villas are located in quiet villages. Hence, they offer complete tranquility, relaxation, and peace and quiet.
If you feel like having a glass of wine by the pool, at 5 pm, all by yourself, worry not – you won't be bothered by screaming kids (assuming you can control your own kids) or hundreds of other guests.
Today many villas offer more perks than a 5-star hotel. From large flat-screen TV, designer furniture, free WiFi, swimming pool, BBQ facilities, en-suite bathrooms, Playstation, trampoline, you name it! In addition, some villas even come with indoor swimming pools, saunas, and gyms. And the best thing – you never have to wait in line, it's all yours.
How much does it cost to rent a villa in Croatia?
In high season, for a 3- or 4-bedroom villa with a swimming pool, expect to pay anywhere between 320 to 500 € a day. In the shoulder season, villas rent for anywhere between 220 to 350 €, and in the low season, you can rent it for as little as 120 € a day.
It might seem expensive at first, but don't forget, that such villas can fit 6 to 8 people and that they provide lots of luxury. Villas actually offer the best value for money compared with other types of accommodation in Croatia.
In high season, you can't find a double room in a 4-star hotel for less than 250€ a day. If you have two kids, the price goes up, and if you want to book a suite or a proper family room because your dream holiday doesn't include sharing a room (or worse, sharing a bed) with your teenage kids, prepare to pay as much as 600€ per day (and this if you book early enough to get an early bird discount).
OK, you do get three meals a day at this price, and daily cleaning, but you still need to fight every day with other guests for your place by the pool, or by the sea. When you rent a villa, the pool is all yours. And so are the deck chairs.
What to expect?
All villas for rent in Croatia need to be fully licensed. This means that they are inspected by the municipal administration, and rated  3, 4, or 5 stars. In short, the higher the star rating, the better the quality.
Bed linen and bathroom towels are always provided on arrival for every new guest, and they are usually changed weekly. If you'd like to have fresh bed linen and towels more often, you can request it, but be ready to pay for the service.
Check prior to your arrival (or even better prior to your booking) if basic supplies, like soap, shampoo, toilet paper, etc. are provided. Although some of them should be mandatory, it doesn't mean they are provided free of charge. Hair-dryer is usually provided.
The kitchen is fully-equipped, and it normally comes with an oven, four-ring hob, fridge with a freezer, microwave, filter coffee machine, toaster, and selection of pots, pans, plates, glassware, and utensils. A dishwasher is less common.
The majority of villas in Croatia have an outdoor swimming pool, but it's rarely heated. An indoor pool, while available at some luxury villas in Croatia, is less common, and so are a sauna and gym.
Lots of villas provide basic entertainment for kids like a trampoline, a selection of board games, table soccer, a game console, and like. This equipment isn't mandatory, so check before you book.
BBQ facilities, outdoor dining area, and deck chairs, are all available in villas.
Tips for renting a villa
The majority of villas have a rural location, a bit away from tourist resorts and the sea. Some are very secluded, while others are set in villages with a restaurant or two. This means you'll need a car to move around.
Istria, a northern Adriatic region, has the largest choice of Croatia villas for rent. In the last years, Dalmatia is catching up, as well as the islands. Villas in Dalmatia and on the islands are usually more expensive than in Istria because there are fewer villas to rent and the season is shorter.
Villas keep very strict booking conditions, from late May to mid-September. The minimum stay in a villa is 7 days, with arrival and departure usually on Saturday. Keep this in mind when entering your dates in any booking engine. Unless you choose Saturday-Saturday, you'll have a limited number of villas available.
You can easily book a villa using Booking.com, Airbnb, or HomeAway. Be sure to enter Saturday-Saturday when searching for a villa on these sites.
There are also a couple of specialized villa-booking websites in Croatia. The most popular are MyIstria, Istria-Home, and Luxury Croatian Villas an agency run by Alan Mandic of Secret Dalmatia (we love their blog!).
In a low season, you can try to bargain as much as possible, as the offer is abundant, and demand is very low.
What to bring
If you are planning to rent a villa, here is a packing list for your villa holiday!
Sunscreen
With plenty of sunshine in Croatia, and a private pool at your disposal, sunscreen isn't only handy to have, it's a necessity.
---
Swimming suit
Whether you decide to spend a day by the pool or to plunge into deep blue Adriatic, a swimming-suit is a must-have for your villa stay. I get my trunks just about anywhere, while Vera wears Shoshanna bikini.
More info on Shoshanna swimwear you can find here.
---
Teas
The real teas are hard to find in Croatian supermarkets, the choice is limited, and prices are higher than back home. If it doesn't take lots of space, better bring your favorite brand with you.
Check here for more information and the latest prices.
---
Camera
When we travel, we take tons of photos. But the camera equipment can take lots of space. Recently we've switched from DSLR to mirror-less camera. We've changed our Canon T8i for Panasonic Lumix GX85, and the load just became much lighter. Don't forget your camera when traveling.
Check here for more information and the latest prices.
---
Water shoes
Water shoes come in handy if you plan to spend some time on Croatian beaches. Beaches here are mainly pebbly, or rocky. It's just easier to walk wearing a pair of water shoes. You can buy them here, at many stores along a beach, or you can check these awesome Crocs Vera's using (for a beach and a work respectfully).
Check here for more information and the latest prices.
---
Books
I don't know about you, but we both read a lot, and even more so when on holiday. For me, there is nothing as relaxing as reading a book while lounging by the sea or a pool. A glass of wine in hand, bien sûr!
Check here for the latest prices on e-readers.
---
Mosquito repellent
Mosquitoes are plentiful in Croatia, and even more so in rural locations where the majority of villas are located. Our house to rent has mosquito nets on all windows and doors, but this isn't always the case. Bring a mosquito repellent with you to be on the safe side.
Check here for more information and the latest prices.
---
Adapters & converters
Croatia uses 220V, 50 Hz frequency, and type C & F plugs. Both are similar plugs with two round prongs with 19 mm between the two.
We hope this post helps you understand what to expect when renting villas in Croatia. If you have any questions, or suggestions, or just would like to drop us a line, please do so in the comments section below.