Following success of our first post on Makarska Riviera Beaches (with 522 likes on Facebook, it's our most liked post ever!), together with Vice, a fellow blogger and Makarska local, we decided to reveal another six secluded beaches on Makarska Riviera.
Don't forget to check Vice's awesome facebook page for more inspiration and beautiful photos of this part of Croatia.
Secluded beaches on Makarska Riviera
#1: Lucica I & II are actually two beaches located between Drvenik and Zaostrog. They are located just few meters below the main road, but they are hard to notice. These two beautiful beaches have lots of pine woods and natural shade. Parking is free. Both beaches are very popular among the locals during the high season. But come in June or September and you'll have them almost only for yourself.
#2: Virgin Beach (cro. Djevičanska) is an almost one-kilometer-long beach located between Drasnice and Igrane. Nature is very pristine and rich with freshwater sources, particularly underground water basins. Water is potable. This beach is naturist friendly. There is an old unpaved road between the two villages. You can come pretty close to the beach and then walk down. Free parking is available along the old road.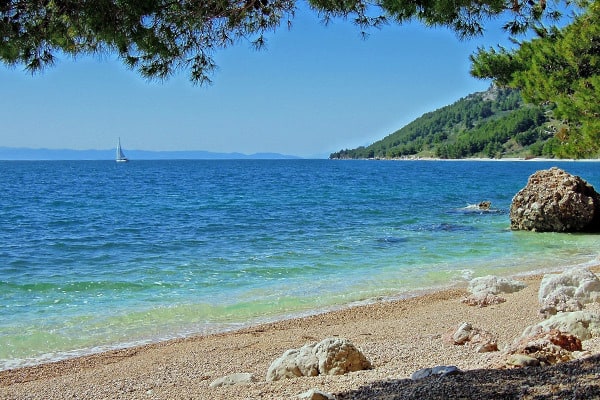 #3: Solaric and King's Grove (cro. Kraljev gaj) are two beautiful beaches located between Tucepi and Makarska. Do you remember the dramatic scenery of Nugal beach from our previous post? Well, you can enjoy that scenery as much as you like from Solaric beach. It offers amazing vistas over Nugal beach.
Solaric is actually a small cape. Due to its position (lots of wind from both sides), its bottom is covered with extremely fine pebbles. You can literally dig yourself halfway into it. These two beaches have lots of small coves, some in shade, others not. Both beaches get busy during the high season.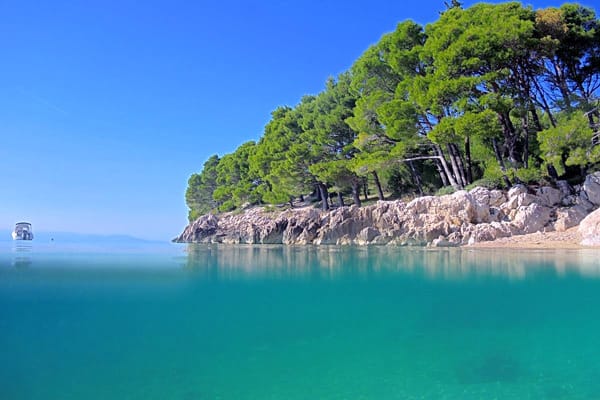 #4: Ramova-Curilo, an area abundant in small and large beaches, is popular among locals and tourists. One part of this area (Curilo) offers plenty of small beaches in between white cliffs with little or no shade at all. The other part (Ramova) has a plethora of vegetation and lots of shade to protect you from the sun throughout the day.
The best way to reach them both is from Krvavica. A small village west of Makarska has plenty of parking spots. You can park your car for as little as 3 € a day.
#5: Drvenik west is probably the most secluded beach of all and a true hidden gem. Far from any village, but close to several campsites, you really need to know about this beach. Otherwise, the chances that you'll just stumble upon it, are pretty slim. Parking is on the main road (although there are very few places available).
The best way to reach this beach is to actually leave your car in one of the campsites (the closest is the campsite Ciste), and then to hike to the beach. Also, beware that the beach is naturist friendly throughout the year.
#6: Garma is a picturesque bay with five, six beautiful beaches. Garma is located at the far end of Podgora toward Tucepi. Easily accessible on foot from Podgora, these beaches are very popular among tourists. There are beautiful olive groves above the beach.
Don't forget to check the awesome Makarska Beaches application for IOS & Android (soon to be released).
Photo credit: Tempet Makarska
What's your favorite beach photo from this post? Let us know in the comments below!