Visiting Rovinj? Plan your activities and day trips with this guide on the best things to do in Rovinj Croatia!
Rovinj is one of the most popular places in Croatia, and an excellent destination for couples, foodies, camping enthusiasts, and artists.
It's the Croatian version of St. Tropez before all the glitz and glamour, small, charming, laid back, and artistic. Yet, with the two top-notch 5star hotels that belong to the Leading Hotels of the World, and the highest accommodation rates in Croatia (along with Dubrovnik), Rovinj also attracts affluent guests without feeling posh or pretentious. Rovinj is one of those places you easily fall in love with; one of those places that simply feels right.
You can walk its cobbled streets, get lost within the old town, have a glass of wine by the sea, watch the world go by, and feel good.
Vera and I live near Rovinj and visit it almost daily. We share below all the things we love to do in Rovinj. We hope you'll find something for yourself.
What To Do In Rovinj: Our List of the best things to do in Rovinj
Small, walkable town, Rovinj is easily visited on foot, and it will only take you a couple of hours to see all its attractions. However, Rovinj will charm you into repeatedly exploring its cobblestone streets, discovering lovely corners, and relaxing on many outdoor terraces.
Whether you travel alone, as a couple, or family with kids, and regardless of your budget – our list of what to do in Rovinj is the place to plan your Rovinj activities!
Have a gelato in the Gelateria Italia

This small ice cream parlor, run by an Italian family from Brescia, has the best ice cream in Rovinj. But for us, also, the best gelato in all of Istria. Their gelato is freshly made, natural, yummy; it comes in a variety of flavors and is crafted right there on spot, often in front of your eyes. Don't miss grabbing a scoop of a favorite Rovinj treat!
Dine with style at Monte
Foodies' will like to know that the first-ever Michelin-starred restaurant in Croatia is in Rovinj. Monte serves exquisite and yummy, creatively presented dishes, and an impressive wine list highlighting the best Croatian wines. Add to that a romantic atmosphere, and friendly and attentive service, and you'll understand why the dining experience in the restaurant Monte is a must-do in Rovinj for all foodies.
Climb the bell tower
Said to be exact, though a smaller, replica of St. Marco's in Venice, the Rovinj bell tower stands 60 m high above the ground. You need to pay a small fee to climb up, and the stairs aren't in the best shape. However, the views are great and well worth a climb. Snap few photos while atop.
Taste fisherman's pie at the Maestral
If you are into seafood, you can't leave Rovinj without tasting the fisherman's pie at Meastral, an open-air restaurant at Rovinj's waterfront. It's Rovinj's version of Komiza pie, a kind of flatbread filled with tomatoes, onions, salty anchovies, and drizzled with olive oil.
Watch the sunsets
You can't visit one of the most romantic places in all Croatia and then not enjoy at least a sunset or two. Get to the Puntulina, Mediterraneo, or the XL bar for a sundowner, or set yourself for a picnic in the Lone Bay while watching the sun goes down in Rovinj.
Take a dolphin boat tour
This is one of the most popular and the cheapest boat tours in Rovinj. And with so many dolphins in Rovinj's waters, seeing them is 100% guaranteed. Besides, you get to see Rovinj from the sea, a spectacle in its own right.
Eat at the smallest terrace in Rovinj
The Male Madlene is the quirkiest restaurant in town! This is really a one-woman show. The owner, in her 60s, is your host, cook, waiter, and storyteller (if you want). You sit in what seems like her own house (where she actually lives!), either in a small dining room or at the smallest waterfront terrace in Rovinj (four small tables only!). The food is yummy! And trust us, if you are a serious foodie, the experience is something you will remember!
Have a drink at the Mediterraneo
Mediterraneo is the quirky little bar just at the water's edge with lovely seating, some literally perched on the rocks. The place is colorful, has a chilled vibe, friendly staff, and reasonable prices. Just come for a sundowner and enjoy the views and the music!
Take a ride in a traditional Batana
The traditional Batana boat is a true representative of Rovinj's long fishing tradition. Don't miss a ride around Rovinj's old town in this traditional boat. The cruise departs from Mali Mol at 7.30 pm, every Tuesday and Thursday during the summer. The price of the ride is around 13 € per person. A must-do!
Hear Rovinj's traditional Bitinada singing
Bitinada singing is so unique, so interesting that it is a kind of polyphonic folk music from Rovinj traditionally performed by fishermen and farmers. An interesting way to hear this singing, to experience local food and a way of life is to book dinner at Spacio, a typical Rovinj tavern, where the local singers bring entertainment during and after dinner.
Visit energy fields on the Red island
Red Island is a popular swimming spot for locals and tourists alike. However, not many know that the island has six energy fields: love & creativity, energy, life & death, wisdom, and freedom. They are a great source of tranquility, balance, rejuvenation, and positive energy. If you can do with a little bit more of any of these, hop on the boat and go feel these centers of energy yourself. The boat departs every hour from 5.30 am to 00.30 am, and the ticket costs 10.62 € for adults and 5.31 € for kids.
Rock climbing at the Punta Corrente
The rock climbing site stands in the former quarry, in the Punta Corrente Park, bare 20 m away from the sea. All climbing routes are bolt-fixed on sharp hard limestone rocks and many of them are suitable for beginners.
A local agency, Adistra, offers guided climbing with all equipment provided. A tour lasts 4-6 hours and costs 60€ per person.
Visit St. Catherine's Island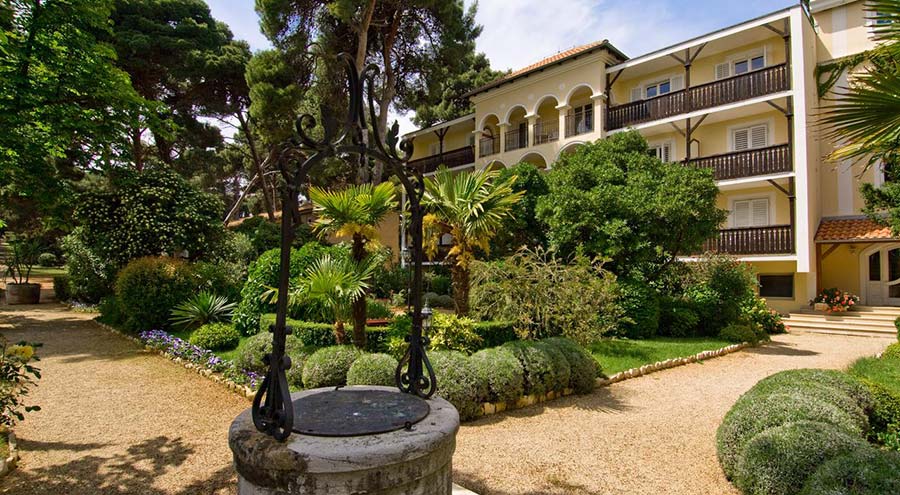 A small island off the shores of Rovinj, St. Catherine Island has beautiful gardens and parks, featuring over 450 different plants. Beaches here are rocky, and drinks are expensive. However, the views over the old town are nice, and the boat ride (the same boat that also serves Red Island) is affordable and lovely.
Bike to the campsite Vestar
Take an easy and flat cycling path along the sea from Rovinj through the Punta Corrente park, Villas Rubin and Polari Resort all the way to the camping Vestar. The campsite Vestar is a nice place, not too big, with a busy harbor for small boats. There is a small beach bar at the dock, and it is a cool place to chill out between the biking!
Or … Cycle the Limes Trail
If you are a more experienced cyclist and ready to make 40 km round through Rovinj's nature, go take on the Limes Trail. It starts and ends in the Amarin Resort. You'll pass by interesting natural and cultural sites, including ruins of the small historic churches, Maklavun archaeological site, Rupnjak Pond, and Haber's Horseriding center. Also, halfway through, plan a stop at the St. Martin viewpoint!
There are a few rent a bike places, like Rental Center or Rovinj Bike Rentals in Rovinj with prices going from 20 € for a daily rental of a bike.
Visit Batana Museum
A traditional fishing boat from Rovinj, Batana is an integral part of the town's history and its people. There is a small but interesting museum dedicated to this traditional boat. The entrance for adults costs 3.32 €.
Visit ruins
Visit the archaeological site of Monkodonjo. The site dates back to the Bronze Age. It is situated 5 km east of Rovinj. The settlement was encircled by 1 km long stone walls.
It consisted of three parts: the central barrow, the crafts district, and the living quarters. Over a thousand people lived here. Today you can visit the ruins of this once important settlement.
Go bird watching
Palud, a swampy area 10 km away from Rovinj, is the only ornithological site in Istria. It's a great place for those who enjoy bird watching. Due to its geomorphology, this site is home to many migratory and resident birds, turtles, eels, mullets, etc. Over the year, more than 200 bird species visit this area.
Palud is open year-round, and it's free of charge unless you would like to be accompanied by a professional guide. A professional guide is available on request.
Go shipwreck diving
The most popular scuba diving site out of Rovinj is the shipwreck Baron Gautsch, one of the best-preserved and the most visited shipwrecks in all Croatia. Sunk in 1914, this passenger steamer was 85 m long, and 12 m wide. Today the wreck lies at depths of 28-40 m, 12,5 nm off the coast of Rovinj. Many local diving centers offer organized dives to the Baron Gautsch site.
Paddle into sunset
Bring a date for this gentle paddling tour at sunset in the waters around Rovinj. Take in the sights, enjoy the sounds of the birds, and the waves lapping on your kayak, and if that's not already enough to convince you, it includes wine, cheese, and olives too! The price is 26 € per person.
A short hop to the Stancija Collis
A lovely boutique winery, Stancija Collis is set amidst the vineyards and just 6 km from Rovinj. Get yourself a cab or get on a bike and come here for wine tasting, beautiful views, and a relaxed atmosphere.
Come to Grand Park hotel Rovinj for drinks, stay for views
Are you looking for the best spot from where to photograph Rovinj? Then, you have to visit the newly built Grand Park Hotel Rovinj! The fifth-floor reception and the bar offer jaw-dropping views of the old town. The lobby bar is accessible to all even if you aren't staying here. Drinks are expensive but the views are really stunning and worth the money.
Catch yourself a lunch
Pick one of the Mora Fishing & Pleasure various fishing trips, like a big game, bottom, and night fishing, and enjoy a day out at the sea! Big game fishing takes you 30 nautical miles from Rovinj for ten hours of fishing tuna, bonito, and sometimes swordfish. Bottom and night fishing trips take you 12 NM from Rovinj for 4 hours of fishing for mackerel, sardines, and alike.
Go horseback riding
Horseback riding, therapeutic riding, horse breeding farm, and Rovinj's Equestrian Club, you'll find all this at the Haber Farm. They offer 45- and 90-minute rides.
Sea kayaking
Whether you prefer a self-guided or organized kayak tour, Adistra is the place to go. They rent kayaks, but they also have a 5h long group sea kayaking tour. The tour takes you around St. Andrew, Maskin, Sturag, and Sv. Ivan Islands, as well as around Sv. Ivan na Pucini Lighthouse. This tour departs at 9.30 am, it lasts 5 hours with two stops on the islands for a picnic and swimming.
The price is 38€ per person.
Taste Croatia's best olive oil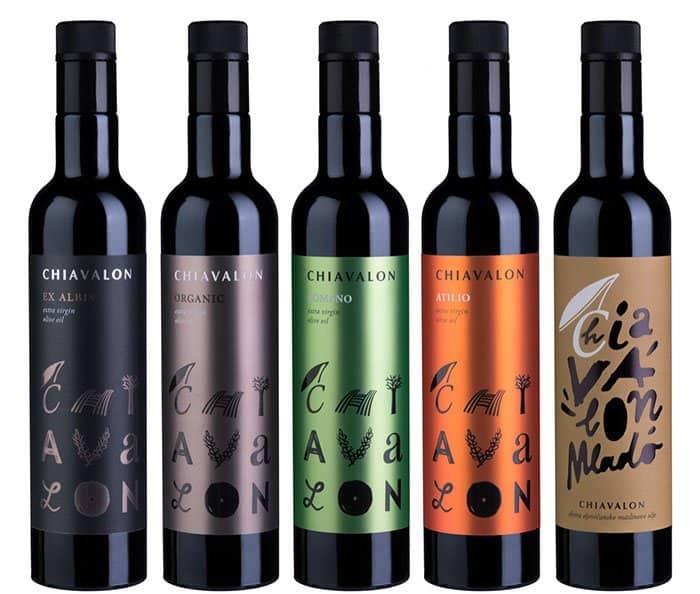 Yes, you read that right! The Chiavalon Olive Oil is the best Croatian olive oil and one of the best olive oils in the world. Don't just take our word for it, World's Best Olive Oil Association named them one of the TOP25 producers in the World, and Premio il Magnifico placed them among TOP12 producers in Europe.
Their newly built tasting room is on the road between Bale and Vodnjan, 25 km away from Rovinj. You will meet the producers, taste their olive oil and you will learn so much that you'll never again look at the olive oil with the same eyes. They also produce other natural farm products, like tomato sauce, or jams, or organically grown melons.
Eat where locals eat
A simple no-frills tavern, Konoba Jure has a crappy location and uninspiring interiors, but it has fresh, tasty food, affordable prices, and friendly staff. If you want to eat good honest comfort food, then this is the place to go. Locals love it!
Shop at the Lugomare Plaza
A new shopping address in Rovinj, located at the ground floor of the hotel Park, the Lungomare Plaza is the place to shop for the best independent eyewear brands, Vilebrequin's clothing, fine jewelry and watches, designers' items from the household items, and electronics, to perfumes and books.
Have a drink in the Mulini Beach Bar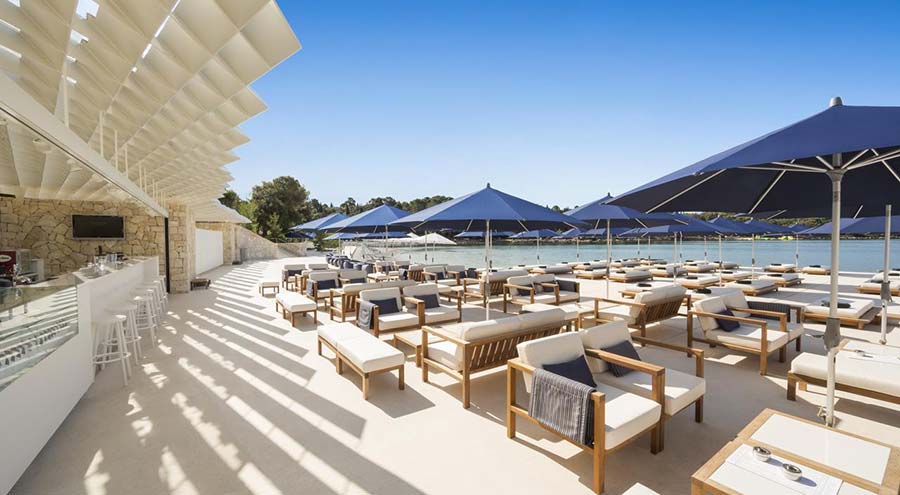 The trendiest beach bar in town, Monte Mulini is the place to be! The DJ plays day and night, the staff is friendly, the atmosphere is great, and the drinks are expensive.
Have a glass of wine at Dobravac
Dobravac is one of the few winemakers from Rovinj. At his family home, a 10-minute walk from the old town, they run a little B&B and a wine bar. Just grab a seat at the garden terrace and enjoy Dobravac wines. They also sell there fruits and veggies that they grow.
Watch the world go by in the Spacio Grota
A typical wine bar located right at the farmer's market, the Spacio Grota is a place to have a glass of house wine, a few snacks, and to watch the world go by. There is always something going on in the green market!
Check ateliers and art galleries in Grisia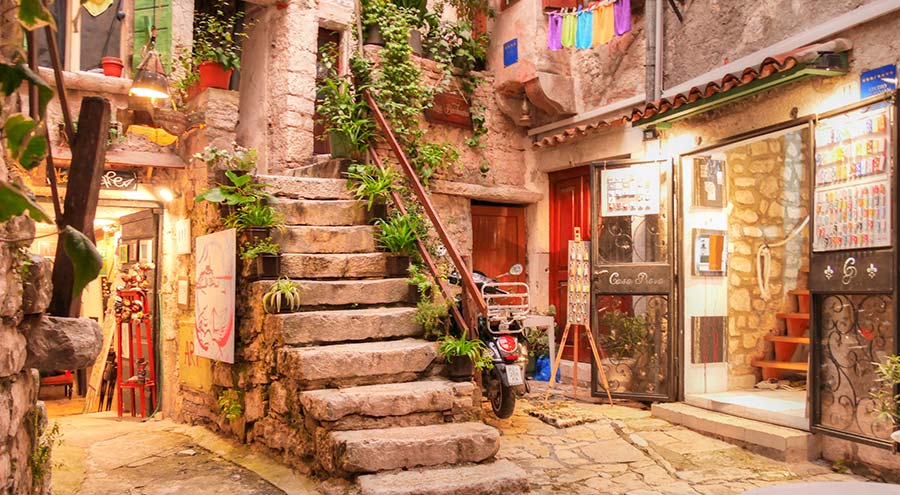 Rovinj's main street leading up to the hilltop church of St. Eufemia, Grisia is full of small art galleries, ateliers, and souvenir shops. And if you happen to be in Rovinj in August, you can enjoy the open-air exhibition that takes place every year along Grisia Street.
Have a coffee at the Adriatic Hotel
The hotel Adriatic is located at the most prominent spot in the old town, and it has a lovely outdoor terrace that gives out to the town's main square. It's also great for people-watching. Coffee is reasonably priced, but all other drinks and food are super-expensive!
Visit Dvigrad
A nicely preserved abandoned medieval town, Dvigrad is just a short drive from Rovinj. Easy parking, free admission, and not too many people around, make Dvigrad a nice trip from Rovinj. The restoration works are ongoing, but you can walk the old cobblestone streets and check many former homes, the church, water tank. The view over the valley is also very nice.
Sleep in the Palazzo
This 100-year-old palace was thoughtfully restored and today it houses Rovinj's most stylish and chic boutique hotel. If you want to stay in a truly special place, then book one of the 7 rooms of the Spirito Santo Heritage Storico.
Hit the beach
Rovinj has wonderful rocky, and pebbly beaches; going south from the famed Lone Bay beach, through beaches of Golden Cape forest, across Punta Eva, all the way to neighboring Bale, you can enjoy many lovely beaches.
Spend a day at the Golden Cape forest park
Golden Cape Forest is a lovely nature park, located only 20 minutes walk from the center. The area is perfect for hiking, cycling, swimming, and rock climbing. There are many well-laid-out paths for both walkers and cyclists, and lots of coves, perfect for swimming.
The beaches are mostly pebble and rocky. The further you go within the park, the more peaceful (and less crowded!) it gets. There are few cafes along the way where you can chill out with a glass of wine, beer, or coffee.
Go to Brijuni National Park
One of the 8 national parks in Croatia, Brijuni is a wonderful archipelago consisting of  14 islands and islets. The boat for Brijuni departs from Fazana, 30 min drive from Rovinj. Visiting the Brijuni islands makes a great day out! Take your swimming suit because there are many nice swimming spots in Brijuni.
Visit Pula
Are you a history buff? The Roman amphitheater, Temple of Augustus, Forum, Arch of Sergii, mosaic floors, little roman theater, and many more Roman relics are the reason number one to visit Pula, the largest town in Istria.
Go wine tasting in San Tommaso Winery
We are not yet through all the awesome wineries in Rovinj. San Tommaso is a boutique winery with a small shop and a wine bar in Rovinj. In their shop, besides their bottled wines, you can also buy their house wine for really cheap, like 2.5 € per liter cheap. But, the highlight of San Tommaso's wine tasting is actually a visit to their winery in a small village of Golas, 15 km away from Rovinj. The winemaker also offers a wonderful accommodation on his wine estate.
Explore Rovinj's remote beaches
Rovinj's south coastline hides some nice coves, bays, rocky and pebbly beaches. The entire coast from the camping Vestar to the camping Monperin is intact, little visited, and very private even in the peak season. The best way to explore it is to rent a boat (you can rent it in any of the two campsites). Otherwise, go to Palud, and from there, with a little help of Google maps, hike to the nearest beach.
Hop on a boat tour to Lim Fjord
A boat excursion to Lim Fjord (that isn't really a fjord but we all call it that name) is the most popular boat tour in Rovinj. Just walk along the harbor in Rovinj and you'll be enticed to book this tour with one of many operators. It's actually not a bad tour. You sail along Rovinj's north shores to Lim Bay where you stop for a swim and a lunch.
Visit Venice by boat
The only town that is more romantic than Rovinj – Venice is less than 3 hours boat ride from Rovinj. Don't miss visiting one of the most beautiful towns in the world while you are vacationing in Rovinj! Two companies operate this route, Venezialines, and Kompas. You can also book it online in advance!
Go see Ljubljana
A bare 150 km away from Rovinj, Ljubljana is actually a great place to visit for a day from Rovinj. The Slovenian capital city is small and easily walkable with an array of hip cafes along the river banks, and lovely bridges crisscrossing the two sides of the river. Plus, it is youthful with a laid-back vibe and great restaurants.
Ride an underground train in the Postojna cave
If you are into the underground world, the caves and caverns, then head to Postojna Cave in Slovenia, the largest and the most popular cave in this area. This amazing system of halls, passages, and tunnels for the major part, you'll visit by an electric train. A unique experience in its own right! You can do a self-driving tour to Postojna, or book this small group tour.
A day trip to Plitvice Lakes
Plitvice Lakes is a must-visit site in Croatia. However, it is a bit of a stretch to visit it in a day from Rovinj. But, if you don't have time to stay there overnight, then check many tour companies that offer a day trip from Rovinj to Plitvice. Get a good pair of hiking shoes, plenty of water, and a camera!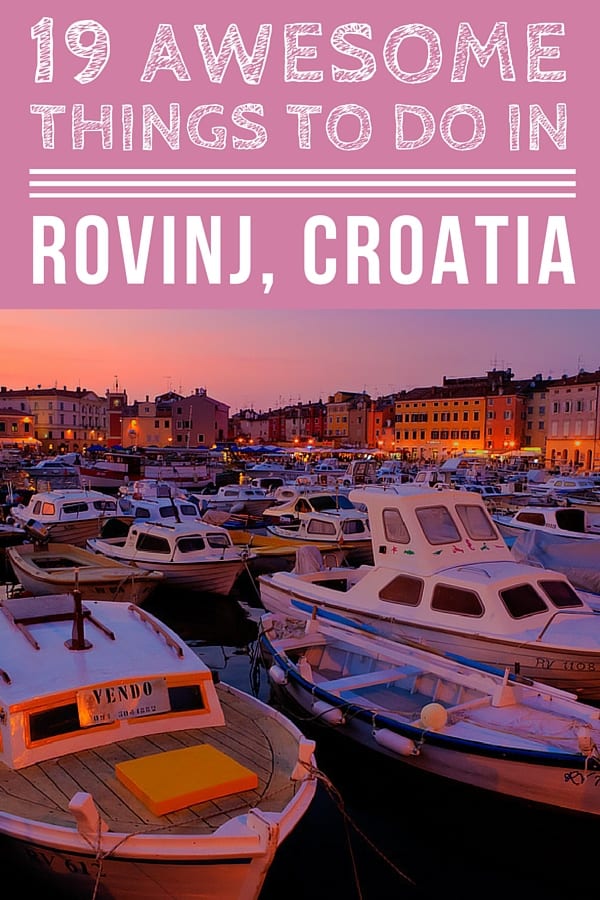 Have you been to Rovinj? What's your favorite thing to do there?
Further reading: