Are you heading to Rovinj and would like to know the best hotels in Rovinj, Croatia? We've got you covered! In this post, we share all we know about Rovinj hotels to help you find the right one for your stay.
And what better person to share with you all the important information about Rovinj hotels than a person who spent the last ten years working for the biggest Rovinj hotel chain?!
We'll try to pack this Rovinj hotel guide with as much useful information as possible. However, if your questions about hotels in Rovinj stay unanswered after reading through, feel free to send us an email.
Rovinj is the most charming town in Istria and Rovinj hotels are also some of the best in all of Istria, but also in all of Croatia. Nowhere else in Istria will you find such a choice of uncommon, authentic luxury hotels of unique architecture and design.
Rovinj is the only destination in Croatia that is home to two hotels that are members of the Leading Hotels of the World: hotel Monte Mulini and Grand Park Hotel Rovinj.
If you are interested in another type of Rovinj accommodation, here is our article about where to stay in Rovinj.
Rovinj Hotel guide: comparison table
Best hotels in Rovinj
Whether you look for a small and friendly heritage hotel in Rovinj, a large hotel with loads of facilities, budget hotel in Rovinj, or Rovinj hotels for families with children, we've got you covered! You'll find a hotel in Rovinj for every travel style and budget.
NO TIME TO READ THE ENTIRE POST? HERE ARE THE BEST ROVINJ HOTELS FOR EVERY BUDGET!
Hotel Monte Mulini
This luxury Rovinj hotel is our favorite hotel in Rovinj. The 113-room hotel is a member of the Leading Hotels of the World.
It features an indoor and outdoor pool, spa, two restaurants, pool and beach bar, garage, and its own beach.
The location is fantastic, steps away from the sea, a 15-minute walk from the town, and a stone's throw away from the Golden Cape forest park.
We also like it for its cordial staff, spacious rooms and bathrooms, sea views, copious breakfast, and overall elegance.
All rooms in the Monte Mulini hotel are the same size, and equally furnished. What makes the difference is the floor they are on (the higher the floor the better the view), and amenities.
The majority of the suites are located in the annex building. However, the two buildings are connected with an interior corridor. It takes only a few minutes to reach one from the other. All suites in the annex come with a kitchenette including a microwave oven, kettle, stove, and fridge.
Why stay here: Monte Mulini Hotel offers elegant, yet discreet luxury. Although it features over 100 rooms, it feels intimate and personal. A heated outdoor swimming pool and a hip beach club make it a perfect place for a relaxing stay. The location is fabulous, and so are the views.
Downsides: The rates, as it is the second most expensive Rovinj hotel; a lack of sun loungers at the hotel's beach and the poor management of the few sun loungers there are.
Local tip: If you visit Rovinj in the low season (April, October), you will pay less than 200€ per night in this Rovinj hotel. It's an excellent deal considering that room rates go as high as 800€ per night in high season.
CHECK THE LATEST PRICES AND AVAILABILITY HERE!
---
Grand Park Hotel Rovinj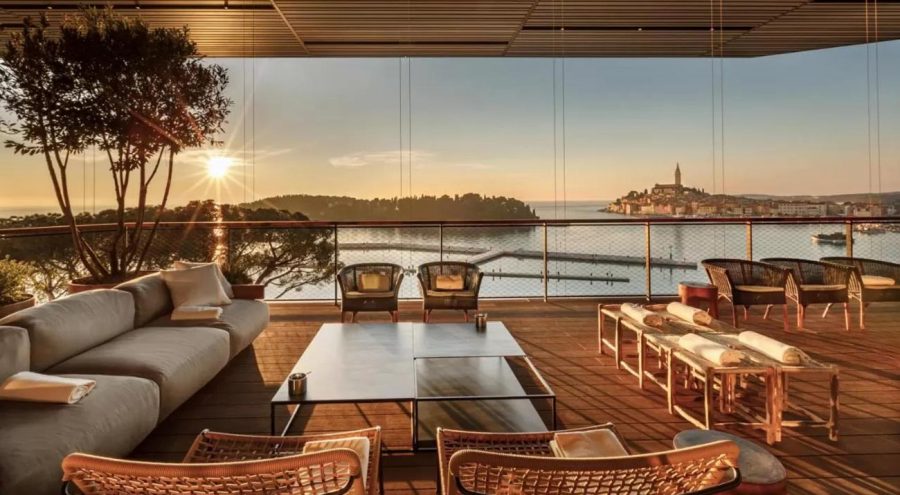 Opened in spring 2019, Grand Park Hotel Rovinj is the newest addition to the Rovinj hotel scene.
Croatian studio 3LHD is behind the architecture of the hotel, while Italian designer Piero Lissoni was responsible for the interior design.
Hotel Park has a prime location within the Monte Mulini zone, right above the town's marina. It boasts magnificent views over the town, marina, sea, and St. Catherine's Island. The views of the town are hard to beat, and can alone be a reason to stay at this hotel. Or at least to visit it for a drink.
With room rates, in high season, starting from 600€ for a double room with breakfast, Grand Park Hotel Rovinj is the most expensive hotel in Rovinj.
Hotel Park features 209 rooms, a variety of restaurants and bars, a seafront promenade with exclusive shops, a beautiful wellness area with a 50 m long pool stretching from an indoor to an outdoor area, and an outdoor infinity pool.
The hotel's beach is just a concrete deck with lounge chairs next to the Mulini Beach Club (this is a much better beach belonging to the hotel Monte Mulini). Guests can also use a beach on St. Catherine's Island, as well as Beach Lovor in a nearby Zlatni Rr forest park.
The hotel is brand new, and you feel that it was built with care and lots of money. However, while the lobby boasts one of the best views we've ever seen in any hotel, it feels a bit cold and impersonal. But from the outside, the hotel is one of the nicest hotels we have ever seen.
Why choose this hotel: beautiful views over the town, lovely architecture, a wonderful spa, and great breakfast
Downsides: staff is friendly but still lacks finesse, cleaning can be a notch better, the hotel's beach is tiny and not very nice
---
Hotel Lone
Design Hotel Lone Rovinj is a modern 5star hotel with a laidback atmosphere, and chill vibes. That said, one in a search of true luxury should stay in other 5star Rovinj hotels.
The staff is friendly, but there is room for improvement. The same can be said about the cleanliness of the hotel.
The large outdoor pool is shared with a 4star hotel Eden. It gets crowded and you can also feel a difference between the crowds. A nice pebble beach is right below the hotel.
Breakfast is ok but not spectacular, and it starts feeling bland a bit if you are staying longer.
The hotel caters to business clients as well. In the off-season (Sept-June) Hotel Lone gets mixed crowds and it can feel weird if you are there for leisure.
Rooms are spacious as well as balconies. All rooms feature a balcony.
Deluxe plunge pool rooms aren't worth the extra money out of the main season as the pools are too cold to be used.
The Bay Suite is the best room type in the hotel, although it's not the most expensive one.
Rooms facing the sea or the park, and not the entrance cost the same but have better views. Ask for a park or sea view room.
Why choose this hotel: If you are into contemporary architecture with clean lines and a minimalistic feel, you will find Lone an interesting place to stay. Lone has excellent mattresses that ensure a good night's sleep. Lone is also the cheapest 5-star hotel in town.
Downside: This is not your typical 5star luxury hotel. If you expect classic luxury, you will find that Lone lacks in many aspects and you will be disappointed. Rather think of it as a 4+ hotel with a modern design and a laidback vibe.
---
Hotel Eden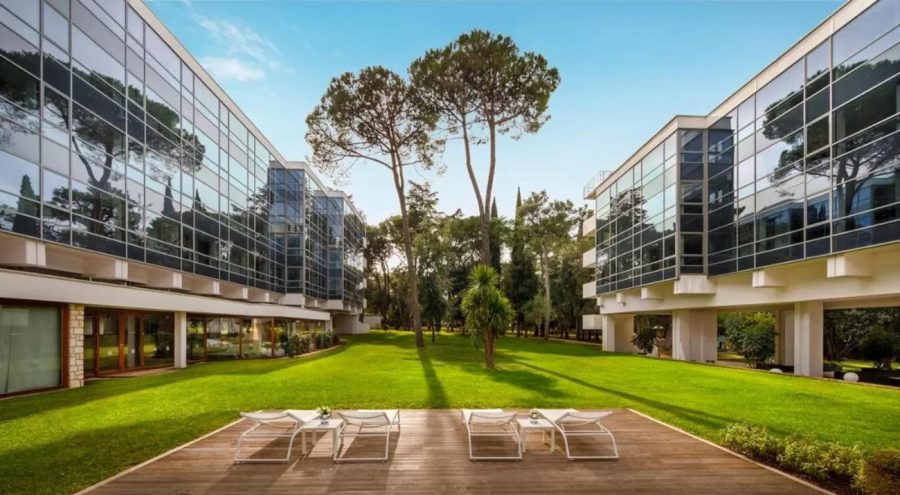 This 4star hotel features 325 rooms and suites, a small wellness and spa area, a gym, and an indoor swimming pool. It shares an outdoor swimming pool with sister hotel Lone.
During the off-season, the hotel attracts sports groups, and groups of seniors, mostly from Germany and Austria.
In the main season, it is popular with British couples and families from all over Europe.
The rooms are on the smaller side, but they were renovated back in 2017. It is an overall good quality hotel offering b&b and half-board formula. The breakfast is copious and the food is generally good.
The prices are a bit on the higher side, making the hotel Eden the most expensive 4-star property in Istria.
Why choose this hotel: It's a decent hotel to stay at, unpretentious, with a really good location close to the beach and at the entrance of the forest park.
Downside: Big hotel that feels a bit impersonal. The rooms are a bit small. The rates tend to be higher than in other 4-star properties in town.
CHECK THE LATEST PRICES AND AVAILABILITY HERE!
---
Hotel Istra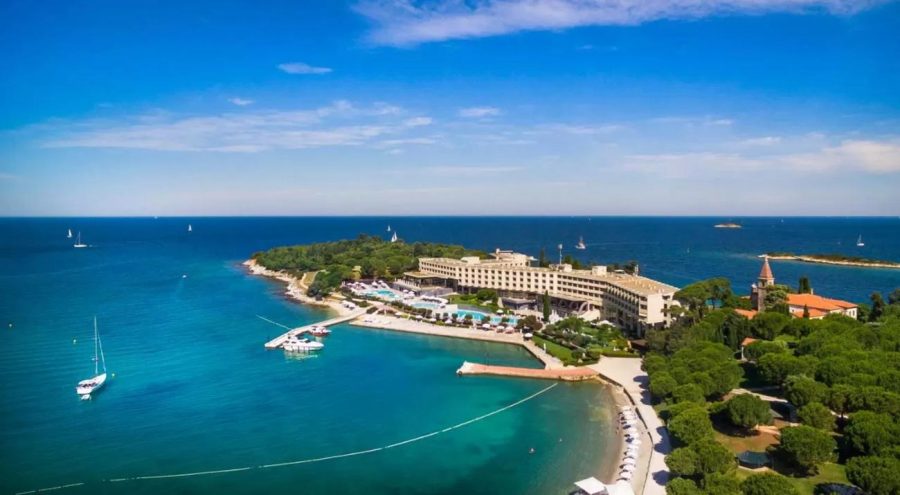 This is another 4-star hotel in Rovinj, with a wonderful location on St. Andrew Island (Red Island). The island is a short 15-minute ride from the center of Rovinj, and the shuttle boat runs every hour throughout the day from 5.30 am to midnight.
Similar to hotel Eden, hotel Istra is a big hotel featuring 326 rooms in the main building and 36 suites in the annex building.
The Hotel Istra is a decent hotel with nice size wellness and spa, an indoor and outdoor swimming pool, and a lovely buffet restaurant.
The hotel's real appeal lies in its serene location on the car-free island, endless coast, nice beaches, lush greenery, and history.
A la carte restaurant La Serra is set in the 19th-century summer villa that belonged to the Austrian merchant Georg Hütterott.
The hotel offers b&b formula, but also half-board with selected drinks offered free of charge during dinner.
Why choose this hotel: The location on a car-free island amidst lovely nature is hard to beat. The hotel also offers good value for money for families with children in the high season.
Downsides: A very big hotel that accommodates up to 750 people in high season. Some people might find it impractical to depend on a boat schedule every time when they feel to go to the town. In high season, many excursion boats anchor here for a swim.
---
Family Hotel Amarin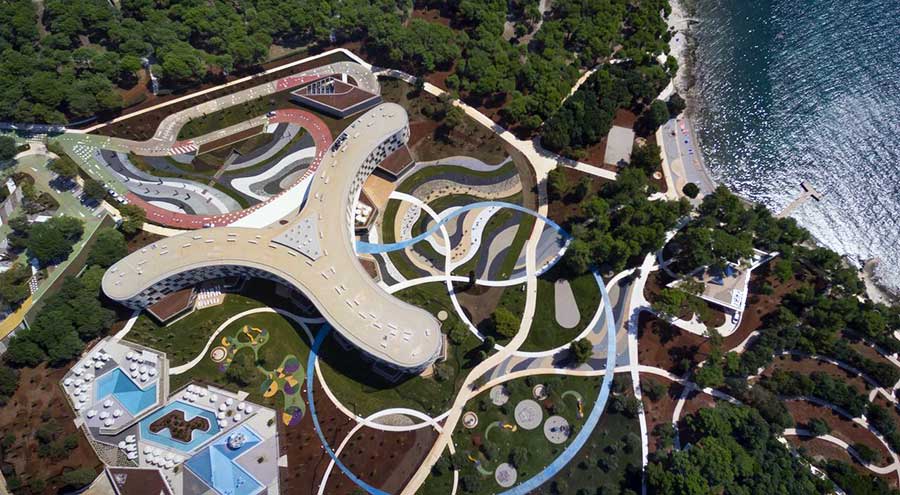 This 4star, family Rovinj hotel, is designed with children in mind. The hotel features 280 rooms, almost all fitted with one or two extra beds, and the majority of them with interconnecting doors. So, they can accommodate families with children.
The hotel offers full board formula with selected drinks free of charge during the meals in the restaurant.
Indoor and outdoor swimming pools, children's playgrounds, kids' clubs, a PlayStation room, and a children's entertainment program, all keep children busy throughout the day.
Parents can relax in the hotel's spa, or at the lobby bar.
The hotel is away from the town but you can reach the town either by shuttle bus or boat taxi. A boat taxi is only available in the summer months.
Why choose this hotel: If you have children up to 12 years old, there is perhaps no better hotel than Amarin in all of Croatia.
Downsides: Amarin is more expansive than other family-oriented hotels in Istria. The hotel lacks real family rooms, you can either book a room with extra beds (think 28 m2 and 4 beds) that feels tight, or you can book two interconnecting rooms but then it gets really pricey (think almost 600€ a day for a family with 2 kids). Amarin is 4 km away from the old town and it's out of reach on foot or by bicycle.
---
Hotel Adriatic
This small, artsy hotel is located in the heart of the old town Rovinj. It features 18 rooms and suites, and a nice onsite restaurant and bar.
The hotel lacks the facilities, but since Adriatic is a part of Maistra Hospitality Group, you are welcome to use certain facilities of other hotels free of charge (like Hotel Lone, or a free boat shuttle to the Island Hotel Katarina).
Served breakfast is included in the room rate.
Each room is different, and some of them are really small and offer no view. Only a couple of rooms feature a balcony. It's worth paying more for a room with a better view, a balcony, or a bathtub (like Piazza and Grand Piazza).
Why choose this hotel: If you like small boutique hotels, and like to be in the center of the action, this is the place for you.
Downsides: You can't access the hotel by car (but the hotel offers a shuttle service and parking away from the hotel). No onsite facilities. Expensive.
---
Hotel Arupinum
This small, friendly hotel features 20 contemporary and well-appointed rooms. The hotel is comfortable and while it isn't cheap, it is normally more affordable than other hotels of this quality.
The Interior is beautiful, and the service is excellent. The hotel has a small spa and wellness 100 m away from the main building.
Why choose this hotel: Efficient and friendly service. Walking distance to the town and the sea. Small and personal.
Downsides: Limited parking in high season. Non-seafront location.
---
Hotel Delfin
With only 12 rooms, hotel Delfin Rovinj is a small hotel with friendly staff, a lovely design, a copious breakfast, and an onsite restaurant.
This small boutique hotel is located within a 10-minute walk from the old town and the beach. It's on the road and just across the small shipyard. However, it's never noisy.
The front-facing rooms offer lovely sea views. The staff is friendly and attentive. Breakfast is included in the room rate. The hotel is well-maintained and clean throughout.
The hotel also offers valet parking and bicycles free of charge.
Why choose this hotel: Small and personal hotel with a very friendly staff, contemporary design, and a good location.
Downsides: The breakfast room is a bit crowded and it's difficult to serve yourself from the buffet table. No onsite facilities. The double rooms are small.
---
Hotel Katarina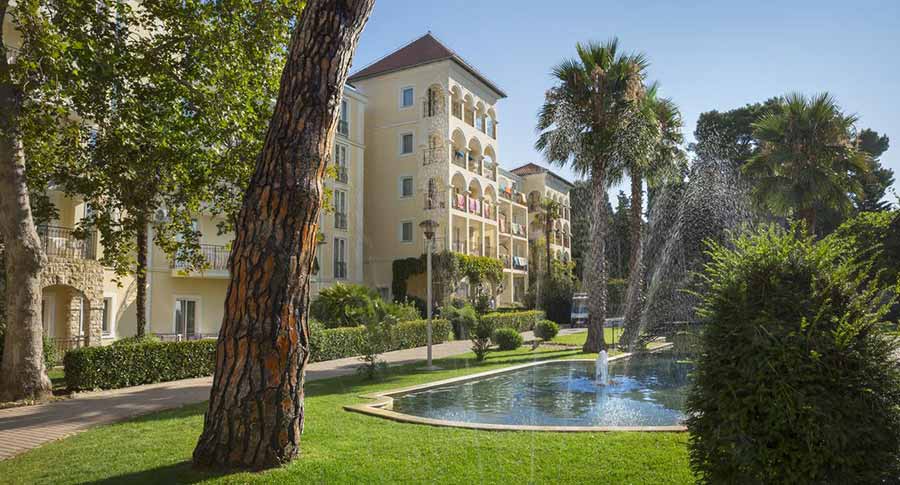 Regardless of its a bit of run-down interiors, and small bathrooms, hotel Katarina Rovinj is one of the most sought-after hotels in Rovinj.
Located on a small island just a stone's throw away from Rovinj's old town, the hotel is set amidst beautiful and well-maintained gardens, near the beach, offering lovely views of Rovinj.
Hotel Katarina Rovinj features 120 rooms, a lovely buffet restaurant, an outdoor swimming pool, and a number of beaches all around the island.
Why stay here: beautiful gardens, a quick boat ride from the center of Rovinj, quiet location
Downsides: For a 3-star property, the hotel Katarina can be quite pricey. Lots of extra charges apply e.g. you need to pay extra for pool towels, freshly squeezed juice, espresso, or cappuccino at breakfast, etc.
---
Villa Tuttorotto
Set in a restored 500-year-old historical building, Villa Tuttorotto offers accommodation in 7 rooms.
The hotel is tastefully decorated, the staff is friendly and a copious breakfast is included in the room rate.
The location in the old town is perfect for exploring Rovinj.
Why stay here: small and friendly historic hotel with a relaxed atmosphere and a great location
Downsides: off-site parking is a short walk from the hotel and additional charges apply.
Boutique Hotel Lili
Villa Lili is a simple place to stay in Rovinj. After years of decay, it has finally been renovated in 2021, and now it is a very decent place to stay in Rovinj. That said, it is also a bit more expensive than it used to be prior to renovation. However, it is still a great value for money if you are looking for a budget hotel in Rovinj. The staff is friendly, rooms are clean, modern, and comfy, breakfast is included in the room rate, and the location is quiet.
Why stay here: more affordable than other Rovinj hotels, quiet location, parking, walking distance to the beaches and the old town, good breakfast, friendly staff
Downsides: smallish rooms, rooms without a balcony, no garden, carpet on floors
Hotel Angelo D'Oro
Located in the heart of the old town, Hotel Angelo D'Oro is a charming historic hotel with friendly staff, excellent breakfast, a lovely garden terrace, and clean and comfy rooms.
The hotel features 23 air-conditioned rooms with lovely en-suite bathrooms. Rooms are quiet and ensure a great night's sleep regardless of the hotel's central location. Most importantly if you travel by car, the hotel's staff will willingly transfer you from the hotel to the gated parking lot.
Why stay here: old town charm, historic building, central location, lovely garden, great breakfast
Downsides: rooms only accessible by stairs; some rooms are small; parking off-site
---
Spirito Santo Palazzo Storico
Located in the old town and housed in a historic building from the early 20th century, Spirito Santo is a small, intimate hotel featuring only 7 rooms. Each room is unique in facilities and size.
The hotel has been beautifully restored, and elegantly furnished combining old and modern in a lovely manner.
The onsite restaurant serves tasty dishes and a good choice of local wines by the glass. Make sure you dine here at least once during your stay in Rovinj.
Why stay here: beautifully restored and elegant design, attention to detail, a small boutique feel, and a wonderful staff
Downsides: like with other old town properties, parking is off the site and comes with an extra charge
---
Rovinj hotels on the map
Further reading
We hope to help you find the best hotel in Rovinj. If you plan to visit Rovinj, we've got a bunch of articles about Rovinj, here at FrankAboutCroatia. Start with our Rovinj Travel Guide, or jump immediately to a list of the best things to do in Rovinj or the best places to stay in Rovinj. If you are looking for the best places to eat in Rovinj, we've got that covered too. Our favorite restaurants in Rovinj are Maestral, Jure, and Giannino. All about nightlife in Rovinj you can find it here. Our Rovinj photo walk is meant to inspire you to travel to Rovinj. Enjoy!
Have you stayed in any of the hotels in Rovinj? What is your favorite Rovinj hotel? Let us know in the comments below.