We've visited the restaurant Giannino Rovinj for the first time, back in July 2014. Since then, we've eaten in Giannino maybe dozen times. And it remains on our list of best places to eat in Istria. Bellow is the story of our first visit to the restaurant Giannino  Rovinj.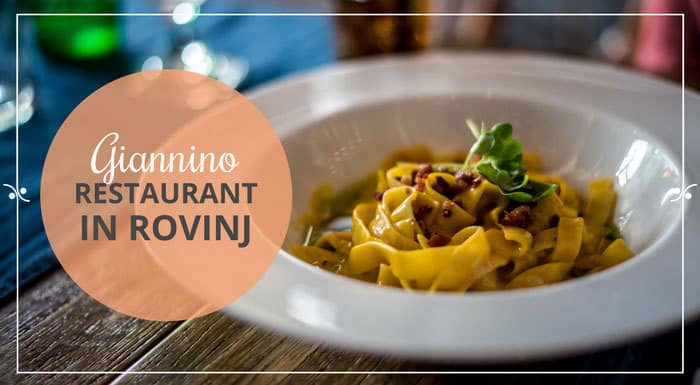 We've taken a serious assignment back in July and ended up having much more work than we've ever wished for. Instead of enjoying our summer picnics by the beach, we've spent most of July working on our computers. OK, it was probably one of the most exciting projects we've done. And today we are proud to say that we co-authored Fodor's Croatia Travel Guide.
However, it's all done now, and it made us discover few more restaurants in Istria worth visiting. One of those restaurants is the restaurant Giannino Rovinj.
I've sure heard of this place before, but never gave it much thought, as downtown restaurants in touristy towns are, well, mostly for tourists. But this premise is not always correct. And we've been proved wrong more than once with assumptions like this. This summer we've given a try to Giannino in Rovinj, and the restaurant San Nicola in Porec. Both restaurants turned to be great with extraordinary food, and friendly service.
Restaurant Giannino Rovinj: Overview
Giannino is located in Rovinj's old town, but not at the small hilly peninsula where the majority of touristy sites are. It's located at less crowded part of the old town, in a quiet residential street.
The restaurant has been recently renovated and its interior is modern, except for a small gallery dining room that remains rustic with a vaulted ceiling and exposed bricks.
The terrace is just a few steps below the restaurant, at the small town's square. The terrace is stylish, a bit formal with white tablecloths and a proper table setting.
For some reason, we imagined Giannino to be a relaxed place, and we felt a bit intimidated to come to eat here wearing our shorts. However, it didn't seem like a problem, and once seated we were comfortable and noticed other guests casually dressed as well.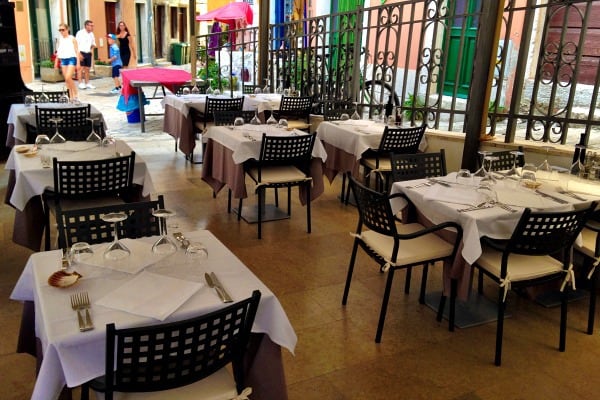 Dining at Giannino doesn't come cheap. Pasta dishes start at 70 Kn and more, while fish goes for 120 up to 480 Kn per kilogram.
But one thing assured: all fish and other seafood served at the restaurant Giannino is fresh and local. You won't find frozen imported stuff here.
Our experience at the restaurant Giannino Rovinj
With a head waiter, Nikola, serving us, we were in good hands. He has been with the restaurant for 20 years. When staff rotates so little in a restaurant that is open only seasonally from April to October, it is usually a very good sign.
As usual with our visits to restaurants, we don't like to look at the menu. Instead, we like to ask our waiter to recommend us something to eat. And, we were so delighted we did so at Giannino.
Nikola recommended baby Adriatic shrimps in vinegar. This was delicious beyond words. A seemingly simple dish, quickly stirred baby shrimps in vinegar and sprinkled with large salt, was one of few remarkable dishes we've had in a very long time.
We've enjoyed it so much, that we tried to recreate this dish at home within the following week. And we succeeded – yay!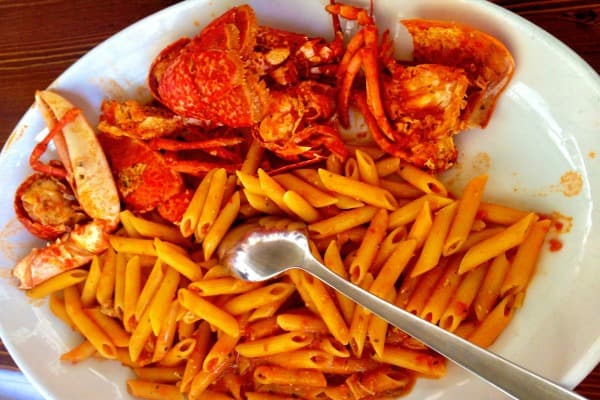 We had a lobster penne pasta for our main course. It was also delicious. It's hard to go wrong with a fresh lobster pasta. The waiter brought alive lobster to our table and suggested to us to take rather penne pasta than tagliatelle 'cause the sauce will better penetrate the pasta. Anyways, the dish was excellent.
And if I would like to change one thing about that dish, it would be to serve homemade pasta instead of Barilla pasta. Not that Barilla is bad, but in Istria, we are so used to homemade pasta, that we get seriously surprised when served an industrial pasta.
Desserts are my weakness. I am not supposed to eat sweets and I keep this pleasure exclusively for eating out. For a dessert at the restaurant Giannino, I've chosen a mille-feuille with vanilla cream. What an excellent treat. The cake was simply sublime.
We accompanied the meal with a white house wine Malvazija Istarska. We love this white Istrian wine. All restaurants in Istria serve it as their house wine, and it's mostly of great quality.
We paid 670 Kn for our meal. But don't forget that we had a lobster. You can eat much cheaper here if you order some cold appetizers and a plate of pasta.
Final verdict: Restaurant Giannino Rovinj is a great place to eat in Rovinj. It serves fresh seafood and yummy desserts. We would go back any time.
Restaurant Giannino Rovinj: Location and Contacts
Contacts:  a: Agusta Ferrija 38, Rovinj | t: +385 52 813402 | Working hours: 10 am-3 pm, 6 pm-11 pm | Closed: November-Easter