Finding the right accommodation in Croatia is perhaps the most difficult part of your Croatia trip planning. There are so many options that you can easily get overwhelmed. However, our accommodation in Croatia guide is here to help!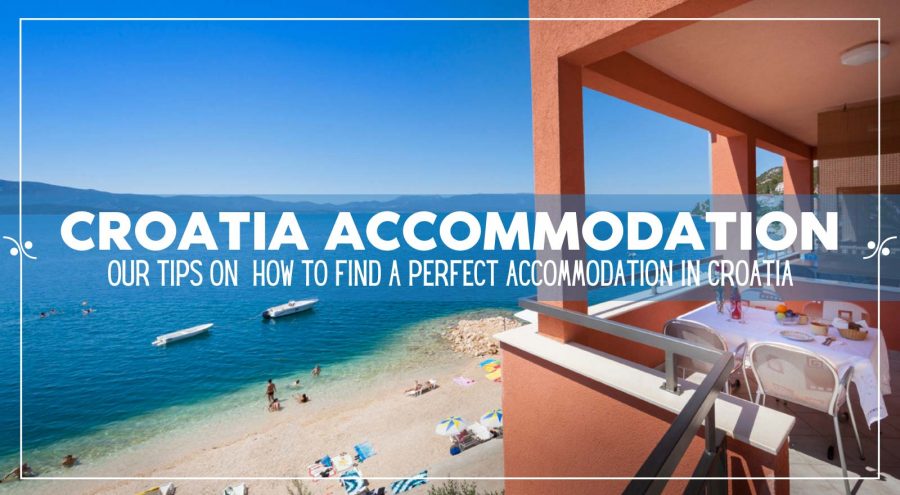 In this post, we will give an overview of various types of accommodation you can find in Croatia in order to help you find the right accommodation for your budget and style.
We've been working in the Croatian hotel industry for over fifteen years, and we know it inside out. Having our own villa to rent in Istria, and our family's apartments to rent in Komarna, we know first-hand what visitors can expect when renting an apartment in Croatia.
If I have to define Croatia based on accommodation offers, I would say it's a 4-star family destination. However, different towns have a different feel when it comes to accommodation: Dubrovnik, Zagreb, and Rovinj offer 5star hotels; Split lacks large hotels but has instead many historic boutique hotels, cool apartments to rent, and hostels; Porec is full of 3star and 4star family-friendly hotels and campsites; etc.
In general, there is a little something for everybody's taste, style, and budget.
Legal Requirements
In Croatia, all short-term apartment rentals need to obtain an official license in order to be rented to tourists legally.
Once approved, each property receives an official tourist category, expressed through the number of stars (2* to 5*). This ensures that a property meets the minimum requirements imposed by the Ministry of tourism, but also that the owners pay tax.
Without getting too much into technicalities, believe me when I say, that rental requirements in Croatia are strict. Generally speaking, Croatia accommodation of any given category is much more comfortable than Italian or French property of the same category.
Tip: All legal rental properties must show in a prominent place a dark blue plate with the type of property and the number of stars received.
Also, when you check into any Croatia accommodation, the owner needs to register you with a local tourist office within 12 hours of entering Croatia.
A property owner needs to pay a tourist tax for every guest above 12 years of age. The amount of a tourist tax varies according to the destination and the season. But generally, it's in the range of 0.7 € to 1.5 € per day per person over 12 years of age.
Croatia Accommodation Options
From historic boutique hotels and seaside resorts to private apartments, villas, and campsites, Croatia offers various types of accommodation for any style, taste, and budget.
Hotels in Croatia
You'll find hotels in Croatia just about anywhere. They range from 2 stars to 5 stars.
Hotels in Croatia usually offer a complimentary breakfast, and many hotels along the coast often offer a complimentary dinner.
In Croatia, you will notice that international hotel brands aren't that present (although they are present to a certain degree).
Some of the largest Croatian hotel companies are Valamar, Plava Laguna, and Maistra. All three companies are based in Istria but have hotels in various destinations in Croatia.
You'll also often find in Croatia that one or two hotel companies run the majority of hotels and resorts within one destination.
For example, in Porec majority of hotels are owned and run either by Valamar Hotels & Resorts, or Plava Laguna; in Rovinj, the main hotel company – Maistra owns and runs 6 hotels in town, in Dubrovnik four hotel chains: ALH, Valamar, Maestral, and Importanne Resort own and manage over 70% of all hotel rooms in Dubrovnik.
International hotel brands found in Croatia include Sheraton hotels in Dubrovnik and Zagreb, Hilton in Dubrovnik, DoubleTree and Canopy in Zagreb, Kempinski in Savudrija, LHW in Rovinj, Opatija, Dugi Otok, Hvar and Dubrovnik, Westin in Zagreb, Le Meridien and Radisson Blu in Split, Park Plaza in Pula, Best Western in Zagreb, Sol Melia in Umag, and Rixos in Dubrovnik.
Advantages of staying in hotels in Croatia:
24h reception ensures a feeling of a safety
Your stay comes with a meal plan (complimentary buffet breakfast, and often dinner)
On-site activities
Free parking (often)
Shuttle service to and from an airport
Disadvantages of staying at a hotel:
Hotels can get pricey
Fix eating hours
Hotels can feel impersonal, and often crowded
Practical info on booking a hotel in Croatia:
The most popular booking site in Croatia is Booking.com.
It's worth checking the hotel's own website for deals. While Booking.com is widely used and keeps a rate parity with hotels' own sales channels, you can sometimes find a better deal if booking directly with a hotel. They sometimes offer an added value, such as a complimentary transfer, a dinner, or a massage, or they offer an economy room type you won't usually find on the agency's site (the economy room is nothing but a discounted standard room).
Hotels in Croatia usually accept all credit cards, although some don't take American Express.
While the majority of hotels in Croatia won't charge you in advance, you'll need to leave your credit card data to guarantee your booking.
The most common cancellation policy is 48 hours before the arrival.
All-inclusive resorts in Croatia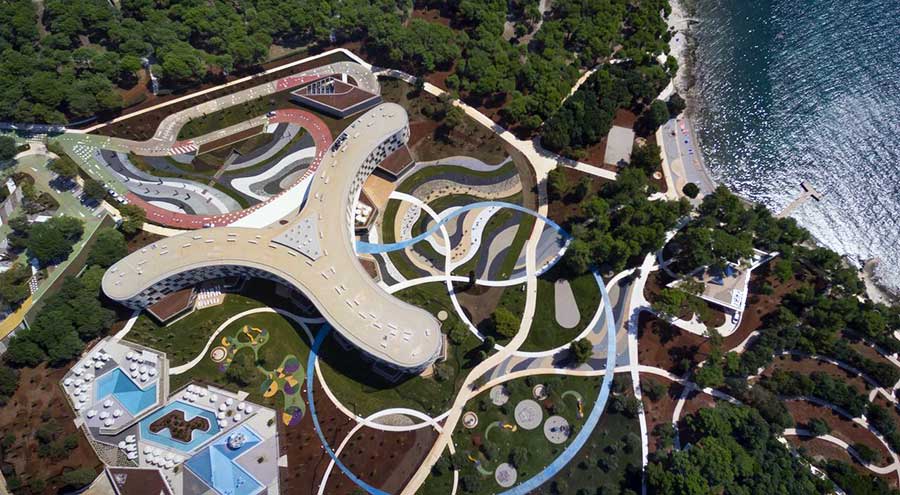 All-inclusive resorts in Croatia aren't your typical all-inclusive resorts, the ones you are used to staying in the Caribbean, Turkey, or North Africa.
First, you won't find so many all-inclusive resorts along the Croatian coast. They are rather few and far between.
Second, they are often within a town, or within a walking distance from the town, and not on some remote beach resort far from locals' everyday life. Consequently, they aren't completely closed, guarded, and cut out from the outside world. Locals freely come and go, have a drink in a bar or swim at the beach.
Furthermore, many all-inclusive resorts in Croatia actually offer light formulas, meaning that you still need to pay for certain services. For example, some alcoholic drinks are included, but you'll pay extra for branded drinks, or drinks might be only included during the meals, but not throughout the day.
You can also expect to find a variety of room types in all-inclusive resorts in Croatia.
Advantages of all-inclusive resorts in Croatia
Cost-control. When staying in the all-inclusive resort you easier control the cost of your holidays. Room, three meals a day, selection of drinks and activities, everything is included in the price. So, no hidden costs!
Kids stay for free. In the majority of all-inclusive resorts, you'll find rooms or suites for families, with kids until a certain age (usually up to 12, 14, or even 16) staying for free when sharing a room with two adults. OK, to be completely transparent, this is never completely free, but the price of a room is calculated on certain occupancy, e.g. room that takes 2 adults and 2 children up to 14 years of age is calculated on the occupancy of 3; meaning that this room is 50% more expensive than a double room, but it's also 25% cheaper than if you buy two separate double rooms. In the end, each kid pays only half the price.
It's convenient. Food, drinks, entertainment, pools, beach, it's all there, and you don't need to think about anything.
Disadvantages of all-inclusive resorts in Croatia
The food in Croatia is great, especially in Istria. And having three meals a day in your resort won't make you feel go outside and try some of the best restaurants in Croatia. So, in a way, you'll miss some important aspects of the country, and for sure some great food.
As long as you don't fancy a good quality wine, craft beer, or your favorite spirit, drinks are free. But if you like branded drinks, you'll need to pay extra.
Three meals a day, believe it or not, can be tiring. You might end up eating more than you need and consequently gain some weight.
Practical info on all-inclusive resorts in Croatia:
Like hotels, the best place to book an all-inclusive resort is the Booking.com website.
Croatian all-inclusive resorts often have early booking offers until the end of February or mid-March. Book early to secure the best price.
Some all-inclusive resorts, like Valamar Girandella Maro Suites, only offer rooms on their own website, and not through online travel agencies like Expedia, or Booking.
Croatia apartments rental
As you head down the coast, you'll get a feeling that everybody in Croatia has an apartment to rent. And you know what – they do! This is a way that many Croatians (us included!) make a living or earn extra revenue.
Good jobs are scarce in Croatia, salaries are small, and the costs of living are high. This is the reason why so many people turn their homes into rental units.
Holiday apartments in Croatia would be my choice of accommodation in Croatia. When you rent a holiday apartment in Croatia, you often get a chance to meet locals and learn a little bit more about the country you are visiting.
If you plan on visiting Dalmatia, check our family's apartments in Komarna; and if you plan to visit Istria, consider staying at our villa in Porec.
Advantages of Croatia apartment rentals:
Croatia apartment rental is cheaper than staying in a hotel
You get much more space for your money
Apartments in Croatia come with a fully-equipped kitchen and other facilities
You can meet locals and learn a bit about their way of life
Disadvantages of vacation rentals in Croatia
No maid service (a property owner usually offers a complimentary weekly cleaning; this means that meanwhile, you clean an apartment yourself)
You can find yourself at the mercy of a bad owner (while a majority of property owners are lovely people, sometimes you can stumble upon a cheap owner who'll pretend that the A/C broke down just to make you spend less electricity)
No meal plan with your accommodation (you'll either need to cook yourself, or eat out which can add a cost to your stay)
Practical info when booking holiday rentals in Croatia
Do your research before booking an apartment. Check photos and read traveler's reviews. In Croatia, the most popular sites for apartment rentals are Booking.com, HomeAway, and Airbnb. Each of them offers travelers reviews.
Try to contact a property owner directly. You can sometimes make a better deal this way. However, with an intermediary, you are often better covered if things go bad.
Most of the apartment rentals in Croatia are cash-only. You can pay in euros, but some owners will accept other currencies as well. Communicate with them in advance if you would like to play in your home currency.
To book holiday lettings in Croatia, you'll usually be asked for a small deposit (normally 20-30%) at the moment of booking. The rest is usually paid on arrival. You can avoid this if you book through sites like Booking.com. Although lately many apartment rentals opt for payments by Booking.com where Booking collects payment prior to arrival via its website.
During the main season (July-August) some apartments still keep strict arrival and departure days (usually Saturday) and they insist on a length of stay of at least 7 days. However, this has been rapidly changing in the last few years.
Short stays are usually 30% more expensive than longer stays (stays of 7 and more days).
Villas to rent in Croatia
Villas in Croatia are in many ways similar to apartment rentals. And just like apartment rentals in Croatia, villa rentals in Croatia are growing in popularity. Instead of renting one unit in a building, you can rent an entire house.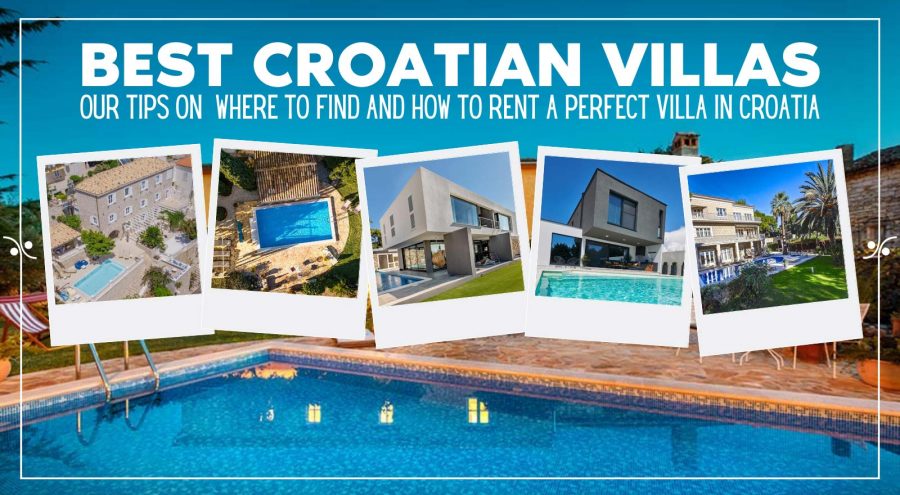 Villas are fully furnished, often located in a rural setting, and come with great facilities like a swimming pool, and an outdoor kitchen.
If you have money to spare, you can also hire staff during your stay at one of the villas in Croatia.
Villas to rent are especially popular in Istria. Some companies specialize in villa rentals, like MyIstria.com, or LuxuryCroatianVillas.com. You can also try to reach out directly to property owners like us :).
However, most of the bookings for our villa comes from Airbnb, and we can't be happier about that. Airbnb is by far the fairest and most considerate partner to property owners. So we highly encourage you to use Airbnb when renting villas in Croatia.
Advantages of renting a villa in Croatia:
Renting the entire villa gives you full privacy.
Many villas are located in quiet rural settings.
Although the daily rent can seem high at first, if you are a group of people (a couple of families, a group of friends) and you plan to split the cost, this can be a great and very affordable accommodation in Croatia for you.
Having your own swimming pool is always an advantage.
Disadvantages of renting a villa in Croatia:
You'll need a car as most of the villas to rent in Croatia are located away from the town center.
The rent is high. It can especially get expensive if you are a small group, a single family, or like.
Practical info on villa rentals:
Villas book quickly; so, if this is your kind of accommodation, you need to act fast, especially if planning a visit in the high season.
The majority of villas in Croatia have very strict booking conditions. You'll need to book a block of 7, 14, or 21 days, often with strict days of arrival and departure (usually Saturday). Bear this in mind when searching for a perfect villa for you on booking sites.
Camping in Croatia
Camping is another type of accommodation in Croatia that I enjoy. Vera and I love camping. In 2019, we finally bought our first camper. And since then, we spend so little time in our own apartment in Porec that we decided to start renting it out on Airbnb. We now spend summers in the campsite Valkanela, not far from home, and we spend winters in Andalusia. We love this way of life!
Before we bought the camper, we used to camp first in a tent, and later in a mobile home that we would rent. Last time we stayed in a mobile home, we visited Amber Sea Luxury Village, an awesome seafront and car-free mobile homes village within the campsite Mareda; Marbello Premium Village, beautiful seaside mobile homes in Camping Lanterna; and Premium Mobile Homes in Camping Vestar (our favorite of the three!).
With various facilities, like large swimming pools, sports facilities, and children's playgrounds, and various choices of accommodation, including detached mobile homes with their own hot tubs, or shared pools, campsites in Croatia are more luxurious holiday parks than your typical back-to-nature basic campsites.
Advantages of camping in Croatia:
Camping in Croatia offers a variety of accommodation options: you can pitch your own tent, or park your RV, but if you have no time or prefer a bit more comfort and privacy, you can rent different types of mobile homes or glamping tents.
Campsites can be cheap, especially if you camp in a tent.
Campsites are great for a family vacation with small children. If your kids are early at sleep, you can still enjoy it outdoors, and not be forced to stay in your hotel room.
Campsites are pet-friendly.
Lots of organized activities on-site.
Disadvantages of staying at campsites:
You'll need to use shared toilet facilities if staying in a tent.
Some campsites are way too big, like Lanterna in Porec, that can accommodate up to 10.000 people. In a high season, this means lots of queues.
People who sleep light can find it difficult to get a full night's sleep at campsites.
Practical info on staying at a campsite in Croatia:
Prices can be confusing. All prices are shown separately and need to be added to get a total price for your stay (pitch, adult, kids, electricity, etc.).
A price for the pitch usually includes all utilities available at the pitch (electricity, water, drainage) and one RV or a tent or a trailer with a car.
While many people still don't book their campsite spot in advance, we highly recommend you do so. The best places sell out quickly, and as a walk-in guest, you are usually left with places that nobody wanted in the first place (unless you get lucky).
Curfew is usually at midnight. And the silence should be respected from midnight to 7 am, and in the afternoon, usually from 2 pm to 4 pm.
We strongly encourage you to stay at designated camping areas when camping in Croatia. While you can sleep in your RV on parking lots, and wild beaches at your own risk, this is strictly prohibited. Actually, you are allowed to park and spend the night, but you aren't allowed to camp. This means no camping chairs, tables, or BBQ.
Many campsites in Croatia are by the sea. It's worth paying more for a seafront pitch.
Hostels in Croatia
Hostels in Croatia are booming in the last few years. And they look much better than back in the 90s when I was crashing into hostels around Europe.
Hostels range from dorm-style ones to hip and cool hostels often even more comfortable than many hotels.
Bigger towns like Zagreb, Split, or Dubrovnik have a better choice of hostels than small coastal towns like Porec, Rovinj, or Orebic.
Hostels are a great choice for those on a tight budget, and for those traveling solo who like to meet fellow travelers.
If you don't fancy sharing a room and a bathroom with fellow travelers, many hostels, besides dorm-style rooms, offer also private rooms equipped with their own bathroom.
The high season sees many hostels selling fast, so we advise you to book your stay in advance. The same goes for the popular hostels a year around, like Swanky Mint in Zagreb. The rule of thumb is the more popular the place is, the sooner it sells.
The popular booking site for hostels is HostelWorld, but you can also book hostels in Croatia through Booking.com.
Lighthouses in Croatia
We could have put lighthouses under holiday rentals in Croatia section, but we believe that this unique accommodation choice in Croatia deserves a category of its own.
With over 6.000 km of coastline, you bet there are many lighthouses in Croatia. However, only a handful of them is available for short-term rental.
Some are located on the mainland and are easily accessible like the St. Nicholas Lighthouse on Brac Island, while others are more secluded and remote, like Plocica lighthouse located between the islands of Hvar, Korcula, and Peljesac peninsula.
Some lighthouses in Croatia consist of a few apartments, while others are rented as single homes. Also, some are run by a state-owned travel agency, and a bit difficult to rent (no instant online booking), and some are privately owned.
Which accommodation is right for you?
You already might know the answer to this one! It all depends on your style of travel and your budget. Finding accommodation in Croatia is easy. You can find all types of accommodation. And as you will see Croatia accommodation is accessible and easy to book online. However, finding the right accommodation for you can take some time.
If you are traveling solo then hostels can be a great place to meet fellow travelers. And don't forget, even if you don't like dorm-style rooms, the majority of hostels in Croatia offer private rooms with ensuite bathrooms.
As a couple, you probably want to look into vacation rentals, as well as hotels. Some hotels are even adult-only properties.
If you travel as a family with kids many hotels in Croatia offer family rooms and a half-board formula. This can save you a ton of money on food, and also cut on work. You don't want to spend your holidays in front of the stove. However, if budget is your concern, you can rent a spacious apartment or a mobile home on a campsite, and cook your own meals. You know hotel food is good for a couple of days, but after a while, you start wishing to eat something homemade.
Where to find and book accommodation in Croatia
Booking.com:
This is by far, the most popular booking site for accommodation Croatia. Booking.com is the only website that offers all types of Croatia accommodation to book through their website. Cancellation and payment policies vary, depending on the type of accommodation.
Airbnb:
The place to go if you plan on booking an apartment or villa in Croatia. Airbnb's commission is much lower than Booking.com, so many owners prefer listing their property with Airbnb. You'll need to create an account to use Airbnb. It's free. And if you create it using this link, we'll give you 24€ credit for your future travels.
MyIstria.com:
This local online travel agency based in Istria, offers a great choice of villas in Croatia. When they just started their business, they were only renting villas in Istria (thus the name!), but today you can find on their website a variety of villas to rent throughout Croatia.
Expedia:
Expedia has a good presence in Croatia, and while it does offer vacation rentals in Croatia, it's more used for booking hotels in Croatia. Expedia can be a good choice for those who look for combo offers: flight + hotel.
Tour operators' websites:
Many hotels in Croatia are distributed through a wide network of traditional tour operators and brick-and-mortar agencies, like
TUI UK (ex. Thomson)
, or
Jet2Holidays
. Those traveling from the UK can often find better deals through these companies.
Property's website: Many accommodations in Croatia have their own websites, particularly hotels. It's always worth checking out the offer on their website and contacting the property directly to check if they offer any direct deals.