Camping Lanterna is the largest camping in Croatia. It is situated on Lanterna peninsula, halfway between Porec and Novigrad. I like camping Lanterna the most of all the campsites in Croatia. But ?'ve got my own private reasons for that. Camping Lanterna can accommodate up to 9.000 people in a single day. It is a size of a small town. Although it is really large, and busy, camping Lanterna has facilities well spread across the entire site, so if you stay in one area of the campsite, you can feel like being in the small campsite. The only time you can really find yourself in a queue, is at the reception during the check in and check out.
Camping Lanterna offers a wide range of entertainment and activities for children and adults. There are several children playgrounds, mini clubs for different age groups, tournaments, sport activities, beach volleyball court, multifunctional sport field, tennis courts, mini golf, etc…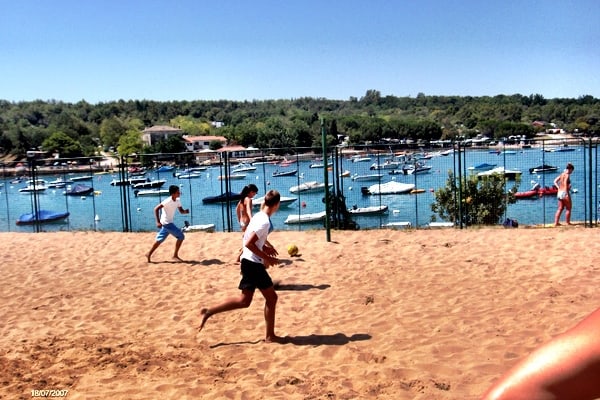 Camping Lanterna has two large swimming pool complexes, 3 km long coastline, and four large pebble beaches: Kras, Romana, Valeta and Sunce.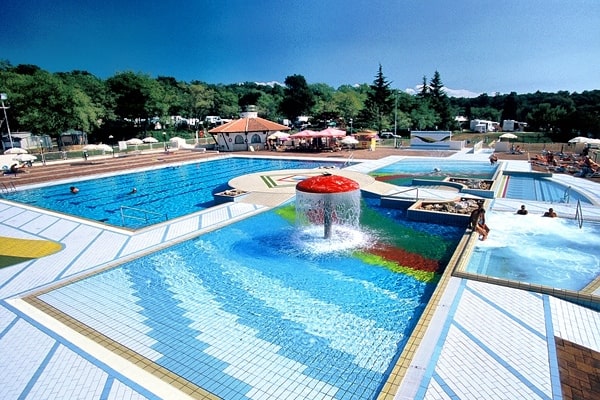 Camping Lanterna has three supermarkets (prices are often higher than in Porec supermarkets), three bakeries, pizzeria, two restaurants, few fast food restaurants, pool and beach bars.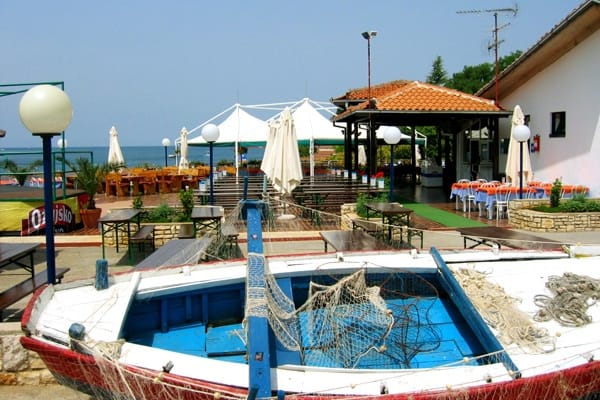 Free WiFi is available at the reception area and in the restaurant Adria.
Pitches are differentiated according to the proximity to the sea and facilities available. Mega Luxury Pitch is the most luxurious pitch in the camping Lanterna. It is situated right at the seafront. It has a surface of 200 m2 , its own BBQ, electricity, water and drainage hook-up, and its own shower and a private beach.
Luxury Mare pitches are located at the seafront. They have have electricity and water hook-up, its own BBQ, and sun umbrellas in the case there is no natural shade on the pitch. Most of them have also direct access to the sea. Premium Mare pitches are located at the seafront, and they have electricity and water hook-up. Comfort Mare pitches are located within 50 m from the sea, and have electricity and water hook-up. Comfort pitches have water and electricity hook-up, and some of them have drainage.
Standard pitches are the most basic pitches in the campsite with electricity and water hook-up, but mostly without any green fence dividing one pitch from the other. Beside pitches, there are over 800 fully equipped mobile homes and tents to rent. Mobile homes are located within camping zones B, C, I & J.
There are several distinctive areas of the campsite. Zone K in Camping Lanterna also called Tarska vala area, is the furthest part of the campsite. In this area you can choose from Luxury Mare Pitches, seafront pitches, each with water and electricity hook-up, and each with its own BBQ; Comfort Mare pitches having water and electricity hook-up, and being within 50 m from the sea. There is also a Mega Luxury Pitch that beside water, electricity, drainage hook-up and BBQ has its own private beach.
In this area there is also a little bar and a nice pebble beach Kras. Zone K is the remotest area of the campsite. There is a pretty steep slope going to the rest of the campsite, the closest shop is maybe 100 m away, but it is up the hill. It is a good place if you like to be a bit away from the crowd. The only down side is that it overlooks Antenal stone quarry port, so during the day it can be a bit noisy.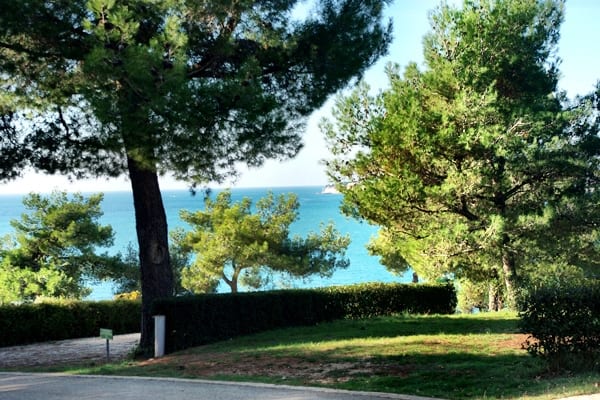 Zone H, an area around sanitary unit no. 7 is the nicest in my opinion. The pitches are spacious, the view over Novigrad is really nice, there is a children playground in the vicinity, tennis courts, a restaurant, the big swimming pool is few minutes away as well as central area of the campsite, and yet you are a bit away from the noise.
Nice beach Romana is a few meters down the hill. Pitches above a big swimming pool are also attractive, if you don't mind the noise from the pool. During the early months it is popular because it has lots of sun, and it is protected from the wind, particularly pitches H272 – H310.
Area G, an area below the children playground is interesting but it is quite far from the sea (although there is a big swimming pool in the vicinity) and it doesn't have lots of shadow. This area is also area with mobile homes, the most popular ones are located in the Istrian village.
The Istrian village area features a two types of mobile homes: Istria Prestige & Istria Adria. All mobile homes in this area are placed on large plots with lots of space between neighboring mobile homes. Each one has a BBQ. There is a nice children playground with a mini club and organized activities.
Zone D area is also nice, although pitches near beach Valeta (D127 – D239; D279 -D336) can be busy and noisy, from the beach during the day and from the restaurant Adria during the evenings as main evening entertainment (live music and shows) are hosted at the terrace of the restaurant Adria.
Zone A area is really nice and quiet. Nearby beach Sunce is a nice, pebble beach. View of the Novigrad is lovely. In the vicinity, there is a market, bakery, multifunctional sport court (soccer, basketball, handball), children playground and mini club for different age groups.
Zones B, C and E are to be avoided if possible. Zones B & C are really close to the main road, and you get noise from the cars, while Zone E is just not exciting.