In this Rovinj Travel Guide, we will give you full insight into this lovely city. You will learn where is Rovinj, what's the best time to visit Rovinj, and the reasons to visit. We also have answers to all important questions – the best things to see and do in Rovinj, places to stay, where to eat and drink as well as necessary travel information to help you plan your stay in Rovinj, Croatia.
We love Rovinj for its scenic old town, cobblestone streets, and alleys, colorful houses, charming town squares, art galleries, a lively harbor full of small pleasure and fishing boats, seafront bars, and restaurants. We also visit it often for the yummy food and the best gelato in Istria!
Rovinj is a small and walkable town. It consists of a car-free old, historic town set on a hilly peninsula, and the newer part of the town that spreads around the old town. The St. Euphemia Church, built at the top of the hill, is the town's most dominant symbol.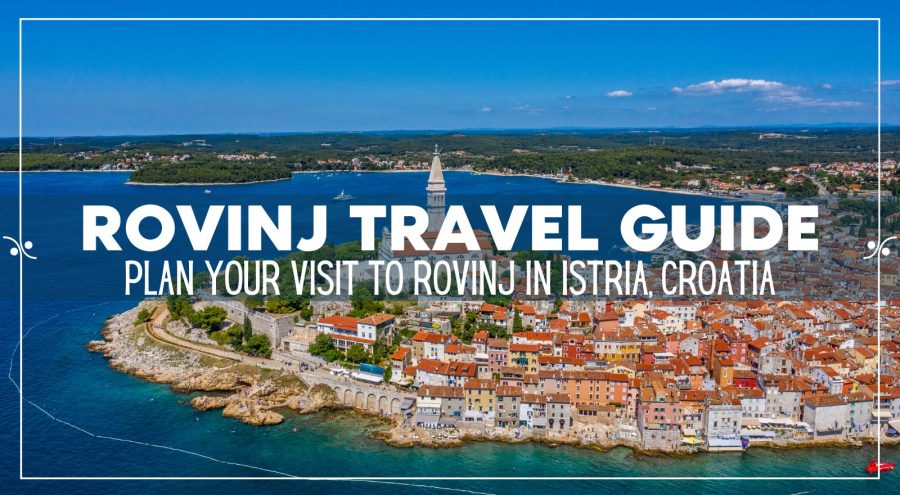 Rovinj is one of those towns where you never feel bored. You feel good just by walking through and getting lost in a maze of its narrow cobbled streets.
Where is Rovinj?
Below you'll find a map of Rovinj. It's located on the west coast of Istria, 30 km south of Porec, and 30 km northwest of Pula. Rovinj is well connected with other interesting sights in Istria. Rovinj is also close to Venice, a mere 260 km. It takes you less than a 3-hour to reach Rovinj from Venice. It is about the same distance to reach Rovinj from Zagreb.
If you plan to visit Split from Rovinj, you'll need more than a day. Split is 500 km from Rovinj, and it takes about 5 hours by car. The drive is easy, along the new, modern, multilane motorway.
Best time to visit Rovinj
September is the best time to visit Rovinj. There are far fewer people, the sea is still warm for swimming, and accommodation prices are more affordable. If you can't make it in September, then try to visit in spring, or early and late summer.
The main season is from late June to mid-September, with peak time from the last week of July to mid-August. These three weeks are, along with winter, the worst times to visit the town.
In winter, many bars, restaurants, and commerces are closed. The weather is cold and rainy, and there aren't many people in the town. A peak season, from the end of July to mid-August, on the other hand, is hot, busy, and overcrowded.
Weather in Rovinj Croatia
Like all cities on the coast, Rovinj has a Mediterranean climate, with hot and dry summers and mild winters. With 134 sunny days on average per year, Rovinj is the sunniest place in Istria and the third sunniest in Croatia. On the other hand, Rovinj is the champion of the Adriatic coast with the least number of cloudy days. According to statistical data, October and November are the rainiest of all months. However, I need to say, that in the last couple of years, October has been wonderful, and May was a bit rainier than we would have expected and liked.
The average temperature in winter is 6°C, and thanks to a good micro-location there is not so much wind.
Summer, on the other hand, is very dry and hot. It doesn't rain much in the summer, with July being the driest month of the year. The average temperatures in July and August are 23°C with the average sea temperature at 25°C. This is the average for the month which includes both day and night. The highest temperature in these two months is around 30°C. June and September are more pleasant with the average temperature around 25°C but the average sea temperature is between 20-22°C.
Where to take PCR or rapid antigen test for Covid-19 in Rovinj?
We don't need Covid testing centers as much as we needed them in 2020 and 2021. However, we still keep you updated on Covid testing centers in Rovinj in case you need to get tested.
If you need to take a PCR test, you'll need to do so in Pula, as no institution in Rovinj conducts it at the moment. Rapid antigen testing centers in Rovinj are still largely available:
Dr. Melita Mamuzic Barbaca Dental Practice (a: Vicani 8, Rovinjsko Selo; t: +385 91 538 9518, e: melitadent8@gmail.com); Working hours: Mon/Wed/Fri: 8:30 am-2:30 pm, Tue/Thu: 2 am-8 pm, Sat/Sun: by appointment; Results in 15 min. The price of the test is 15 €.
Rovinj Pharmacy next to the Hospital (a: Matteo Benussi 6; t: +385 52 813589, e: ljekarna.rovinj@idz.hr): Working hours: Mondays – Fridays: 7-20, Saturdays: 8-15, Sundays and Holidays: 9-12. The price of the test is 15 €.
Why visit Rovinj?
Rovinj is simply a must-visit place in Croatia. It should be on every visitor's itinerary, even for first-timers. It is the second most visited town in Croatia, right after Dubrovnik. It's well-known and loved by European travelers. However, many overseas visitors don't consider putting this part of Croatia on their Croatian itinerary.
Here we'll try to give you enough reasons to change that!
Romance, baby!
There are places you simply need to see in your life, and for us, Rovinj is one of those places. The only way to really understand it is to experience it.
The old town evokes nostalgia, and it's absolutely romantic. You'll have lots of photo moments while exploring it.
Cosmopolitan vibe
While the old town is romantic, and it gives you an immediate sense of dolce vita, the town's hotels are urban and cosmopolitan.
Experience the top-notch design of hotel Lone, the luxury of Monte Mulini and Grand Hotel Park, and the artistic scene at the hotel Adriatic. Seriously, these hotels are worth a visit to the town. And we don't ever recommend visiting any town for its hotels.
Lovely restaurants
Whether you decide to taste the sublime cuisine of Monte, dine al fresco while enjoying wonderful views at Puntulina, taste yummy fisherman's pie at the Maestral, feel like royalty dining at the La Serra restaurant within the Castle Lanterna, or indulge in a hearty meal of Konoba Jure, you simply can't go wrong with restaurants in Rovinj.
Beaches
OK, peeps, you won't find a miles-long sandy beach here. But if you were after them, you wouldn't have chosen to come to Croatia in the first place.
Going south from the famed Lone Bay beach, through the beaches of Golden Cape forest, across Punta Eva, all the way to neighboring Bale, you can enjoy many lovely beaches.
Things to do in Rovinj
This charming coastal town has a lot to offer whether you are in search of relaxing beach time, adrenalin-filled activities, or the best local wine and dine experiences. Add to that a perfect location to explore the rest of Istria, and even a couple of day trips to neighboring Slovenia and Italy, and you'll see that you can easily spend a week or two in this lovely town.
Below we shortlist just a couple of ideas for things to do when you are in Rovinj.
Rock climbing at Punta Corrente forest park
A wonderful forest park Punta Corrente is located just a 15-minute walk from the old town. Today it provides relaxation, but it's also popular cycling, jogging, and swimming spot. This park was constructed between 1890 and 1910.
The rock climbing site is made of sharp and hard limestone rocks. It stands only 20 m from the sea, in a former quarry. Routes are bolt-fixed and suitable for beginners.
A local agency, Adistra, offers guided climbing with all the equipment provided. A tour lasts 4-6 hours and costs 60 € per person.
Adistra | m: +385 95 838 3797 | e: info@adistra.com | Website
Romantic Batana ride
Batana is a traditional small fishing boat. It's a 4.5-8 m long wooden boat with a flat bottom, and a sail. Today, very few people go fishing in Batana, but a few enthusiasts try to preserve Batana, as a true symbol of the town.
In such an effort, a few years ago local museum House of Batana, started offering a program to visitors that includes a ride in a traditional Batana around the old town at dawn, and a traditional dinner in the spacio (tavern in a local dialect).
It's a nice experience, and we highly recommend it.
House of Batana | t: +385 52 812 593 | Website
Scuba diving
Scuba diving is a popular activity here due to the many shipwrecks that can be found in the waters around. The most popular shipwreck, the Baron Gautsch, is perfectly preserved and is the most visited shipwreck in all of Croatia. This steamer sunk in 1914. Today the wreck lies at depths of 28-40 m, 12,5 NM off the coast.
Many local diving centers offer organized dives on the Baron Gautsch site. A single dive with a boat trip costs 45 € per person.
Explore the old town
The old town lies on a small peninsula, with houses tightly lined from one to another, some of them rising directly from the sea. The town is charming and full of hidden gems at every corner.
Cobbled streets lead up to the church of St. Eufemia, standing at the top of the hilly peninsula. Enjoy the views from the bell tower, Venetian-style architecture, artsy vibe, quaint little shops, and different alleys to wander.
What to see in Rovinj, Croatia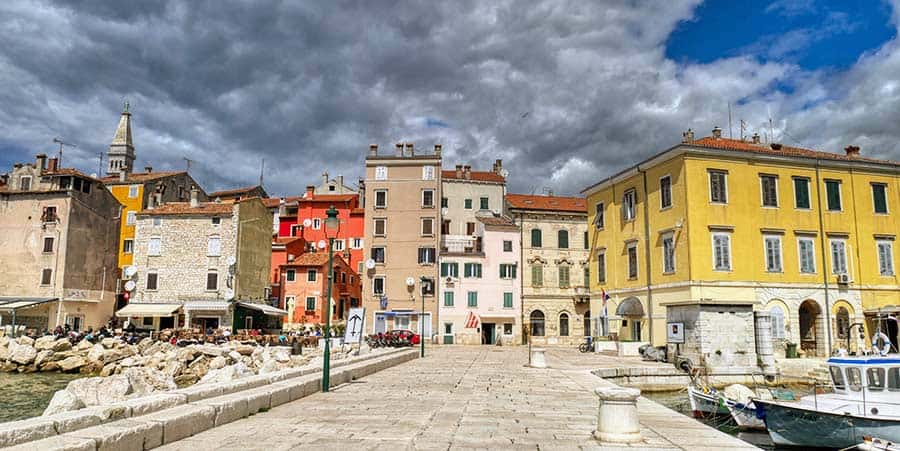 Grisia
The town's most popular street, La Grisia is hard to miss. The widest of all cobbled streets leading up to the church of St. Euphemia, La Grisia is full of art, jewelry, and souvenir shops, as well as a couple of restaurants.
The church of St. Euphemia
There is a legend surrounding the town's patron saint, St. Euphemia, or Fuma as locals call her.
Euphemia lived in Chalcedon, in Asia Minor, and was a devoted Christian. At the age of 15, she was captured, and after she didn't want to give up Christianity, thrown to lions who eventually killed her but never devour her body. Long story short, as a martyr, her body was preserved and eventually, the sarcophagus was kept in Constantinople until 800. The legend says that the same sarcophagus with remains of St. Euphemia floated on the seas all the way until Rovinj where a small boy with a help of his two cows managed to get the sarcophagus up the hill.
The sarcophagus is on display behind the main altar. St. Euphemia's Day is on the 16th of September.
A church's bell tower is an exact replica of St. Marco in Venice, but it's smaller. You can climb the bell tower, and enjoy awesome views of the town and the sea from the top.
Old town
The old town is a little gem waiting to be explored. It's located on a small, hilly peninsula, full of narrow cobbled streets, Venetian-style houses, interesting courtyards, art galleries, cozy restaurants, and buzzing bars.
Batana House
A small museum devoted to preserving the town's traditions is located near the Molo Grande. The name of the museum comes from a traditional wooden fishing boat typical for the area.
Punta Corrente Forest
Punta Corrente is a protected forest park, located just a 15-minute walk from the old town. Set on a small peninsula, Punta Corrente offers many walking and jogging trails, rock climbing sites, a wonderful emerald sea, and small pebbly and rocky beaches.
Food and Restaurants
Some of our favorite restaurants include Tutto Bene, serving yummy and creative dishes; Maestral, a simple restaurant with an extensive menu, a busy summer terrace, and great views over the town; a fine dining restaurant Monte offers multiple-course tasting menu; no-frills restaurant Jure with their hearty dishes; and many more.
Here is our full post about where to eat in Rovinj!
Best places to stay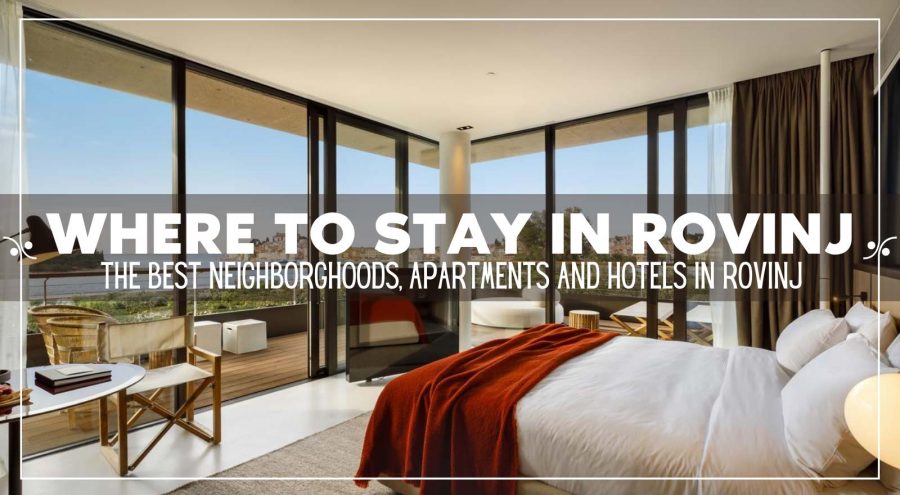 From urban and chic hotels, and cozy vacation rentals, to campsites, Rovinj offers a variety of accommodations for every budget and style.
If you decide to stay here, you need to know that accommodation in Rovinj is generally more expensive than in other Istrian coastal towns. This is the price you pay for staying in the prettiest town in Istria.
Located at the town's main square, overlooking the fishing harbor, the hotel Adriatic is THE place to stay. Artsy and hip, Adriatic features 18 rooms and suites, a gorgeous brasserie, and a bar.
One of the very few 3-star properties, hotel Katarina is located on the island of the same name, just a 5-minute boat ride from the old town. The hotel features 120 rooms in the main and annex buildings, an outdoor swimming pool, and a lovely sunset bar.
The best design hotel in Croatia, Lone simply makes you feel good (and cool!). All major Croatian designers left their mark in Lone. The hotel features 248 rooms (some with a private hot tub on the balcony), an awesome wellness center with an indoor pool, a large outdoor pool, and a lovely pebbly beach.
Beaches
A lovely seafront promenade stretches south of the old town, from the hotel Park, along the Lone Bay, to the Punta Corrente forest park. Here you'll find three beaches: town beach, Mulini beach, and Lone Beach.
The Punta Corrente forest park features lots of small coves and pebbly and rocky beaches, and it is a popular place for a swim among tourists and locals alike.
Further south, you'll find Villas Rubin resort beaches, campsite Polari with its lovely Punta Eva peninsula (clothing-optional area), Vestar, and Kuvi (the southern you go, the less crowded it gets).
North of the old town, popular beaches are within Amarin, and Valalta resorts. Here you'll also find Punta Kriza, the naughtiest beach in all of Istria (we'll not talk about that).
Bars, Clubs & Nightlife
Rovinj is famed for many things, but nightlife isn't one of them. You'll find lots of cafes, wine, and cocktail bars, perfect spots for a pre- or after-dinner drink, but not an intensive clubbing scene or nightlife.
San Tomasso is right on the seafront with views over a fishing harbor and the old town. A good place to taste wines from local wine producers, including their own San Tomasso brand.
OK, the truth is that no locals go to Valentino because it serves over-priced drinks and the service isn't always friendly. But, the bar has an awesome location by the seas. If you are here for the first time, maybe you can go there once to sip a drink while cooling your feet in the sea.
Located just next to Valentino, Mediterraneo is the "new Valentino" just with friendlier service, and cheaper drinks (not cheap, just cheaper).
Circolo is a cocktail bar located in a small square, just off Carerra Street, the main shopping street in the old town. It has a lovely outdoor terrace.
Events
For ten consecutive years, Salsa Festival takes place from mid-June for two weeks. Dancers from all over the world take over the streets, squares, popular resorts, and bars. The series of events include pool, beach, and boat parties, workshops and salsa classes, competitions, and more.
St. Lawerence night, celebrated on the 10th of August, is famed for shooting stars activity, also known as a "rain of meteors", or "tears of St. Lawerence". Every year on Saturday closest to the 10th of August, all public lights go off, and instead, the town is lit with torches and candles. Local establishments do the same. A series of concerts take place in multiple locations in the old town.
The town's patron saint, St. Eufemija, is celebrated on the 16th of September. The series of events include an important mass and concerts in the town's square, while the restaurants serve a traditional dish – sour kraut with sheep meat.
Practical Info on Rovinj Croatia
If preparing for your trip to Rovinj or if you are there, you need some practical info on public transportation in Rovinj and parking in Rovinj. We summarized the main information on traveling to Rovinj regardless of whether you are planning to reach the city by bus, car, or plain.
Traveling to Rovinj Croatia
Traveling by car is by far the most convenient way to reach Rovinj and Istria in general. The roads in Istria are excellent. The Istrian motorway connects Istria with a Slovenian border and with Rijeka. Besides a small portion near the tunnel Ucka, and the tunnel itself, the rest of the motorway is multilane. Road tolls apply.
Pula Airport, a small airport, is located 5o km south of the town, and it is the closest airport to Rovinj. Many low-cost airlines fly into Pula Airport from May to October from a handful of European destinations, like Berlin, Frankfurt, Hamburg, Koeln, Bruxelles, Oslo, Stockholm, Helsinki, Rome, London, Leeds, and Manchester.
You can also fly into Krk, Trieste, Treviso, Venice, Ljubljana, and Zagreb airports. They are all up to a 3-hour drive from Rovinj.
If you are flying into Pula Airport, you can choose one of the following options to reach Rovinj: a car rental, private transfer, or public transport. All major car rental companies have their offices at Pula airport. If you decide to book a private transfer, expect to pay around 80€ for a one-way transfer. Public transport is the most economical solution, although not always the most convenient.
A one-way ticket for the shuttle bus costs 18 €. Or, a little bit less, 15 € if you buy it online at the Brioni-Fils website. If you are budget conscious, you can reach Rovinj from the airport, using the shuttle from the airport to Pula's central bus station, and from there you can take a bus to Rovinj. A shuttle to Pula bus station costs 4 € (4.3 $, or 3.5 £), and a bus ticket from Pula to Rovinj costs anywhere between 7.3 € (8 $, or 6.3 £). The Getbybus website is a good place to check the bus schedule and buy your ticket online.
It's easy to reach Rovinj by bus, from Pula, Zagreb, Rijeka, and Trieste. Buses depart throughout the day, and more frequently during the summer.
The cost of a one-way bus ticket from Rovinj to:
Pula: 7.3 €
Zagreb: 26 €
Rijeka: 14 € to 16 €
Trieste: 16 € to 20 €
The most popular bus companies are Arriva, Brioni, Fils, and Flixbus.
The town's bus station is located in the center of town, just 200 m away from the old town. It's really small, with only a single stop for all buses. The traffic here often gets jammed.
The Venezia lines company operates a high-speed catamaran between Venice and Rovinj, from the end of April until the beginning of October. Starting in May, the boat departs four times a week, and in July and August, it sails daily. A one-way ticket costs 60 € to 85 € per person, depending on the season and the sailing day.
Liberty lines company operates a passenger boat between Trieste and Rovinj daily (except on Wednesday) from the end of June to September. A return ticket costs around 30€.
Public transport
The town is small and can easily be explored on foot. The old town, located on a small peninsula is a car-free zone.
If you decide to stay in the old town, double-check with the property where you stay if they provide parking at the nearby parking lots, and a free transfer to the hotel. The hotels in the old town usually use golf carts to transfer their guests from the parking to the hotel.
Holiday resorts, located north and south of the old town, like Amarin or Villas Rubin, offer, for an extra charge, shuttle buses, and boats to and from the old town.
Boats also connect St. Catherine and Red Island with the old town. They depart hourly throughout the day. Find the detailed schedule here!
If you stay outside the old town, you can also reach the town by bicycle. However, once you reach the old town, you'll need to park your bike, as the hilly old town full of stairs can't be explored on a bicycle.
Taxis are expensive.
Car rental
There are lots of car rental agencies in Rovinj. Rentalcars.com is a good starting point to check the car rental offers and prices of different car rental companies. The website offers an excellent choice of cars to rent.
Please, keep in mind, that cars rent quickly for the high season (July, and August), and the prices go up as the season approaches. Book your car rental as early as possible to secure the best deal.
However, if you prefer to rent a car directly through a local company, below you'll find contacts for a few local car rental agencies.
---
Enterprise is an international car rental company with offices all around Croatia.
Contacts | a: Šetalište vijeća Europe 1, Rovinj | t: +385 99 336 6620 | Website
Working hours | Mon-Sat: 8 am-8 pm | Sun: 8 am-noon
---
Vetura is a local Istrian car rental company with offices in all major Istrian towns.
Central Office Contacts | a: Mateo Benussi 2A, Rovinj | t: +385 52 815 209 | m: +385 91 730 44 08 | e: rovinj@vetura-rentacar.com | Website
Working hours | July, August: Daily, 8 am -9 pm | June, September: Daily, 8 am-8 pm | Other months: Mon-Sat: 8 am-noon
---
Greenway is a national car rental company. They are based in Porec, but they deliver cars upon request to the destination of your choice.
Contacts | a: Partizanska 5a, Porec | t: +385 95 797 2222 | e: reservations@greenway-travel.net | Website
---
Parking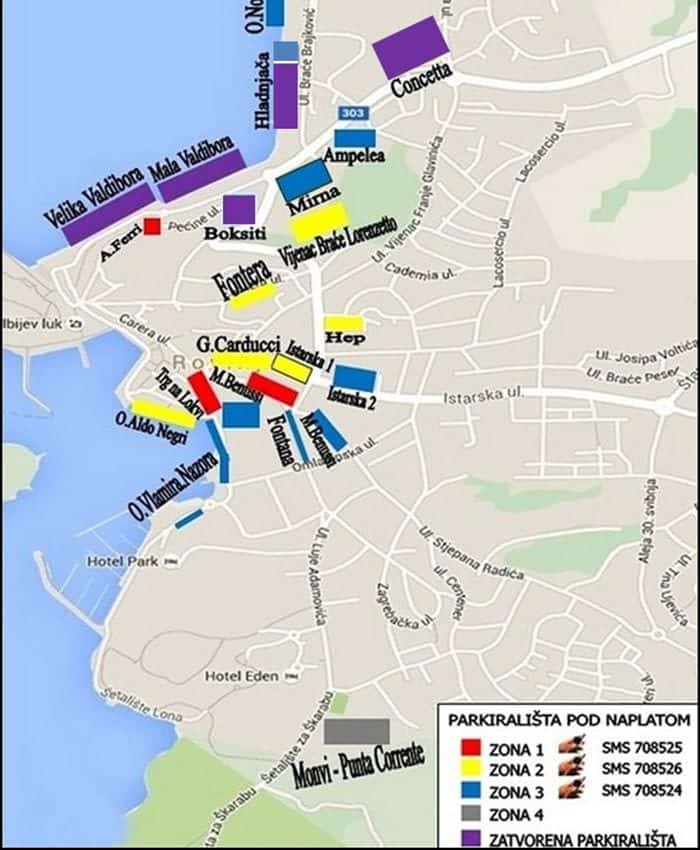 Rovinj has two designated parking areas close to the old town, and street parking as well. North of the old town, you'll find Valdibora, the largest parking lot in Rovinj. It's also the closest parking to the old town.
Rovinj's old town is located on a car-free peninsula. Thus, the only way to explore it is on foot. The good thing is that the town is small and basically very easy to walk through. Valdibora is a big parking, located just north of the old town, a 5-minute walk from the center.
Prices per hour |  Nov-March: 0.5 € | April-June, Sept, Oct: 1 € | July-Aug: 2 €
You can also park your car in the designated areas on the streets of Rovinj. Street parking is divided into zones 1 to 4; zone 1 being the closest to the old town. Parking in zone 1 is limited to a maximum of three hours at once.
Zone 1 | year around: 1 €
Zone 2 and 3 | Nov-March: 0.5 € | April, May, June, Sept, Oct: 1 € | July, August: 2 €
Zone 4 | mid-Oct.-Apr. free | May-mid-Oct. 1 € or 7 € a day
Daily parking ticket costs 15 € a day and it's valid in all 4 zones.
Shopping
Don't expect to find large shopping malls here or high-end brands. You'll rather find small, artisan shops selling handmade jewelry, interesting clothes, artworks, and souvenirs. On the other hand, Carrera street is a place for cheap clothes and tacky souvenirs.
Large supermarkets are located at the entrance of the town, on a road to Bale. In fact, you'll find here all large supermarkets – Konzum, Lidl, and Plodine; Jysk, a Danish retail store selling household goods; DM, a drugstore selling toiletries, and alike.
The farmer's and fish markets are located in the northern part of the old town, not far from the Valdibora parking lot. Here you'll find fresh fruits and veggies, as well as a catch of the day at the fish market. But the farmer's market is expensive. Locals rather buy their fruits and veggies at a few other spots in town. Near Konzum there is a local lady selling her own produce during the summer months. Also, the family Dobravac sells their own produce in front of their family home just above the Mirna factory, a few-minute walk from the old town.
Interesting souvenirs, paintings, jewelry, and bags, you can get at a few stores in town, like Koza, a store offering handmade leather goods; Prostor, a concept store located in the hotel Lone, offers cute and quirky stuff made by Croatian designers; Profumo di Rovigno, indeed, offers original scents of Rovinj through their perfumes, body, bath, and home products. The Lungomare Plaza, a shopping promenade below Grand Park Hotel Rovinj, features a variety of exclusive shops offering designer items like jewelry, clothing, accessories, arts, perfumes, and the like.
Money and ATM
From January 1st, 2023 Croatia entered the Eurozone and the national currency Kuna is replaced with the common European currency – Euro. However, if you use another currency than the euro, you can exchange money at many places in Rovinj: exchange offices, banks, and hotels' receptions.
ATM machines are also very everywhere; near every bank, at prominent places in town, and at many hotels. ATM machines have an option for different languages, so they are easy to operate.
When paying with a credit card (or withdrawing money at the ATM), you'll be offered to be charged either in local currency or in the currency of your home country. This is kind of tricky as intuitively you might be tempted to choose the currency of your home country. However, don't do this because you will end up paying more. When you choose the currency of your home country, the banks use dynamic currency conversion that more often than not (read: always!) is less attractive than the market exchange rate at the moment. Just calmly opt for local currency even if this means doing some math in your head to better understand the item's value in your money.
Some ATM machines are more expensive than others. Try to withdraw money on banks' operated ATM machines.
Internet
There are free WiFi hot spots throughout the town. Many bars and restaurants also offer free WiFi. However, you'll need to ask for a password in order to connect. Private accommodations come with free WiFi, as well as Rovinj hotels, and even campsites.
You can also buy a prepaid data package from one of the local or global providers. T-com, Telemach, and A1 all have SIM for tourists with data and minutes on them. However, we normally use Airalo eSim provider, because we find it works better for us. You can check out their mobile data packages for Croatia here. If you are visiting more than one country, Airalo offers also regional and global eSim mobile data packages.
Rovinj Travel Guide: Related articles
We hope our travel guide to Rovinj Croatia helps you better plan your holidays in this charming Istrian coastal town. If you have any comments, suggestions, or questions, please leave them below.