Set on a small peninsula, jutting out to the sea, Rovinj is not only one of the hottest destinations in Croatia, but it's also the most romantic town in all Croatia.
What makes Rovinj a perfect destination for couples
Did you see that photo above? Seriously, do you need more convincing?
On the night of St. Lawrence the entire town is candle-lit. Is there anything more romantic than that?
Restaurants here are charming, and many serve a serious food. Their décor, their menus, their cozy outdoor terraces, everything is perfectly set for a romantic dinner.
Mediterraneo, Rovinj's most popular bar, serves awesome cocktails . The bar's terrace is set on the rocks just few steps from the sea.
Rovinj is popular for, hmm, its beaches for adults. Yes, you got it right, naturism is popular in Rovinj.
Wonderful islands of St. Andrew and St. Catherine are perfect places for a romantic walk.
Every June, Rovinj hosts big Salsa and Sensual Days events.
A ride in batana, a traditional fishing boat, at dusk will set a perfect note for a romantic evening.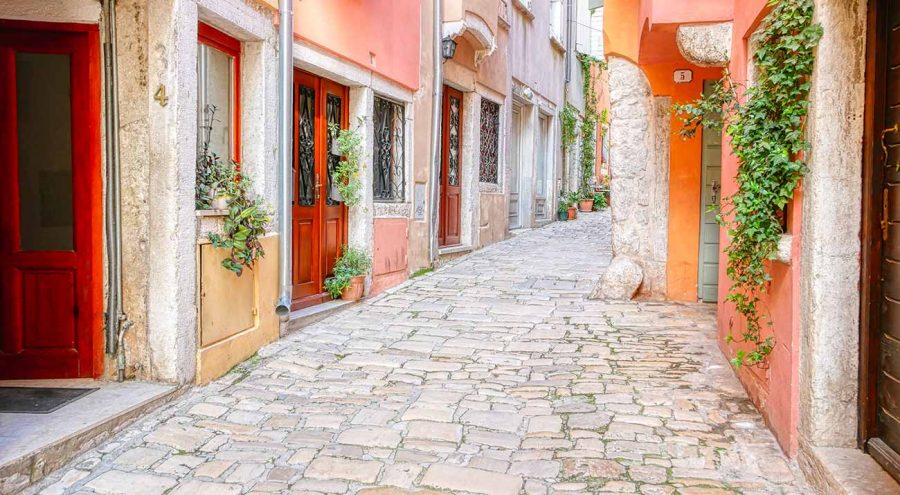 Things to do in Rovinj for couples
Have a drink at Mediterraneo Cocktail Bar. This is a popular bar with an outdoor terrace set right above the sea with the views over St. Catherine Island. A perfect setting for a romantic evening.
Climb St. Eufemija bell tower. The church of St. Eufemija, Rovinj's patron saint, sits on the top of the hill overlooking the town. The bell tower is an exact replica of St Mark's Campanile in Venice. The views from the top are great!
Visit St. Andrew Island and have a romantic meal at the restaurant La Serra. St. Andrew (known also as a Red Island) is located a 15-minute boat ride from Rovinj. It's a pretty little island with one hotel, and an old castle that belonged to family Hütterot, nice gardens, energy fields and a mausoleum.
Visit St. Catherine Island for a nice walk through its old gardens. St. Catherine Island is closer to the town, just a short 5-minute boat ride away. You can spend a day swimming, walking hand-in-hand through its wonderful gardens, and profit from the best views of the old town.
Take a sunset boat ride in a batana, a traditional fishing boat from Rovinj. This rowing ride starts at sunset at Mali Molo and it circles the peninsula with only fishing lights on.
Bask in the sun at the Mulini Beach. The Mulini Beach is a new beach club in Lone Bay. This is a new hip place to be in Rovinj for a day out swimming. In the evening there is a DJ or live music playing, and it makes it an excellent place for a pre-diner drink.
Cycle Golden Cape Forrest park. This is a wonderful park, just 15-minute walk from the old town. It's popular among joggers, cyclists, and rock-climbers. There are also lots of small coves where you can swim.
Indulge in a multi-course dinner at the Monte or Cap Aureo Signature restaurants. Monte was the first Croatian restaurants to receive a Michelin-star. In Cap Aureo, on the other hand, chef Jeffrey Vella is setting bar high with his unique heavily veggie-based signature dishes. Get a private table at the small balcony of Monte, or just enjoy the most amazing views over the sea and old town of Rovinj from Cap Aureo's terrace.
Explore cobbled streets, alleyways and art galleries in Rovinj's old town. Rovinj is a maze of alleys, cobbled streets, and passages. Just get lost there for hours, and enjoy its beauty.
Have a glass of wine at San Tommaso or Dobravac wine bars. Istria is a popular wine-growing region. Those two wine bars are a good place to taste local wines, while people watching. San Tommaso wine bar is located at the seafront promenade, while Dobravac is more tucked away, and has a relaxing garden, within a walking distance from the old town.
We've also written a full post on things to do in Rovinj.
The best accommodation in Rovinj for couples:
Read our post on recommended accommodation in Rovinj.
We hope you've enjoyed our travel guide to Rovinj for couples. If you'd like to read further check our other posts on Rovinj: best restaurants to eat in Rovinj, things to do in Rovinj, and where to stay in Rovinj. We also have lots of reviews of restaurants in Rovinj, as well as a list of best bars, cafes and clubs in Rovinj, and popular events in Rovinj. Here is also our post on Best Hotels in Rovinj.
Besides this guide on Rovinj for couples, we also have an article about five awesome destinations in Croatia for couples.
What do you look for when traveling as a couple? Have a question? Please let us know in the comments below.