If you are interested in finding out the best place to stay in Croatia for couples, look no further. In this post, we share the seven best destinations in Croatia for couples.
Many of our readers often ask us about destinations they should visit in Croatia, or about the best places to stay in a particular town. However, we always give the same answer: it all depends on your interests and the type of traveler you are.
So if you travel as a couple and looking for the best place to stay in Croatia for couples, here are our top suggestions.
The best place to stay in Croatia for couples
Vera and I always travel as a couple. And we, generally, line our destinations with our interests. Awesome local places to eat, great weather, secluded beaches, interesting historical sites, and local events (particularly food festivals) are all high on our list when choosing where to go.
We also love roaming the streets of a new place. While we aren't people who party late at night, we do love chill-out bars, especially the ones that offer a good selection of local wines by the glass.
And while we don't pretend that every traveling couple shares our interests; we chose our destinations in Croatia for couples based on these simple characteristics: exciting local restaurants, cozy wine bars, colorful street festivals, cultural and historical sites, and pretty panoramas.
Our top destinations for couples include Dubrovnik, Split, Rovinj, Opatija, Zagreb, Vis, Hvar, and Sibenik.
Dubrovnik
The most popular town in Croatia, Dubrovnik old town is as romantic as it gets. Whether you choose to stay in the town during your entire visit, or you decide to roam beyond the city walls, Dubrovnik offers a variety of things to do for couples.
Explore the cobblestone streets and alleyways of the old town, enjoy a sunset at the Buza bar, have a romantic dinner in some of Dubrovnik's top restaurants, or go wine tasting in Dubrovnik hinterland or the Peljesac peninsula.
Whatever you choose to do, you'll enjoy Dubrovnik with your loved one. The only downside of Dubrovnik – it's expensive compared with the rest of Croatia.
The best time to travel is in May, June, and October.
Best accommodation in Dubrovnik for couples includes Villa Dubrovnik, guest house St. Joseph, bed and breakfast Scalini Palace, and Apartments Festa.
Split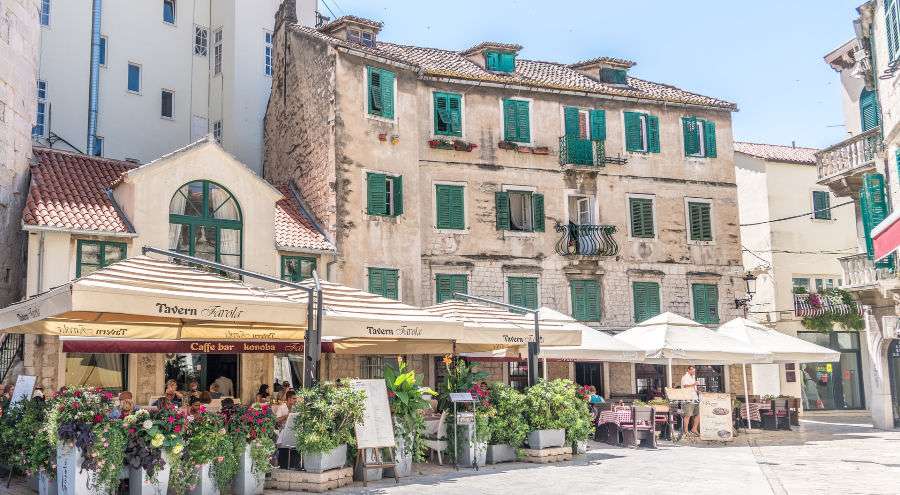 Split is the largest coastal town and the second largest town in Croatia.
With over 1700 years of history, its old town feels like a living museum. Wherever you walk, you are surrounded by historical artifacts.
The town has an excellent vibe, lots of great restaurants serving yummy local dishes, cool bars, and cafes (don't miss Zbirac), lovely accommodation, and a sandy beach Bacvice.
For a perfect day out have a coffee at the Riva Broadwalk, explore a maze of ancient streets in the old town, have a glass of wine and local cheeses at Paradox or Zinfandel wine bar, taste Croatian-style tapas at Bokeria, or have dinner at Konoba Nikola in Stobrec, Villa Spiza or Uje Oil Bar for a taste of a traditional Dalmatian home-cooking.
Split is also a perfect base to explore central Dalmatian islands, Krka waterfalls, Unesco protected town of Trogir, and Omis, one of the best places for outdoor enthusiasts.
Hurry up and visit Split while it's still affordable. The town has had excellent flight connections with major European airports for almost a year around.
The best time to visit Split is in June and September.
The best places to stay in Split for couples include Palace Judita Heritage Hotel for its old-world charm, hotel Park Split for its lovely location by the beach, Bepo Luxury Apartments for their comfort and vicinity to the old town, and Abokamento and Grgur Ninski Rooms for their beautiful design, great location, and friendly staff.
Rovinj
The only reason you wouldn't stay in Rovinj if visiting Istria is that you can't afford it. Otherwise, believe me, Rovinj is THE place to be in Istria. The beautiful old quarter is romantic, full of art galleries, cozy bars, and lovely restaurants.
Visitors to Rovinj have a fantastic selection of things to do. We love wandering streets, alleyways, and passages of the old town, having a glass of wine at the Mediterraneo Bar, and eating out at the restaurant Barba Danilo.
But, don't stop just there; enjoy a real Italian gelato at the Gelateria Italia, visit energetic fields on St. Andrew and Maskin Islands, explore Golden Cape forest park, and gardens of St. Catherine Island, and spend a day chilling out at Mulini Beach.
The best time to visit Rovinj is in the summer.
The best places to stay in Rovinj for couples include Hotel Monte Mulini, hotel Spirito Santo Palazzo Storico, Mariva Downtown Studio, Paulino Apartments, villa Rupeni, and mobile homes Superior in the campsite Vestar.
Opatija
Back in the late 19th and early 20th century, Opatija has been a favorite resort of European nobility, artists, and poets.
Today, Opatija remains a sophisticated holiday destination for couples of all ages. A charming town with Vienna-style architecture, Opatija is home to the oldest and longest seafront promenade. Opatija also has wonderful parks, some of the best restaurants in Croatia, and lovely cafes.
Walk hand-in-hand through Opatija's streets, promenades, and parks. Laze out on the terrace of the Wagner Cafe while enjoying a cup of coffee and homemade pralines. Indulge in a multi-course dinner at the restaurant Bevanda, or visit a cozy tavern Tramerka in Volosko for an awesome seafood feast.
The best time to visit Opatija is in spring and autumn.
Accommodation in Opatija suitable for couples includes Remisens Hotel Kvarner, the very first hotel in Croatia, design hotel Navis for its superb design and stunning sea-views, and Villa Maya for its comfort, seclusion, and great facilities like a private swimming pool.
Zagreb
Croatian capital town, Zagreb has a good vibe, lots of parks, historical sites, museums, good nightlife, and an exciting restaurant scene. Furthermore, Zagreb is an interesting place to visit in Croatia, particularly for couples.
We love hanging out at the Upper Town. This is the most romantic part of Zagreb where the street lamps are still gas-powered and lit by hand. We also love taking long walks in Zagreb's numerous parks. We enjoy a picnic at Lake Jarun, downtown street festivals, and dining out at the bistro Mali Bar. Check here for our ultimate guide on things to do in Zagreb.
The best time to visit Zagreb is in spring.
If you are looking for the best accommodation in Zagreb for couples, consider the following hotel Esplanade Zagreb, for its historical charm and superb service, Bed and Breakfast Foric for its good location and friendly staff, Swanky Mint Hostel for its cool and hip vibe and nice rooms, design studios Svi-Mi for the comfortable and well-equipped studios.
Vis
Vis is our favorite island in Croatia!
Secluded beaches, laid-back vibe, restaurants only accessible by boat or on foot, few crowds, amazing nature, and turquoise sea, they are all to be found on Vis Island.
Vis was a long time isolated due to its location (it's further away than other Croatian islands like Brac or Hvar), and also it was a military base during the time of Yugoslavia.
All those things played to its advantage today. Because mass tourism has never had a chance to develop on the island. And even today, when it's much more popular, it simply lacks the big infrastructure to receive huge crowds. With only two bigger settlements (Vis Town and Komiza), and just a couple of hotels (the majority with 10 rooms and less), Vis stays relatively quiet even in the midst of summer.
Rent a scooter and explore Vis' backroads, take a boat tour to the Blue Cave, and visit hidden bays and beaches like Stiniva, Srebrena, Zaglav, and Teplus. Taste yummy local food at the tavern Mala Travna, tavern Pesa, or restaurant Pojoda. Stroll along Komiza and Vis seafront.
The best places to stay on the island of Vis are Hotel San Giorgio, Apartments Vis Talez, and Apartments Estate Under The Paintbrush.
Hvar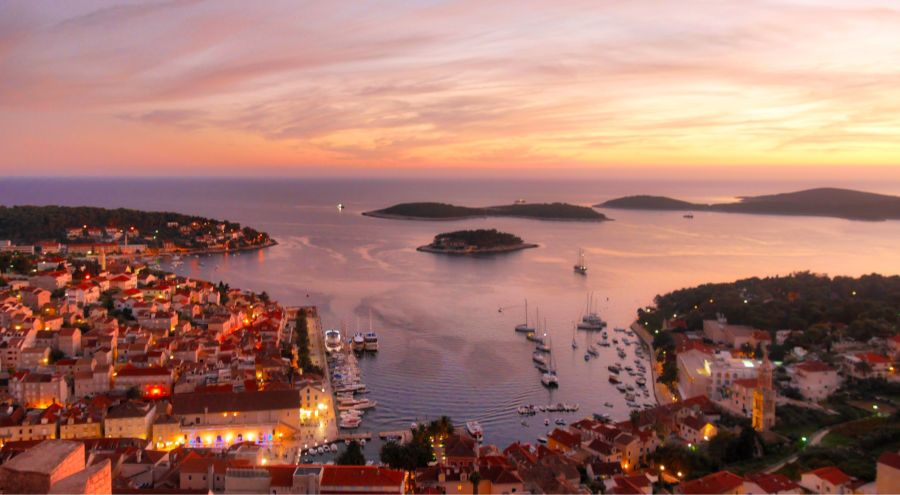 Hvar is another island on our list of the best destinations in Croatia for couples. Hvar is very popular, and you have perhaps heard about Hvar already.
Made famous by the likes of Prince Harry and celebrities such as Steven Spielberg, George Clooney, Beyonce, and Jay-Z, Hvar is often perceived as an expensive playground for the rich and famous.
But, this is not entirely true. Yes, the town of Hvar is unjustifiably expensive, but the rest of the island is pretty much reasonably priced and cool.
Base yourself in Stari Grad or Jelsa, or even in a smaller village in the island's interior. Perfect accommodation in Hvar for couples includes the lovely Littlegreenbay Hotel, then beautifully restored and well-equipped Villa Riva Apartments in Jelsa, as well as Heritage Suites Zanini in Hvar Town.
Explore beautiful hidden beaches and coves in an overly cool VW Beetle cabriolet. Rent a boat and spend a day on Paklinski Islands, a beautiful archipelago just off the coast of Hvar Town. Go on a wine tour! Enjoy sunsets! Learn about Hvar's history and culture.
Do you have any questions, comments, or suggestions regarding the best place to stay in Croatia for couples? Please let us know in the comments below.