Visit Opatija, Croatia during the off-season (spring and fall) to fully appreciate it. The town became a popular resort for the international elite and Austrian-Hungarian nobility in the late 19th century.
Although, since that time, Opatija has fallen into a slow decline, it still attracts many tourist and it is especially popular in spring and fall.
I've already written about the reasons why you should not visit Opatija in summer. Now I want to do a justice to this resort town, and let you know why you need to visit Opatija during the off-season. It still has a lot to offer to its visitors, and it is a charming town. You just need to know when to visit. And in my opinion the perfect time to visit Opatija is in spring and fall.
Reasons to visit Opatija
#1: Wellness
Located between mountains and the sea, Opatija has always been known for its pure air and health beneficial aerosols. Since 19th century, visitors have been coming to Opatija to improve their general well-being.
Today many Opatija hotels feature spa & wellness centers. Most hotels feature interior swimming pool with sea water for maximum health benefits. It's a great place to spend a wellness break.
#2: Walking
Opatija is often called Vienna by the sea due to its history and architecture. The town center still contains a great number of 19th century buildings. Its three parks, Angiolina Park, St. Jacob Park and Margarita Park, are monuments of garden architecture. They feature over hundred different varieties of plants originating from all over the world.
Its seafront promenade is a hundred years old and 12 km long. It is perfect for easy and pleasant walks by the sea. Another walking path is 5 km long Carmen Sylva forest promenade. Opatija is truly a great place if you enjoy long strolls through the parks and by the sea.
#3: Gastronomy
If you ask me, a perfect weekend break needs to include plenty of nice things to eat. And Opatija is a right place to do just that! From classy seafood restaurants to bistro style dining, it has something for everyone. The one thing in common to all these restaurants is really tasty food.
Fishing village Volosko is the real deal with its charming harbor and al fresco dining along the sea. My favorite place is konoba Tramerka.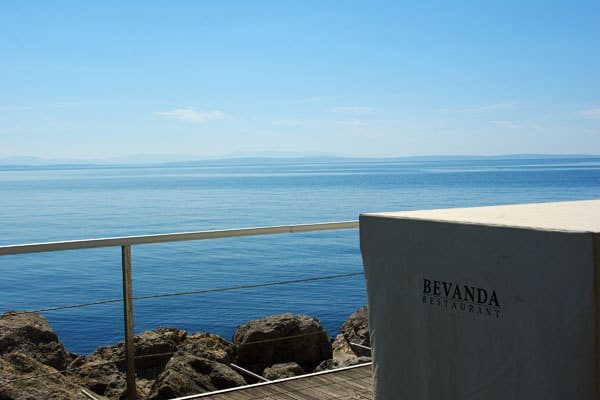 Kastav, a charming hilltop town, is another gastronomy gem. Check out a fine dining restaurant Kukuriku. Or just enjoy local and casual dining at konoba Pul Kukuriku. The outdoor terrace offers amazing views over the bay. In Opatija itself, the hot spot restaurant is a restaurant Bevanda.
#4: Joie de vivre
Opatija is famous for its cafes. Many people from Zagreb go to Opatija just for a day to have a coffee at one of its terraces. Take the moment out of your day and enjoy an espresso or cafe latte in one of numerous Opatija cafes.
Regardless of the weather, watching the world go by on one of seafront terraces is the ultimate activity in Opatija. Check cafe Wagner for its homemade praline or cafe Kvarner for its homemade mignon.
#5: Accommodation Prices
Avoid hustle and bustle of summer crowd and profit of favorable accommodation rates of Opatija hotels. Accommodation rates drop down significantly in spring and fall.
Do you like weekend breaks? Where do you usually go on a weekend break? Let us know in the comments below?