Croatian food is awesome! Traditional Croatian cuisine is wide and varied, yet it's hard to distinguish dishes that are exclusive to Croatia. Because, Croatian food has been influenced by tastes and traditions from neighboring countries, and different nations that ruled Croatian territory throughout history.
Traditional Croatian food has some similarities with Italian, Austrian, Hungarian, and Turkish food. Yet, Croatian dishes have their own distinct interpretation, and taste.
Croatian cuisine: regional food in Croatia
Croatian traditional food varies a lot from one Croatian region to another. And while there are some dishes you'll find throughout Croatia (Hello sarma!), many dishes found in one Croatian region aren't probably even known in another region.
Dalmatian food, found along the Dalmatian coast, and on the islands, is based heavily on fish, green veggies, olive oil, and seasonings like garlic, rosemary, parsley, etc.. Dalmatian cuisine is the typical Mediterranean cuisine.
Zagreb food, on the other hand, has many similarities with central European countries. Typical Zagreb food includes meat dishes, while side dishes are usually comprised of potatoes, other root veggies, and cabbage.
While Istrian cuisine reminds in many ways of Dalmatian cuisine (especially along the coast), Istria has some of its own typical dishes, and cooking techniques. These include manestra, a bean soup prepared only in Istria, or fuzi, a hand-rolled pasta typical for Istria.
Slavonians love their pork, and many dishes in Slavonia are simply based on pork meat. Red paprika is the main condiment in Slavonia. While present also in other Croatian regional cuisines, it's not nearly as popular as in Slavonia.
Croatians have always believed in three meals a day, with lunch being the main daily meal. This, unfortunately, has changed in the last years, as many people work from 9-5, and simply aren't home for lunchtime. However, lunches are still a big family affair on weekends.
Typical Croatian food
Below we present some typical Croatian food. We tried to include a variety of dishes to give you a taste of different regional cuisines you can find in Croatia. We are not big meat eaters, so obviously, Istrian and Dalmatian food suits us the best.
Black risotto
Every seafood restaurant in Croatia has a crni rizot (black risotto) on its menu. Crni rizot is basically a squid risotto that squid ink makes black in color. Besides squids, this risotto often contains other seafood, particularly mussels, clams, and other shellfish. Black risotto is simply a must-try Croatian food!
We've eaten the best crni rizot (apart from the one that my mother-in-law makes) in a small restaurant in a village Hodilje near Ston. But we also love black risotto at Kapetanova kuca in Ston.
Foodie's words of wisdom: watch your smile as your lips and teeth will turn black when eating this delicious Croatian food. Also, don't freak out if your stool gets black for a couple of days after eating black risotto.
Strukli
This delicious pastry, filled with cottage cheese and sour cream, originated in Slovenia. However, today it's a popular food in Zagreb as well as in Hrvatsko Zagorje region.
Strukli is prepared in two ways: boiled in water or baked in an oven. There is even a restaurant in Zagreb, La Struk, serving only strukli.
La Struk serves traditional strukli, but also the modern interpretations of this traditional dish (with truffles, or sweet variations with cheese and blueberries). If you visit Zagreb, don't forget to taste strukli.
Pasticada with gnocchi
Called a "Queen of Dalmatian cuisine", Pasticada is perhaps the most popular Dalmatian food. Every house, every family has its own recipe for pasticada. So what really is this delicacy?
Baby beef's fake fillet is marinated in wine vinegar for days, and then braised for hours, first in its own juice, and later with red wine, and served with homemade gnocchi.
This is my favorite Dalmatian dish. And I don't even like meat that much. Trust me, you'll dream about this dish long after tasting it.
Unfortunately, due to its long cooking process, and relatively expensive ingredients, it's hard to find a quality pasticada in a restaurant. If you've got a chance to eat it at people's house while in Dalmatia, that would be perfect. Otherwise, try it in a restaurant, at least to get the idea of a dish. We've eaten a good pasticada in the Vinica Monkovic restaurant, Buffet Fife in Split, and in Adria restaurant in Metkovic.
Peka
Baking meat, seafood, and veggies under a bell-like lid covered in embers is to my knowledge, a unique cooking method found in Croatia and its neighboring countries (like Bosnia, Montenegro, Serbia, etc.).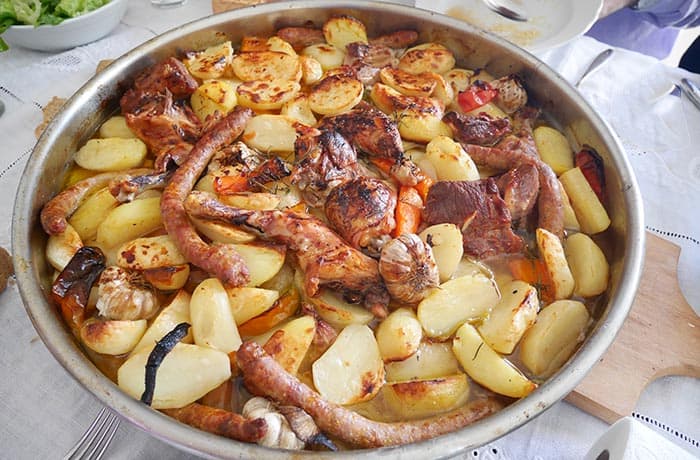 Basically, you can put any kind of meat and veggies in a tray, salt it, add spices, oil, and cover it with a bell-like lid. Placed in a fireplace, the lid is then covered with embers. It cooks for two hours, but after about an hour or so, the lid is lifted, meat is turned, and some other spices are added, like a mix of honey and cognac with Mediterranean herbs.
Peka can be made with any kind of meat (chicken, veal, sausages, etc.), but my all-time favorite peka is octopus peka. Octopus really turns tender and succulent, while the potatoes become especially sweet and tasty. The sauce is delicious, and if served with a bread baked also ispod peke (under a bell-like lid), then it's a festival for taste buds.
This dish usually needs to be ordered in advance in a restaurant. Some restaurants have it on a menu all the time, but peka is the best when made on order. We've eaten an excellent octopus peka in the tavern Roki's in Vis Island.
Scampi, mussels or shrimps na buzaru
Buzara is a method of cooking seafood, mainly crustaceans and shellfish, wildly used in a coastal Croatia. Scampi, shrimps, mussels or clams are shortly cooked with white wine, garlic, parsley, and breadcrumbs. Tomato paste is sometimes added for color. However, my mother-in-law never uses tomato paste when she makes this dish.
This is the simplest, yet one of the most delicious ways to prepare shrimps or mussels. Roll your sleeves (yes, buzara is eaten with hands), and indulge in this yummy Croatian dish.
Istarski fuzi
Fuzi is a quill-shaped homemade pasta typical for Istria. Along with pljukanci, a spindle-shaped pasta, it's the most popular homemade and hand-rolled pasta in Istria.
Pasta dough is cut in a diamond shape, then rolled around a chopstick (often pencil) to form a quill-shaped hollow tube. Fuzi is usually served with different stews: mushrooms, truffles, chicken, or beef stew. This yummy pasta you can taste in many Istrian restaurants, but our favorite places to eat fuzi are Stari podrum in Momjan, and Tavern Toncic in Zrenj.
Brudet
Another classic dish typical for the coastal Croatia, brudet (brujet, brodeto) is a fish stew. Similar to pasticada, brudet is one of the most common dishes you can find in coastal Croatia. Every family has its own way of making brudet.
Various types of fish and crustacea are stewed with onions, tomato sauce, drop of vinegar and spices. Covered in water it cooks on low fire until the fish is done. Laurel and chili pepper are added to the stew to your taste. Brudet is usually served with polenta.
We love brudet made of eels and frogs that they serve at the tavern Duda & Mate in a village Vid. If you like weird (but super tasty) food, you can visit this restaurant on a day trip from Dubrovnik.
Skradinski risotto
I am a rice man. I can eat rice every day. And when I say that Skradinski risotto is one of the best risottos I had in my life, it seriously means something.
This veal risotto is cooked for hours and constantly stirred. And when they say constantly, they mean it like a pro. If a person who stirs needs to go to the toilet, another one takes over. They don't let it just sit, not even for a minute. The result is the creamiest veal risotto in which the meat has completely dissolved and disappeared.
Other ingredients include homemade chicken, baby beef and beef broth, onions, salt, pepper, oil, hard cheese, and of course, rice.
We had the best Skradinski risotto in Skipper's club Arka. But, Arka doesn't have this risotto on their menu regularly. They make it twice a year: in June during the Fine wines festival and on the first Saturday of August. Places go quickly, so if interested, make sure to book your place early. They also do it on order, but for a minimum of 40 people.
Tavern Vinko in Konjevrate is another great place to try this risotto (and many other traditional Croatian foods!).
Manestra
The most common dish you'll find on menus in Istrian restaurants, manestra is basically a bean soup. Manestra cooks slowly for hours on low fire, with pešt and cured meats (pieces of prosciutto, or alike) that enhance a taste. Pest comprises of pancetta, garlic, and parsley all grounded together to form a paste. This paste is added to the manestra at the very beginning of the cooking process. Manestra has many variations, the most common are manestra od bobići (bean soup with corn), and jota (bean soup with sauerkraut).
We like manestra in a tavern Vela vrata in Beram, and in the Boljunksa konoba in Boljun.
Gregada
Typical Dalmatian dish, greagada is a fish stew cooked with white wine, parsley, onions, garlic, capers, salted anchovies and potatoes. This dish is very typical for the central Dalmatian islands, particularly the Hvar Island. We've tasted an excellent gregada in the restaurant Tramerka in Volosko.
Viska and komiska pogaca
Viska pogaca is a dough drizzled with olive oil and filled with salted sardines and onions. Baked and cut in squares before being served, Viska pogaca has been enjoyed by generations of people from Vis for over 2000 years.
Komiska pogaca, on the other hand, also features tomatoes, and it's usually cut in triangles before being served.
Besides the island of Vis, we enjoyed a good version of Komiska pogaca in the restaurant Maestral in Rovinj.
Vitalac
Vitalac is a typical dish on the island of Brac. And, it's a good contender for a weird food award!
In short, vitalac are skewers made of baby goat or lamb's entrails (lungs, liver, spleen), wrapped in caul fat and spit-roasted. It's served with warm bread and green onions.
Soparnik
Soparnik is a savory pie filled with Swiss chard. It's a traditional Dalmatian dish, typical for the Poljica region in the central Dalmatia. Croatian Ministry of Culture has declared Soparnik the intangible cultural heritage of Croatia. There is also a yearly Soparnik festival held in Dugi Rat every July for the last ten years.
Many local families compete for the title of the best Soparnik. This competition gives any visitor a chance to taste a real homemade Soparnik.  If you are anywhere around at the end of July, make sure you make it to Dugi Rat to try this traditional Dalmatian dish.
Stuffed peppers
I don't really know the origins of stuffed peppers recipe (punjene paprike in Croatian), but this dish is extremely popular in Croatia during the summer. Bell peppers are basically stuffed with minced meat, rice, and spices, and cooked with tomato sauce.
Stuffed peppers are consumed all over Croatia, the only thing that will differ among different regions, is the choice of minced meat used in a recipe. While in Dalmatia, the meat will mainly be baby beef, in Slavonija, minced meat will mostly contain pork meat. Stuffed peppers are usually served with mashed potatoes.
Sarma
As popular as stuffed peppers are in Croatia during the summer, as popular is sarma (stuffed sauerkraut) in Croatia during the winter. The stuffing is basically the same for both dishes, minced meat and rice with spices, but with sarma, stuffing is wrapped in sauerkraut instead of bell peppers. Another yummy dish for cold winter days.
Cobanac
A typical dish from the eastern Croatian region of Slavonija, cobanac is a spicy meat stew. This stew is cooked a long time, but always on a strong fire and it often contains different meats: pork, baby beef, lamb, and pork hind feet. We're not much into the meat, and as Vera's from Dalmatia, we don't really eat cobanac at home, but it's a great dish for everybody who likes meat.
Istrian soup
Istrian soup is not really soup in a way you might expect. It's a soup made of Teran, a typical red wine from Istria, with some sugar, pepper, olive oil, and bread.
Istrian soup is served in bukaleta, a traditional jug made of ceramic and it's passed around and shared with everybody at the table.
The recipe is simple: warm red wine is poured in bukaleta and then a teaspoon of sugar, pepper, olive oil, and slices of grilled bread are added into the wine.
Sinjski arambrasici
Sinjski arambasici is a specialty similar but not quite the same as sarma.
It involves meat-stuffed cabbage rolls. But unlike sarma, the staffing for arambasici is made of finely chopped (not minced) baby beef and pieces of cured meat (but not rice). It also contains a few spices like cinnamon, nutmeg, and cloves.
Oily fish
Oily fish from Adriatic represents the essence of the Dalmatian and Istrian diet. Sardines, mackerels, anchovies, Mediterranean sand smelt, tuna, and bonito are all equally popular. They are served in many restaurants along the coast as well as consumed a lot at Croatian homes. I absolutely love oily fish, and I am always happy to find it on the menus.
Croatians eat lots of grilled sardines, and mackerels,  fried sand smelt, marinated or salted anchovies, and sardines, tuna steaks (especially sliced steak), and sardines in savor. When in Croatia make sure to indulge in these taste oily fish dishes.
Roasted turkey with mlinci pasta
Purica s mlincima is a typical dish from the northern Croatian region of Zagorje, and from the capital, Zagreb.
Purica is turkey, and mlinci is a type of dried and very thin flatbread. Mlinci are easily prepared by pouring or quickly soaking them in hot water.
Turkey needs to be roasted. And then served with mlinci in its own sauce from roasting.
You can taste this dish in the restaurant Stari fijaker in Zagreb.
Kotlovina
Kotlovina is a meat specialty popular in Zagreb and northwest Croatia. Different meats and veggies are fried in a big metal dish and then slow-cooked in its own sauce over an open fire.
The meat usually includes pork (chops, neck, spareribs, and sausages), and chicken breasts. Kotlovina is prepared in a specially designed cauldron, and it's usually prepared outdoors. Once the meat is done, it's placed on the side of a cauldron to keep warm.
Zagreb Schnitzel
If you like Vienna Schnitzel or a Cordon Blue, there is no reason not to like Zagrebacki odrezak (Zagreb Schnitzel, or Zagreb escalope). Zagrebacki odrezak is a veal escalope, stuffed with a slice of cheese and ham, breaded, and then deep-fried. In restaurants, you can also find a version of this dish with pork, or turkey meat.
Zagreb escalope you can find on menus of many restaurants in Zagreb.
Dalmatian misanca
Misanca is a peasant's meal that costs very little to make as it uses wild food plants that grow freely in nature.
We live in Istria that shares many culinary traditions with Dalmatia. However, some Croatian food is only found in Dalmatia, and misanca is one of them.
The literal meaning of misanca in Dalmatian dialect of Croatian language is a mix, mixture. Misanca is, in fact, a mix of wild edible plants cooked together like a soup.
You chop garlic and some pancetta and you fry it shortly in the pot with some olive oil. Then you add some wild collard greens previously parboiled, followed by wild onion, wild spinach, sow thistle, and wild fennel. You cover with water, add olive oil and cook slowly until done. Serve warm with plenty of olive oil. You can also make misanca spicy by adding pepperoncino to your misanca.
Collard greens
Rastika is a Dalmatian collard greens stew. If you travel through Dalmatia in winter you will notice that almost all veggie gardens contain collard greens, a tall leafy plant with yellow flowers.
Collard greens are mostly made as a stew or soup with cured meat, particularly cured sheep meat, called kastradina in Croatia.
However, we find cured sheep meat to have to strong flavor for our taste and we prepare rastika using only pancetta.
Quickly boil collard greens and throw the water. On olive oil fry shortly some garlic, pancetta, and few pepperoncini. Add collard greens, cover with water and add olive oil. Cook slowly until done. Serve warm with extra olive oil to your taste.
Pasutice pasta with cabbage and cod
I know this combination of homemade pasta, cabbage, and dry cod pate sounds absolutely weird. But I thought so too until I have tasted it.
It actually goes great together! This dish is popular in Istria and often served on Christmas Eve. Pasutice is a homemade pasta cut in squares.
Dormouse
Dormouse goes under the list of weird food eaten around the world. We ourselves have never tasted it. Too gross even just to think about. People keep telling us that they are vegetarians and have the cleanest meat possible. But, yet, they just look like a rat, and we can't stop thinking about that.
Anyways, the dormouse is a specialty in the mountainous region of Gorski kotar, and on Croatian islands, particularly on islands of Brac and Hvar.
They prepare it grilled, stewed, or fried. If you are interested to try it, you can do so in the tavern Kokot in Dol on Hvar Island.
Olive oil
Croatia has excellent olive oil, particularly in Istria. Istria is one of the most northern regions of the world where olive oil is produced. It is a staple of Dalmatian and Istrian cuisine. The majority of olive oil comes from small family-owned farms that produce small quantities of olive oil. You will also find lots of single-sort olive oils. If you are in Istria visit Chiavalon olive oil estate.
Sea salt from Ston
Salt has been harvested in Ston for centuries. And it is still the case. Unlike industrially produced salt that you can find in stores, salt from Ston is completely natural, humid on touch, and it never overwhelms the food. If you visit Croatia, make sure to buy a bag of salt from Ston. It's healthy, natural, and it makes for a great (and cheap!) souvenir.
Burek (pita)
Pita or burek is a major part of not only Croatian cuisine but the cuisine of the entire Balkan peninsula.
Pita or pie is one of the simplest yet most delicious savory pastries to find in Croatia.
It's basically a phyllo dough stuffed with various fillings. The most popular pita is one with minced meat, also called burek. Other popular pita include potato pie (krumpirusa), cheese pie, spinach pie (zeljanica), pumpkin pie (bucnica), and apple pie (strudel).
You can taste pita in any bakery. In Zagreb, there are also some restaurants that only sell pita, like Piterija Tomislav on Selska cesta. And if you are interested in trying your hand at pita, here is a great family recipe for mixed meat and potato burek.
Cevapi
Cevapi is minced meat rolled in finger-like shape and grilled. They are usually served with pita bread, chopped onions and red pepper spread called ajvar.
Cevapi aren't only found in Croatian cuisine but in all countries of the Balkan peninsula.
Cevapi make a part of the menu in many restaurants in Croatia, especially touristy ones.
Croatian prosciutto
Croatian prosciutto is, similarly to its Italian and Spanish counterparts, simply dry-cured ham.
Prosciutto is a staple of Croatian cuisine in the coastal regions of Istria and Dalmatia.
Meat is salted and spiced and then let to dry in the wind. In addition, prosciutto in Dalmatia is also smoked before the drying. This gives it distinguished smokey taste.
In Istria, you can find a good quality homemade prosciutto in all the best restaurants, while in Dalmatia it's more of a challenge. However, in the Skipper Club Arka in Skradin, in Dalmatia, we have tasted the best Croatian prosciutto. It's made by the owner of Arka under the brand name Pasquale. If you have a chance, stop for a bite!
Slavonian kulen
What the prosciutto is for Istria and Dalmatia, that is kulen for Slavonia – the most popular type of charcuterie in this part of Croatia.
Slavonian kulen is a spicy cured sausage made of the best cuts of pork, mainly legs, and sometimes shoulders, and with added spices like garlic, and sweet and hot paprika.
Pag cheese
The most famous Croatian cheese, Paski sir (Pag cheese) is a hard, aged sheep cheese from the island of Pag.
The cheese is served in many restaurants in Croatia, and it can also be purchased at many stores.
One of the popular brands of Pag cheese is Gligora.
Squeaky cheese
This is another cheese extremely popular in Croatia. Squeaky cheese in Croatian is called Skripavac, and it means it squeaks against the teeth when you chew it. It's a mild, young cheese particularly popular in the Lika region.
If you visit Plitvice Lakes or Nikola Tesla memorial center in Smiljan, you should taste this cheese. In fact, we stop in Smiljan on the way to Dalmatia to buy a real homemade skripavac for my mother-in-law as she really loves it. We can share the number if interested.
Curd
Curd, a milk product obtained from whey is called skuta in Croatian. Skuta is very popular in Croatia, particularly in Istria and on islands. Curd can be made from cow, goat, or sheep milk, but the most sought after one is a sheep milk skuta. Skuta is equally popular as a starter, and as a dessert, especially in combination with honey and olive oil.
Oysters
A town of Ston is famed for few things: salt, the longest fortification in Europe, and awesome oysters.
In Mali Ston and nearby Bistrina bridge, you'll find small oyster farms where you can taste this delicacy or buy some to bring home.
Besides, you can also indulge in them in one of the popular restaurants in Mali Ston. They all have lovely outdoor seating by the sea and serve fresh oysters from their own farms.
Octopus salad
Salata od hobotnice as they call it in Croatia or octopus salad is a classic food in Croatia, and you can easily find it on many menus along the Croatian coast.
Octopus is cleaned and cooked in water until tender. Once cooled down, it's chopped and placed in a bowl. Finally, it's sprinkled with olive oil, vinegar. Capers, diced onions, and parsley are added to the salad. You can also add cubes of boiled potatoes. Yummy!
Grilled fish with Swiss chard
All along the coast, you can taste this Croatian classic: grilled fish with Swiss chard.
Swiss chard (blitva) is a staple of Dalmatian cuisine. So much so, that in the rest of Croatia they refer to Dalmatian people as blitvari (someone who eats Swiss chard).
The most popular fish are sea bream and sea bass. But to be honest, many of them come from fish farms. Thus we prefer different kinds of fish (like mackerels, sardines, red mullet, hake, etc). Or, if you have money, go for the dentex fish, the most appreciated Adriatic fish.
Spit-roasted lamb
Janjetina na raznju, or spit-roasted lamb is popular everywhere in Croatia but especially on Croatian islands, particularly Cres, Pag, and Brac.
And in Croatia, this dish is on the menu for all important life events like marriage, or baptize.
If you are visiting the island of Brac, taste roasted lamb in the tavern Kopacina. On Cres island, check the tavern Bukaleta.
Fritaja
Scrambled eggs or fritaja is simple, yet super tasty dish particularly popular in Istria. The most common fritaja that you will find in Istria is fritaja with wild asparagus, wild mushrooms, homemade sausages, prosciutto, or truffles.
Mixed meat
Mjesano meso (mixed grilled meat) is also a very common dish that many restaurants in Croatia offer. Besides cevapi, it usually contains meat skewers, then pljeskvica (patty with beef, veal, and pork meat), grilled chicken breasts and sausages.
Restaurants often serve it with french fries, grilled veggies, diced onions and ajvar (pepper spread).
This dish when you order in a restaurant normally provides a good value for money.
Fis-paprikas
Fis paprikas is a Croatian food typical for the eastern region of Slavonia. It's a spicy fish stew containing river fish, most often a carp.
Fish paprikas is originally a Hungarian dish. However, today all along Pannonian plain people prepare fis paprikas. Spicy red paprika is abundant in this dish, and it makes it one of the spiciest dishes in Croatia.
Paprenjaci
Paprenjaci are traditional Croatian cookies dating back from the 16th century. The name comes from black pepper (papar in Croatian), because Paprenjaci, among other ingredients, contains black pepper. Other ingredients are walnuts, hazelnuts, honey, butter, and various spices.
Arancini
Traditional sweets from the southern Croatia, arancini are candied orange peel. They make a great souvenir to bring home, too. However, when they are homemade, they are simply the best. I am lucky because my mother-in-law often makes them, and they are yummy.
How can you make this recipe? You cut orange skin (but sometimes also lemon, or grapefruit) in long stripes and you leave it in water for two days. Once drained, you need to weigh them and then put them in a pan with an equal amount of sugar. Once the water evaporates, the sugar will start crystalizing again and they are done.
Rozata
A custard pudding similar to flan typical for Dubrovnik region, rozata, when well-made, is one of my favorite Croatian sweets. My mother-in-law often makes rozata, and her rozata is seriously the best I've tried.
Krostule
Krostule is a traditional pastry that you can find in coastal Croatia from Istria to Dubrovnik. Long thin strips of dough are tied in a loose knot and then deep-fried in oil and sprinkled with powder sugar before serving. Krostule is a simple dessert, but very crunchy and delicious to eat!
Fritule
The most common sweets you'll find in a coastal Croatia, fritule are ball-shaped dough made with flour, raisins, a touch of local schnapps and lemon zest, and then deep-fried. These sweet fritters are addictive and hard to say No to.
Apple Strudel
Traditional Viennois dessert, apple strudel has its tradition in Croatia as well.
Thin phyllo dough is filled with grated apples, pieces of walnuts and raisins. You can also sprinkle some pieces of almonds on the top. Sprinkle some powder sugar atop before serving.
Pancakes
Palacinke (pancakes) are the single most popular dessert in all Croatian restaurants.
Croatian pancakes are thin, crepe-style, and come with a variety of spreads. Marmalade, Nutella, and a mix of grounded walnuts and sugar being the three most popular fillings.
You can order them in any restaurant but also at many pancake stalls in small coastal towns.
Bajamini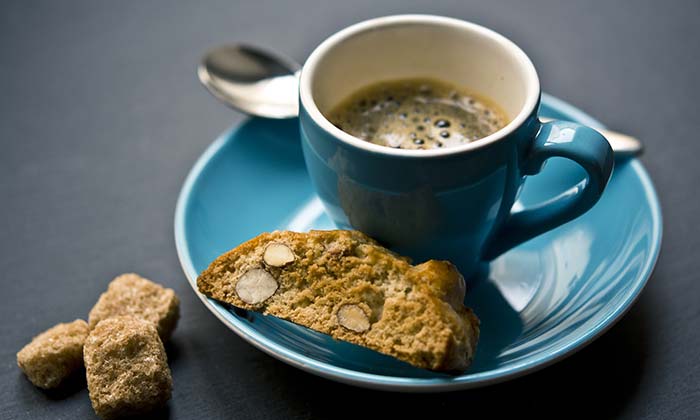 Bajamini are dry almond cookies typical for Dalmatia. These cookies are similar to Italian cantuccini or almond biscotti but not as hard. They are made of eggs, sugar, little flour, and almonds. The best part is that they are easy to make, yet so tasty.
Krempite
Krempite is a Croatian version of more famed mille-feuilles cake or vanilla slices cake. This cake is not only popular in Croatia but in many Central European countries.
The bottom and top of the cake consist of puff pastry and in-between, it's filled with custard cream. Some recipes also contain chantilly cream (but not the one my mother-in-law makes!).
Poppyseed or walnut roll
Makovnjaca (poppy seed roll) and orahnjaca (walnut roll) are very popular cakes in the continental part of Croatia.
This is another culinary tradition we share with other Central European countries.
Sweet yeast dough is filled with poppy seed or walnut paste, rolled and baked.
The filling is simple, poppy seeds or grounded walnuts are mixed with sugar, cinnamon, and some milk.
These cakes you can but in just about any bakery.
What to drink in Croatia
We can't end the post on Croatian food without touching base with popular drinks in Croatia.
Wine
Croatia has a long tradition of wine-making. And in the last decade, it only got better and more exciting. Long gone are times when Croatian wine was simply white or red, now young winemakers produce lovely natural wines that are exported all over the world.
When in Croatia make sure to taste local wines, and to visit a couple of local wineries.
Craft beer
Just a few years ago Croatian beer scene consisted of industrially produced lagers, with Karlovacko and Ozujsko being the most popular ones.
However, with exciting new microbreweries popping all over the country, the craft beer revolution is here to stay. Now in many bars and pubs, you can order a variety of local craft beers.
If you are into craft beer, then taste some of the local favorites like Zmajsko, Garden, Nova runda, or San Servolo. Or just go and seek out the new beer stars.
Grappa
Schnaps, grappa, or as local calls it rakija is super popular in Croatia. It's a local brandy made of grapes. The basic one is called Loza, pure grape brandy.
The variety of grappa happens when different fruits and plants are added to this brandy.
The popular rakija in Croatia are medica, grappa with honey; travarica, a grappa made of herbs; orahovaca, grappa with walnuts; biska, grappa with mistletoe; rogac, grappa with carob; mirta, with myrtle; etc.
Many restaurants, particularly in Istria, offer a glass of grappa as a digestive on the house at the end of a meal.
Prosek
Extremely sweet dessert wine, Prosek, comes from Dalmatia. It's made from dried grapes in a similar way Italians make Passito or straw wine.
Maraschino
Cherry brandy made with Marasca cherries, grown in the region of Zadar, is a must-try while in Croatia. First made by monks in the Dominican Monastery in Zadar back in the 16th century, Maraschino is one of the most authentic drinks, and souvenirs, you can have in Croatia. They say that maraschino brandy was even served on Titanic during its fatal voyage, and it was also appreciated among English and French noblemen and rulers, like Georges IV, Louis XVIII, and Napoleon I.
Recommended travel guides & cookbooks
Croatia travel guide further reading
Have you tried any of the Croatian food listed above? What's your favorite Croatian food? Let us know in the comments below.