In the last ten years, adrenalin-pumping activities became an integral part of Croatian tourist offer. White water rafting in Croatia is one of those activities.
White water rafting in Croatia is a relatively new activity, and thus not so well-known around the world yet. But, Croatia does have wonderful white water rafting sites, from Karlovac to the north, Gorski Kotar to the west, and Dalmatia to the south.
The most popular rivers for white water rafting in Croatia are Mreznica, Dobra, Kupa, Korana, Una, Zrmanja, and Cetina. Most rivers have a difficulty grade 3.
I've experienced white water rafting in Croatia for the first time on the river Mreznica, and then a couple of years afterward on the river Kupa.
White water rafting in Croatia: the best sites for river rafting
1 | River Mreznica
Located less than 80 km from Zagreb, river Mreznica is one of the most popular spots for white water rafting in Croatia. Rafting on Mreznica is relatively easy, and a perfect choice for the first white water rafting experience.
The river consists of small lakes, interconnected with many small and medium-size waterfalls. Local agencies offer a number of slightly different trips in regards to meeting/return location, level of difficulty, and length. The meeting point is usually in the village of Zvecaj, at the Zeleni kutak restaurant. From there, skippers take you on a minivan upstream, either in Generalski Stol (shorter and easier route) or Primislje. The rafting trips take approx. four hours, out of which 2.30 hours of active paddling.
Both routes take you across small waterfalls that can be easily passed on a raft, and without any rafting knowledge. The only waterfall that cannot be passed with a raft, but requires a short walk, is an 8-meter high Mreznica Waterfall. The water is crystal clear, clean, and has wonderful shades of green. You'll be able to see many birds, wonderful forests, old mills, and pass by a string of freshwater springs.
The best time for rafting on Mreznica is in spring and fall when the river has the highest water level. However, the most popular time for rafting is in summer, from June to September, when there are many tourists visiting Croatia and partaking in white water rafting. Water in the summer months is as warm as 26 °C. It remains at 10 °C around natural springs.
If you don't like group tours, and you find 4-hour trips too long to join in, you can rent a small canoe or kayak at the restaurant Zeleni kut, paddle around, and enjoy a swim, or a natural whirlpool among waterfalls.
Prices | 210 to 250 Kn per person | 50% of discount for children up to 12 years of age
Huck Finn Adventures | t: +385 1 618 3333 | e: info@huckfinncroatia.com | Website
2 | River Dobra
With its proximity to Zagreb (only 70 km from the Croatian capital), Dobra was the first river where organized rafting trips in Croatia took place over 20 years ago. And Dobra still remains the most popular rafting destination for locals if not for tourists, regardless of a new hydro-power plant that has been built on Dobra since then.
Unfortunately, some of the best rafting sites disappeared with a dam. Today, rafting conditions on the Dobra river are good all year round. Dobra is a grade II and III river for rafting, its rapids are easy, and the scenery is lovely.
The rafting trip takes 4 hours in total, out of which just over two hours of paddling. The route goes from the village of Leace to the village of Jarcepolje.
Prices | 250 Kn per person | Children discount up to 50%
Huck Finn Adventures | t: +385 1 618 3333 | e: info@huckfinncroatia.com | Website
3 | River Kupa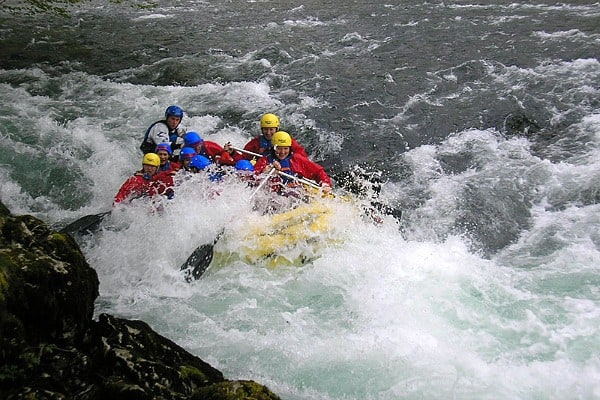 The Kupa is another popular rafting and kayaking destination in Croatia. Located in Gorski Kotar region, along the Croatian-Slovenian border, Kupa offers stunning scenery. Paddling is along the narrow gorge surrounded by a thick pine forest on both sides.
The Kupa, being a grade I-II, offers recreational rafting for all ages with few easy rapids that make the ride fun. Rafting takes place only when the water is high; the best time for white water rafting on the river Kupa is in Spring (particularly in May).  During the summer (June through September) kayaking replaces rafting.
A rafting trip takes two hours whit high water levels, or up to 4 hours when the level of the water is low.
Prices | 230 Kn per person
Gorski Tok Agency | cell: +385 98 177 25 85 | e: info@gorski-tok.hr | Website
4 | River Korana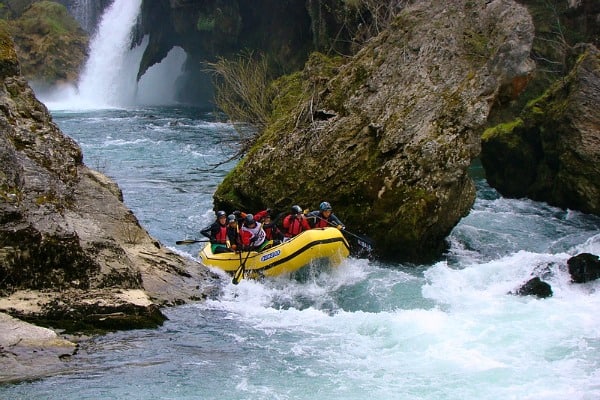 Korana is a popular rafting destination among professionals, due to a yearly international rafting competition "Rast Raft" (I know it sounds made up!). Rafting on Korana will reveal to you parts of the river that are otherwise inaccessible. The route takes you across more than thirty waterfalls.
Besides few old watermills, you won't see any settlement on this route. The length is 10 km, but if you are an experienced rafter you can also arrange a longer, 15 km route, that crosses Rastoke, the most extreme part of the river.
Prices | 230 Kn per person
Mirjana Rastoke | cell: +385 98 214 658 | e: info@mirjana-rastoke.com | Website
5 | River Una
Una River makes a natural border between Croatia and Bosnia. Rafting on the Una river is extremely popular, especially among young party-seekers. And although there are Croatian agencies that organize rafting on Una, the two most popular rafting agencies are in Bosnia: Kiro and Bijeli.
Both offer similar rafting trips:
Strbacki Buk-Lahovo, is a 15 km long route passing entirely through the Una National Park. This route is relatively challenging, especially the first part of the trip being a IV and V grade river. The trip takes 5 hours in total, out of which 4 hours of paddling.
Recreational, 13 km long route from Kostela to Grmusa is a perfect trip for beginner rafters and for families with children. Trip takes just over 4 hours, out of which almost 3 hours of paddling.
The longest route, from Kostela to Bosanska Krupa, has a difficulty level of II and III, and it's suitable to all ages and people who enjoy spending longer time in a raft. The trip takes 6 hours in total, with full 5 hours paddling.
Bijeli also offers a fun 6 km night rafting route. A short in-town paddling with a beer stop.
Prices | 26 € to 42 € per person depending on the route
Sport Bijeli | cell: +387 61 138 853 | e: raftbeli@bih.net.ba | Website
Una Kiro Rafting | cell: +387 61 192 338 | e: extreme@una-kiro-rafting.com | Website
6 | River Zrmanja
River Zrmanja, along with the Cetina river (see below) is the most popular spot for white water rafting in Dalmatia. The river is located in the vicinity of Zadar. Zrmanja river passes through a spectacular, 200 m deep canyon, and on its way, it creates wonderful travertine waterfalls, cascades, and rapids.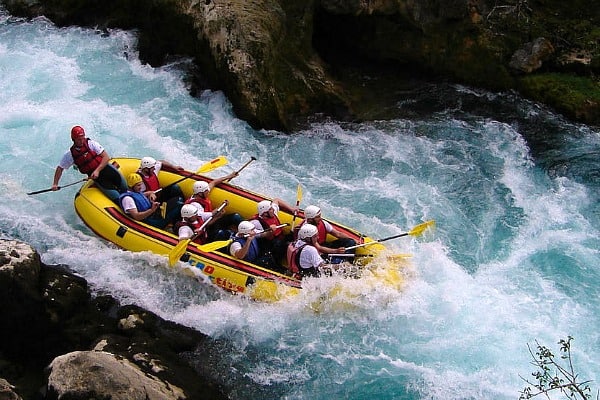 A rafting trip usually starts at the village of Kastel Zegarski and ends at the village of Muskovci where lunch is served. The trip lasts up to 7 hours in total, with three hours of paddling, about an hour of swimming and relaxing, two hours for lunch, and an hour for safety tips, and organization.
The route passes across the biggest waterfall in this area – the waterfall Visoki buk. A waterfall is crossed by a 5 min long walk.
During the summer, I and II level rapids are easy to cross, while during the fall and spring the rapids are category II and III.
There are many agencies offering rafting trips to the Zrmanja River. The most popular agencies are Raftrek, Huck Finn, and F-Zrmanja.
Prices | 260 Kn per person
Raftrek | tel: +385 1 6521 666 | e: info@raftrek.com | Website
Huck Finn Adventures | | t: +385 1 618 3333 | e: info@huckfinncroatia.com | Website
F-Zrmanja | cell: +385 98 774 651 | e: frane-zrmanja@hotmail.com | Website
8 | River Cetina
Cetina river is becoming one of the most popular spots in Croatia for outdoor enthusiasts. Cetina river meets the Adriatic Sea in Omis, a small seaside town, 20 km south of Split. This 11 km long rafting trip starts in the village of Penšići, near Pavića most, the old stone bridge and it ends near popular restaurant Radmanove Mlinice, where you can have lunch. The trip takes three hours, through level II and III rapids.
The first part of the trip is easy, and it basically takes lots of paddling. Nature is beautiful, the river is crystal clear. The first stop is usually timed for a small lake, where you can have a swim during the warm summer months. The next stop is near the dam, and a dangerous rapid called Oblacnik, a natural barrier, that needs to be crossed by foot. However, this short walk takes you through an interesting cave. The rest of the trip is actually the most interesting part of the river with lots of rapids, and a waterfall Studenci. You'll also pass through Tisne Stine, an extreme, only 10 m wide canyon between two 50 m high cliffs.
The trip ends in a popular restaurant Radmanove Mlinice where you can have lunch.
There are many local agencies organizing rafting trips to the Cetina River. However, the best way to book it is through some of the large agencies offering adventure tours all over Croatia, like Raftrek, and Huck Finn.
Prices | 250 Kn per person
Raftrek | tel: +385 1 6521 666 | e: info@raftrek.com | Website
Huck Finn Adventures | | t: +385 1 618 3333 | e: info@huckfinncroatia.com | Website
Have you ever been on a white water rafting trip? Share your experience in the comments below.