Are you curious about where to eat in Rovinj on your next visit to the town? Sit back and relax, we are here to help! In this post, we share the 17 best restaurants in Rovinj for every budget and lifestyle.
From good old Rovinj seafood classics to 7 € mid-morning snacks, we bring you here some of the best eateries in Rovinj that locals like!
We love eating out in Rovinj, and we always recommend guests of our villa to go and eat in Rovinj rather than in Porec. Although I must admit, the Porec restaurants scene has improved massively too.
Many restaurants in Rovinj look attractive from the outside. Located at the seafront, within the old town, or overlooking it, they all have amazing settings. You can not easily distinguish just by its look, whether the restaurant is good or not. However, don't get fooled by a charming terrace, many are just mediocre places catering to tourists. Here is my list of restaurants in Rovinj worth seeking out.
Where to eat in Rovinj, Croatia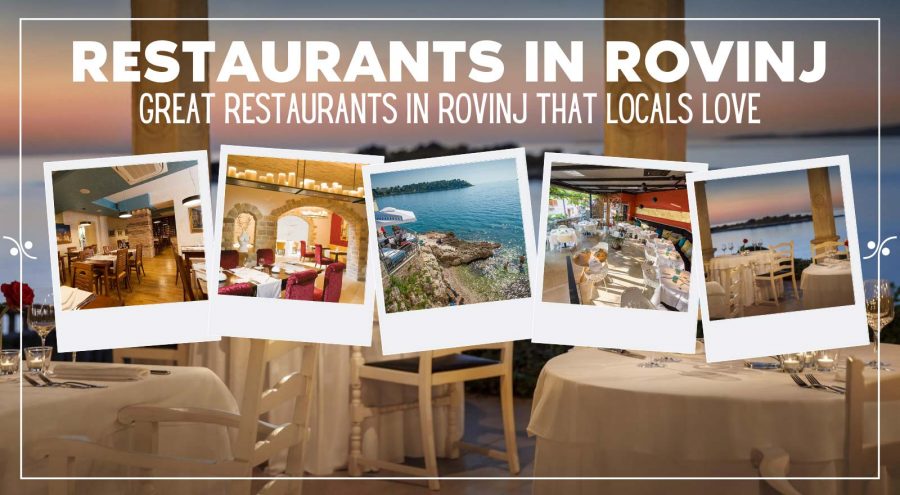 You will find below various types of Rovinj restaurants, from a simple pizzeria, small mom-and-pop eateries, to serious fine dining establishments with crisp white table cloths and multi-course feasts. Whatever your style, you'll find something for yourself. As for us, we like the most to eat at the Maestral, and Konoba Jure.
Here you have it, a handful of restaurants in Rovinj that will satisfy a foodie in you.
Maestral
We love eating out in Maestral, and many times we wish we had a similar place in Porec. It's our go-to place for a slice of fisherman's pie (a focaccia-like dough filled with salty anchovies, shredded onions, and chopped tomatoes), then tuna tartare, as well as squid stew served with creamy polenta. We could eat these three dishes every day.
The restaurant has only outdoor seating, right by the harbor, and with lovely views over Rovinj's old town. Oh, and they also have a wide menu including pizzas, pasta, grilled sardines, and alike.
Contacts: Obala Vladimira Nazora, Rovinj | t: 385 52 830 565 | Tripadvisor | Closed: November-Easter
Konoba Jure
This is another place where we like to eat in Rovinj. Jure is located in a residential part of Rovinj. The location isn't what draws people to Jure, neither is the restaurant's setting. What makes Jure popular is its food: fresh, locally sourced ingredients and well-prepared dishes just like mum would do at home. Oh, and the french fries are homemade (not frozen!). Something that seems impossible to find these days in Croatian restaurants.
Contacts: Cademia 22, Rovinj | t: 385 52 813 397 | Tripadvisor | Open year-round, closed on Wednesday in winter
Restaurant Barba Danilo
After it remained closed for the entire 2020, Barba Danilo opened again in 2021 with a shorter and changed menu. It's not anymore what it use to be, and we wouldn't crave their food any longer but it is still a good place to have a bite in Rovinj.
Restaurant Barba Danilo is located at the outskirts of Rovinj, within a small, family-run campsite Ulika. Danilo's dishes are one of the kind, and you can only eat them there. They are innovative yet not pretentious, and super yummy. We always eat a variety of cold and warm starters, and just occasionally we have a main dish. The cakes are also excellent!
The restaurant is very popular, so make sure you make a reservation in advance.
Contacts: Address: Polari bb, Rovinj | t: +385 91 121 9487 | Tripadvisor | Facebook | Closed: November-Easter
Restaurant Giannino
Restaurant Giannino is located on a quiet residential street within the old town. It has a lovely outdoor terrace, serves sublime seafood (and few meat dishes). Service is friendly, prices affordable. Make sure to taste their baby shrimps in vinegar.
Contacts: a: Agusta Ferrija 38, Rovinj | t: +385 52 813402 | Working hours: 10 am-3 pm, 6 pm-11 pm | Closed: November-Easter
Restaurant Monte
The first Croatian Michelin-star restaurant, Monte has always been a world apart. Monte is located in the old town, just below the St. Euphemia Church.
The restaurant offers excellent food and a lovely atmosphere (although it might come as a bit stiff at times). It offers a 3, 4, and 6-course menu. The service is very attentive. Restaurant Monte is super expensive, but it is worth the money.
Contacts: Montalbano 75, Rovinj | t: +385 52 830 203 | e: [email protected] | Website | Closed: November-Easter
Restaurant Puntulina
Restaurant Puntulina is a bit pricey, a fine dining restaurant with excellent food, and an amazing location right at the waterfront. This restaurant trades heavily on its location. Located at the top of Santa Croce Street, Puntulina has terraces that cascade down the rocks to the sea. Great place for a romantic dinner.
Contacts:  Sv. Kriza 38, Rovinj | t: +385 52 813 186 | Closed: December-March
Restaurant Wine Vault
Located on the ground floor of the luxurious Monte Mulini Hotel, Restaurant Wine Vault is best known for its elaborate wine list with over 600 wines, and for Chef's Table experience.
There is a table for six right in the kitchen and from there the staff takes you on an unforgettable journey through as many courses as you can eat. And each course is paired with great wine.
The restaurant has a nice atmosphere, exquisite food, good and professional service. It is pricey!
Contacts: A. Smareglie bb, Rovinj | t: 385 52 636 017 | [email protected] | Website | Closed: November-Easter
Restaurant Cap Aureo
This is a fine-dining restaurant within the 5star Grand Park Hotel Rovinj. Run by chef Jeffry Vella, who, since arriving from Malta to Croatia, has been cooking in some of the best Croatian restaurants like 360° in Dubrovnik, Zinfandel, and Barbieri's in Zagreb, is Cap Aureo's creative force.
The food is sublime, creative, unique, and presented in an artistic manner. It is also heavily based on veggies which is quite a refreshment and novelty for the Croatian dining scene.
Contacts: A. Smareglie bb, Rovinj | t: 385 52 642 035 | Website
Pizzeria Da Sergio
Pizzeria Da Sergio is located in Grisia Street, in the old town of Rovinj. Pizzas are excellent with thin crust and a wide choice of toppings. This place gets really busy during the summer, so expect to wait for a table.
Contacts: Grisia 11, Rovinj | t: +385 52 816 949
Restaurant Orca
Restaurant Orca is located in the residential area of Rovinj. It is a family-run restaurant serving Istrian and Mediterranean dishes. Produce is fresh and local. It is honest, homemade food. This restaurant used to be very popular among locals. And it still is to a certain extent. However, we find that in the last few years the quality went down a lot. We live it on our list because some of our friends still claim it to be their favorite. So, we leave it for you to judge!
Contacts: Gripole 70, Rovinj | t: +385 52 816 851 | e: [email protected] | Website | Open year-round, closed on Tuesday in winter
Restaurant Male Madlene
Restaurant Male Madlene is a special little place in the old town. The restaurant has only 3 tables inside and the terrace on the seafront. It serves finger food. The food is tasty and beautifully arranged on the plate. However, it is a bit expensive and the portions are small. A good place to go for a pre-dinner snack.
Contacts: Svetog Kriza 28, Rovinj
Restaurant La Serra (ex. Lanterna)
Restaurant La Serra (ex. Lanterna) is located on the nearby St. Andrew Island (Red Island). This classy restaurant has a wonderful seafront terrace, and it's situated in an old castle dating back to the late 19th century.
This is a perfect place in Rovinj for a romantic dinner. It takes twenty minutes by boat to reach the island. Boats depart hourly from April to October.
Contacts: Crveni otok 1, Rovinj | t: +385 52 802 580
Grota
For a quick bite head to Rovinj's green market. Grab a seat at one of the wooden barreled tables at the Grota bar, order a plate of local cheese, prosciutto, and a glass of wine, and soak up the atmosphere.
Contacts: Valdibora bb, Rovinj | Tripadvisor | Open year-round
Gelateria Italia
Our favorite place for ice cream, not only in Rovinj but in entire Istria, Gelateria Italia is run by an Italian couple from Brescia. They make real Italian gelato, flavors vary from one day to another. While the wife is behind the counter, you can often see the husband preparing the ice cream in the next room divided only by the glass wall.
Contacts: Campitellijev trg 60, Rovinj | Tripadvisor | Closed: mid-October-Easter
Restaurant & Pizzeria Dario
If you are after a cheap cooked meal, head to the restaurant Dario during lunchtime. Dario offers marenda, a daily dish for 5-6 € including beans and sausages, stuffed bell peppers, gulasch, and alike.
Contacts: Brace Bozic 3, Rovinj | t: +385 52 830 555 | Facebook | Open year-round
New arrivals
Restaurant Tekka by Lone
One of the best Japanese restaurants in Zagreb has announced the opening of its second joint in Rovinj, within hotel Lone. The restaurant should open at the beginning of July 2021. We add it to our list because, although it hasn't yet open in Rovinj, it is well-established, and one of our favorite restaurants in Zagreb. We don't see how it can be any different with their Rovinj location. Expect some of the best in-town sushi, sashimi, big rolls, nigiri, tempura, wok, uramaki, teppanyaki, hosomaki, and sake.
Contacts: Hotel Lone, Rovinj | t: +385 52 632 000 | Tripadvisor | Open year-round
Agli Amici Rovinj
This is another cooperation between a top-notch Michelin-starred Italian restaurant from Udine and hotel company Maistra from Rovinj that was announced for 2021.
Run by brother-sister duo,  Emanuele and Michela Scarello, a two-Michelin star restaurant Agli Amici has a 130 years old tradition and has been considered one of the best restaurants in Italy for a long time.
Their Rovinj restaurant is scheduled to open in mid-June. The location is also sublime, just above the beautiful town marina and below Grand Park Hotel Rovinj.
Contacts: Grand Park Hotel Rovinj, Rovinj | t: +385 52 632 000 | Website
Rovinj restaurants on the map
Have you tried out any of these restaurants in Rovinj? Do you have any other restaurant in Rovinj to recommend? Let us know in the comments below.
Further reading