Restaurant Lanterna Rovinj is located in the old castle on a St. Andrew Island (Red Island). The island is located a short boat ride from Rovinj's old town. The castle was originally Franciscan monastery dating back to 15th century.
It was turned into family mansion by Hutterott family who bought the entire island in 1891. Today, St. Andrew Island is a home to Island Hotel Istria. And today, the old castle houses a restaurant Lanterna Rovinj.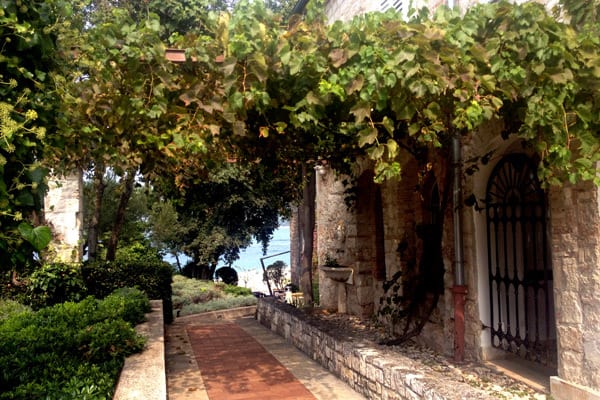 Restaurant Lanterna Rovinj can be reached by boat. The boat leaves from the town every hour, from 5.30 until 00.30. It takes 15 minutes by boat.  The ticket costs 40 Kn (approx. 5,5 €). You can also take a taxi boat to reach the island.
Restaurant Lanterna Rovinj: our review
Located in the old castle, the interior of the restaurant is somehow somber, but the restaurant has a superb terrace, right at the seafront. The terrace is set on two levels. The upper terrace is partly covered. Lower terrace offers some "pieds dans l'eau" tables. This restaurant is set away from Rovinj main tourist routes, it is barley mentioned on Tripadvisor with mere five reviews. It is injustice as the restaurant serves a 5 star food, has an exciting menu, good wine list and a great presentation. The service is attentive. Price is a bit at the high end.
I went to the restaurant Lanterna with a group of five. We were offered a daily meat and fish menu to choose from. I took a fish menu. First, we were served a glass of sparkling wine along with strawberries. This was an excellent start of the meal. The cold starter included plate of seafood delicacies: salmon, raw scampi, tuna carpaccio, marinated octopus, marinated anchovy and cod spread. Everything was delicious.
The lunch continued with a scampi and wild asparagus risotto served in a Parmesan cheese basket. Risotto was creamy and cheese basket crispy. Everything tasted simply sublime. I didn't expect this level of sophistication and gastronomy. I was really blown away. I did drink a fair amount of white local wine Malvasia Coronica, but my verdict on the food wasn't influenced by that. This place serves some really serious food.
For the main course, I had a sea-bass fillet with sauteed veggies and pine nuts. Absolutely yummy! Check the photo below. Admit it looks appetizing. And it tasted even better than it looked.
For dessert I had a lava chocolate cake served with vanilla ice cream aside. It was washed down with local dessert wine Muscat Kozlovic. The whole meal was just pure indulgence. And if I had more cash to spend, I'll come to the restaurant Lanterna Rovinj often. The bill was a bit at the high end. And that is the only painful part of this, otherwise, amazing experience. Highly recommended!