The capital city and the largest town in Croatia, Zagreb is Croatia's economic, political and educational center. With about 800.000 residence in the metro area of Zagreb, Zagreb is one of the smallest European capital cities.
It's a typical central European city, with an interesting although a turbulent history, and a nice and laid back vibe. The first mention of Zagreb dates back to 1094.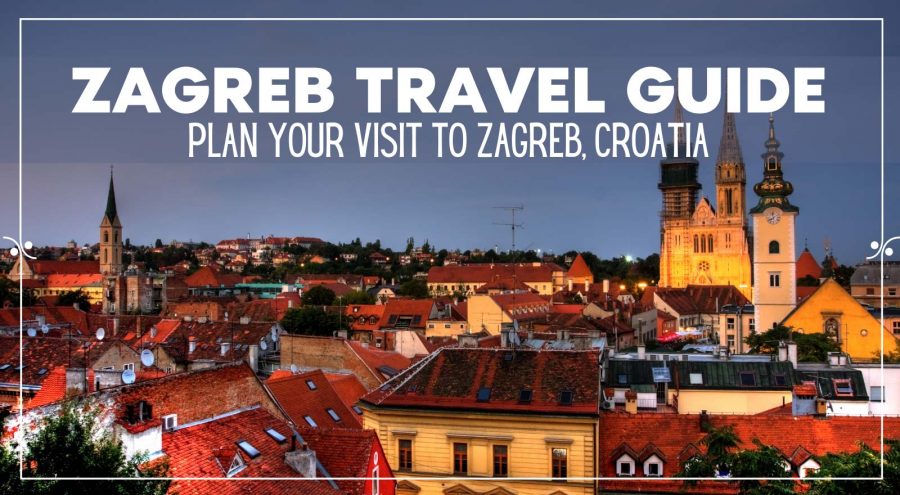 Zagreb originally existed as two different towns – Kaptol which was inhabited mainly by the clergy, and which houses Zagreb Cathedral; and Gradec inhabited mainly by farmers and merchants. These two towns were united in 1851 by ban Josip Jelačić after whom the main city square is named. Tkalčićeva Street, today famous for its small historic houses featuring numerous bars, at that time was actually a creek.
In recent years Zagreb has become an appealing tourist destination so it is no surprise the city attracts more and more visitors every year. This has resulted in the opening of a number of hotels, hostels and private apartments, interesting restaurants, and lots of different activities.
Zagreb Map
Below you'll find the Zagreb map. Zagreb is located in continental Croatia (in the northwest of the country), on the shores of the River Sava and at the southern slopes of the Medvednica mountain. Vienna (Austria) is 370 km away from Zagreb, Budapest (Hungary) 345 km, and Ljubljana (Slovenia) 140 km.
Croatia's well-developed state roads and motorways connect Zagreb to other regions of Croatia. The distance from Zagreb to Rovinj is 260 km and it takes 2:30 hours of driving;  Split is 410 km away and a 4-hour drive, Dubrovnik is 600 km away and about 6 hours drive (depending on border crossing in Neum) while Osijek is 280 km and 3 hours of driving from Zagreb.
The best time to visit Zagreb
Whenever you visit Zagreb you will find something interesting to see and experience. But, the best time to visit Zagreb is in spring and early summer.
In early to mid-August, the temperature can be quite high and many locals do take their annual holidays at this time. You might find some of the local designers' shops and bars closed in this period of the year.
Don't forget that Zagreb can be very interesting in December when Christmas markets and activities take place in many of the city center's squares.
Reasons to visit Zagreb
You won't visit France without visiting Paris, or visit Italy, without visiting Rome. So, being the capital town should be enough reason to visit Zagreb, even if only for a day. However, there are more reasons to visit Zagreb, and you might even decide to stay longer there. Many times I have heard people saying how positively surprised they were with Zagreb, and how they wished to have stayed longer there.
Zagreb is an unassuming, cool, small, and easily walkable city with lots of parks, strong bar culture and friendly locals. Below are a few other reasons to visit the town!
Experience continental Croatia
Croatia is most famous for its beautiful coast but why not experience something different. Zagreb is a small central European city so you can experience a part of the history of the Hapsburg monarchy without much walking.
Zagrebacki strukli and other yummy food
Zagrebacki strukli (cottage cheese strudel which can be cooked or baked, salty or sweet) is known as Zagreb's signature dish, and it will keep you well-fed if you eat it as a main course for lunch or dinner. Other traditional dishes include duck with mlinci (a special kind of pasta), sir i vrhnje (cottage cheese with cream), krempite (custard cream slices) and orahnjaca (a traditional walnut roll).
Nightlife
Just to make sure there is no misunderstanding, we are not talking about wild parties. But there is something charming when you walk through Tkalčićeva street and the bars are full of people, or to have a glass of wine or beer on Stross (Upper Town).
Free attractions
Dolac market, Mirogoj Cemetery, Upper town, Zagreb Cathedral… All of this and much more charge nothing for visiting and enjoying.
Visitors love it!
Tourists say that they love Zagreb because it is not expensive, the locals are friendly, the city is clean and all the city's sights can easily be explored on foot or bicycle.
What to do in Zagreb
For a full list of things to do in Zagreb, head here. For a taste of things to do in Zagreb, stick here with us where we list just a couple of things to do in Zagreb.
Explore the Old Town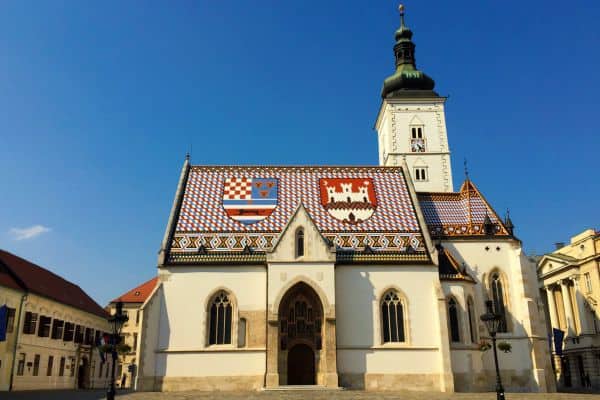 You can walk through the Upper town any time of day (but bear in mind that some of the attractions have their working hours).  From April until October every Saturday from 5 p.m. until 8 p.m. the main historical characters from Zagreb past walk by and you can have your photo taken with them. Catch the short funicular ride from Ilica up to the Old Town and definitely make your way back down through the only remaining gate from the Old Town, the Stone Gate.
Visit Dolac market and Mirogoj Cemetery
Dolac is the most visited and famous market in Zagreb located in the center of the City. It is vibrant, noisy, and lively, and the best place to feel a local vibe, and buy fresh seasonal fruit and vegetables, meat, and fish.
Mirogoj Cemetery is another location that tourists like to visit. It is a heritage site famous for its arcades, pavilions, and tombs which are real monuments of architecture.
Take a break in Zrinjevac
Zagreb's most popular park is loved by locals and tourists alike. If you are tired of sightseeing just go to Zrinjevac and lie down on the grass. Don't forget that from April until October every Saturday from 11 a.m. until 1 p.m. there are Promenade Concerts in Zrinjevac. You can also put on historical clothing and have your photo taken. During winter Zrinjevac has a wonderful entertainment program.
Have a coffee on Saturday morning
To have a coffee on Saturday morning in Zagreb is a custom of locals and a must-do thing. On the so-called Špica (the rush hour) all locals from different parts of the town come to the center of the city to drink coffee in one of the bars in Bogoviceva or Tkalciceva Street. Actually, anywhere in the center where you find a free table sit and observe a river of people. To truly fit in with the locals, dress well!
Get your fill of exercise in the park
For all of those who like to stay active, Zagreb has a few fitness parks in which you can exercise. You can visit the one in Maksimir Park and at the same time enjoy Zagreb's oldest (opened in 1794) and largest public park. It's also home to the town's Zoo. Near the main Railway Station, there is also one fitness park and it is ideal for those who love to exercise in the open.
What to see in Zagreb, Croatia
The Changing of the Guard
A march through Zagreb accompanied by the armorer, trumpeter, drummer, standard-bearer, and commander starts from April until October at Dolac at 11:40 am and ends at 2:20 pm, every Saturday and Sunday, as well as 31 May ( City of Zagreb Day ), 18 October ( Cravat Regiment day ) and 1 January ( New Year's Day ).
The Secrets of Grič and Dvorišta
Two events particularly celebrate this side of the Upper town are The Secrets of Grič and Dvorišta. The Secrets of Grič is an interactive theater night tour where you can discover the historical and mystical side of the capital. The tour is conducted each Friday in Croatian and each Saturday in English, from June to September, starting at 9.00 p.m.
Dvorišta (Courtyards in Croatian) takes place in mid-July, for nine days. This event offers visitors a chance to experience part of the town that is usually shut behind facades, and doors.
The museum of Broken Relationships
Also situated in the Upper town this museum is everything but not ordinary. In the beginning, this idea to expose the relics of broken relationships was a traveling exhibition. But since 2011 one of the palaces of Zagreb's Upper Town hosts a museum. It also has a coffee bar so you can have a break.
Lotrščak Tower and the Grič cannon
Enjoy in a beautiful panoramic view of Zagreb from Lotrščak Tower and wait for noon when the Grič cannon fires as a sign for the bell-ringers of the city's churches. This marking of midday is a tradition since 1877.
St Mark's Church and the Cathedral
While you are walking through the Upper town be sure to take a photo outside of St Mark's Church which is one of the oldest buildings in Zagreb. On the roof, tiles are laid so that they represent the coat of arms of Zagreb and Triune Kingdom of Croatia, Slavonia, and Dalmatia.
Zagreb Cathedral, located close to the main square, is the tallest building in Croatia. It has many Gothic architectural elements.
Sunday Antique Fair on British Square
British Square is located only 10 minutes by foot from the main square. From Monday to Saturday you can buy fruit and vegetables in this square. On Sunday it is reserved for an antique fair. Check various stands and when you get tired have brunch or just a coffee in Kava Tava.
Food and restaurants
If you ask the locals they will tell you that in the last few years Zagreb restaurant scene has genuinely improved. What we like the most is the fact that you don't need to go to fancy restaurants to eat well. But if you want to, we recommend Carpaccio in Teslina, TheAthrium in Teslina, Nav in Masarykova, and Mano2 in Green Gold Center. There are places where you can eat great meals prepared in a quirky and modern way like Mali bar, Rougemarin, Time, Lari&Penati… all located in the center of the city.
If you would like to try a traditional Zagrebački štrukli, go to La Štruk (located in the Skalinska Street) or hotel Esplanade near the main Railway station.
Hamburgers are in fashion again in Zagreb. There are few good places where you can eat great hamburgers which is also great for those who travel on a low budget. Be sure to visit Yellow Submarine in Frankopanska and Papa's in Tuskanac. Fini zalogaj in Radiceva offers traditional Bosnian specialty, ćevapi, but prepared in a non-traditional Croatian way.
Accommodation
Zagreb offers a variety of accommodation suitable for every budget: hotels, hip, and cool hostels, and apartment rentals. Many of them are situated in the center of the city so the sightseeing is easy. Prices are cheaper than along the coast. Daily rental for 2 starts from 40€. As a general rule of thumb, hotels are cheaper during the summer than winter when they get lots of business travelers. Also, hotels are cheaper during the weekend than during the week (except during the Advent in Zagreb).
You can try some of the hostels like Chill Out Hostel in Tomiceva near Funicular, Swanky Mint Hostel in Ilica, Hostel Chick in Pavla Hatza, or private accommodation like IRUNDO which offers a few apartments at the different locations in the Zagreb's center.
If you prefer a hotel, the most famous one is Esplanade which has hosted many Hollywood stars. Hotel Dubrovnik is situated in the main square and hotel Jaegerhorn also has a unique position in the courtyard of a building on Ilica street.
READ OUR FULL POST ON ACCOMMODATION IN ZAGREB.
Cafes and bars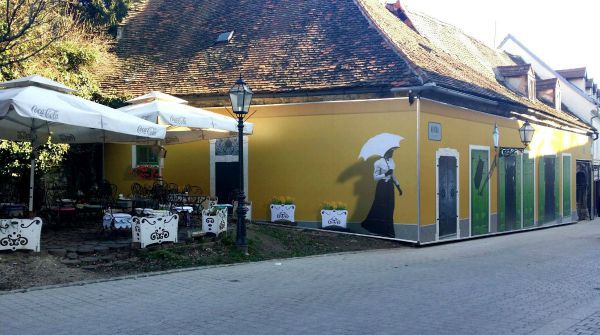 In Croatia drinking coffee is a ritual for itself. So when you are in Zagreb, experience a culture of sipping coffee for hours. You can always sit in any of the coffee bars in Tkalčićeva street or in Cvjetni Square. However, if you want to escape from city noise, we recommend a few interesting places. If you are enjoying in the Upper Town, don't miss to have a coffee in Palainovka on Ilirski Trg.
Velvet is a great little cafe bar-gallery tucked away at the corner of Tuskanova and Dezmanova Street. In downtown, you will find Amelie which also offers cakes, quiche, and great ice-creams. U dvorištu (In the Courtyard) is located ten minutes by foot from the city center in Zerjavica Street; and it serves different types of coffee, varieties of tea, and all sorts of beer.
Remember that even if locals invite you for the coffee it doesn't necessarily mean you will actually drink a coffee – it is the invitation for hanging out.
In the Cheese Bar which is located at the main square and Wine Bar Bornstein near the Cathedral, you can drink a glass of wine and have a charcuterie platter (variety of sliced ham, prosciutto, and cheese with olive oil).
Popular events
Zagreb usually hosts a number of attractive concerts and exhibitions during the year. Be sure to check whether there is anything on at the time of your visit.
During summer in the Upper Town you have Summer at Stross; a variety of shows for the kids and a music program for adults.  Cafe de Matos takes place in the Upper Town in July and August. The program brings various live concerts, street bands, and stand-up comedians. Besides these two events in the Upper Town, there is also the Gradec Summer Cinema. Here you can watch movies for free at Catherine's Square. If you come earlier you will probably catch a seat but if you don't, just sit anywhere on the floor. Don't worry – it's normal, it is what gives this event a unique atmosphere!
Something different is Mali plac na Tavanu (Little market in the Loft) where you can buy organic fruit and vegetables, some local specialties, and raw food. It is organized in a residential attic but it is also sometimes organized at some other locations. So be sure to check the timetable and the venue on the official Facebook page.
Traveling to Zagreb
Zagreb is very well connected and can be reached by bus, plane, car, even by train.
By plane
Zagreb International Airport is the main airport in Croatia. It connects the country with almost all bigger European cities Paris, Frankfurt, Rome, London, Istanbul, Munich, Zurich, Vienna, Brussels, Barcelona, Moscow, Athens as well as Doha and Dubai.
The Airport is situated 12 kilometers from the city center and you can get to town by taxi (the price is around 150 kuna or 20 euro – make sure to ask for the price before you sit in the taxi) or with the Airport's shuttle which drives to the main bus station. The price of a one-way ticket is 30 kuna (around 4 euro) and the ride lasts 30 minutes. From the main bus station, you can catch the tram (number 6) to the city center (the distance is five tram stations).
By car
Motorway A3 Bregana – Zagreb – Lipovac connects Zagreb with Northern Europe. You can also come to Zagreb using the Istrian Ypsilon which connects Istria with the Slovenian border and Rijeka from which highway A6 leads you to Zagreb. In the East, there is motorway A4 which connects Croatia with Hungary.
By bus
Zagreb bus station is situated only five tram stations from the center of the city or 20 minutes on foot. You can buy a ticket online and if you are going from Zagreb to any other city in Croatia the connections are really good.
Some of the international cities which are connected by bus with Zagreb are Vienna, Ausburg, Berlin, Bern, Brno, Duesseldorf, Florence, Venice, Verona, Frankfurt, Halmstad, Köln, Ljubljana, Milano, Maribor, München, Uppsala, Zürich…
By train
If you are traveling from other cities in Croatia to Zagreb you can also reach the city by train (there are connections with Split and Osijek amongst the larger cities). Zagreb is also connected with other European countries like Austria, Germany, Slovenia, Serbia, Hungary, Bosnia, and Herzegovina. The train generally takes the longest to get from one point to another in Croatia. However, if you have time on your side and want a relaxing way to see the country, this might be the way to go.
Public transport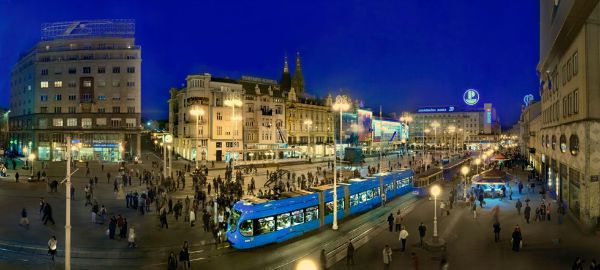 Zagreb is easy to navigate on foot, bicycle, or public transport. If you stay in the center of the city you can see all the main attractions on foot. If you find yourself outside of the center you can use a tram, bus, taxi or bike.
Tram
There are a few different types of tram tickets. The cheapest ticket costs 4 Kn and it is valid for 30 minutes. The other two standard tickets cost 7 Kn or 10 Kn respectively, and last 60 or 90 minutes. At night time the price of this ticket is 15 kuna.
A daily ticket costs 30 Kn and you can ride as much as you like in any direction. The same conditions apply for 3-day tickets (70 kuna); 7-day tickets (150 kuna); 15-day tickets (200 kuna) and 30-day tickets (400 kuna).
You can buy a ticket at Tisak or iNovine kiosks or inside the tram from the driver. Tickets are more expensive if purchased in the tram. Rather buy them at any Tisak or iNovine kiosk in the town.
Bus
The same ticket can be used for the tram and the bus if the bus stations are in Zone 1, which most of the tourist destinations are. So if you buy a tram ticket you can use it also, for example, to visit Mirogoj Cemetery or to take a ride on the Funicular.
Taxi
There are a few different taxi services in Zagreb (Cammeo, Radio Taxi Zagreb, Eko Taxi, UBER, and individual taxi drivers). You can order taxis by phone or you can find them parked in the different parts of town (taxis cannot pick you up in the street unless you have ordered one). In the city center, there is a lot of taxi stations (Gajeva Street, Petrnjiska Street, Mesnička Street, Masarykova Street, Vlaška street…). For example, a ride from the main bus station to the center of the city will cost you around 30 Kuna.
Bicycle
Cycling is also an interesting way to explore the city. In Zagreb, there is a system of public bicycles. So you can take a bike at one station and leave it at another. All information is available on the official web page of Nextbike but generally it is easy to use. You just need to register yourself and activate an account by providing a valid credit card. Afterward, you just pay as you go. The price is 5 Kn per 30 minutes. You can also take a 7-day package, that provides you with the first 30 minutes of usage free of charge after which each additional 30 minutes costs 5 Kuna, and depending on the length of your rides it reduces your next bike credit.
Car rental in Zagreb Croatia
In Zagreb, you'll find all major international car rental providers like Hertz, Sixt, Avis, Europcar. Oryx and Nova are local car rental companies. They all have offices at the Zagreb Airport, and at various locations in town.
We use Rentalcars when booking a car in Croatia, and elsewhere. And we highly recommend using them. They offer very competitive prices, work with all major car rental companies, and provide super-easy online booking.
As in the rest of Croatia, if you rent a car during the tourist session, it will be more expensive than if you are traveling in Croatia out of the main season.
Most cars in Croatia are manual, so if you prefer an automatic, be sure to order one in advance. It goes without saying that automatic cars are more expensive to hire than manual cars.
Here is our post on car rental in Zagreb. You can also read our full posts on driving in Croatia, and car rental in Croatia.
Parking
Traffic jams are quite frequent in Zagreb. Locals prefer a car over public transport. This makes parking in downtown difficult to find.
Garages
There are few public garages in downtown: Tuskanac, Cvjetni Center, Importanne, Petrinjska, Langov Trg, Sheraton.
Importanne Center and Importanne Gallery offer downtown parking at 10 Kn an hour; and 400 Kn for weekly parking (7 days, 24h). Both garages are just two tram stations from the main square.
One tram station from the main square, Tuskanac Garage costs 10 Kn an hour during a day (8 am-9 pm); only 2 Kn per hour for night parking (9 pm-8 am); and 60 Kn for daily parking (24h). The weekly parking ticket costs 200 Kn.
A garage at the Cvjetni Center is the most expensive. Here, you'll pay parking 14 Kn per hour.
Garages in the Petrinjska Street and Langov Trg are very close to the main square. The price of parking is 7 Kn per hour during a day (8 am-9 pm); and 1 Kn per hour during a night (9 pm-8 am).
Street parking
Street parking is permitted in the designated areas. It is organized in four zones, depending on the distance from the city center. All metered parking is enforced Mon-Fri from 7 am until 10 pm (until 8 pm for zones II, III, IV); and Sat from 7 am-3 pm. Parking is free on Sunday and public holidays. Parking costs 12 Kn per hour in Zone I (maximum parking time is 2 hours); 5 Kn an hour for Zone II (maximum parking time is 3 hours); and 2 Kn per hour in Zone III (no time limit).
To park a car on the Upper Town you can only buy a daily ticket which costs 150 Kn.
Outside the city center, you can still find free parking spots but the city is constantly spreading parking zones.
Shopping in Zagreb
Greenmarkets
For fresh fruit and vegetables but also meat, fish and eggs visit one of the green markets. The most popular are the Dolac, British Square, and Kvatric Square. Here, you will also find homemade pasta and different dairy products. Dolac is open from 7 a.m. until 2 p.m. from Monday until Saturday, and from 7 a.m. until 1 p.m. on Sunday. Markets on the British Square and Kvatric Square are open from 6.30 a.m. until at least 4 p.m.
Supermarkets
In Zagreb, there are lots of supermarkets (Konzum, Billa, Interspar, Diona) where you can buy groceries. In the main square, there is a Muller which offers a wide range of products (cosmetics and perfumes, toys, everything for the household…). There are also a few Drogerie Markt (DM) stores offering similar products.
Pharmacies
If you need a pharmacy you will find them all over the city. The City Pharmacy is owned by the City of Zagreb and the one on the main square is open every day all day. In Petrinjska street there is a herbal pharmacy Lavanda Mia that works from Monday until Saturday. In Jurišićeva just off the main Square near McDonald's, you will find a private pharmacy Farmacia which also works from Monday until Saturday.
Clothes
For clothes, you just walk through Ilica and you will find many shops. Some of the downtown shops remain closed on Sunday. Although this is rapidly changing in the effort to revitalize downtown shopping (as opposed to suburban shopping mall culture). On Cvjetni Square you will find Cvjetni shopping center. Cvjetni is open from Monday until Saturday from 9 a.m. until 9 p.m.; and on Sunday and during the holidays from 10 a.m. until 6 p.m. If you like unique pieces of clothes, Zagreb has a number of local design stores with really nice clothes, like Nebo, Iggy Concept Store, and Hippy Garden.
Zagreb also has some quirky vintage stores like Ulicni ormar (our favorite!), Vintage Mademoiselle & Antiquité, and Buried Clothes.
Souvenirs
If you would like to buy a Croatian souvenir go to the Take me home store. You will find all sorts of products which aren't too expensive, can easily fit in your bag and are created by Croatian designers. In Radiceva Street go to the Kredenca shop. The shop offers the finest collection of unique souvenirs and gourmet items handmade by local craftsmen.
Money and ATMs
The Croatian currency is Kuna so make sure you have enough Kuna for your trip. You can exchange money in the banks, exchange offices, hotel receptions. The biggest banks are mostly part of the international banking groups. Credit cards can be used in almost all places (hotels, restaurants, shops) but we recommend you ask the personnel just in case.
ATM machines you can find everywhere and they have an option for different languages. When paying with a credit card (or withdrawing money at the ATM), you'll be offered to be charged either in local currency or in the currency of your home country. This is a kind of tricky as intuitively you might be tempted to choose the currency of your home country. However, don't do this because you will end up paying more. When you choose the currency of your home country, the banks use dynamic currency conversion that more often than not (read: always!) is less attractive than the market exchange rate at the moment. Just calmly opt for local currency even if this means doing some math in your head to better understand the item's value in your money.
Internet
In the center of the city, there is free WiFi (on the main square, in Zrinjevac park, on the main railway station, Dolac Market). Many of the restaurants and bars also have free WiFi, but they will usually have a password which is written on the bill. Almost all accommodation comes with free WiFi internet.
Further reading about Zagreb, Croatia
Have you been to Zagreb Croatia? Any questions? Please leave them in the comments below.