We often get asked about car rental Zagreb. Lots of readers of our blog fly to Zagreb Airport when they visit Croatia. Once they land, they rent a car in Zagreb airport, and then travel south to Dalmatia, or southwest to Istria.
Since we are regularly asked questions regarding car hire Zagreb, we've decided to cover car rental Zagreb in this dedicated blog post.
In the following article we'll share everything we know about car rental Zagreb, including our best car rental Zagreb tips, tricks and advices, best Zagreb car rental companies, rental prices, reasons to rent a car in Zagreb and type of vehicles to rent.
We love traveling by car in Croatia. If that's what you intend to do, congrats! You will love it too!
Reasons to rent a car in Zagreb
Roads in Croatia are in excellent condition. You don't need to worry about bumpy roads, missing safety guards (although that can happen occasionally), or dirt roads. Croatian roads are great.
A multi-lane highway connects Zagreb with basically entire Croatia:
A3 highway connects Zagreb with Slavonia to the east and border with Serbia (this is the oldest highway in Croatia);
A2 connects Zagreb with Slovenian border at Macelj
A4 connects Zagreb with Varazdin and further with Hungarian border
A6 goes west connecting Zagreb with Rijeka and further with Istria; and finally
A1 connects Zagreb with Dalmatia (multi-lane highway goes south to Metkovic and Ploce, but unfortunately not yet all the way to Dubrovnik)
Scenery along the roads is breathtaking. Croatia is so beautiful that it would be a shame not to take a road trip. Our favorite drives are in Zagorje, just north of Zagreb; the Istrian interior, then our absolutely favorite drive along the coastal road D8 between Split and Dubrovnik; and drives on the south slopes of Peljesac peninsula.
Croatia is small. In fact, from Zagreb to Split is less than 4-hour drive, 2.5 hours to Istria, and to Dubrovnik just over 6 hours (depending on a queue at the border crossing in Neum).
Croatia is safe. With less than 4 million people living here, Croatia has a very low crime rate. I have never heard about somebody being robed on the road (or anywhere in Croatia for that matter!).
The car gives you freedom. Coup de foudre, love at first sight, unexpected turn, castle, restaurant, selfie-worthy detour? When you travel by car you can simply stop, change your plans, take a different turn, see something new and unexpected.
Zagreb car rental locations: car rental in Zagreb Airport Croatia or Zagreb downtown
More than 20 Zagreb car rental companies have an office at Zagreb airport and many also have it in Zagreb downtown.
Rental cars in Zagreb airport have some advantages over car rental in Zagreb downtown.
Those who plan to hit the road immediately, and head directly to the coast will be better off taking a car rental in Zagreb airport than downtown.
For the first-time visitors to Zagreb who don't know the town well, it might be more convenient to rent car in Zagreb airport than in town. You don't want to lose your time in Zagreb looking for a car rental Zagreb.
However, for days that you are staying in Zagreb, most probably you won't need a car. So, you will end up paying a daily rental for the car you won't use. And you will also need to pay for the parking. So, consider this when deciding where to pick up your Zagreb car rental.
There is a belief that car hire is usually more expensive at the airport than in downtown. It might happen when you are booking on arrival directly at the counter, but if you book in advance you should pay the same price for the same car regardless of your preferred pick up location.
Another good reason to opt for car rental at Zagreb Airport is the fact that you can find all car rental companies at one spot at the airport. If you come without prior reservation, you can easily shop around at the airport. While in town this isn't possible, as branch offices of different Zagreb car rental companies are scattered all over downtown.
Car Rental in Zagreb: Availability and rates
Car rental in Zagreb is seasonal. The highest demand is in summer when many tourists coming to Croatia fly into Zagreb Airport, and then rent a car to visit Croatian coast.
But also, many car rental companies, have less cars available in winter, because they take many cars on leasing just for couple of months. This is the reason that in winter, while prices are generally lower, you won't find super-cheap deals like you might expect.
Prices change dynamically with the demand. The less cars car rental company has available, the higher the price.
The sooner you rent your car, the better chance you have for finding a good deal. When booking your car rental, if you book early enough when prices are still low, check for the cars with free cancellation policy. This means that should you for any reason cancel your trip, you'll be able to do so up to 48 hours before the pick-up date.
The best place to shop for your car rental Zagreb is through Rentalcars.com. The site is user-friendly, but it also aggregates offer from different car rental companies in Zagreb in one place.
On their site you can easily compare prices and availability of many car rentals companies. Their filter options give you a chance to narrow your search down in accordance with your preferences: automatic or manual transmission, supplier, number of seats, etc.
Extras fees per day:
Additional driver: 9 €
GPS: 12 €
Baby, child or booster seat: 9 €
Extra fees per rental:
cross-border fee: 50 €
Ferry fee: 20 €
Young driver: 25 €
Although these prices were checked and updated at the moment of writing this post, you should check the latest prices with car rental company before booking. 
Zagreb car rental companies
Zagreb is Croatian capital, but also the major transportation hub, the largest Croatian economic and business center, as well as the seat of government, and all ministries. It's the most dynamic city in Croatia.
Zagreb airport, on the other hand, is main international airport in Croatia. All major international and national car rental companies have their offices, or even a headquarter in Zagreb.
When renting a car in Croatia, but elsewhere too, we always use Rentalcars.com website. Rentalcars.com is consolidator. They work with all major car rental companies in Zagreb to offer real time availability, and prices for car rentals Zagreb and a possibility of instant booking.
However, if you prefer to get your car directly through car rental company in Zagreb, below you will find their contacts.
Sixt Car Rental Zagreb | Rudolfa Fizira 21, Zagreb | t: +385 1 6219 900 | e: [email protected] | Website
Nova Car Rental Zagreb | Rudolfa Fizira 21, Zagreb | t: +385 1 3885 809 | e: [email protected] | Website
Enterprise Car Rental Zagreb Airport | Rudolfa Fizira 21, Zagreb | t: +385 72 606 606 | email: [email protected] | Website
Budget Car Rental Zagreb Airport | Rudolfa Fizira 21, Zagreb | t: +385 91 485 4680 | Website
Oryx Rent A Car Zagreb Airport | Rudolfa Fizira 21, Zagreb | t: +385 1 6260 800| e: [email protected] | Website
Car rental Zagreb advice, tips and tricks
Below you will find some of our tips, advices, tricks, and ideas regarding car rental Zagreb. Hope you find it informative and useful.
What car rental Zagreb should you choose
When you decide to rent a car in Zagreb, you will have a variety of vehicles to choose from: from small compact cars, to sedans, SUVs and minivans.
What type of car you will choose for your car rental in Zagreb, it really depends on your needs and preferences.
Size
If you are two people, economy-size car like Toyota Aygo or VW Up! can be enough. Economy car rental in Zagreb is also good to consider if you are on budget. Its other advantage is that it takes little space to park. However, it really has a small trunk, and sometimes the price isn't that lower than for a bigger size car.
A mid-size car, like VW Golf or Ford Focus, is a good choice if you are three or four persons to travel. Although if you are four and you have big suitcases, you will already be comfier renting a mid-size estate car with large trunk or a full-size car like Skoda Octavia, or VW Passat.
If you are more than four people, you will need to consider renting people carriers like Renault Grand Scenic, Seat Alhambra, or VW Sharan.
As for SUV, regarding the state of roads in Croatia, there is really no need to rent this type of car in Zagreb. You can rent it for your pleasure, but its features will be of little or no use on Croatian roads.
While there is sometimes a little difference in price between economy and mid-size car rental in Zagreb, full-size cars, SUV, and people carriers are always notably more expensive.
Also, don't forget that smaller cars tend to be more fuel efficient than bigger cars and SUVs. And they are also easier to park.
Fuel type
Majority of car rentals in Zagreb are either diesel or gasoline cars. Hybrid or fully electrical cars are rare.
However, you can find some electric cars on offer like Smart ForTwo, VW Up!, or Nissan Leaf.
I also find that you'll rather find electric cars when booking directly with any of Zagreb car hire companies than on car rental consolidator's websites like RentalCars.com.
Diesel fuel is less expensive than gasoline. Also, diesel cars are more fuel efficient.
Manual or Automatic
Cars with manual transmission are the most common car rentals in Zagreb.
Automatic cars aren't that common and thus need to be booked well in advance. Automatic car rentals Zagreb also cost more than cars with manual transmission. As a rule of thumb, automatic car rental in Zagreb is at least 25% more expensive than a manual car.
Parking in Zagreb
Street parking in downtown Zagreb is difficult to find, and a real drawback if you visit Zagreb by car. But, it's usually easier to park in one of many Zagreb's public garages.
Zagreb street parking is divided in three zones. Zone 1 covers majority of downtown area, while Zone 2 and 3 cover wider town's areas. In short, you'll pay to park on the street more or less everywhere in Zagreb.
Here is the map of Zagreb parking by Zones. Zone 1 is red, Zone 2 is yellow, and zone 3 is green.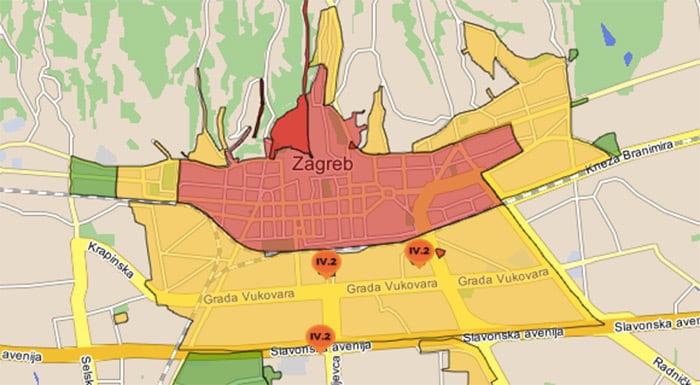 It costs 12 Kn per hour to park in Zone 1, 5 Kn per hour in Zone 2, and 2 Kn per hour in Zone 3.
In Zone 1 (some parts) parking fees apply 24/7; while in other parts they apply Mon-Fri, 7 am-10 pm and Sat from 7 am-3 pm.
In Zone 2 and 3 parking fees apply Mon-Fri, 7 am-8 pm, and Sat from 7 am-3 pm.
Besides street parking, you can also park your car in one of many public garages. Hourly ticket costs anywhere between 6 Kn and 12 Kn. Garages are also a good option to leave your car for few days or longer.
Daily tickets are still affordable. Price of a daily ticket starts already from 20 Kn per day for Svetice Garage. Kvaternik Square Garage that is closer to the center offer daily parking for 30 Kn per day. And if you would like to be in the very center, Petrinjska garage will set you back 55 Kn per day, while parking in Tuskanac Garage costs 60 Kn per day.
Driving in Zagreb
In downtown Zagreb, the web of multi-lane roads run from north to south and east to west, and vice versa.
Driving in Zagreb shouldn't be a problem if you use GPS, or Google maps. Otherwise, you might find yourself a bit stressed.
As in many European towns, road network in downtown Zagreb consists of many one-way streets. These streets are often two- or three-lane roads. You need to switch to the correct lane in time to take a desired turn, whether it is right, left, or straight.
Many streets also run along tram rails. It can be scary at first, but you also get used to it quickly.
Downtown and uptown are partly car-free.
Some streets get heavy traffic during rush hour (4-6 pm on working days; and Saturday mornings). This is particularly true for the part of Gunduliceva Street from Masarykova to Ilica.
In summer, the traffic gets much lighter as many people are on holidays. But, unfortunately, many road works are done during summer months. At the end it can make road situation as heavy as ever.
If you would like to visit Zagreb for couple of hours, but hesitate to drive in congested downtown, we have a tip for you.
Drive from the airport Zagreb across Most Slobode to Vukovarska Street. Straight ahead, at crossing in Vukovarska, you'll see Concert Hall Vatroslav Lisinski. Just behind the concert hall there is a large parking in Paromlinska Street (see the map below). Leave your car here.
This is as close to the downtown you can come without any need to drive on downtown's streets. Once your car is nicely parked, pass through Importanne passage, and you'll find yourself at the central train station in no time.
Gas stations
You'll find many gas stations throughout the town.
If you are picking up your car rental in Zagreb Airport, you don't need to worry about filling up the gas tank. Because all rental car Zagreb companies have full to full fuel policy.
However, knowing the closest gas station can be handy when you need to drop off your car rental in Zagreb airport.
There are few gas stations on all roads leading to the airport Zagreb, regardless of a direction you are coming from.
However, if for some reason you forget to fill up, fret not, the closest gas station is just out of the airport, in Velika Gorica, less than 5 km away.
Pick up locations
We've already shortly mentioned pros and cons of Zagreb Airport car rental vs car rental downtown Zagreb.
At Zagreb airport you'll find over 20 different car rental companies. So, you can easily shop for your car rental Zagreb. In that aspect Zagreb airport is the best and the most convenient place to rent a car Zagreb Croatia.
As for car rental pick up locations in downtown Zagreb, you'll find car rental companies scattered throughout town. Some of them don't even have a downtown branch office.
One way-fee: Picking the car up in Zagreb and dropping it off in Split or Dubrovnik
Many visitors to Croatia pick up rental car in Zagreb but decide to drop it off in Split or Dubrovnik. Whether they fly back home from these destinations or they decide to fly back to Zagreb instead of driving, they need to deal with different pick up and drop off location.
The solution to this problem is simple as all car rentals Zagreb have branch offices in all major tourist destinations, and airports along the coast, particularly in Split and Dubrovnik.
However, different pick up and drop off location can be costly. Companies charge anywhere between 50 € and 100 € for one-way fee. We also have many friends who used this service but never paid a dime.
This is one of the fees you can try to dispute. In summer so many people drive car rental from Zagreb to the coast, and vice versa. In any case, it is worth trying.
Age restrictions
Some companies charge additional fee for drivers below 21 years of age, and above 70 years of age.
This one-off additional fee amounts to approx. 40 € per rental.
Inspect the car before renting
Later is too late. So, to avoid any surprises when you return the car, make sure you inspect your car rental Zagreb before you take it on the road.
Rather spend few more minutes inspecting the car than feeling sorry afterwards.
Make sure even the smallest scratch is reported and marked on your car rental papers. You can also take photos of all scratches. Hey, it's not like you need to develop a film to see photos.
Taking the car across the border
There are all kinds of information regarding border crossing with a car rental Zagreb, and car rental Croatia. And here is the deal.
First thing first, when you travel from Zagreb to Dubrovnik, at certain moment, you will need to cross the border into Bosnia in Neum. Alternative route takes a 30-minute ferry crossing, plus driving for an hour across Peljesac peninsula on a small curvy road. Crossing in Neum is faster, more convenient, and the route that basically everybody takes.
But don't worry! If you stay on this coastal road, and not wander deeper into Bosnia, this is considered transit pass, and your car rental company doesn't require you to pay any extra fee for border crossing in Neum.
If you travel with Zagreb car rental to any European country like Slovenia, Hungary, or Italy, you won't need any extra insurance. The green card will suffice.
So far so good. But from now on things get a bit more complicated.
If you travel to non-EU countries like Bosnia or Montenegro, you technically don't need additional insurance. These two countries also participate in green card insurance program. And if for example we take our private car into Bosnia or Montenegro our Croatian insurance and a green card are valid and enough.
However, car rental companies don't recognize this fact, but instead insist on extra cross-border fee for taking your rental car to Bosnia or Montenegro. There is no way around this fee – their cars, their rules. But, it is always worth trying to deal this with a car rental company.
Expect to pay additional cross-border fee in the amount of approx. 50 € per rental.
Cheap car rental Zagreb Croatia: Best rent a car in Zagreb deals
It's not always easy to secure a cheap car hire Zagreb. However, we'll summarize again all our tips for getting the best deal on car rental in Zagreb.
We can't stress this out enough: book your car rental in Zagreb early. The earliest, the better! This is the single most money-saving tip we can give you. Do you know that even for the highest season (July, August) you can rent a car in Zagreb for as cheap as 35 € per day if you book it 10 months ahead?
Use broker websites like Rentalcars.com. You will benefit from a clear and easy price comparison. Also, many car rental companies offer better deals on a broker's website than their own.
Don't pay extra for things you don't really need. For example, why would you pay for a GPS when you can use your smart phone instead? Within EU roaming charges don't occur. So, the same goes for the WiFi.
Rent a car you need, not the one you like the most. Perhaps that powerful VW Passat with automatic transmission, and parking sensors look awesome (and will make you look better), but if you are two persons, do you really need such a big car?!
Make sure you return your car rental Zagreb on time, within office hours to avoid extra charges. Also, if trying to make your car rental Zagreb as cheap as possible, try to keep the same pick up and drop off location to avoid paying extra.
The same tips apply if you are looking for a cheap car rental Zagreb airport.
Deposit at pick-up
At pick up the car rental company will ask for pre-authorization on your credit card. This deposit is held and paid back to you (minus the rental price) when you return the car if no damage occurred during your rental, and you didn't cause any additional charges (make sure you fill up the tank before returning the car!).
The amount of deposit depends on a type of vehicle, length of your rental, and the insurance package that you've purchased.
Deposit can be anywhere from 800 € to 1.500 € per rental.
What do you need for Zagreb car rental
When you present yourself at the counter to pick up your car rental Zagreb, you'll need your ID, a valid driver's license, and a credit card in your name, and if booked in advance, you'll need a proof of booking: voucher or booking confirmation.
We hope this post helped you in your search for car rental Zagreb. If you have any questions, comments, or suggestions regarding car hire Zagreb, please leave them in comments below.