Trying to figure out what are the prices in Croatia, and how much money will you need? In this post, we share information on various types of expenses that will occur on your trip in order to help you estimate your Croatia travel costs.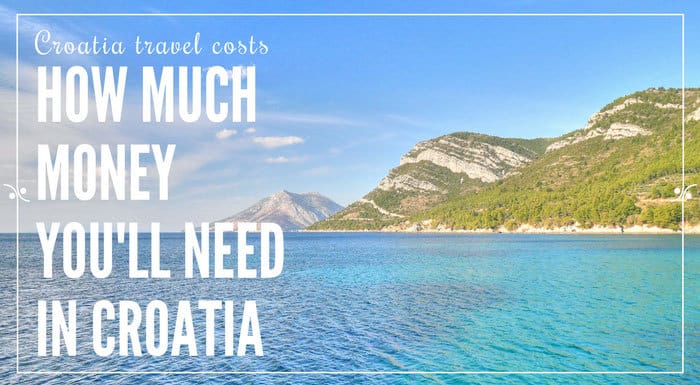 Is Croatia expensive?
Many people imagine that Croatia is a dirt-cheap destination. Well, not really! The prices in Croatia are quite high. I always found that only a few things in Croatia are cheaper than what they cost back home: cigarettes, and alcohol. And you know, that's not a really good thing!
All other things cost more or less the same or more. In fact, in Istria where we live, many Croatians do their weekly grocery shopping in Italy, because it is so much cheaper. For example, 500 g of Lavazza coffee, I pay around 4€ in Italy, and in Croatia it costs double. As simple as that!
Below you will find a breakdown of all expenses you will have in Croatia.
Accommodations
The tourist infrastructure in Croatia is very good. From budget dorm rooms, and camping pitches to vacation rentals, villas, and top-notch hotels, Croatia's accommodation offer is wide and varied, and there is something for every type of traveler.
However, whether you travel on a budget or you like to live it up like a celebrity, the costs of accommodation in Croatia will make the largest part of your travel budget.
Below we compare the average cost of a weekly stay for two persons in various types of accommodation, and in various seasons.
| Accommodation type / Season | A weekly stay in the high season (July, August) | A weekly stay in the shoulder season (June, September) | A weekly stay in the low season (April, October) |
| --- | --- | --- | --- |
| Hostel | 1600 Kn (210€, 235$, 215£) | 1050 Kn (140€, 155$, 125£) | 630 Kn (84€, 92$, 75£) |
| Camping Pitch | 2650 Kn (350€, 390$, 315£) | 1600 Kn (210€, 235$, 215£) | 1250 Kn (165€, 185$, 150£) |
| Apartment Rental | 4200 Kn (560€, 620$, 500£) | 2900 Kn (385€, 425$, 345£) | 2100 Kn (280€, 310$, 250£) |
| Villa Rental | 18500 Kn (2450€, 2700$, 2200£) | 13000 Kn (1750€, 1900$, 1550£) | 7900 Kn (1050€, 1160$, 940£) |
| 2star hotel with breakfast | 4700 Kn (630€, 700$, 560£) | 3400 Kn (455€, 500$, 400£) | 2400 Kn (320€, 350$, 285£) |
| 3star hotel with breakfast | 8400 Kn (1100€, 1235$, 1000£) | 5200 Kn (700€, 760$, 620£) | 4200 Kn (560€, 620$, 500£) |
| 4star hotel with breakfast | 12000 Kn (1600€, 1700$, 1400£) | 7900 Kn (1050€, 1160$, 940£) | 5200 Kn (700€, 760$, 620£) |
| 5star hotel with breakfast | 26000 Kn (3500€, 3800$, 3100£) | 18000 Kn (2400€, 2650$, 2150£) | 10500 Kn (1400€, 1550$, 1250£) |
As you can see in the table above, in high season, accommodation rates in Croatia vary a lot. You can expect to pay anywhere between 30 € and 500 € a day depending on the type of accommodation you choose for your stay. Now, that's a pretty wide range, and it shows that Croatia has something to offer for all types of budgets and travel styles.
If you would like to have nice accommodation but not overpay for it, then choose either an apartment rental in Croatia or a 3star hotel. If you don't mind paying more but you would like to have the best accommodation possible, then absolutely opt for a private villa or a 5star hotel. Croatia has wonderful luxury hotels. And, Monte Mulini in Rovinj is our favorite!
Our tips about how to save on accommodation in Croatia
Avoid traveling to Croatia in July and August, choose instead June or September
Prices are the most affordable if you stay in a fully-equipped apartment.
Price shop: prices of accommodation change with a demand; book early, but opt for a flexible rate, and watch closely your accommodation choice; the closer the date of your holidays, the more firm your booking can be; if you find a better deal in another property or better rates with less flexible conditions, take the opportunity and re-book your accommodation.
Use the Booking.com site to compare the prices of accommodation in Croatia. They have a user-friendly interface, simple price calculations, and by far the largest choice of accommodation in Croatia.
Transportation costs
International flights to Croatia
Transportation costs make a large part of your total Croatia travel costs. If you are traveling from the USA, Canada, or Australia, you won't find lots of direct flights to Croatia. Prior to COVID-19, American Airlines flew from Philadephia to Dubrovnik, and both, Air Canada and Air Transat flew from Toronto to Zagreb. All flights were only seasonal, and the ticket price averaged around 600$.
However, more often than not, you'll need to fly to another European hub, like London, Frankfurt, Amsterdam, Paris, Rome, or Vienna, and then take a connecting flight to Croatia.  This is not a problem, and it can be cheaper than flying directly, as from these European hubs many low-cost companies fly to major Croatian coastal towns (Zadar, Split, Dubrovnik, Rijeka, and Pula) from April to October. Low-cost companies, like everywhere else, offer very cheap rates the earlier you book your flights, and rates gradually increase as the seats fill up. So if you plan on flying to Croatia, secure your flight as early as possible.
Costs of bus travel within Croatia
The most affordable way to travel around Croatia is by bus. Buses are also the single most popular public transport in Croatia.
There are lots of bus companies operating in Croatia. The prices of bus fares between the cities depend on the time of the day, and the route it takes. The early morning or night buses are cheaper than daytime buses.
A one-way ticket from Zagreb to Split costs anywhere between 130 Kn to 170 Kn per person. You can check the departures and book a seat online through the GetYourGuide website, or for all the buses departing from Zagreb through the Zagreb Bus Station website.
Examples of one-way bus ticket prices in Croatia (per person) in 2014:
Zagreb-Split: 130 to 170 Kn (18€ – 22€)
Zagreb-Dubrovnik: 210 to 250 Kn (25€ – 30€)
Zagreb-Pula: 115-185 Kn (15€ – 20€)
Split-Dubrovnik: 100 to 140 Kn (15€ – 20€)
Pula-Rovinj: 30 to 45 Kn (4€ – 6€)
By ferry
Ferry prices are affordable as long as you don't travel by car. While passenger tickets tend to be rather cheap, the price for a car (should you happen to have one) is very high. It adds quite a bit to your total Croatia travel costs.
Examples of one-way ferry ticket prices in Croatia in 2014:
Split-Brač (Supetar): adults: 33 Kn (4.5€); car: 160 Kn (22€);
Split-Hvar (Stari Grad): adults: 47 Kn (6.5€); car: 318 Kn (45€);
Split-Vis: adults: 54 Kn (7.2€); car: 370 Kn (;
Orebić-Korčula (Dominče): adults: 16 Kn (2.2€); car: 76 Kn (10€);
Brestova-Cres (Porozina): adults: 18 Kn (2.4€); car; 115 Kn (15.5€);
By train
Train transport in Croatia is very limited. And trains are generally very slow. There are trains connecting Zagreb with Split to the south, Rijeka to the west, and Osijek to the east.
Examples of one-way train prices in Croatia in 2014:
Zagreb-Split: 190 Kn (25.4€)
Zagreb-Rijeka: 175 Kn (23.5€)
Zagreb-Osijek: 205 Kn (27.5€)
By car
Travel by car is by far the best way to travel around Croatia. However, it's also the most expensive one, especially if you need to rent a car.
Fuel cost
In July 2014, the price of fuel was 10,89 Kn (1.45€) for Eurosuper and 10,03 Kn (1.35€) for Euro diesel. Prices change weekly.
Toll highways, bridges, and tunnels
Ticket system toll highways in Croatia are new, comfortable, and fast, but expensive. A one-way trip from Zagreb to Split will cost you 174 Kn (23.5€). If you travel further south to Ploče (the last motorway exit – Karamatići) it will set you back 222 Kn (30€). From Zagreb to Rijeka, expect to pay 70 Kn (9.4€) each way.
Besides motorways, tolls apply to some bridges and tunnels. A bridge to Krk you'll pay 35 Kn two ways (4.7€). The tunnel Učka that you pass driving to or from Istria will set you back 29 Kn (3.9€). From the Kaštel, a Slovenian-Croatian border crossing, to Pula the highway costs 41 Kn (5.5€).
Car rental
Car rental in high season, just like accommodation, comes with a high price tag, and brings up your Croatia travel costs. Daily rental with a full insurance package and unlimited mileage starts around 400 Kn (54€) for a mini car category (ex. Nissan Pixo), economy car (ex. Polo) goes for 470 Kn (65€), intermediate car category (ex. Audi A3) you'll pay around 550 Kn (75€), renting a station-wagon will set you back 630 Kn (84€) per day.
In shoulder season, car rental is more affordable. In September for example, you'll rent a mini category car for as low as 125 Kn (17€), economy car for 140 Kn (19€), intermediate for 360 Kn (48€), while a station-wagon will set you back 380 Kn (51€).
Croatia Travel Costs: Food & Drinks
Restaurants and bars
Being from Canada, I've always found that restaurants in Croatia are expensive. Anyways, when talking with my north-European or British friends, they find it affordable. The truth is probably somewhere in the middle. You can eat well in Croatia for as little as 20 to 40 Kn. You can read all about that in our post about Local, delicious and cheap eats in Croatia under 6€.
Light meals go for 35 Kn to 60 Kn (5-8€). Light meal can include a plate of pasta, risotto, mussels a la buzara, fried calamari, chicken breasts with a side dish, and alike. Fish and steaks are generally the most expensive. Fish is charged by kilo, and you can expect to pay around 350 Kn (45€) per kilogram. Portion is usually 330 gr. Expect to pay around 140 Kn (19€) for a steak. If you like wine, ask to taste restaurant's house wine. It's usually very decent wine, and the price is much lower than any bottle you can order. This will help you keep your Croatia travel costs in line with your budget.
Prices of drinks in bars vary a lot depending on the destination (Dubrovnik and Hvar being the most expensive), micro-location (the closer to the popular attractions, the more expensive it gets). We'll skip those extreme places for now, and focus on average prices in bars and cafes in Croatia.
Cocktails: 35 Kn – 60 Kn (5-8€)
A bottle of wine: 120 Kn – 280 Kn (16-40€)
A glass of wine: 9 Kn – 26 Kn (1.2-3.5€)
Espresso: 7 Kn – 10 Kn (0.9-1.4€)
Macchiato (coffee with milk)/ Cappuccino: 10 Kn – 14 Kn (1.4-1.9€)
Cafe Latte: 14 – 20 Kn (1.9-2.7€)
Mineral / Still water: 12 Kn – 15 Kn (1.6-2€)
Soft drinks: 14 Kn – 20 Kn (1.9-2.7€)
Alcoholic beverage: 22 Kn – 28 Kn (2.9-3.8)
Local beer 0,33 L: 14 Kn – 20 Kn (1.9-2.7€)
Imported beer 0,33 L: 25 Kn – 40 Kn (3.4-5.5€)
A small treats by the beach cost:
Ice-cream: 5 – 10 Kn (0.7-1.4€) for a scoop; 8 Kn – 15 Kn (1-2€) for a Nestle or Ledo cornet;
French fries: 12 Kn – 25 Kn (1.6-3.4€)
Crepes: 12 Kn – 20 Kn (1.6-2.7€)
Green markets, supermarkets and bakeries
The cheapest stores to get your groceries are supermarkets. Croatian supermarket chains, like Konzum and Plodine, tend to be a bit more expensive than their international competitor Lidl. Other supermarket chains that you can find in Croatia are: Mercator, Kaufland, Spar, Tommy, Billa, and Getro. All supermarkets run weekly special offers that can help you cut your Croatia travel costs.
Prices of some items in Croatian supermarkets*:
Barilla Spaghetti 500 g: 8.99 Kn (1.2€)
Rice Gallo arborio 500 g: 14.99 Kn (2€)
Fresh milk Dukat 3,2% mm 1 l: 5.99 Kn (0.8€)
Eggs (pack of 10): 10,99 Kn – 16.99 Kn (2.3€)
Jamnica mineral water / Jana still water 1,5 l: 4.99 Kn (0.7€)
6-pack beer Karlovačko 0,5L: 44.95 Kn (6€)
Tuborg Green 0,5 l: 8.99 Kn per can (1.2€)
Heineken 0,33l: 7.99 Kn per can (1.1€)
Butter Dukat I class 250 g: 13.99 Kn (1.9€)
*these prices were taken in July 2014 in Konzum supermarket; they may slightly vary in other supermarkets, or by brand; the prices here are for the informational purpose only; stores change their prices regularly; check the real price when you arrive in the store
Green and fish markets are not always the cheapest option to shop for fresh fruits, vegetables, and seafood, but they are certainly the most interesting places to shop. Croatians love their local green markets, and every town has one. Prices are a bit higher than in the big supermarkets, but if you are able to tell locally grown from imported produce, then we suggest you to check the green markets. Don't forget that some of the stands just resell products from the supermarkets for the higher price. But here you need to go with your gut feeling, and try not to pretend to buy locally grown tomatoes in December, or locally grown mandarins in April.
Bakeries are everywhere in Croatia. Majority of them, however, sell white flour, chewy bread and rolls. But if you look harder, and do your research you'll come across few bakeries offering really great whole grain breads, rolls, and pastries. In Poreč we like Concettino and Mlinar bakeries, in Zagreb we love Stil bakery and homemade corn bread you can buy at green markets, etc. Bakeries also make all kinds of sweet and savory pastries and bread rolls. The most popular are phyllo dough pies (meat, spinach, potato, cheese), and buhtle (yeast dough pastry filled with cheese, marmalade, or chocolate spread).
Croatia Travel Costs: Activities
You'll find lots of activities to choose from while on holidays in Croatia. However, activities don't always come cheap. If you look into cutting your Croatia travel costs, then stick to cycling, swimming, sun bathing, and walking when it comes to activities. We've checked costs of popular activities in Croatia, and would like to share them with you to help you plan better your holidays in Croatia. 2014 prices are as following:
Jet Ski: 200 Kn – 250 Kn (27-34€) for 15 min
Paddle boat: 50 Kn – 70 Kn (6.7-9.5€) per hour
Banana boat ride: 50 Kn (6.7€) per person
Single Dive: 300 Kn – 450 Kn (40-60€)
River rafting: 210 Kn – 280 Kn (28- 37€) per person
Sea Kayaking: 250 Kn (34€) per person
Zip lining: 400 Kn (54€)
10-minute panorama flight: 120 Kn (16€) per person or 600 Kn (80€) per flight
Entrance fee for Plitvice Lakes National Park in July and August: 180 Kn (24€)
Entrance fee for Krka Waterfalls National Park from June through September: 110 Kn (15€)
Entrance fee for Mljet National Park from mid-June to mid-September: 100 Kn (14€)
We hope that this post will help you plan better your holidays in Croatia. While we couldn't list all the costs that might occur during your stay in Croatia, we believe these info helps you get a better idea what to expect in Croatia cost wise.
If you need any other info regarding Croatia travel costs, let us know in the comments below. We'll happily answer all your questions. Or, just share your thoughts on Croatia travel costs: expensive, cheap, moderate? We are happy to hear from you!