Nestled on the stunning Adriatic Sea, Split is one of the most alluring places to visit in Croatia. The city of Split is a Unesco World Heritage site, a cultural hub with a rich history and fascinating attractions, making it an excellent destination for anyone wanting to explore some of Croatia's must-visit places.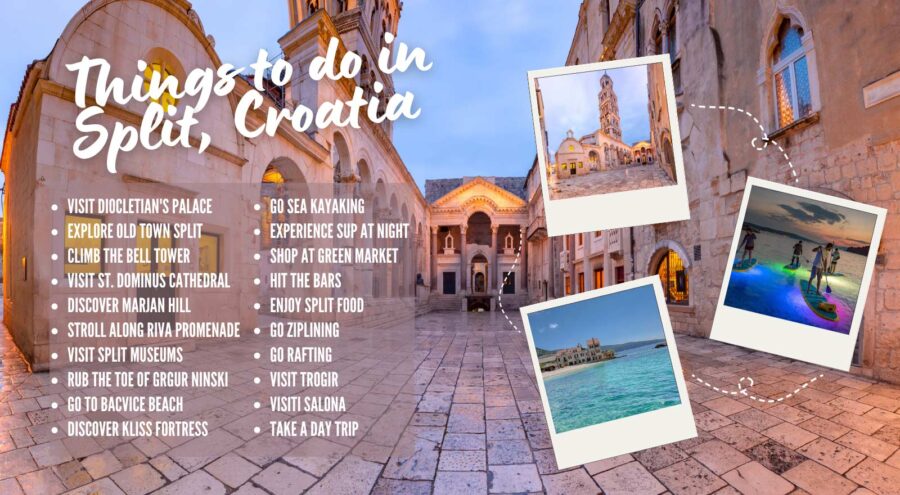 From its incredible beaches and vibrant nightlife to its ancient architecture and culture, there are many things to do in Split! Whether you're looking for an action-packed day trip or a peaceful evening stroll through the city streets, Split's got you covered.
In this article, we will share the best things to do in Split so that you can plan your stay!
1. Visit Diocletian's Palace, Split's Main Attraction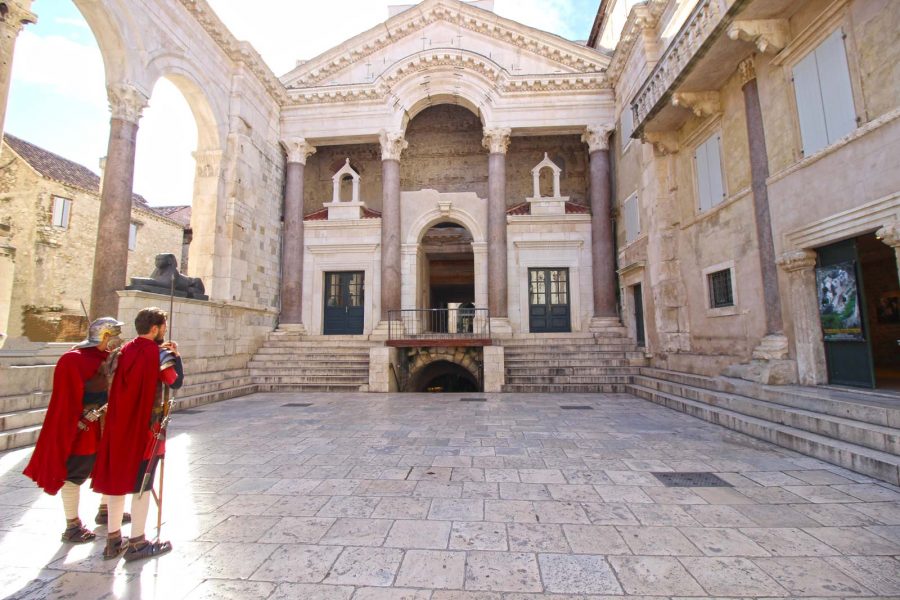 Diocletian's Palace, Unesco World Heritage Site, seamlessly blends ancient ruins with modern amenities. Initially constructed by the Romans, it now houses some of the city's most renowned attractions, including the Cathedral of St. Dominus, the oldest catholic cathedral, Peristyle Square, and the Temple of Jupiter.
2. Explore the Old Town of Split
Walk around Diocletian's Palace, Split's ancient neighborhood, explore the picturesque narrow streets, uncover hidden alleyways, and admire the stunning architecture and famous landmarks.
The old town is a must-visit destination, whether you have one day or five to spare. Split's city center, located within an ancient Roman palace dating back to the early 4th century, is easily accessible and bursting with history.
Some prominent landmarks in Split's historic town include the Peristyle, now a town square and home to the town's Cathedral, the Bell Tower, the entrance to the Palace's basements, prothyron, vestibule, and sphinx statues.
The Cathedral dates back to the 7th century and is the oldest catholic cathedral still in use. The Bell Tower offers fantastic panoramic views of the town; the four town gates include the Golden, Silver, Bronze, and Iron Gate; the Temple of Jupiter transformed into today's Baptistery in the 6th century; the Diocletian Palace's cellars offer a glimpse into the Palace's actual size.
In addition to the landmarks, Diocletian's Palace has many squares and palaces, such as Narodni Trg (People's Square), Vocni Trg (Fruits' Square), and Let me Pass Street, Split's narrowest street.
It takes only a few hours to visit Split Old Town, but you can also spend a few days exploring the history and discovering new details.
The charming cafes, bars, and terraces dotted around the city offer an excellent opportunity to take a break and savor a cup of coffee, a glass of wine, or a cold local beer while watching the world go by.
You can explore Split's old town independently. Still, a guided tour can provide a better historical overview of the Diocletian Palace and a deeper understanding of the town and its people.
Whether you have a few hours or several days to spare, Split's old town is a delightful destination that never fails to charm and captivate visitors.
3. Visit the Saint Domnius Cathedral
The Saint Domnius Cathedral in Split, Croatia, was built in the 4th century as the Mausoleum of emperor Diocletian. Located inside Diocletian's Palace, on Perystile, it's one of the oldest cathedrals still in use on its original premises, with features from different historical periods.
Notable elements include a hexagonal pulpit, a ciborium, frescoes of four evangelists, and a coffin. The church honors the Virgin Mary, and the bell tower honors Saint Domnius. Visitors should also explore the Baptistery, the treasury, and the bell tower.
Baptistery is among the most significant Split historical landmarks. Initially constructed in the early 4th century as the Temple of Jupiter, it has been well-preserved and showcases beautiful reliefs carved from decorative limestone. The temple served as a baptistery from the 7th century and features motifs of Roman gods and goddesses. With its vaulted ceiling and the St. John the Baptiste statue by renowned sculptor Ivan Mestrovic, it is one of the must-see Split attractions.
4. Climb the Bell Tower
If you want to see the best panorama of Split, climb to the top of the bell tower! It is one of the best things to do in Split Croatia. We've climbed it multiple times, and the views never fail to impress us.
The tower was built between the 13th and 16th centuries and later reconstructed in 1908 and 2020. It stands 59 meters tall and takes about 200 stairs to climb to the top. However, the breathtaking 360° panoramic views of Split are worth the climb.
While some parts of the stairs are narrow, they are safe to climb. The staircase starts with steep stone stairs but quickly transitions to suspended metal stairs. There are places to rest along the way.
The bell tower opens at 8 a.m.. We suggest going there as soon as it opens to avoid the crowds. The ticket costs 5.4 €. For 10 €, you can visit the Cathedral, Treasury, Baptistery, and the Bell Tower. Don't miss out on the best panorama of Split!
5. Discover Marjan Hill
Marjan Hill is a unique spot that offers a stunning view of the city and the Adriatic Sea. The hill is a nature reserve perfect for hiking, jogging, and cycling.
It also boasts a famous viewpoint, the Vidilica, where you can sit back and take in the splendor of the Dioclecian's Palace and its surroundings. Remember to bring your camera!
6. Stroll along Riva Promenade
Riva Promenade is the city's most famous seafront promenade, with restaurants and cafes. The boardwalk is a favorite spot for locals and tourists and is ideal for taking a stroll while admiring the sea views. Be sure to taste the delicious local cuisine and grab a refreshing drink there.
7. Visit Split Museums and Mestrovic Gallery
Visiting Split exciting museums lets you learn more about its history and traditions. The Archeological Museum of Split (location) is a great place to start. It houses a collection of artifacts from Ancient Greece and Rome and local archaeological findings from early Christian, medieval, and prehistoric times. It is a 15 min walk from Split old town.
Ensure you also visit the Croatian Maritime Museum (location), which showcases exciting information about the city's maritime history. The museum also offers a fantastic virtual reality diving experience where you get to explore sunken ships.
The Split City Museum (location), housed in a magnificent 15th-century Gothic palace in the city center, provides a concise yet insightful journey through its rich history and evolution. Despite its small size, it's worth a visit (closed temporarily)
Diocletian Cellars (location) are underground vaults of the former Roman Emperor Diocletian Palace. Besides some artifacts found during the excavation, there isn't much to see there, but it is the best place to get a real sense of the size of the Palace.
In the heart of the Diocletian's Palace, the Ethnographic Museum of Split (location)showcases a captivating collection of pottery, traditional clothing, furniture, jewelry, and other historical artifacts that shed light on the lives of Split's inhabitants throughout the ages. With an affordable entrance fee, this museum is a must-visit for those seeking a deeper understanding of the city's cultural heritage.
Ivan Mestrovic, a celebrated Croatian sculptor, designed and built a holiday home in Split between 1931 and 1939. In 1952, he donated the property along with over 100 of his artworks to the state. Today, it houses the Ivan Mestrovic Gallery (location), displaying his sculptures and showcasing its unique architecture.
8. Rub the Toe of Grgur Ninski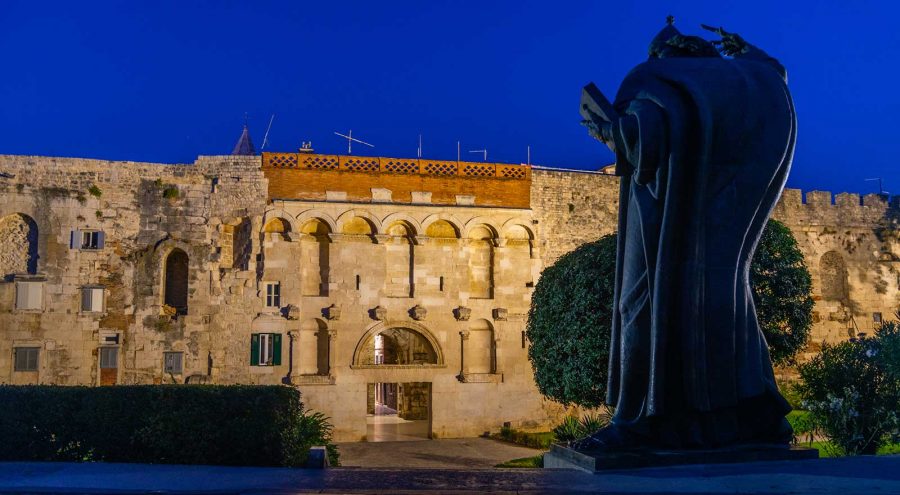 In the 10th century, Grgur Ninski became the first bishop to use the Croatian language and Glagolitic script in liturgical services, going against the Pope's wishes.
In 1929, Ivan Mestrovic, a renowned Croatian sculptor, created a bronze statue of Grgur Ninski at 8.5 meters tall in Split's old town near the Golden Gate.
It has become one of Split's most popular attractions. Before leaving Split, it is customary to rub the toe of the statue of Grgur Ninski for good luck.
9. Soak Up the Sun at Bacvice Beach
If you're looking for a place to unwind, Bacvice Beach (location) is the ideal spot. This sandy beach in Split is perfect for sunbathing, swimming, and playing sports.
The crystal-clear waters and clean surroundings make it a popular destination for locals and tourists. So, remember to pack your swimwear and spend a day soaking up the sun at Bacvice Beach.
10. Discover Klis Fortress
Visit Klis Fortress on a day trip from Split for stunning views and a glimpse into history. Initially used for military purposes, the medieval fortress sits at 385m and offers breathtaking views of Split and the Adriatic Sea.
It's easily accessible by car or public transport using bus no. 22. You can also book a small group tour for an unforgettable experience.
11. Go Sea Kayaking
Take a sea kayak tour around Marjan Hill for an unforgettable experience. Explore the area and marvel at its beauty from the sea; you can even spot some wildlife along the way. Sea kayaking is a great way to spend a day in nature while learning more about Split's history and culture.
With a choice of morning or afternoon departure, these tours cater to everyone's schedule.
During the trip, which typically lasts 3-4 hours, you get to take swimming breaks, and if you're feeling brave, you can even partake in cliff jumping!
The tours are conducted in small groups for a personalized and intimate experience with a knowledgeable guide providing insights into local life and culture.
Don't worry if you're not an experienced paddler. The route is designed for easy paddling, letting you soak up the majestic views at your own pace.
12. Experience Stand-Up Paddleboarding (SUP) at Night!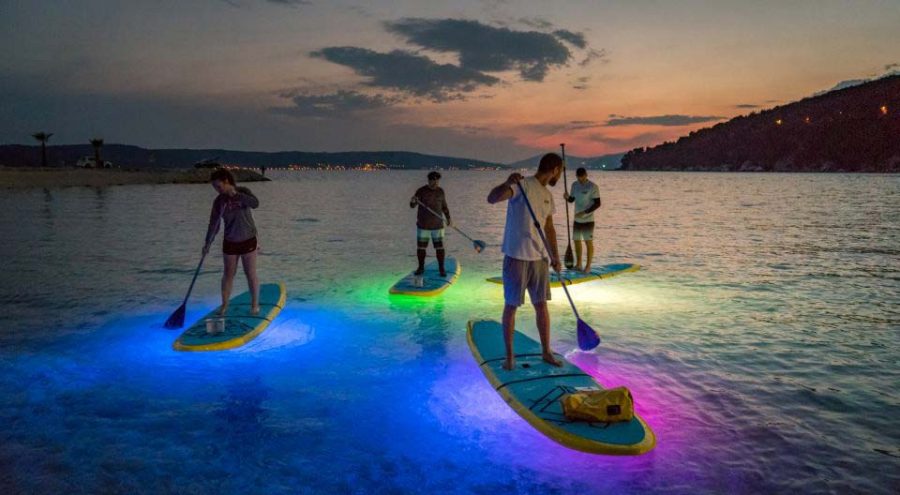 If you love water activities, then Split is the perfect place. Besides swimming and kayaking in the crystal clear waters of the Adriatic Sea, you can also try stand-up paddleboarding (SUP).
Rent boards at the beach in town or join one of the many guided tours to explore the coast from a different perspective.
We recommend booking a night paddling tour using illuminated boards. It is such an incredible experience! Remember to wear something light that dries quickly, as some get wet.
You don't have to bring a camera or phone since the guide takes photos. So, don't worry about anything, and enjoy the adventure!
Prices start at 42 € per person.
MORE INFO ON THE STANDUP PADDLEBOARD TOUR IN SPLIT!
13. Shop at Local Markets
Diocletian's Cellars have plenty of souvenir shops to choose from if you want to buy some souvenirs.
However, for a more genuine shopping experience, it's best to check out the local markets. Split's famous green market, Pazar, located east of the Diocletian Palace, is the heart of the city.
It offers a wide range of locally grown fresh produce, locally-made items, and even stalls selling clothes. You can easily spend over an hour just wandering around the market. If you're hoping to snag a good deal, your best bet is to visit after midday, when the market is about to close down for the day.
While the green market is a must-visit spot, remember the equally exciting fish market! Surprisingly, the two markets are at different locations, on opposite sides of the old town.
At the fish market, we love checking out the daily catch. We get particularly excited by small bluefish, like anchovies and sardines, which have been a staple of Dalmatian cuisine for centuries and are typical of the Adriatic region.
14. Hit the Bars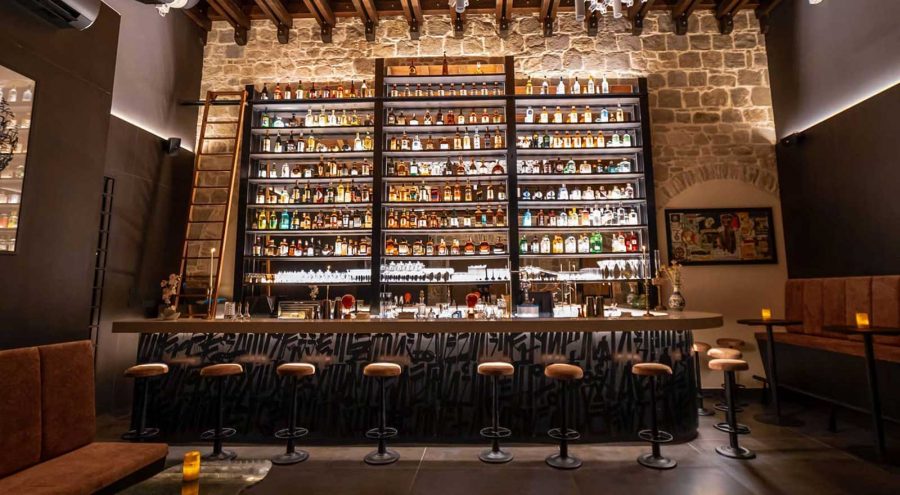 Split is a city of many faces, and nightlife here is no exception. Whether you prefer to dance the night away or have an evening stroll, Split has something for everyone.
For clubbing, head to the old town or Bačvice Beach, where the atmosphere is lively on summer nights. Some of the most popular clubs in Split are Caffe Club Bacvice and Central.
If bars and clubs aren't your thing, no worries! The old town is charming during nighttime, with lively bars serving local wines, craft beer, and mighty cocktails.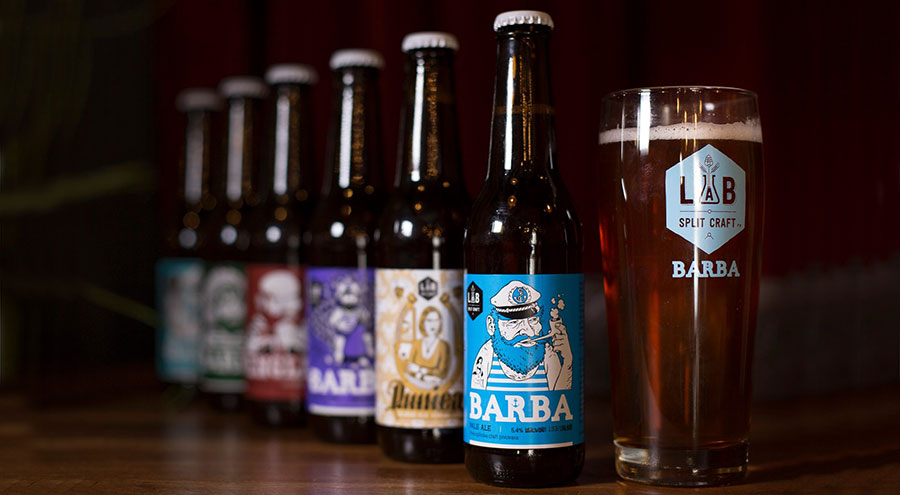 Looking for a place to grab a beer in Split? Check out Sanctuary Cantina (location), a cozy spot with a large outdoor terrace and a great selection of Croatian craft beer. They also offer reasonably priced cocktails and a variety of liquors.
Leopold's Delicatessen Bar (location) is another top choice for discovering Croatian craft beers, with 4 to 5 beers on tap and 30 bottled beers.
Daltonista Craft Bar (location) near Diocletian Palace has a great vibe, craft beers on draft, yummy food, and signature cocktails.
Wine lovers should visit Monika's, a friendly wine bar with an extensive list of Croatian wines, or Zinfandel Food & Wine Bar, a contemporary spot in the heart of the old town.
Need a caffeine fix? Tinel, Mestar O'Kave, and Kava 2 all serve exceptional specialty coffee.
Head to Zbirac, Dvor, and Teraca Vidilica for stunning views and a laid-back atmosphere. And if you're in the mood for cocktails, Bar Sistema is the spot to hit up for the best in town!
BOOK THIS 3H BREWERY & BEER TASTING TOUR!
15. Taste Split Food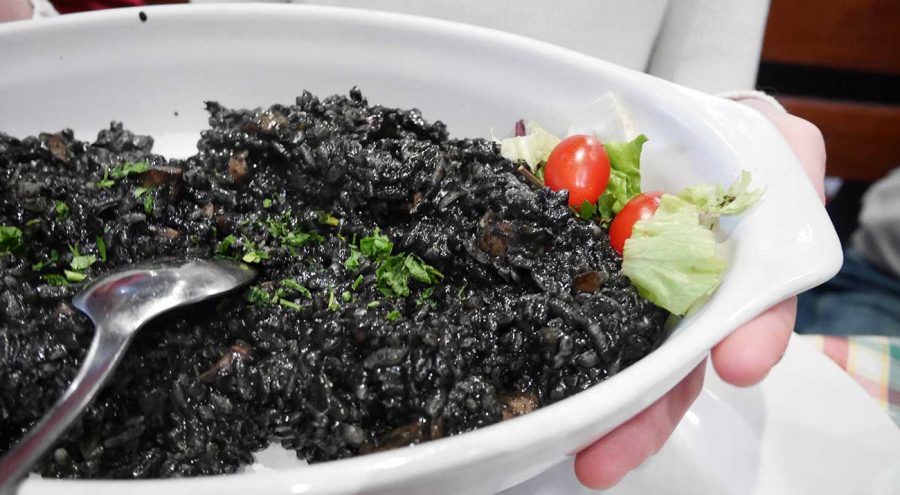 Split is a paradise for food lovers. You can find an abundance of seafood dishes, like grilled fish and octopus salad, cooked with Dalmatian olive oil and the famous Pag cheese.
In Split, you must try pasticada (baby beef stew), served with homemade gnocchi.
For a traditional Split food experience, visit Villa Spiza. This small family tavern serves only local cuisine and is often crowded with locals. The food here is delicious but straightforward, so it's the perfect place to taste authentic Dalmatian cooking.
If you're looking for something upscale, head to Restaurant Dvor. This restaurant serves Croatian cuisine with a modern twist. The food is delicious, and the restaurant has a fantastic terrace overlooking the sea – a great place to enjoy a glass of wine at sunset.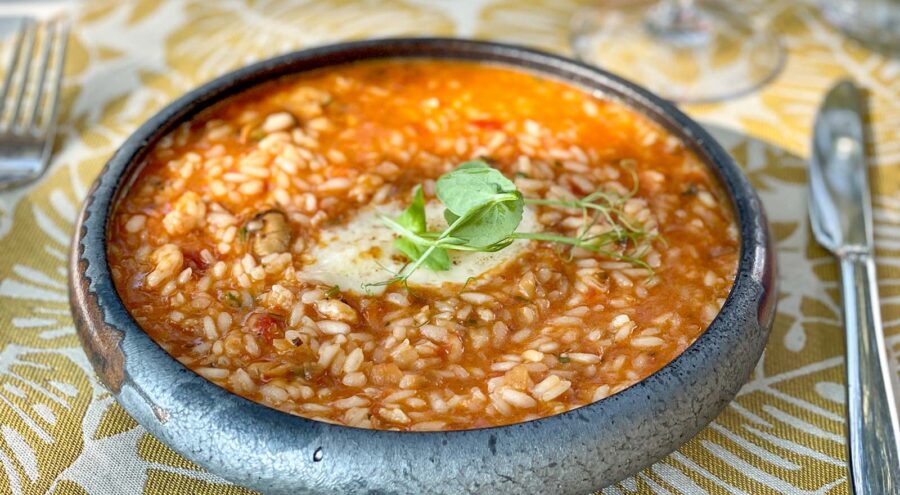 Try fresh local dishes at Kod Hvaranina, known for its gregada fish stew. Konoba Nikola is a cozy spot 15 minutes from Split with excellent seafood and fish dishes. Corto Maltese Freestyle Food in Split offers delicious bistro-style food in a relaxed atmosphere.
Split has many excellent ice cream parlors, but our favorites are Luka's, Ela's, and the Cookie Lab. All these places make their ice creams using only natural ingredients, and ingredients are locally sourced whenever possible. They also offer vegan and sugar-free ice creams. The prices, unfortunately, start at an exorbitant 2.5€ per scoop.
Lastly, try the cakes at Os' Kolac before leaving Split. It's our favorite pastry shop run by Tea Mamut – one of the most famous Croatian pastry chefs. Her cakes taste amazing and have fun names based on the local dialect. It's an experience you don't want to miss while in Split.
Read more: Best restaurants in Split Croatia
16. Go Zip-lining in Omis
Omis is a small city 20 km from Split, and it's known for its adrenaline-filled activities. Go zip-lining in Omis to take in the breathtaking views of Cetina Canyon and experience a real thrill ride on eight steel wires. It's one of Croatia's best zip lines, so don't miss this opportunity!
The combined length of the wires measures 2.100 meters, while the longest cable stretches across a distance of 700 meters. It takes approximately 2 hours and 30 minutes to traverse the entire polygon.
Check here availability and prices!
17. Go Rafting
If you want an unforgettable adventure, consider Cetina River rafting from Split. This exciting activity provides a unique way to explore the stunning landscapes of Split's hinterland.
The rafting route on the Cetina River is a thrilling 1 km stretch that features grade 3 rapids. As you navigate these exhilarating challenges, you'll discover hidden caves, small waterfalls, and dense forests, adding an element of natural wonder to your adventure. The route also offers opportunities for swimming in crystal clear waters and a cliff jump for the intrepid. This immersive experience combines adventure and the majestic beauty of Split's hinterland in an unforgettable way.
Led by qualified and experienced guides, this trip caters to beginners and seasoned rafters, making it an excellent choice for individuals, families, or groups who want to experience the thrill of rafting. Do not miss out on this outstanding outdoor adventure when you're in Split! Rafting Pirate offers the best Cetina River rafting experience!
If rafting alone isn't thrilling enough for you, why not embark on a canyoning adventure along the magnificent Cetina River? Alternatively, you can opt for a canoe safari, immersing yourself in the beauty of the Cetina River.
18. Visit Trogir
Trogir, a walled city near Split, is a must-visit destination with stunning architecture, a UNESCO World Heritage Site, and breathtaking sights like St. Lawrence Cathedral and Radovan's Portal. Explore the charming streets, and visit the Fortress of Kamerlengo and The Bell Tower for panoramic views. Trogir also offers fantastic beaches and water sports. Don't miss the chance to experience this charming city's extraordinary beauty and unique atmosphere!
To visit Trogir, you can take a bus from Split or combine a visit to the town with a boat tour to the nearby Blue Lagoon – where you can swim in some of the most transparent waters in the Adriatic.
19. Visit Ancient Salona
Another fantastic place to visit near Split is Salona, an ancient Roman city that was Croatia's main metropolis in the 3rd century A.D. See the ruins of public buildings, temples, and churches. Walk along the ancient walls and explore the amphitheater where gladiators once fought for entertainment. You can also stop by Solin (the modern name for the ruined city) to visit the Gaspina Mlinica water mill and have a drink by the river Jadro.
You can easily visit Salona by public bus no. 1, which departs from the bus station near the National Theater in Split, or book a small group tour from Split to Salona Roman ruins.
20. Take a day Trip from Split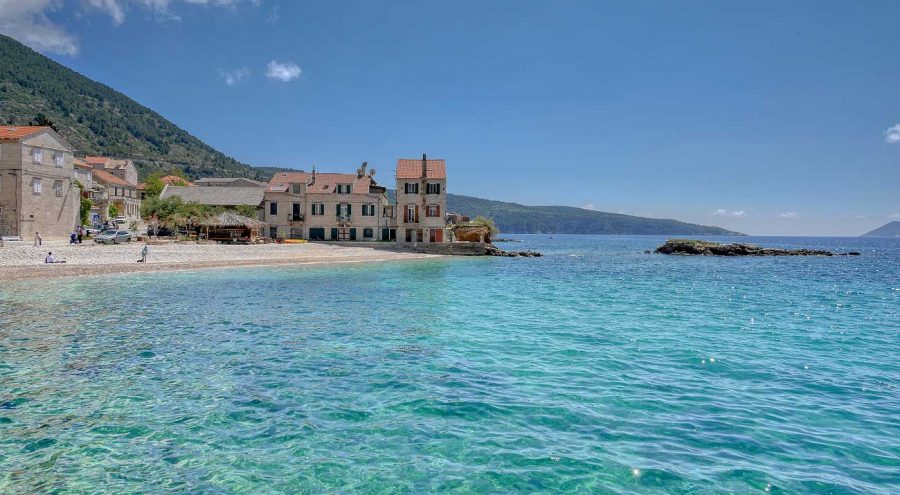 If you are visiting Split for over a day or two, take some day trips from Split. Split makes an excellent base for exploring the entire Dalmatia, central Dalmatian islands like Hvar, Brac, Vis, Krka National Park, Trogir, and neighboring Bosnia & Herzegovina.
On a day trip from Split, you can easily reach as far north as Plitvice Lakes National Park or as south as Dubrovnik.
Go Island-hopping
Island hopping, where you can visit as many as five islands in one day, is the most popular day trip from Split. These islands include Hvar, Vis, Bisevo, Ravnik, and Budikovac. On this day trip, you also visit the Blue Cave, a must-see natural attraction on the island of Bisevo. Blue Cave alone is worth this trip! You can find more information here.
Visit Plitvice Lakes and Krka Waterfalls
Two Croatian national parks, Plitvice Lakes and Krka Waterfalls, are both easily reachable from Split and are not-to-be-missed Croatian natural sights. You can book this tour to Plitvice Lakes National Park and this small-group tour to Krka National Park.
Explore Dubrovnik
Dubrovnik, the most popular destination in Croatia, is a must-visit for everybody visiting the country. If you need more time but don't plan to visit Dubrovnik independently, check out this day tour to Dubrovnik from Split. If you plan to visit Dubrovnik on your own, check our guide on how to get from Split to Dubrovnik.
Discover Mostar
Take a day tour to the neighboring Bosnia and Herzegovina for a change of scenery. UNESCO-protected Old Bridge, turrets, mosques, oriental shops, restaurants, and Ottoman architecture make Mostar a famous visit in Bosnia and Herzegovina. This day tour from Split takes you not only to Mostar but also to the Kravica Waterfalls.
Check the 20 best day trips from Split!
More ideas on what to do in Split, Croatia
We covered all the best things to do in Split for anybody visiting this Croatian coastal town. However, below, you will find more ideas for things to do in Split, including:
Free things to do in Split
Things to do in Split at night
Things to do in Split for young adults
Unusual things to do in Split
Free things to do in Split
From visiting the Diocletian's Palace to taking a dip in one of the town's beaches, you can do plenty of free activities in Split. Enjoy the sunset from Marjan Hill, or get lost in a maze of old town's narrow, cobblestone streets while exploring Split Old Town. Go swimming, cliff jumping, or sunbathing at one of many beaches in Split, or join locals for a game of picigin at Bacvice Beach, a traditional sport in Split, Croatia, played in shallow waters with a peeled-off tennis ball. Picigin is an integral part of Split's lifestyle.
People watching at Riva seaside promenade or rubbing a toe of the Grgur Ninski statue come free at any time, and so does wandering Split green market.
Things to do in Split at night
Split comes alive at night, offering various activities to suit all tastes. From classic bars and clubs to unique experiences, there is something for everyone. Immerse yourself in the vibrant nightlife by enjoying live music, open-air cinema, or sipping a cool drink at beachfront taverns. Dance the night away at local nightclubs or embark on a thrilling night boat or pub crawl to keep you entertained until the early hours.
For those seeking adventure and unique experiences, try night glow paddle boarding or join a sea-kayaking evening tour for an unforgettable journey. Indulge in a sunset cruise or catch a movie at the Bacvice open-air cinema to end the night on a high note. With its bustling cafés and street performers, the Riva provides the perfect backdrop to soak in the city's evening ambiance. Explore the ancient Diocletian's Palace under the enchanting night sky, adding an extra layer of intrigue to this historical gem.
Music lovers can unwind at the Marvlvs Library Jazz Bar, where soothing tunes and an intimate atmosphere await. Those seeking a classy end to their day with a handcrafted cocktail or a fine pour of whiskey head to Bar Sistema and Noor. Food enthusiasts can treat themselves to a mouth-watering dinner at one of Split's finest restaurants, indulging in local and international delicacies.
In Split, the possibilities are endless once the sun sets. Plan your day accordingly and make the most of your time in this vibrant city!
Things to do in Split for young adults
For young adults seeking adrenaline-filled adventures and vibrant nightlife, Split offers abundant activities. Whether it's partying at the clubs on the beach, exploring Split's bars and restaurants, or embarking on an outdoor adventure, there's plenty to keep you busy!
Try cliff jumping at hidden spots, sea kayaking along the picturesque coastline, paragliding, banana rides, stand-up paddleboarding (SUP), and more. Whether you are an adventure enthusiast or only want to enjoy the scenic beauty, there's something for everyone.
Feel like getting more extreme? Embark on a white-water rafting session on the Cetina River or zip-line across its canyon for an unforgettable adrenaline rush. An ATV safari is another exciting way to explore the rugged landscapes of Split, or for an aerial view, sign up for a skydiving experience that will surely get your heart racing.
For those looking to enjoy the social scene, party boats offer a unique blend of beautiful views, lively music, and a chance to meet fellow travelers. Round off your day with a speed boat tour to nearby islands and hidden coves. Honestly, the energy and spirit of Split cater to the adventurous and youthful hearts, promising an experience like no other.
Unusual things to do in Split
Split offers many unique experiences that are perfect for those seeking to venture off the beaten path. Froggyland, a quirky taxidermy museum dedicated to showcasing various scenes enacted by amphibious actors, is one of the unusual things to do in Split. The Museum of Illusions is another fun attraction worth visiting. It is a place that will challenge your perceptions and boggle your mind. If you are a Game of Thrones fan, visit the Game of Thrones Museum, where you can explore a range of exhibits, including costumes, props, and interactive displays.
The Bacvice Open Air Cinema is another one of the cool things to do in Split. The soothing sound of the sea, combined with a range of films, makes for an unforgettable experience.
Adrenaline junkies can indulge in cliff jumping, deep solo rock climbing, zip-lining, sky-diving, or a quad ride. Lastly, sports enthusiasts can catch a local soccer match or join the locals in a lively game of Picigin, a traditional Croatian beach game played with a small ball. Each offbeat attraction promises a unique and captivating experience that will make your visit to Split unforgettable.
Things to do in Split Old Town
Split's Old Town is the city's historical and cultural epicenter. Immerse yourself in Split Old Town's rich heritage, housing many attractions that showcase its history and culture. At the center lies the UNESCO-protected Diocletian's Palace, alongside the magnificent St. Domnius Cathedral, the Bell Tower, Jupiter Temple, Vestibul, Golden Gate, and numerous squares, streets, and alleys. The fusion of Gothic, Renaissance, and Baroque Palaces adds an architectural charm to the surroundings, complemented by the iconic statue of Grgur Ninski.
Beyond its architectural wonders, the old town of Split buzzes with social activities. From shopping to gourmet dining, from bar hopping to immersing oneself in the vibrant atmosphere, there is no shortage of things to do in Split Old Town. Ascend the Bell Tower for panoramic views, rub the toe of Grgur Ninski for good luck, savor the local culinary delights, indulge in people-watching, and explore the historical and cultural sites. Guided tours offer a deeper understanding of the city's heritage, making every visit to Split's old town an unforgettable experience.
The neighborhoods of Varos, Dobri, Manus, and Lucac also form a part of Split's Old Town, encircling the palace. These picturesque areas flourished during the Middle Ages as villagers from the hinterland sought refuge from the Turks and established settlements around the Palace. Among these neighborhoods, Radunica stands out as the most renowned street, exuding a captivating charm, authentic atmosphere, and proximity to the palace. Adding to its allure, the famous Radunica Days festival takes place here every year at the end of June.
Split Attractions
Split is a charming small city with diverse attractions. From the main sight of Diocletian's Palace to the nearby beach of Bacvice and Marjan Hill Park, Split has an array of diverse attractions to captivate visitors.
Peristyle, an open-air pavilion best seen at nighttime, brings you back to Roman times.
The bell tower of Split Cathedral offers stunning views over the town.
Four town gates are on each side of the palace: The Golden, Silver, Bronze, and Iron Gate.
Just out of the Golden Gate, you'll also see the Gregory of Nin (Grgur Ninski) statue, the work of renowned Croatian sculptor Ivan Mestrovic. Rub Gregory's tow for the plenitude of good luck.
You don't need to visit Egypt to see the original Egyptian sphinxes. Find the two in Split, on Peristyle, and near Jupiter Temple, which today serves as a baptistery.
Exploring Split's numerous churches, palaces, and museums can take you one full day.
"Let me pass" street is said to be the narrowest street in the world (not sure about this, but it is pretty narrow).
Piazza, or People's Square, became the town's central point in the 14th century. The square features a few interesting landmarks and buildings and is always alive with people.
Vocni Trg, or Fruit Square, owes its name to the fruit market that once took place here daily. Today, it boasts a few cafes, shops, the Venetian Octagonal Tower from the 15th century, the 17th-century baroque Palace Milesi, and a statue of Marko Marulic, a 15th-century poet and a father of Croatian literature. The statue is a work of famed Croatian sculptor – Ivan Mestrovic.
In addition to historical attractions, popular venues such as the Mall of Split, Poljud Stadium, and Marjan Hill buzz with activity all year round. Whether you're looking for a nice place to relax or just for a bit of shopping, you won't be disappointed. Marjan Hill is especially popular among locals and visitors alike as it offers excellent views of the city and its surroundings, many hiking trails, and numerous churches and chapels to explore.
Know before you go
Now that you know what to do in Split, we want to help you plan your entire stay there.
Here is some helpful information you need to know before going to Split.
PLAN YOUR VISIT TO SPLIT WITH OUR SPLIT TRAVEL GUIDE!
Best time to visit Split
Split is a fantastic destination that can be enjoyed year-round, but the best time to visit Split is from May to October. During this period, temperatures hover between 20-30°C (68-86°F). However, in July and August, temperatures often reach over 30°C (86°F), so be sure to pack a hat and sunblock!
While May to October is generally considered the optimal time to visit Split, it's worth noting that July and August are peak tourist months in Split, and as a result, the city becomes quite crowded. June and September are excellent alternatives for a more relaxed ambiance and milder weather. During these months, all businesses and activities remain open, and the number of tourists is lower, making it a more peaceful and quieter experience. Additionally, accommodation prices are lower during these shoulder months, making it more affordable. The weather is still warm enough for beach activities, including swimming, making it a comfortable and pleasant visit to Split.
How much time is enough to visit Split?
If you want to explore Split's old town, you can easily do so in just one day. Despite being Croatia's second-largest town, the old town is compact and small enough to visit in a day.
However, if you want to experience everything Split offers, including its beautiful beaches, islands, and surrounding areas, consider staying for a few days or up to a week in Split. By allowing for a longer visit, you can fully immerse yourself in the beauty and charm of Split
Split is an excellent hub for venturing to other Croatian highlights such as Dubrovnik, Trogir, Krka Waterfalls, and Plitvice Lakes national parks. You can also visit the Brac, Hvar, and Vis islands.
Accommodation in Split
Split offers a wide range of accommodations for every type of traveler. We have written a detailed guide on where to stay in Split, including all popular neighborhoods, the best hotels in Split, lovely apartments, and fun hostels.
Below, you will find a few recommendations.
Our favorite hotel in Split Old Town is Judita Palace Heritage Hotel ($$$$). It's a small boutique hotel located at the heart of Split city center, in a palace dating back to the 16th century. The hotel features 11 well-appointed rooms with city views, free WiFi, and friendly staff.
Cornaro Hotel ($$$) is well located and clean, offers a good breakfast, friendly staff, spacious rooms with a great walk-in shower, and affordable rates.
Situs Residence ($$$) in Split's Varos neighborhood offers studio apartments and rooms as an alternative to hotels. Each studio accommodates two people and has a kitchenette, sitting area, comfortable bed, WiFi, and a flat-screen TV. Lower-floor apartments include a cozy patio.
Hotel Slavija ($$) has a great location, accommodating staff, copious breakfasts, and modern, clean, comfy rooms. It's a 3-star hotel with competitive rates.
Hostel Dvor ($), just a few-minute walk from the old town, offers 3-, 4- and 6-bed dorms and two-person rooms with shared or private bathrooms. Dorm rooms have bunk beds, each with a locker, lights, an electric outlet, and a small shelf. Other amenities include free WiFi, linen, towels, coffee, tea, fruit, and cookies.
How to get to Split, Croatia?
Split is a major port city on Croatia's Dalmatian coast. Direct flights, ferries, buses, and trains connect Split with other regional cities.
Flying is a quick and efficient way to reach Split, with the Split Airport Resnik (SPU) located just 20 km northwest of the city center. Shuttle buses and taxis are available to transport passengers to downtown Split, or you can take the local buses (no. 37 & 38) if you're on a budget. Another airport option is Zadar, 150 km northwest of Split, which offers low-cost flights with Ryanair.
Alternatively, you can take an intercity bus from many Croatian or European cities, including Zagreb, Dubrovnik, Zadar, Pula, Vienna, Graz, Munich, Frankfurt, Stuttgart, Ljubljana, Sarajevo, Bratislava, Budapest, Prague, and Brno. Traveling to Split from other parts of Europe by train is possible but limited as most routes require transferring in Zagreb.
Maritime access to Split is also available as it is an important ferry hub for central Dalmatian islands. Multiple ferry operators provide local and international connections, including services to Ancona in Italy.
And, if you plan to drive, Split's central location makes it easily reachable from many Croatian cities. Motorways A6/A1 connect Split to Rijeka, Zagreb, and Ploce, and tolls apply. An affordable alternative is taking the old toll-free D1/E65 road, which goes through villages on a single-carriageway.
Getting around Split
Bus: You can get everywhere within Split and to Trogir and Omis with public transportation. Buses run every 30 minutes, starting at 5 a.m. until midnight. Buses in Split don't run at night. Purchase tickets at any kiosk or on a bus. Check this Split bus map.
Car: A car in Split can be handy only if you plan to do day trips to some places suggested above in the chapter about things to do in Split. For this, we recommend renting a car for a day or two. Otherwise, a vehicle can be a burden, as you must consider parking and heavy traffic. Check here for more info and the latest prices on car rentals in Split.
Taxi: UberX is available in Split, as well as a few local companies, like Cammeo, Eko, Halo Taxi, etc. The initial price is anywhere from 1.38 € (UberX) or 1.06 € (Cammeo) to as high as 2.65 € (Radio Taxi Split). On top of that, every kilometer will set you back an additional 0.77 € (UberX), 1.06 € (Cammeo), and 1.33 € (Radio Taxi Split). The minimum fare for Cammeo is 2.39 €, and UberX's is 3.72 €.
Walk: You can walk everywhere in Split. The old town is very compact, and it is car-free. Even if you stay out of the ancient city, you can reach almost every neighborhood within a 30-minute walk.
Split is an outstanding destination that offers something for everyone. This coastal city has everything, whether you like history, nature, or simply soaking up the sun. We hope you found this guide helpful and are ready to explore the best things to do in Split, Croatia.
What are your favorite things to do in Split? Let us know in the comments below.