Split, a 1700-year-old town built within an ancient Roman palace, is one of the must-visit destinations in Croatia. And not without a reason! There are so many things to do in Split that you can easily spend a week in Croatia's second-largest city.
You can roam Diocletian's Palace and explore Split's historic town, climb the Campanile, visit St. Domnius Cathedral, stroll along Riva, taste local food and wine, hike Marjan Hill for the best views, or just chill out at any of Split's beaches.  
Whether you are in Split for a day or five, exploring the old town is the first thing to do. The Diocletian Palace is one of Croatia's Unesco heritage sites and a must-see sight. The same is true for the Saint Domnius Cathedral and the Temple of Jupiter, they can't be missed as they are some of the most important attractions in Split. For the best panorama of Split, climb to the top of the bell tower. Sip a coffee at centuries-old steps below two rows of ancient colons surrounding Peristyle Square. Don't leave Split unless, for good luck, you rubbed the toe of the Grgur Ninski statue.
Whether you are a history geek, the Games of Thrones fan or just someone who enjoys great views, visiting Klis Fortress from Split is a must-do! Marjan Hill, a 178 m high hill, is locals' favorite recreational spot. On a hot summer day, take some downtime to chill out on Split's most popular beaches. Split's waterfront, the Riva promenade, is the heart of the town, and a great place to feel the pulse of the city. The Archaeological Museum of Split is the oldest museum in Croatia displaying artifacts from Greek, Roman, early Christian, medieval, and prehistoric times.
Split has many great restaurants, but if you can only visit one restaurant in Split, choose Villa Spiza. Don't forget the ice cream – Split has some really awesome ice cream parlors. And Luka's Ice Cream & Cakes is one of them! Don't leave Split unless you tasted a cake at the Os' Kolac or local craft beer at Leopold's. And for wine lovers, there is Monika's, a great place to learn about Croatian wines. Wander between the stalls at the farmer's market in Split, and enjoy the smells and colors of the fresh produce.
It is hard to think of another place in Croatia better located than Split when it comes to day trips and excursions. Split makes a great base to explore the entire Dalmatia, Hvar, Brac, or Vis Island, but also popular sights like Plitvice Lakes and Dubrovnik, or Mostar and Medugorje in neighboring Bosnia & Herzegovina.
So, if you wonder what to do in Split Croatia, worry not! In this post, we share the best things to do in Split including top attractions, activities, and day tours.
What to do in Split, your guide to the best things to do in Split Croatia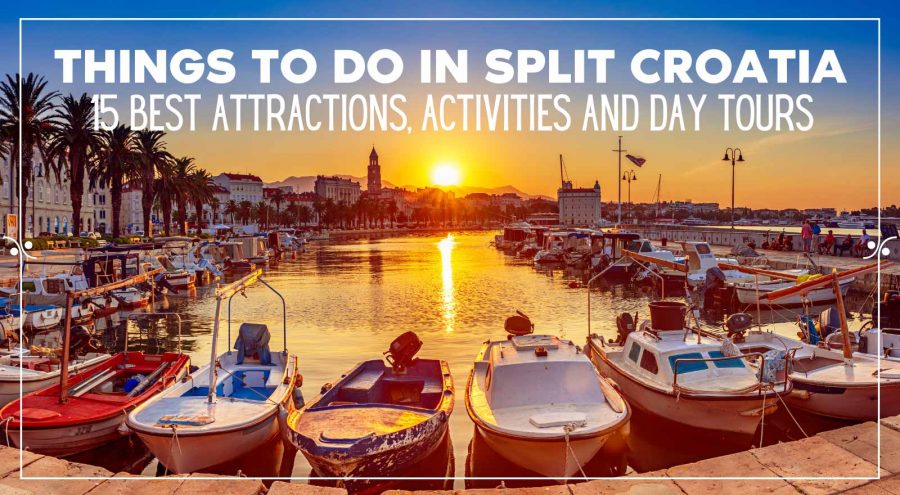 Regardless of how long you plan to stay in Split, whether you travel alone, as a couple, or family with kids, or what your budget is – this is the right place to start planning your activities in Split!
Split old town squeezed within the walls of the ancient Roman palace, a seaside promenade buzzing with people night and day, numerous beaches, lively bars, and restaurants, and many islands that are just a short ferry ride away, are just some of the reasons so many people visit Split every year.
We visit Split at least two times a year, and often more. We love the town, the atmosphere, and Split restaurants.
Diocletian Palace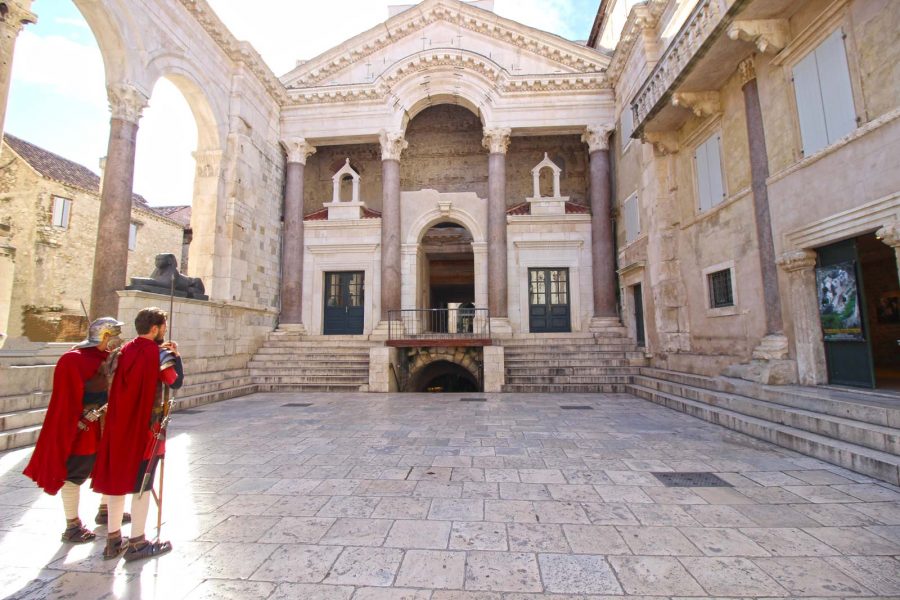 Dating back to the early years of the 4th century, Diocletian's Palace was constructed as the emperor's summer residence but evolved to become what we know today as the old town Split. 
The Palace consisted of the emperor's private quarters and a large military complex covering an area of 3 hectares. It is one of the largest well-preserved examples of Roman architecture. Since 1979, the Diocletian Palace is one of Croatia's Unesco heritage sites.
Don't think of Diocletian's Palace as a house or a building. It is one enormous historical site with numerous streets, houses, palaces, town squares, churches, and underground cellars. It's literally the entire town.
But, the Palace is also the center of Split's everyday life. This is where you will spend the majority of your time in Split, and where most of the attractions, restaurants, bars, shops, and people are.
Explore the old town of Split
Every visit to Split, short or long, inevitably focuses on wandering Split's narrow, cobbled streets, discovering hidden alleyways, and enjoying the beautiful architecture, and popular Split landmarks.
So, whether you are in Split for a day or five, exploring the old town is the first thing you'll want to do.
Set within an ancient Roman palace dating back to the early 4th century, Split old town is easy to visit!
Split historic town's main landmarks include:
the Peristyle, a court-turned town square that is home to the town's Cathedral, the Bell Tower, the entrance into the palace's basements, prothyron, vestibule, and sphinx statues among other things
the Cathedral, dating back to the 7th century
the Bell Tower, offering great views over the town
the town's gates: Golden, Silver, Bronze, and Iron Gate
the Temple of Jupiter, that has been transformed into today's Baptistery in the 6th century
the cellars of the Diocletian Palace, where you can perceive the actual size of the palace
Gregory of Nin (Grgur Ninski) statue (Rub Gregory's tow for the plenitude of good luck)
many squares and palaces, including Narodni Trg (People's Square), Vocni Trg (Fruits' Square), and Let me pass Street, Split's narrowest street
It can take as little as a couple of hours to visit the main sites or as long as a few days. It really depends on the time you have. So worry not if you only have a couple of hours. You should still be fine!
The same if you are here for longer – you never grow tired of exploring the old town. With so much history around, you always discover new details, something you haven't noticed before. Not to mention all the cute cafes, bars, and terraces that draw passersby to take a break and watch the world go by over a cup of coffee a glass of wine, or a pint of cold local beer.
You can explore Split old town on your own, although a guided tour has its advantages. It can give you a good historical overview of the Diocletian Palace and make you understand better the town and its people.
Visit Saint Domnius Cathedral
Originally constructed as the Mausoleum of emperor Diocletian in the 4th century, it was turned into a church and served mess from as long ago as the 7th century. This makes Saint Domnius Cathedral in Split one of the oldest cathedrals still in use in its original premises. It is also one of the most important structures in Split, Croatia.
The interesting part of the Cathedral is exactly in its long history: you can witness different historical epochs through the cathedral's various architectural elements, from Roman to modern times.
The hexagonal pulpit dates back to the 13th century, the altar's ciborium, the frescoes of four evangelists, and the sarcophagus date back from the first half of the 15th century, while the main altar dates back to the 17th century.
The church is dedicated to the Virgin Mary, while the bell tower is actually dedicated to Saint Domnius. However, colloquially everybody refers to the church as Sveti Duje or Saint Domnius.
You will find the Cathedral on Perystile, one of the most important town squares within the Diocletian Palace. Must-visit sites within the Cathedral complex include the church itself, the baptistery, the treasury, and the bell tower.
Jupiter's Temple
The Temple of Jupiter is one of the main historical sights to see in Split. It is located next to the Cathedral, in the heart of Split's old town. Its construction dates back to the early 4th century, and it has been perfectly preserved to this date. Since the 7th century, when the last resting place of the emperor Diocletian has been turned into a Cathedral, the temple of Jupiter has been serving as a baptistery.
Beautiful reliefs carved into decorative limestone from Brac island feature various motifs of flowers, leaves, and heads of Roman gods and goddesses including Jupiter, Apollo, Victoria, Triton, and Hercules. The vaulted ceiling is another marvel you'll find inside the temple. The place is also adorned with the bronze statue of St. John the Baptiste made by Croatia's most famous sculptor – Ivan Mestrovic.
Climb the Bell Tower
For the best panorama of Split, climb to the top of the bell tower. We did it so many times, and it never stops impressing us!
Built between the 13th and 16th centuries and later reconstructed in 1908 and in 2020, the tower is 59 m high, and it takes about 200 stairs to climb all the way up. However, the 360° panoramic views over Split are absolutely worth it.
The stairs are narrow in certain places. They start as steep stone stairs, just to quickly pass into suspended metal stairs. The staircase, as well as the entire interior, has been renovated in 2020, and the metal staircase in use now is super comfortable and safe. There are places where you can stop to rest, and while not very wide, they are wide enough for two persons to pass by one another.
The bell tower opens at 8 am and we recommend going there as soon as it opens to avoid the crowds.
The ticket costs 5.4 €. For 10 € you get to visit the Cathedral, Treasury, Baptistery, and the Bell Tower.
Peristyle (Peristil)
Peristyle (Peristil) is a central square within the Palace of Diocletian, and one of the best-preserved monuments of Roman architecture not only in Croatia but in the entire world. 
Sip a coffee at centuries-old steps below two rows of ancient colons surrounding this imperial square, once an entrance to Diocletian private quarters and the place that the Roman emperor used to address the public.
Vestibule (Vestibul)
Vestibule (Vestibul) is an imperial atrium and the first part of a corridor that used to lead inside emperor Diocletian's private quarters. 
Rectangular on the outside and round on the inside with an open round skylight on the top, The vestibule is well-preserved and a must-visit site in Split. 
The Vestibule overlooks the Peristyle square.
Gregory of Nin (Grgur Ninski)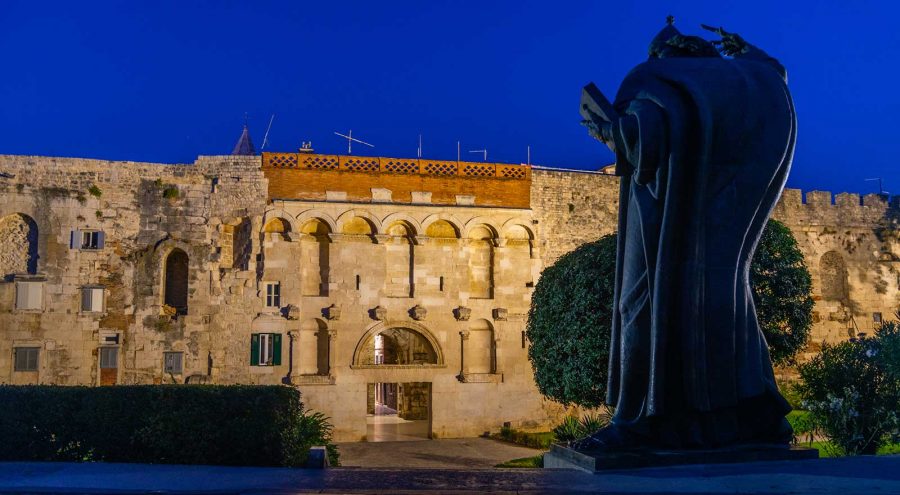 Grgur Ninski was the first bishop who started using the Croatian language and Glagolitic script in the liturgical services in the 10th century, directly opposing Pope on this matter. 
In 1929, Ivan Mestrovic, the most famous Croatian sculptor, made an 8.5 m (28 ft) tall bronze statue of Grgur Ninski (Gregory of Nin). The statue stands near the Golden Gate in Split's old town, and it is one of the most visited attractions in Split.
Don't leave Split unless, for good luck, you rubbed the toe of the Grgur Ninski statue.
Klis Fortress
Whether you are a history nerd, the Games of Thrones fan or just someone who enjoys great views, visiting Klis Fortress from Split is a must-do!
Originally built as a defensive stronghold over 2000 years ago by the Illyrian Dalmatae tribe, and later expanded in medieval times, the Klis Fortress (Tvrdava Klis) is perched over a village of the same name.
This medieval fortress in the vicinity of Split stands at a height of 385 m occupying the gorge between the mountains Mosor and Kozjak. Stunning views from the fortress stretch all the way to the city of Split and the Adriatic Sea. 
You can easily reach the Klis Fortress on your own by car or public transport using bus no. 22. The one-way ticket costs 3 € when bought on the bus. If you buy it at the small kiosk near the Croatian National Theater you'll pay only 1.5 €. This is also the place where you will board the bus to go to the Klis Fortress. Buses between Split and Klis run throughout the day. 
You can also book this small group tour to Klis Fortress.
Enjoy Views from Marjan Hill
A 178 m high hill, set on a small peninsula, northwest of the old town, Marjan Hill is locals' favorite recreational spot close to the city center.
The hill offers numerous footpaths and jogging trails, and it has always been a popular place for walking, jogging, rock climbing, and mountain biking (more about some of these activities below).
But, another reason, tourists and locals alike climb the hill is to get wonderful views of the town. And the best part for those who don't like to climb – you don't even need to climb all the way to the summit for the best views. The best panoramic views you get from the café bar Vidilica, way beneath the summit. The Vidilica is a lovely cafe bar perched atop the hill, where you can chill out, and enjoy a view over the town and the sea.
Have a dip in the Adriatic or just a stroll at Bacvice beach
Don't forget that Split is actually located by the sea. So, on a hot summer day, take some downtime to chill out on Split's most popular beach.
Bacvice is a legendary beach in Split. It may not be the most beautiful beach. The sea here perhaps isn't the cleanest, but this is a beach that you should visit to feel the soul of Split.
Bacvice is a sandy beach located just a 10-minute walk from the old town. Here you can witness a fierce game of picigin (a local ball game played with an old, stripped-off tennis ball, in shallow water), swim, sunbathe or relax in the nearby cafe Zbirac (our favorite day cafe in Split). Bacvice is also a popular place to party at night due to the few nightclubs that are nearby. Oh, and all these beach activities here happen year-round!
Other popular beaches include Kasjuni Beach, Bene Beach, and Znjan.
Stroll along Riva, Split seafront promenade
Split's waterfront, Riva, is the heart of the town, and the pride of every person from Split.
The seafront promenade is lined with cafes, bars, eateries, and souvenir shops. On the east side, there is a green market, and on the west side, there is Republic square, the church of St. Francis, and a nice fountain.
Enjoy a morning or evening stroll, have a drink in one of many bars and feel the vibe of this magnificent city. A people-watch is the local sport here.
Visit Split's Museums
Since the entire old town of Split is like a large open-air museum, one might feel less tempted to visit actual museums. Museums in Split aren't of the size, or importance of famed European museums, like Florence's Uffizi, or Naples' Archaeological Museum. However, if you are in a town for a couple of days or more, visit some of the museums in Split.
Split Town Museum, located in the 15th-century Gothic palace, is small and you'll get through it quickly. It gives a good overview of the town's history and its development through the times.
The Archaeological Museum of Split is the oldest museum in Croatia and it displays artifacts from Greek, Roman, early Christian, medieval, and prehistoric times. It is located a 15 min walk from the old town.
Ethnographic Museum of Split displays pottery, traditional clothing, furniture, jewelry, and other artifacts from the life of Split inhabitants throughout history. It is located in the old town and the entrance fee is very affordable.
Don't miss Mestrovic Gallery
Ivan Mestrovic, the most renowned 20th-century Croatian sculptor of international reputation, lived and worked in Split at a younger age. He spent many summers in his holiday home in Split. He designed the house himself, and it was built between 1931 and 1939. In 1952, Mestrovic donated his property, along with over 100 of his artworks to the state. Today, it houses Ivan Mestrovic Gallery.
The Mestrovic Gallery has many works of the sculptor on permanent display. His works are displayed on two floors of the building, as well as in the front garden. Besides sculptures, the house itself is interesting to see.
Taste local food in Villa Spiza
If you can only visit one restaurant in Split, choose Villa Spiza. This small hole-in-the-wall restaurant serves simple, traditional, yet tasty and affordable Dalmatian food.
The menu is short, and it changes daily. It's one of our favorite places to eat in Split.
Have an ice cream
Split has many great ice cream parlors, but our favorite ones are Luka's, Ela's, and Cookie's Lab. All these places make their ice creams using only natural ingredients and whenever possible ingredients are also locally sourced. They also offer vegan and sugar-free ice creams.
Tucked behind the theater building, Luka's Ice Cream and Cakes is already a well-known address in Split among ice cream aficionados. The Luka's hit a home run with its lavender-honey flavored ice cream, but we also like their vanilla and triple chocolate ice cream. A scoop will set you back 1.6 € to 2 € depending on the flavor you choose.
Ela's Ice Cream & More opened its door in 2019 and won the hearts of locals and tourists alike with its yummy natural ice creams. At Ela's, you will find a great variety of classic and unique flavors, like vanilla and chocolate but also lemon-mint, orange-ginger, or vegan chocolate ice cream. The owner puts lots of emphasis on using local and seasonal ingredients, especially local fruits and herbs. Must-try if in Split. A scoop here costs 1.9 €.
Cookie's Lab, according to many locals, has the best ice cream in town. The choice of flavors is limited, but their ice cream is one of the tastiest and creamiest delights we have ever had. They also serve nice pastries. The Cookie's Lab is located close to Bacvice Beach, a bit off the main touristy routes, and thus more popular among locals than tourists. The scoop will set you back 1.4 €.
Visit Os' Kolac to Satisfy your sweet tooth
Don't leave Split unless you tasted a cake at the Os' Kolac, our favorite pastry shop. Oh, my, cakes at Os' Kolac are divine and to die for. If I lived in Split permanently, Os' Kolac would be a serious threat to my wallet, blood sugar, and weight. I would perhaps tour it daily.
Anyways, the pastry shop is run by Tea Mamut, one of the most famous Croatian pastry chefs. Her cakes taste great, look great, and they also have fun names based on a play with a local dialect.
This is a must-have experience in Split.
Haggle at the Split green and fish market
Split's legendary green market, called Pazar, is the soul of the city. Wander between the stalls, and enjoy the smells and colors of the fresh produce. Bargain with the old ladies.
You can spend over an hour just walking around. If you are looking for a bargain, your best shot is to come after midday, when the market is about to close down for a day.
The fish market is as exciting to me, as Split's green market. But surprisingly, they aren't adjacent one to another. Quite opposite! They are laid on opposite sides of the old town: green market to the east, and fish market to the west.
We love examining the daily catch and get particularly excited by small, bluefish, like anchovies, and sardines. This kind of fish is typical for the Adriatic and was <strong>a staple of Dalmatian cuisine</strong> for centuries.
Enjoy wine tasting at Monica's wine bar
If you are interested in learning about Croatian wine, hop by Monica's wine bar. The owner-cum-sommelier, Monica, and her staff are super friendly, warm, and knowledgeable. They will introduce you to the world of Croatian wine either through the wine produced at Monica's family's estate in the nearby Neretva region or through gems produced by other local winemakers.
This is also a great place to taste Coral Wines. These are the wines of various winemakers that aged under the sea.
Contacts | Ban Mladenova 1, Split | t: +385 98 177 6162 | Facebook
Get a breakfast
In Split, you'll find a variety of places offering all kinds of breakfasts you can imagine: continental, English, French, American, vegan, Hawaiian, you name it!
Our favorite places for breakfast in Split are Kat's Kitchen, a lovely little place serving delicious healthy breakfast, brunch, and lunch; Brasserie on 7, right amidst hustle and bustle of Split's Riva, offers traditional-style English breakfast but also freshly squeezed juices, French toast, and eggs Benedict; Fig keeps breakfast menu short but varied, and it is served until 1 pm. If you just feel to grab something on the go, stop by Kruscic bakery, the best bakery in all of Split.
Hang out at Matejuska
Matejuska is a small harbor at the west end of Riva (a seafront promenade). This is a place where local youth hangs out. Just do as locals do: grab a drink from a nearby corner store, sit on the wall, and watch the world go by, enjoy the sunset, or simply relax with friends.
The Mali ducan, one of the best places to have a specialty beer in Split, is just across the street. It offers over 200 different local and international craft beers.
Sea Kayaking
We find that sea kayaking is a great way to experience a different Split and to get active.
Many local agencies offer this tour. Usually, you can choose between the morning and sunset tours. We went on a morning tour. We paddled around Marjan Hill and had swimming, snorkeling, and cliff-jumping stops. The tour lasted four hours and it included 3 miles of paddling.

The morning tour starts at 9.00 am, and the afternoon tour starts at 3 pm or 4 pm depending on the time of the year. The meeting point is at bus station no. 12 in front of the St. Francis Church, 30 minutes before the start.
Tours are offered daily from May through October.
Taste local craft beers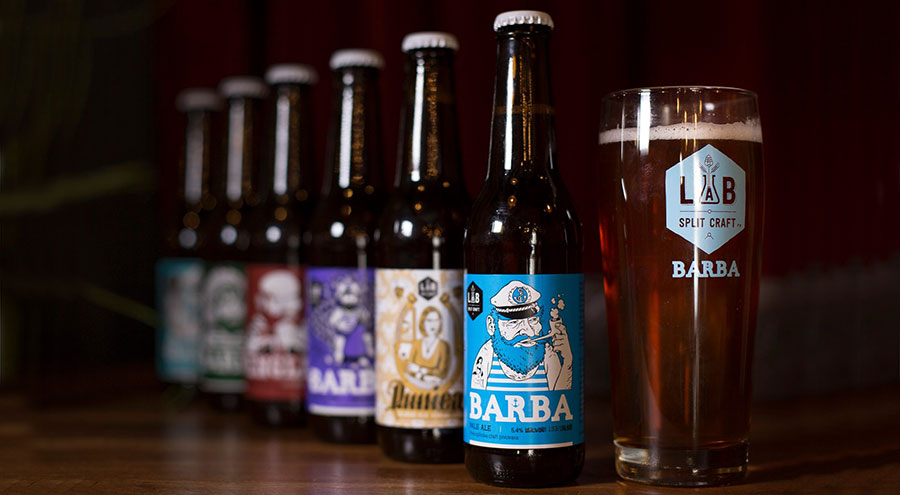 Two local microbreweries are LAB and Mandrill Nano Brewing CO.
LAB offers two main labels: Pale ALE Barba and Blonde ALE Punica. Other labels include their Barba Imperial IPA, and Glutenko, a gluten-free beer. The LAB offers brewery tours if you are interested.
Daltonista Craft Bar is a lovely bar in the old town, just outside of the Diocletian Palace, near the Silver Gate. Daltonista has a great vibe, an international team of waiters, and a small but well-curated selection of craft beers on draft. They also serve yummy food and signature cocktails.
A great bar in Split to discover Croatian craft beers is Leopold's Delicatessen Bar. They offer 4 to 5 tap beers and a good selection of bottled beers.
BOOK THIS 3H BREWERY & BEER TASTING TOUR!
Try your hand at SUP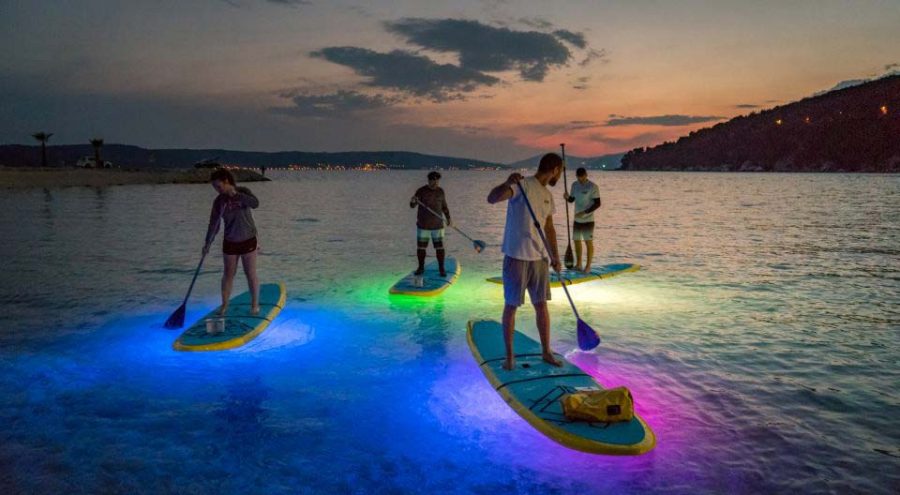 This is a fun thing to do in Split. When we did this tour, we had no previous experience, and it seemed to us quite simple. However, it's much trickier than we thought. The guide gave us instructions and after a shaky start, we actually managed the paddling techniques relatively fine.
We booked a night paddling tour on illuminated boards. It was really cool experience! Wear something light that dries quickly. Some people did get wet! You don't need to take a camera or a phone, the guide takes photos. So, you don't worry about your stuff getting wet.
Prices start at 42 € per person.
MORE INFO ON THE STANDUP PADDLEBOARD TOUR IN SPLIT!
Take a day tour from Split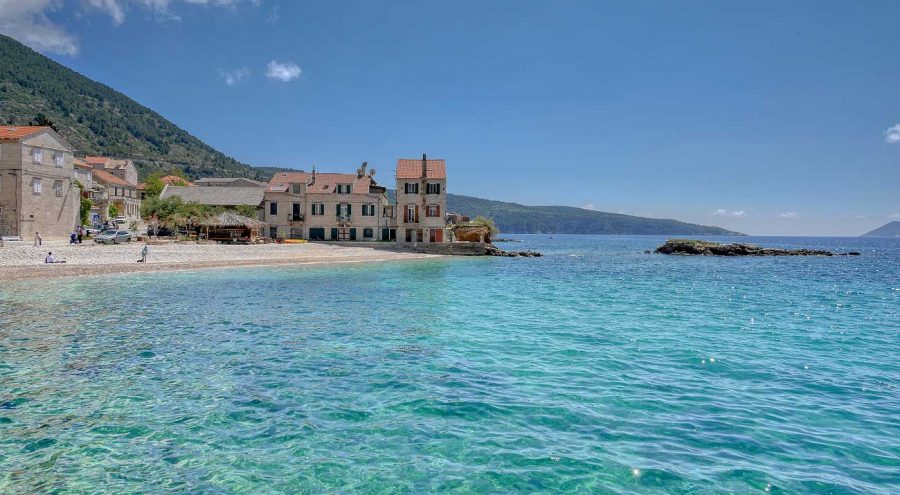 If you stay in Split for more than a day or two, we highly recommend that you take some of the day tours from Split. Actually, Split makes a great base to explore the entire Dalmatia, central Dalmatian islands like Hvar, Brac, or Vis, but also neighboring Bosnia & Herzegovina.
On a day tour from Split, you can easily reach as far north as Plitvice lakes, or as south as Dubrovnik.
The most popular day tours from Split
Some of the most popular day tours include island hopping, where you can visit as many as 5 islands in a day. These islands include Hvar, Vis, Bisevo, Ravnik, and Budikovac. On this tour, you also get to visit the Blue Cave, a must-see natural attraction on the island of Bisevo. You can find more information here.
Two Croatian national parks, Plitvice Lakes and Krka Waterfalls are both easily reachable from Split and are not-to-be-missed Croatian natural sights.  You can book this tour to Plitvice Lakes as well as this small-group tour to Krka Waterfalls.
Dubrovnik is the most popular destination in Croatia and a must-visit for everybody visiting the country. If you are short on time and you don't plan to visit Dubrovnik on its own, then check out this day tour to Dubrovnik from Split. If you plan to visit Dubrovnik on your own, then check our guide on how to get from Split to Dubrovnik.
For a change of scenery, take a day tour to the neighboring Bosnia and Herzegovina. UNESCO-protected Old Bridge, turrets, mosques, oriental shops, restaurants, and ottoman architecture make Mostar one of the most popular places to visit in Bosnia and Herzegovina. This day tour from Split takes you not only to Mostar but also to the Kravica Waterfalls.
Adventure seekers can zipline across the Cetina River Canyon, go white-water rafting, or on a canoe safari on the Cetina River. If that's not enough adrenaline rush for you, try your hand at canyoning through the Cetina River.
Check the 20 best day trips from Split!
A quick Split travel guide
Now that you've got an idea about things to do in Split, we would like to help you plan your entire stay in Split.
Here is our quick travel guide to Split where we share our tips on where to stay in Split, the best places to eat in Split, bars, events, beaches, and more.
PLAN YOUR VISIT TO SPLIT WITH OUR SPLIT TRAVEL GUIDE!
Accommodation in Split
Split offers a wide range of accommodations for every type of traveler. We have written a detailed guide on where to stay in Split, including all popular neighborhoods, the best hotels in Split, lovely apartments, and fun hostels.
Below you will find a few recommendations.
Judita Palace – $$$$
Located at the Narodni Trg, at the heart of Split's old town, this small, boutique hotel is set in a palace dating back to the 16th century. The hotel features 11 well-appointed rooms with exposed stone walls, hardwood floors, tasteful décor, city views, flat-screen TV, and free WiFi. The staff is friendly.
CHECK PRICES AND AVAILABILITY HERE!

---
Hotel Cornaro – $$$
We love this hotel in Split! The Cornaro is well located, and clean, offers a good breakfast, friendly staff, spacious rooms with a great walk-in shower, and affordable rates.
CHECK PRICES AND AVAILABILITY HERE!
---
Hotel Slavija – $$
One of the oldest continuously operating hotels in Split, Hotel Slavija has recently been renovated. The location is second to none, the staff is accommodating, the breakfast is copious, and the rooms are modern, clean, and comfy. What else can you possibly ask for? It's a 3-star property, and it offers competitive rates.
---
Situs RESIDENCE – $$$
With lovely apartments and rooms in Split's Varos neighborhood, Situs Residence is a great alternative to hotel stays. Studios can accommodate two people. All studios are well-appointed and tastefully decorated. They all come with a kitchenette, a sitting area, a comfy bed, WiFi, flat-screen TV. Apartments on the lower floor also have a patio.
---
Hostel Dvor – $
This fun hostel is located just a few-minute walk from the old town. Hostel Dvor offers 3-, 4- and 6-bed dorms, as well as double rooms with private or shared bathrooms. Dorm rooms have bunk beds, each with a locker, lights, an electric outlet, and a small shelf. Other amenities include WiFi, linen, towels, coffee, tea, fruit, and cookies, all free of charge.
---
Eating out in Split
We like restaurants in Split. We have dedicated an entire post to eating out in Split. Here we bring you just a couple of our favorite places to eat in Split.
A little eatery Kod Hvaranina is a kind of institution for the people of Split. Don't let worn-out decor discourage you from tasting fresh local dishes at Kod Hvaranina. Famed for its gregada, a fish stew typical for the Hvar Island, Hvaranin also prepares various traditional Dalmatian meat and fish dishes like veal or squid risotto, cod in white wine, and braised baby beef with gnocchi.
If you are looking for something finer, then konoba Nikola offers one of the finest seafood and fish dishes in the area. It's a 15-minute drive from Split, but well worth the effort. The interior is cozy, the staff and owners are friendly, and the ingredients are super fresh. Highly recommended for true seafood and fish aficionados.
We've already mentioned Villa Spiza in Split's old town, a small and cozy place offering yummy Dalmatian comfort food. Don't miss it!
And last, but not least – Corto Maltese Freestyle food! Tasty food, friendly staff, and a cool vibe make Corto Maltese Freestyle Food one of Split's best addresses for dining out. Corto Maltese's menu offers enticing, bistro-style dishes like yummy risotto or veal pasta, but also good steaks, and colorful salads.
Best bars in Split
… for beer
Sanctuary Cantina: A tiny bar with a large outdoor terrace, Sanctuary Cantina has a good choice of Croatian craft beer, four on tap, and some more in bottles. The place is also popular for reasonably priced cocktails and a great choice of liquors. Both staff and patrons are friendly.
Leopold's Delicatessen Bar: Leopold's is a great place in Split to discover Croatian craft beers.  At Leopold's, you'll always find 4 to 5 beers on tap, and a choice of 30 bottled beers. The staff is knowledgeable and friendly, and is happy to explain different Croatian craft beers.
… for wine
Monika's A nice wine bar just out of the city walls, Monika's has an extensive list of Croatian wines, but what sets this wine bar apart is that the owner is also a winemaker, and they offer a full range of their own wines. They also offer cheese and charcuterie platters. The staff is friendly and knowledgeable.
Zinfandel Food & Wine Bar: A nice contemporary bar in the heart of the old town, Zinfandel offers a variety of Croatian wines, over 30 of them served by the glass. They also serve food, including breakfast. Dishes are simple, showcasing typical Dalmatian dishes in a modern way.
… for coffee
Zbirac: For us, Zbirac is the best coffee bar in Split. Period. Not because Zbirac offers a variety of coffees or any particular coffee roast, it's because Zbirac has the best laid-back atmosphere in Split. Located right at Bacvice beach, Zbirac doesn't even have a closed space. Instead, it has a lovely terrace overlooking the beach. Definitely the locals' favorite spot to chill out and have a drink.
4coffee soul food: Back in 2015 three friends from Split decided to open a coffee shop that they judged was missing in Split. So they opened 4coffee soul food in what seems to be the tiniest coffee bar in all Split. 4 coffee soul food offers freshly roasted specialty coffees and a variety of smoothies.
Getting around Split
Bus: You can get everywhere within Split, and also all the way to Trogir and Omis, with public transportation. Buses run every 30 minutes, from 5 am to midnight. There aren't any night buses in Split. Tickets can be purchased at any kiosk, or on a bus. Check this Split bus map.
Car: A car in Split can be handy only if you plan to do day trips, to some of the places suggested above in the chapter about things to do in Split. For this, we recommend that you rent a car for a day or two. Otherwise, a car can be a burden, as you need to think about parking, and heavy traffic. Check here for more info and the latest prices on car rentals in Split.
Taxi: UberX is available in Split, as well as a few local companies, like Cammeo, Eko, Halo Taxi, etc. The start is anywhere from 1.38 € (UberX) or 1.06 € (Cammeo), to as much as 2.65 € (Radio Taxi Split). Additionally, every kilometer costs anywhere from 0.77 € (UberX), 1.06 € (Cammeo) to 1.33 € (Radio Taxi Split). The minimum fare for Cammeo is 2.39 €, and for UberX it is 3.72 €.
Walk: You can walk everywhere in Split. The old town is very compact and it is car-free. Even if you stay out of the old town, you can reach almost every neighborhood within a 30-minute walk.
What are your favorite things to do in Split? Let us know in the comments below.
Further reading