Visiting the Croatian Dalmatian coast but not sure which of the two most popular towns to visit – Split or Dubrovnik? Don't worry, in this post, we'll answer the question: is Split or Dubrovnik better?
Split is more cool and fun, centrally located, offering more day trip options, better nightlife, and slightly cheaper prices than Dubrovnik.
Dubrovnik is one of the most beautiful walled cities in the world, very elegant, with better beaches and better hotels than Split.
Both towns are must-visit places in Croatia. If you need to choose one, then choose Split for a more authentic experience and city break holidays, and choose Dubrovnik for a romantic escape and beach holidays. Both towns abound in history and culture, have great restaurants, and bars, and both share good weather.
Before you make a decision to visit one or another, or both for that matter, consider important aspects of such a decision.
Are beaches important to you, access to local food and great restaurants, nightlife, budget, central location, and what there is to visit in the vicinity? How long you plan to stay in Split or Dubrovnik, or in Croatia in general also matter.
So let's start!
Split or Dubrovnik: Which is better for you
Dubrovnik, with roughly 35.000 inhabitants, is the southernmost town in Croatia. It is famous for its perfectly-preserved medieval old town, surrounded by 2km long city walls.
Split, on the other hand, with 200.000 inhabitants, is the second-largest town in Croatia, after Zagreb. Split is famed for its 1700-year-old ancient city, once a palace of the Roman emperor Diocletian.
In short, Dubrovnik is much smaller than Split, its old town is more compact, has better beaches and accommodation choices, and the majority of attractions date back to medieval times. Split is slightly cheaper than Dubrovnik, and it has better nightlife, and the majority of Split's attractions date back to Roman times. Split is also cheaper than Dubrovnik and its central location offers more opportunities for day trips and excursions.
Are beaches better in Split or Dubrovnik?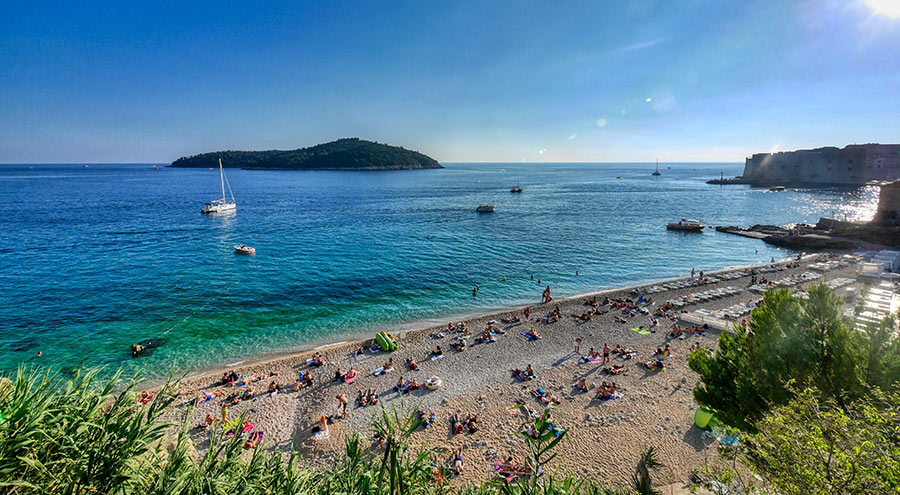 Strictly speaking about the beaches within walking distance, Dubrovnik has better beaches than Split.
Many beaches in Dubrovnik are made of sand-like fine pebbles that feel smooth under your feet. The old town or dramatic cliffs as a backdrop also add up to their attractiveness. Beaches are also neater, with fancier beach bars.
The only downside of Dubrovnik beaches is that they have less natural shade, while many Split beaches in the Marjan Hill area have an abundance of shade under pine trees.
Is Split or Dubrovnik better for holidays?
Dubrovnik is better for holidays, especially beach holidays, while Split is a better city break destination.
In addition to beautiful beaches, Dubrovnik has more full-service hotels with facilities like outdoor and indoor swimming pools, hotel beaches, spa and wellness centers, buffet and a la carte restaurants, beach bars, and entertainment programs. Dubrovnik is for this reason a better choice for your summer holidays in Croatia.
On the other hand, Split has more international flights year-round, is more centrally located, and is easy to reach by car, bus, or even train. It's a bigger town with more businesses open all year. All these reasons make Split a better city break destination.
Is Split or Dubrovnik cheaper?
Split is slightly cheaper than Dubrovnik! This is still noticeable in accommodation rates and costs of eating out.
However, today prices in Split don't lag much behind prices in Dubrovnik. They did just a couple of years ago, but the price difference between Split and Dubrovnik is getting smaller every year as the prices in Split keep increasing faster than in Dubrovnik.
In bars within the old towns of Dubrovnik and Split, expect to pay 3 € for an espresso, at least 6 € for a beer, and between 2 € and 2.5 € for a scoop of ice cream. Even coke comes with a hefty price of 4 €.
Is Split or Dubrovnik better for nightlife?
Split is better for nightlife! None of the two towns have a crazy nightlife with tons of options if you ask me. However, Split has slightly better nightlife and a larger choice of nightclubs.
People in Dubrovnik tend to hang out in bars in the old town and in Iva Vojnovica Street near Dubrovnik's University in Lapad peninsula. Bars usually work until midnight, while nightclubs work until 4 am. The most popular nightclubs in Dubrovnik are Revelin, EastWest in Banje Beach, and Lazareti.
In Split, the party usually starts in bars throughout Diocletian Palace and Riva promenade, and after midnight it moves to Bacvice beach and nightclubs scattered in various Split neighborhoods. The most popular nightclubs in Split are Central The Club, Vanilla Club, Club 305 A.D., Zenta, La Playa, Bacvice Club, Kocka, and Velvet.
Is Split or Dubrovnik better for day trips?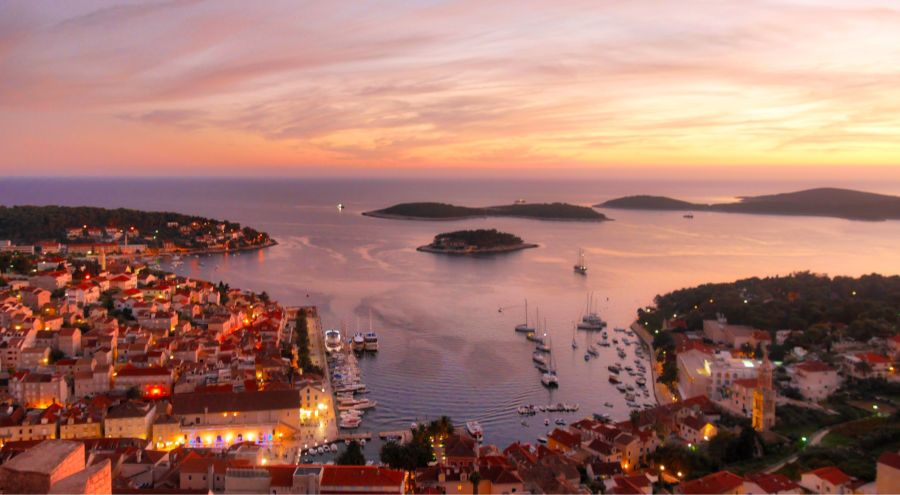 Split is better for day trips!
This is a tough one because both towns have many interesting places in the vicinity worth visiting for a day. However, Split is more centrally located and you can reach more places from Split than Dubrovnik.
The most popular day trips from Dubrovnik include a visit to Montenegro, a day trip to Mostar, islands Korcula, Mljet, and Elafiti, and wine tasting in Konavle or Peljesac peninsula.
From Split, on the other hand, you can easily visit the towns of Trogir, Šibenik, and Zadar, national parks Plitvice Lakes and Krka Waterfalls, Brac, Hvar, Vis and Solta Islands, Mostar in Bosnia and Herzegovina, Omis for various outdoor activities, and Makarska Riviera.
Is eating out better in Split or Dubrovnik?
Food and restaurants are equally good in Split and Dubrovnik.
Split restaurants base their offer more on traditional dishes (Villa Spiza, Uje, Fife, Kod Hvaranina, Fetivi, etc…), while in Dubrovnik restaurants craft their menus around the modern, fusion, and international cuisines (Bota, Azur, Taj Mahal, Pantarul, Sesame, Zuzori, Shizuku, etc…).
That said, the restaurants' offer in both towns is vast and you can find various meals and cuisines in both.
Is accommodation better in Split or Dubrovnik?
The accommodation choice is better in Dubrovnik.
Both towns have lovely boutique hotels, B&Bs, and various vacation rentals housed within historical buildings in the old towns. These accommodations are full of character and old-world charm.
But, Dubrovnik has a better choice of full-service and beach hotels. Split only offers two such properties: Radisson Blu and Le Meriden Lav, while in Dubrovnik you will find over 30 full-service hotels, many of them located right by the beach. Some of these hotels are Adriatic Luxury Hotels, Valamar Hotels, Royal Hotels, Hilton, Sheraton, etc.
DON'T MISS OUR BLOGS BELOW!
Is Split or Dubrovnik better for longer stays?
Split is better for longer stays!
At the end of the day, Dubrovnik is a small town, and it suffers from the same problems as all small coastal towns in Croatia. Once November approaches, the businesses start closing down for the winter, and the glitzy downtowns full of life in summer, become deserted places for most of the wintertime.
Split suffers from this problem also to a certain extent, but Split is a bigger town and more businesses cater to locals year around than they do in Dubrovnik. Also, its central location and bigger size give more opportunities for day or multi-day trips.
If you plan to stay in Split or Dubrovnik longer time, we recommend basing yourself in Split rather than in Dubrovnik.
Is Split or Dubrovnik warmer?
The climate in Split and Dubrovnik is fairly similar. Dubrovnik tends to be warmer in colder months while Split has slightly higher temperatures in warmer months, from May through August. Dubrovnik has more sunny days than Split.
Check more info on the Croatian Meteorological and Hydrological Service website.
Which is prettier – Split or Dubrovnik?
Dubrovnik is prettier than Split!
Although severely damaged twice in its long history, first in the 1667 earthquake, and then again during the 1990s homeland war, Dubrovnik's old town is still one of the most beautiful and well-preserved medieval towns in the world. The old town is compact, surrounded by 2 km long protected walls, and it abounds in perfectly preserved Gothic, Renaissance, and Baroque buildings. Dubrovnik is literally a picture-perfect town, and it is way more sophisticated than Split.
Split is also extremely interesting and pretty, but it is bigger and more hectic with buildings from different historical periods blending together to make a unique old town formed on the remains of the Roman emperor Diocletian's Palace.
Should you visit both towns?
Both towns are Unesco-listed World Heritage Sites, and well worth a visit. If you have time, visit both towns. They are not so far apart, just around 230 km. Even if you only have one day for each town, make sure you visit both, Split and Dubrovnik. Here is our post on how to get from Split to Dubrovnik (and vice versa!).
Final verdict: Split or Dubrovnik
If you have time, visit both towns! They are very different one from another, especially in vibe and look, as Dubrovnik's old town mainly dates back to medieval times, while Split's old town dates back to ancient, Roman times. Dubrovnik is more picture-perfect, while Split is more hectic and fun.