There are so many Dubrovnik travel guides, but they rarely put emphasis on Dubrovnik beaches. When thinking of Dubrovnik, we tend to think about its medieval old town, city walls, museums, lovely restaurants, eclectic bars, and high prices.
However, Dubrovnik is the southernmost town in Croatia, with lots of sunny days throughout the year, and swimming at one of many Dubrovnik beaches is one of the top things to do in Dubrovnik.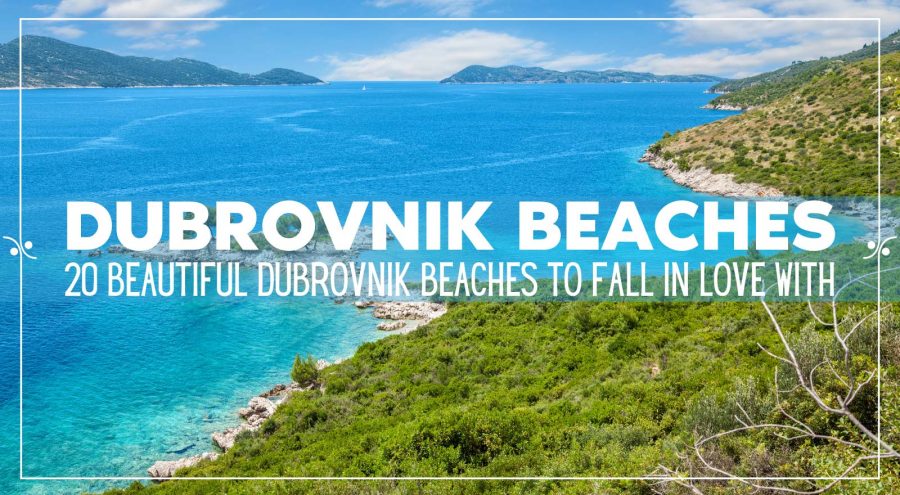 In Dubrovnik, you will find various beaches, including pebbly, rocky, cemented, and even sandy beaches that are otherwise hard to find in Croatia.
The sea is crystal clear, although the sea temperature in Dubrovnik tends to be colder than at other places in Croatia, even the ones that are further north from Dubrovnik. At many places, you will have ample opportunity for cliff jumping.
Popular Dubrovnik beaches
Below we bring you some of the most popular beaches in Dubrovnik. Don't forget also that if you feel like having a quick dip or just a short time sunbathing, you can do so at two spots in the old town, Porporela, and Buza Beach.
Porporela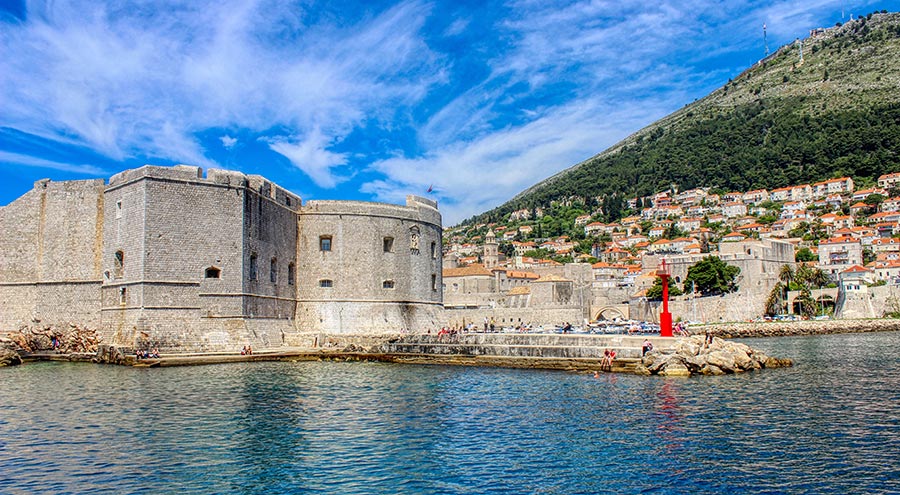 Porporela, a breakwater, in Dubrovnik's old harbor, is also a great place for a quick swim in the old town of Dubrovnik. A cemented platform, metal ladder steps to access the sea, a bar, water polo field, and friendly locals are all you will find at Porporela.
Buza Beach
This beach is not really a beach, but rather a series of cliffs and cemented platforms with metal ladder stairs that ease the sea access. However, it's a convenient place for a quick dip in the Adriatic while roaming Dubrovnik's old town.
Banje Beach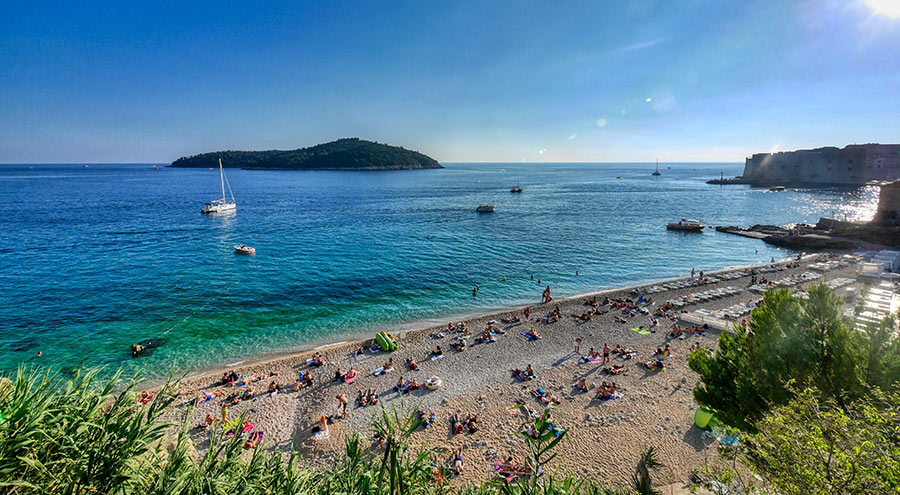 This is the most popular beach in Dubrovnik, especially among tourists. Its location is spot on! Banje is the closest beaches to the old town, just off Ploce Gate.
Besides, it is a beautiful pebbly beach with an old town as a unique awesome backdrop. There are about 100 stairs from the road to the beach (and as many going up after a day at the beach. Ouch!). Unless you are used to this kind of beach, you'll probably need swimming shoes.
The part of the beach is run by the EastWest Beach Club. They keep their deck chairs spread out along the major part of the beach. And, sure, if you want to use them, you need to pay. The same goes for the sun umbrellas and beach towels. Drinks and food are available, as well as massages, and toilets. Additional charges apply.
The small, rocky part of the beach closer to the town is free for the public (no need to rent anything in order to enjoy the beach!).
Sv. Jakov Beach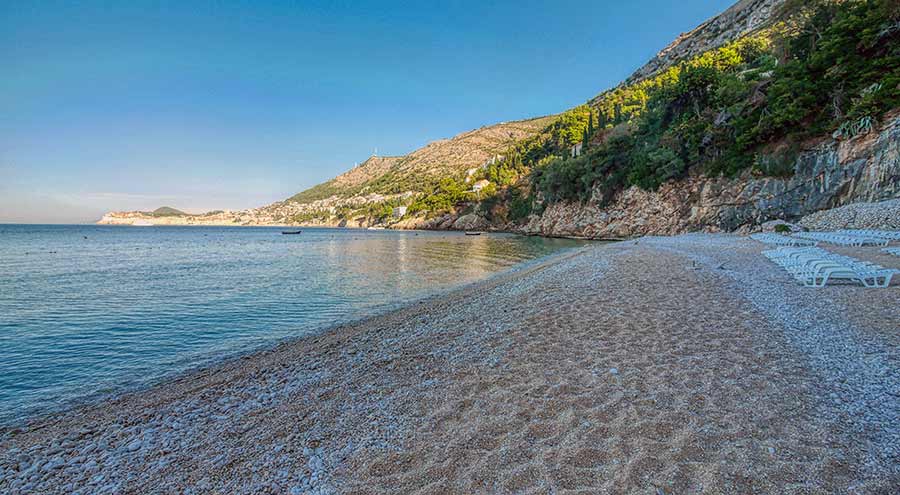 Sv. Jakov Beach is located further down from Banje Beach, perhaps another 15-20 minutes walk.
The beach is located very close to the Hotel Villa Dubrovnik, a superb 5-star hotel. Being further from the old town, this beach is much less crowded. You can still get a very nice view over the old town, and the island Lokrum.
The beach is pebbly and rocky. There are lots of stairs to take to reach the beach. If you like a less crowded beach and you don't mind walking a bit further, this is a nice beach in Dubrovnik to spend a day. Don't forget to bring a lunch (you don't want to climb those stairs twice :). Kayak and jet ski rental available on the beach, as well as snacks and drinks.
Betina Cave Beach
Betina, better known among tourists as a Cave Beach, is, well at its name suggests, a small cave beach. This beach is a real gem. It's only reachable from the sea.
The cave makes it nice and cool even during the hot summer days (this beach gets only a few hours of sun a day). The pebbles are nice and rounded. The best way to explore this beach is to book one of the kayaking tours that stop here for swimming and relaxation. Although, sea kayaking tours have made this beach much busier than it used to be (and destroyed a bit of its charm). You can read about kayak experience in Dubrovnik here at our blog.
Sulici Beach
The Sulici Beach is the closest beach to the Pile Gate. This beach is not very popular (meaning it is also less crowded!), but the water is crystal clear, and the old town is just meters away.
The Sulici beach is very small and consists of cemented plateaus and a small pebbly beach. The facilities include two beach bars, Ala Mizerija and Dodo Beach Bar, as well as kayak rental.
Dance Beach
Dance beach is very popular among the locals. You'll often see locals playing water polo at the beach. It's located close to the Pile Gate, 200 m from the old town. The beach is mostly rocky. There is a nice monastery above the beach.
The nuns ring the bells for all the ships that pass by. Also, on the way to the beach, you pass by Gradac Park. Here you can get a nice view of the Lovrijenac Fortress. A small beach shack serves drinks during the summer.
Lapad Beach

Lapad Beach is the largest beach in Dubrovnik. It's located in Lapad Bay. There are lots of bars nearby, and many beach activities. The beach is partly pebble, partly cemented and rocky. It has all facilities: changing cabins, deck chairs, and sun umbrellas rental, children's playground, beach volleyball terrain, etc.
You can easily reach this beach on foot if you are staying in one of many hotels in the Lapad peninsula. Or, you can also take a bus no 4 from the Pile bus stop direction hotel Palace. Get off at the stop Lapadski Dvori, near the hotels Komodor, Uvala, and Grand hotel Park.
There is a 500m-long car-free promenade from the Ulica Kralja Tomislava Street that is lined with cafe bars, ice cream parlors, restaurants, and swimwear shops. This small area of Dubrovnik reminds completely of any small beach town in Croatia. You even forget for the moment that you are in Dubrovnik, as the change of scenery and vibe is complete.
Even better, the car-free seaside promenade continues from Lapad Bay and its beach all the way to the Babin Kuk area, past hotels More, Neptun, Imperial Hotels all the way to Valamar Hotels and the Copacabana beach. If you decide to take this walk we highly recommend you stopping at the Cave Bar More, it is a unique bar to have a drink. If you like sweets, the Pastry & Cocktail Bar Slatki kantun, also in the hotel More, is a must!
Copacabana Beach
Located in the Babin Kuk area, just beneath the hotel Valamar Club Dubrovnik, Copacabana beach is a nice pebbly beach in a sheltered bay. There is an attractive beach bar at the beach with fancy deck chairs, sun umbrellas, private cabanas, and unfortunately shaky service and really overpriced drinks, food, and rental equipment.
This is the place to be if you feel to see and be seen, sip cocktails, and party. The beach gets crowded with locals and tourists alike.
However, you can still enjoy the beach without all the fancy extras. Just drop your own towel anywhere and have drinks and food with you.
If you are staying in the Lapad peninsula or in Babin Kuk you can reach the beach on foot. From the old town, take the bus number 6 direction Babin Kuk and get off at the second-last bust stop (Dulcica 3).
Lokrum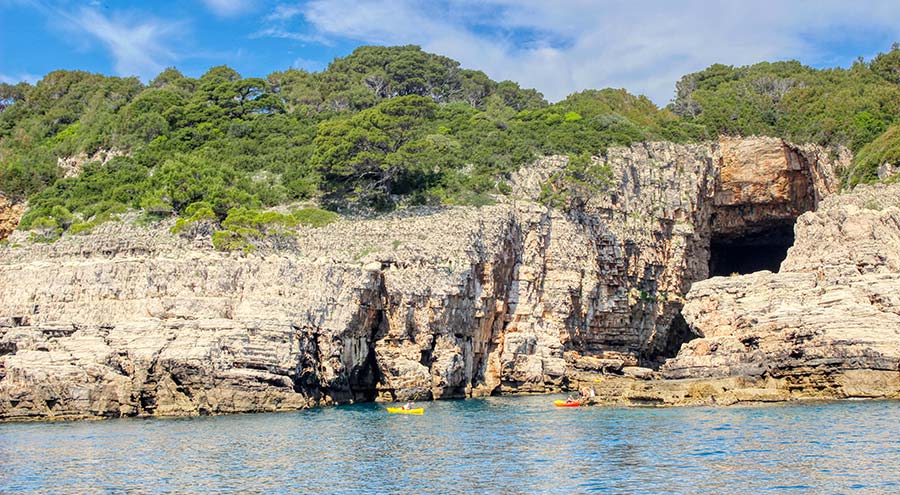 Beaches on the Lokrum Islands are popular among locals but also tourists. The boat departs every half an hour from the old port, the ticket costs 200 Kn per adult.
Lokrum is a nature reserve covered in lush vegetation, primarily pines, cypresses, and various Mediterranean shrubs. You can hike to the tower at the top of the island. 360° views are incredible, especially over the old town Dubrovnik!. A small botanical garden with roaming peacocks and wild rabbits is lovely. The Benedictine monastery keeps GoT's Iron Throne replica and information about filming. The saltwater lake or Lokrum's own Dead Sea is another highlight of the island. Because of its high concentration of salt, here you float more than usual.
Beaches here are plentiful. They are mostly rocky, so water shoes and cliff jumping are a must. There are outdoor showers and a couple of beach bars hidden in the woods. Also, if you like to swim naked, there is a nude beach at the southern tip of the island.
Best beaches near Dubrovnik
As you can see there are many beaches in Dubrovnik that are just a short walk away from the old town. While they are convenient to use, especially if you are short on time, they also tend to be crowded in high season, and at those beaches, drinks, food, and beach rentals are rather pricey.
You can explore the beaches beyond the town limits, some of them as popular as beaches in Dubrovnik, others less-frequented, and having more of a local vibe. Below are some of the best beaches near Dubrovnik.
Sunj Beach
Sunj is the only sandy beach in Dubrovnik, or rather near Dubrovnik.
It is located on the uninhabited bay of the island of Lopud, on the opposite side of the only village on the island. The beach is popular among tourists and locals alike. And because of its shallow bottom and sandy sea bed, it is an excellent beach for families with children.
The beach is nice, sheltered, and not too crowded (although it can get busy). There are low key beach shack restaurants, a public toilet, and a small changing cabin at the beach. You can reach the beach by boat, on foot (from the village it's about 20 minutes long walk), and by taxi golf cart. Many residents offer the transfer service from the village to the beach.
When you are already on the island stop at the restaurant Obala, locally known as Kod Frke, and taste their yummy seafood stew (buzara locally).
Vrbica Beach
Vrbica Beach is a small pebbly beach, 8 km northwest of Dubrovnik's old town. You can take any of the following buses to reach the beach: 12 to Slano, 15 to Ston, 21 to Orebic, 22 to Imotica, 26 to Majkovi, and 35 to Brsecine.
However, none of the buses stop right next to the beach. Instead, you will need to walk a bit on the main road in order to reach the beach.
If you take your car there, the parking is along the main road and it is limited in the high season. You can reach the beach exclusively by foot from the main road.
Stikovica Beach
This is another nice beach in Zaton area that is popular among locals, especially those living in Mokosica. The beach is a bit down the road from Vrbica beach, 10 km northwest from the Pile Gate. It has easier access if compared with Vrbica, and it has more facilities. It is also more crowded.
You can rent beach chairs as well as sun umbrellas. There is also a bar on the beach. When in Stikovica, you can plan a nice lunch or diner at the tavern Veranda, a local restaurant serving really great food for reasonable prices.
You can also use buses no 12, 15, 21, 22, 26, and 35. If you visit by car, bear in mind that the parking is limited in the high season.
Veliki Zal Beach
This is the last beach on our list that is located northwest of Dubrovnik, along Dubrovnik Riviera.
Veliki Zal is a beautiful pebbly beach located along D8 road, 25 km northwest of Dubrovnik. There is a parking area above the beach, but also a limited number of places down at the beach. The beach has good facilities including beach chairs and sun umbrellas rental, water sports, as well as a full-service beach bar serving drinks and a variety of snacks. The prices are much more reasonable than in town. You can get a chair and a sun umbrella for less than 10€ for a day.
In high season, it gets crowded on weekends. The rest of the time, it is never overcrowded. The
Although local buses pass by this beach, they don't have a scheduled stop here. So, to reach this beach you will need your own transport.
Kupari Beach
Kupari is a lovely beach with an interesting history. A former military resort, Kupari is still today in ruins. The decline that started in the 90s during the Homeland War. Just to say that the Yugoslav Army used the phosphorus bombs to burn all resort's properties floor by floor. Anyways, the Kupari remains in ruins, and nature is claiming back all buildings.
However, the beach beneath the resort is nice, composed of tiny sand-like pebbles, and super popular. Well, besides when you swim, you'll witness the most unique backdrop of facades full of missile holes.
Deck chairs and sun umbrellas rental is available and it costs less than 10€ to hire both. You can also rent a sunbed with a palm umbrella. There is also a beach bar serving drinks and some basic food.
You can easily reach this beach from Dubrovnik on a bus no 10, 11, 16, 16A, 23A, 25, 27, and 38. The beach is 10 km southeast of Dubrovnik.
Srebreno Beach
This is another beach located in the village of Srebreno, just in the next bay from Kupari, x km southeast of Dubrovnik.
The beach spreads from the hotel Sheraton Riviera to Mlini Beach. The beach is nice and pebbly, long, but narrow. It has to change cabins and showers with fresh water.
It's popular among locals and tourists and it gets easily crowded in the high season. It offers enough shade on one side of the beach. There are also beach bars and bistros along the promenade that encircles the beach.
You can easily reach this beach from Dubrovnik on a bus no 10, 11, 16, 16A, 23A, 25, 27, and 38. The beach is 10 km southeast of Dubrovnik.
Mlini Beach
Mlini is a small lovely coastal village with all necessary tourist facilities, like the grocery and souvenir stores, bars, restaurants, and an array of accommodation including a lovely 4-star hotel and villas Mlini, right at the seafront.
There are a couple of pebbly beaches in Mlini. But, the most interesting and most beautiful is a small beach Mlini at the far end of the village towards Srebreno.
This beach is made of tiny pebbles and offers easy and shallow access to the sea. The beach itself isn't shaded but there is plenty of shade at the rocks at either end of the beach, as well as above the promenade.
Bars, restaurants, ice cream parlors are all in the vicinity. Buses no 10, 11, 16, 16A, 23A, 25, 27, and 38 will get you there in a short time. The beach is 11 km southeast of Dubrovnik.
Plat Beach
If you continue driving southeast along this coastal road, a bit further away, 14 km from Dubrovnik, you will arrive at the beach Plat. The beach is located just at the edge of the village with the same name.
Plat is easily one of the best beaches in Dubrovnik. It is a quiet, secluded, pebbly beach with lots of shade in the back, and good facilities in the vicinity. Parking is also convenient, within 100 m from the beach. But in the highs season, the number of parking places is limited.
In the vicinity, you will find a few other beaches, like the beach Pod Maslovom and beach Bucanj, that are also nice.
The buses no 10, 11, 16,  25, 27, and 38 will get you to Plat.
Luka Cilipi
This is a small rocky beach really popular among locals from Cavtat and surrounding villages. You won't find too many tourists here. The sea is crystal clear, the rocks perfect for cliff jumping, and the small beach bar a great place to chill throughout the day.
The car parking isn't far away from the beach. However, you will need to walk. And it is rather a steep walk from the parking to the beach and vice versa.
Pasjaca Beach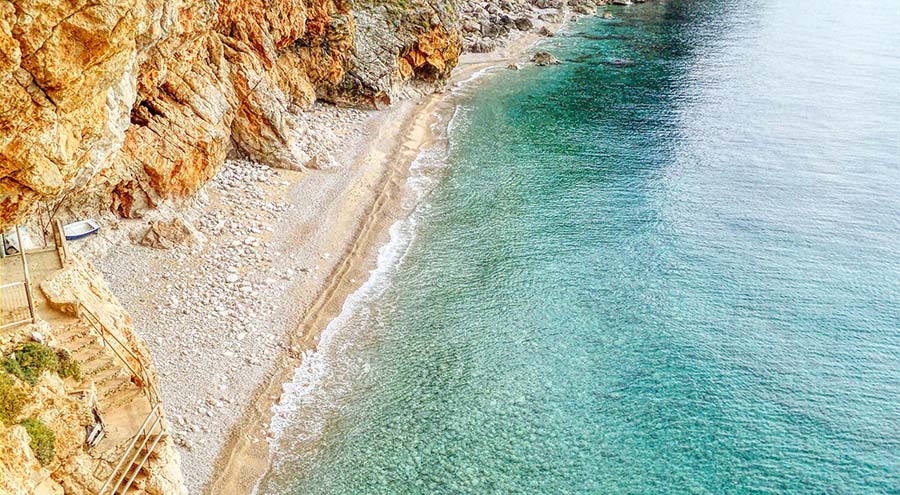 Pasjaca beach is 30 km southeast of Dubrovnik. In recent years, due to its dramatic and super instagrammable looks, it has become especially popular among the tourists.
The beach is accessible by a set of pathways and stairs carved into a side of the hill. It is steep at times and not recommended with small kids or if you have difficulties walking. During WWII, people dug tunnels and kept throwing stones over the hill. Eventually, the sea crushed the stones and formed this wonderful beach.
Pasjaca beach is small and it gets crowded. It doesn't have any facilities nor shade.
Where to find the best beaches in Dubrovnik: Location on the map
Few tips before you go
In order to get the most of your day swimming in Dubrovnik, we would like to share a few more tips with you. Find below our suggestions on things to bring to the Dubrovnik beach as well as our recommendation of the best hotels in Dubrovnik on the beach.
A packing list for Dubrovnik beaches
If you wonder what to bring to the beach in Dubrovnik, you are in a good place. We'll cover a few items we think are essential or can be handy to have them with you whether you plan to spend a day, a half-day, or just a couple of hours at the beach.
Hotels in Dubrovnik on the beach
The majority of people don't visit Dubrovnik for the beaches but rather for its cultural and historic patrimonial. They also tend to stay in Dubrovnik for only 2 to 3 days at max.
However, Dubrovnik is also a great beach destination for those in search of a beach vacation in Croatia.
There are many hotels in Dubrovnik on the beach. They offer facilities like a dedicated beach for the hotel guests with sun loungers and sun umbrellas, towel service, water activities, evening entertainment, swimming pools, massage and spa center, and all other perks you could expect in any summer resort.
The best hotels in Dubrovnik on the beach you will find in the Lapad peninsula and in the Babin Kuk area. Here you'll find all big Croatian hotel chains like Valamart Hotels & Resorts, Importanne Hotels & Resort, Maestral Hotels, and Adriatic Luxury Hotels.
Here is our list of recommended Dubrovnik beach hotels.
Have you swum at any of Dubrovnik beaches? Let us know in the comments below!