Dubrovnik bars & nightlife scene is pretty vibrant, although it does depend on the time of the year you visit. Winter in the old town is pretty quiet, and many Dubrovnik bars close for the winter. Naturally, with less crowd, the nightlife in Dubrovnik cease to exist.
However, on the Lapad peninsula bars keep buzzing with locals and students all year around.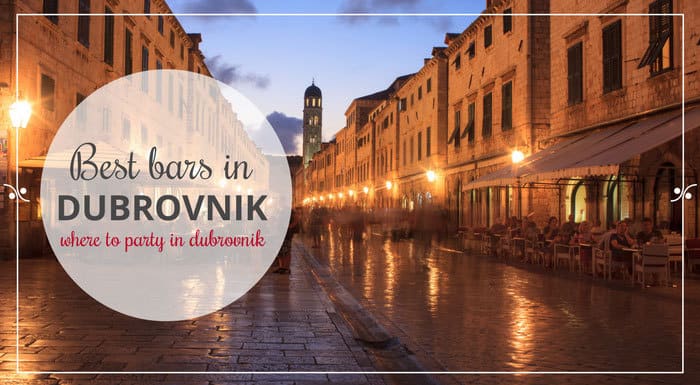 Whether you want to relax on the cool terrace or dance the night away at the hottest bars – the choice is yours. Dubrovnik has something for everyone.
Guide to Dubrovnik Bars & Nightlife
Tucked away in a small alley in the heart of Dubrovnik's old town, D'Vino Wine Bar is our favorite bar in Dubrovnik. OK, any bar offering a choice of wine by the glass is our favorite bar. D'Vino Bar serves over 60 international and local wines by the glass. The bar is very small inside but has a nice outdoor terrace and a cozy atmosphere. They also offer small bites to nibble along with your wine and have wine-tasting specials. If you've never tasted or you are not familiar with Croatian wines, this is an excellent way to discover them.
Named one of ten great European seaside bars, Buza Bar is probably Dubrovnik's most popular place among tourists. It's located outside of the city walls and right above the sea. The setting is truly unique and dramatic. As its name says, this place is a real hole in the wall. Buza bar offers stunning views, sea breezes galore, beautiful sunsets, and probably the most expensive drinks in the town. But the bar is one of its kind, and a must-see if you visit Dubrovnik.
There are very few bars in the Old Town frequented by locals, and the Galerie bar is one of them. Located on one of the side streets with steep narrow steps, Galerie Bar is one of the longest-running bars in the Old Town. This bar is famous for its cocktail buckets (yep! the cocktails are served in large buckets), Galerie bar is popular among a younger crowd.
Another locals' favorite bar is the Casablanca bar. Casablanca bar is also located on a side street with steep narrow steps, and just like Galerie, they serve great cocktails. The bar has a cool pillow seating on the steps.
Pub Dubrovnik offers craft beer and a variety of other drinks (especially whisky). There is food, there is music and it is open to 2 am. What more to ask?
Love bar is the only rooftop terrace in Dubrovnik. It is located 4km from the city center (approx. 10min drive), just round the corner from the Gruž harbourfront. The Interior is small but they have 140 sqm of terrace. There is a good choice of shots, cocktails, and mojitos. Whenever the mint is part of the drink, you know it is fresh since it is grown in pots out on the terrace.
If you look for an unusual romantic place, try Cave Bar More. This bar is located in the hotel More. The bar is built in a natural cave but also has a wonderful seafront terrace. Cave Bar is an excellent place to sit and relax and enjoy the stunning setting and scenery.
If you enjoy live performances and jazz music, Jazz bar Troubadour located behind Dubrovnik Cathedral is a place for you. The bar is very small inside but has a nice corner terrace. However, the place is a little bit worn out and expensive for my taste.
If you enjoy a pint of beer or two, there are three Irish pubs in the old town: Pub Karaka, The Gaffe Pub, and Katie O'Connors. The Gaffe Pub serves also food (daily lunch menus, burgers, and alike). The other two don't serve food as they are both smoking places. Each pub has big TVs and sports channels.
At Banje, the town's popular beach, you'll find the EastWest Beach Club. You can rent a waiter-serviced lounger during the day. It attracts a crowd that likes to see and be seen. It's pricey. The only thing, in my opinion, that sets it apart is its superb beachfront location with wonderful views over the old town.
Culture Club Revelin is located in the old Dubrovnik fortress. That said, the club has an amazing interior, and it still comes as one of the most popular late-night clubs in Dubrovnik. However, don't raise your expectations, as Dubrovnik late-night fun is not really top-notch.
Another late-night spot in Dubrovnik is Club Lazareti. Located in the former maritime quarantine, Club Lazareti hosts cinema nights, club nights, live music, and other live performances.